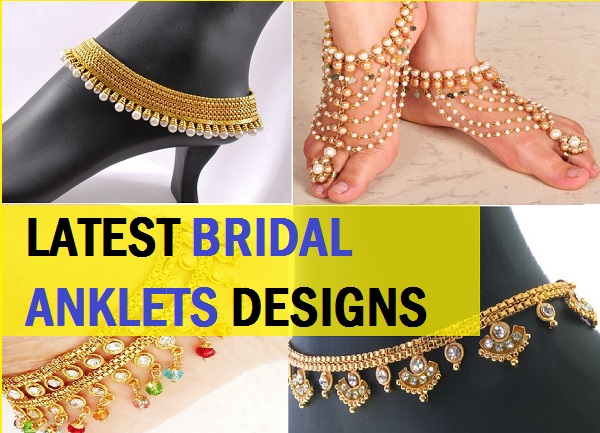 It is known that a bride is never said to be complete until and unless she has all the piece of jewelry on her. Anklets are also as essential as the other jewelry pieces like your mang teeka, necklace, earrings and bangles. Here, we have compiled this collection of beautiful anklets for Indian brides. These anklets are so beautiful that you are going to pick one for yourself soon. These bridal anklets are available in various designs. Even the material used varies from design to design. So let's have a look at the best bridal anklets.
Latest and Best Anklet Designs for Brides
1. Simple Pearl gold anklet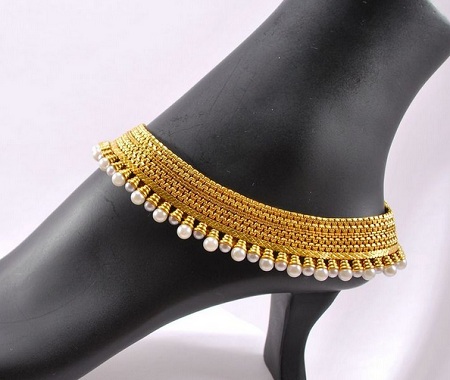 The intricately carved out gold rows of strips along with the ball danglers or drop shaped design at the age of these anklets make them look just perfect for brides to be. If you are a simple bride who would like to keep things simple then this is a must have for you. The beauty of this piece lies in the small pearl drops at the bottom edge that gives it a very royal look.
2. Gold and kundan anklet for brides
If you like thick anklets that can cover a lot of part of your ankle them designs like these can be tried. The Kundan work in between the strip of ball chain looks extremely beautiful. Such anklets are perfect for any ceremony of the bride. The little loreals at the bottom gives a trinkling effect. It does not make as much noise because there are no sound making ghungroos in these anklets yet they have their own charm.
3. South Indian Anklet design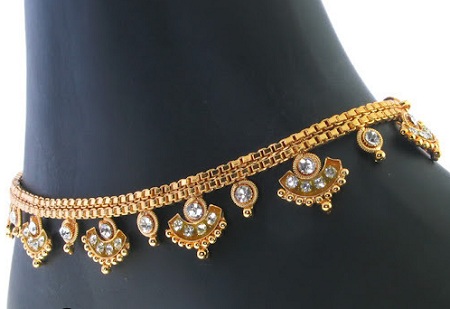 Design like this are very inspired from the southern India. The semicircular designs that is spread all across the strip of the anklet, give it a very traditional look.  The presence of stones on this piece makes it look extremely enticing. Even if you are already married or a young girl then as well you can try anklets like these.
4. Colourful gold anklet design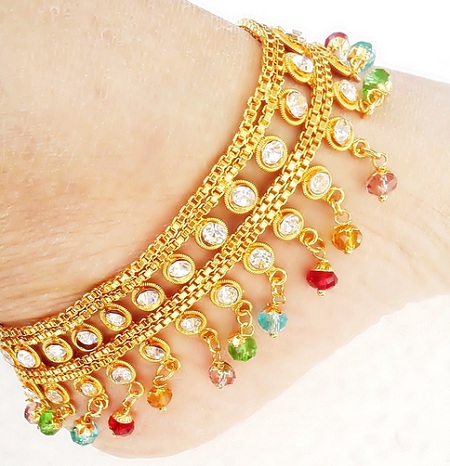 If you will see the anklets has similar design in two rows. The upper design has two interwoven chain attached at the bottom you can see circular motives with stones embedded in them. And this same design has been replicated. This makes it quicker and more beautiful. What adds to its beauty are the multi coloured small beads at the bottom. The dangling beads at the bottom are of stone and makes no noise but gives a mild trinking sound.
5. Grand bridal anklets for brides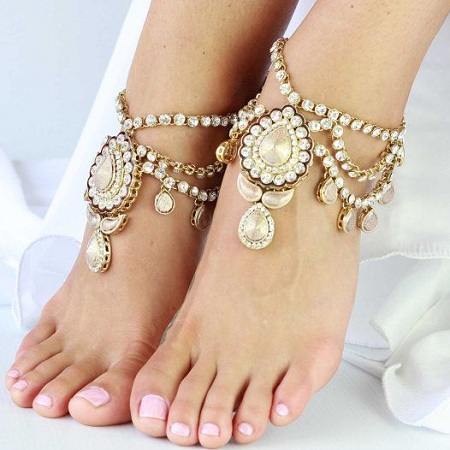 The Chunky earrings or necklace sort of design at the centre easy attractive. Modern anklets. The stone lines along with the teardrop shaped designs makes them even prettier. If you are a modern bride then you should definitely try anklets like these
6. Traditional Kundan anklets for brides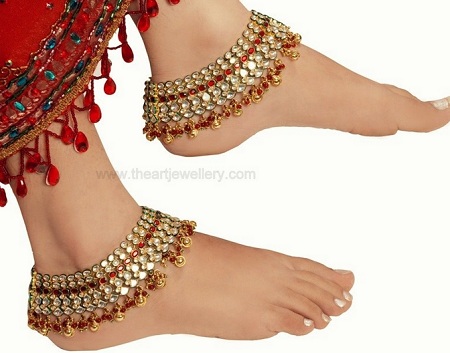 If you like the traditional Indian Kundan anklet designs then this red and gold kundan anklet can be considered. The pied beauty of this jewellery is the colour and the small red Kundan stones used. After two rows of Kundan stone there is a row of red Kundan stone followed by the geometric shape Kundan stones with loreals at the end. This is extremely beautiful and pretty for bride.
7. Pure Kundan flower bridal anklet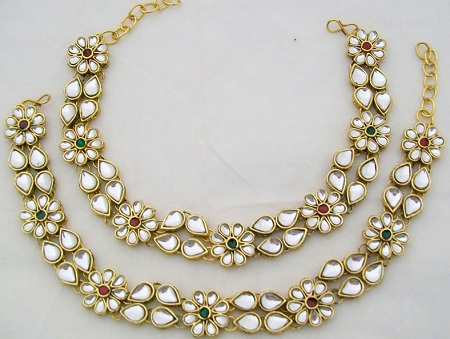 A design as need an impeccable like this is rarely seen. You must have seen so many anklets but this one is simplest it yet has an attractive feel to it. I can take the beauty of bride to another level. You should definitely try a design like this.
8. Pearl bridal anklets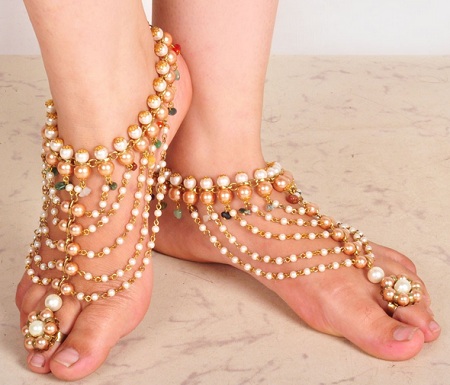 You may not have seen the use of Pearl chains in such a way. Recover your entire sheet with those Pearl chains that makes it delicate yet so overpowering that it would make the bride feet even prettier. It also comes with a toe ring. You must try a piece like this if you like things grand and more royal looking.
9. Gold anklet with toe rings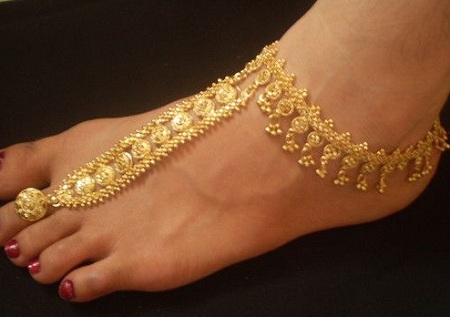 This anklet has a pure gold design with no stones or nothing like that. The texted and called out gold strips has a Centre strip that goes straight to the toe ring. These designs look alluring on new bride. In South India designs of anklets like these are very popular.
So these are the bridal anklet designs. Have you used any of such designs or would you like to use any of these? Which is the one that you like the most? Please do share in the comments.