Blouses are really a must have in your wardrobe, because these blouses are so popular and blends with the different types of sarees. This is why keeping a great piece of brocade blouse is a must have in your wardrobe. So, in this article, we are going to talk about the latest brocade blouse designs available in the market or are currently trending. It's just that one can wear a nicely made brocade saree blouse with cotton saree, silk saree or even the regular net sarees. There are so many different ways where you can pair your brocade saree blouses, however we are giving ample amount of Ideas for the brocade blouses.
Latest Brocade Saree Blouse Patterns For 2023
1. Bright Yellow And Gold Brocade Blouse
This is a gorgeous blouse design with medium sleeves and boat shape Neck line with the princess cut pattern. In fact the pattern is so beautiful with the woven gold Zari work that you would surely fall in love with this. It is best to be paired with either a same coloured saree for different colours of sarees and the best that goes with yellow is black or red green blue and even pink yellow is a colour that makes you bright, cheerful and make  you look stunning.
2. Multi Colour Brocade Saree Blouse Pattern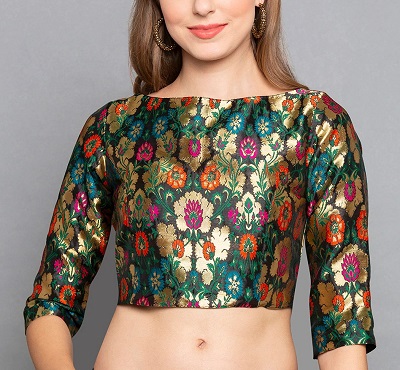 The pattern here reminds us of the regular Kalamkari design but this is a brocade blouse where in the work is a woven thread work in a brocade fabric. This is the one of the best looking blouses for the younger women, who like to experiment with their sarees in a different way. In fact the blouse look so beautiful that it can be paired with different types of sarees.
3. Red And Gold Brocade Saree Blouse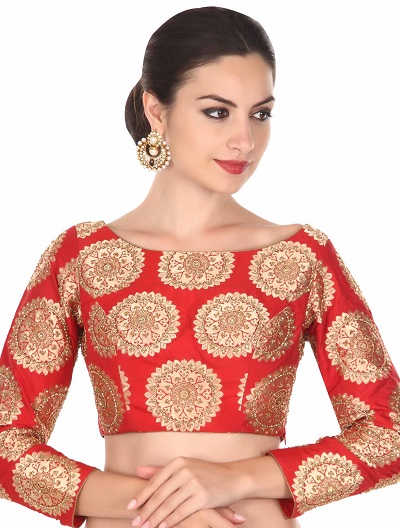 With full sleeves and boat shape neck line is paired with full sleeves. It is a classic combination wherein you will have the blouse till the full sleeves and princess cut pattern with back hooks. This entire pattern when blended with the boat shape neck line accentuates your collar bone that makes you look stunning and slimmer of course.
4. Blue Short Sleeves Brocade Blouse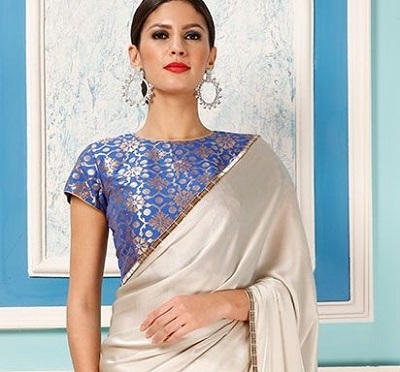 Like here it is been paired with a cotton Silk Ivory grey saree and it looks amazing. There are no dearth of the colours to pair with royal blue colour. So in fact you can look as stunning as a diva, when you pair your different silk sarees with this blouse.
5. Brocade And Silk Saree Blouse Design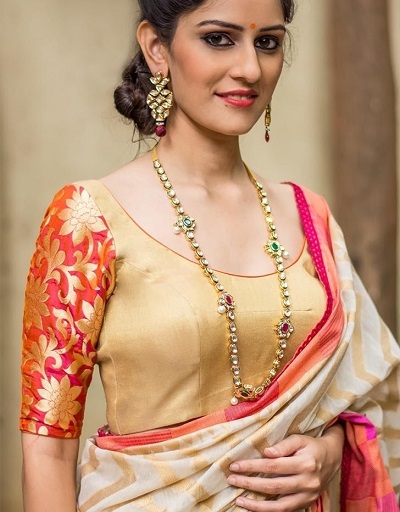 This blouse and has a round slightly deeper neckline and on the sleeves part the brocade woven fabric is useful. The Silk plain fabric is used for the bust part. It is a very simply yet very gorgeously made blouse pattern.
6. Brocade Blue Pattern Blouse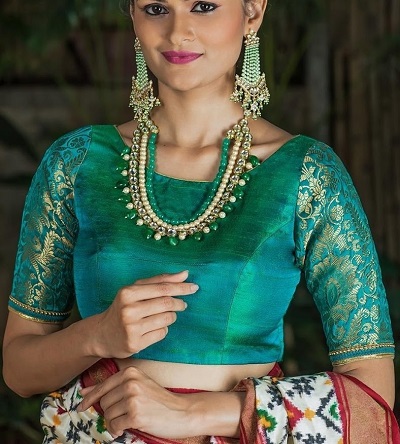 The gorgeous blouse has the woven thread work sleeves, while the bust is made with a solid plain fabric. The fabric is really beautiful and is inspired from the peacock colour. And so does the jewellery which makes it beautiful. It is a very royal looking pattern.
7. Red Embellished Brocade Saree Blouse Design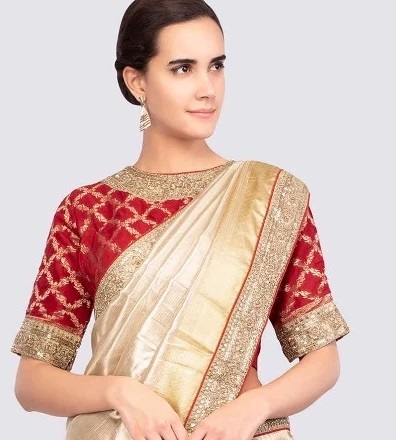 As shown in the picture, why just pair this gorgeous Red blouse with a golden saree, when you can pair it with a black, red, blue and even and orange colour. So there are so many things one can do with such a gorgeously made saree blouse. It has the high neck round neckline with embellishments any other neckline. It's been given medium length sleeves and the gold thread work is quite apparent that makes it extremely stunning. Blouse designs are also good for the bridal trousseau.
8. Royal Blue Saree Blouse In Brocade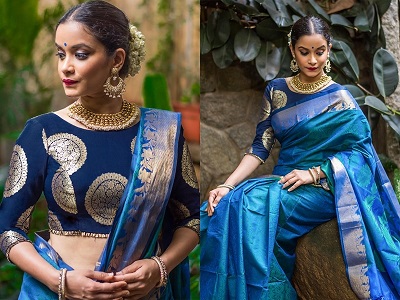 A gorgeous blouse has three fourth sleeves and is made with a royal blue colour. It has boat shape neck line and looks really gorgeous. Here it is being paired with a royal blue silk saree. One can also pair such blouses with the net saree. And the matching jewellery does all the magic.
9. Brocade Golden Blue Saree Blouse Pattern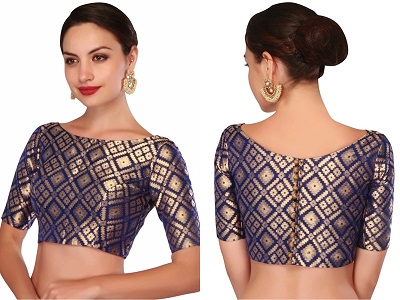 the beautiful saree blouse as back buttons which are inspired from the regular deeds. The gold work is quite heavy and kind of suppresses the royal blue colour. This actually makes it really festive and party wear kind of blouse. The boat shape Neck line for the front and back adds more Karizma to this pattern.
10. Blue Patch Work Blouse Design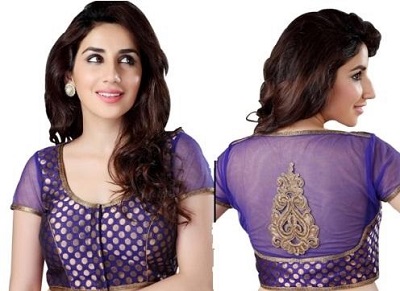 here the brocade and sure Georgette fabric is used to create this stunning blouse pattern here. The back side has Patchwork and reviews the back but not entirely so you can also called as a semi backless pattern. The front hook pattern is traditional but yet at the new Cham to this blouse.
11. Collared Brocade Purple Blouse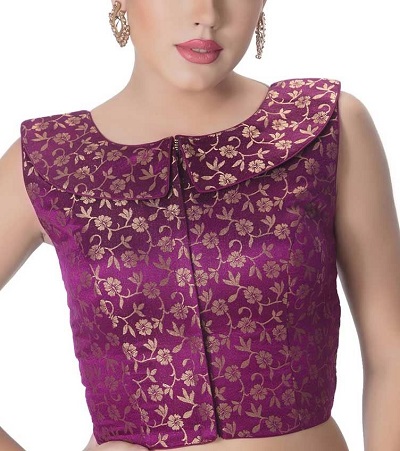 the blouse your has a zipper in the front side with the collar. It a gorgeous Magenta purple colour which gives it a stunning look for stop that blouses are suitable for the fashionable woman who would like to try patterns and cuts for their saree blouses.
12. Brocade And Velvet Saree Blouse Design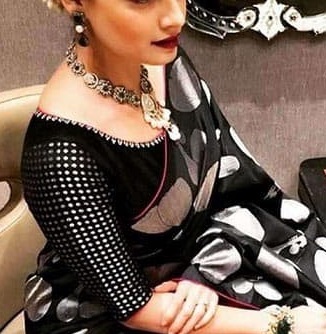 When the brocade fabric is mixed with a velvet fabric it gives an extremely Royal feel. Here the brocade fabric is used for the sleeves part why is the valve it is used for the rest of the blouse. In fact it is a stunning blouse design and pattern that is perfect for the Cocktail function.
13. Black Brocade Blouse For Saree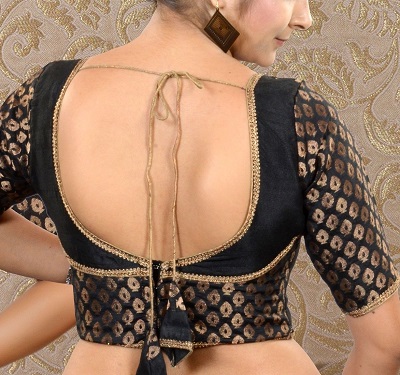 It's a patch work pattern in two different fabrics. The brocade fabric is used for the sleeves and on the back part. Back hooks are given in this blouse pattern. Golden work is quite evident and makes it a festive their kind of clothing.
14. Deep Red Maroon Brocade Saree Blouse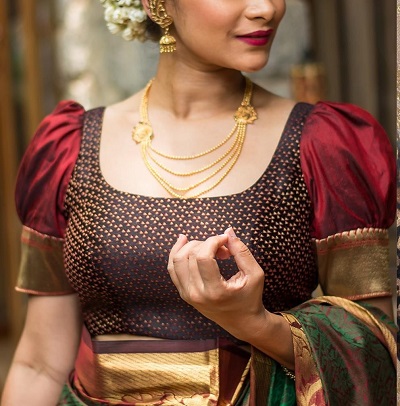 What makes this beautiful pattern is the sleeves and puff sleeves are back in fashion again and they are here to stay. It looks really gorgeous and stunning. The blouse is made with a gorgeously cut sleeves design and pattern.
15. Simple Green Brocade Fabric Blouse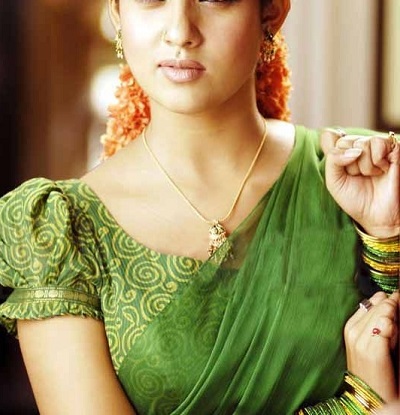 The brocade silk lighter fabric is used for this blouse. It is the simplest design of blouse that can be used for everyday wear as well.
16. Patchwork Sleeves Saree Blouse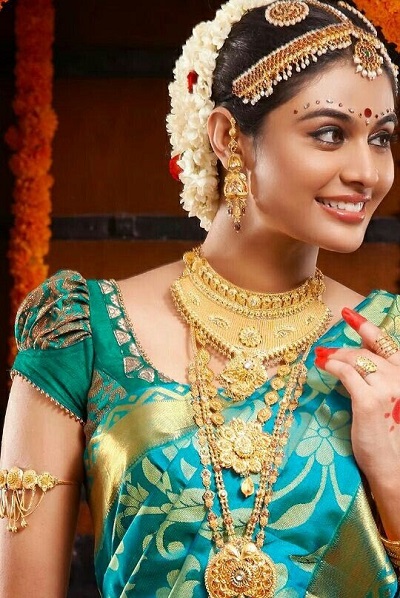 The stunning patch work blouse has brocade work here and there, which is highlighted by the plain fabric used. It is a perfect South Indian wedding kind of blouse which looks stunning with the silk sarees.
17. Golden Brocade Sleeveless Blouse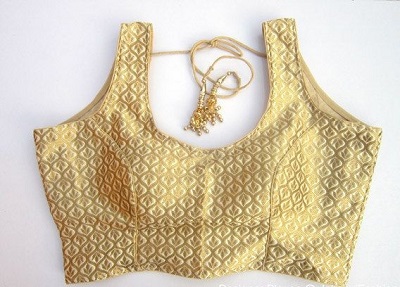 A golden brocade blouse must be there in your wardrobe, because they are multipurpose. You can pair them up with any type of saree that you have like net, chiffon, georgette and what not. It is a sleeveless blouse with a thin strap. It can also be paired with the lehengas.
18. Pleated Brocade Blouse For Saree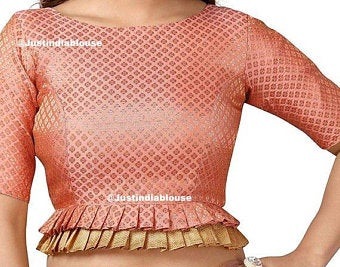 This pretty pleated blouse style has pleats in a double row near the waistline and it looks really gorgeous and fashionable. For all the women, who like to try different stuff and designs for their saree blouses must go for this one at least once.
19. Black Sleeveless Brocade Blouse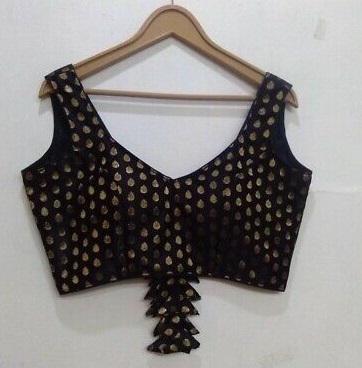 This is more like a choli cut blouse where the latkans are used for the back part and in the front the regular slightly v shape neck line is used. It's a sleeveless blouse made in a black brocade fabric. Such blouses would really make you look like a diva and head turner.
20. Green Brocade Princes Cap Sleeve Pattern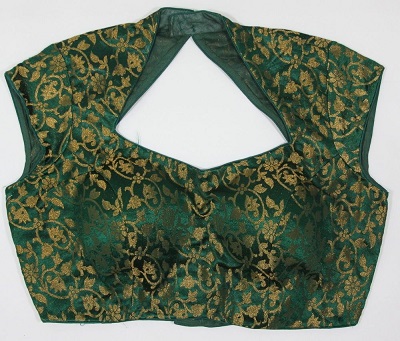 The royal kind of pattern of this blouse makes it pretty. The bottle green colour has sleeves and the pattern is attractive looking.
These are the latest brocade saree blouse designs that you can try with different styles of sarees and patterns. The way you stitch a blouse totally depends on you but to stay in trend with the upcoming ideas and current trends you must take a look at the stitching ideas.