Chinese and Mandarin collar blouse designs are currently trending. These are suitable for women of every all age groups and body types. They actually elongate your neck and give a sophisticated look for occasion stock price from the heavy maggam work blouses to the simple printed saree blouses Chinese collar can be incorporated in different types of blouse designs.
Latest Popular Chinese Collar Saree Blouses (2022)
Here we have compiled the list of the latest Chinese blouse patterns.
1. Printed Chinese Collar Blouse Design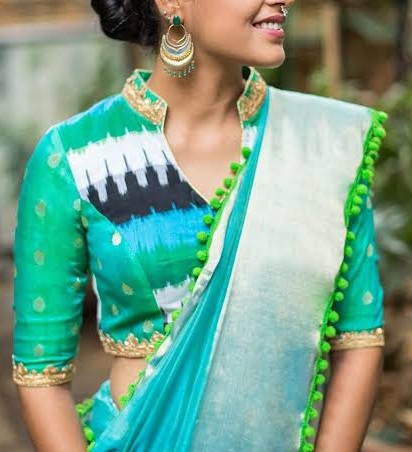 The printed Chinese collar blouse has a knotched neckline and elbow length sleeves. Made with a princess cut pattern, it has hooks at the back. The ikkat print designer blouse is perfect to be paired with different types of cotton and silk sarees.
2. Hi Neck Collar Blouse Design
Beautiful Mandarin Chinese collar saree blouse has a round circular neckline that also looks like a keyhole neckline. It has short sleeves and made with a princess cut. The blouse is really designer in pattern and cut. It can be paired with chiffon Georgette printed sarees to add that simple yet sophisticated look.
3. Full Sleeves Chinese Blouse Design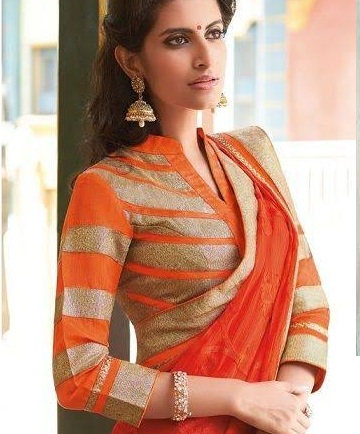 The neck blouse design is with Mandarin neckline. It is a full sleeves blouse that has Golden Patti work throughout. The blouse is perfect to go with designer embroidered and even with the silk sarees. It can be paired with women of all body types like if you have a healthy body blouse design like this would tone down a bit.
4. Chinese Blouse design for Lehenga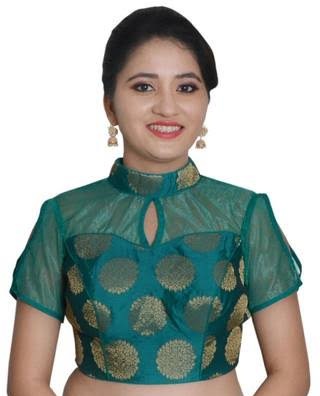 It is a full Chinese neckline blouse that also has a high neck kind of field. Made with a first year type blouse it is suitable for lehenga and sarees.
5. Sleeveless Chinese Blouse design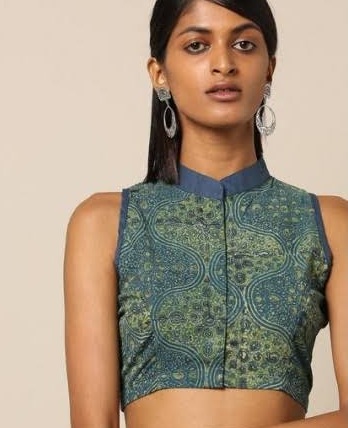 When the blouse design is sleevesless, this pattern can be replicated. The high neck or Chinese neckline blouse design is made with a printed fabric with front opening. Science can also be used with other type of western wear.
6. High Neck Blouse for Sarees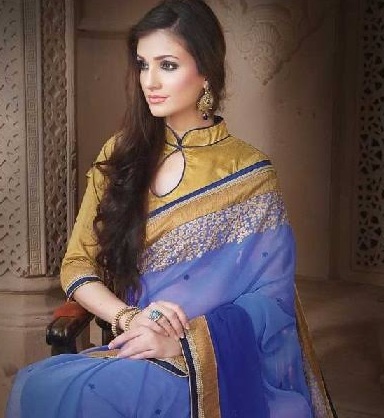 Golden blouse with Mandarin neckline and oval cut gives it a designer look. Three fourth sleeves can be experimented and made short or full sleeves as well. The golden blouse is versatile and can be teamed up with the different types of sarees and dresses.
7. Embroidered Chinese Style neck design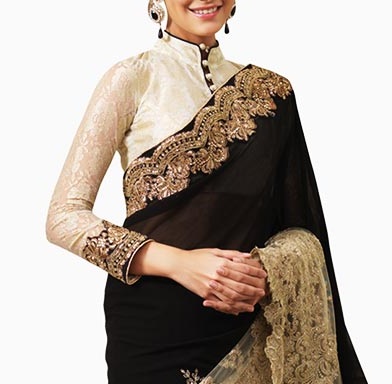 This Chinese neckline house design comes with buttons. It has full sleeves made with net fabric. The blouse is really classy and elegant. Designs are best suitable for women of different age Groups. For mature women this design is perfect to go with different types of wedding dresses.
8. Chinese Neckline with front Zip for Lehenga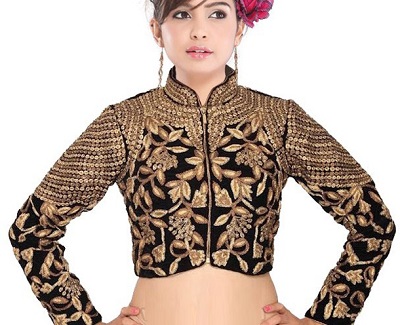 The front zipper this Chinese neckline blouse takes the design to another level. The black and Golden embroidered blouse design is perfect to be teamed up with your heavy sarees, light sarees and even lehengas. The front zipper makes it very easy to wear and it can also be worn as front open jacket with a sleeveless or strap top inside.
9. Padded High Neck Saree Blouse Design
The chinese collar blouse designs are also very much in trend. This padded blouse has sleeves and heart shaped neckline given a Chinese neckline at the back with the deep round cut. Such blouses hands are best to be paired with net and chiffon sarees.
10. Jacket Style High neck Blouse Pattern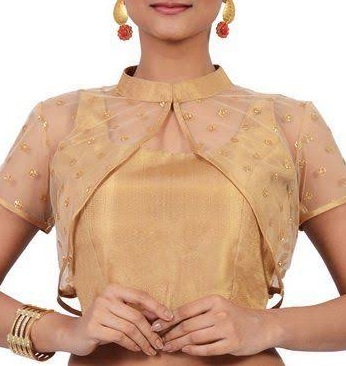 This next blouse is more like a jacket. So first there is a sleeveless simple blouse with princess cut pattern and over that there is half sleeve jacket style.
11. Heavy Half Chinese neck Blouse Pattern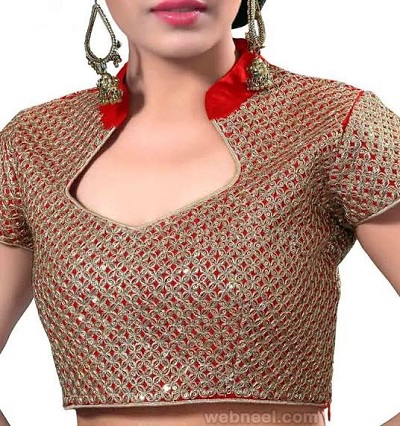 For women who would like to have heavy embroidered blouses for their heavy saris shall try this one. The neckline is the highlight of this beautifully sequin and Zari work blouse design. It's best to be paired with the heavy dresees.
12. Yellow High Neck blouse for saree with Buttons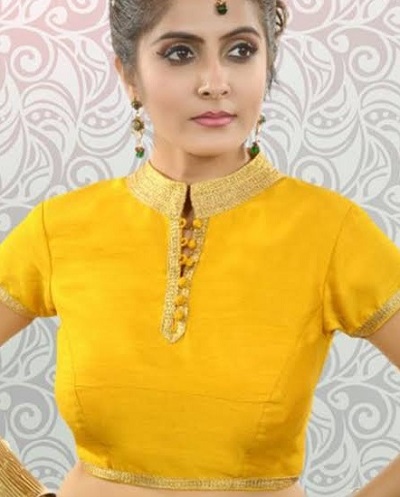 Yellow is a youthful and cheerful colour. The neckline is round and semi Chinese with front slit that has buttons. Half sleeves are given to this princess cut blouse design. It has a zipper on the side and is one of the best blouse designs most of your Indian ethnic wear.
13. Printed Long Sleeves Chinese Blouse Style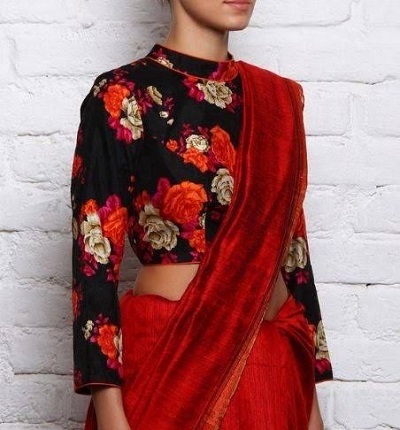 This blouse can be a multipurpose product that you must have in your wardrobe. Floral printed blouse design has Chinese neckline and open hooks. It is paired with a cotton silk saree but it can be teamed up with net, Georgette or even floral chiffon printed sarees.
14. Designer Embellished Long Sleeves Chinese Blouse Style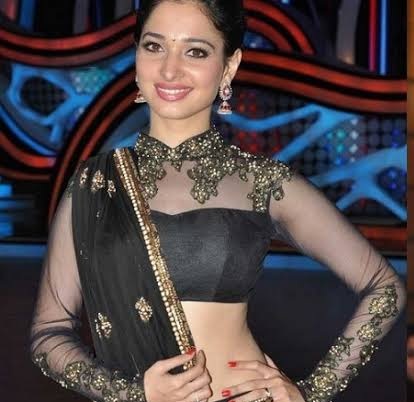 For parties, an embellished and heavy work blouses are most suitable to stop hair the designer blouse has Chinese full neckline with back open hooks. With full sleeves, it is given embroidery patches on the sleeves and shoulders. Such blouses are perfect for every type of festival that you would like to have.
Now that you have different choices and varieties of latest Chinese saree blouse designs, you can try any of these and pair it with your ethnic wear.