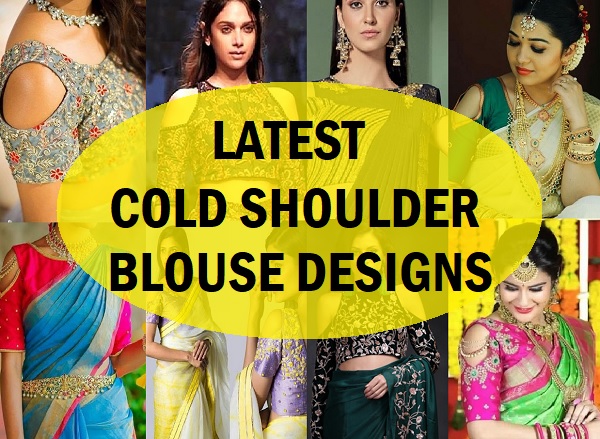 Cold shoulder saree blouse design is a stunning combination for parties, festivals and wedding wear. Traditional Indian attire makes women elegant and breathtaking. To team up with the sarees, lehengas, we try different types of blouse designs and patterns, but cold shoulder blouse patterns are very much in trend. Right from your casual to office wear, you can choose this sleeves style. The trends are changing and the cold shoulder design is something that is here to stay. Yes right from the simple cold shoulder pattern to designer cold shoulder blouse pieces, you can try. So let's take a look at stunning and latest cold shoulder blouse designs and trends. Cold shoulder choli design patterns are also tried with the other dresses like chaniya choli, lehenga and more.
Even one can buy cold shoulder saree blouse online.
Latest Types Of cold shoulder blouse designs catalogue and images (2022)
Let's take a look at these modern and latest cold shoulder blouse designs.
1. Black Cold Shoulder Blouse Design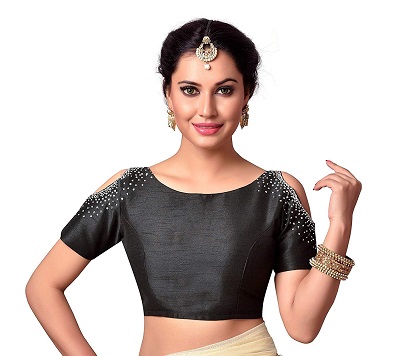 The simplistic cold shoulder blouse in black colour has stones around the shoulder cut. With boat neckline it has a princess cut with side zip. It's perfect for women who don't shy away from being sober and subtle.
2. Bollywood Style Cold Shoulder Blouse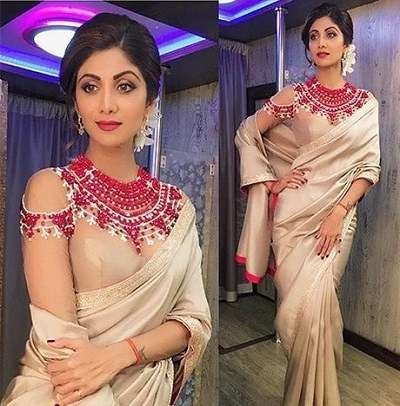 The Bollywood inspired cold shoulder blouse has full sleeves in neutral colour. With exclusive embroidery in the contrasting colour, this looks gorgeous. A lot of women would be able to carry such cold shoulder saree blouse with round high neckline.
3. Cold Shoulder Blouse For Lehenga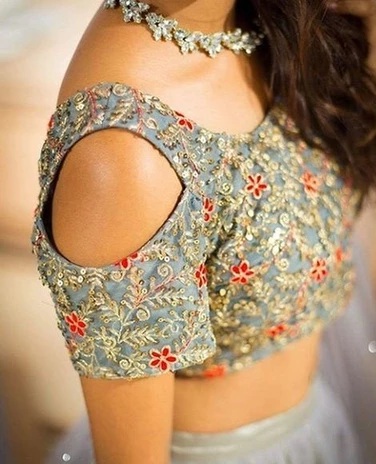 Perfect for your lehenga dress, the cold shoulder blouse has small cut and u shaped neckline. It's given embroidery with gold thread and zari work. The sequins work is also seen that makes this cold shoulder saree blouse pattern really modern and pretty.
4. Cold Shoulder Blouse With Flared Bell Sleeves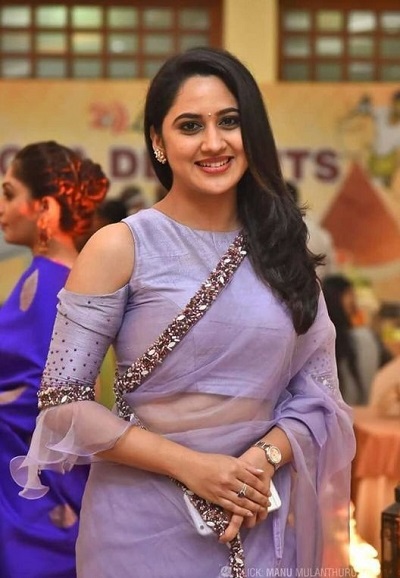 This is a blouse with sleeves further styled by the flair edge. The sequins studded blouse is perfect for parties and other ceremonies.
5. Cold Shoulder Kalamkari Blouse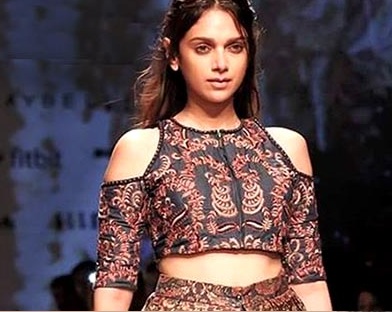 The front open kalamkari design blouse also works as a crop top dress. With heavy embroidery in contrasting colour, this blouse is a beauty. It's one of the most elegant looking blouse designs.
6. Cold Shoulder Saree Blouse With Flared Sleeves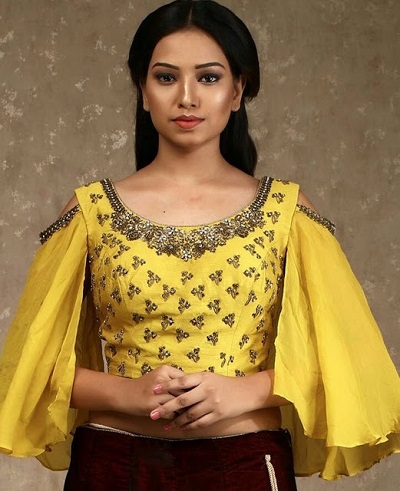 Your cold sleeves are not just for the regular sleeve pattern but the flared sleeves can also have the design and cut. The blouse is made with raw silk fabric and heavy embroidery. One can also try this cold shoulder blouse for lehenga and other dresses.
7. Cold Shoulder Sleeves With Keyhole Neckline
It's a simple blouse in a crop top pattern with cold shoulder sleeve and keyhole neckline. It's made with silk fabric and net.
8. Crop Top Style Cold Shoulder Pattern Blouse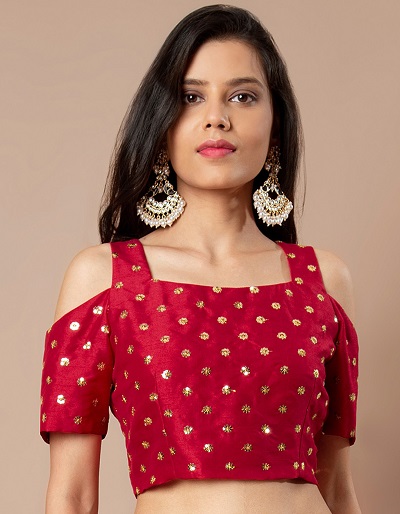 With the chiseled neckline, you can definitely try a princess cut strap blouse design. The stylish blouse is surely attractive. One can style it with sarees and lehengas.
9. Deep Neck Cold Shoulder Blouse With Knot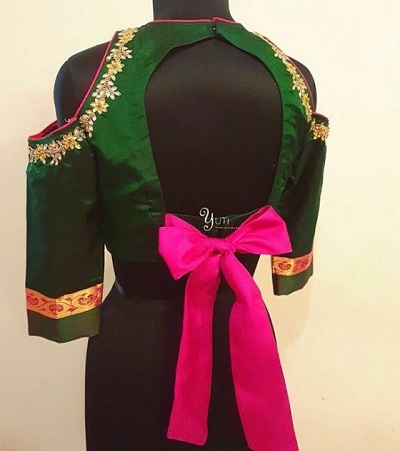 Blouses with knots are back in trend and you will surely enjoy such designs. The knotted contrasting colour dark green blouse attractive and appealing. The heavy embroidery and aari work takes the design on another level. You should surely try design for your next wedding party in the family.
10. Designer Cold Shoulder Blouse Pattern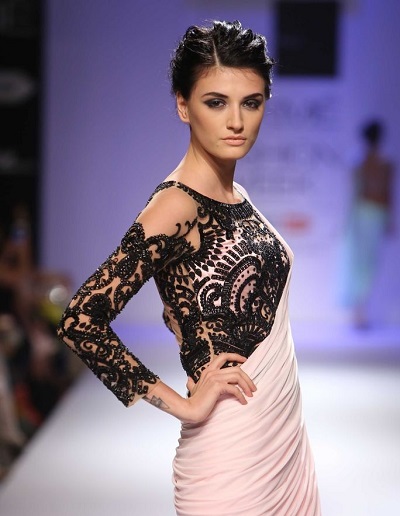 Made with a sequined and stone studded fabric, the blouse has a cold shoulder design. It's a long blouse style with round neck line.
11. Designer Partywear Cold Shoulder Blouse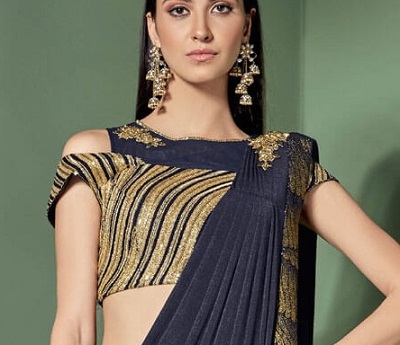 Women who would like to style themselves boldly and stunningly for a party, shall try design like this. With glitter and sequin work, the blouse is sure to grab attention of many at any party.
12. Designer Sari Blouse With Cold Shoulder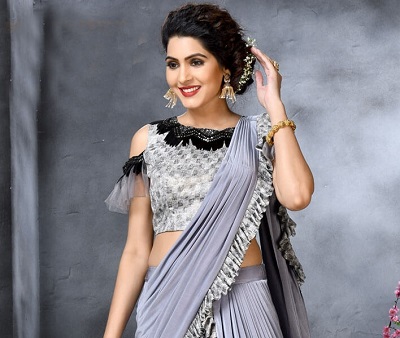 Sequins, stones, lace have always been here, when it comes to women's clothing. The big blouse design is truly mesmerizing and the sleeves blouse pattern would surely make you shine.
13. Dyed Cold Shoulder Pattern Blouse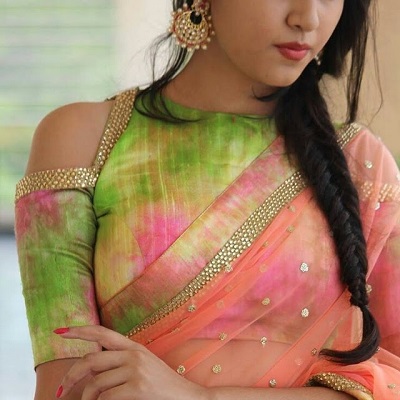 You do not have to be over the top to look stunning. Look at this simplistic design of cold shoulder blouse. It's one of the finest examples of beauty with elegance.
14. Elbow Sleeve Cold Shoulder Pattern Blouse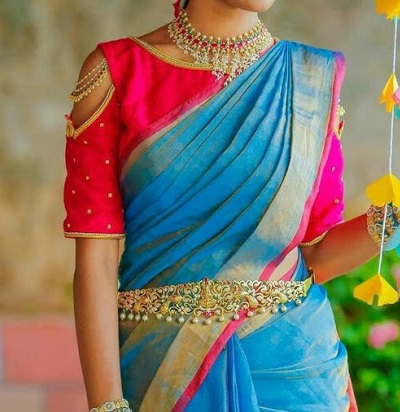 With jewellery strings attached on the sleeves, it's definitely a different looking blouse pattern. The elbow sleeve blouse design with round neck is outstanding. To make you extra stunning the blouse is given strings at the shoulder cut. This boat neck with cold shoulder blouse design is decent and elegant.
15. Embroidered Cold Shoulder Saree Blouse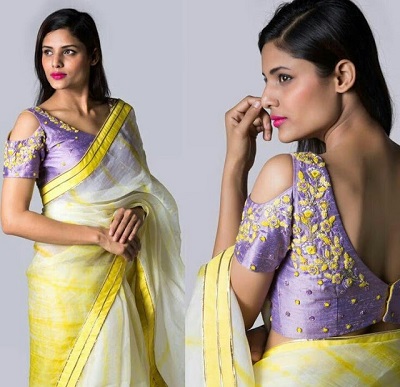 This embroidery blouse design is given back hook and is made in a regular pattern. Embroidery in yellow contrasting colour on lavender base is eye catching and is one of the best looking blouse designs.
16. Front Open Cold Shoulder Blouse With Round Neck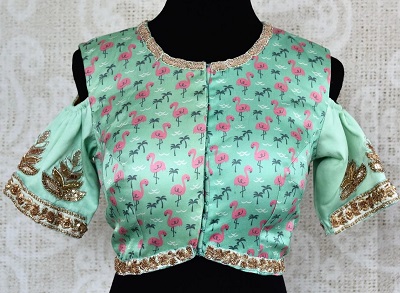 One can have detailed sequinned and embroidery work on a printed cotton blouse. Here is one such example. Try it if you love the design. Try a lehenga with cold shoulder blouse and be the attraction of any party.
17. Full Sleeves Blouse With Cold Shoulder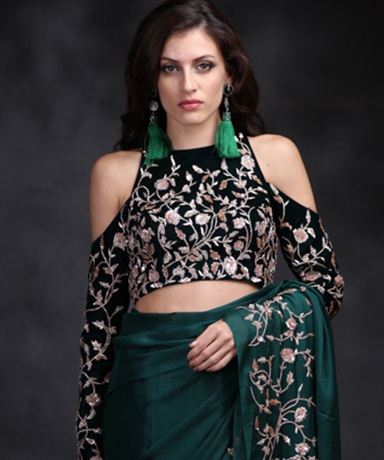 Cold shoulders are not just for a medium to small size length sleeves but the cut of the cold shoulder can extend below and the length of the sleeves can be experimented a lot. The full sleeves blouse design is paired with heavy embroidery and thread work.
18. Green Silk Cold Shoulder Blouse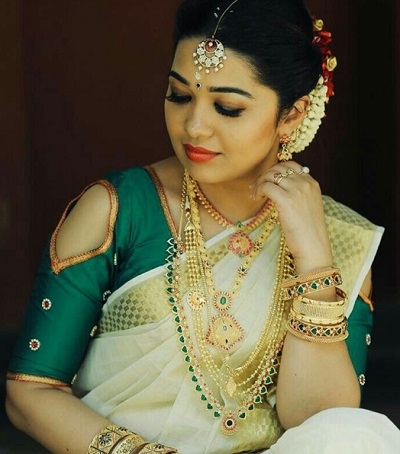 The pattu saree blouse design has cold shoulder and beadwork. It is perfect for your Pattu sarees and other type of silk sarees.
19. Halter Neck Cold Shoulder Blouse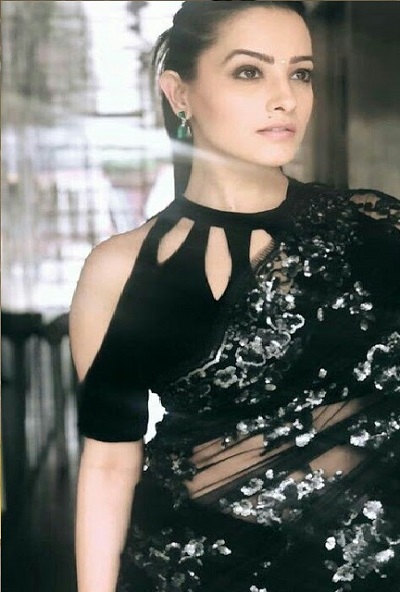 Ladies you can grab your net embroidered sarees and try a high round neck blouse like this. The Ultra glamorous and model looking cold shoulder style blouse will make you party ready and you can switch from the ordinary look to super stunning look.
20. Heavy Designer Cold Shoulder Blouse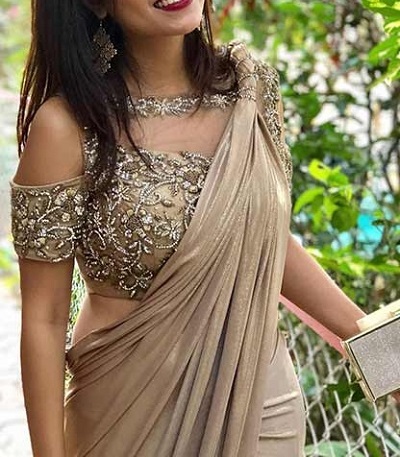 It's a must have in your saree collection. The embroidered gold blouse design with cold shoulder pattern makes you no less than a diva in true sense.
21. High Neck Cold Shoulder Blouse Design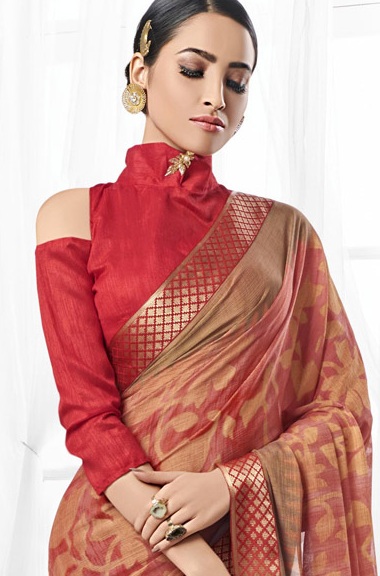 High neck blouse designs can make you look elegant and sophisticated. You must take inspiration from this pattern here. This Indian cold shoulder blouse can be paired with lehenga and sarees and variety of different fabrics types.
22. Cold Shoulder Maggam Work Blouse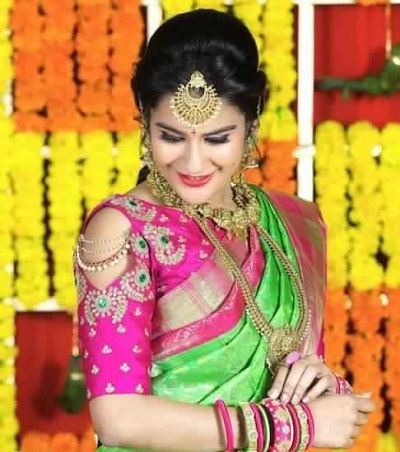 Here's a jewellery work maggam blouse design with cold shoulder sleeves with a twist. You would surely like the beauty of this pattern and would definitely try to replicate a design like this.
23. Partywear Cold Shoulder Saree Blouse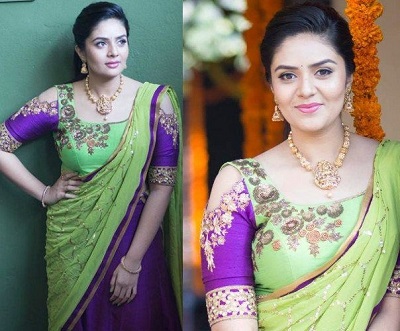 One can never overlook embroidery and sequin work on a blouse pattern. The elbow sleeve blouse design has a cut work sequin. It is elegant yet gives you modern look.
24. Pattu Saree Cold Shoulder Blouse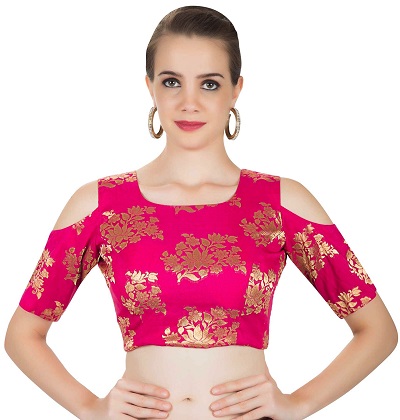 If you are wondering what to wear for your sarees, gherdar skirt, trying ghagra choli style blouse with cold shoulder. This cut out shoulder blouse design in hot pink and gold woven thread work is extremely attractive.
25. Printed Cold Shoulder Blouse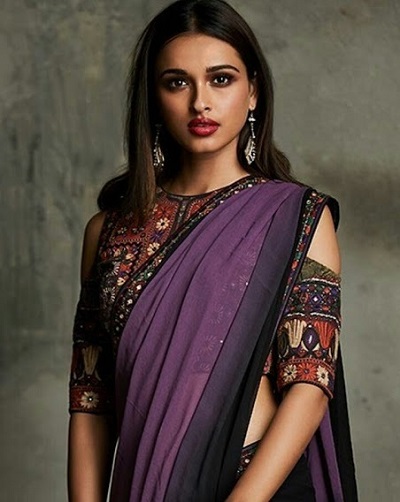 The printed blouse with high boat neck is for women who would like to style in a sophisticated way. Paired with chiffon Georgette saree the blouse would surely make you look different yet beautiful.
26. Cold Shoulder Blouse For Silk Saree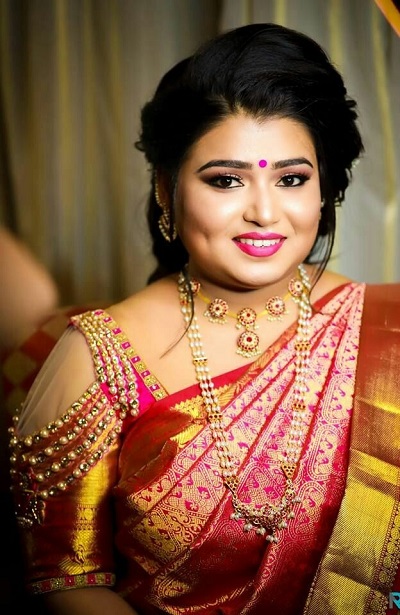 Pink cold shoulder blouse for silk Kanjivaram saree is the best thing you can try. And the design with border is alluring. The louse model simple pattern is elegant.
27. Simple Cold Shoulder Saree Blouse Design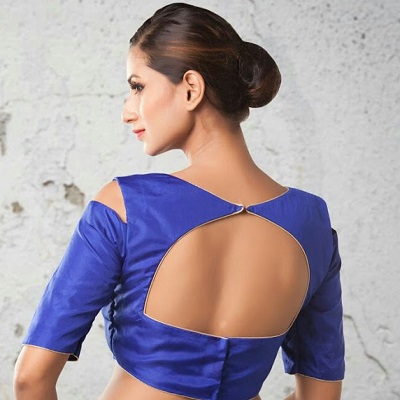 The bell shaped cut at the back of this simple cotton blouse pattern is stunning. The sleeves are plain with cut and back hooks. The blouses with simple pattern is suitable for your cotton and Georgette sarees.
28. Stylish Cold Shoulder Blouse Style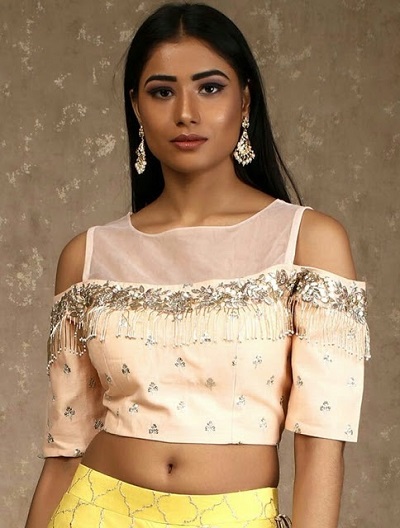 Pearl and bead strings are used a lot these days in the blouse designs. This designer blouse design is fashionable and up to date. It would be good to have a style like this.
29. Thread Work And Cold Shoulder Sleeves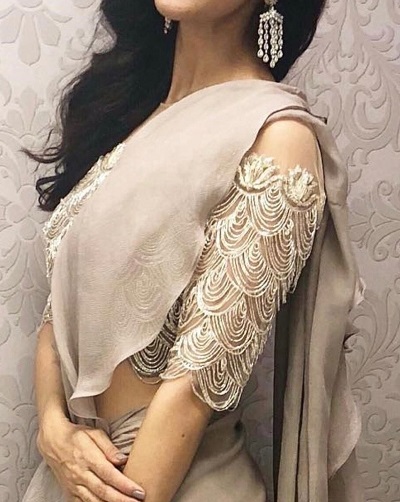 The designer thread work blouse just makes you look one-of-a-kind and stunning. It would fetch you loads of complement by women and men as well. So you can be party ready with a beautiful designer blouse pattern like this.
30. White Brocade Cold Shoulder Blouse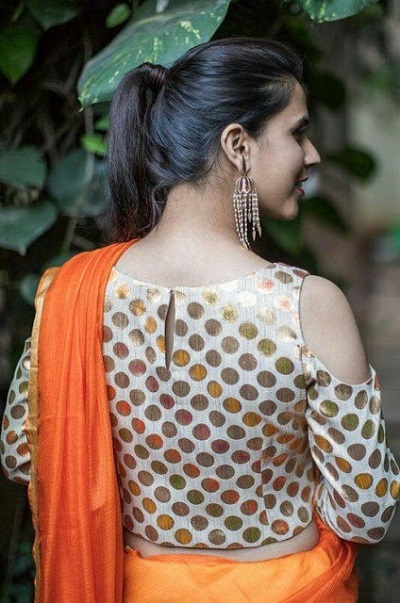 White and gold simple blouse design with cold shoulder sleeves is for women who would like to play Simple the regular sarees or gherdar skirts.
So these are the different types of blouse designs with cold shoulder sleeves. Blouse designs are here to stay and they are one of the most loved trend currently that women all over are loving to flaunt their style and swag. The latest blouse design with cold shoulder with varied fabrics and materials can be tried with different types of sarees. The blouse design type also depends on your body type. Like if you have a broad shoulder then you must avoid the boat neckline. The jewelled neck blouse designs are better when you would like to keep things simple and do not want to wear heavy jewellery. You can also try with fully embroidered blouse designs for your lehenga or sarees.
Lehenga blouse designs with cold shoulder sleeves can also be worn like crop top. And today even the brides are going for bridal blouse design in cold shoulder sleeves. So we're leaving it up to you how you would like to style your blouse designs with sarees and lehengas.
31. Cold shoulder blouse with flared sleeves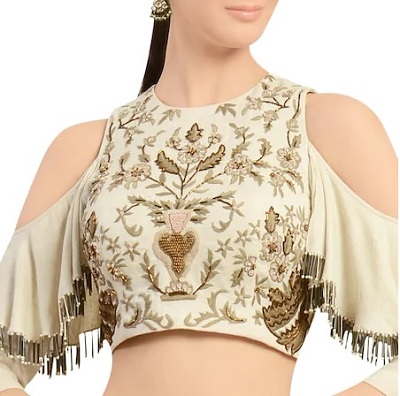 32. Black Cold shoulder saree blouse design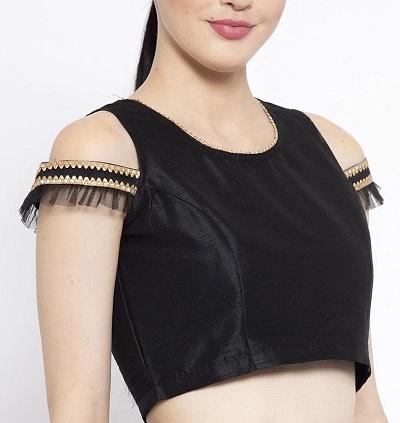 33. Cold shoulder Blouse with Front zipper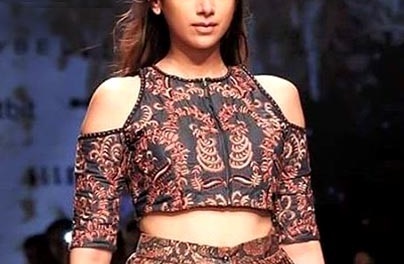 34. Velvet Cold shoulder Blouse for lehenga and sarees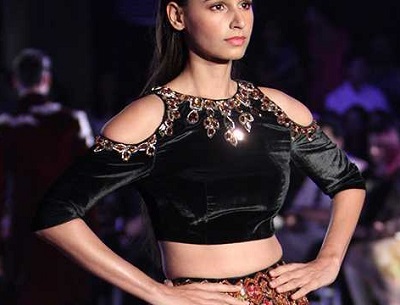 35. Embroidered Cold shoulder blouse design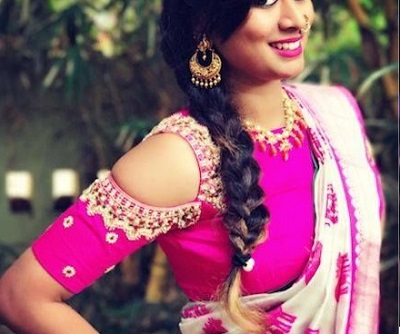 36. Stone Studded Cold shoulder blouse design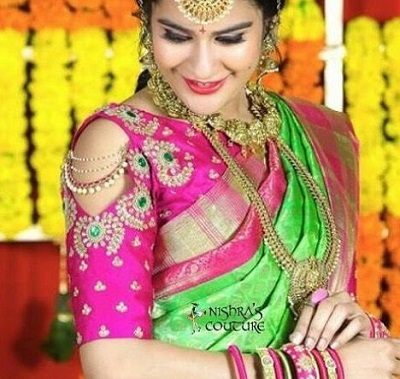 37. Cold shoulder saree blouse for lehenga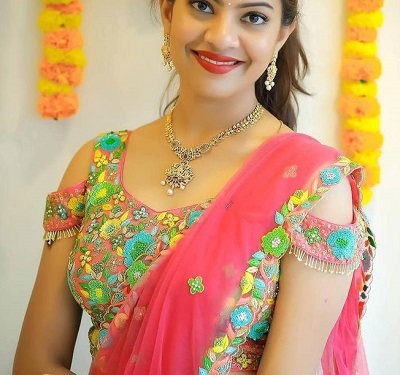 38. Bhandhej Cold shoulder style blouse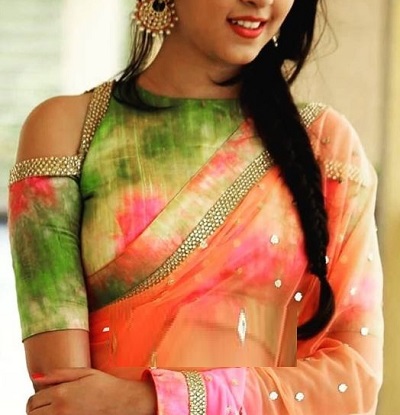 39. White blouse with Cold shoulder sleeves
40. Boat Neck blouse with Cold shoulder sleeves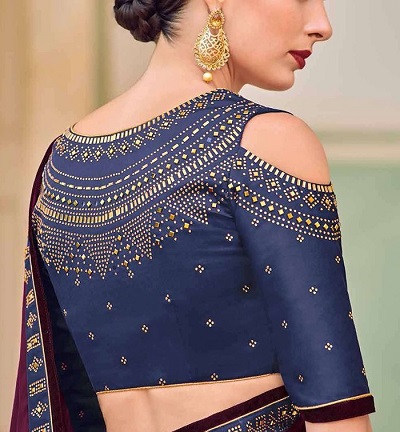 41. Cold shoulder Blouse with flared Collar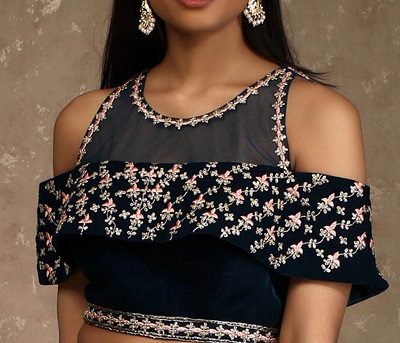 42. Maroon velvet Cold shoulder style blouse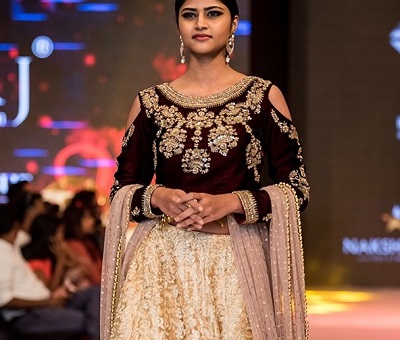 43. Green Silk blouse with Cold shoulder sleeves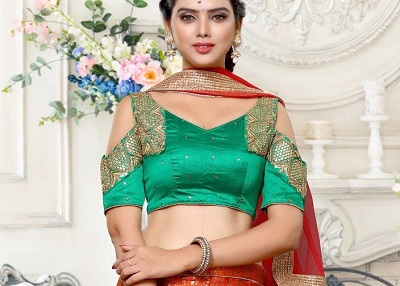 44. Round neck Cold shoulder pattern blouse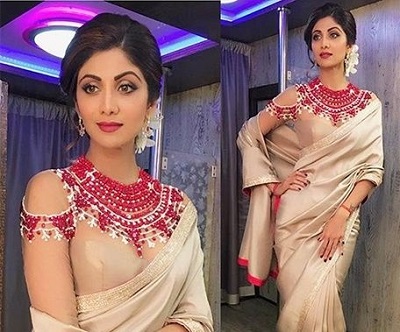 45. Lace fabric Cold shoulder blouse
46. Golden Cold shoulder style blouse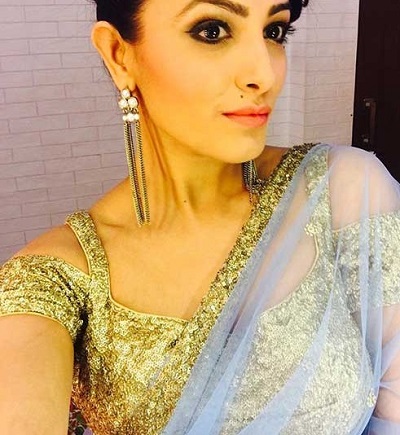 47. Plain Simple Cold shoulder blouse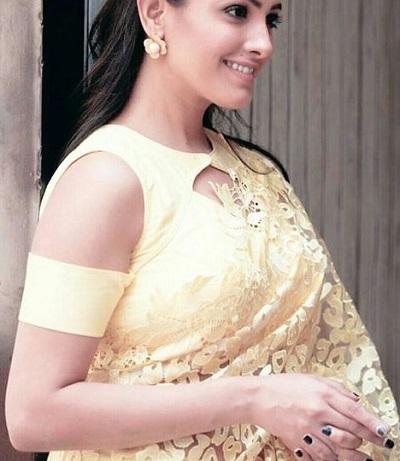 48. Off shoulder Cold shoulder style pattern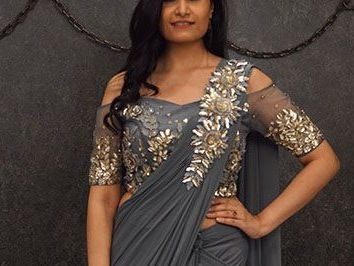 49. Stylish Cold shoulder saree blouse pattern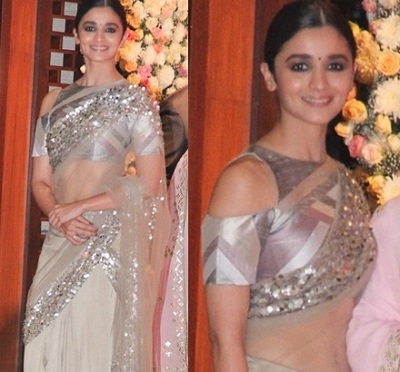 50. Cold shoulder blouse with bow
51. Designer plain Purple blouse style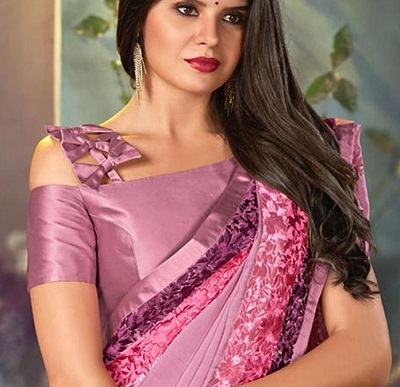 52. Full sleeves blouse with boat neckline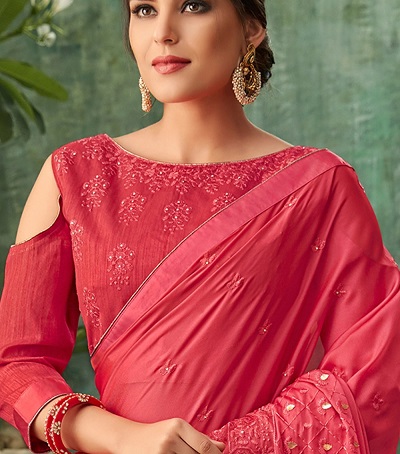 53. Patch style blouse pattern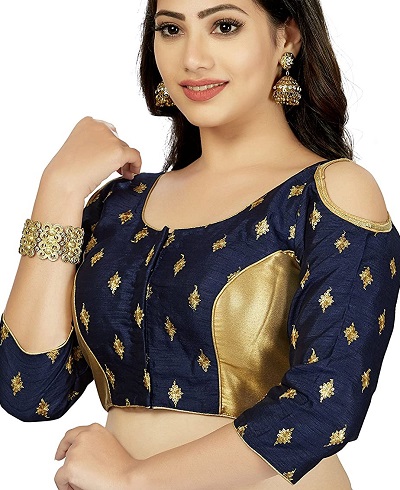 54. Designer blouse with fringes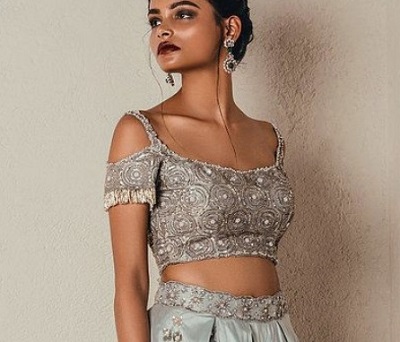 55. Stylish lehenga blouse with Cold shoulder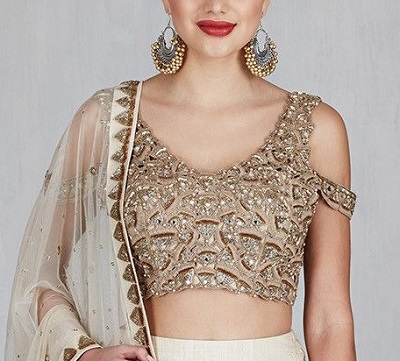 56. Bridal Red blouse with Cold shoulder style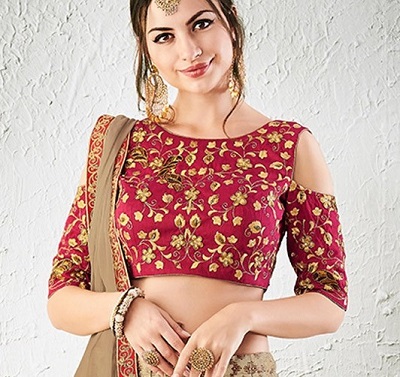 57. Medium length Cold shoulder sleeves blouse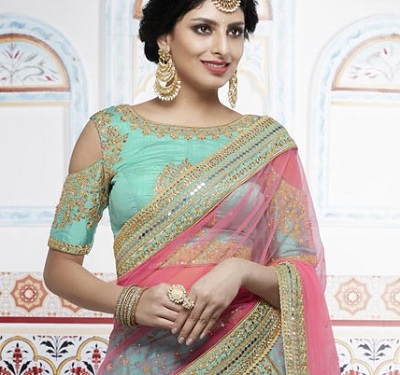 58. Simple Printed Cold shoulder blouse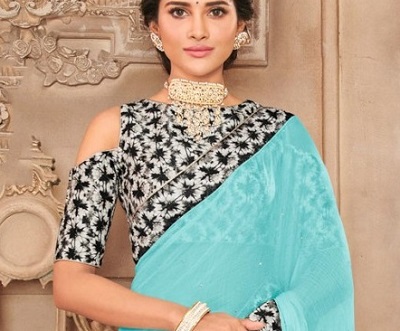 60. Thread work blouse design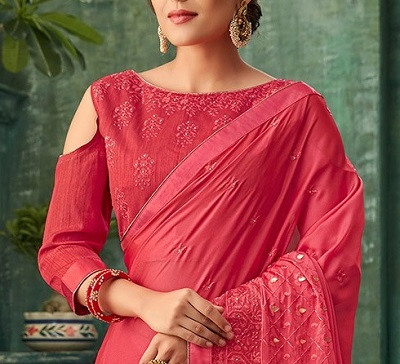 61. Halter style blouse design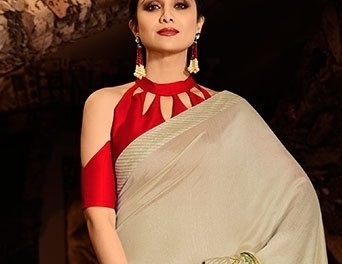 62. Simple yellow blouse pattern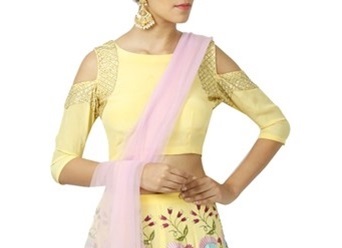 63. Bell Cold shoulder sleeves pattern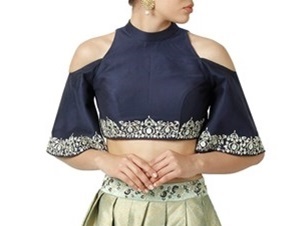 64. Strap blouse with Cold shoulder style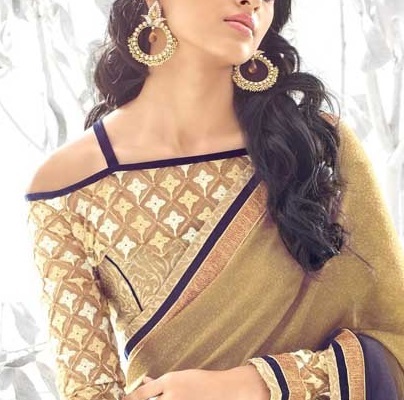 65. Cold shoulder pattern for lehenga and sarees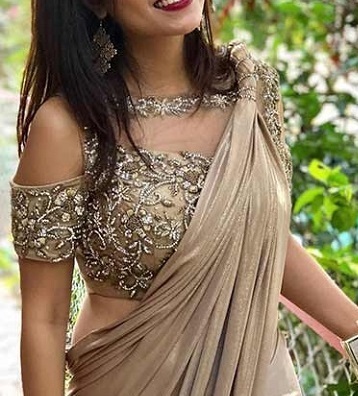 66. Simple silk Cold shoulder pattern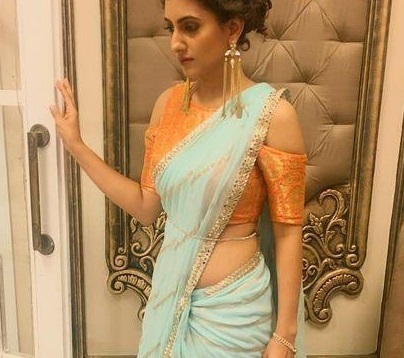 67. Ruffles sleeves blouse for lehenga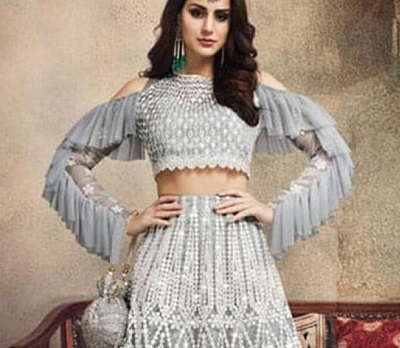 68. Batwing flowy sleeves with Cold shoulder pattern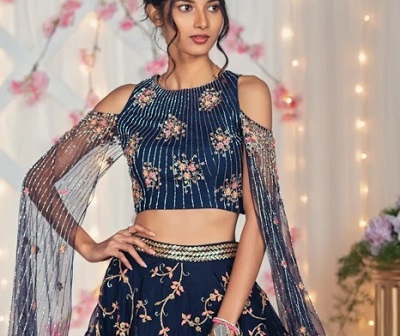 69. Purple lehenga blouse pattern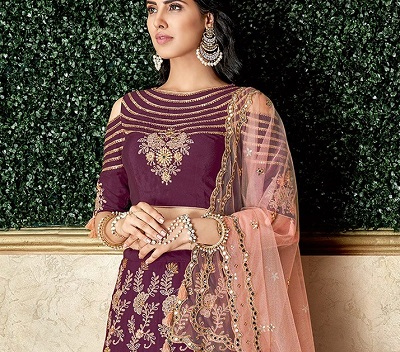 70. Stylish Cold shoulder sleeves blouse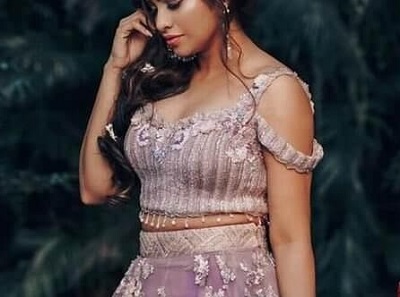 71. Fringes and bead work blouse