Collar style neckline is not just seen in the shirts and tops, but even in saree blouse designs collar pattern is highly preferred. In fact, it makes your saree blouse pattern looks very Indo-Western and gives a very modern feel. Considering that we've compiled the list of best and latest collar saree blouse designs.
Latest Collar Saree Blouse Designs
1. Stylish black blouse with collar design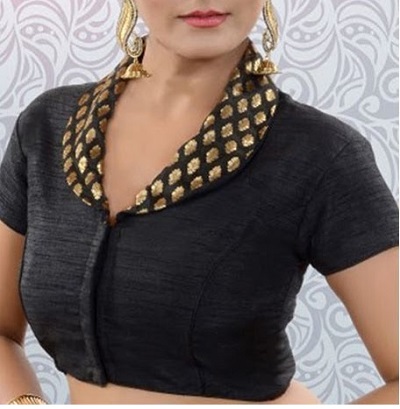 The black art silk blouse has a lapel collar made with brocade fabric. It resembles the collar of a blazer or coat and has front open. Made with the princess cut, the blouse looks extremely elegant, it can be paired with net or cotton saree.
2. Peterpan Collar Blue Blouse Design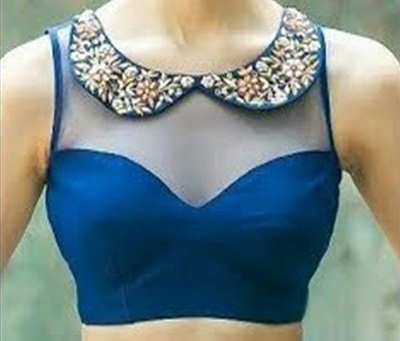 The Peter Pan collar in this patch work blouse design is feminine and elegant. The blouse made with sleeveless pattern and the royal blue colour makes it extra alluring. The Peter Pan collar is studded with stones and Zari work. The blouse is only one of the best looking blouse designs for the modern net sarees.
3. Half collar stylish blouse design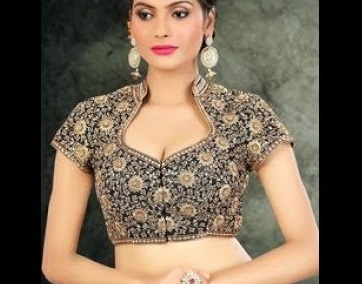 The half collar design with front hook opening of this heavily studded blouse is perfect for parties.
4. Chinese collar blouse with front zipper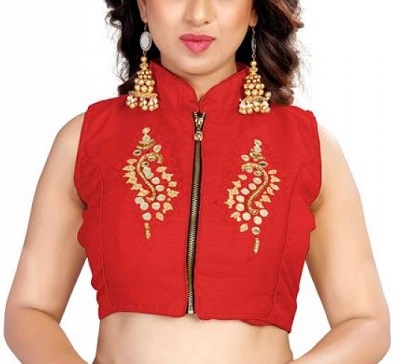 The Chinese or Mandarin neckline colour is given to this front opening blouse. On both the sides of the front part, this princess cut sleeveless blouse design has a mirror and stone work. The sleeveless blouse has a long length that also gives it jacket like pattern. It is perfect to be paired with lehenga and net sarees.
5. Red backless blouse with back collar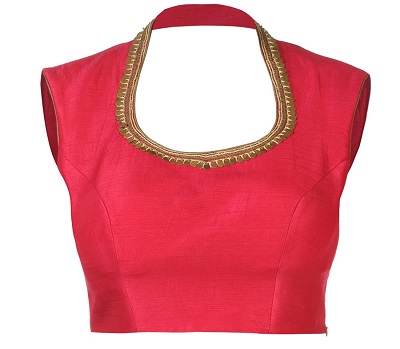 The high neck collar is given on the side while the front side has a scoop neckline. The back is deep and gives a backless type of style. It also has that halter style of look with sleeveless pattern. The pattern of this blouse is princess cut and padding is also applied.
6. Designer studded Gran saree blouse with collar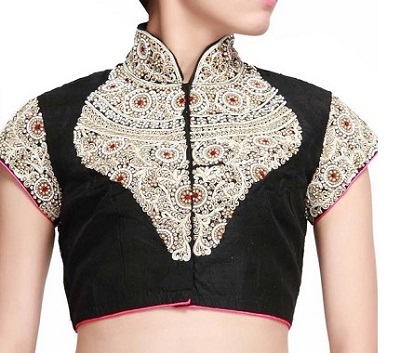 Going for a grand event, this high neck collar blouse with front opening is appropriate. With exclusive rich stone and embroidery work, this makes it one of the best and grand looking blouse design for wedding, festivals and parties.
7. Shirt Collar Saree Blouse Design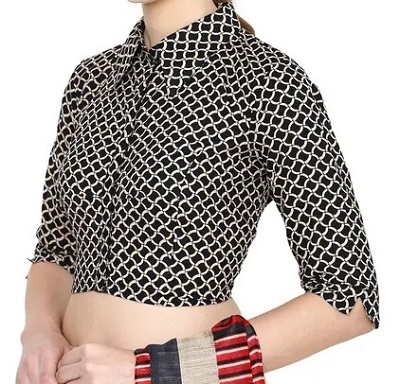 The shirt like blouse has three fourth sleeves. It has a very crop top or shirt like style that is perfect for the printed chiffon sarees, georgette sarees and even the net sarees. It is a very Indo Western kind of feel to it.
8. Partywear Blouse Design with Elbow Length Sleeves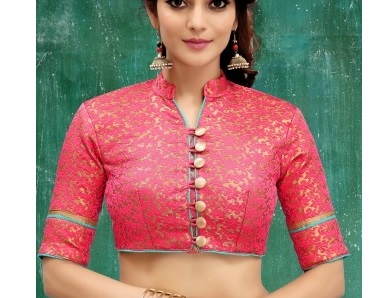 This blouse design has Chinese neckline with front opening and buttons are the one that add more highlight to this design. Two different contrasting colors blue and pink are used on a golden base. This blouse is a stunning blouse that can be paired with silk sarees and even the net sarees.
9. Silk Saree Blouse With Peter Pan Collar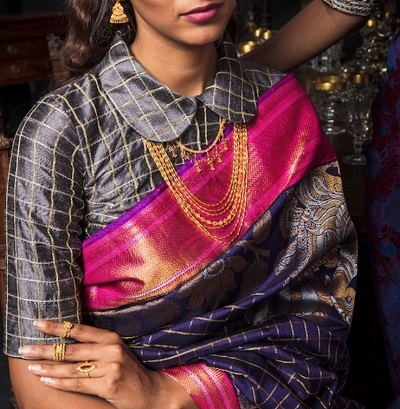 If you're wondering what to pair with your latest new pattu sarees, then try this silk saree blouse in Peter Pan collar. Paired with different styles of accessories, this is one of the best looking modern blouse that adds elegance to your entire attire.
10. Jacket Style Collared Blouse for Sarees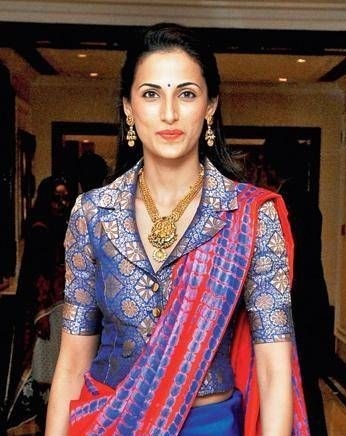 The jacket style blouse has lapel collar that resembles a blazer and the front opening hooks have made it like a short jacket with elbow length sleeves. Made in brocade fabric, the blouse is perfect to be paired with most of your silk sarees.
11. Chiffon Collared Saree Blouse Design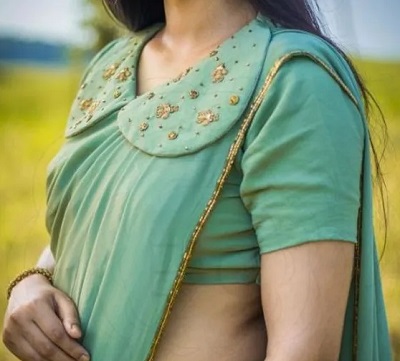 The Peter Pan collar is given to this chiffon saree blouse and the color bears embellishment. This saree blouse is very delicate and makes you feminine. For every festival occasion, this blouse is a must try.
12. Chanderi Silk Collar Style blouse Design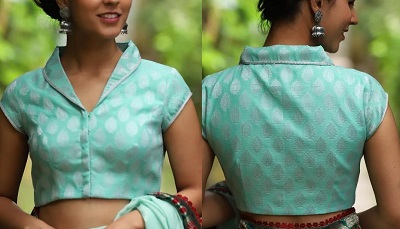 With jacket like collar, the short sleeves blouse is made in the chanderi cotton fabric. It can be paired with different types of sarees, in fact most of the sarees would look complementing with this.
13. Chinese Collar Neckline Saree Blouse Design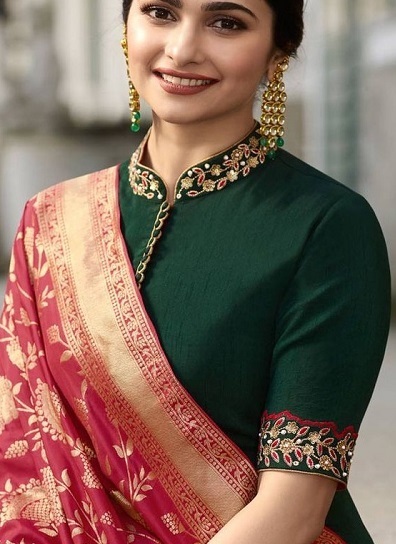 To make your style game to another level, this front hook opening elbow length blouse with collar shirt sleeves. This blouse is refreshing yet has that elegance to it.
14. Front Opening Blouse with Collar Design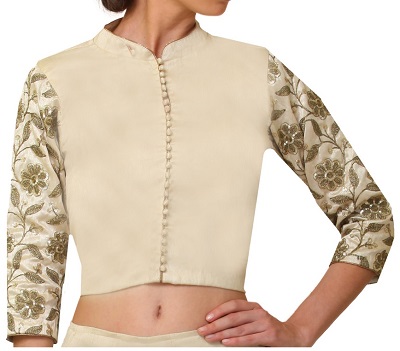 The elbow length blouse sleeves which are studded with heavy embroidery and sequins work. It given front opening and potli buttons are also seen. It's a long saree blouse design with chinese neckline. The blouse is suitable for women of all age groups. In fact, you can prepare full length maxi skirt.
15. Silver Collared Sequin Studded Blouse Design
This stylish silver sequin studded blouse has high neck collar with keyhole neckline. The blouse is perfect to be paired with all the grand occasions and for the heavy and expensive sarees.
16. Designer High Neck Style Saree Blouse Design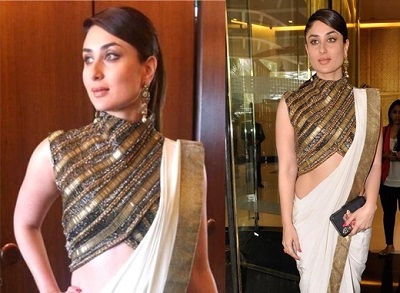 Designer collar blouse has sleeveless design in the entire blouse, made with beads and bugle beads of different shapes and sizes. This heavily studded blouse has different types of pattern and styling that makes it super stylish. This can be one of the best designer heavy blouse designs for your plain sarees.
17. Simple Saree Blouse With Half Collar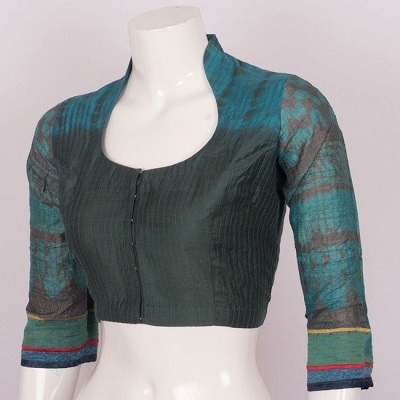 Half collar design blouses are in trend. The ombre coloured fabric is used for this three fourth sleeve saree blouse design. It is suitable for everyday wear simple sarees.
18. Thread Work Saree Blouse Design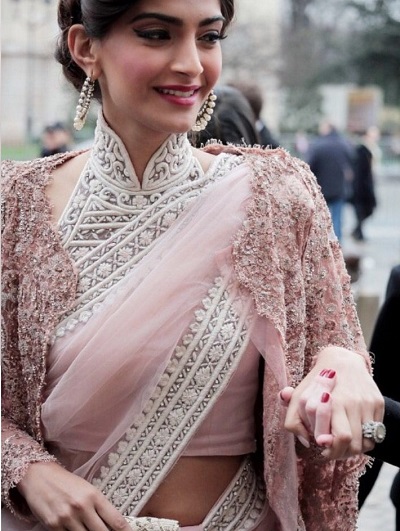 The designer blouse design has heavy thread embroidery. It is a designer blouse piece that is suitable for your expensive silk sarees and net sarees.
19. Short Sleeves Saree Blouse Design with Collar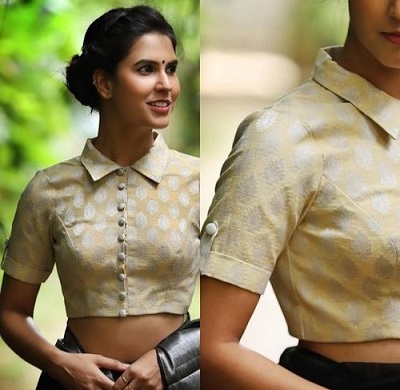 This collar blouse design has short sleeves with front opening and has buttons in the same fabric. Made with the princess cut blouse pattern, it looks extremely modern and stylish.
20. Cotton Saree Blouse Design with Collar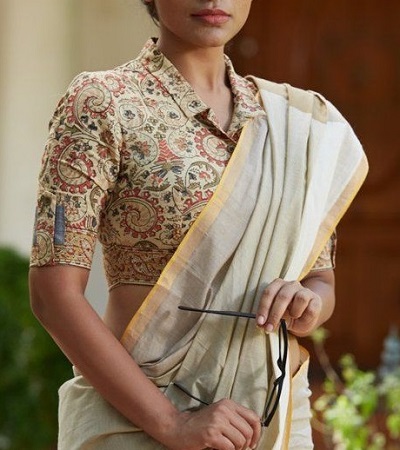 This blouse short collar resembles or jacket and the length is medium. This blouse is Indo Western and high fashion blouse that can be paired with cotton, tissue silk and cotton sarees.