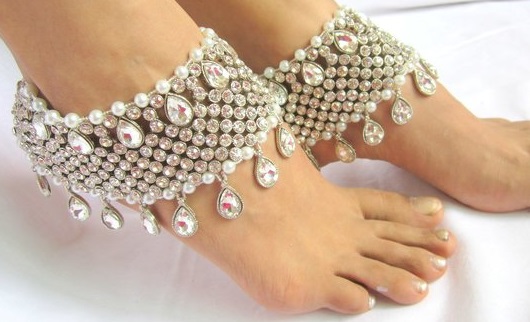 Crystal Anklet Design for Girls
Anklet is a beautiful piece of jewelry that is worn on your ankles. An Indian bride is never complete without wearing beautiful anklets on her feet. Anklets have their own meaning in India. Every married woman should wear this piece of jewelry, not just to make them beautiful but also as a symbol of being married and having a healthy husband. There are so many crustal anklet designs available in anklets. There can be Silver, stone diamonds kundan stones and even thread anklets available in the market. And in depends on you which is the one that you like. Here, in this post we will be talking about the beautiful stone studded anklets for girls. These cute anklets are suitable for festivals weddings parties and ethnic ceremonies. Some of the designs are highly contemporary which make them perfect to pair up with your western dresses like gowns dresses.
Stone Anklets Designs
Big Chunky crystal anklet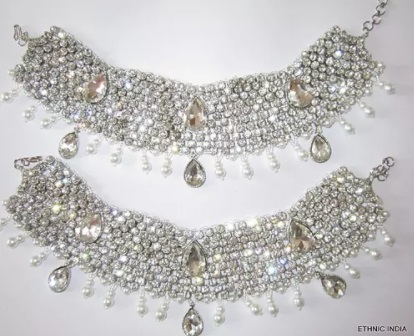 This pair of anklet looks extremely beautiful as the thickness of this anklet makes it stand out. It can be your statement piece of jewelry that you can wear for any occasion. This is perfect for brides. Lehenga colors like red green and orange would look wonderful with this anklet for girls.  The false Diamond stones give it a beautiful appeal. An anklet like this can be used for Indian Festivals.
Stone and pearl anklet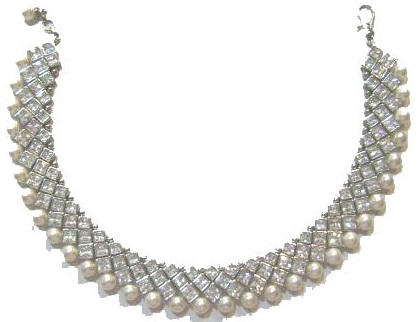 This is such a breathtaking piece of jewellery. The square cut crystals are stacked perfectly to align a circular shape along with the beads at the bottom. It looks stunning when you wear it. Piece like this is perfect for even the young girls. You can wear it not just for festivals and weddings but also on some sort of Pooja at your home. The Silver tone makes it even more enchanting.
Bold crystal designed anklet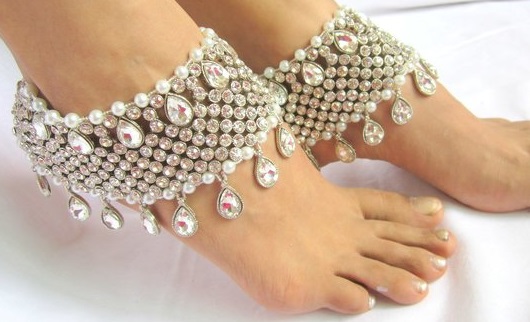 This anklet is extremely beautiful and the thickness is breathtaking. The dangling big Kundan stones and the bottom edge gives an extremely beautiful look. This is an anklet for girls that can be worn for weddings. Even for brides, this is just perfect. It won't be wrong to call this anklet a statement piece of jewelery.
Designer crystal anklet
If you want something subtle yet eye-catching then, this design can be picked. It has three rows with small Kundan danglers at the outer edge. It is not as overwhelming, but not less beautiful than any of the designs shown above. This is suitable for simple brides and even for young girls. You can even pair it with a smart churidar salwar kameez.
Delicate anklet with pearls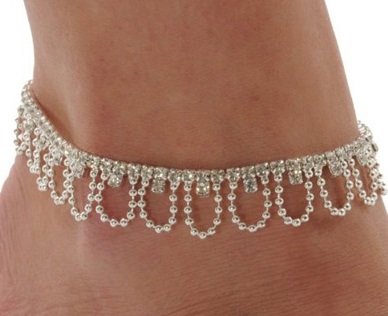 This piece is simply awesome. It has got that upper white stoned line and on the lower edge, white silver ball chain design makes it extremely pretty. Young girls would like it even more. It can be your everyday wear piece of anklet if you are a new bride. But why a new bride, even if you have been married for long then also you can wear an anklet like this.
Lined anklet with stones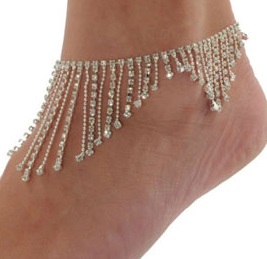 This one has that western feel to it. That is why this anklet can also be paired with your western attires. Like your dresses, cocktail gowns and those modern Indian dress gown. The Silver tone and the design of this anklet is extremely beautiful to look at. It will certainly make you look more attractive when you wear this.
Kundan stone anklet in gold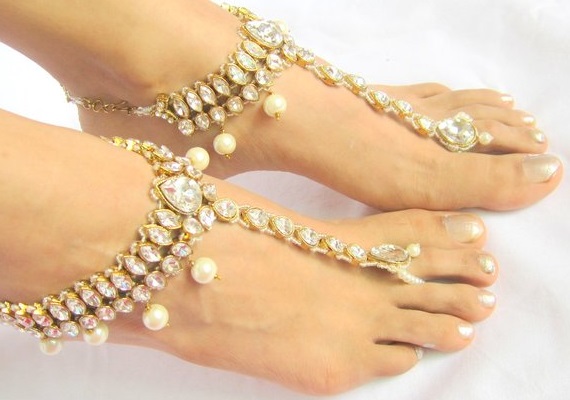 Now this is a bit different as it has got toe-rings with the anklet as well.
Delicate anklet with ball chains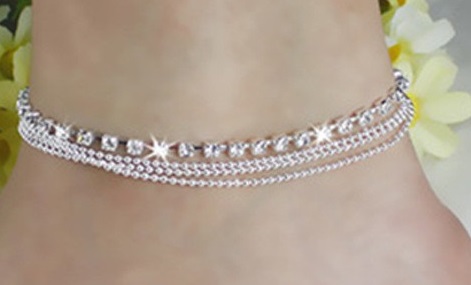 This next anklet also has dainty ball chain in silver along with the stone. The three rows of ball chain look really nice. This is also is a very modern anklet piece. It does look very unique but you can wear it with your western dresses as well.
Crystal butterfly anklet with toe ring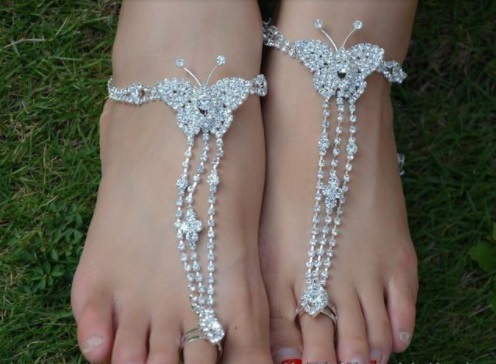 This anklet has the beauty in the form of that pretty butterfly in the centre. Three rows of tone lines extend towards the toe, to attach on the toe ring. Anklet designs like this is perfect for girls. They can pair it along with their frocks. You can also team up anklets like this for your beachwear. This is a perfect design for modern Indian brides.
Stone studded anklets for bride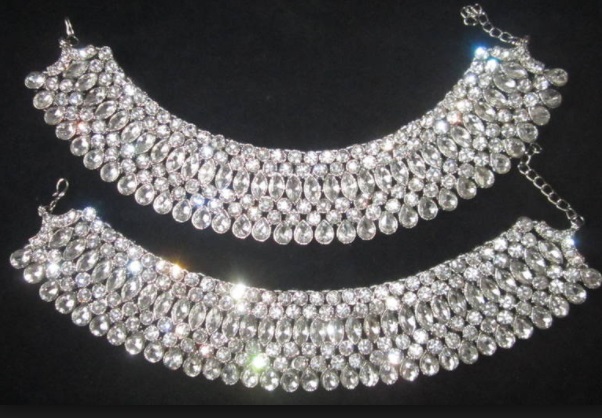 This anklet is around one and half inch in thickness and has made with just the diamond looking crystals. This pretty crystal anklet is just perfect for Indian brides who wants grand jewellery. For modern Indian women who would like to wear a statement piece of anklet can definitely go for this one. The Silver tone and the thickness of this piece increase its beauty.
So these are the best anklet designs for girls. Do you like crystal stone studded anklets?. Which is the best that you have used.