Latest Diamond Pendent Designs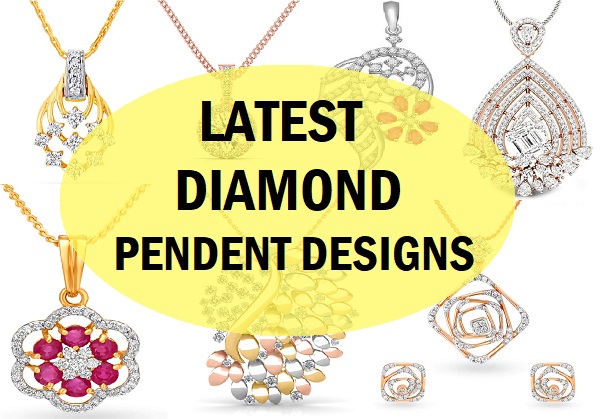 A diamond pendant in Unique design is definitely a must have if you like diamond pendants with chains. The exquisite range of diamond jewellery designs is available with different jewelers. There are so many online diamonds selling website that sells beautiful diamond pendant and sets. But while buying a diamond you must always buy your diamonds from trustworthy, reputed and reliable sources. Keeping that aside let take a look at the latest diamond pendant design for women.
1. Multiple Diamond Stacked pendant design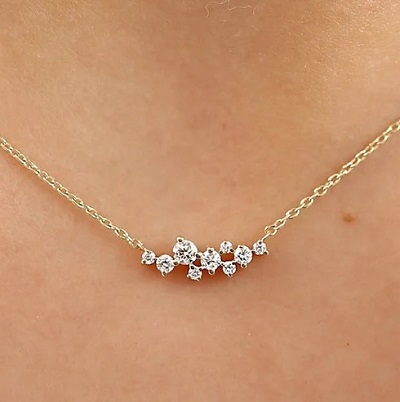 The diamond pendant design here is so dainty and beautiful that it is ideal for daily use. A lot of women would prefer designs, which are easy to wear and are not very over the top or chunky. This Diamond pendent has multiple diamonds clubbed tab together to create this pleasant pendant. All the diamonds that are used for this design are of different shape. The colour is clear while the shape is round with different sizes. For sure this is a beautiful timeless diamond pendant design with the thin chain. It is also to be noted that it is a very short chain pendant pattern.
2. Double chain diamond pendant pattern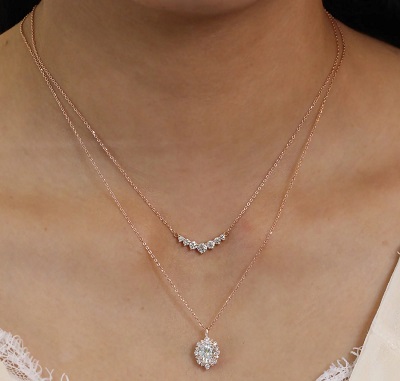 The double chain designs are not new but they are definitely in trend right now. This diamond pendant collection have a single as well as double chain, which are suitable for women who would love to have style of diamond chain and pendant pattern. This is beautifully made and is quite feminine. The topmost short a chain is thin and is made in the rose gold colored gold, however the bottom part a single embedded and encrusted with the smaller diamonds. More like a fairy tale inspired diamond pendant design made for younger women.
3. Circular diamond pendant design with thin chain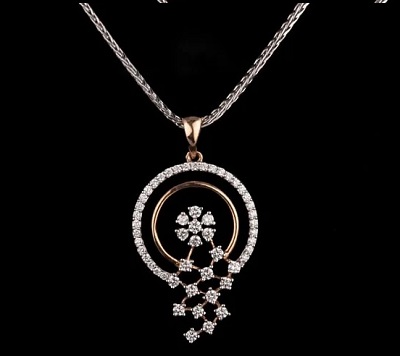 This diamond pendent is quite a unique pendant design which has got a circular shape wherein in lots of smaller diamonds are merged together. Simply awesome it is!! The design is quite new and has this charming pattern which looks amazing. It is a party wear kind of diamond pendant set where in the chain is quite thick for diamond pendants however this design is unique considering the pattern. Circular patterns are also very popular currently and this has so many smaller diamonds which gives it a feminine and gentle look. It is also one of its kind pendants.
4. Mangalsutra pendant kind diamond design
The diamond pendant has a lovely design which is not very unique but yes for a diamond pendant it looks pretty. It is also a small design which can be used for everyday use. The pendant shape and the pattern are made by holding up diamonds in a bunch. Amount of gold is also used to create this pendant.
5. Gold Unique Diamond Pendant Design
This is simply a unique design where in a geometric pattern is create but the Floral and leafy pattern is used to create this gorgeous design. Square diamonds and the circular diamonds are used to start together to create this gorgeous design. The design is very unique and different that you would certainly like this pendant.
6. Tear Drop Circular Diamond Pendant Pattern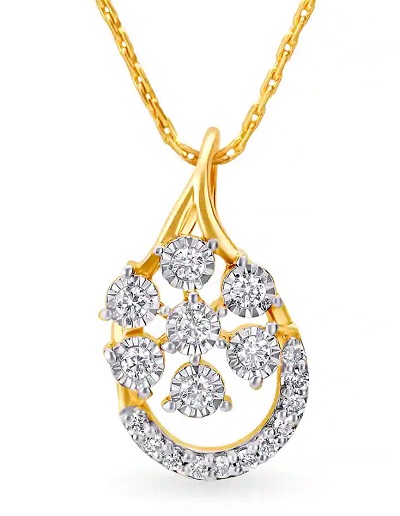 Made with stylish chain design, this pendant has a slightly teardrop kind of pattern. It has multiple circular diamonds that to create a flower or a floral pattern under which an arc shape of diamonds are clubbed.
7. Three Simple Pendant Chain Pattern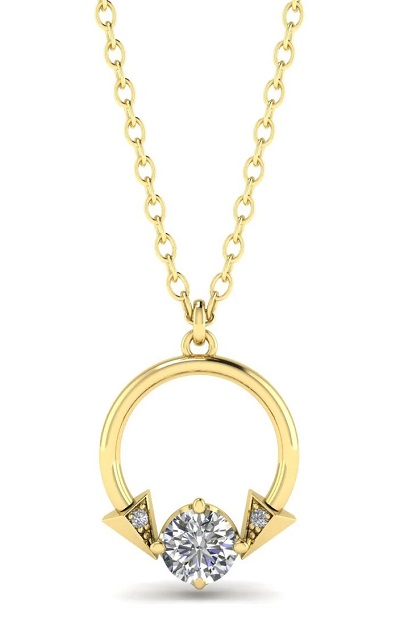 What we really liked in this pendant is the simplicity and the close knit pattern. A circular shape is created under which a simple single Solitaire is added. The smaller diamonds are also added on both the sides of the big up Diamond. It is also a unique kind of diamond pendant that embraces a striking Solitaire in between which creates a remarkable look.
8. Single Solitaire diamond pendant chain design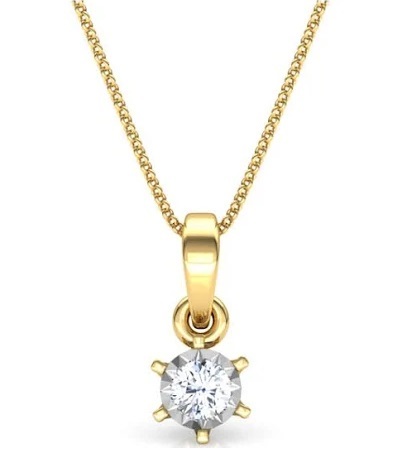 A single Solitaire pendant is not only classy but it has been here since ages. A lot of men and women would love to sport the single diamond pendants. Even, if it's a women's pendant collection or for the women diamond style. Even for these celebrities and sports personality, men and women have time and again proven to chose The Solitaire, over the other fancy Diamond pendants.
9. Solid Geometric pattern diamond pendant design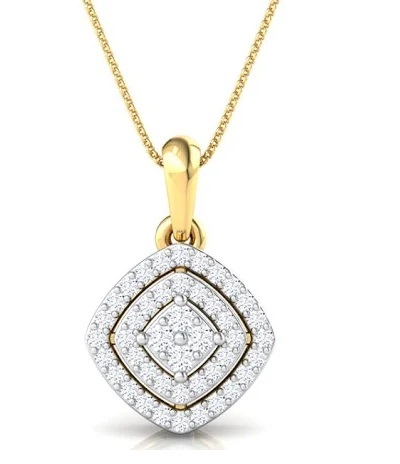 The squar-ish pattern of this pendant has stacked together diamonds to create that square like shape. These are stacked so closely that it leaves no space for the gold to show through. This diamond pendant is certainly one of the best looking pendants for men and women who want simple yet heavier pendants. The stunning pendant design would look lovely when paired with the white gold chain for look
10. Circular Diamond Pendant Style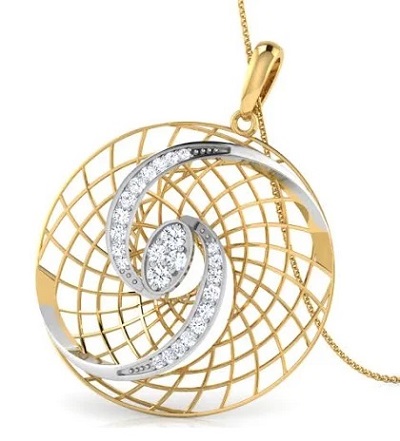 Don't you think that this diamond pendent looks quite unique and amazing? It does! Diamonds are a girl's best friend. People love to have diamond in their jewellery and since centuries, the diamonds have been cherished. The elegant collection of diamond pendants will also show a beautiful design like this.  It is certainly an office wear kind of diamond pendant for you.
11. Simple office-wear diamond pendant style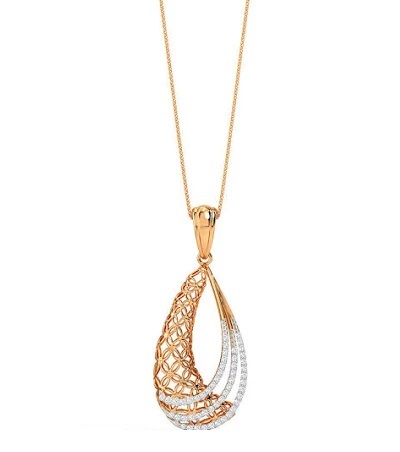 If you will notice this diamond pendant here is made with quite intricate design and pattern. The intricately made floral pattern start with a studded diamonds over gold, is a beauty in itself. It comes with a very thin chain, hence we feel that it would be better for everyday use for office. In that, it is a fashion diamond jewellery for men and women, but it is obviously a piece that can be tried on daily basis.
12. Spiral Patterned Office Wear Pendant Design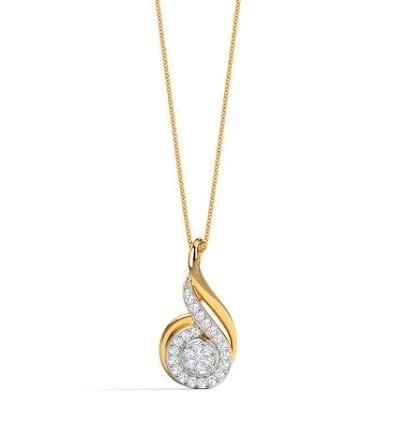 Women love to wear diamonds and this is why this spiral pattern pendant in diamond looks amazing. If you are an ardent Diamond lover, then this will definitely be attractive. This pendant is a classic spiral shell kind of design. You can have this pendent with the thinner chains, which are better considering it's a professional or office wear Diamond product
13. Solitaire diamond pendant with white gold design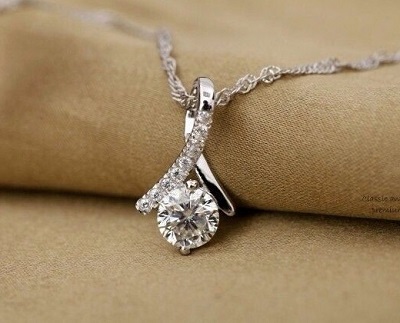 It's not that only yellow gold is used but white gold or Platinum is also highly used for creating Diamond pendants and the chains. Here, the platinum chain is used for a Platinum embedded diamond pendant. The Solitaire diamond pendant is indeed suitable for daily use.
14. Circular Solitaire Diamond Pendant Design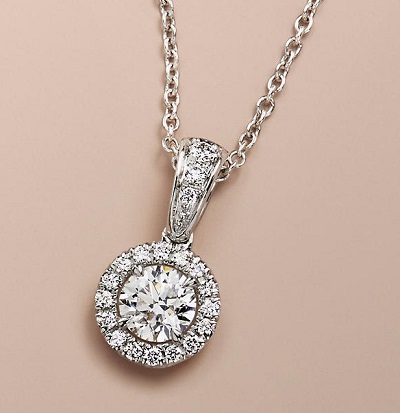 This is one of the simplest Diamond pendants that we have seen but the way it has been carved out, embedded and patterned is quite astonishing. It looks so beautiful yet simple that it would certainly add on to your classiness. To create a classy and elegant look, diamonds like these are indeed must have in your jewelery collection if you love diamonds
15. circular Solitaire diamond pendant design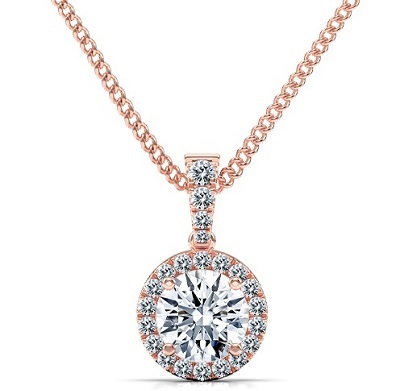 Just like the white diamond gold or Platinum rose gold or 18 karat gold chains are also used along with the Diamond pendants. This diamond is actually a bigger Solitaire diamond in the centre which has a small circular diamonds creating a Masterpiece.
16. Single Stone And Diamond Pendant Design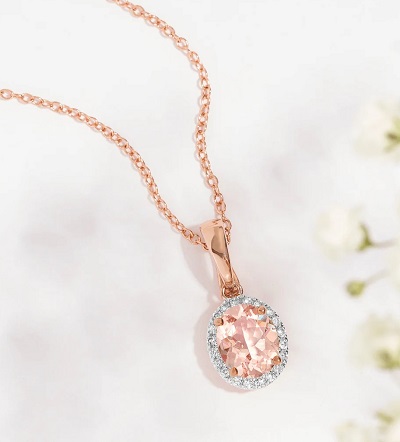 This pendant is a bit out of the regular Diamond pendants that we have compiled in this catalogue because in the centre you will see a gorgeous expensive precious stone and the diamonds are actually encircling it. This is also quite unique if you would like to deviate a bit from the regular diamond pendant designs.
17. Unique Floral Diamond Pendant Pattern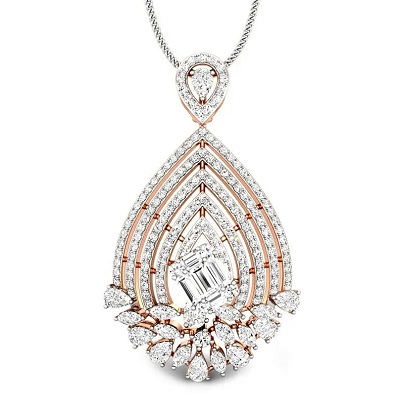 This design is quite a heavy diamond pendant pattern where in lots of square and small circular diamond have been used to create beautiful shape. Of course, the metal is used to create a base for the diamonds and to create a beautiful shape. And indeed it looks so stunning and exquisite that you would love to have it. But it is a more like a party wear or a festival kind of diamond pendant set with the chain equally stunning. It is quite heavy therefore not for the regular or daily use unless you are wearing it for something special.
18. Floral Ruby Stone Diamond Pendant Design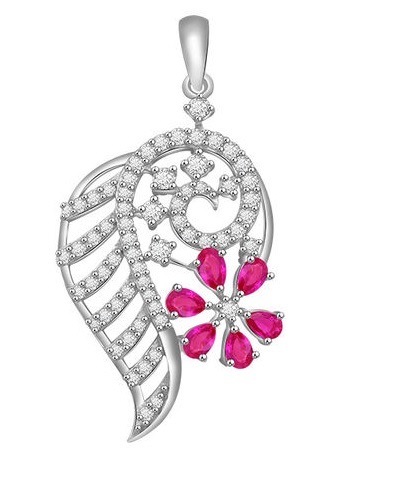 Ruby stones and Diamonds go hand-in-hand because they look so good together. Same can be said for the emerald and gold. This looks so stunning that you would simply want to have it. It's more like a feminine looking diamond pendant where floral pattern has been created using the Ruby stones. This is indeed one of the best looking diamond pendants for younger women.
19. Unique Diamond Pendant Design For Women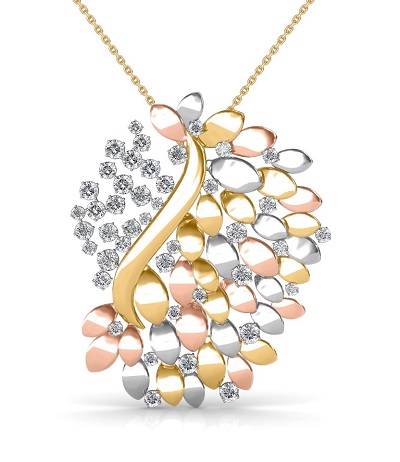 This design is truly unique and what makes it unique is the pattern used. The rose gold as well as the yellow gold has been used to create the design which looks more like a floral pattern in which secular diamonds have been strategically clubbed. It is indeed quite a stunning and exquisitely looking design. This fascinating design has a geometric pattern as well as that beautiful floral kind of pattern, which creates this bunch of diamond and gold pattern which is nice and pleasant to look at. This appealing design is indeed suitable for men and women. Most likely, it is for the women.
20. Simplistic Artistic Diamond Pendant Design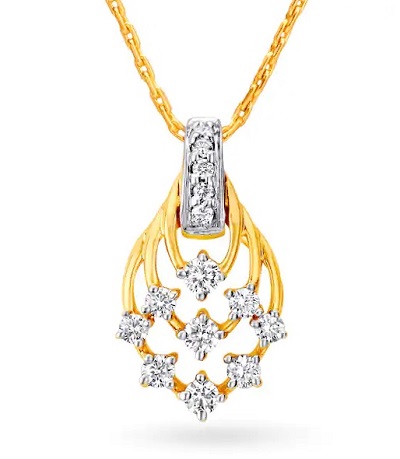 The artistic diamond pendant pattern shown here is quite luxurious. It is so simple yet has this attractive look that you can simply not take your eyes off it.
21. Ruby stone studded diamond pendant
Ruby stones and Diamonds look as beautiful as it does in this image. The diamonds and Rubies stacked together to create a nice floral pattern. A flower with 6 petals has been created using Ruby stones and circular diamond. It is a good you have for the weddings.
22. Geometric Pattern Unique Diamond Pendant Design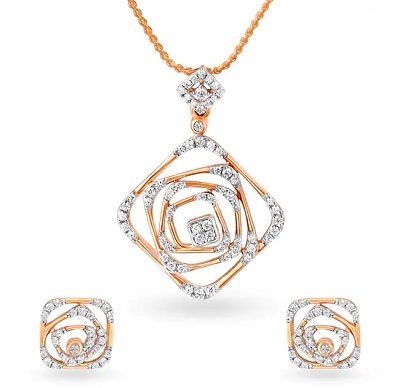 For the women, who want unique diamond pendants, this is one of the best designs to have. The diamond pendant is indeed made in so many concentric squares that it does look so beautiful yet charming. The ultra-modern kind of diamond pendant with chain also comes with matching earrings. It is a said that you would simply want to have for your work and professional office wear.
23. Floral Cutwork Diamond Pendant Pattern
It is simply amazing and fascinating, because of the pattern that they have created with diamond and gold. Just take a look and you would be swept away by looking at the beauty of this pendant. For sure, it has to be dainty diamond for office and casual wear.
24. Solitaire like diamond pendant design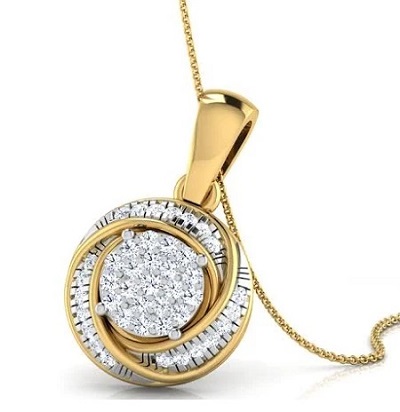 The circular pendant is made so compact that it gives a look of a solitaire, when you look at it first. However it is not a solid pendent, it is a bunch of circular Diamond stacked together using a gold concentric circular design quite unique indeed.
25. Simple single stone diamond pendant design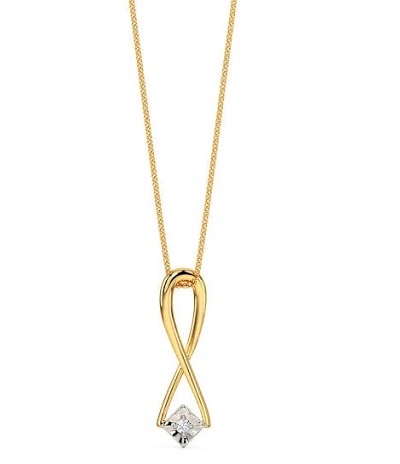 This is a gorgeous design which the younger girls should definitely love. For office or casual wear or daily wear it is a charming collection for the younger girls as such designs are exquisitely made. They are so lightweight and easy to wear that even during the hot and humid season, it is not going to create any problem while you wear it.
26. Quick Pattern Diamond Pendant Thin Chain Design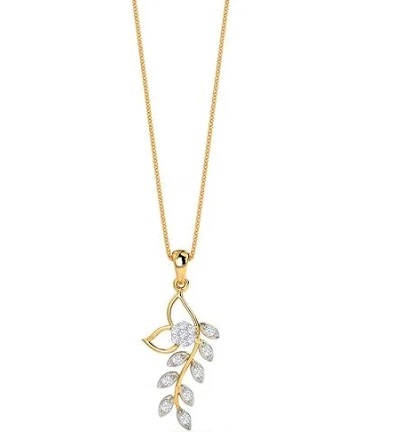 This thin chain and a quick patterned diamond pendant are like a match made in heaven. It is dainty and feminine. By the look of this pleasant looking diamond pendant you can imagine how gorgeous it is going to look with your professional office wear kurti, suit pant or even the regular top and pencil skirt.
27. New kind of floral pendent design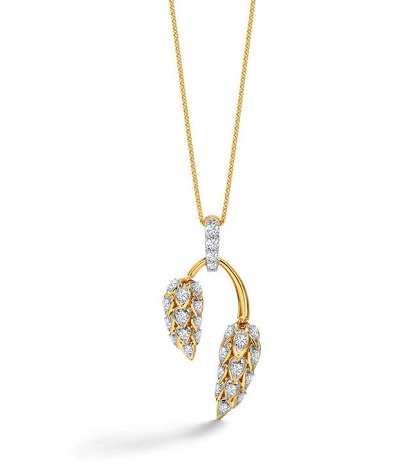 We simply love this design because of its floral pattern and 3D kind of effect. So it's not that two-dimensional kind of pattern but more like a rounded three-dimensional look to it. It has diamonds and gold carved out to create stunning twig leave hanging pattern.
28. Casual wear diamond pendant design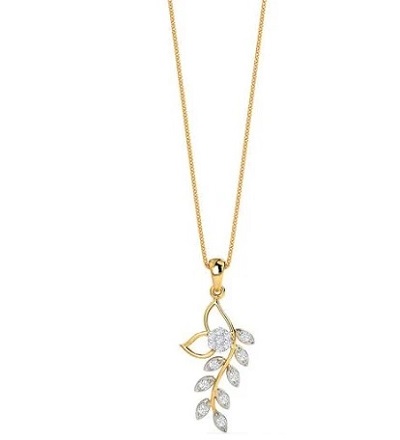 For your everyday and casual wear, you want something simple and here is the design that you really want
29. Circular gold and diamond pendant for everyday use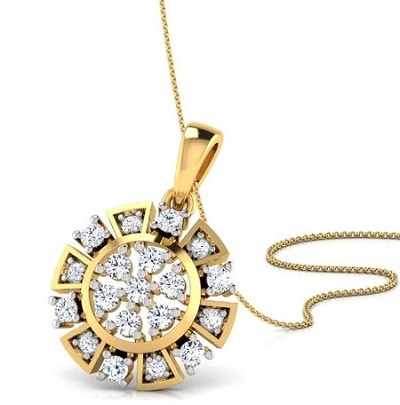 For everyday use you want something which should be simplistic, yet has to be charming and attractive. This is a design that we are talking about.
30. Diamond pendant unique floral design with earrings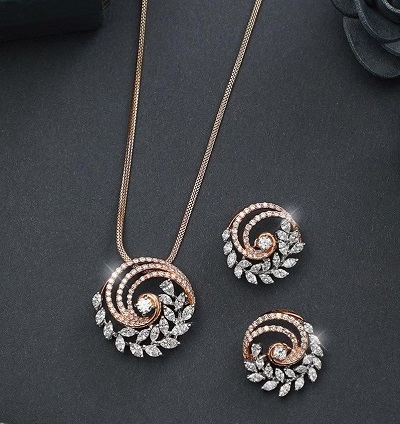 This pendant is so beautifully made in a concentric circular spiral manner with the gold and diamond that you would simply fall in love with it. It also comes with a matching earrings with complete the look.