Floral print is not just for the Western clothing but even for Indian clothing like sarees, suits and dupattas, floral prints are dominating. Floral prints look cheerful and has got that refreshing feel to add. This print is so uplifting and makes you feel younger. Here we have compile the best designs of latest floral printed kurtis for women. These designs would give you enough of the inspiration to style your own kurtis or to buy the one that you like at a store or online shopping.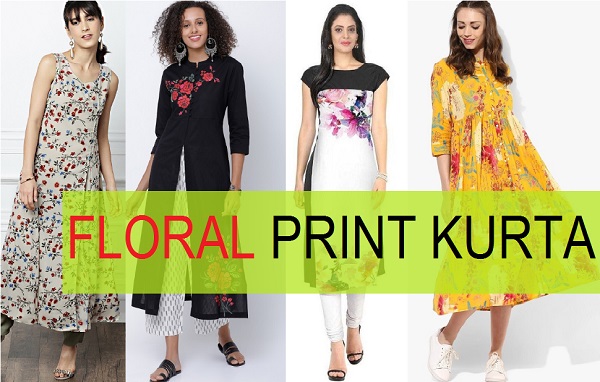 15 Latest Floral Printed Kurtas for Women: Images
Let's check the new designs and patterns of the floral printed kurtis and kurtas which ladies can wear for office, parties, weddings and otherwise.
1. White Floral Print Kurta for Women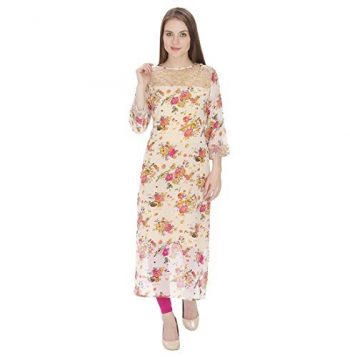 The floral print kurta comes with a Boat neck and long straight hemline. It has three fourth sleeves with detailing on the cuff part. The neckline has been kept modern by using a sheer fabric. All over the fabric there are floral motives of pink and orange coloured flowers on a white base. This kurti is a very beautiful model looking kurti that can be worn for office, work and even college.
2. Floral Printed kurti with Palazzo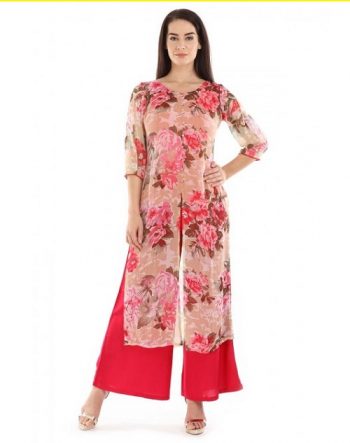 This flower print kurta has a Centre slit with buttons on the centre part. It has three fourth sleeves and medium length. Here in this picture it has been teamed up with red colour palazzo though it can also be worn with black trousers, red leggings or straight pants.
3. Black and white floral kurta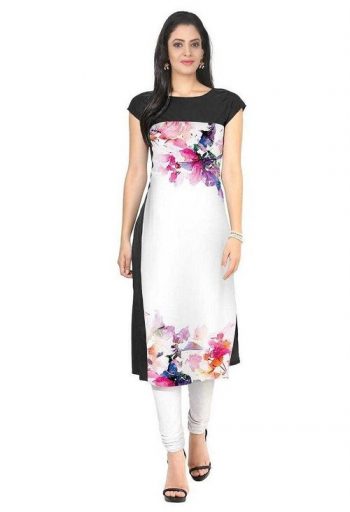 This short-sleeved kurta has a Centre panel with floral design. The design is on the top and bottom part. It has straight hemline. The sleeves are short but are comfortable. These types of kurta as a perfect for office, work and even for your college. This can be teamed up with palazzos, leggings or jeans.
4. Floral Print Anarkali kurta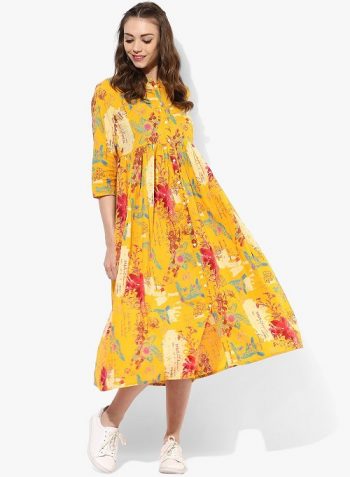 The yellow anarkali kurta has three fourth sleeves.  It also has small slit in the centre. It can be worn for office and college. You can also wear such kurta as like this, as a kurta dress or with leggings and other type of bottom wear.
5. Floral white kurta for women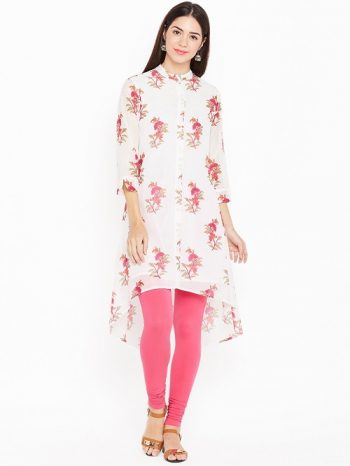 It has got an even hemline or a high low Hem line. The  neckline has a centre button placket that got buttons all over. It is a sheer kurta with a lining. It has a collar and three fourth sleeves. Such designs are perfect for office and college. Even for your everyday wear kurta like these are perfect.
6. There in white floral print kurta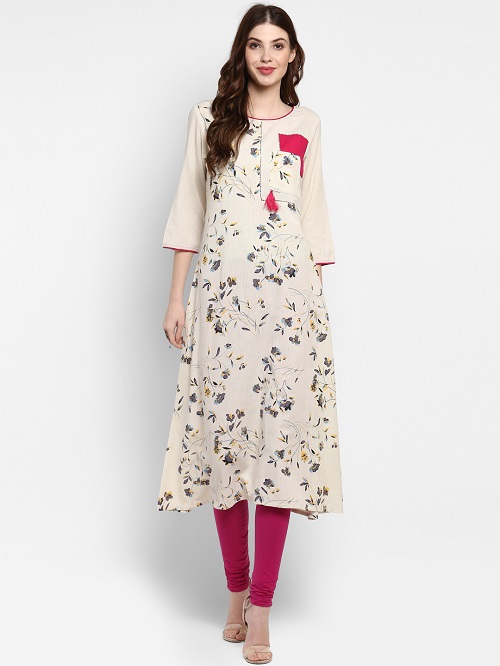 The red and white floral print kurta has beautiful small print all over it. It has small panel and tassels on one of the sides that makes it pretty. It is not a straight kurta but is an A-line kurta with medium length. It can be worn with any type of bottom that you feel like the leggings and trousers would look better with this.
7. Navy Blue flower Print Ladies Kurta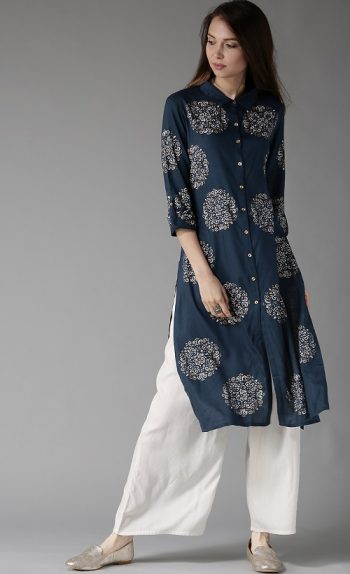 The navy blue kurta with contrasting coloured printed round motives looks pretty. It has Centre button placket that goes till the bottom. The straight hemline and slit on the sides makes it perfect to wear with any type of bottom that you feel like. It can be paired with palazzos. Leggings trousers and even with the jeans. With jeans kurtas like these would look just perfect for your college and work.
8. Gold printed floral kurta with full sleeves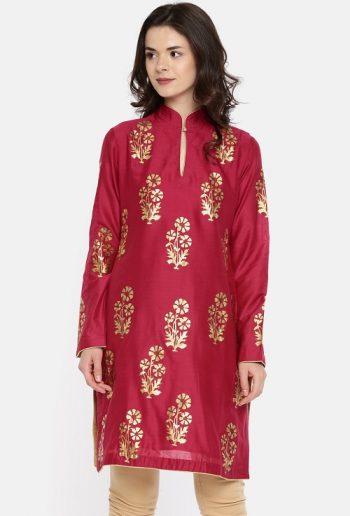 This kurta has gold print all over it and full sleeves. The Mandarin neckline has a knot or athlete in the centre. It is a very festive wear kind of kurta which women can wear with the Patiala salwar or trousers.
9. Pink floral design kurta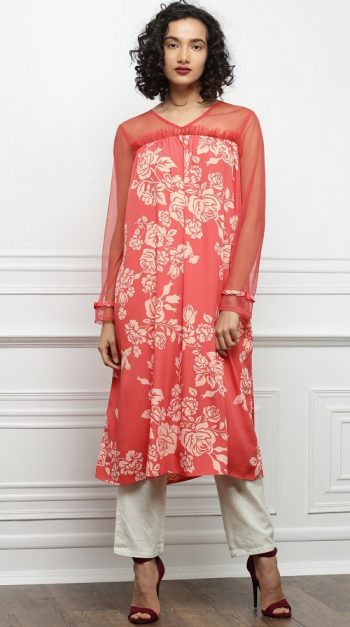 It is a very model looking Kurta with sheer fabric on the top part and the sleeves.You compare it with palazzos but leggings and pants would look perfect with this. 
10. Black floral Embroidery kurta with Centre slit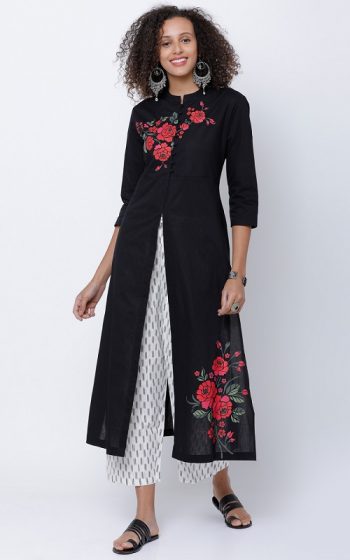 This black kurta has a very high Centre slit and a flared bottom. The embroidery in floral motifs is on the top and on of the front part. This is three fourth sleeves kurta that you can we are for any casual hangouts or even for College. You can also team it up this with trousers and palazzos. 
11. Light Green Floral Pattern Kurta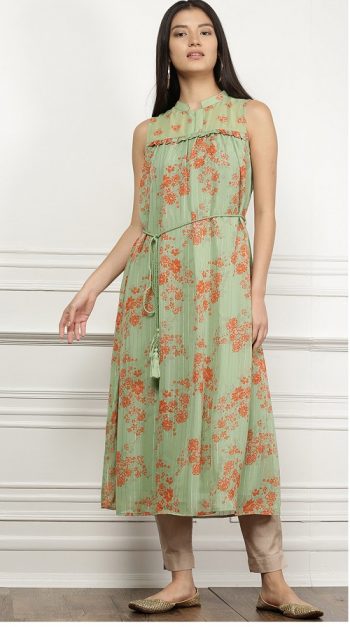 This sleeveless light green floral printed kurta is beautiful and feminine. It has Orange flower print all over and comes with a Centre string at the waistline. It's a sleeveless kurta with Mandarin collar and chiffon fabric has been used for sleeves and Shoulder part. It can be paired with palazzos and leggings and trousers. High Heels would look better with this design.
12. Sleeveless A-line Floral Print kurta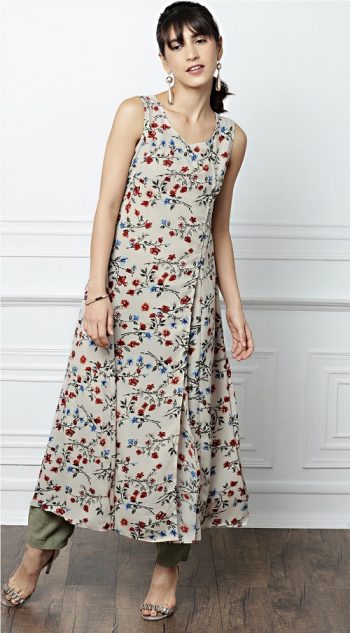 This is an angrakha style kurta has a slit on one of the sides. It is sleeveless and comes with a round neck. It is a very fresh and beautiful looking kurta design that women of all age groups can wear. You can try it with leggings and straight pants which would look perfect with this piece of clothing.
13. Blue floral printed kurta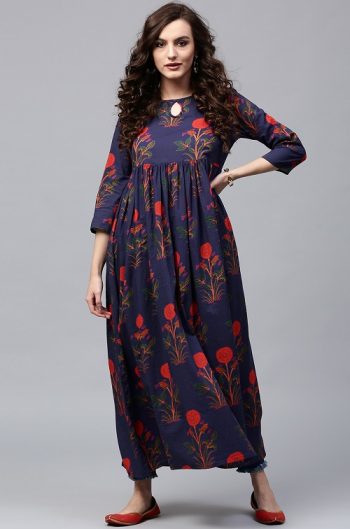 The printed kurta has red coloured motives all over. It is a long length kurta dress that can be worn on its own or with any type of bottom that you feel like. The neckline is boat shaped with a keyhole.
14. Floral Print Dupatta kurta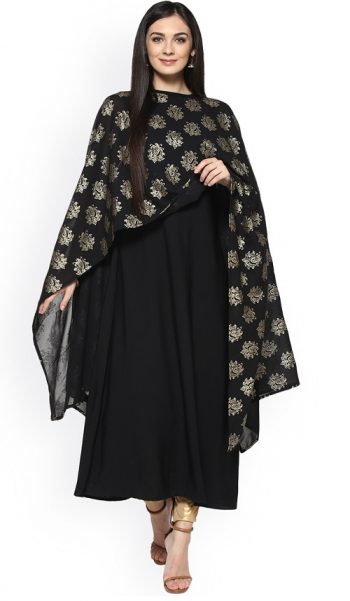 The Dupatta has been attached on the neckline with this black plain kurta. The Cape part has got silver coloured flower print all over it. It is a very festive or wedding wear type of clothing. It is perfect for girls of all age groups and even height. Even if you are bulky then also you can wear a black coloured kurta like this to hide extra flabs like belly fat.
15. Kurta with Cape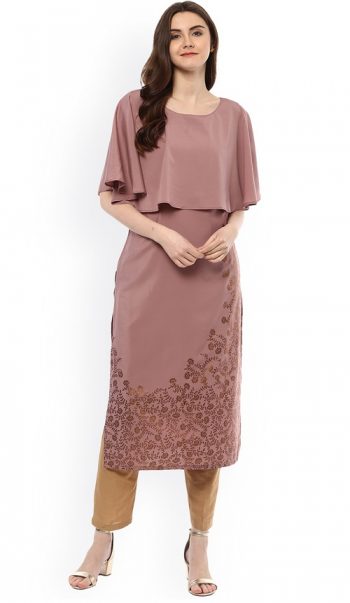 A cape is attached on the neckline and give the appearance of sleeves as well. The floral print in Gold is captured on the bottom part near the hemline. It is a straight kurta with medium length and side slit. It would look the best when paired with trousers and even leggings. A modern kurta for women like this with gold print is perfect for small rituals and ceremonies at home.
These are the latest floral printed kurta designs for girls and women. Do you like floral print for your kurtas?