You can raise your blouse designs to another level by going for beautiful front new model blouse neck designs. These latest blouse back neck designs and patterns would make your blouse look stunning and women can go for different types of front blouse neck designs like off shoulder, collared, sweetheart, scoop neckline, boat neckline blouses or even the high neck blouse neck pattern. The saree blouse designs and varieties are numerous, when it comes to front neckline blouse designs and shapes.
Latest Boat Blouse Designs For Front
Considering that we have created this image catalogue where you will find the most modern new model front neck blouse patterns for women's saree blouse designs. The exciting saree blouse designs front and back can make you look glamorous and fashionable.
1. Boat Neck Blouse Designs For Silk Sarees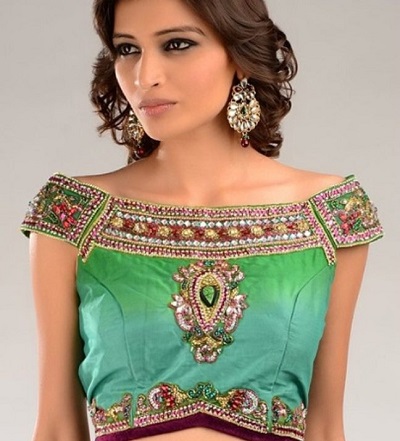 This neckline is a little extended from the regular boat shaped neckline. The neckline is studded with heavy sequin embroidery work. The new blouse neck design is extremely royal and lavishing looking. You can certainly go for this design for the reception functions, Cocktail parties and even for the functions where you have to look stunning.
2. Fancy Blouse Neck Design For Pattu Sarees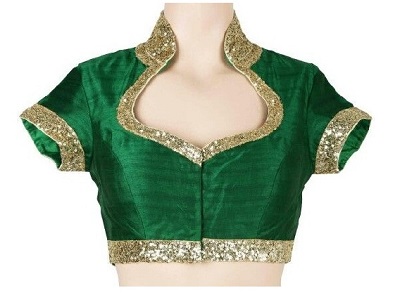 Heart shaped neck line in the front is made with glitters. The sequin and glitter work makes it look glamorous and appropriate for weddings and grand occasions. The back neck line is Chinese or solid neckline. This design has front open with hooks. With short sleeves on a green raw Silk fabric the design is a must try for your silk sarees. It's the latest blouse neck design with borders over it.
3. Sweetheart Neckline Saree Blouse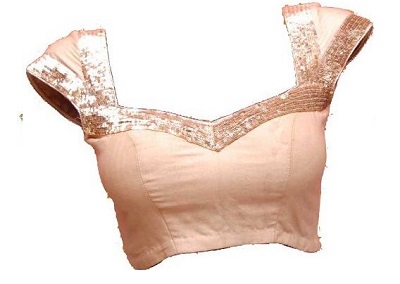 The sweetheart neckline is embellished with sequins. The neckline has a princess cut blouse pattern and surely looks stunning. Women can raise the temperature by wearing this beautifully made blouse pattern.  It's the latest boat neck blouse design this season for parties and festival look.
4. Blouse Front Neck Designs For Silk Sarees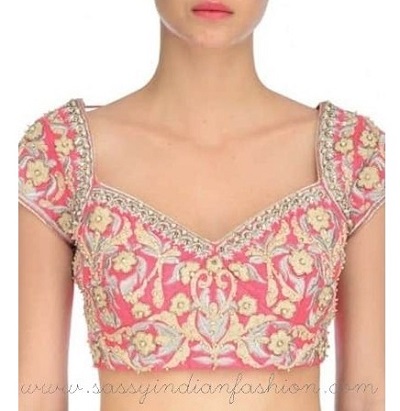 The neckline is again shown over here with a different twist. The cut is different and shows most of the design and goes a little deeper. This blouse back neck designs for plain saree is so beautiful that for all your lehengas and Stylish net and Georgette sarees, it would look simply the best.
5. New Pattern Blouse Front Neck Design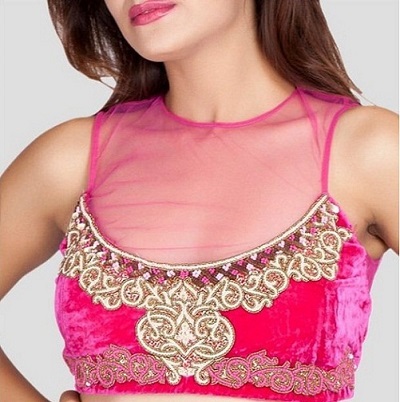 The round neckline on a transparent fabric is currently the hot favourite trend. The blouse has a scoop neckline which is deep patch of net fabric. This patchwork design is suitable for your lehengas and different types of sarees. With net sarees, the latest blouse neck pattern would blend really well.
6. Bandhani Saree Blouse Neck Design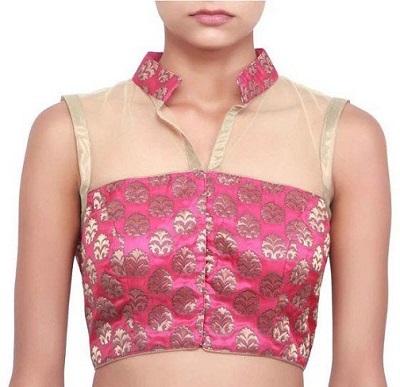 A beautiful Patchwork design is also seen here. The patch is seen on the bust part with a collar of the contrasting fabric. It is also beautiful blouse design for the lehengas and other types of sarees.
7. Synthetic Saree Blouse Back Neck Design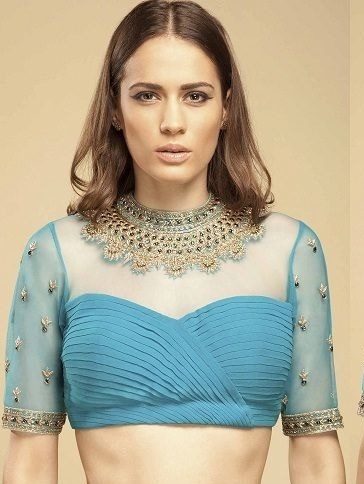 If you see, this blouse has a design of a tube top however the upper part has been made in sheer fabric. The fabric has rich embroidery and sequins work that gives an appearance of a grand necklace. The sleeves are equally embellished with the same pattern. This is one of the most stunning saree blouse neck designs that is so modern and Stylish that woman would love to go for it. It is a pattern for receptions and cocktail parties.
8. Choli Cut Saree Blouse Design For Women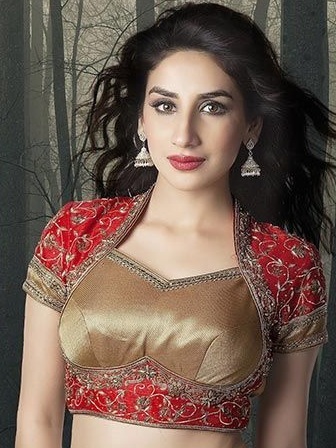 This is a choli cut blouse pattern with a high back neckline. Made with the raw Silk fabric and heavy embroidered contrasting fabric, it looks really beautiful. The blouse has neatly done cut and stitch.
9. Patch Work Front Neckline Saree Blouse Pattern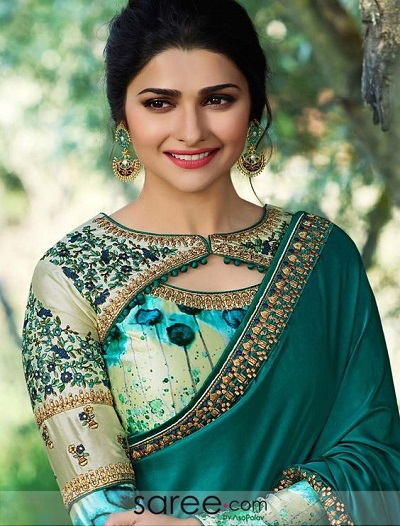 When patch work blouse designs are your favourite, then go for this design. Embellished sleeves with this blouse has simply stunning front neckline. The round neckline has a patch of a jacket style which gives it neat look. The lavish and grand looking blouse is a must try.
10. Cutout Pattern Blouse Neck Design For Sarees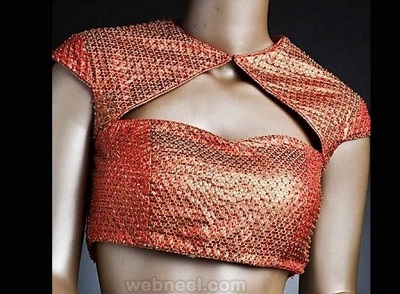 The cut out pattern front neckline of this beautiful design is a new model pattern that women can try with different lehengas, skirts with full flair or even the regular sarees. With net or Georgette saree this is going to look its best.
11. Boat Neck Blouse Designs For Saree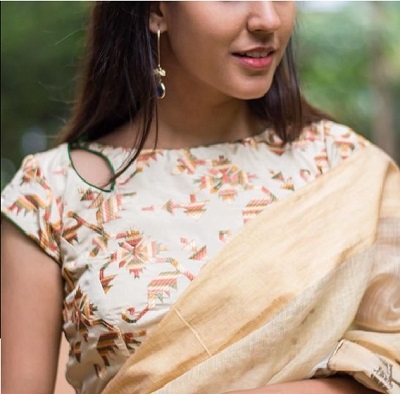 The boat shaped front neckline has a Key hole on the shoulder. It is a simple printed cotton blouse that is appropriate for the cotton and other printed sarees. It's new style cotton saree blouse neck design.
12. Modern Saree Blouse Neck Design For Parties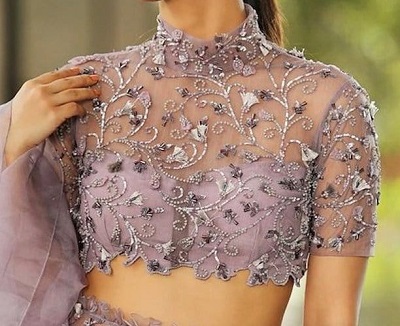 If you are not away from showing some skin and being the ultimate fashion is better than try this blouse. The high neck blouse design is made with the embroidered net fabric. The cut out pattern and designer collar gives it royal and luxurious feel. The blouses for women who would like to be different from the rest of the crowd.
13. Square Neck Blouse Pattern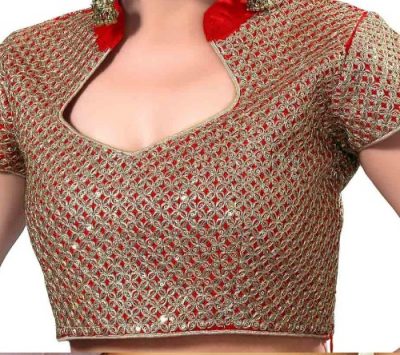 With a square neckline in the front this blouse design has half Chinese neckline for the back. Made in a princess cut it is pretty simple design that is suitable for women of all age groups.
14. Latest Collar Neck Blouse Design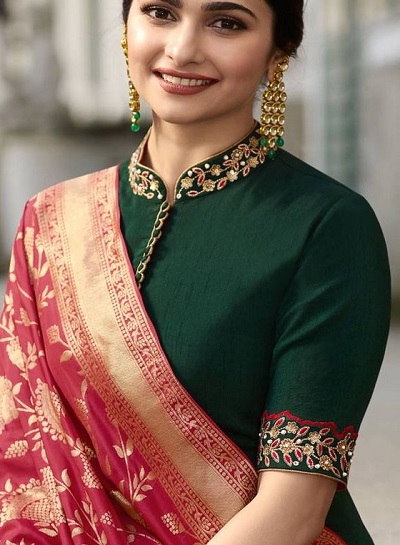 If you like a formal wear blouse then try this one. It has medium sleeve that goes to the elbow and front open pattern. With chinese or Mandarin neckline it gives a very formal and sophisticated look.
15. Front Open Blouse Neck Design For Sarees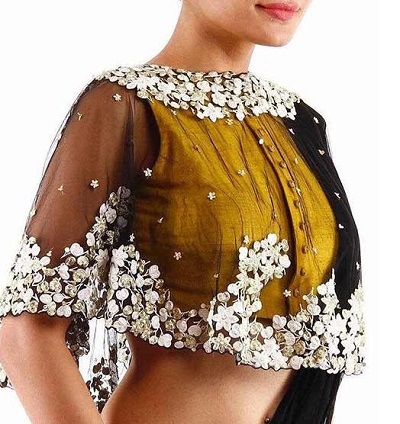 This regular front open blouse with buttons and sleeveless pattern is given a Cape. The Cape is in the net fabric that has embroidery done on the edges. This is one of the best Cape blouse designs that you can try for your sarees, skirts and for the lehenga dresses.
16. Sleeveless Saree Blouse Neck Design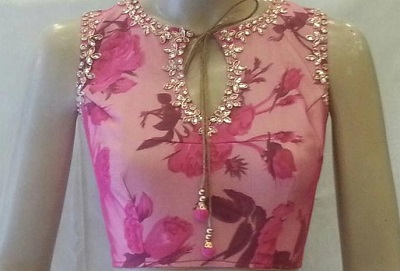 The sleeveless blouse design has round neckline that is studded with zari embroidery work and stones. The round neckline has Key hole in the front part. It has two strings that keep the blouse neckline in place. Such blouse designs are stunning for sarees and lehengas. A lot of women can bear it and no matter what body size or shape you have.
17. Traditional Saree Blouse Neck Design
The Chanderi brocade blouse in black and gold is simply stunning. It can be paired with different types of sarees and the best part is its front neckline. Reminding us of the regular jacket or coat style it has the nicely made shape and pattern.
18. Wedding Saree Blouse Neck Design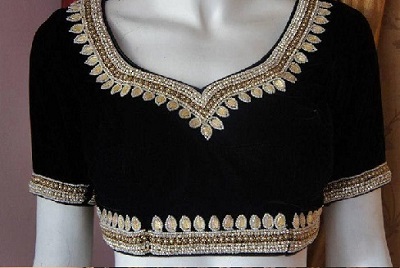 The notched neckline is embellished with bead, stone and embroidery work. This is a beautiful party wear blouse designs that is perfect to go with net and chiffon sarees. Even girls can wear it with lehengas.
19. Keyhole Party Wear Blouse Front Neck Design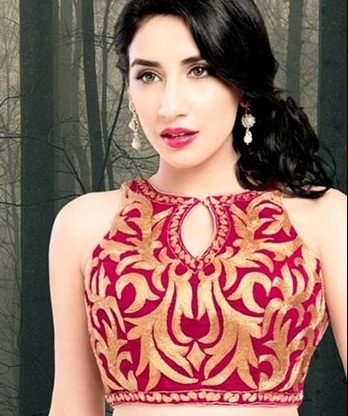 The sleeveless blouse design has stylish pattern with the keyhole in the front. Such blouse designs are suitable for women with different body sizes and shapes. The best team up with this is the regular in net over embroidered.
20. High Neck Saree Blouse Designs Front and Back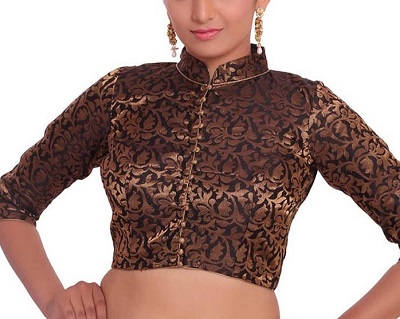 Women who are looking for a formal wear blouse for the formal occasions, can try this design. It has a high neck and Chinese collar neck and with front open. It has three fourth sleeves and is made in a rich brocade fabric. The Brown and gold colour is very royal and looks lively. It can be worn on for your formal occasions.
21. Contemporary Blouse Pattern and Style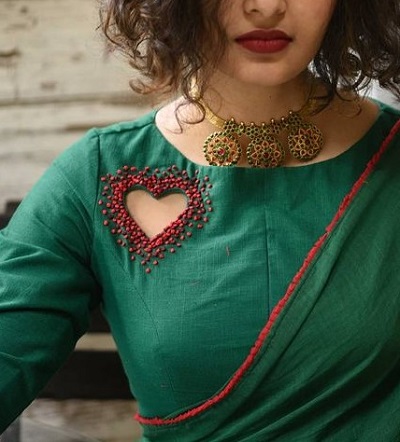 The round neckline has a heart shaped cut near one of the shoulders. The cut is detailed with thread work. This is a very modern looking blouse design or women who like to explore new front neckline designs in their saree blouse patterns.
22. New Trendy Blouse Neck Design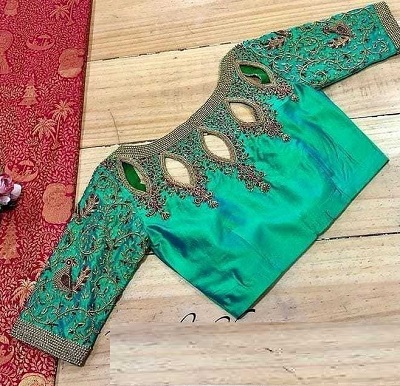 If you want a blouse design for your saree those other women should be envious of then try this design. The deep back neck line it has an amazing front neckline. The front neck line is boat shape with medium length sleeves. The Exclusive work on the sleeves and neckline is the main raw highlight that makes it beautiful. The Mint green two-toned Silk fabric is used for making this blouse. It has five boat shaped cuts in the front part that makes it extremely sexy and glamorous.
23. Stylish Neckline For Saree Blouse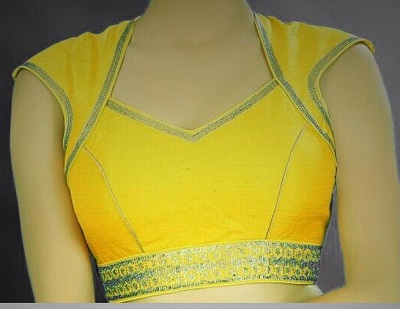 The pattern of blouse in yellow is simply stunning. It's made with the princess pattern and Square neckline. The jacket style patch is added on the blouse that gives it a modern look.
24. High Neck Collar Saree Blouse Design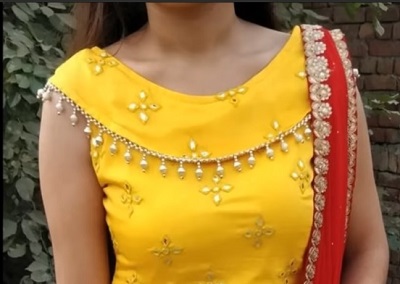 The Navy collar blouse in bright yellow colour has dangling pearls on its edge. The semicircular collar give it a very girlish and feminine look. It is yet again suitable for women with all types of body shapes.
25. Peter Pan Collar Neckline Design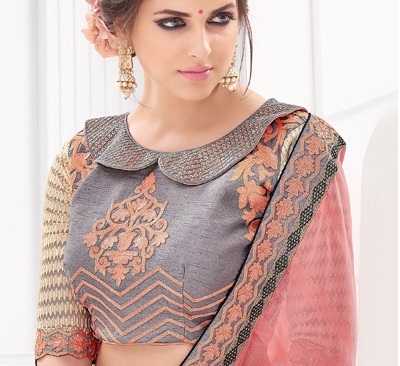 The blouse design with Peter Pan collar looks really pretty. It is made with the princess cut and side zipper that makes it easy to wear. The blouse has embroidery in the contrasting colour that makes it eye-catching.
Now that you have enough of the inspiration of the front neckline saree blouse designs and patterns you must go for any one of them. The boat neck saree blouse designs are in trend which you can surely try this festive season. Moreover, saree blouse neck pattern should be chosen as per your comfort.