Mangalsutra is not just a piece of jewelry for a women, but it indicates a lot of things. Firstly, a mangalsutra is a sign of healthy relationship between husband and wife and their married life. Other than that, it's a symbol of the husband's health and well-being. There are different designs of gold mangalsutra available in the market , however there are so many different designs that are influenced by the regional patterns. For example, the Tamil mangalsutra design would have a different touch while the Punjabi or the Pahadi mangalsutra pattern would be different. So, doesn't matter what pattern you're choosing, it should suit your liking and preference. Mangalsutra as are available in long, short broad and even the simplest designs. As a lot of women, who are working currently, would like to wear mangalsutra that are suitable for everyday wear. For the parties and festivals, women like to sport thick, long and heavy mangalsutra. Let's take a look at the latest gold mangalsutra designs available.
Latest Gold Mangalsutra Designs And Patterns
1. Square Pendant Thick Mangalsutra Design
This is a very heavy gold mangalsutra design with a rectangular or square pattern pendant. It has Ruby gemstone along with Kundan and floral work in the centre. The triangular shaped beads are added on both the sides. Multiple layers of black beaded chains run on the sides that give sturdiness to this very heavy mangalsutra pattern. It's for sure a party and wedding appropriate mangalsutra design.
2. Dainty Floral Gold Mangalsutra Design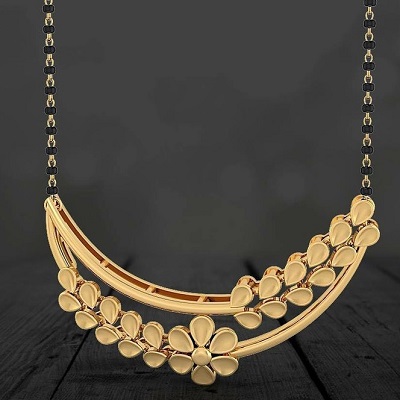 The mangalsutra pattern here is very delicate and has floral pattern. It has only single black beaded side chain, which is easy to wear for everyday use. Such patterns are ideal for working women and for daily use.
3. Light Gold Floral Mangalsutra Design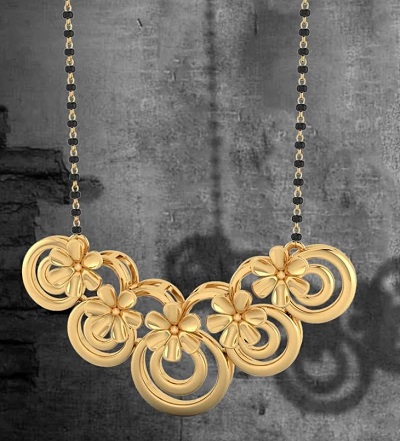 This is a light weight mangalsutra for everyday use especially for the working women and new brides, who would like to sport something light and not heavy. It's pendant is made with pure gold.
4. Diamond And Gold Light Mangalsutra Pattern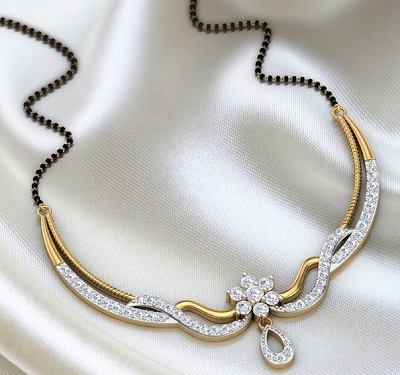 The circular pendant shape has both diamond and gold used. Diamonds are arranged in floral pattern and in intertwined pattern. On the sides, only one row of black beaded chains are there. It's a dainty and feminine design which is perfect for daily wear.
5. Name Mangalsutra Pattern in Gold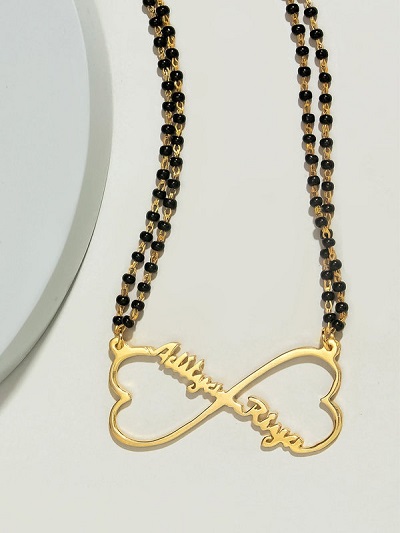 These are the mangalsutra pattern where in 2 black beaded side chains are given and the centre pendant area is the major attraction here. The names of the bride and grooms are engraved in gold and heart shape pattern. It's surely an attractive gold mangalsutra pattern for the newly wed and modern couple.
6. Diamond and Gold With Pearls Mangalsutra Design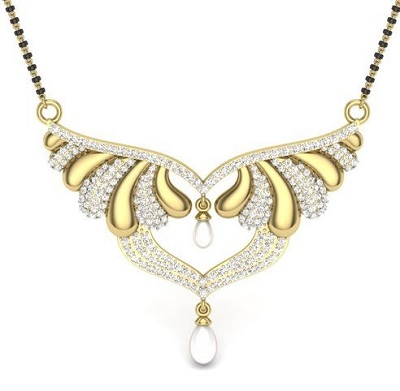 The gorgeous mangalsutra has Diamond and pearl embedded in Gold base. Only one side chain is given and the centre pendant is not very heavy. It's a very gorgeous beautiful mangalsutra suitable for everyday use and even for women, who does not want too overwhelming or thick designs.
7. Diamond Simple Mangalsutra Pattern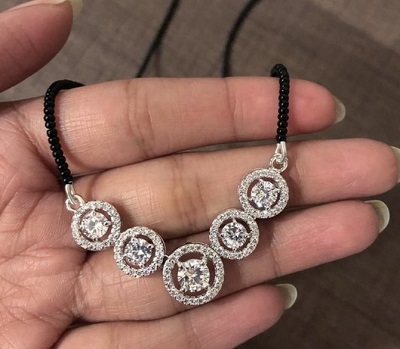 Diamonds are used to create a different circular shape in this mangalsutra pattern. Here, white gold is used instead of the regular yellow gold. It's a simplistic pattern for the mangalsutra which is liked by the younger generation.
8. Stylish Chain Gold Mangalsutra Design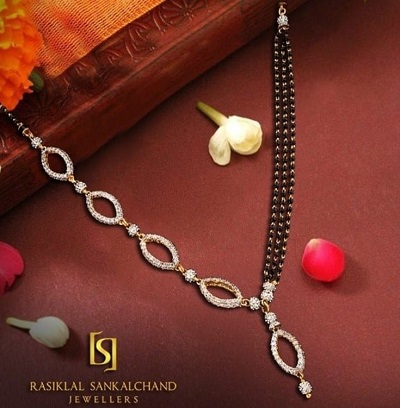 This design is from the very popular jeweler, who creates very artistically neat and innovative patterns for the mangalsutra. Here as well, if you will see on one of the sides, there are three black beaded chains and on the other side, there are loops carved out of gold and diamond. This is a very interesting design
9. Floral Mangalsutra With Matching Gold Earrings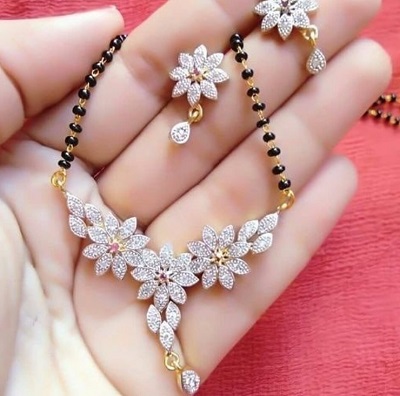 You can also match your mangalsutra designs with the earrings. Here the design is been matched with the earrings. So, it's a complete set.
10. Heart In Heart Gold Mangalsutra Design For Newlyweds
The new and attractive design is for everyday use and has double chains in the centre, while for the rest of the part only single black beaded chain is used. Gold beads are also added. Gold heart shape is used to create more attraction for this design.
11. Circular pendant gold mangalsutra with Ruby stone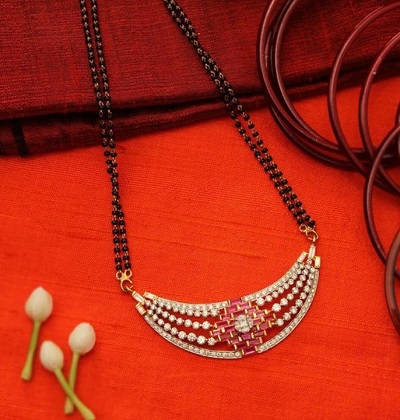 Not just diamonds and kundan work, your mangalsutra can also have Ruby beads. This is a gorgeous pattern where in a circular or Arc like shape is used to create the pendant. In the centre, Ruby beads are used that makes it quite eye-catching.
12. Very Heavy Square Pendant Mangalsutra in 40 Grams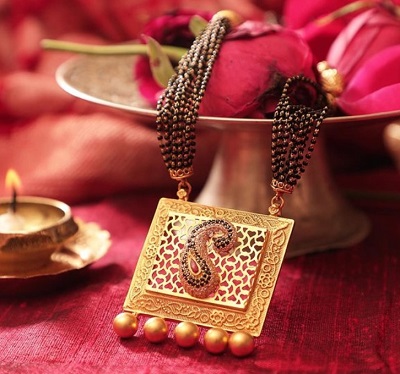 If you like very heavy mangalsutra for weddings and festivals, then this is one of the most beautiful designs that we have seen. The pendant is square and has the Meenakari work. Use of different gemstones are also seen. The side chains are very thick and heavy. Really thick and Chunky gold beads are also used in the pendant part.
13. Simple Gold Mangalsutra Design With Diamonds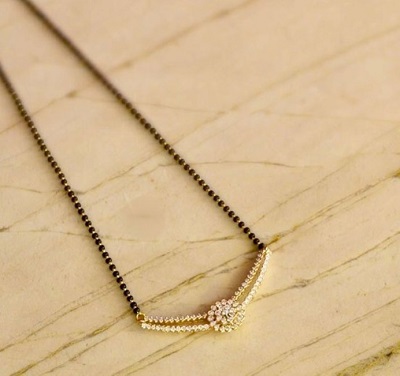 This is a very simple and easy to wear kind of design that is appropriate for the summer season as well. It's a great design which looks attractive.
14. Daily Use Artistic Gold And Diamond Mangalsutra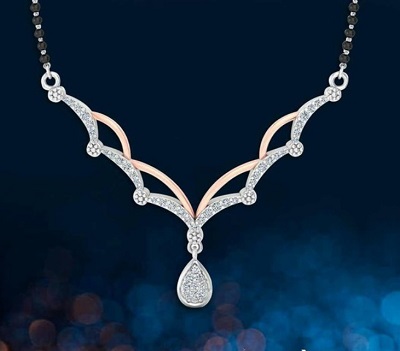 This mangalsutra pattern here has gold in two different varieties, like white and golden gold. The design is for sure extremely pretty and eye-catching.
15. Pearl Work Mangalsutra For Brides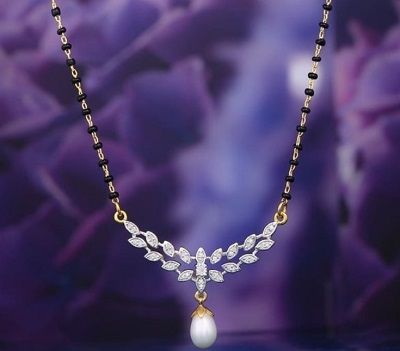 When you would like to have a design that should catch attention, but it also should be easy to wear, then this is one of the most pretty designs.
16. Gold And Diamond Mangalsutra Design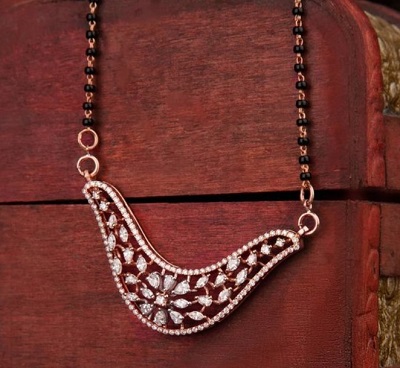 This is a very beautifully made design that has diamond embedded in different shapes and sizes. It's a piece of jewelry that is easy to wear and light on the neck. Even during the hot and humid season, such designs won't cause rashes or irritation.
17. Very Heavy Gold And Pearl Mangalsutra Pattern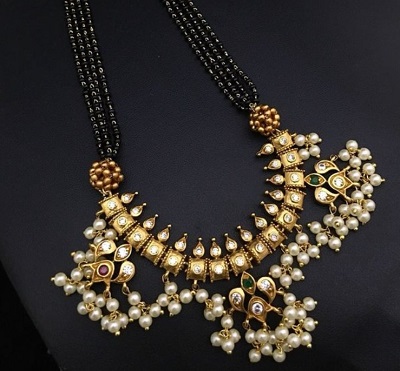 Women who would like to wear extravagant style of mangalsutras, shall go for such design. It's inspired by the necklace kind of jewelery that has the entire pendant area look like a necklace. The black beads are added on the sides that makes it a mangalsutra.
18. Gold And Heart Shaped Mangalsutra Pattern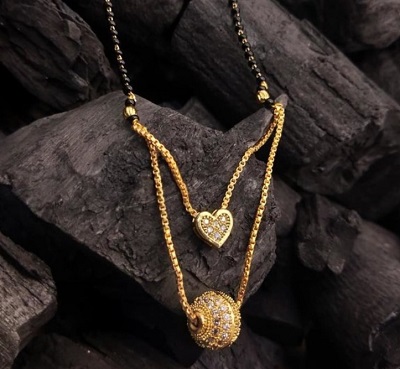 Women who would like to try something new shall try this design. It has double chain in the centre part where in one chain bears a heart encrusted with diamonds, while the other long chain has a ball. The ball shape is also encrusted with Diamonds.
19. Stylish Gold Mangalsutra With Geometric Pattern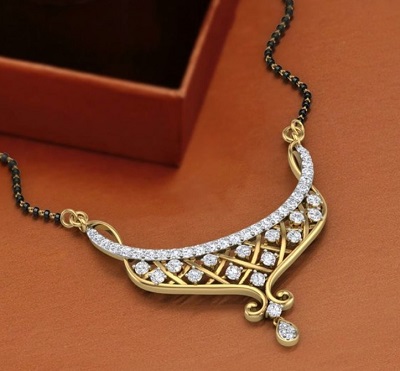 This design is very eye-catching and quite attractive to look at. Yet it's very easy to wear. The use of diamonds strategically is making this design stand out from the rest.
20. Traditional Rajasthani Gold Mangalsutra Pattern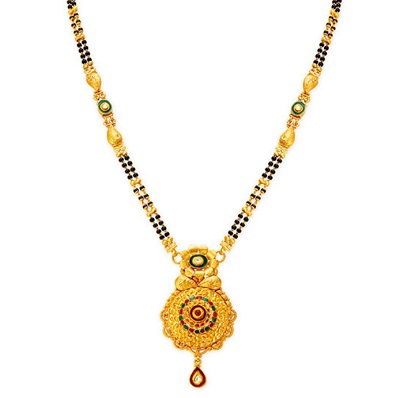 This design has the centre pendant area which is quite thick with a Kundan bead at the bottom. It has double chain and shapes of gold used in between.
21. Pendantless Chain Style Mangalsutra Pattern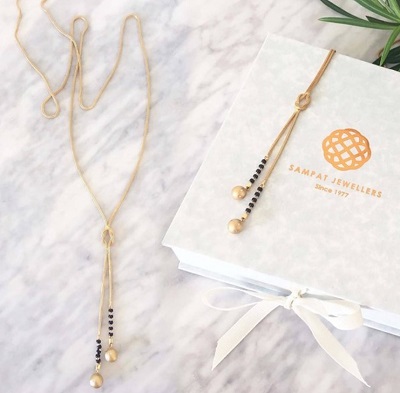 This design is also from the very renowned jewelers, who are known for their innovative designs and here as well, this design is quite modern and innovative. This mangalsutra design is made keeping in mind the younger and the bride of this generation. Here, a pendant a not is used that carries to chain which further carries black beads and a thicker gold bead. Isn't this design too pretty?
22. Simple And Stunning Gold Mangalsutra Style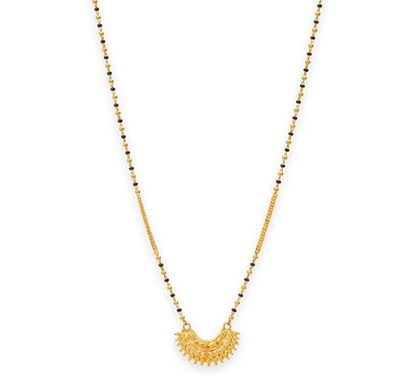 Women who would like to try simple design but with gold only pattern must try this. It has black beads and gold used for the entire design with no other gemstone or diamonds. It's also an easy to wear design.
23. Floral Beauty Mangalsutra Pattern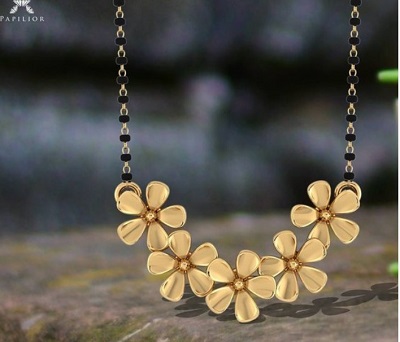 Why only have the regular mangalsutra pattern, when you can have the modern and westernized version. This is a beautiful pattern, and here the floral shapes are intertwined to create the centre pendant in an arc. This is a very beautiful and modern kind of mangalsutra pattern.
24. Simple Heart Inspired Mangalsutra In Gold And Diamond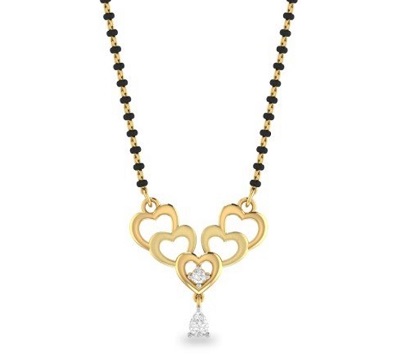 Here five shapes have been used in each side and one in the centre that carries a solitaire that goes further in a dangling solitaire. This is yet another design that younger brides would surely love.
25. Modern Floral Gold Only Mangalsutra Pattern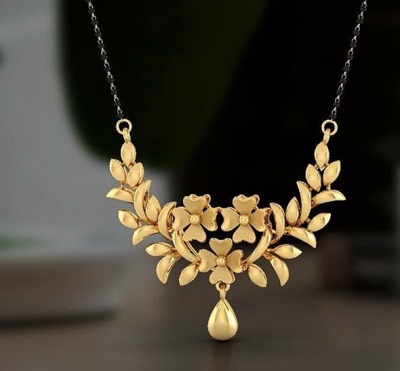 This is a gold only mangalsutra pattern where in the design is so gorgeous and is made in gold only that surely catches the attention. It's also a daily wear mangalsutra which is lightweight and easy on the neck.
26. Circular Pattern Mangalsutra Design With Pearls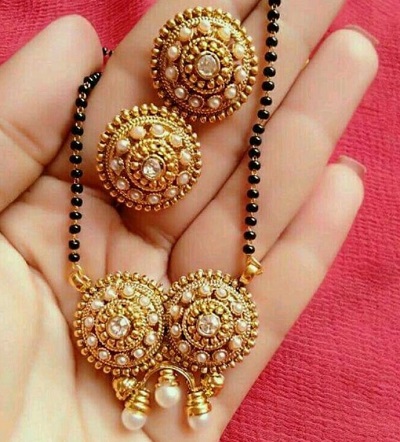 This design is simple yet very stunning. It has the old Traditional jewelery inspired pattern that carries beads and pearls.
27. Traditional Style Of Gold Mangalsutra Design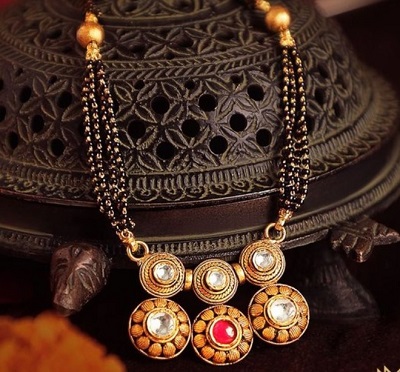 This design has the gorgeous red bead along with zircon stone. This mangalsutra has Antique jewelery kind of appeal.
28. Coin Pattern Simple Gold Mangalsutra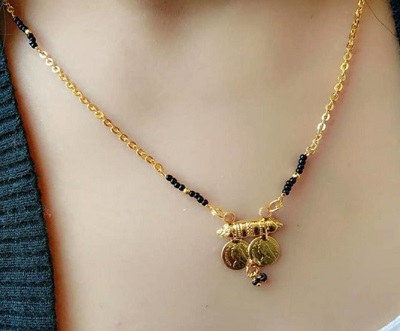 The coin patterns were very popular back in the time and still they are in trend. Young brides or the modern brides, can also have a touch of coin inspired pendant by taking a cue from this design here.
29. Peacock Inspired Gold Only Mangalsutra Design
This is a peacock inspired pattern which is made only in the gold. Side chains are kept minimal with black beads only. This design is floral as well as peacock inspired.
30. Interlinked Floral Pattern Mangalsutra Design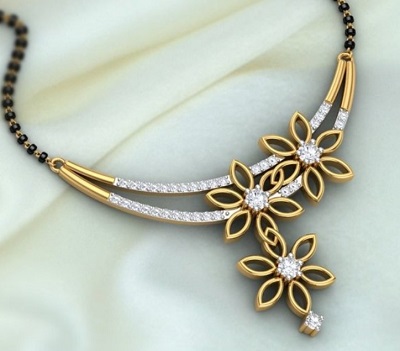 The beauty of this design is the interlinked gold flower that has been made with gold and diamonds are also used.
31. Simple Everyday Use 10 Gram Gold Mangalsutra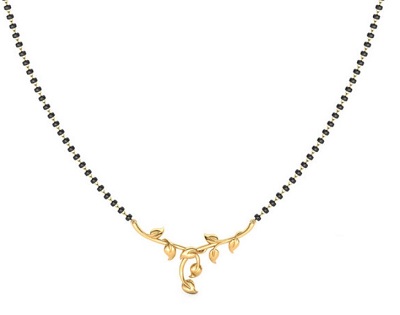 When you are looking for a latest design, which is simple and lightweight, then this design is ideal. In this design, the centre gold pendant has multiple leaf shapes in gold.
32. Ruby Stone and Temple Jewelery Inspired Gold Mangalsutra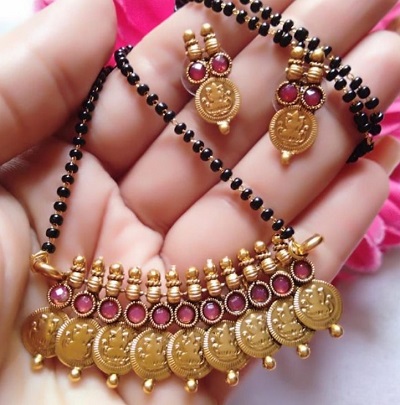 In Southern India, temple jewellery is popular and so does a mangalsutra like this. It's a coin shaped mangalsutra that bears the images of Goddess Lakshmi.
33. Fresh Pearl beads mangalsutra pattern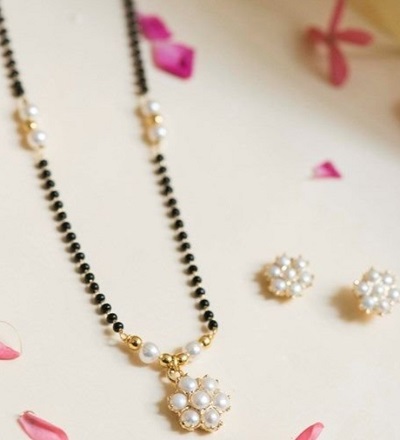 The freshwater pearls are used to create this beautiful and very attractive design. For sure Gold and Pearl goes hand in hand and can make any jewellery look luxurious and very expensive.
34. Heavy 30 Grams Gold Only Mangalsutra Pattern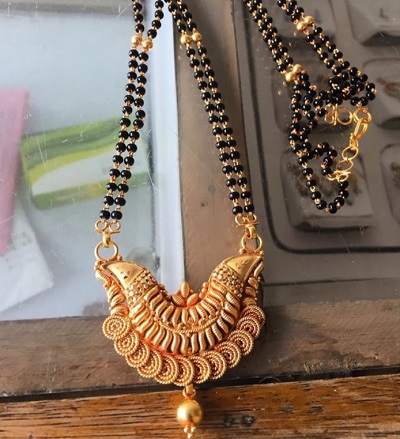 Women who would like to have very heavy pendants that are being made only with gold, shall try this design. It has double rows of black beaded chains on each side and the pendant is beautifully carved out.
35. Gold And Gemstone Inspired Mangalsutra Design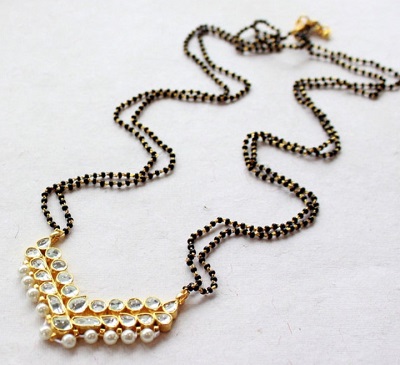 This mangalsutra has a V shaped pattern that has pearls and stones encrusted within the gold. It's also the traditional yet modern version of the mangalsutra.
36. Ruby stone gold mangalsutra design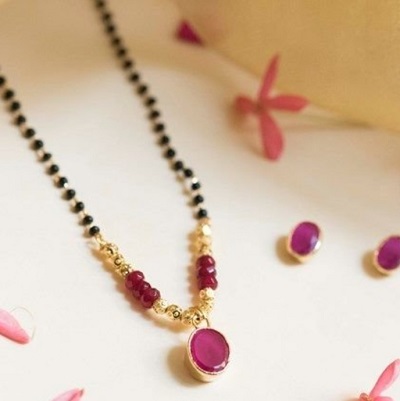 This mangalsutra in gold has a big Ruby stone dangling in the centre that also creates a pendant. Matching Ruby earrings are also given in gold. This design has three Ruby beads used on each side. It's for those who would like to have the ruby stone in their mangalsutra pattern.
37. Chandbali Inspired Gold Mangalsutra Design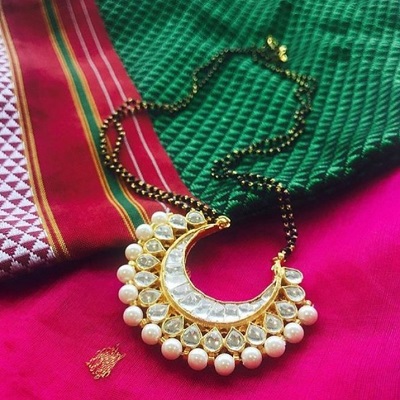 Chandbali jewellery is very popular and they have been here since ages. Here as well the chandbali inspired pendent shape has been created using pearls, gold and gemstones.
38. Delicate And Simple Floral Mangalsutra Design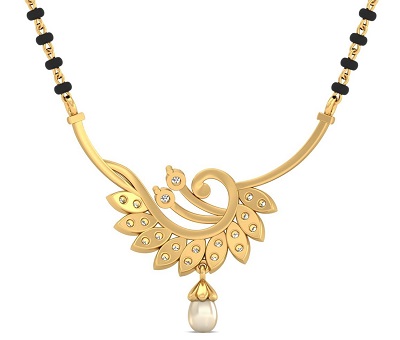 The Floral and simple mangalsutra has a peacock like shape that is made with floral patterns. A dangling pearl is also there.
39. Simple Everyday Use Heart Shaped Mangalsutra Design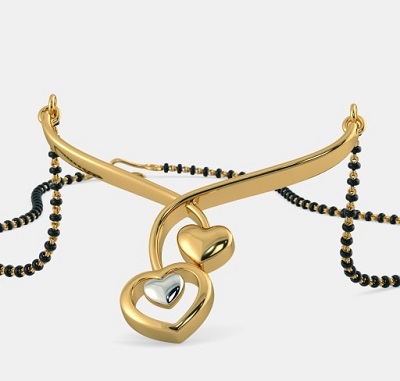 As the name goes, it's very cute and attractive looking design. It's suitable for working women and for daily use.
These are the latest designs of gold mangalsutra patterns that new brides, married women and even older married ladies can try. Such designs are easy to replicate and most of the jewelers have similar patterns or if not, one can make them designed.
40. Royal Charm Pendant Gold Mangalsutra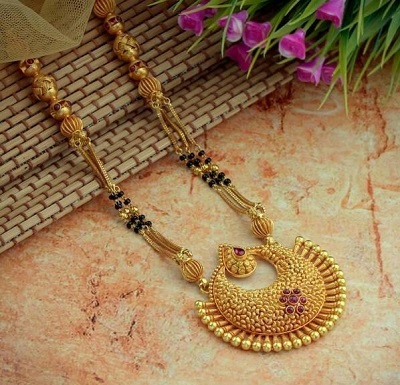 This design is extremely beautiful and exudes royality. The chain is quite thick with the different shapes of beads used. The beads are also made in Gold and the black beads are also used along with the smaller gold beads. What draws attention is the centre pendant piece that also has pearl work. With ruby beads, this has intricate design which is very beautiful.