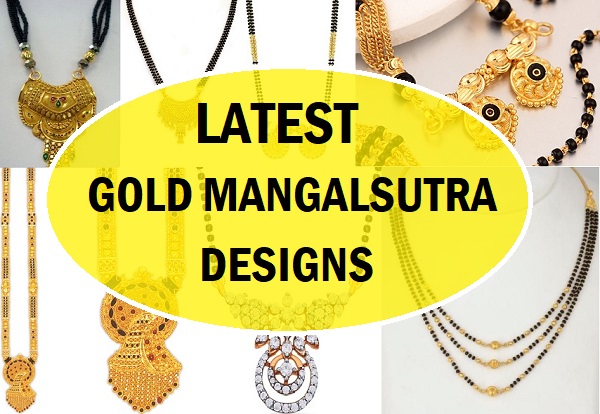 Gold mangalsutra enhances the beauty of a woman and it signifies faithfulness towards her husbands and husband's promise to shield her wife the entire life. Every Indian woman loves mangalsutra as a sign of her husband's love. Mangalsutras are available in different precious metals like diamonds, gold, platinum, Kundan work and other such precious stones. The gold mangalsutras have their own charm. We have curated gold mangalsutra designs for you in this article. These are the latest gold only mangalsutra designs for women. These can be multilayered styles of gold mangalsutra or with single chain. The designs are simply beautiful and can make you look stylish and modern. Keeping that in mind the collection is made for the latest mangalsutra designs in only gold.
Latest Gold Mangalsutra Patterns
Let's take a look at the existing and interesting designs of gold mangalsutras for traditional and modern Indian women. Here's the gold mangalsutra designs catalogue and images.
1. 24kt Gold Mangalsutra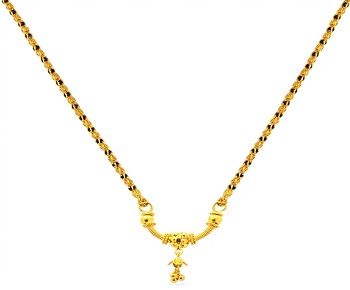 The beautiful 24 carat mangalsutra in gold metal is simply amazing. It has a curvy pendant with a dangling gold trinket and bead. The black beads are embedded along with the solid gold in the chain area. It's suitable for everyday wear and for women who like to keep things simple. The design can also be replicated with 10 grams of gold.
2. 1 Gram Gold Long Mangalsutra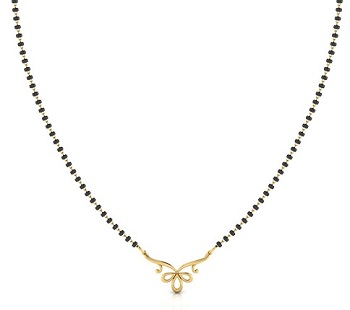 It's a beautiful mangalsutra in just one gram of gold that has a delicate black beaded chain and a tiny gold pendant. That mangalsutras are very famous amongst the new age women, who like to wear mangalsutra everyday but refrain from using those chunky and big designs. The simple gold mangalsutra design is very simple yet cute.
3. Heavy Gold Only Mangalsutra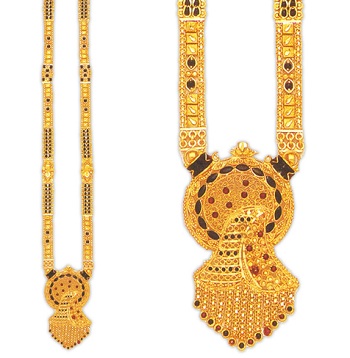 The geometric pattern on the pendant is quite eye catching. Such mangalsutras are very popular and in demand in South India and other regions of Indian subcontinent. It has a design which can be made with 30 to 35 grams of gold. The gold only mangalsutra is not just beautiful but also very opulent. Point to be noted, heavy mangalsutra will never go out of fashion ever. Saying that this gold chain mangalsutra has black beads and gold work.
4. Gold Mangalsutra Pendant Pattern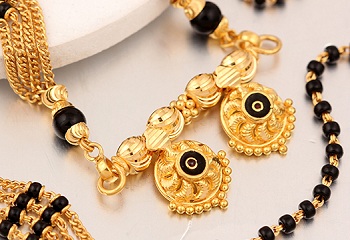 The traditional pattern has modern twist to it. Four gold beads are there in the centre that holds 2 hollow shell look like structures made in gold only. The work of filigree is done in that with minakari work. The pendant is undoubtedly a beautiful design which has traditional roots. The gold mangalsutra chain has gold and black beads. Such designs are suitable for everyday use for women who like to wear sarees or are homemakers.
5. Gold Chain with Black Beads Mangalsutra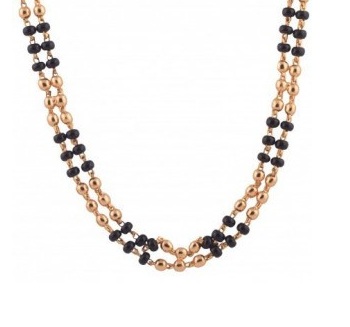 This is quite a new design that does not have the regular pendant in it. It's amongst the best latest mangalsutra designs in only gold. Here you will only see 2 gold black beads. There is no pendant and just the chain that works as a mangalsutra. It's modern and unique and is suitable for women who work in a corporate or goes to office. With minimalistic design, it's the best pattern for young newly married women.
6. Daily Wear Gold Mangalsutra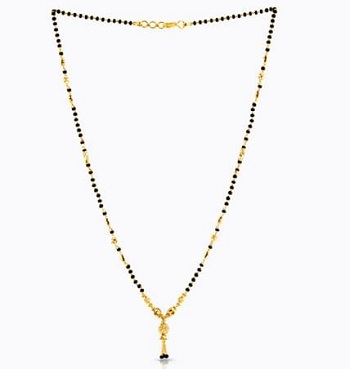 When you are looking for a daily wear light gold mangalsutra design, then surely you should look at something that is lightweight yet has new pattern. This light gold and black beaded chain design has a dangling bead at the centre. So the short mangalsutra designs in gold, does not have a pendant as such, it's just that the bead which works as the centre pendant. It's medium in length therefore, is suitable for everyday wear and for office.
7. Mangalsutra Gold Locket Design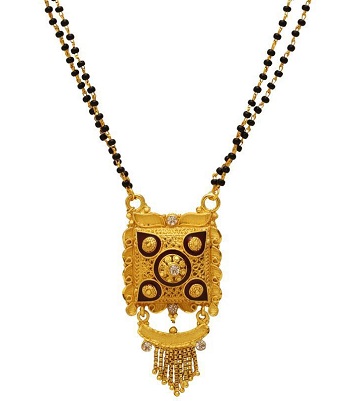 The model looking gold only mangalsutra design for locket is enticing. It's a geometrical shape with Minakari work. Two stones are also started of the pendant. The pendant attaches with 2 black beads gold chain on sides. The design is modern and yet not extremely heavy. It' a 10 grams to 15 g of gold mangalsutra design.
8. American Diamond Gold Mangalsutra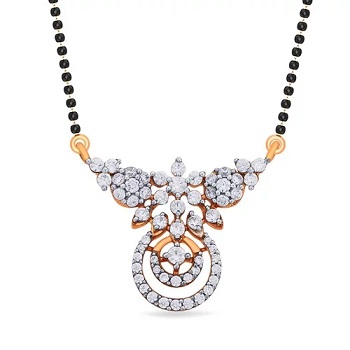 Women who are on budget, yet would like to have diamond look alike mangalsutras can go for Gold and American diamond combination mangalsutras. This mangalsutra here has a centre pendant that has two delicate black beaded chains. The centre for pendant has American diamonds in different sizes studded on a gold base. It's surely an eye catching and very attractive design. You can wear such a design of mangalsutra in gold for office and even for everyday use. Such designs are appropriate during summer season, when any chunky heavy mangalsutra can cause rashes around your neck.
9. Light Weight Gold Mangalsutra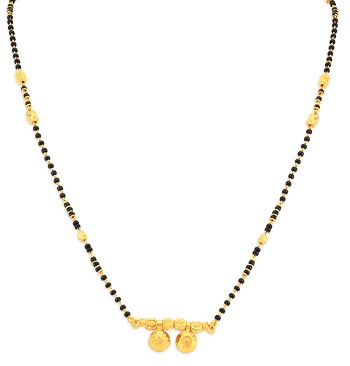 This gold mangalsutra in lightweight design is surely a beauty to look. The simple beaded design pendant with chain on the side gives it every day wear kind of feel and cute looks. The small gold mangalsutra is for women who likes to keep things subtle yet would love to wear their mangalsutra everyday. It's the best daily wear mangalsutra design in gold.
10. Fancy Mangalsutra in Gold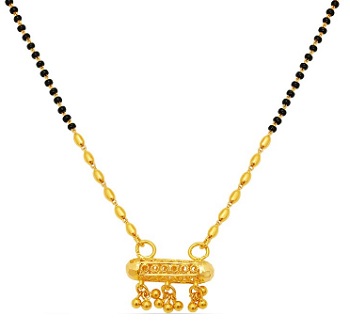 A fancy design of gold mangalsutra like this is in trend currently. The bullet like Centre indent has three gold beaded trinkets independent day attaches to the chain. The chains are not in regular design but has gold beads first and then the black beads. The mini mangalsutra design in gold is very attractive and opulent while it's also lightweight. It's 12 gram mangalsutra design that you can also get replicated in 20 grams.
11. Antique Gold Mangalsutra
A lot of women like the antique gold mangalsutra designs. This design here has an antique gold circular pendant with two gold chains that has black beads in different sizes in the middle part. If you like Antique jewellery, then this mangalsutra would surely satisfy your desire.
12. Gold Moti Mangalsutra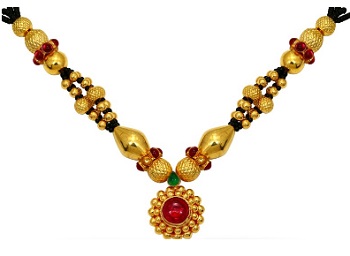 The pendant of this mangalsutra is a small circular golden flattened disc. The beaded side chains are the main highlight. It looks really modern, attractive and new pattern of gold mangalsutra. It's also the best mangalsutra design in gold.
13. South Indian Gold Mangalsutra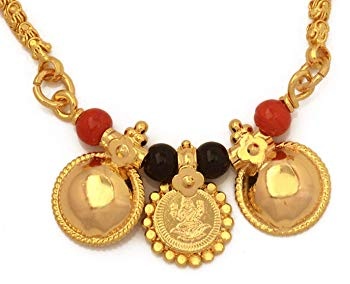 The South Indian style gold mangalsutra has coin shape 3 pendants out of which one has image of Goddess Lakshmi. Chunky gold chains are there on both the sides. The long mangalsutra designs in gold is good to be replicated for at least 35 grams of gold and is a beautiful design that looks traditional and modern both.
14. Mangalsutra With Earrings Gold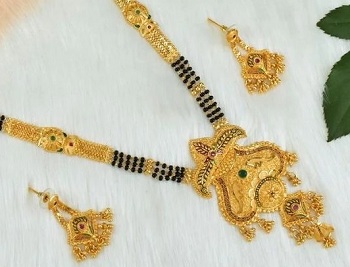 The lavish looking mangalsutra in Gold is around 30 grams which includes the earrings. This matching gold mangalsutra design with earrings is a latest ongoing trend. If you would like to have the same pattern you can surely go for it. It's suitable for daily wear where your mangalsutra matches the earrings.
15. New Gold Mangalsutra Design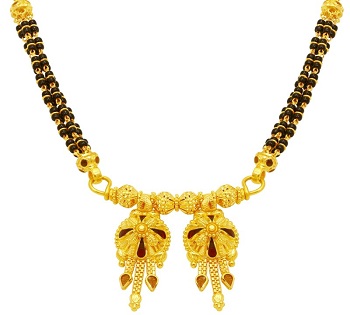 This latest mangalsutra design has four chains on each side with beads in between that holds the four delicate black beaded chains. The centre pendant area has 2 motifs that remind us of tops like earrings. The new pattern of gold mangalsutra design is surely refreshing. It's also not very heavy to wear therefore, would suit women who want light weight mangalsutra but not too light simple chains that we have shown earlier.
16. Gold Necklace Mangalsutra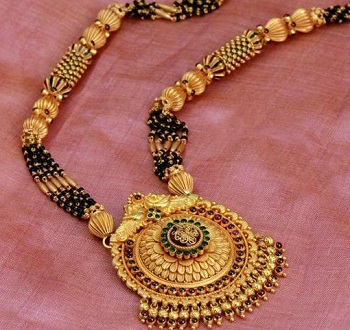 A necklace style mangalsutra pattern is also popular amongst the new age women, who love gold. In fact, for weddings also such designs are popular. It has a centre area with two thick chains. The mangalsutra locket design in gold is undoubtedly luxurious and elegant. With rich and luxurious look the same design can be made in 35 to 40 grams of gold. People would surely love the design that you have around your neck.
17. 18 Carat Gold Mangalsutra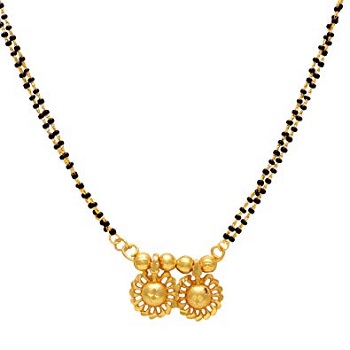 It's an 18 carat gold mangalsutra design with very lightweight and easy to wear on day to day basis. If you feel that single thin chain can break easily, then try design like this. It has double delicate chains held together by the centerpiece.
18. Latest Gold Mini Mangalsutra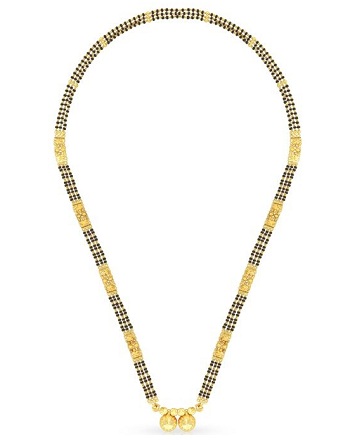 It's a latest gold mangalsutra design that has three chains which are being combined at certain places with gold Patti. The centre piece or pendant has a regular design that you must have seen in various mangalsutra designs as well. It's also very light yet fine for your office.
19. Simple Gold Mangalsutra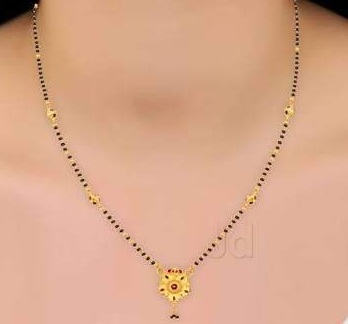 This new age and modern women likes simple and stylish pattern rather than the heavy gold mangalsutra patterns. Working women like something simple that they can wear with their office wear on day to day basis. Keeping that in mind the mangalsutra design is made. It's a very simple design with the centre pendent is of very basic pattern.  Therefore, this simple light weight gold mangalsutra design is for women who do not want heavy mangalsutra.
20. Rajasthani Gold Mangalsutra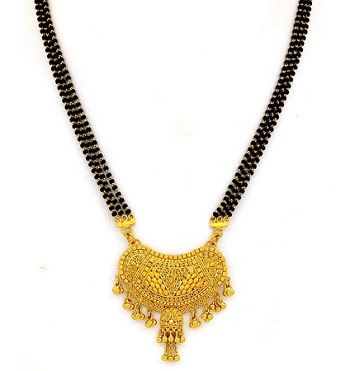 With three black beaded chains on sides this Rajasthani style gold only mangalsutra design is very attractive looking. There is nothing in it except for the black beads and gold. For all those women who like just the gold pendant would definitely love this pattern. It's not have any type of enamelling, filigree, Kundan work or even stones in it, just pure gold beauty!
21. Single Chain Gold Mangalsutra Pattern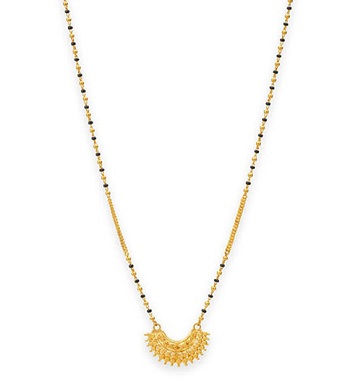 The next design has a single chain with a semicircular pendant pattern. The chain is very delicate and looks really simple in this 22k gold mangalsutra with fancy pendant. And so does the centre piece which has a half moon like structure. It's definitely one of the best looking cute and simple mangalsutra design for new age women.
22. Gold Mangalsutra with Short Chain Design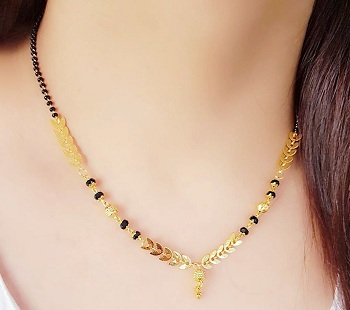 Modern women who like short and sweet mangalsutra designs, should opt for this. It has a short chain and there is no pendant as such. The design on the chain has leaf shaped gold pattern. It's very beautiful and feminine looking design. That you go for this for your office and with western wear.  
23. Telugu Mangalsutra Designs in Gold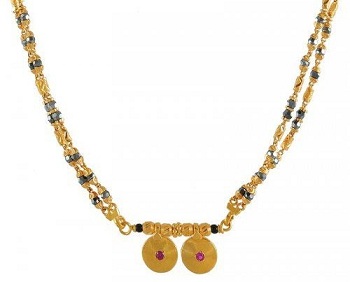 This gold only Telugu mangalsutra design has coin like pendant with two gold beaded chains attached. That chains are quite sturdy and does not break as easily. The design can be replicated in 20 grams of gold.
24. Trendy Gold Mangalsutra Design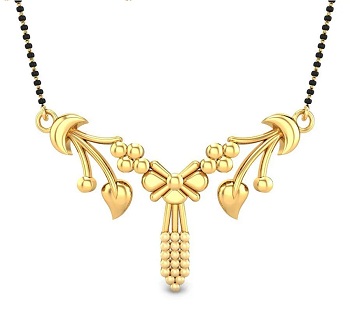 The fancy and trendy looking gold mangalsutra design has two thin chains on the sides with black beads, only pendant area is the major highlight. The leaves and floral pattern in gold only gives it a refreshing and cute look. It's only for women who are newly married and goes to office but wants to wear light and simple mangalsutra designs.
25. Gold Patti Mangalsutra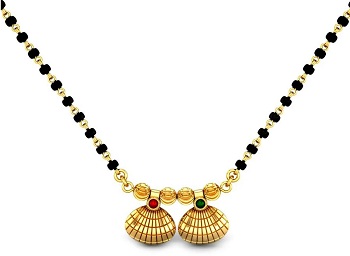 Patti style mangalsutra design has thick gold chains with the centre pendent piece. It's expensive and needs more gold to make such design. It's for women who like very long and heavy design.
26. Gold Mangalsutra For Wedding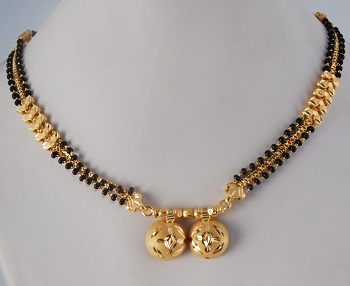 For the wedding design of gold mangalsutra only, a pattern like this is appropriate. The centre has 2 hollow semi circular pendant attached by side chains. It's a short mangalsutra which is perfect for the new age modern brides. The side chains are thick and have three chains attached with gold detailing in between. Therefore, it's also very sturdy and long lasting and does not break as easily.
27. Double Chain Gold Mangalsutra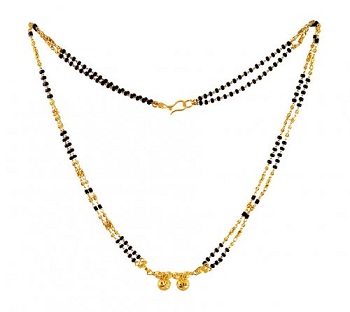 This double chain gold mangalsutra pattern is really beautiful. Suitable for working women or ladies who like light designs to wear on daily basis, it's cute and pretty. It's also suitable to be teamed up with other gold jewellery in your neck for parties and other festive occasions. This design can be made in 12-15 grams of gold.
28. New Style Gold Mangalsutra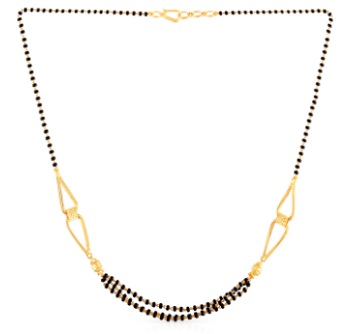 The new style mangalsutra is for everyone would want to look amazing when you wear it. On the centre, it has three black beaded chains that are attached to gold design in between on both the sides. The light weight mangalsutra in gold is made only with single black beads. It's very modern and cute looking design that corporate women and working women would like to wear on daily basis.
29. Rajwadi Gold Mangalsutra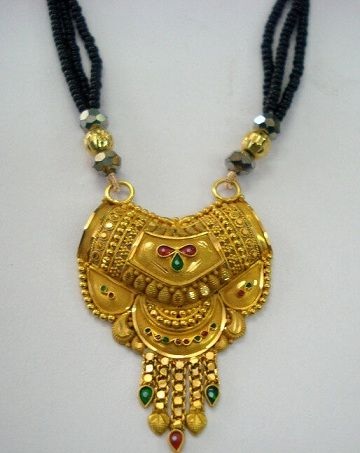 The Rajwadi style gold mangalsutra pattern is a beauty to look at. It's a very traditional mangalsutra that has been here since ages. It's suitable for women who like traditional royal designs like older mature women.
30. Bridal Gold Mangalsutra Design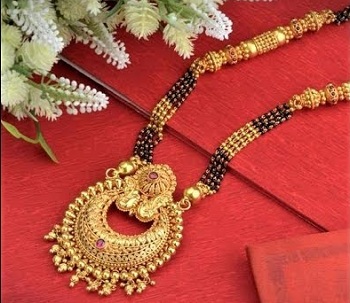 The Chandbali style of pendant of this mangalsutra is the major highlight of this beautiful design of bridal mangalsutra gold design. The centre pendant is heavy and gives a rich and lavish look. However, its side chains are also made of using good amount of gold.
31. Three Line Gold Mangalsutra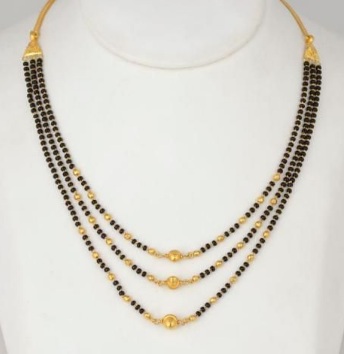 Just like the single, double or multiple chains style of mangalsutra, three line gold only mangalsutra designs are also getting popular. In this design, you will see that on the back there is a solid gold chains whereas in the front, the chains have overlapping pattern. It gives a necklace like of feel as well. In between the black beads, there are gold beads used. The mangalsutra is extremely beautiful and luxurious looking. 
32. Delicate Gold Only Mangalsutra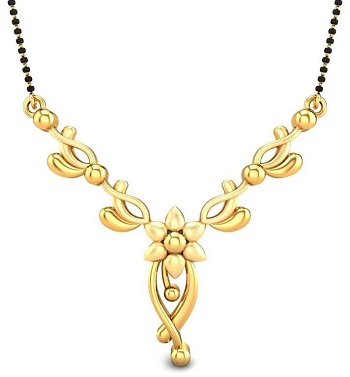 If you want gold only delicate mangalsutra style, then this would suit you perfectly. The floral design with leaves is the centre pendent area which is made out of gold and the single black beaded chains are on the sides. These designs are easy to replicate in 10 grams of gold as well.
33. Gold Coin Mangalsutra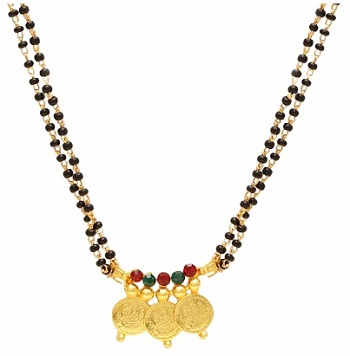 The coins style mangalsutra designs are very popular in South India. The image of Lord Goddess Lakshmi on the coins also has that Temple jewellery kind of feel. On the sides, there are two chains which makes it durable and not easily breakable.
34. Peacock Design Gold Mangalsutra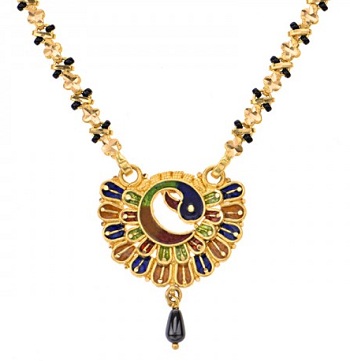 The latest Peacock design mangalsutra in Gold only has a very vivacious and rich pattern with minakari work. The use of colours like blue, green and dark red makes it colourful than the regular mangalsutra gold patterns that we have seen. The side chains are also very attractive looking and are not like the usual black and gold beads.
35. Single Stone Gold Mangalsutra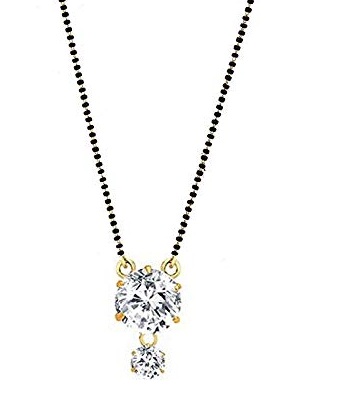 You must have seen in movies and TV serials that women are would love to go for the single Stone Gold mangalsutra patterns. This is why the craze of single or just two stones mangalsutra is getting high this season. It requires less gold and is easy on the neck. In this pattern, you will see, that black beaded only side chains are attached with a centre stone. In this design there is another single small stone attached with the bigger one. Though you can also have such patterns in single stone only. These are everyday wear and office wear perfect mangalsutra in gold design.
36. Temple Jewellery Style Gold Mangalsutra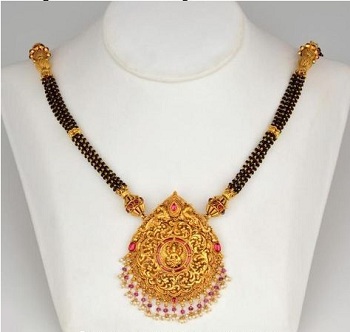 For those who like temple jewellery kind of mangalsutra in a heavy style, this design will suit you perfectly. The teardrop shaped pendant in the between has Goddess image along with elephants. Black and gold beaded chain runs on the sides to give it sturdiness and to hold the heavy centre pendent piece nicely.
37. Gold And Pearl Mangalsutra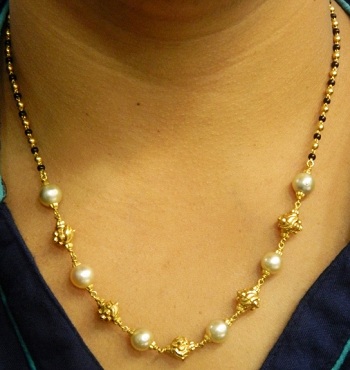 It's one of the best looking designs with pearls and gold in a mangalsutra. We simply loved this pattern. It's a simple design that many modern women would certainly like. The black and gold beaded chain runs with pearls and big gold beads used. The entire combination of black gold and pearl beads is such that it gives a very refreshing and different from the regular style of mangalsutra patterns. 
38. Kundan and Gold Mangalsutra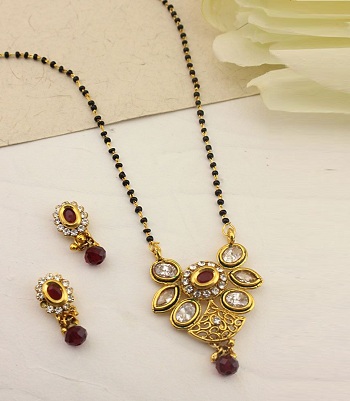 Kundan and gold is a luxurious combination. The design is simply at its best. The gold only mangalsutra has Kundan as well. The delicate chains with black beads are in the regular style but it's the centre pendent piece with boat and oval shapes, is the major highlight of this pretty design. This design also has the matching earrings.
39. 10 Grams Gold Mangalsutra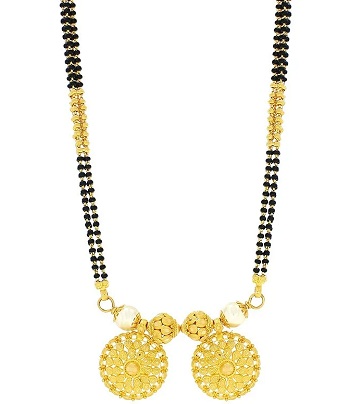 A lot of people ask us for a 10 gram gold mangalsutra patterns. For them this design can work. It has to beaded black chain on the sides with some gold in between and the pendent piece has 2 floral design with golden beads and pearl beads. So, depending on the design it can be made with 10 grams of gold. 
40. Maharashtrian Style Of Gold Mangalsutra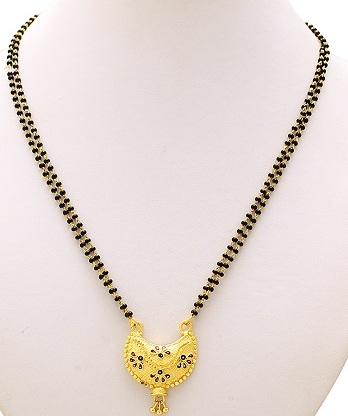 The design comes with double beaded chains on the sides with an earring shaped pattern in the centre. It has a beautiful look and feel which will definitely make you like it more.
41. Single Chain Daily Wear Gold Mangalsutra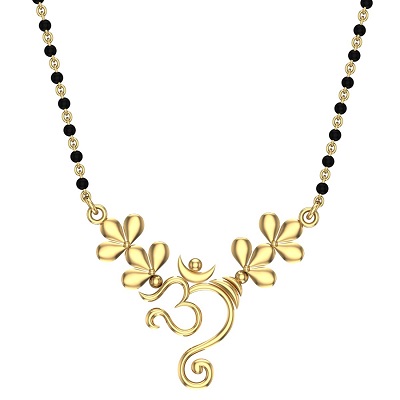 42. Thin And Short Gold Mangalsutra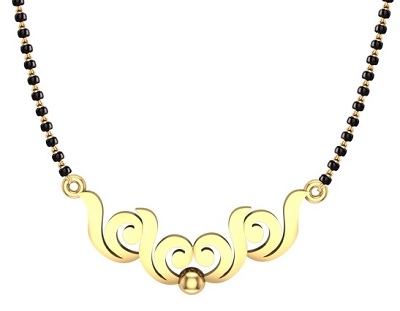 43. Light Weight Gold Mangalsutra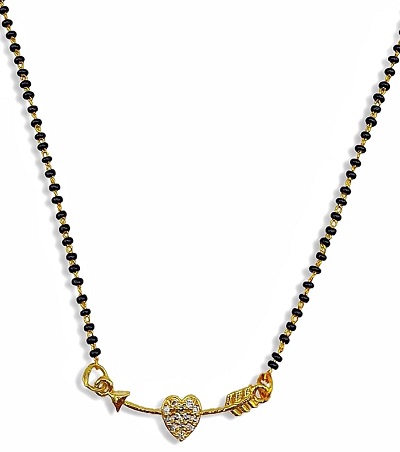 44. Vati Style Mangalsutra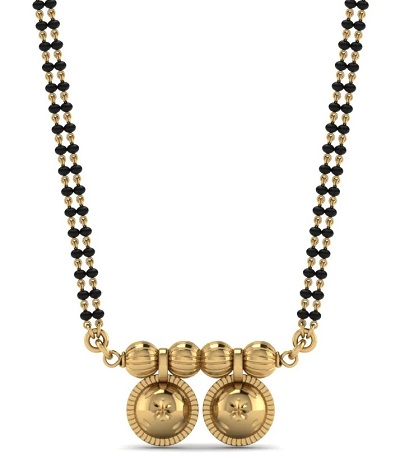 45. Single Ball Shape Pendent Mangalsutra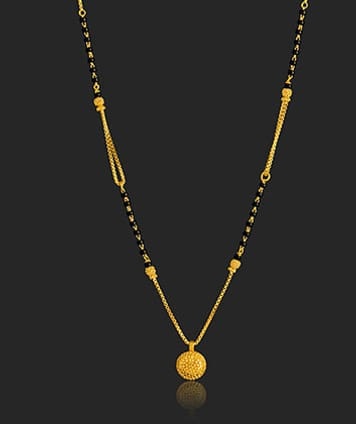 46. Gold Only Mangalsutra For Everyday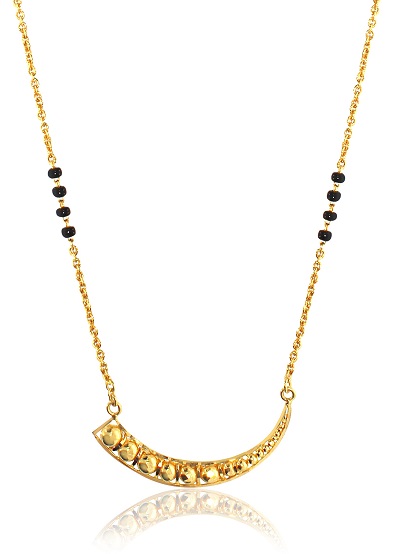 47. Black Beads And Gold Beaded Chain Mangalsutra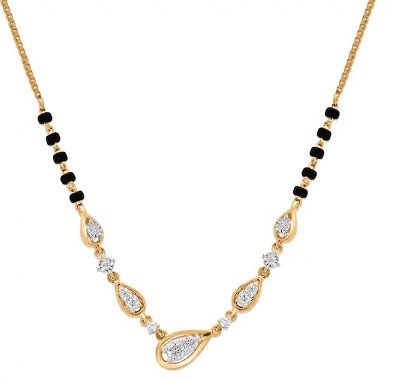 48. Light Short Gold Mangalsutra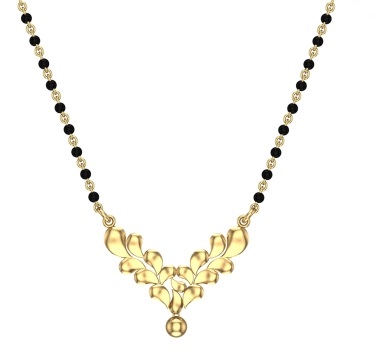 49. Pearl And Gold Mangalsutra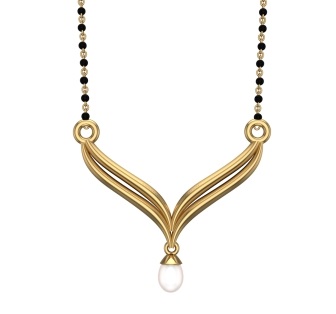 50. Gold And Diamond Light Mangalsutra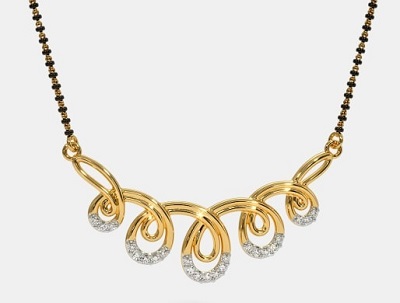 51. Traditional Style Antique Mangalsutra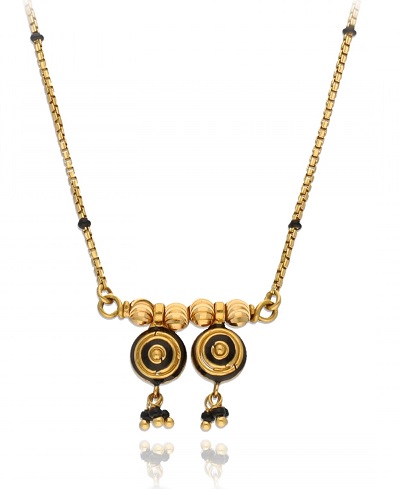 52. Gold Chain Like Mangalsutra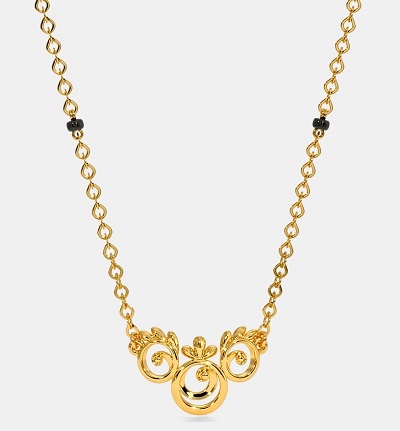 53. Designer Pendent Gold Mangalsutra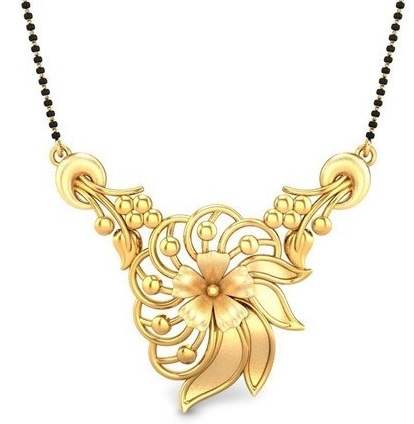 54. Floral Pendent Mangalsutra Design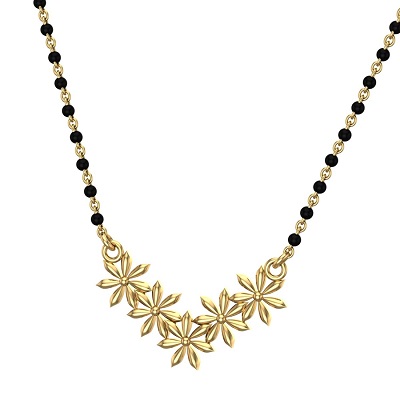 55. Heavy Side Chain Gold Only Mangalsutra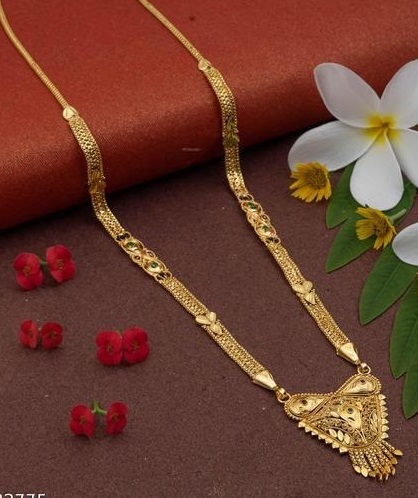 56. Jhumka Style Mangalsutra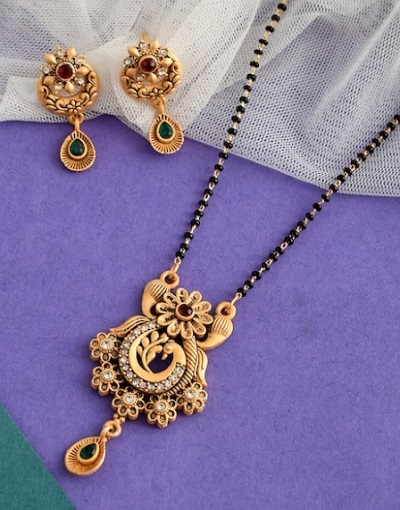 57. Traditional 15 Grams Gold Mangalsutra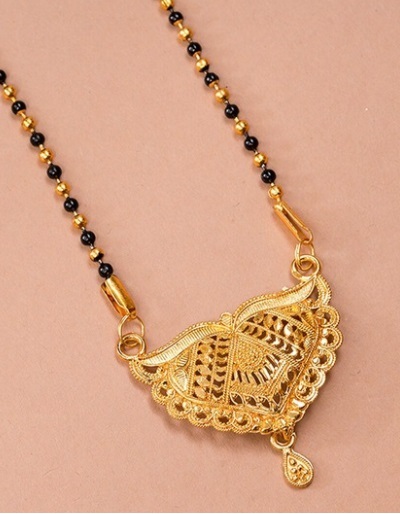 58. 30 Grams Heavy Gold Mangalsutra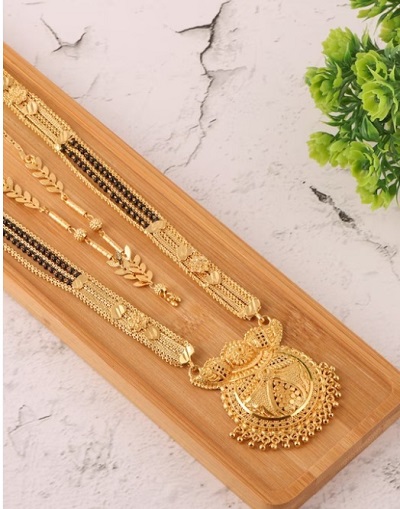 59. 3 Layered Gold Long Mangalsutra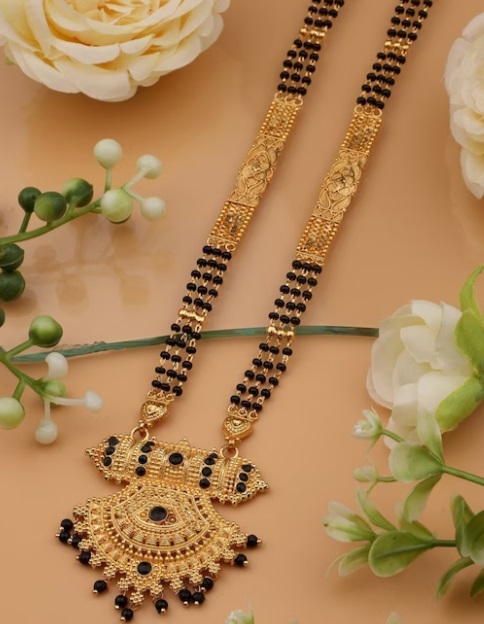 60. Medium Length Gold Mangalsutra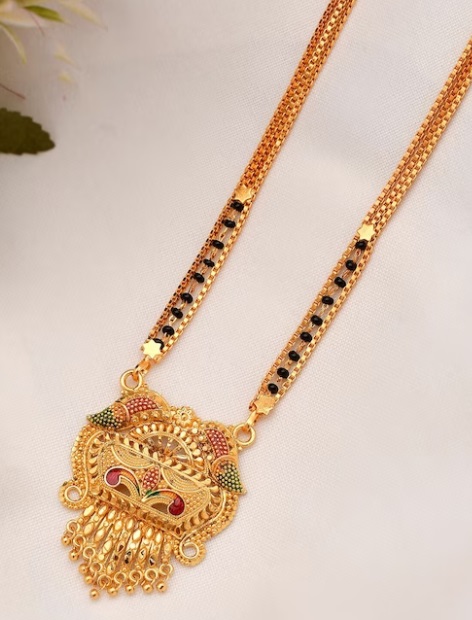 61. Maharashtrian Style Gold Mangalsutra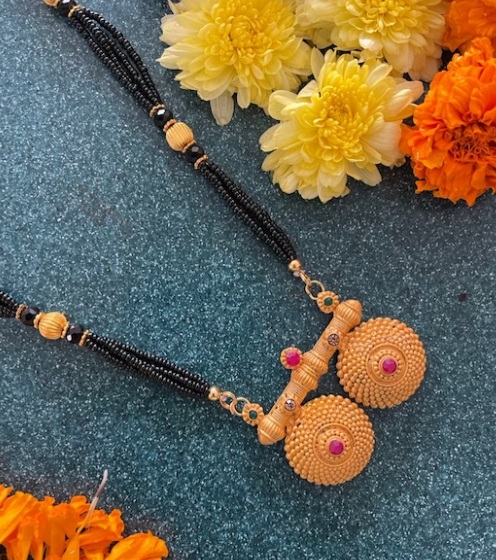 These were the latest mangalsutra designs in Gold only with other type of designs with Kundan, enamelling, stones and even the American diamonds. Make sure that you only by hallmark Gold mangalsutras because in case you need to exchange it then you can get good return. Also hallmark Gold is a certified product that fetches you good value for your money even after decades.