Golden is a color that is very versatile. Golden blouses can be paired with most of the sarees with little bit Golden detailing in them. In India gold is a major color that dominates the detailing and embellishment of the sarees. In most of your sarees, you will notice that golden sequins, embroidery etc have been used. This is why a golden blouse is a must have in your wardrobe. We have compiled the images of the latest designer golden blouses designs and patterns for women.
Latest Golden Blouse Designs with Images
Here are the Images of latest golden saree blouse designs for women for party wearing and ceremonies.
1. Brasso Net Golden Blouse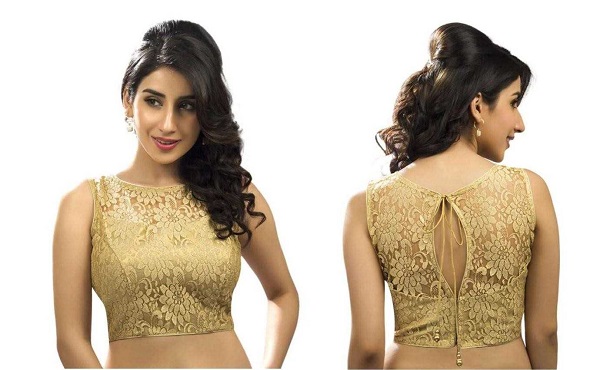 The net blouse in brasso material has a sleeveless design with boat shaped neck-line. The back neck is a keyhole neckline. It is a princess cut blouse with pads in the front and buttons at the back. There are two strings with tiny pink. It is a very simple yet beautiful blouse that can be paired with sarees, lehengas and even the skirts. The multipurpose blouse can be paired with most of the sarees which has got contemporary feel to them. Even with a printed designer Georgette sarees this would look good.
2. Brocade and Net Golden Lace Blouse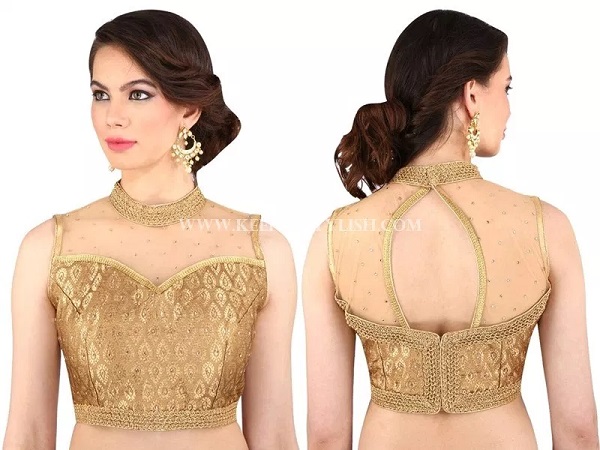 This blouse is perfect brocade and lace gold blouse. It has a high chinese mandarin neckline which is embellished with Zari and sequins. The sweetheart neckline with sheer net fabric that is around with tiny beat is beautiful and delegate the padded blouse has a button on the back and it looks amazing. This is such a beautiful delicate looking blouse which will look good on women with all age groups. It can be paired with sarees and lehengas.
3. Deep Neck Gold Blouse with Latkan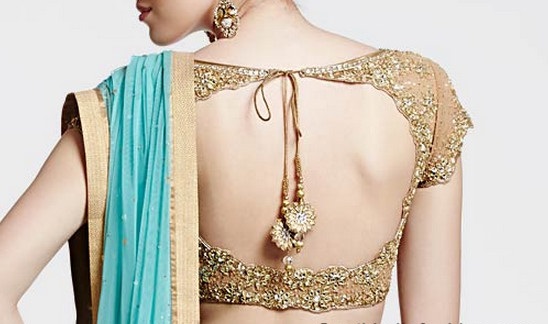 New blouse back neck line with strings that has got blood comes attached. The front neck line is boat shaped. It is an embroidered net which has sequence and stones all over. It is a designer blouse are made for weddings and parties.
4. Designer Antique Gold Blouse with Stones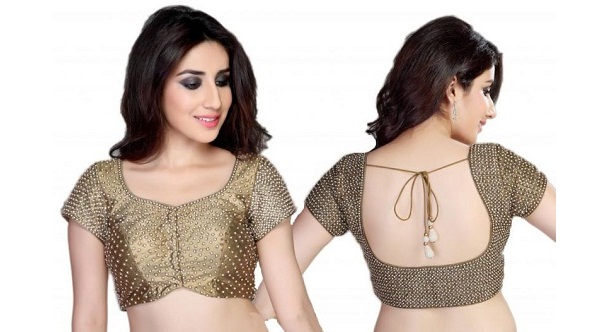 This designer blouse has an antique gold color. The U shape back neckline and round front neckline is simple yet looks neat. The classy design of gold blouse has tiny stones and beads all over. It is a very designer party wear blouse that looks lovely.
5. Full Sleeves Gold Blouse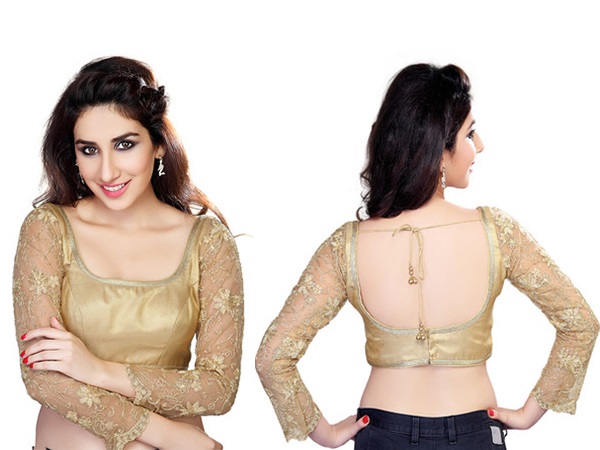 Plain gold fabric is used for the bust part and embroidered net gold fabric is used for the sleeves. It has full sleeves that look elegent.
6. Golden Sequin Work Design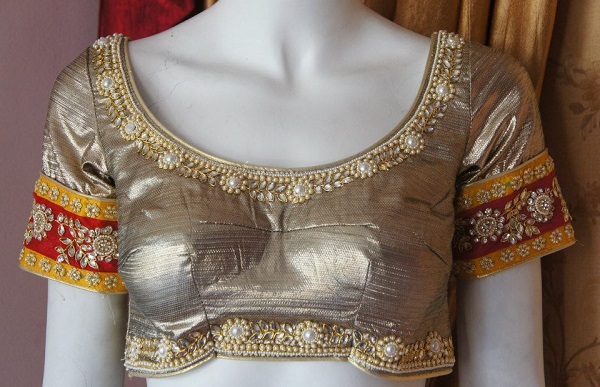 The blouse has Golden sequin work with a saree border attached on the sleeves. The contrasting colored border gives it beautiful feel. The work on the Neck line and waist part is studded with stones and beads. It is a very designer looking blouse suitable for sarees.
7. Golden brocade blouse design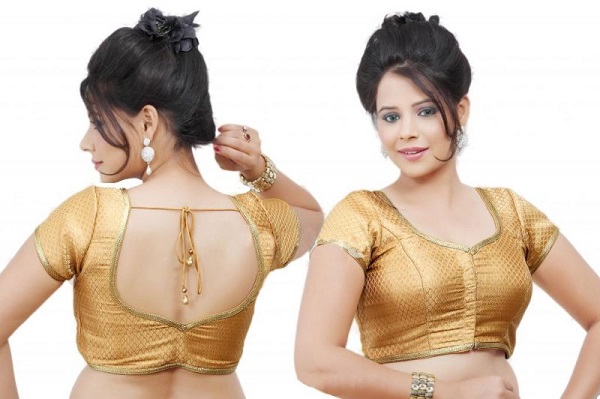 The simple design of this blouse is eye-catching and it has the conventional front buttons. The front buttons with golden Zari border on the edges looks pretty. The blouse has simplistic design that can be paired with all the lehengas and sarees.
8. Golden Lacey blouse design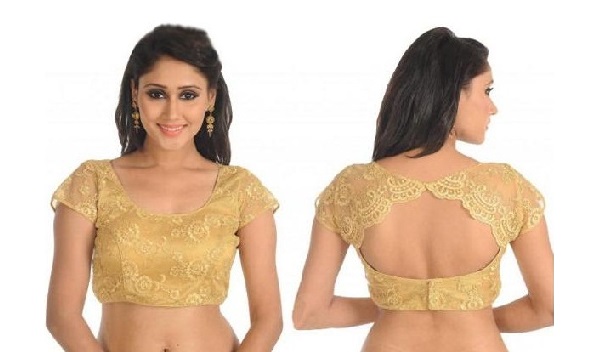 The Lacey Golden blouse design is beautiful. A gold lace fabric is been used and for the lining gold Satin fabric is used. It has got buttons at the back. It is a very modern looking blouse that can be paired with skirts, lehengas and sarees. Sarees with chiffon and light fabric would look perfect with such blouse design.
9. Halter Neck Sequin Gold Blouse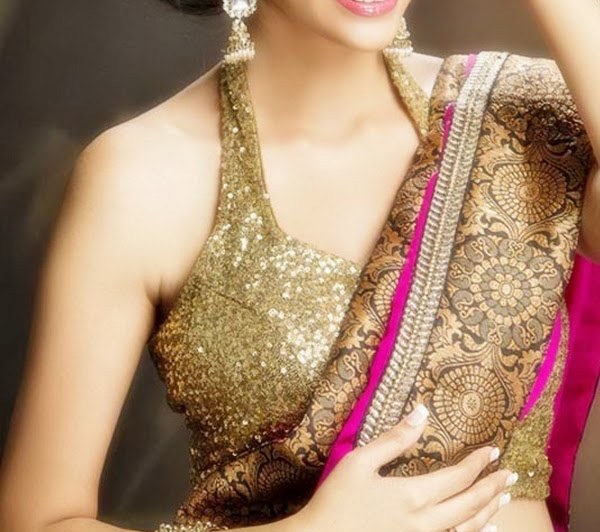 It is one of the most beautiful and simplest designs of gold blouse. The sequined filled fabric is used for this gold toned blouse. It is a Halter neck blouse with padded bustier. It can be paired with most of the sarees except for the silk and very heavy sarees.
10. Heavy Stone Studded Golden Blouse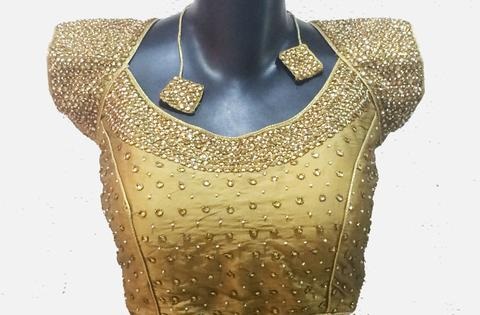 The golden blouse has cap sleeves and is embellished with kundans and stones. It is a very heavy blouse that would go with either the sheer chiffon or Georgette sarees rather with heavy sarees. It can be your go to blouse for wedding party and cocktail ceremonies.
11. Pearl Bead Work Golden Blouse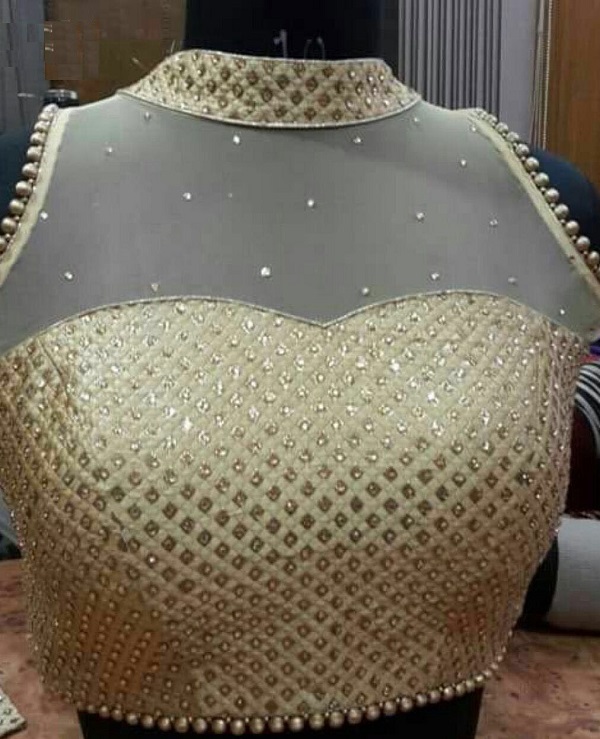 The beautiful Golden Shiny fabric has been used for this blouse. The net and chiffon fabric is used for the upper part. It is very elegant and classy looking blouse that shows some skin for that extra sensuality. It is a beautiful piece that you must go for.
12. Red and Gold Blouse Design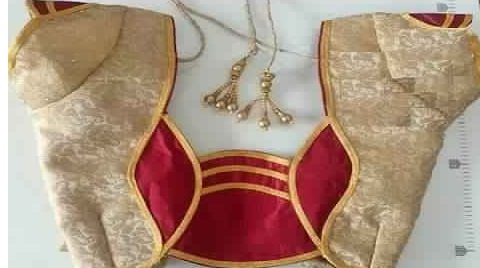 The red and gold blouse design is quite amazing. The shape of the edge is different than the rest. It's not straight but has the design. The short sleeves with red color in the sleeves look pretty. The back part of red fabric used as a design that also adds to its feel.
13. Simple Golden Halter blouse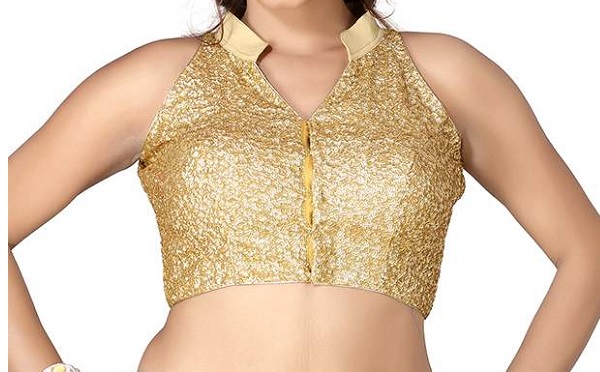 The simple Golden blouse has Halter neck with chinese neckline. It is a simple blouse that is good for young girls who like to wear sarees with such blouses.
14. Sleeveless Gold Blouse with Collar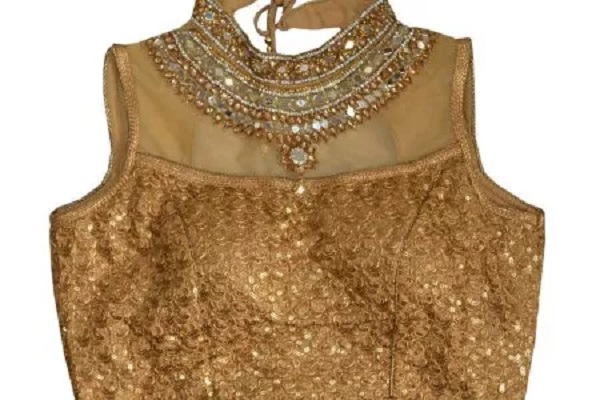 Sleeveless blouse has an embellished neckline the sequence filled gold fabric is used for the bust part. Then neckline gives a feel of broad neck piece jewelery. It is a very attractive and appealing looking design of blouse that women should try.
15. Stone Studded Party Wear Blouse Design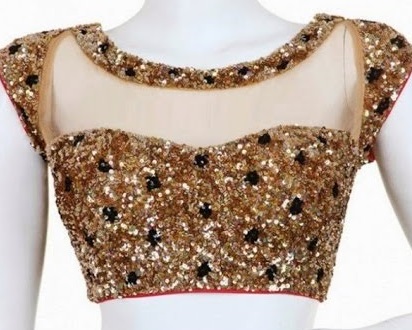 The gold blouse is filled with sequins, stones and kundans. The sequin base of this fabric is just amazing and breathtaking. In between stones has been used to make it even more appealing and dimension.
These are the images of golden blouses for women that you can try. You must take inspiration from these images and get one for yourself.