Gota Patti is an embellishment design that is made using the Gota in different designs. So this design is so exclusive and beautiful that it can give a royal and luxurious feel to most of the Indian ethnic wear. So in this article, we have compiled the latest Gota Patti blouse designs available. These blouses can be paired up with the lehenga or for the sarees. The best sarees to pair up your gota patti blouses are the net, Silk, Georgette sarees, however it's up to you which saree you would like to take up.
Latest Gota Patti Blouse Designs
1. Partywear Pink Gota Patti Blouse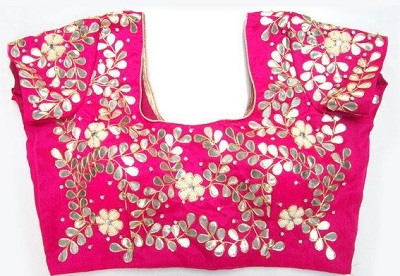 The gorgeous Gota Patti blouse looks really amazing and it is perfect to pair up with different sarees. It is a party wear designer wear in work using the Gota leaves is made.
2. Silk Gota Patti Work Blouse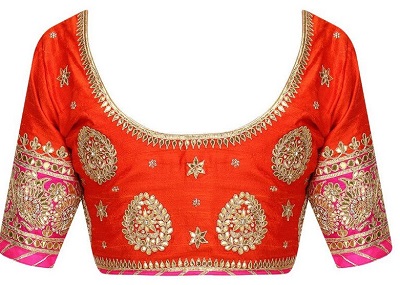 Not just the Gota Patti but this beautiful design has thread work sequin and bead work as well. So, apart from the Gota work, you see different type of embellishment varieties in this blouse. It has a deep back neck line and also the front neckline is quite deep with choli cut pattern. It is a perfect party wear for festival wear collection for the newlywed brides.
3. Sequin And Gota Patti Work Blouse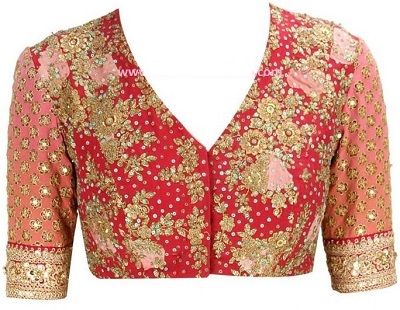 This is a really beautiful blouse with front opening and v shape neck line and deep back neck line. This blouse is given medium length sleeves that runs till the elbow and heavy sequin and Zari thread embroidery work is seen along with the Gota Patti work. This is a perfect party wear blouse design that would make you look really beautiful and stunning.
4. Black Gota Patti blouse Design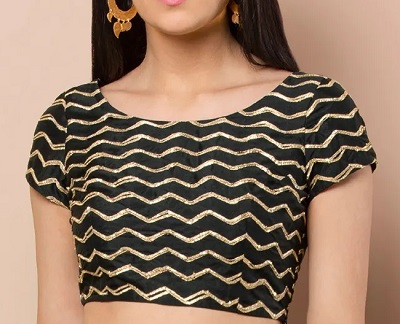 This is more like a crop top wear in Gota Patti is are used to create the horizontal lines. It is been given boat shaped neckline and short sleeves. You can also wear it up with the Maxi dress like a crop top and skirt combination.
5. Gold And Silver Gota Patti Work Blouse Design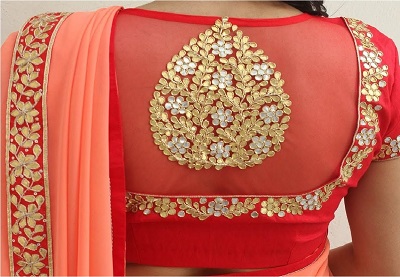 The beautiful blouse has a Patchwork with silk and net fabric. Gota of two different colours like gold and silver are used to create this gorgeous blouse. This is a party perfect blouse that can be paired with Chiffon, Georgette or Net saree.
6. Stunning Pink Gota Patti Work Blouse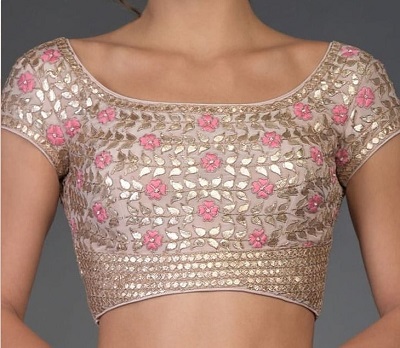 The beautiful blouse looks really royal and amazing. It is basically a lehenga blouse design that has an amazing cut and pattern. The Gota work is blended with a light pink fabric over some thread embroidery. It has boat shaped neckline and it looks really gorgeous.
7. Blue Velvet Gota Patti Work Blouse Pattern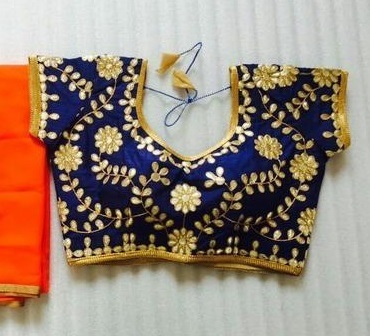 The beauty of this blouse here is the velvet fabric and the Gota work. Both of these things goes hand-in-hand because they look amazing and luxurious. So if you would like to look elegant, you must go for a velvet blouse with Gota Patti work over it. It is a party wear blouse that can be teamed up with your lehenga or sarees.
8. Black Silk Blouse With Gota Patti Work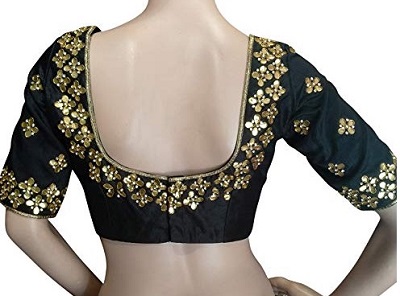 The beautiful party wear black Silk blouse has Gota Patti work with a deep back neck line. This gorgeous blouse is given back opening with hooks. The Princess cut front part also has a deep front neckline. The sleeves are medium and go till the elbow. It looks really amazing venue pair it up with saree or lehenga.
9. Bridal Gota Patti Inspired Blouse Design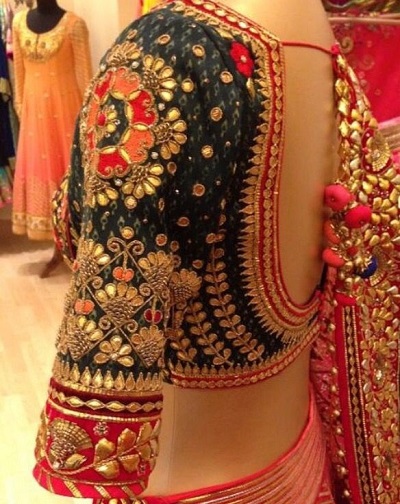 Made on a Silk Chanderi fabric, this blouse has everything right from the sequins, embroidery, bead work, Kundan and Gota Patti work of course. The blouse has a backless pattern with tassels and latkans. The front neckline is kept amazing that looks really good. It has medium length sleeves which are also unbalanced. It is a heavy Gota Patti work blouse.
10. Designer Gota Patti Work Blouse For Lehenga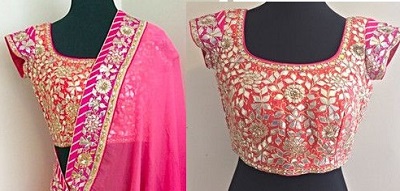 When you have decided to wear lehenga for the grand event or party, then this is the blouse that you would surely love to have. The blouse has pink and orange base fabric with gota work is done so neatly and exclusively that it makes it a designer blouse.
11. Red And Green Blouse With Gota Work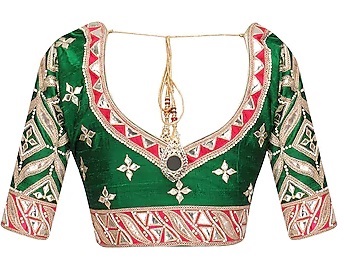 The blouse has sleeves and comes with a deep back neck line with strings. It is also a good blouse that women would like to wear for different festivals.
12. Stylish White Gota Patti Work Blouse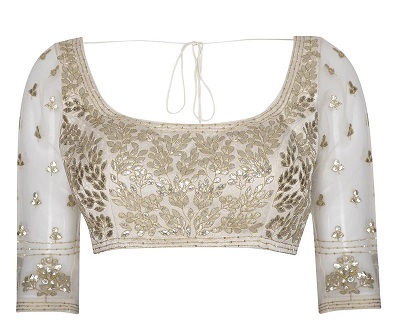 If you wish to look royal and serene then this white Gota Patti work blouse design would certainly make you look amazing. The blouse has a white fabric in silk wherein the Gota Patti work is done so neatly and in detail work that it appears highly exclusive. This is a saree blouse design that can also be paired up with your lehenga.
13. Green Gota Work Blouse For Parties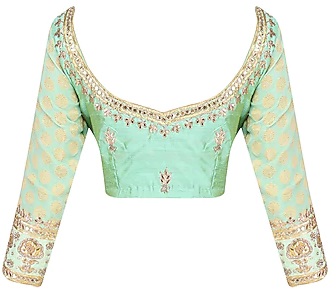 When you wish to go for a party, where you look amazing androyal then this Chanderi Silk fabric blouse would definitely do a lot in your favour. This blouse has a very deep neckline in the back and has hooks in the front. It has long sleeves with Gota work on the cuffs. The detailign on the neckline makes it really alluring and exclusive.
14. Cold Shoulder Gota Work Blouse Design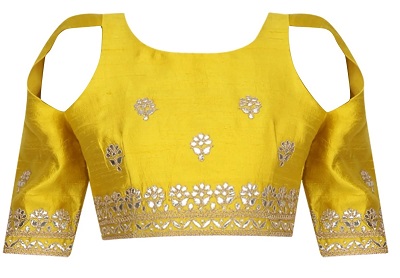 Why just experiment Gota work with the traditional blouses, when you can have the same work for your modern and western looking blouses as well. This cold shoulder blouse has a boat shaped neckline and it has the beautiful Gota work going all over. This would surely look amazing with the saree and lehenga dresses.
15. Red Bridal Gota Work Blouse With Sequins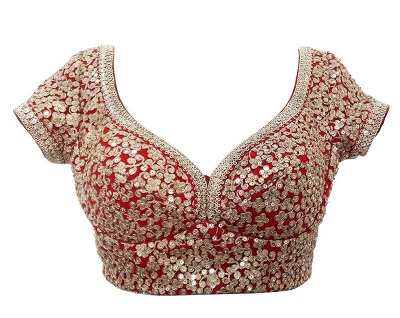 The blouse made for a bride cannot be less than stunning. Like the blouse here has a red velvet base with sequin embroidery. It has a deep front and deep back neck line.
16. Silk Gota work blouse design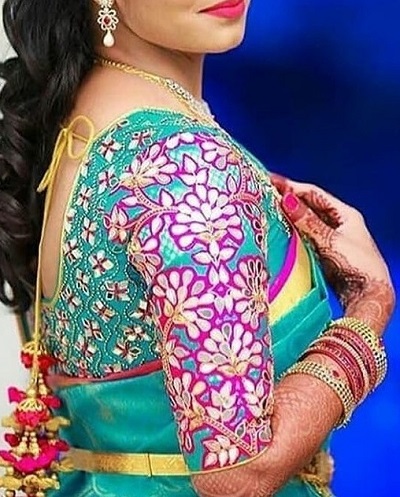 Gota work is not seen on the traditional fabrics but on the silk as well. This blouse has the floral pattern and Gota work is used here and there to enhance the beauty of this blouse.
17. Sleeveless Traditional Blouse With Gota And Mirror Work
This blouse here has the beautiful Gota work with thread embroidery and the mirror. Mirrors and gota is the beauty of this blouse and it looks more like a festival blouse that one can wear for Navratri, Diwali etc. The blouse is made with a princess cut pattern with back hooks and sleeveless design.
18. Blouse Design With Boat Shape Neck Line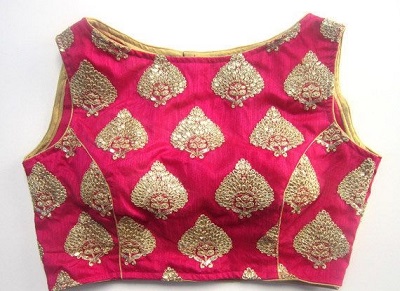 This blouse basically is a crop top style blouse that can be teamed up with the sarees and lehenga for sure. It has the floral pattern and the use of Gota and Zari work makes it a fully party wear blouse.
19. Heavy Bridal Blouse With Gota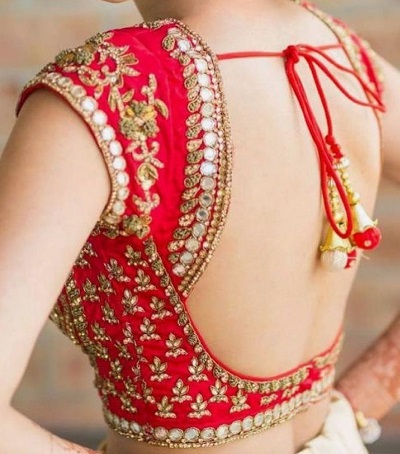 This is a bridal blouse with a backless pattern with Gota, Mirrors, sequins, beads and thread embroidery work. Every inch of the blouse is embedded and embellished. This would surely make you a head turner.
20. Dark Green Gota Work Blouse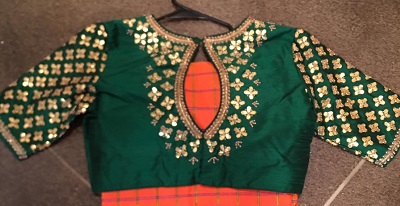 The blouse in the dark green colour has Gota Patti work along with beautiful keyhole neckline. The blouse is so stunning that it would make your lehenga saree look equally amazing. Such latest designs are for your latest sarees for the festivals and functions.
These are the latest Gota work blouses that women can try to look beautiful and divine.