Gota Patti work is becoming quite popular in the salwar kameez and kurti designs. If you like the Gota Patti suit designs then in this article we are going to share the latest Gota Patti suit designs available in the market. Gota Patti work is the exclusive designs that are made with the Gota Patti. The Gota Patti work is quite popular and trending in the states like Gujarat and Rajasthan where women love to have that work in their ethnic wear a lot.
Best Gotta Patti Salwar Suit Designs
The Gota Patti embroidery work is exclusively used in the Indian ethnic wear a lot and it is a type of embellishment that was originated in Rajasthan India. It involves the appliqué technique where in the Gota ribbons are used to create different designs and detailing.  Gota Patti work is mainly done on the lighter fabrics like chiffon, Silk, Crepe or Georgette. This is why, the work is very beautiful. When the work is done on any normal dress to become a party wear dress.
1. White Suit With Multi Colour Gota Patti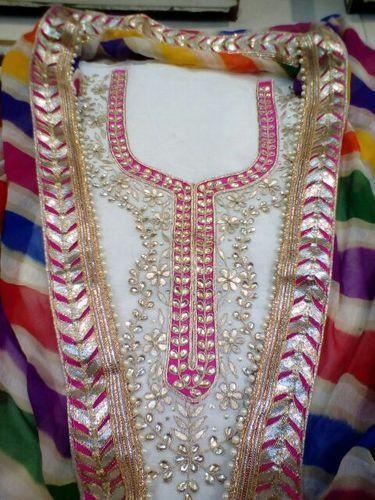 The beautiful suit is white in colour with pink neckline. All over the suit Gota Patti work is done with golden thread and Gota leaves. Dupatta is of contrasting and bright colours with lace all over the four sides.
2. Blush Pink Suit With Heavy Gota Patti Work Dupatta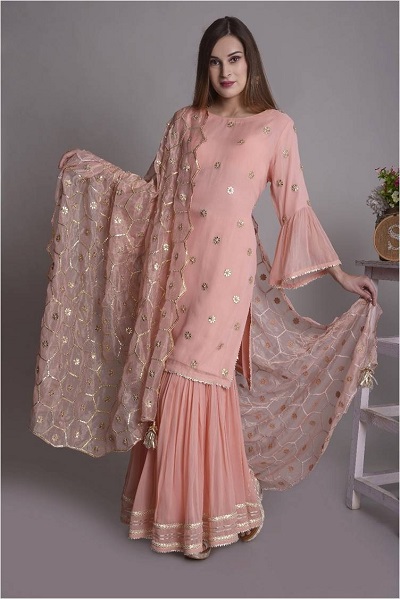 The gorgeous suit has a blush pink colour where in the kurti has bell sleeves and a sharara is given for the bottom wear. The key highlight is the heavy dupatta that has Gota Patti work over a chiffon fabric fullstop search designs are very appropriate for the parties and even for the younger and mature ladies.
3. Pink Suit With Gota Work Dupatta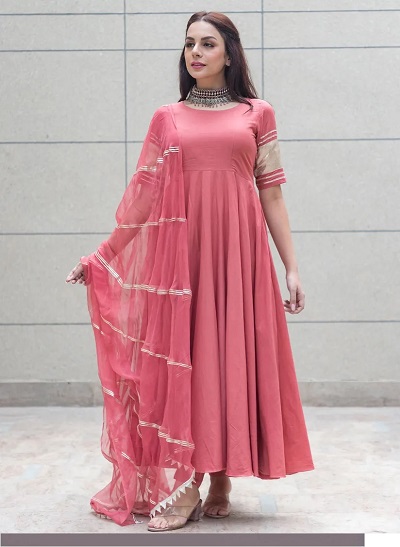 The gorgeous carrot Pink suit has an a-line design with no work on the suit but only on the sleeves part. This beautiful suit has a chiffon dupatta with Gota Patti diagonal lines. It is such a breathtaking yet it simplistic dress that it would make you look stunning.
4. Bright Red Gota Patti Work Suit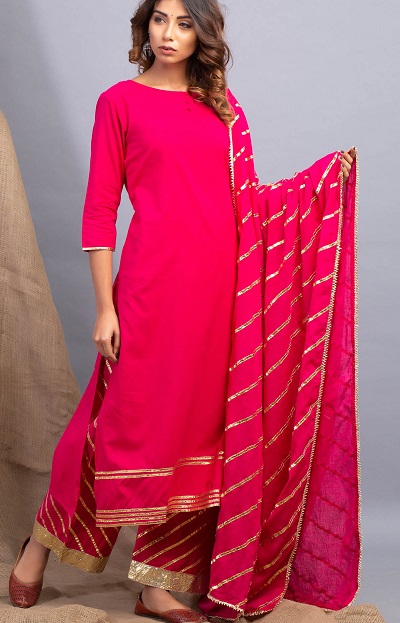 Bright red suit with Gota Patti work on bottom.   The Suite has Dupatta with the slanting Gota lace lines with the bottom wear that has the similar design. It is a gorgeously made plazzo long suit design.
5. Gota Patti Heavy Suit in Pink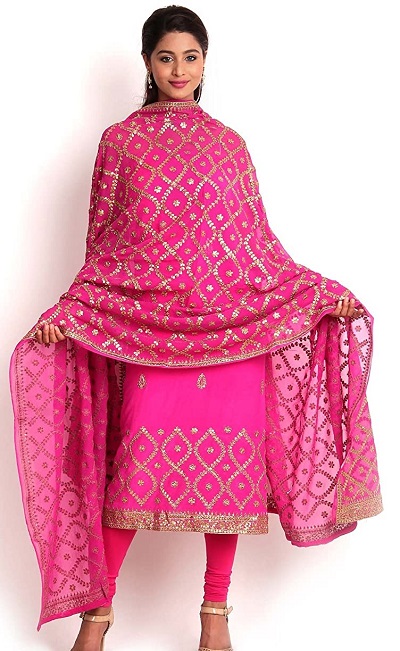 The gorgeous pink colour has churidar salwar with the long kurti and very heavy Dupatta that has gorgeous detailed Gota Patti work. It is a party wear design that girls would definitely love to try for the weddings or parties.
6. Classic Gota Patti Work Dress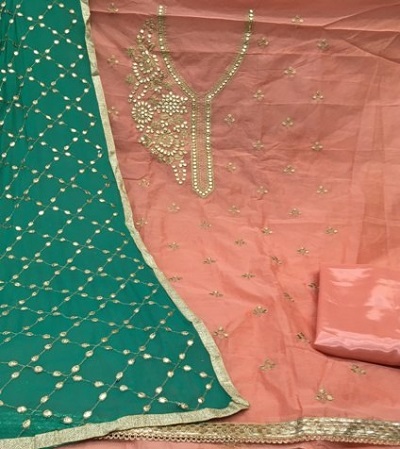 The colours chosen for the kurti, bottom and dupatta are appropriate and are very different from the regular colours. This is a beauty of the elegant dress that the sea green Dupatta has heavy embroidery and Gota Patti work while the kameez has watermelon pink colour with Gota work on the neckline.
7. Cotton suit with Classic Gota Patti work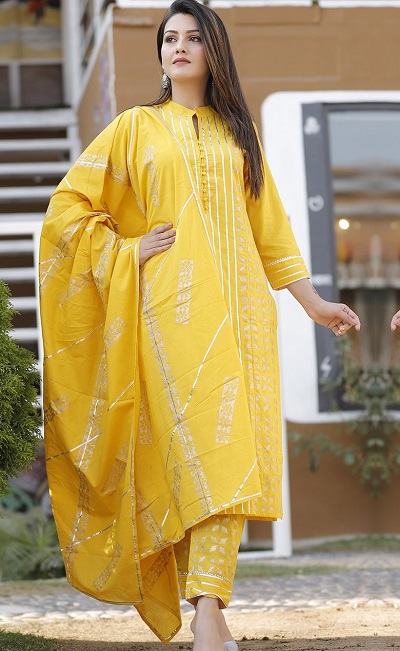 The Cotton printed suit in bright yellow colour has a very nice design with straight pant. It is a printed suit wherein the Gota work is used on the bottom, sleeves and over the Dupatta. It is a very office wear kind of a dress that you can wear for the ethnic functions.
8. Party wear Gota Patti Suit Salwar Kameez design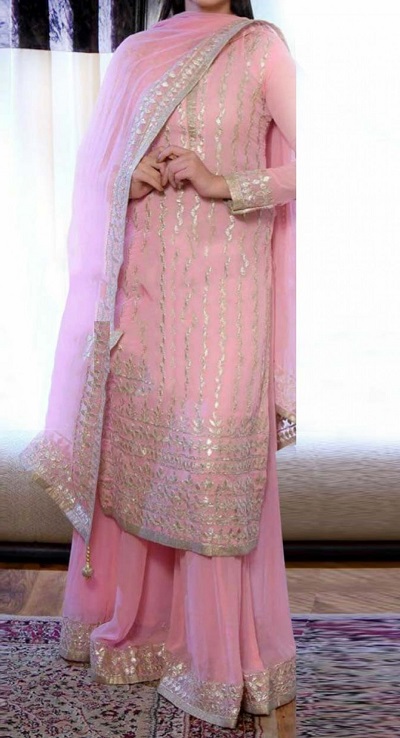 The gorgeous design is a simply breathtaking. It is a party wear suit with the Sharara bottom. The entire kameez is adorned and embellished with the Gota work. The Dupatta is also quite heavy. It is a dress that would surely make you a head Turner at any party.
9. Mirror work and Gota Patti work suit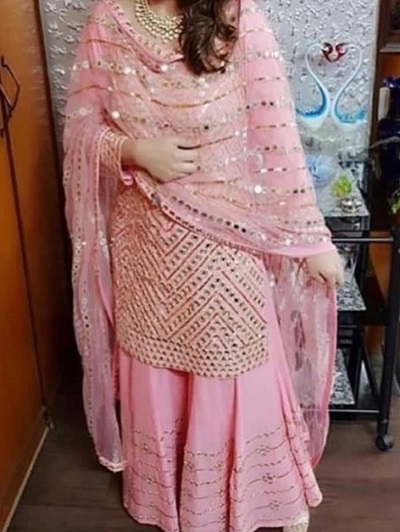 This gorgeously made sharara suit has mirror work along with Gota Patti work. The horizontal lines over the Dupatta is making it look absolutely pretty and beautiful. The entire dress has quite heavy and detailed work which is why it is a perfect party wear suit.
10. Latest Thread And Gota Patti Work Suit Design For Girls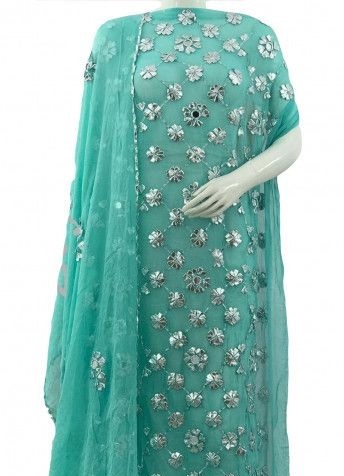 The salwar suit design in Aqua blue colour is simply beautiful stop the work of mirror Threads and Gota Patti is quite evident that makes this dress very beautiful. The best part is that it is not very heavy but has this Classic and luxurious appeal to it.
11. Gota Patti Suit With Yoke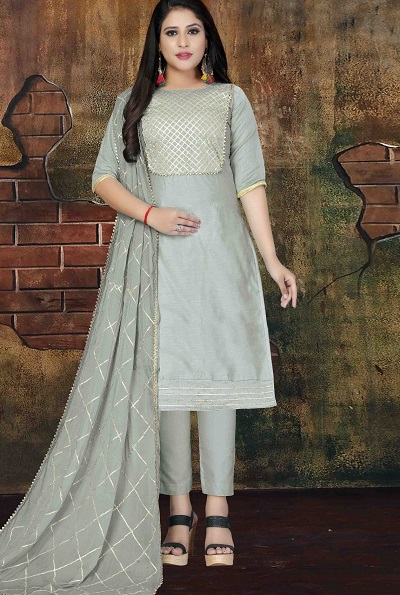 The designer suit in a light grey colour has heavy Gota Patti work Dupatta and yolk is also embellished with Gota work in criss-cross manner. It is a straight suit which looks really pretty for women for the festivals.
12. Cotton Gota Patti Anarkali suit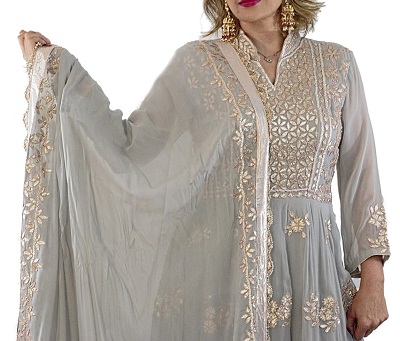 The Gota Patti work is done with very neat and precise manner. The entire body's part is filled up with the flowers on the Dupatta, sleeves and bottom part of the sleeves. It is a party wear suit that is in a light colour, which is why women of all age groups can wear it.
13. Red And White Gota Patti Suit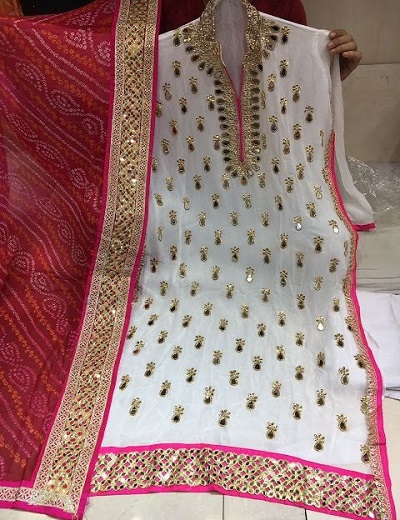 This gorgeous suit is in white Georgette fabric with the entire neckline studded with mirrors, sequins and Gota Patti work. All over the suit the same work in smaller motifs is seen. The dupatta is in bandhani bandhej print with broad Gota Patti lace. It is a party wear as well as a bridal appropriate dress.
14. Long Palazzo Salwar Suit With Gota Patti Work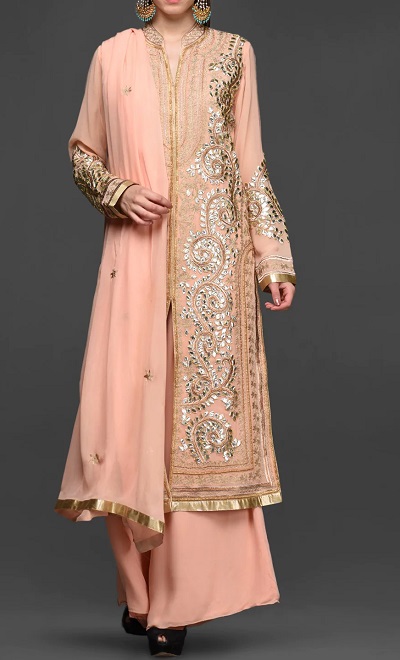 This gorgeous Suite has plazo pant with long kameez and full sleeves. The Dupatta is on the lighter side with most of the work done on the kurti itself.
15. A Line Plazo Kurta With Gota Work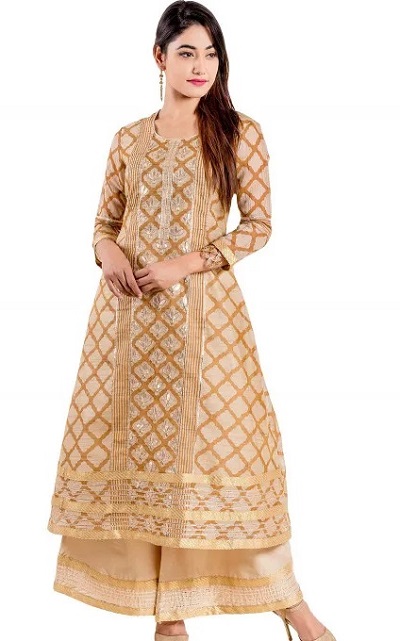 This gorgeous A-line suit in a subtle colour is amazingly made. It has lace, Gota and sequin work. Full flared palazzo pants are provided with the dress. For the ceremonies and festivals this is such an appropriate and beautiful dress.
16. Royal Ivory Gold Dress With Gota Work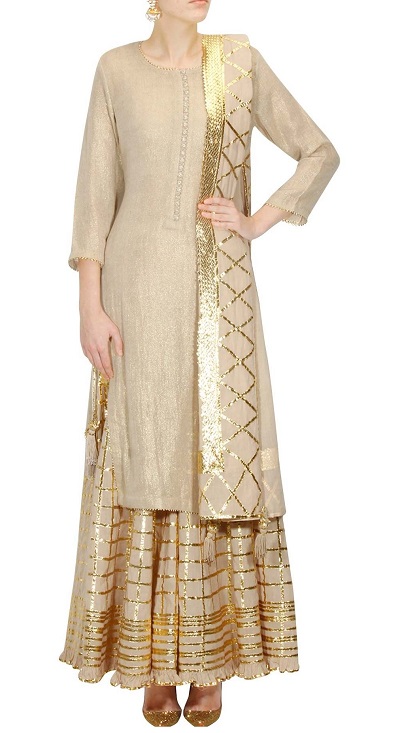 This dress is the simply breathtaking with a long button placket with buttons near the neckline. The beautiful heavy yet neatly made Dupatta with sequins and Gota work is amazing. The shirt is kept quite simple, whereas the circular plazzo pants have the Gota work in horizontal lines. This is a gorgeous dress that will make you look stunning when you wear it for any party or ceremony.
17. Blue Chanderi Gota Patti work suit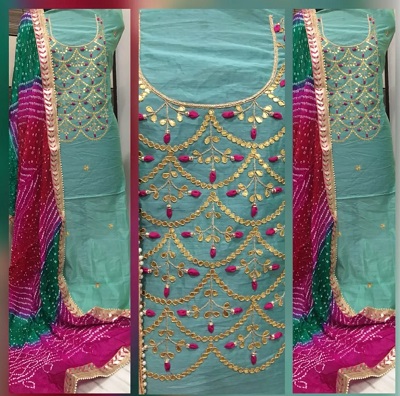 The gorgeous suit has been made with the Chanderi fabric for the shirt where as the cotton salwar is given and a Bandhani print multicolor Dupatta. The Gota work with thread and other type of work is looking amazing. For the different ceremonies, this dress is appropriate.
18. Party Wear Cream Gota Patti Work Suit Design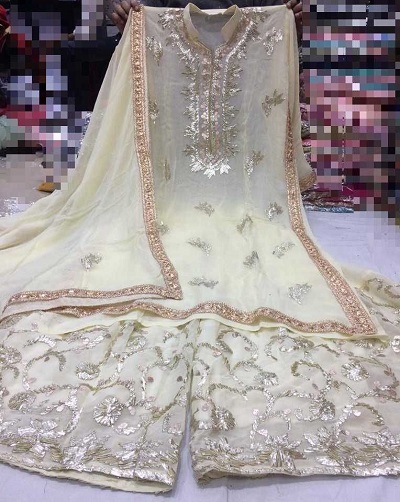 When you wish to wear a beautiful dress for the party that they straight long kurta with full circular plazzo with Gota work is amazing. The Dupatta is comparatively lighter with the work and embellishment, while the most of the work is seen on the bottom.
19. Rayon Sharara Suit With Gota Work With Silk Dupatta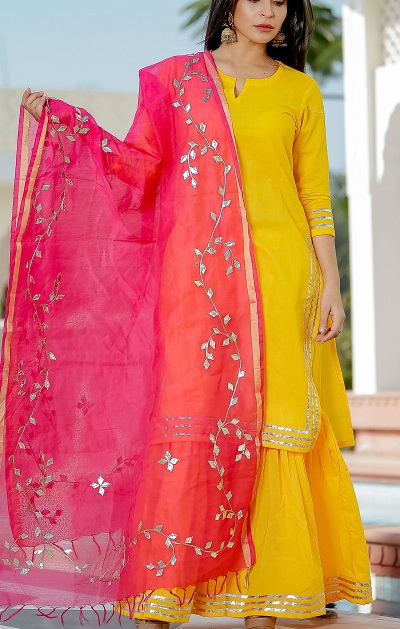 This is a beautiful and cheerful colour combination wear in silk pink Dupatta with Gota work is yellow Sharara suit. The Gota work is done nicely to make it simple yet appropriate for the festivals.
20. Party wear and bridal Gota work suit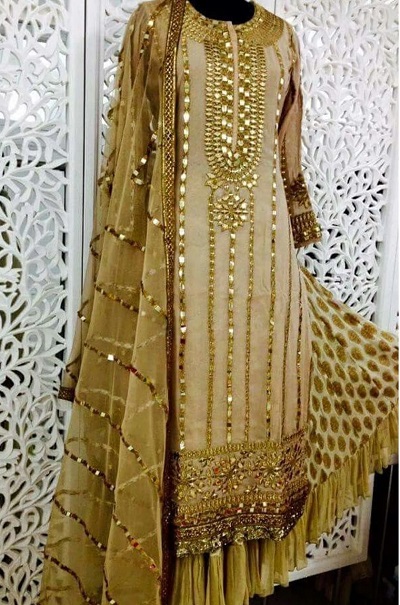 When it comes to bridal wear, very heavy suit designs are appropriate. This suit has a very heavy work on the suit kameez as well as for the bottom and dupatta. The circular plazzo are given to pair up with this long shirt. The suit is amazingly made and would look definitely beautiful for grand event or festival.
21. Gota Patti Suit With Colorful Dupatta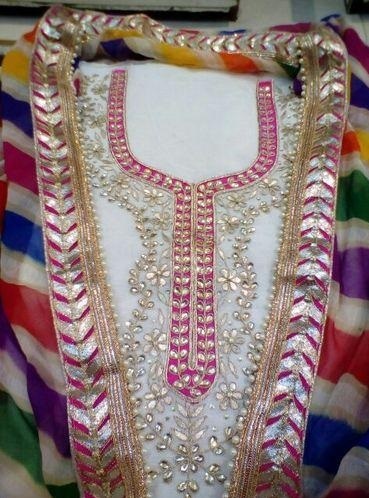 22. Peach A line Gota Patti suit design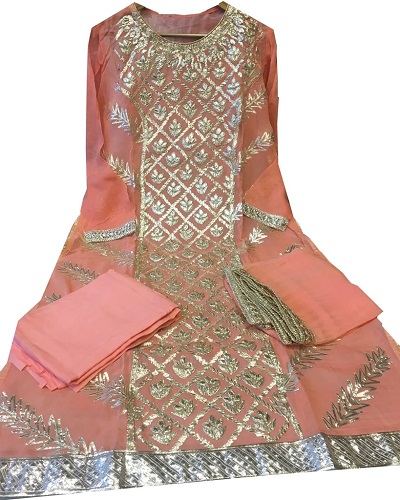 23. Unstitched Red suit with Gota design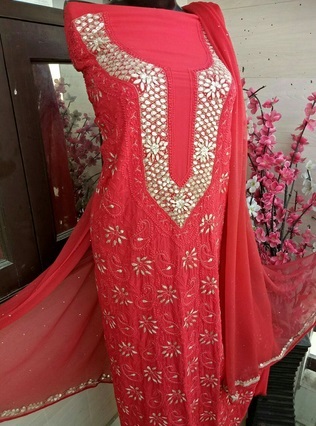 24. Kurti Sharara Set with Gota Work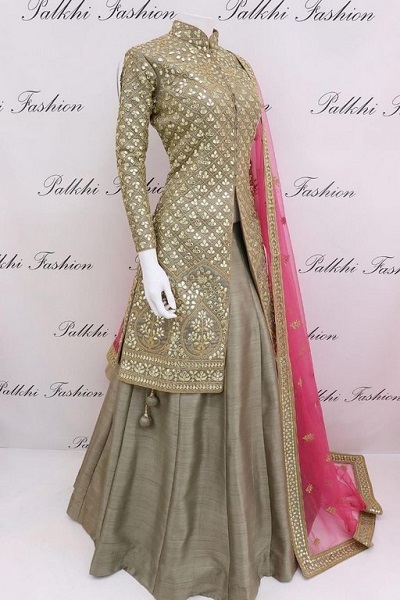 25. Anarkali Suit with Gota Patti design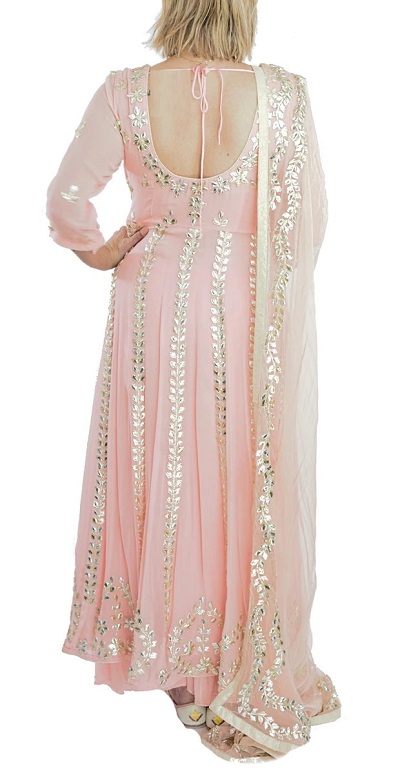 26. Gota work Pink Anarkali Suit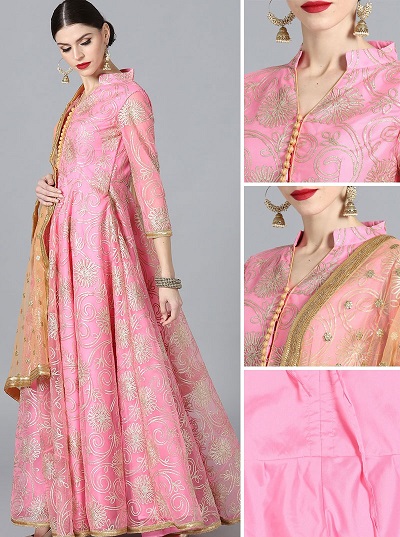 27. Kurta Palazzo Set with Gota Design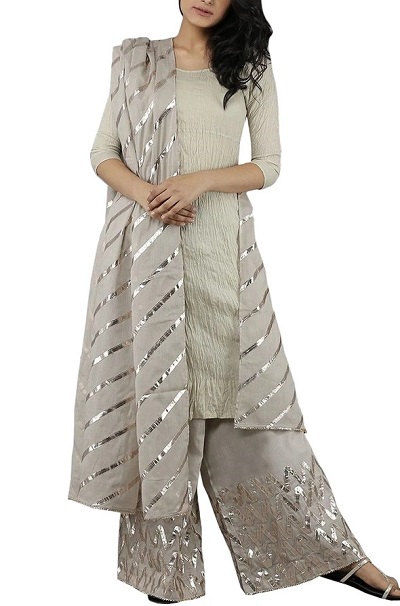 28. Gota work Peach kurta with trouser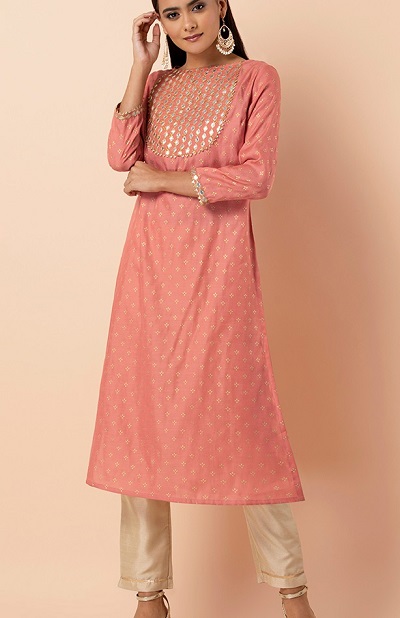 29. Pista green Gota Patti Work Suit Set
30. A Line Kurta with Embellishment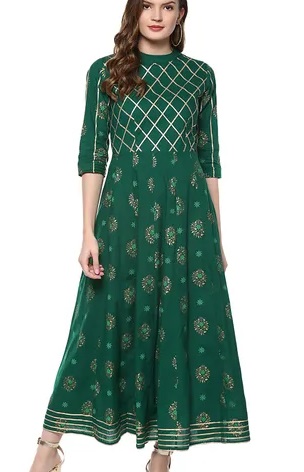 31. Heavy Embellished Gota Work Suit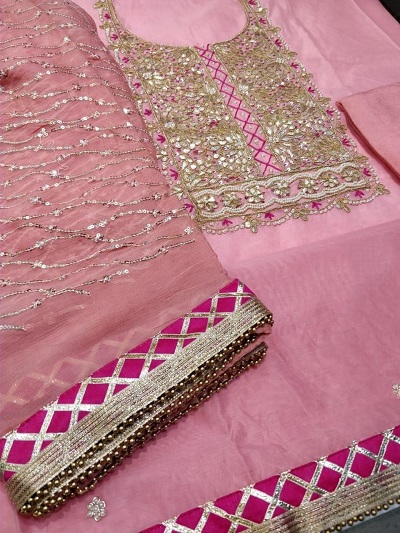 32. Dark Pink Gota Patti Floral design suit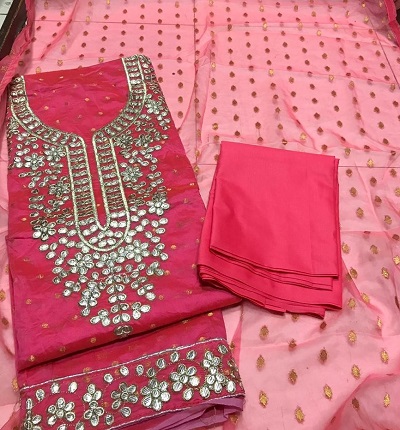 33. Heavy Gota work Dupatta suit pattern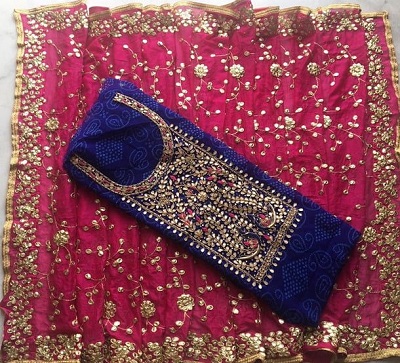 34. White Floral Gota work Suit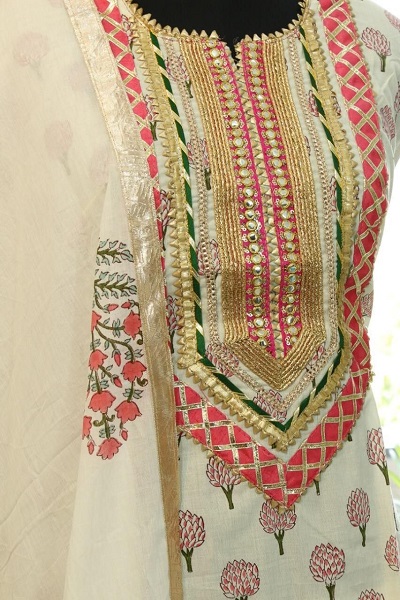 35. Pale Pink Gota Patti Kurta with tassels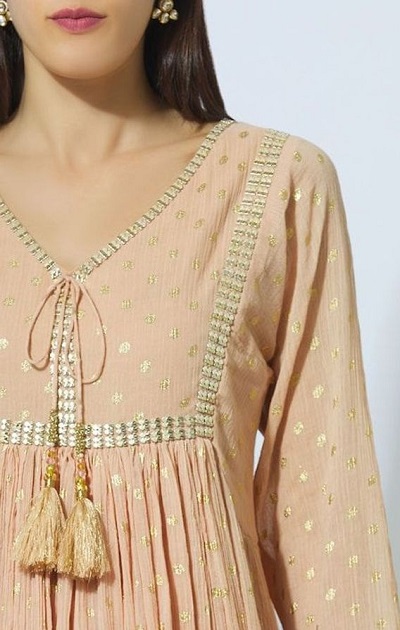 36. Simple suit with Gota work

37. Gota Embellished Yoke Design Anarkali Kurti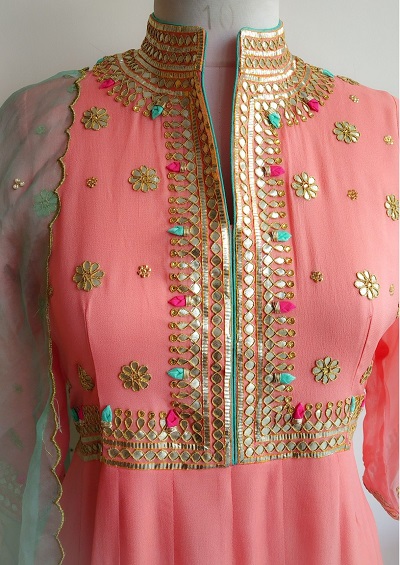 38. Gold Gota work Kurta Sharara Set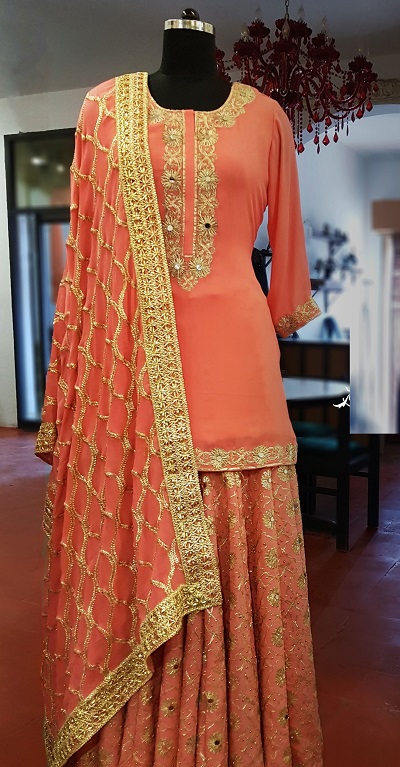 39. Grey Party Wear Gota Wok Suit Design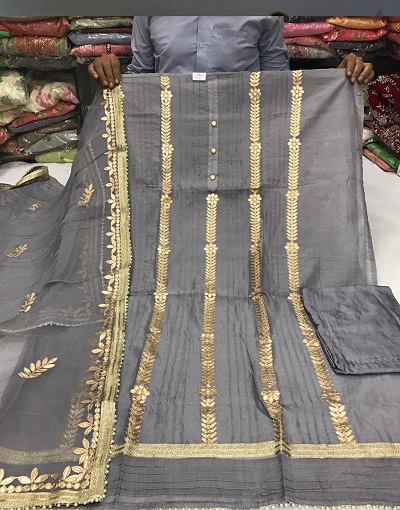 40. Pale Green Gota Work Suit Design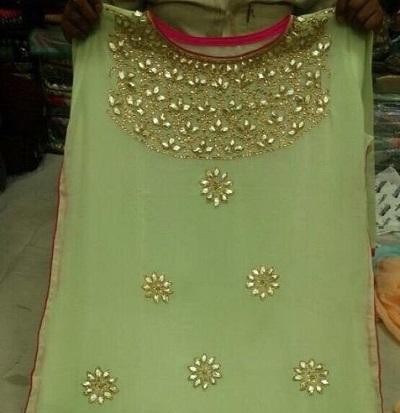 41. Party Wear Black Gota Suit Design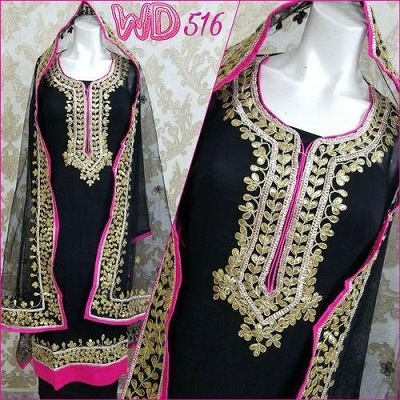 42. Heavy Gota Work Kameez Suit Set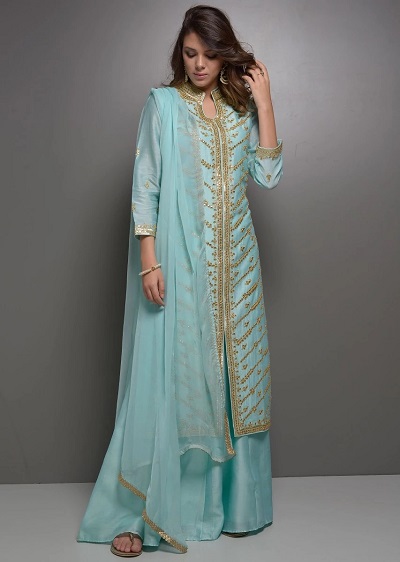 43. Simple Gota Kurta Palazzo Suit Design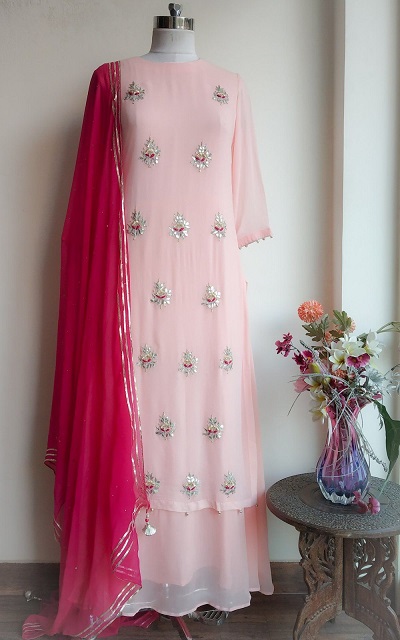 44. Bell Ruffled Sleeves Gota Suit Design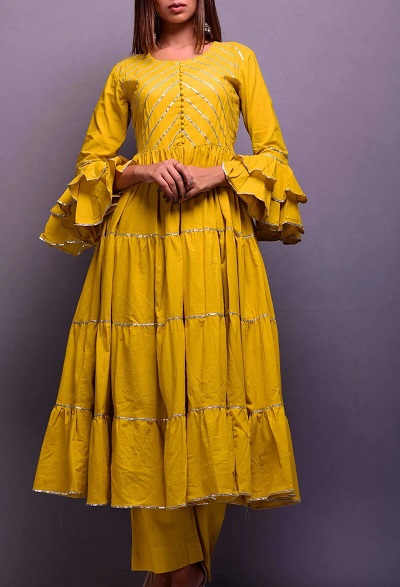 45. Long Length Gota Work Suit Salwar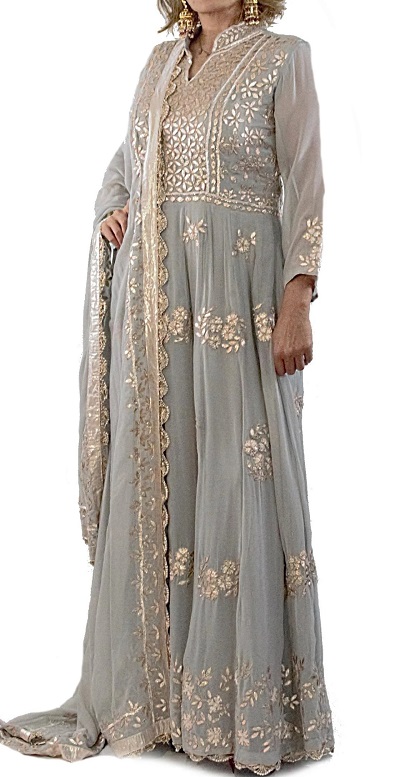 46. Floor Length Gota Work Suit Style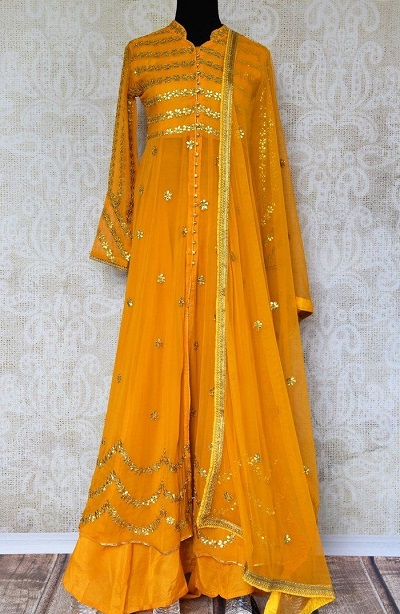 47. Velvet Suit With Gota Patti Work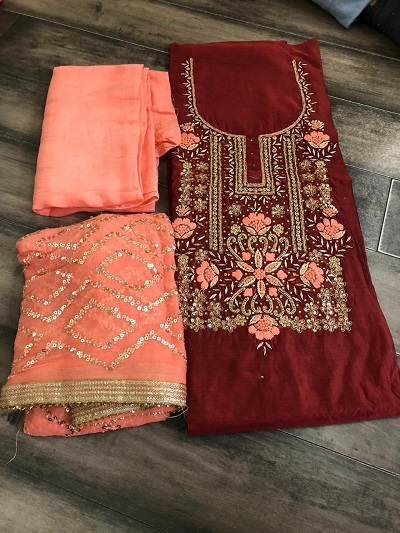 48. Thread Work Suit With Gota Design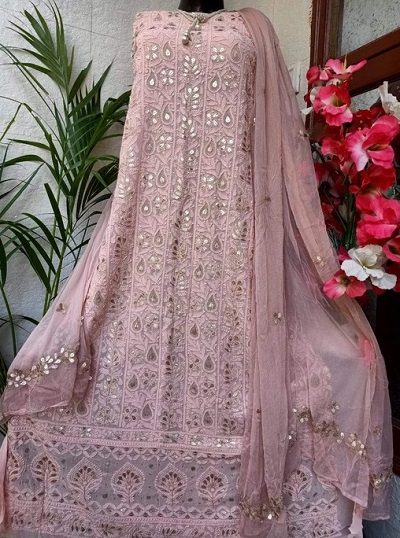 49. Black and Red Gota Suit design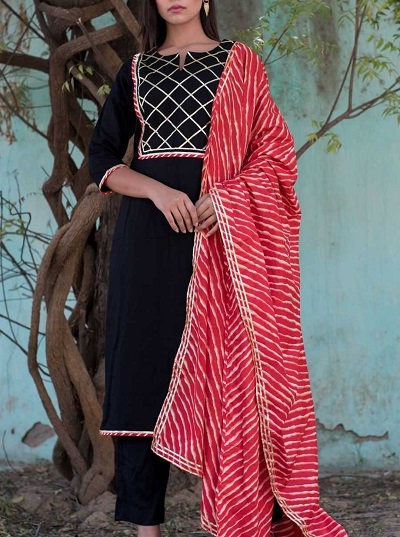 50. Leheriya Kurta with Gota Embellishment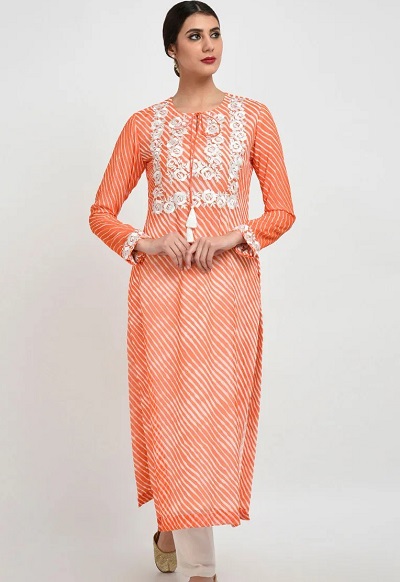 We hope that out of these stunning Gota Patti work salwar suit designs, you would be able to pick the ones that you would like. The market is flooded with beautiful Gota Patti work salwar kameez patterns and designs with different colors.