In this article, we are going to share the latest designs of heart shaped mangalsutra patterns. Mangalsutra is one of the most important things that the married women would wear daily. However, the heavy and bulky mangalsutras may not be so comfortable to wear every day. This is why several women especially, the working women would keep the heavy ones for their special occasions like parties, weddings, ceremonies and even for the rituals. Simple heart pendant mangalsutra designs are suitable for everyday wear. And one such design that is getting really popular currently is the heart shaped mangalsutra patterns. This is why we created this catalogue that has the images of the latest heart shaped mangalsutra designs that you can also go for.
Latest Heart Shaped Mangalsutra Designs
1. Blended Heart Pendant Mangalsutra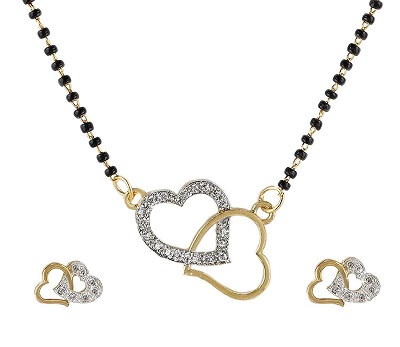 This heart shaped mangalsutra has matching pair of earrings. The simple chain on the sides bears black beads. It is an 18 carat gold mangalsutra that is very lightweight and can be made in 5 grams of gold.
2. Triple Heart Pendant Mangalsutra Design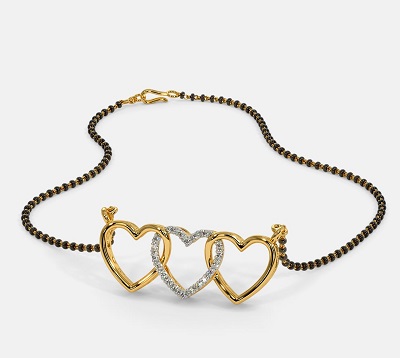 The three hearts in the centre pendant this mangalsutra design is really innovative and cute. The side chains are very simple with only the black beads women in the gold chain. The centre piece has 2 Gold only heart shapes that stone studded heart shape in between. It is suitable for women who like simple and light weight mangalsutra for everyday use.
3. Stone Studded Heart Shaped Pendent Mangalsutra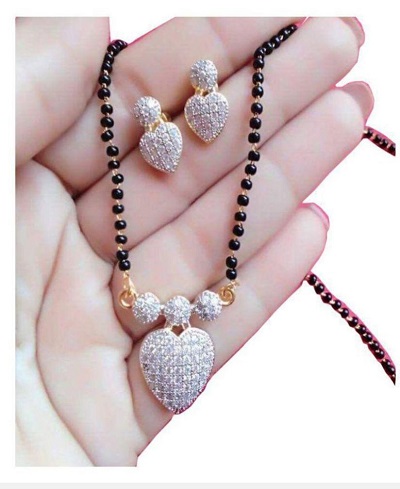 This design here has three heart shaped pendant attached. The two side heart shapes are in gold only while the centre one is gold encrusted with small diamonds. The same style can be replicated in the real diamonds or you can even go for the American diamonds. This mangalsutra pattern has short chain and is suitable for daily use.
4. Mangalsutra with Pearl and Heart Shape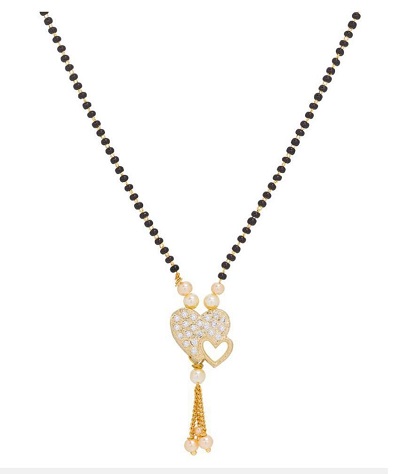 The mangalsutra pattern has pearl work and beads attached on each side that supports the heart shaped pendant. And it has a centre pearl that carries multiple chains. The design is really pretty and can be tried for different occasions and even for everyday use.
5. Gold Only Mangalsutra Heart Shape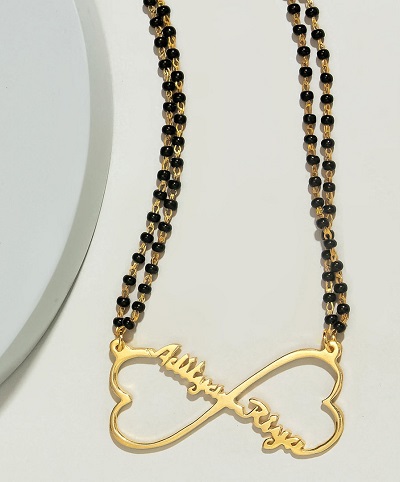 This double chain mangalsutra pattern has two hearts in the centre pendant that also bears the name of the couple. It is a very innovative design that looks really outstanding. And it can be made in 10 grams of gold. The same design can also be made with real diamonds.
6. Gold and Diamond Heart Shaped Mangalsutra Pattern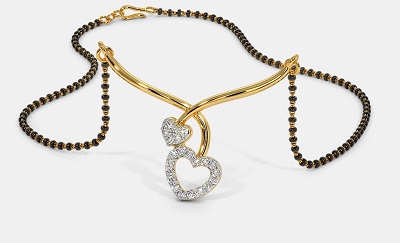 This is a beautiful heart shaped mangalsutra pattern in gold and diamond. The gold metal is used in the side chain that also bears gold beads in between the black beads. This actually makes the mangalsutra pattern very durable and sturdy and not prone to breakage easily. The centre piece has two branches like shapes that end in heart shape structures. Both of them are encrusted with Diamonds. This is the best mangalsutra design in gold and diamond. The black beads chain has the centre pendant.
7. Cute Heart Style Light Mangalsutra Pattern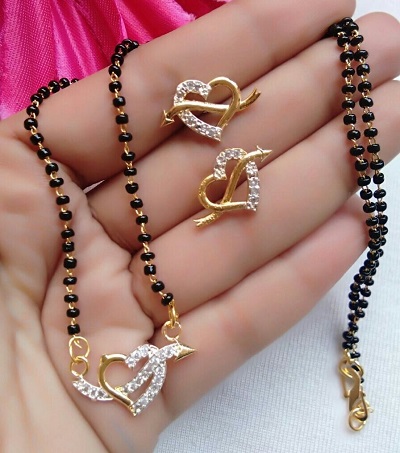 This heart pendant mangalsutra is again a very beautiful and pretty mangalsutra pattern which is also amongst the new design of mangalsutra in gold. It is a simple design that has cute pendant in the middle. It also comes with the matching pair of earrings.
8. American Diamond Mangalsutra Style Pattern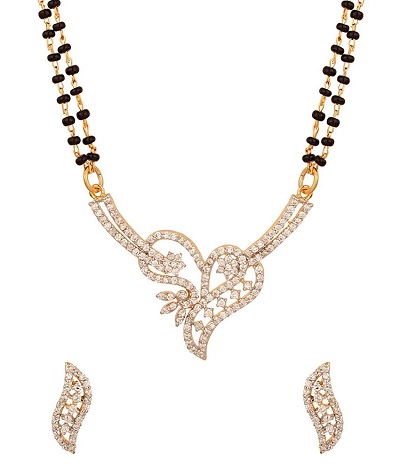 This is very lightweight and simple daily wear design. The minimalistic mangalsutra pattern has double mangalsutra design. It can be made with 2 grams of gold or even the gold plated mangalsutra can be made in a design like this. The centre area has got double chains that carry one heart shaped pattern each. On the sides black beads and gold beads are added to make it more designer.
9. Latest fancy Mangalsutra for Daily Wear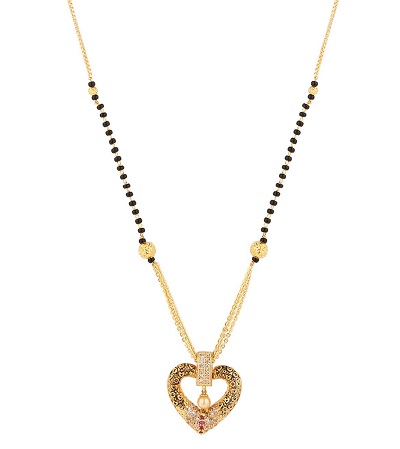 This trendy mangalsutra design in gold is a sheer beauty. The side chains hold the black beads in the half way with 2 chains in the middle. The 2 chains in the middle part carries a heart shaped structure that has pearls and stones. Even the stones in pink colour can also be seen. This beautiful gold mangalsutra pendant design is latest and designer.
10. Double Chain Heart Mangalsutra Pattern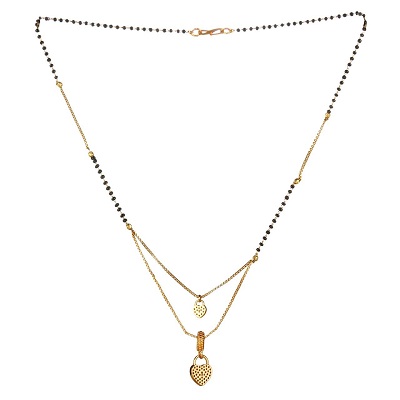 This fashionable mangalsutra design has double chain in the middle part where the lower chain has a heart shape pendant attached. The same type of pendant is seen in the earrings. The upper shorter chain carries a gold bead. It is yet another really heart shape pendant mangalsutra design with the new bride would like specially the ones who like simple and easy to carry design.
11. Gold Heart Mangalsutra Pattern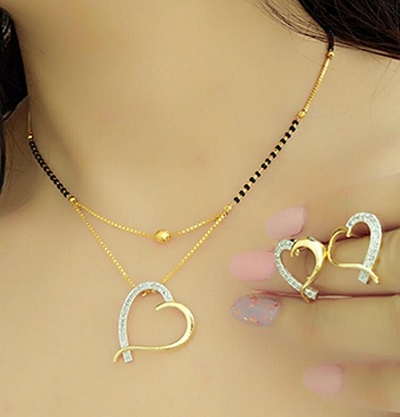 This is a double chain mangalsutra design in stone and gold. It also comes with the matching pair of earrings. Heart shape pattern is used in the middle pendant part. It's not a gold only mangalsutra however, it's a short mangalsutra design that also the centre pendant with stones.
12. Light Weight Mangalsutra Style with Heart Style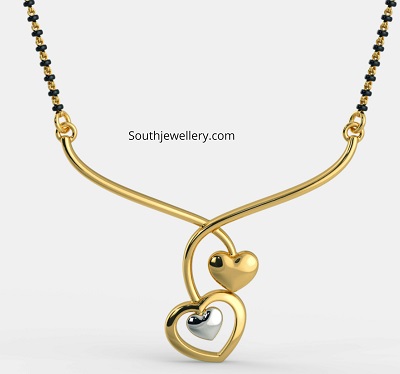 This new design of short mangalsutra with heart shaped pendant is really beautiful. It is made with white and regular gold metal. This latest gold short mangalsutra design is perfect for all the women who like simple designs. It's that it's easy to carry and do not irritate the skin, even if you have quite sensitive skin. This simple pattern of this heart pendant mangalsutra adds more to its beauty.
13. Traditional Heart Pendent Mangalsutra for Brides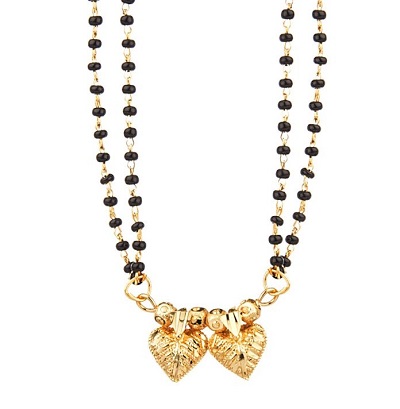 This mangalsutra design here is inspired by the regular design that we have seen. Different from the regular circular shape it has two heart shapes in between the pendant. Each heart shape is followed by two gold beads on each sides. It is a double chain mangalsutra pattern that also makes it study.
14. Latest Mangalsutra Pattern with Simple Design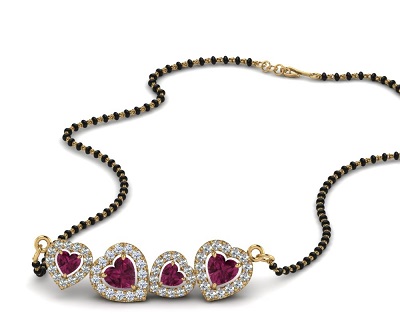 It is a mangalsutra pattern with the latest and fancy design that is surely, a must have for your daily wear. It is a single chain mangalsutra design that comes with ruby stones in the middle and regular white stones on the outer heart shape pattern. Consisting of four different hearts, it really looks charismatic and amazing. It is a daily wear mangalsutra in gold and diamonds.
15. Chain and Pendent Style Heart Mangalsutra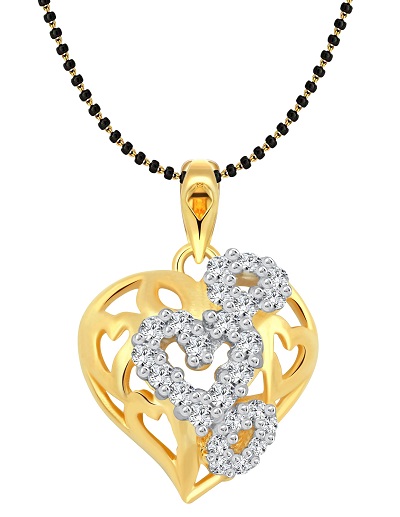 The mangalsutra pattern with a single chain and pendant and try this design. The pendant is in the heart shape that also has some stones added in the middle part. So the pendant is not the regular fixed in the centre kinds but a Chain and pendant style which can be interchanged.
These are the latest heart shaped mangalsutra designs that you can surely try. While going for any heart shape mangalsutra you must look for the pendant. If you like the pendent to be only in Gold then go for the design that does not have any stones or diamonds in them. However, most of the heart mangalsutra designs would have some stones that add to the beauty of the pattern. Otherwise, the mangalsutra heart design is the best to have.