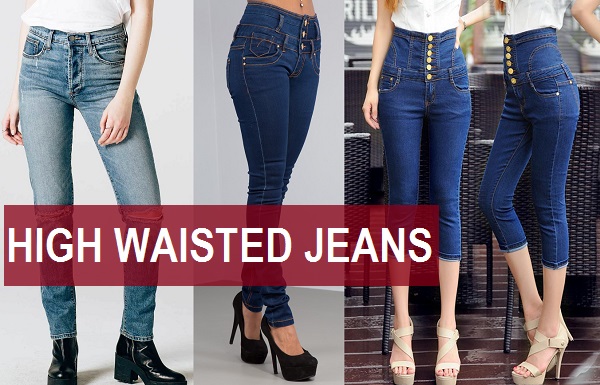 High waisted jeans are in trend currently. The good thing about high waisted jeans is that they make you look taller then you are. How amazing is that! You gain extra inches with just a pair of high waist denims.These jeans are smart looking and are extremely fashionable. So if you are interested in the latest designs of high waisted jeans for women, you can surely go through the images compiled by us. There are several big brands likely, Levis, Wrangler and more that makes such high waist jeans. They also make you look thinner at the waist. You can wear you high waisted jeans or pants with crop tops, cardigans, hi-neck sweaters and many other clothing items. You can also pair your skinny high rise jeans with boots or lace up shoes and this can also be teamed up with the Blazers and formal footwears.
30 Latest Best High Waisted Jeans for Women 2022
Here are the images to inspire you and get your pair of jean with high waist soon. The list includes all different types of high rise denims like bell bottom, super skinny, boyfriend jeans and more. These jeans types are available in various brands like Marks & Spencer, Lee, Levi's, Aeropostale, Shein, Wrangler and more. Let's take a look at high rise jeans for women.
1. Ladies High Waisted Ripped Jeans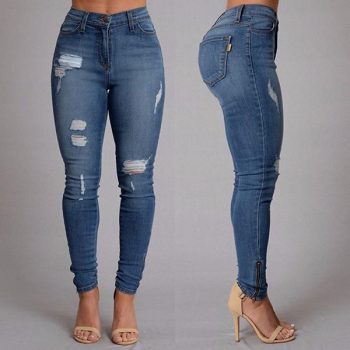 The jeans has distressed patches on the thighs and knee. On the bottom they have got a zipper close up. the fitted jeans are high waisted and gives an Illusion of smaller waist.
2. Skinny High Waisted Distressed Jeans
These skinny fit jeans can be worn for casual and formal occasions. This can be teamed up with stilettos and a plain T shirt. These can also be worn along with the kurta and the tunic. The super skinny bottom is very comfortable with highly elastic material. These are truly glamorous and perfect or college. 
3. High Waist Straight Leg Jeans 3 Buttons

This jeans has three buttons on the waist and two diagonal pockets. This beautiful pair of 3 buttoned high waist jeans can be paired with boots. And in fact they will look absolutely stunning when paired with high heeled boots or stilettos. Pair these with a nice blouson blouse and they'll make you look elegant.
4. Four Buttoned High Waisted Bootcut Jeans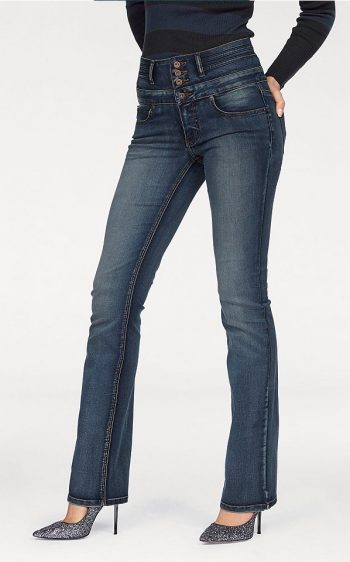 The straight fit 4 buttoned high rise denims have a very high waist with buttons on the top. It has more beauty to this fashionable pair of jeans. These can be paired with sneakers, stilettos, pumps and also with the boots. Such jeans are good for college, office and also during the winter season.
5. Torn High Waist Jeans For Women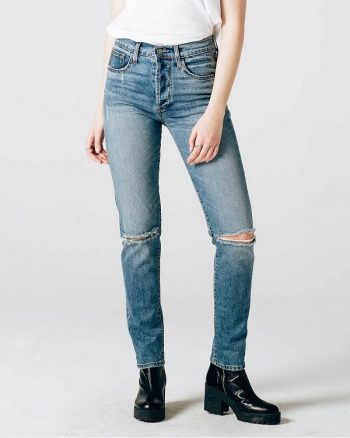 The rug torn jeans from the knees is perfect candidate while you are hanging out with your friends. They look extremely fashionable and fancy. The high rise near the waist make sure waist look smaller and legs longer. Such designs of high waist loose jeans can be paired with boots and pumps.
6. High Rise Skinny Girls Jeans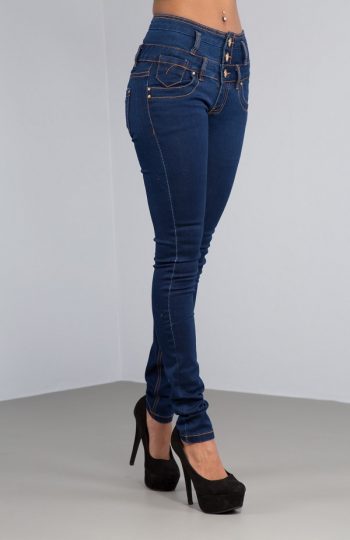 The blue skinny fit high waisted jeans has a double design if you will look the lower design, it has a single button and above that there is a different design that gives it an Illusion of wearing two bottoms. There the double loops looks extra fashionable. These are not ankle jeans but have gatherings at the bottom.
7. White High Waist Jeggings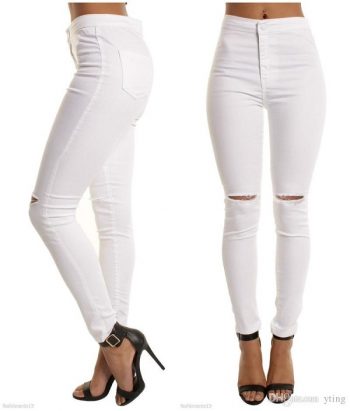 The white high waisted jeans are beautiful and can be paired with a simple white or black t-shirt. Girls who do not want to show too much of skin can wear these with their favorite crop top so that most of the midriff part would be covered. You can also pair jeans like these with your red, black or blue colored kurta.
8. High Rise Flared Ladies Jeans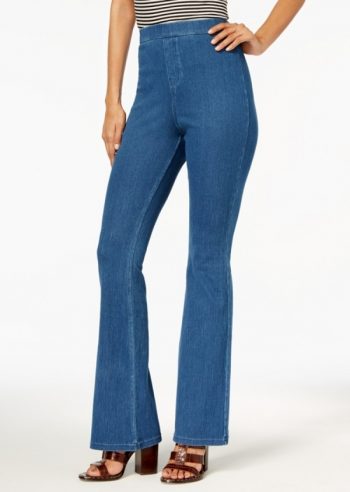 This reminds us of the 80s and 70s. The boot cut jeans are extremely simple and plain as there are no pockets, no zipper nothing yet the jeans looks pretty. If you want minimalistic designs then these are for you. The high waisted wide legged jeans are also suitable for work when paired with formal blouses or tops.
9. Girls Super Skinny High Waist Grey Jeans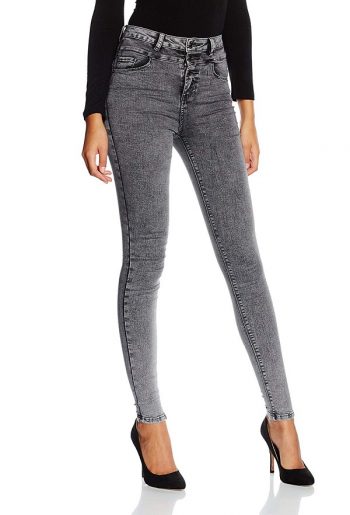 The super skinny fit grey colored high rise jeans are suitable for girls with toned and skinny legs. These can be paired with pumps, high heels and boots. You can team up a basic black full sleeves, cardigan or T-shirt with that.
10. High Rise Buttoned Cropped Jeans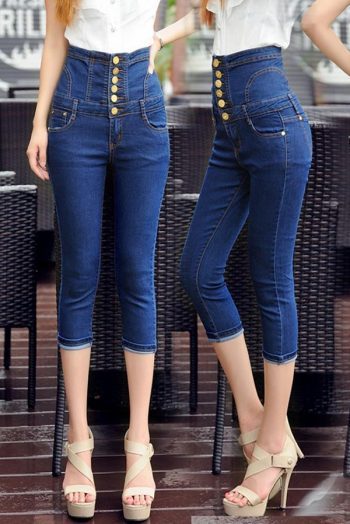 The Capri jeans are extremely beautiful and stunning. There this basic jeans design and on the waist part, there are pockets but design that looks like as if you are wearing a corset. These would make your waist look thinner and give your legs hips and waist shape. Which color of jeans use your favorite?
11. Black High Waisted Jeans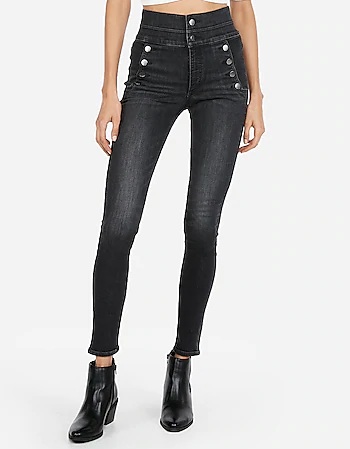 These extremely stylish high waisted jeans in black colour have ankle length and can be paired with a nice pair of wedges or boots. It has got multiple buttons around the pockets and on the waist, there are two buttons with elasticated band. The same jeans style is found in other colours as well. These are highly fashionable and make you look skinny.
12. High Waisted Boyfriend Jeans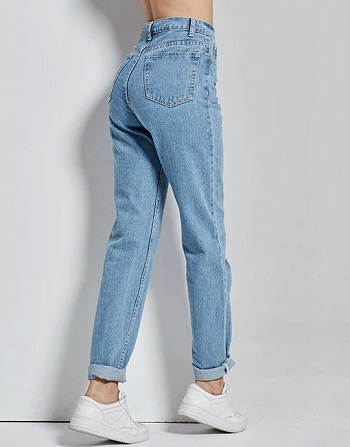 Boyfriend jeans are very much in trend currently and this is why this light blue washed boyfriend jeans would look good with a crisp white shirt. The folded bottom gives it a very casual look. In fact, various celebrities have flaunted this style with ease.
13. Super High Waisted Jeans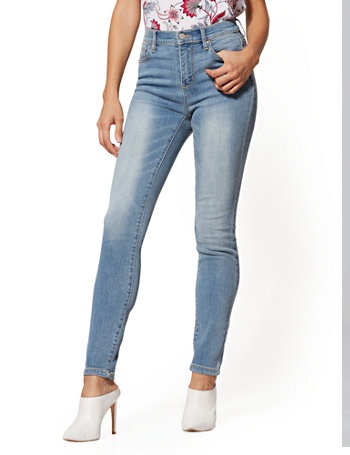 When you are slim and petite, then you can go for these super high waisted pair of jeans. The washed light blue jeans are very high waisted and considering that they give an Illusion of skinny waistline and tall stature. Such jeans are good to pair with crop tops, blouses, shirts and even the crop t-shirts. These are also very comfortable for your college, work and office.
14. High Waisted Bell Bottom Jeans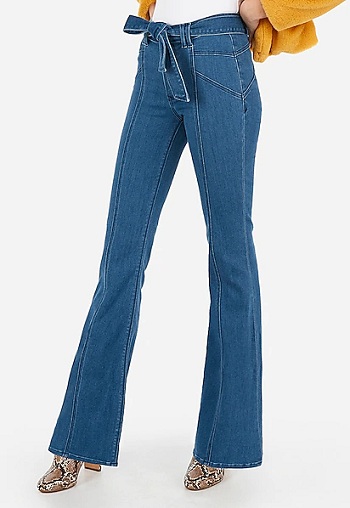 The bell bottom jeans look very vintage looking and have a style straight from the 70s. It has a tie based design that gives it a trendy look. Such pair of jeans is best for days when you would like to feel comfortable. You can we are these with high heels, wedges and boots. Wide legged denims look really good with a white T shirt or a shirt. In fact, it's a very popular Hollywood celebrity kind of street fashion.
15. Plus Size High Waisted Jeans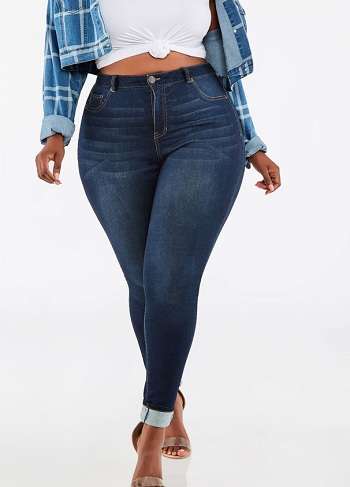 Who says when you are curvy or plus-size, you may not wear high waisted jeans. In fact, when you have a curvy or bulkier body then also high waisted jeans look good. The jeans here are  single button high waisted jeans for multiple styling.
16. High Rise Wide Leg Jeans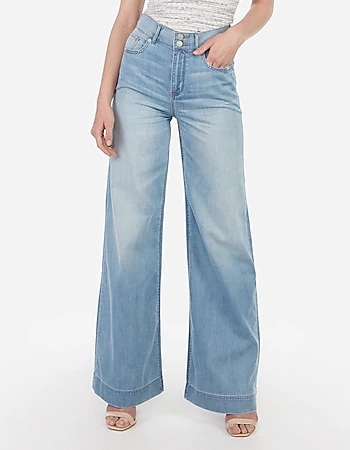 The wide leg blue jeans with high waist line are very 80s. It is a Vintage jeans style that is very much in trend currently. A lot of celebrities have flaunted these for their airport looks and casual wear. With 2 buttons on the waistline, it also gives an Illusion of smaller waist. They are comfortable and can also be worn for office, collage, work and otherwise. 
17. Levi's High Rise Jeans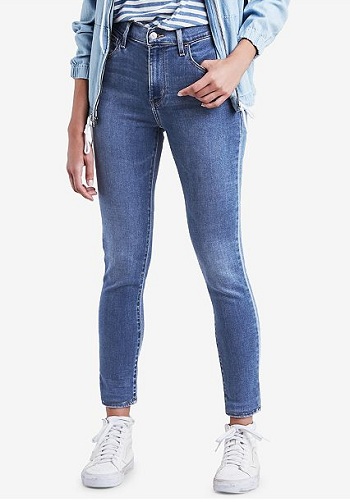 The very popular 720 Levi's high rise ankle cut is comfortable and Stylish. It's very comfortable piece of clothing that you can wear everywhere. When paired with a formal top, it can be your formal wear and when paired with a nice T-shirt, It become a nice casual wear. 
18. Vintage High Waist Women Jeans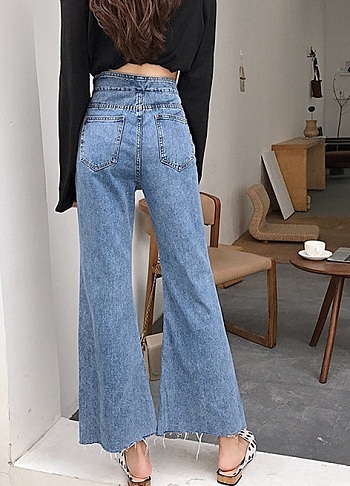 The vintage style pair of jeans looks quite attractive and fashionable. When paired with crop top or tank tops, it makes you ultra glamorous and stylish.
19. High Waist Women's Black Skinny Jeans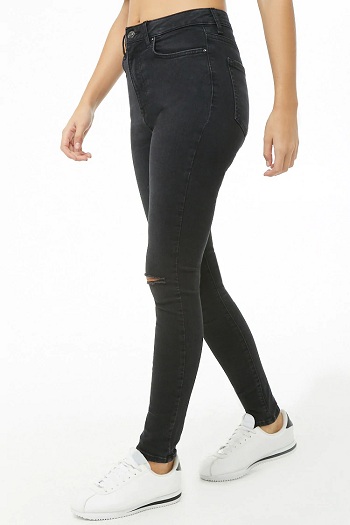 A pair of black skinny jeans can give an Illusion of thinner lower body. If you are on a bulkier side then black jeans gives you slimmer and toned legs with smaller looking waist. There such a crop tops, t-shirts and different styles of shirts.
20. 5 Button High Waist Denims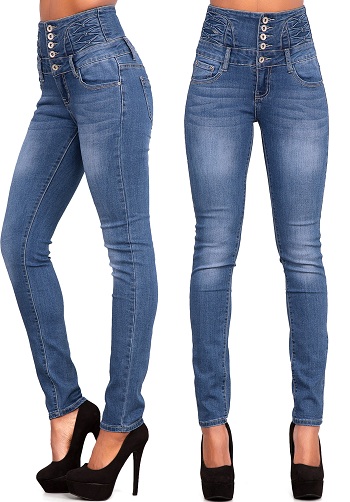 These highly fashionable 5 button high waisted pair of jeans makes you look skinnier. Having said that, you can surely pair these with any footwear and they'll look good. The multi buttoned jeans looks dapper with and blouses and T-shirts. They also make your waist appear proportionate.
21. High Waist Baggy Jeans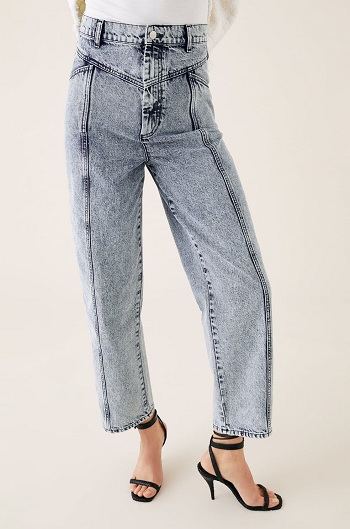 The baggy jeans are here again. These high-rise baggy jeans are very stylish and fashionable in appearance. Pair these with tank or crop tops. Make sure with baggy pants you do not wear loose or voluminous tops. The best thing is that you can wear these with Flats, High Heels, boots or any type of footwear that you feel like. For eg. sneakers.
22. High Waist Ankle Length Jeans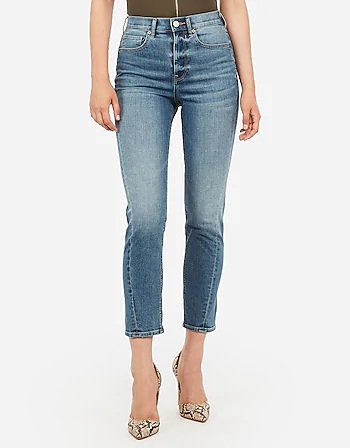 Ankle jeans are very comfortable and suitable for all the body types. For casual events, you can style your ankle jeans wave variety of tops. The basic would be a plain simple T-shirt in solids.
23. Lee High Waist Jeans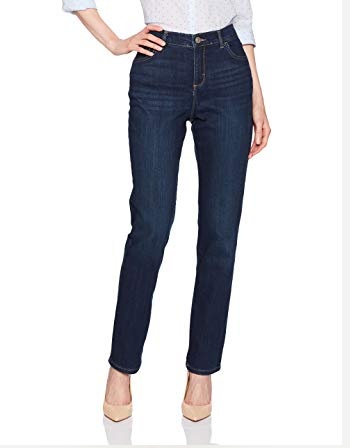 The high rise jeans are from the very popular brand Lee. These can be teamed up with blouses, tops with frills ruffles and much more. Even such pants are good to be paired with tank tops for a cool and casual look. Ankle jeans look good when paired with crop tops. If you prefer a bit loose then you can go for flowy crop top style with such jeans.
24. High Waist Capri Denims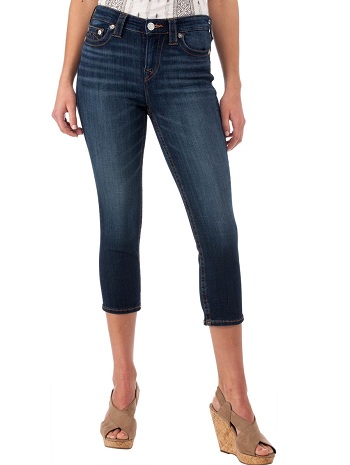 Capris are available in multiple varieties and Capri jeans are one of them. In style high rise Capri jeans with either crop or plain simple t-shirt. They are very easy to style and work with. In fact these give you a very comfortable, stylish  and casual look. You can skip the extrs revealing crop tops while pairing these.
25. Vero Moda High Waist Jeans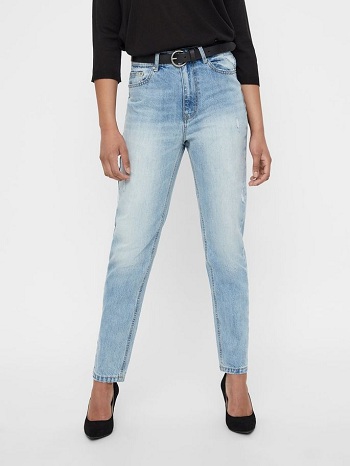 These Vero Moda pair of jeans in high rise is an absolute beauty. Blue washed jeans can be paired with not just the regular, crop or tank tops but long jackets as well. However, you must avoid the bulky jackets that can make you look heavier while going for high-waisted jeans.
26. Zara High Waist Jeans
These distressed ankle jeans are from Zara. If you like distressed clothing then this is for you. Make sure that you do not team up the overly bulky tops with such pair of jeans.  Crop tops and white shirts looks good with such type of jeans but the right fit is also important.
27. Ultra High Rise Jeans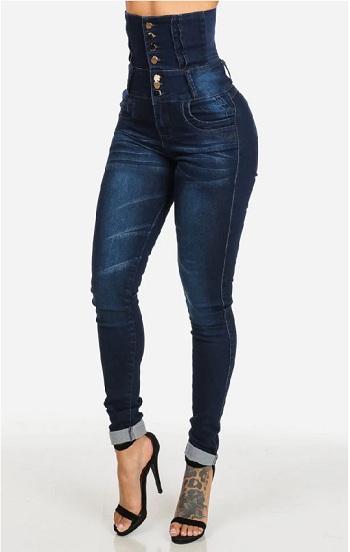 If you want very high or ultra high waisted jeans, the design is for you. It looks like as if a corset has been sewn with your regular pair of jeans. With such a pair of jeans, you have to wear of small crop top for tuck-in style tops. Else, the high part of the jeans would not be visible.
28. High Waisted Jeans For Curvy Body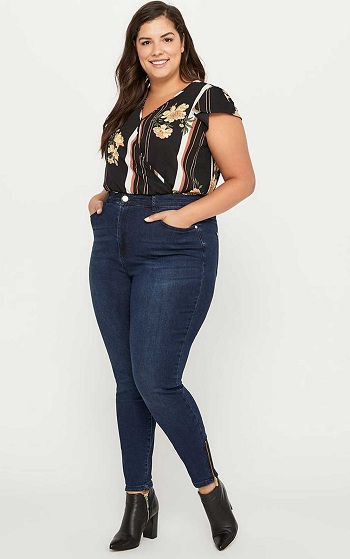 When you are curvy, high waisted jeans can come to your rescue to nice it your curves. It in fact hide the belly flab and gives you skinny look. In pair with a tuck in shirts and tops but stay away from the flared, ruffly or bulky top wear. It'll make you look thicker than you are.
29. White High Waisted Jeans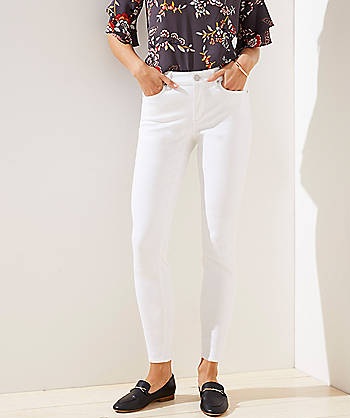 White jeans look beautiful and when it's high waisted, it looks even better. You pair these with loafers, Derby shoes and what not. The classy and elegant clothing that everyone one must have in their wardrobe.
30. High Waisted Ripped Mom Jeans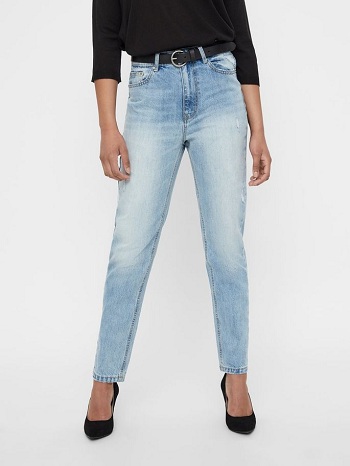 They are back and celebrities have sported them time and again. They simply love their comfortable and easy going style of jeans. You can pair them as you wish but the best would be to with comfy tops.
This are the latest high waisted jeans designs that are currently in trend which is the one that you like? Do you like high waisted jeans? Which color of jeans is your favorite?