Kurti neck design can take the kurti or salwar kameez to another level and gives super stylish look which people can't ignore. To be in trend and to appear stylish different kurti designs are being made. You can make simple kurti designs or try the new and innovative designs with latest neck designs and patterns. You would simply look effortlessly charming and elegant.
Latest and Modern Front Neck Designs for Kurtis and Salwar Suits (2022)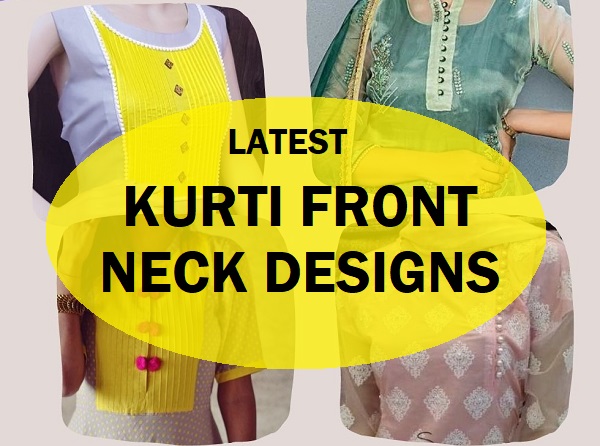 In this article, we have compiled a list of the latest kurti neck designs available that you can try.
1. One Side Button Kurti Neck Pattern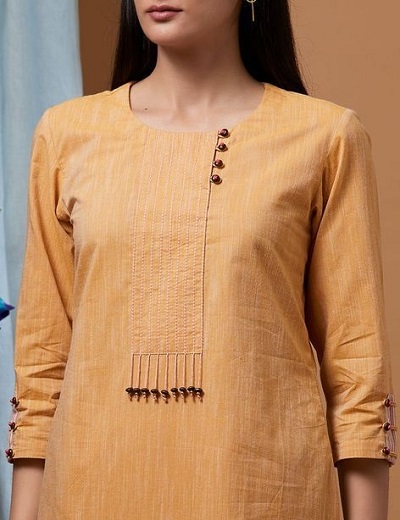 In this beautiful pattern, the neck design is round. However, there is a patch that bears the small buttons and beads. It is very pretty, beautiful and somewhat similar design is also seen on the sleeves.
2. Collared Kurti Neck Design With Slit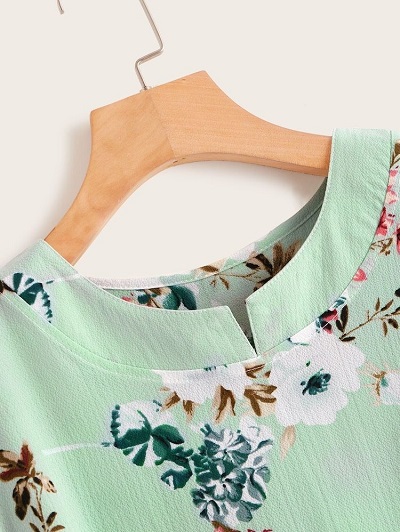 This is also an extremely beautiful design where in a center slit is given with the collar. It is highly beautiful and for the kurtis and suits, it would look really amazing.
3. Centre Button Panel Kurti Neckline Design
What makes this beautiful kurti stand apart is the round neckline that bears the small potli buttons all through till half of the waistline. This is a beautiful pattern that is being created by using the potli buttons.  Not just for the A-line or umbrella style kurta, this can also be replicated for the straight salwar kameez.
4. Sweetheart Neckline With Buttons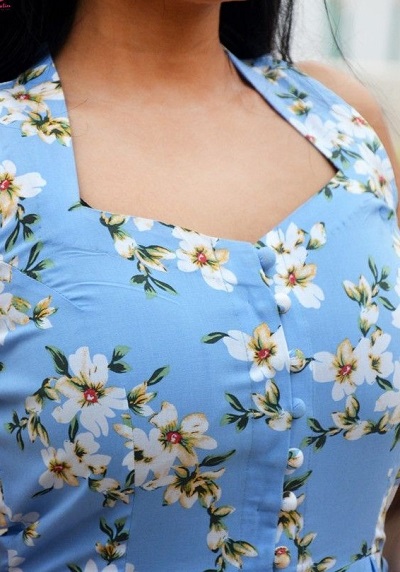 This is a sleeveless kurti design pattern where in a pattern is given with center buttons. The center button placket makes this design beautiful. This can easily be replicated on your straight fit kurtas.
5. Patchwork Kurta Suit Neckline Design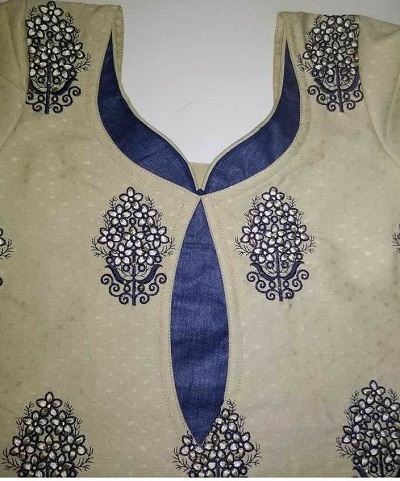 In this neckline, the patch of blue colored fabric is used along with the piping. This design is equally beautiful because, it contains the patch of different shapes that creates a unique pattern.
6. Collared Neckline Design For Suit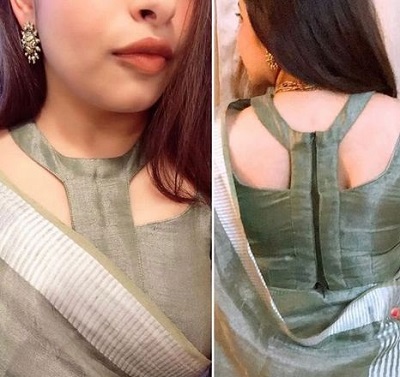 In this collar neckline design, you would see that there are cutouts on both the sides and at the back. At the back the design is very beautiful. This kurti is beautiful and such patterns are highly in demand currently. The neckline is pretty and can be replicated for your straight as well as umbrella fit kurtas.
7. Yoke Design With Button Neckline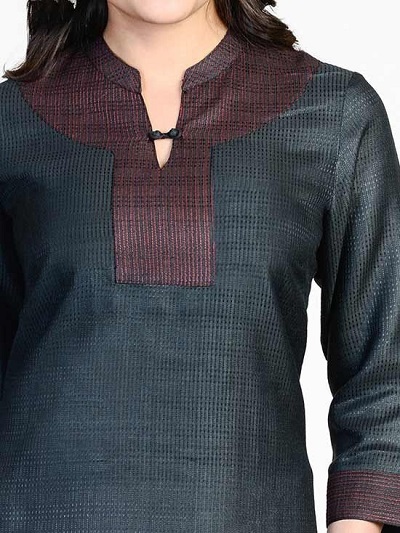 This neckline design has a collar and a centre slit with yoke pattern. For the regular and office wear kurta, such designs are pretty good.
8. Neckline With Wrap Button Placket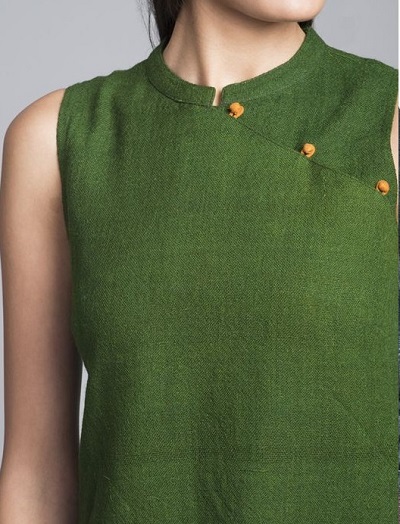 This is also a gorgeous neckline, where in side button placket is used to create the buttons and a thin collar is used with the centre short slit. This would also make your kurti look amazing because of the attractive pattern.
9. Bead And Pearl Studded Squarish Broad Neckline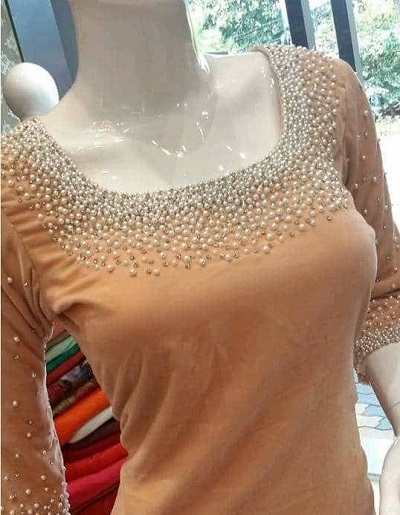 In this squarish broad neckline design, the beauty is enhanced by using the beads and pearls. It is so beautiful that once made on any plain kurta, it would take it to another level. For sure, this is a gorgeous design that is ideal for making beautiful patterns on your kurta.
10. Angrakha Style Button Kurti Neckline Pattern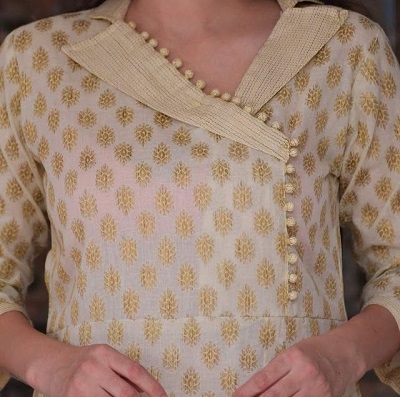 What makes it beautiful is the color that resembles a shirt or jacket and the angrakha style placket. All through the pattern, it has the potli buttons that makes it even prettier. The A-line kurta is being stitched beautifully.
11. Mandarin Collar Neckline With Buttons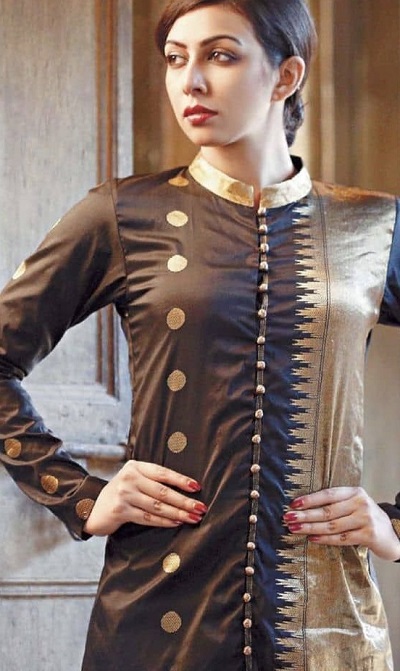 This is a common yet not so common pattern for the salwar kurta designs. The neckline has a collar with Centre slit and the buttons and the button placket runs all through. It is made with a silk fabric that also reminds us of the silk saree. So if you would like to reuse your old silk sarees, then you can certainly use this idea from here.
12. Lacework Collared Neckline For Suit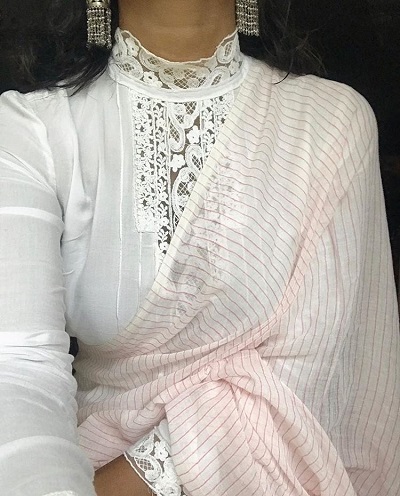 This neckline is highly beautiful because of the lace work in the centre. Lace fabric used as a collar is quite an innovative idea that is making this entire kurta look beautiful and very rich.
13. Neckline Kurta With Tassels And Thread Work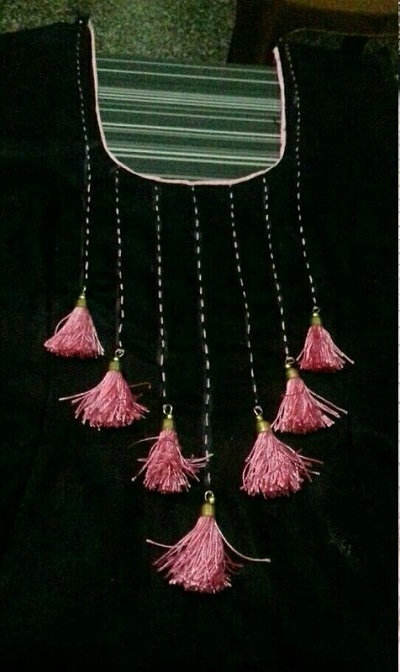 The round neckline kurta has piping in the pale pink color and threads in straight lines runs ending in tassels. Indeed it is a gorgeous design and women with unique taste would really like it.
14. Pleated Neckline For Kurti Designs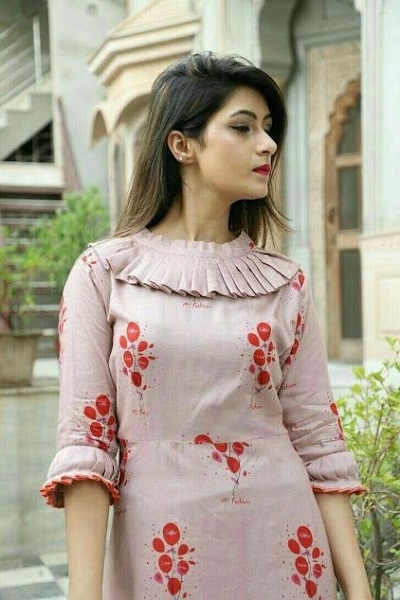 This is also a very pretty design that is made in a straight fit kurta. The neckline is boat shaped neckline and over that pleated pattern is stretched. Indeed the neckline is really innovative and gorgeous which is making this really beautiful.  You can also try it with your kurtis and even umbrella style Indian gowns.
15. Round Neckline With Triangle Patterns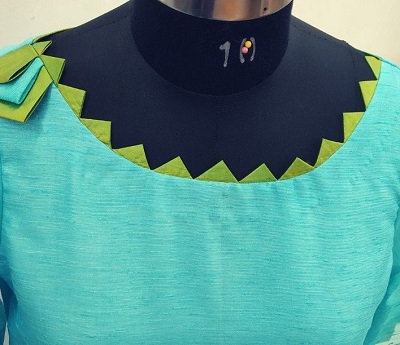 This is surely a beautiful neckline that has small fabric triangular shapes stitched all over the round neckline. Same design is also used on one of the shoulders. If you would like to try out something different than this is for you.
16. Boat Shaped Neckline With Keyhole Pattern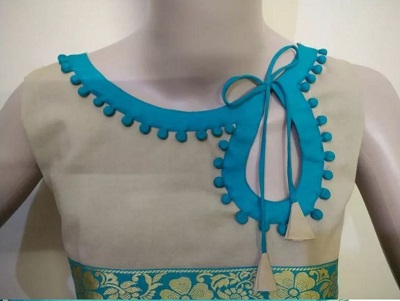 This beautiful design has keyhole pattern on one of the sides. It is different from the regular designs and the use of buttons is making it really pretty. Even the strings are also used and this design can be replicated for your A-line kurta and for the Salwar suits.
17. High Neck Collar Kurta Neckline With Strips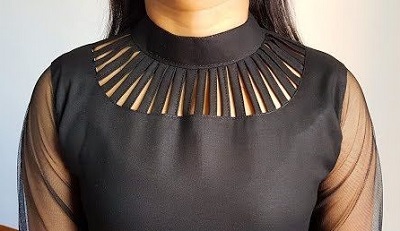 A lot of neatness and artistic work is required to make this beautiful neckline hair. The neckline is broad round neckline with a collar and in between that space strips are used. One can easily have this attractive front neck design for their kurta.
18. Diagonal Button Placket With Collar Neckline For Suit
The normal collar neckline with piping is common but when you have the button placket that goes diagonally under one of the armhole, makes it really innovative. Like the kurta here has a very different design and indeed it is designer and pretty.
19. High Neckline With Shoulder Cuts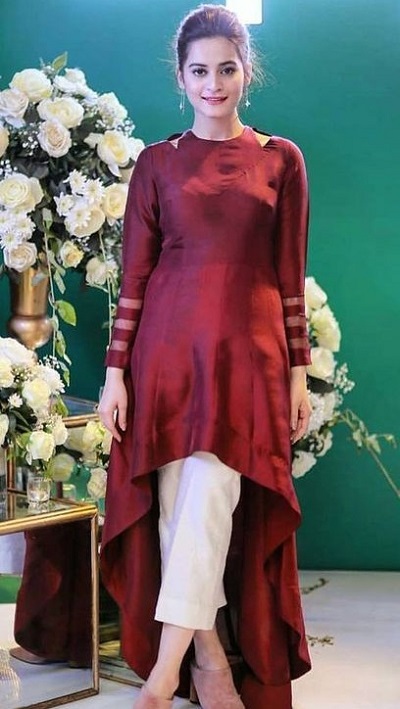 In this neckline the high low pattern kurta is being adorned with the high round neckline that has cuts on both the shoulders. It is a party wear kurti that can also be used for the festivals and events. Pair it up with straight fit trousers to make it look beautifully pretty.
20. Round neckline with cut work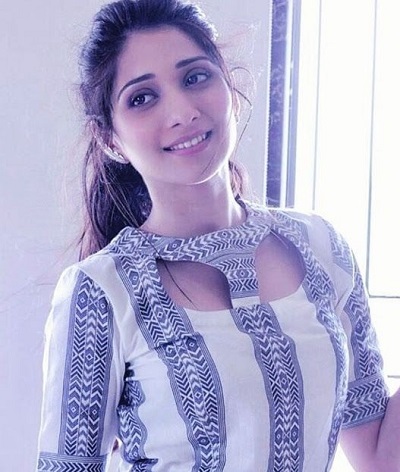 This neckline has round pattern with cuts on the neck. This is yet another design that can be used for the straight fit kurtas.
21. Simple Slit Style Kurti Neckline Design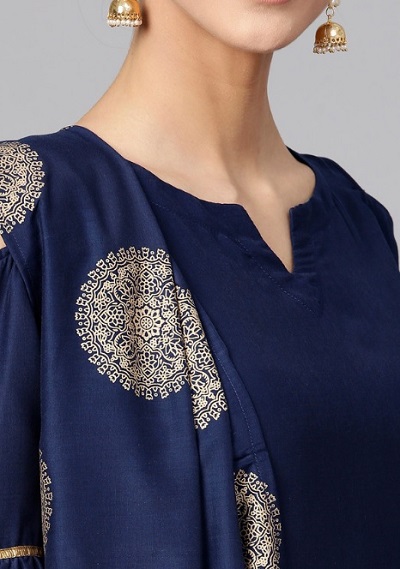 22. Pearl Button On Side Pattern for Neck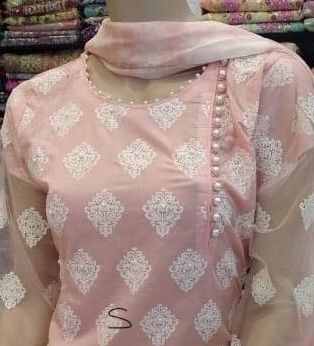 23. Beaded chain On Front Kurti neckline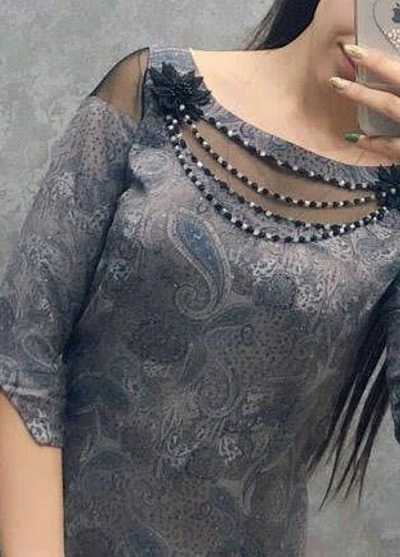 24. Pearl Buttons with Round Collar Kurti Neck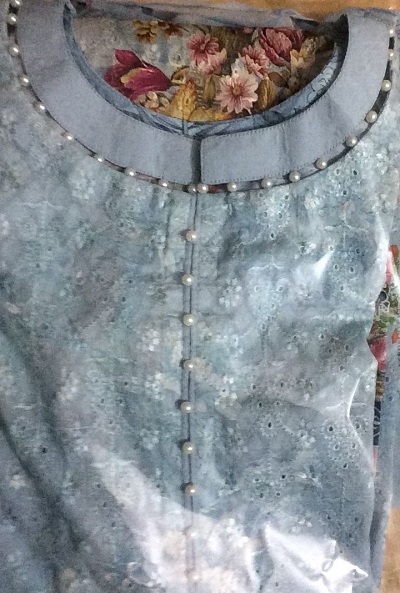 25. Simple Pearl Neckline Style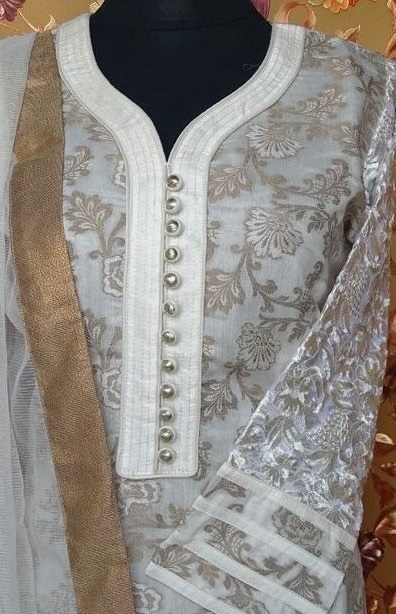 26. Thread Work Kurti Neck Line Idea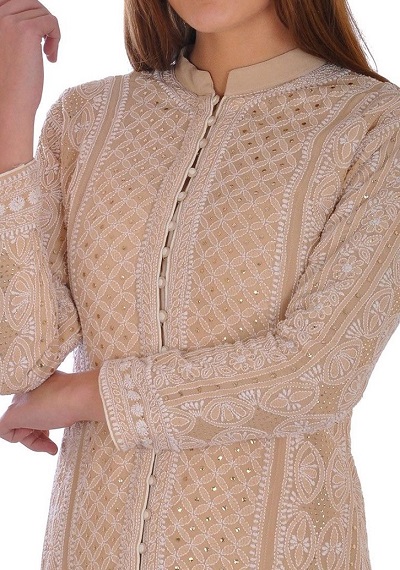 27. Half Chinese Collar neck Design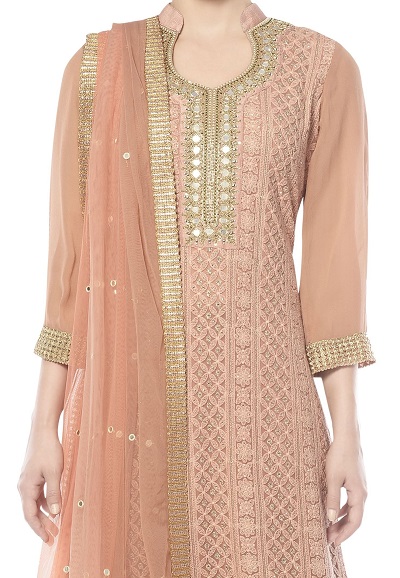 28. Simple Round Neckline With Stylish Brocohes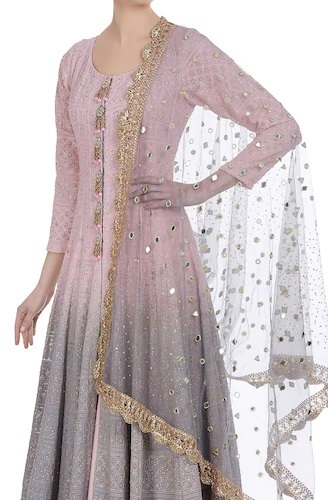 29. Twisted Strap Round Neck design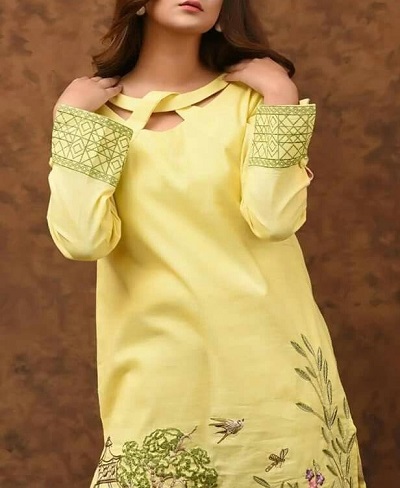 30. Round Neckline with V Slit Kurti design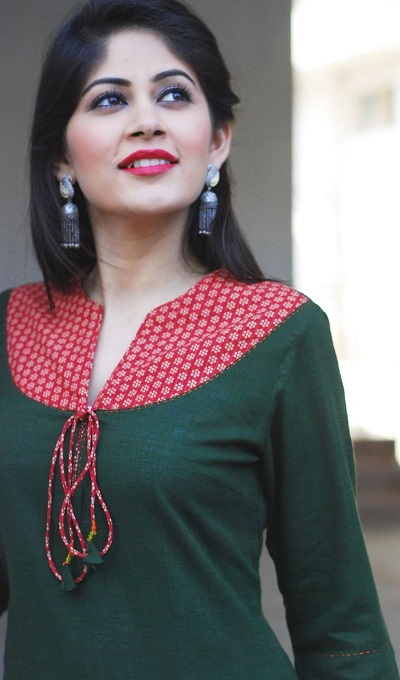 31. Gota Patti Embellished Kurti Front Neck Design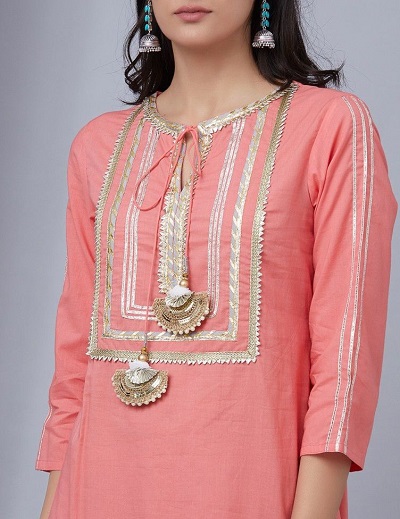 32. Lace Work plunging neckline Design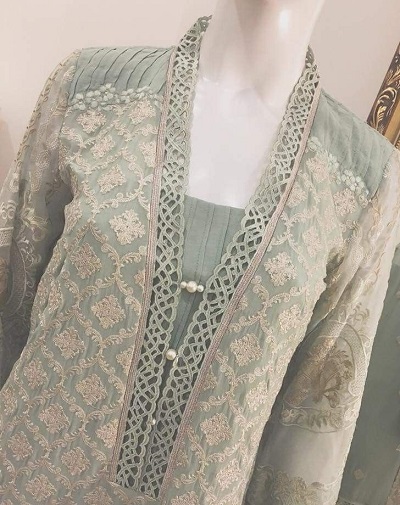 33. Triangular keyhole pattern neck idea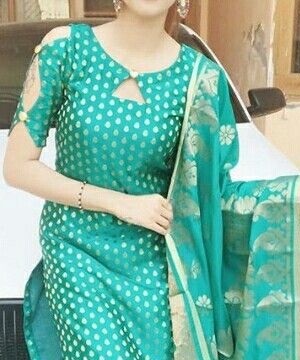 34. Slit and tie style Kurti neck idea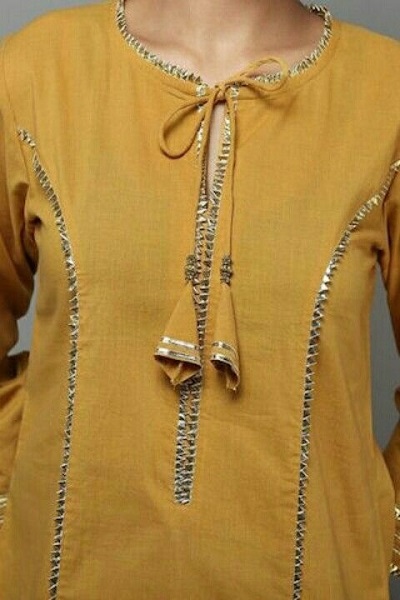 35. Thread work and gota flower neck idea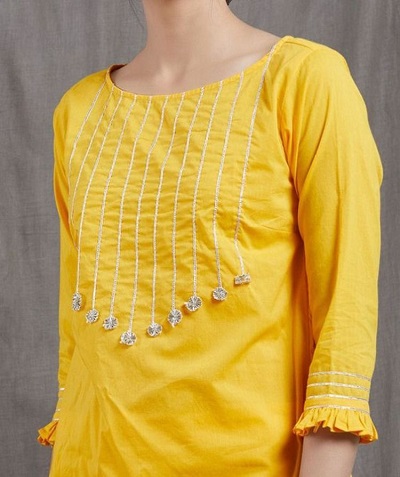 36. Collar neckline with Button on sheer Fabric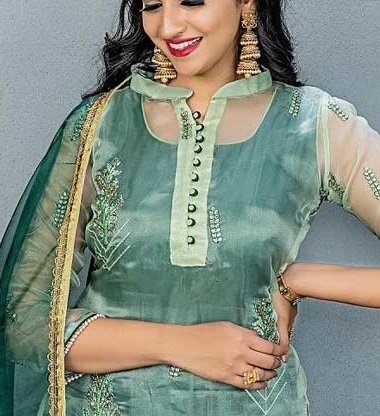 37. Kurti High Neckline with a Button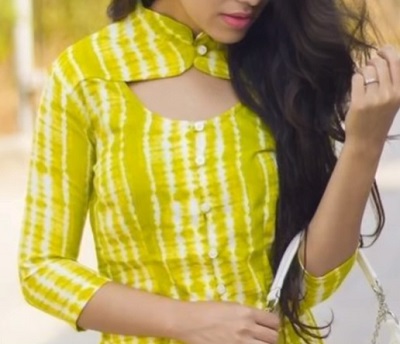 38. High Collar Neckline with buttons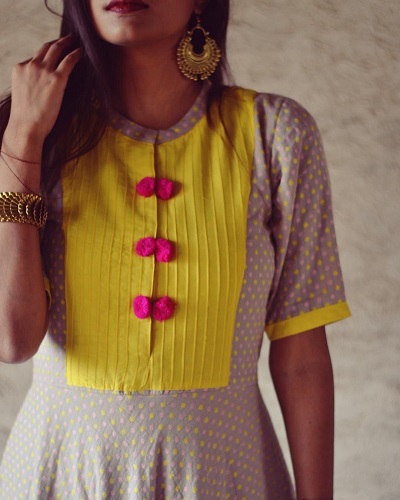 39. Inner work neckline Kurti Design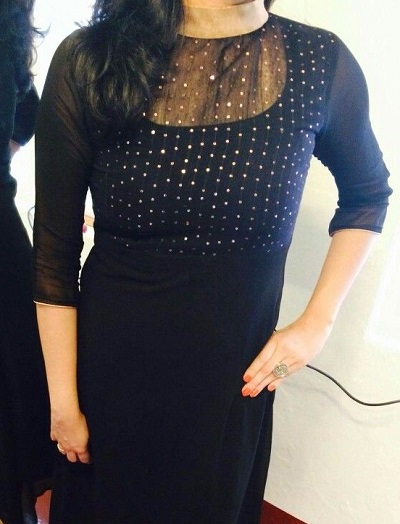 40. Mandarin Collar shirt style Kurta Neck design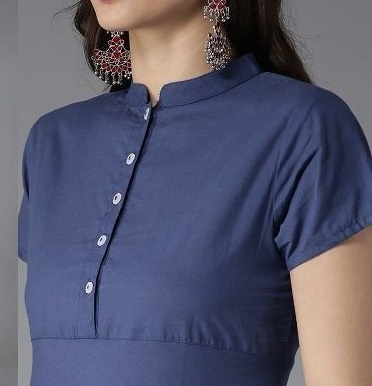 41. Collar with Side Button Suit neck Idea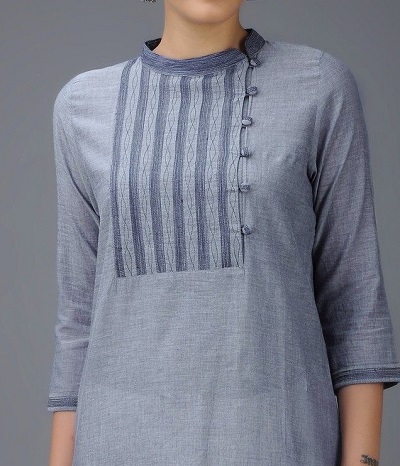 42. Boat neckline with Gota Patti Design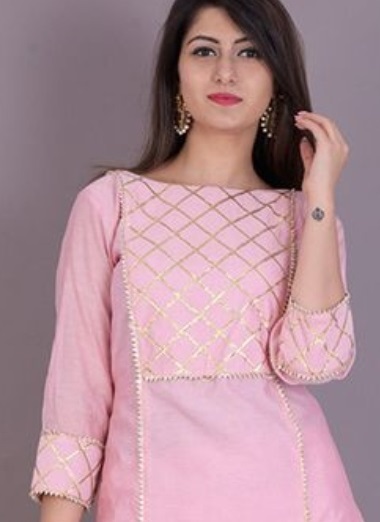 43. Elegant keyhole style Suit neck design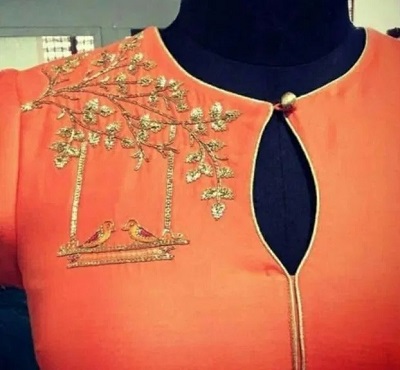 44. Half Button pattern Kurti neck design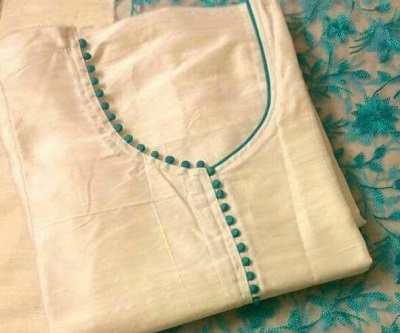 45. Stylish patch style suit neck pattern
46. Gold and Pearl Button Placket style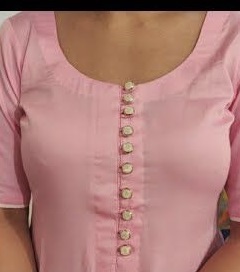 47. Sweetheart neck design idea For Suit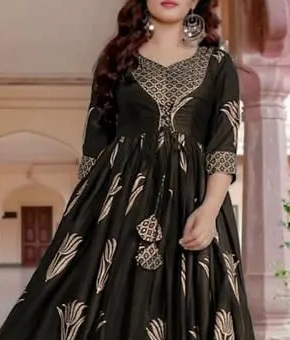 48. Stylish Top style neck pattern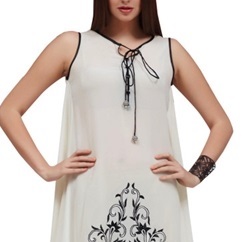 49. Square neck with Side Button Style neckline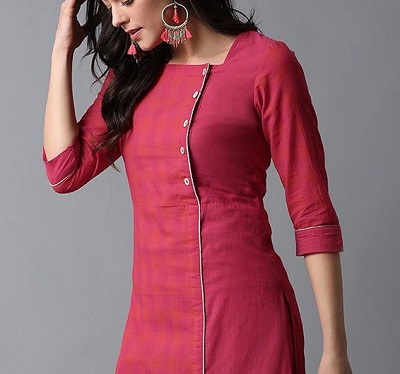 50. Round Neck design With Yoke