When you think of getting a new kurti stitched, then you think about a lot of things like getting the latest designs of sleeves, neck designs and even the cut and pattern. Kurti neck design is an important thing in any salwar kameez or kurta. Considering that we have created the latest designs of new neck styles for the kurtis.
Latest Neck Designs for Casual and Formal Kurta and Kurtis
1. Collar Kurti Neck design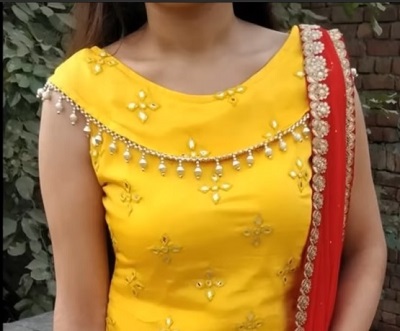 The beautiful yellow kurti has the boat shape Neck line and a solid pattern. It is adorned with golden beads and looks really enticing. One can have such a beautiful kurti neck design even for the blouses as well the good thing is, it can be styled in as many as the different ways that you like, however this neck style has the sleeve design as well as it gives coverage to the sleeves.
2. Notched Collared Design for Kurti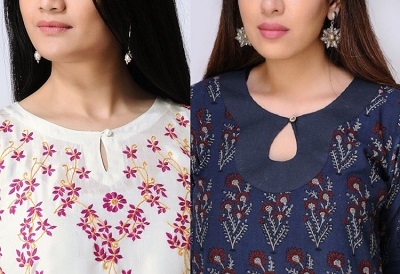 Slit and notches in the centre of the neckline are not new, however they have been invented time and again. Like as shown here, the neck design has slit and a round tear drop shape. And the two edges are connected by a button. The button is functional, however there is no need to open it. The beauty of such neckline is that they can be even made in a round shape or even in a boat neck shape.
3. Chinese Mandarin Neckline with Slit Design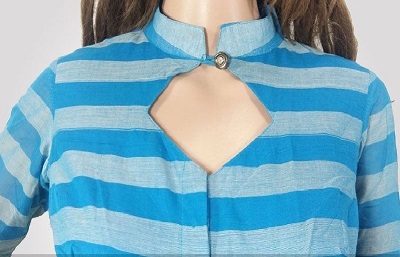 The notch shape neckline is invented by combining it with the Chinese Mandarin collar neck lines as well. As shown here, the high neck line has a Diamond style cut in the middle and that is secured by a button. It is a very new style of neck design for kurtis and even for blouses the same can be replicated.
4. Tassels and Strings Neckline Design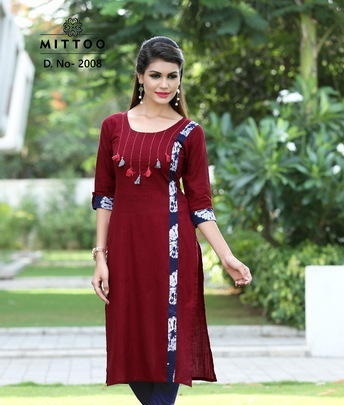 This neckline here is very simple with a round neckline, however if you will see such neck designs would have stitching in the upper part and muscles at the bottom. The tassels embellished and designed necklines like these are very much in trend currently because tassels are seen everywhere.
5. Neckline with Shirt Collared Design for Kurti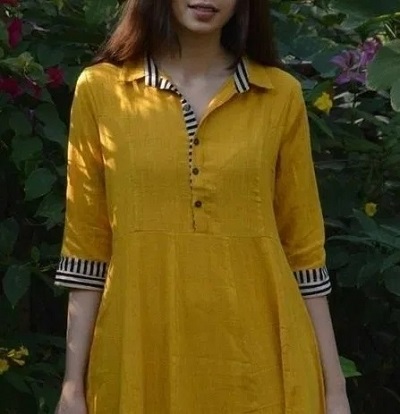 To experiment even better, you can have your kurtis tied with a shirt like neckline. The neckline here has the full fledged and functional collar, that you've seen in the men's shirt. There are buttons as well, however the button placket do not run all over the hemline, but they are till the waist only.
6. Kurti Neck Design with Potli Buttons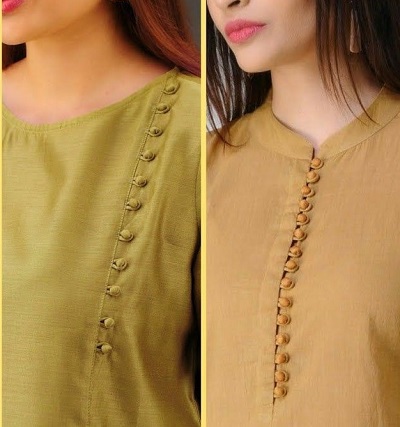 The pretty neckline is adorned with potli buttons as they are trending because they look very feminine and also makes your kurti or kurta look classy. It gives a formal look to the kurta because of which you can carry such a kurti for any formal event, occasion or even for office. Here, the potli button over a standard button placket is seen in the centre and on the side. Side design style is pretty new and modern which makes the traditional dress even more stylish.
7. Stylish Kurta Neck Design And Pattern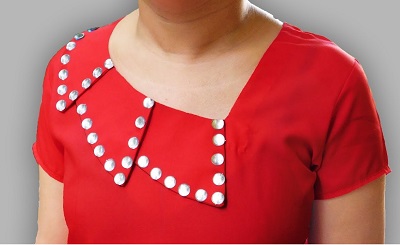 It is the new style neckline for kurti that is very innovative and unique. It makes the kurti dress easy and very beautiful for the parties.
8. Angrakha Style Wrap Neckline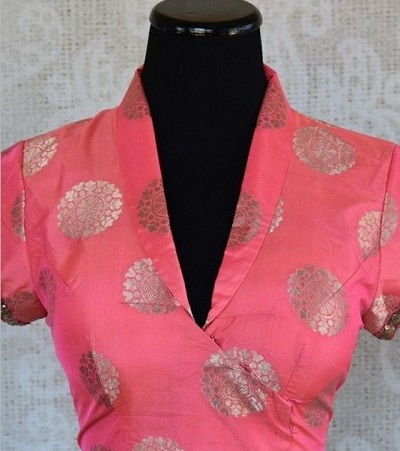 In this kurti neckline, it resembles as that of the Chinese collar that also takes inspiration from the blazer like lapels. It has short sleeves and angrakha style pattern is seen with hooks. It actually resembles a Kimono style kurti design.
9. V Cut Neck Design for Kurtis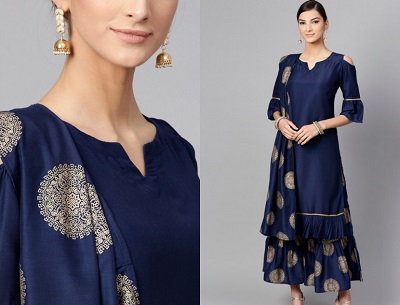 The stylish kurti neckline design has a Centre V-shaped cut with a cut work on the shoulders that gives it a cold shoulder pattern. The kurti in blue colour embellished with Gota Patti work and gold print makes it really amazing and very classy for the events and festivals.
10. Shirt Collar Style Kurti Neck Pattern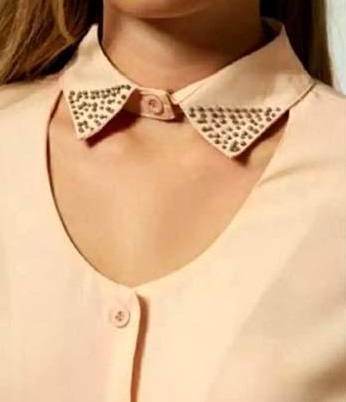 The shirt like collar kurti has only the colour over a button placket and a cut in between. The highly modern kurti neckline design would surely entice and make your kurti very modern looking and elevates your fashion sense.
11. Ruffled And Pleated Neck Designs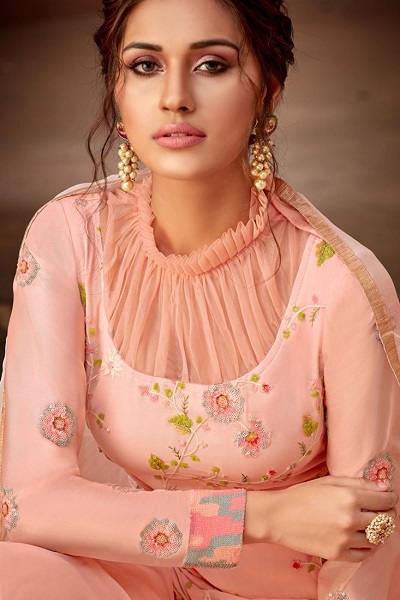 You must have seen this ruffled coloured neckline in many blouses but the same is also seen for kurti designs. The scoop neckline has the transparent fabric ruffled neckline. It makes your kurta look really amazing and very elegant. In spite, of having this patch work style pattern, it has this modern charm to it.
12. Elegant and Formal Neckline Design Front Style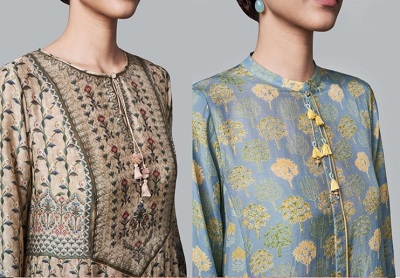 In this kurti here, the round or high neckline has centre button placket with strings attached and the strings bears tassels at the endings. Such necklines are also getting popularized and it makes your good thought very elegant and feminine. In fact such designs are appropriate for meetings and for office wear.
13. Strings and Beaded Neck Pattern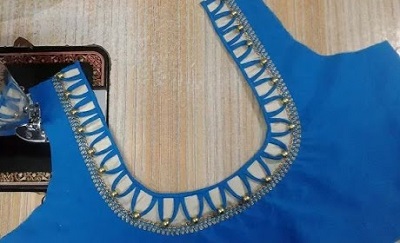 Such neckline is beautiful and has the work of string and beads. It's a new kind of kurti neckline which is also suitable to copy for your blouse designs. If you would like to make your kurti really amazing then try a neckline design like this.
14. Patch Style Boat Neck Design for Kurti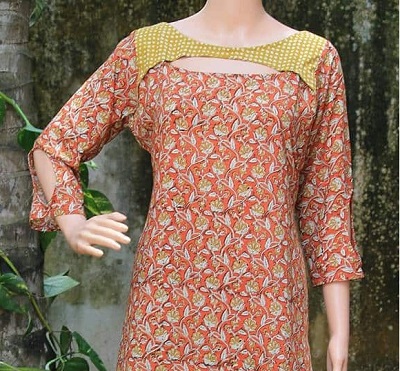 A printed kurti with a patchwork boat shape neck like this looks really amazing. The kurti is otherwise very simple but it is the neckline design that is making it very modern and casual.
15. Modern Halter Style Kurti Neck Design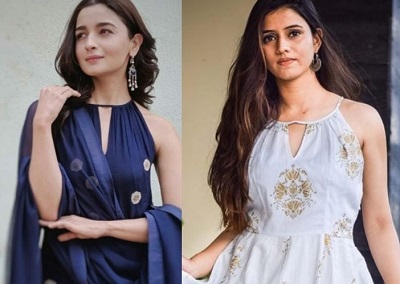 This halter style neckline for kurtis is new and is trending. It is for the modern Indian women who like to wear their suits salwar kameez and kurta but with a twist. Here, the halter style has been put together by a string or a strip that runs around the neckline. It is also visible in the centre. For highly model looking traditional kurtis, then go for this design and we're sure you will not regret.