Lehenga saree design is a unique style of Indian ethnic wear.  At times, because of the difficulty wearing a saree, a lehenga saree can come to help. Because it is hard to make the pleats and drape the saree in a perfect manner, lehenga style sarees are always preferred in such situation.
In fact, when you wear the lehenga saree, then you can be care free that your saree will not get messy and pleats getting out of way. Younger generation, who are not very comfortable wearing sarees, can opt for the lehenga style sarees for sure. Considering that here we have created this image catalogue of the latest lehenga style Saree designs available in the market currently.
Latest Lehenga Saree Dresses Designs For Festivals and Weddings
Hopefully, these inspiring Indian ethnic fashion images would be able to make up your mind while searching for a new ethnic dress for a wedding or festival the next time. Lehenga sarees can actually make you save a lot of time. Technically, the dress is a fusion of two different Indian ethnic types like a lehenga and the traditional iconic saree.
1. Full Flared Lehenga Saree Dress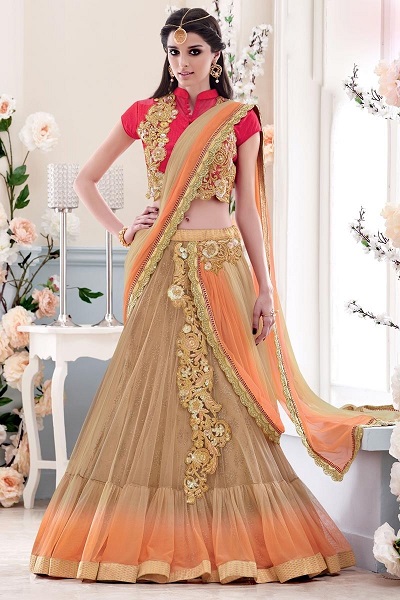 The beautiful lehenga style saree has an attached Dupatta on the one of the sides. It has an attractive embroidery patch and the saree has a flared kind of lehenga style. The lehenga is in the net material and is combined with the red colored embroidered blouse with short sleeves and collared neckline.
2. Silk Embroidered Lehenga Style Saree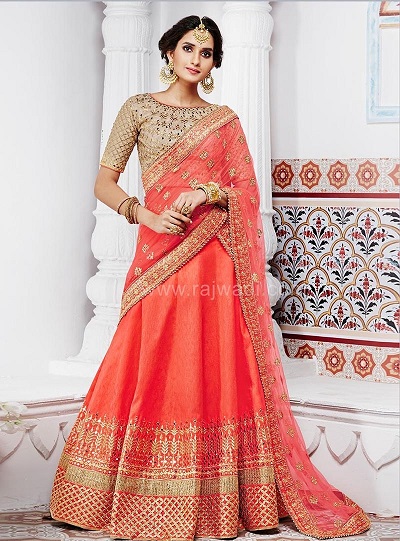 The beautiful silk embroidered lehenga has Gota Patti work at the hemline and chiffon dupatta over which the buti work and sequence work is seen. A light brown beige color blouse is paired up with this lehenga style saree. It has medium length sleeves with Gota Patti work and boat shaped neck line. It's one of the best lehenga style saree dress that is suitable for festivals and even for Karva Chauth.
3. Festive Wear Lehenga Saree Traditional Dress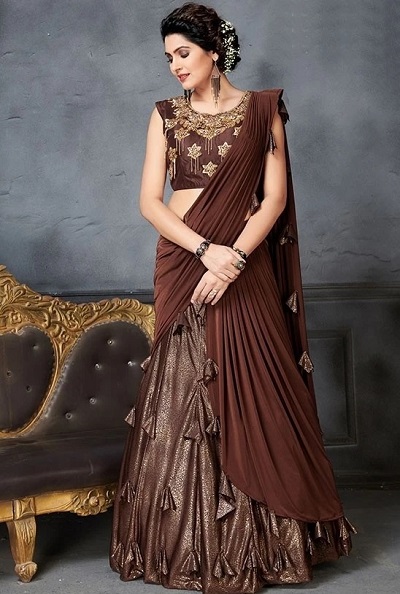 The stylish dress can eventually take your look to another level making you attractive and charming combined with matching jewellery. This beautiful brown color dress has a unique lehenga skirt and pattern. The best thing about this is that this color is rarely seen for the Indian ethnic wear.
4. Designer Saree Lehenga For Weddings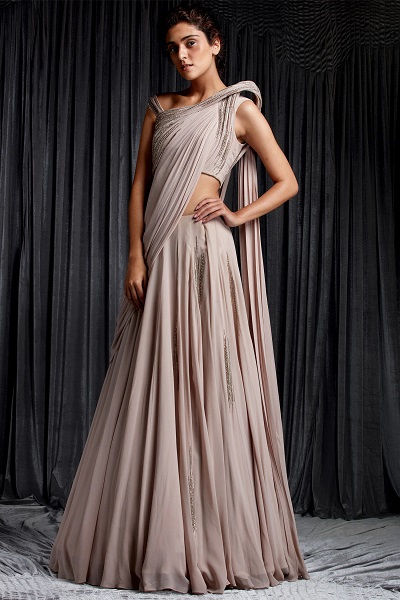 To look your best in a simple and designer clothing, an interesting lehenga saree dress resembling this is a beautiful color suitable for all age groups. In fact, the color is such that it will surely make you stand out in a crowd for any Cocktail party and a wedding reception that you go for. It's a designer piece of clothing that looks really interesting and amazing.
5. Stylish Lehenga in Saree for Functions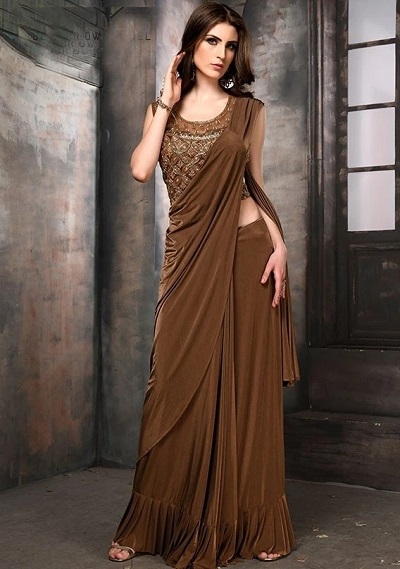 Talking about the dark brown color tones, this is another coffee brown color that has the embroidered blouse and the dupatta or the Pallu is attached on one of the sides of this readymade lehenga style saree. It looks really amazing and the fabric is body hugging, therefore when you are slim and tall, such clothing would look better on you. Though it doesn't matter what body type you have, you can still go and wear whatever you feel like.
6. Box Pleated Lehenga Saree style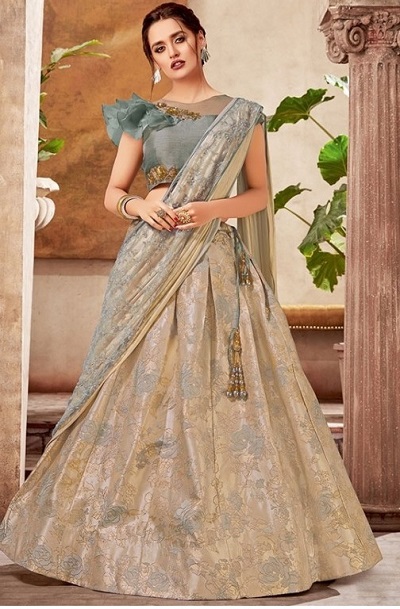 The amazing Lehenga in the Silk fabric is equally tempting. The lehenga has beautiful blouse with ruffled sleeves on one of the shoulders and it has the attached dupatta on one of the sides and even the lehenga style latkans and strings are also given on the side. With box pleats the lehenga has full flare and cancan attached at the bottom to make it appear more voluminous and fluffy. While looking for the perfect dress for a friend's wedding you can surely use similar type of women's Indian ethnic dresses.
7. Fresh Green Lehenga For Ethic Functions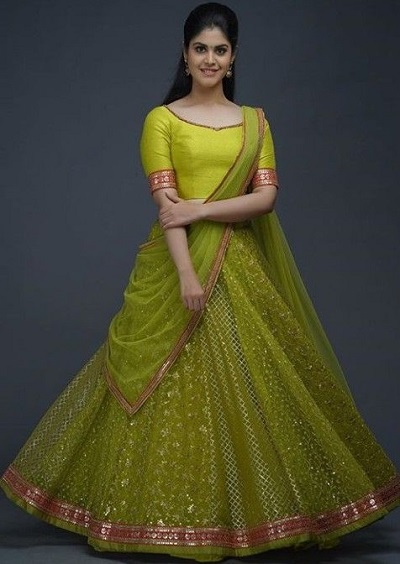 Lime green is a refreshing color indeed, a bit different than the regularly used colors for the Indian ceremonies and festivals. The bright green net lehenga is flowing with cancan attached that makes it voluminous and extra flared. Paired with a green blouse in silk color is with a simple fabric. It's one of the best looking simple lehenga saree style.
8. Easy to Wear Bridal Lehenga Saree dress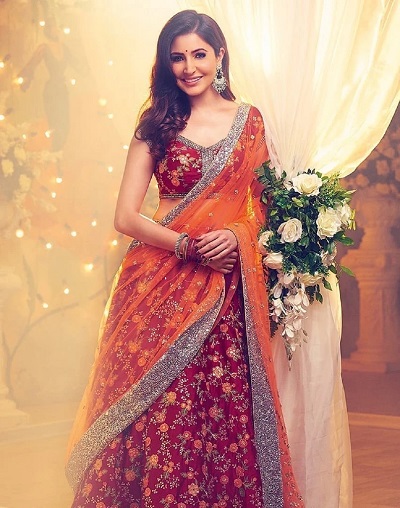 For your bridal function and post bridal ceremonies, take a cue from this designer lehenga saree here. A wine colored lehenga style saree is paired with dupatta in orange color. The short sleeve blouse with a sweetheart neckline looks really amazing and it completes the look of this Indian wedding dress.
9. Modern Ethnic Lehenga Dress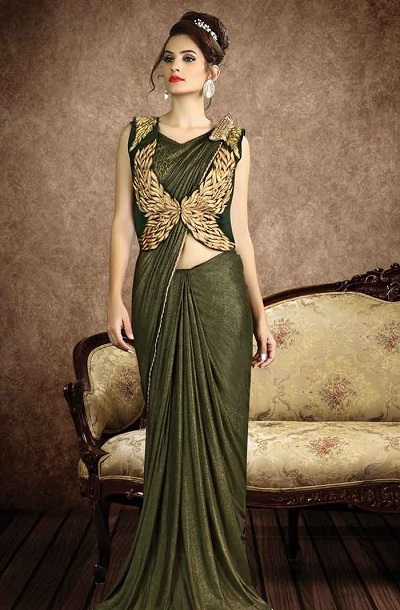 This pretty dress in lehenga style is interesting. The best part is the brooch style ornament at one of the shoulders. It's made with a flowy fabric that literally hugs the body contours. It's very amazing and made in a fabric that hugs your body like nothing. So its a finger and handsome kind of dress.
10. Net fabric Lehenga for Festivals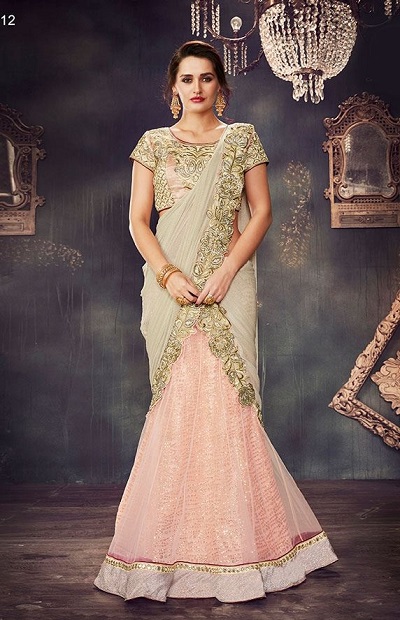 The amazing simple lehenga saree has the Lehenga in net fabric and chanderi fabric with gold woven design is used underneath as a lining. The rich embroidered border and the rich embroidered blouse is paired up with this dress.
11. Layered Designer Cut Pattern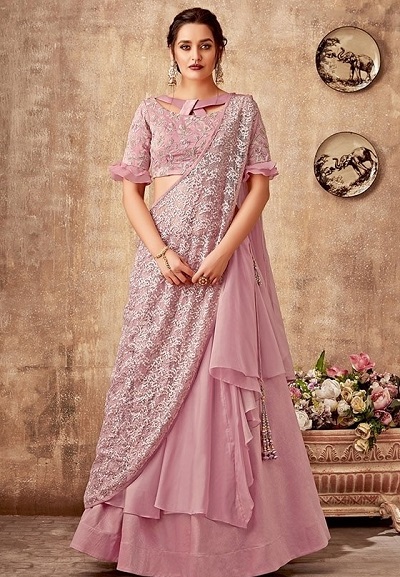 It's a different kind of a layered lehenga design that has the embroidered net heavy dupatta. The blouse is enticing and has a modern cut and silhouette. The collar like neck strap over the neckline it has a Boat shaped pattern and a medium length sleeves with ruffles. This ethnic women's dress is perfect for any wedding occasion that you will be attending.
12. Figure Hugging Lehenga Style Attire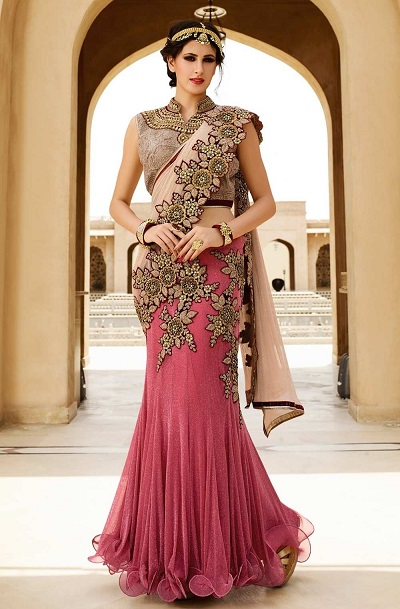 With ruffles at the end, this fish cut lehenga style saree comes across as a beautiful saree lehenga. It has a figure hugging lower body below the waist. The designer blouse has Mandarin Chinese neckline. With bold embroidery patches used for the front part of the lehenga, it's unique in its design.
13. Lehenga Saree for Engagement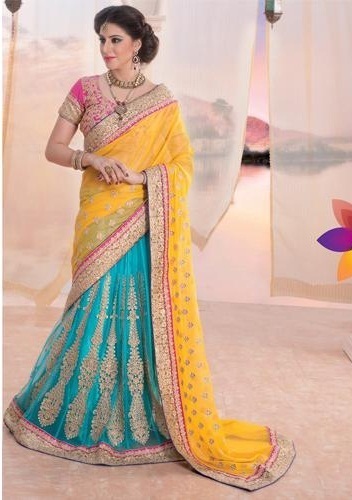 Talking about a traditional wedding dress, this blue lehenga saree with yellow dupatta and pink blouse is a different combination that would look surely stands out of the crowd. The amazing designer dress is suitable for most of the Indian festivals, ceremonies and functions.
14. Heavy Wedding Lehenga Style Saree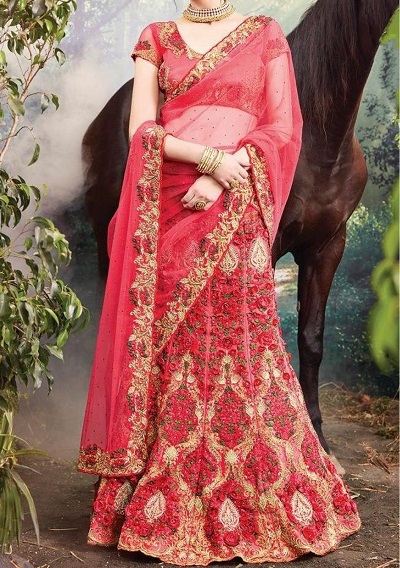 It's a really heavy lehenga with rich embroidery work. The fish style lehenga has different colors and panels attached to create a fish style flare. The heavy embroidered dupatta is given on one of the sides as the lehenga is paired with the blouse in the same color family and work. It is suitable for most of the bridal affairs and even for a wedding in the family.
15. Readymade Saree Style Lehenga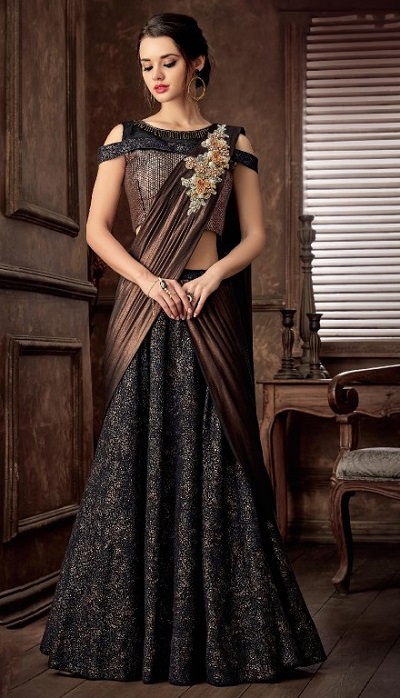 Talking about Black and brown combination, if you're heading over to a party wear, you have to look all dressed up in Indian ethnic wear, this dress can be tried. The beauty is the shoulder brooch or embroidery patch that is added along with cold shoulder blouse.
16. Embroidered Lehenga Dress Saree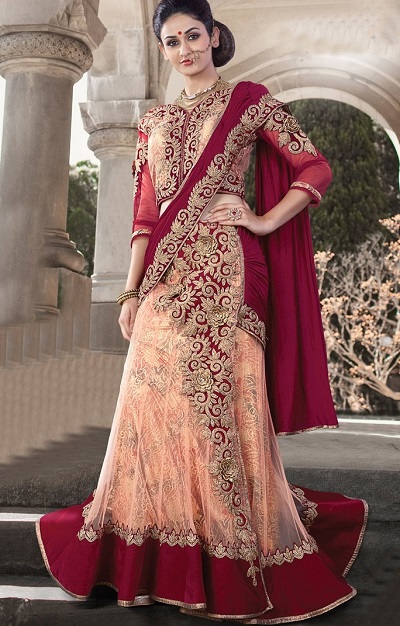 The beautiful lehenga saree has flawless pattern and heavy embroidery patches are also seen. It's not a regular lehenga but more like a wrap around lehenga. The heavy embroidered blouse is paired with this style. With matching jewellery, this style would surely make you look amazing.
17. Lehenga Saree South Indian Style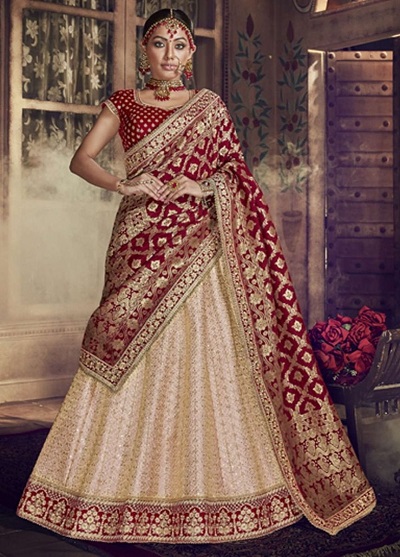 This designer dress has the beige and maroon combination with bold gold woven work. It is one of the best bridal looking dresses that one can opt for even the wedding functions and post wedding affairs.
18. Western Lehenga Saree Partywear Design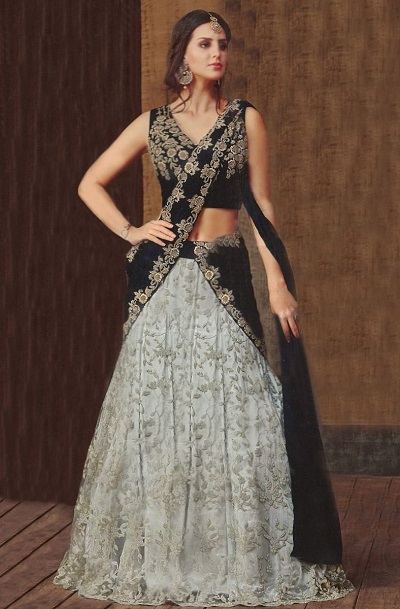 This light grey and black combination designer dress has a blouse with V shape neckline and sleeveless pattern. The dupatta is attached on one of the sides and the lehenga is easy to wear within few minutes like a saree.
19. Readymade Lehenga saree for Reception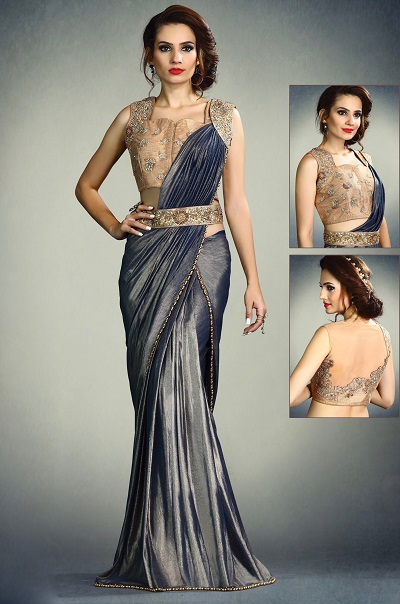 This one's a steel grey saree in a fabric that almost hags your figure like nothing. A waist belt with heavy embroidery and detailing is also given with this stylish ethnic wear dress. It is ready made saree that is extremely easy to wear and give you a feel of a saree. The best part is the designer blouse and it will surely make you attractive, because of the pattern of this beautiful saree.
20. Lehenga Half Saree Style Dress For Festivals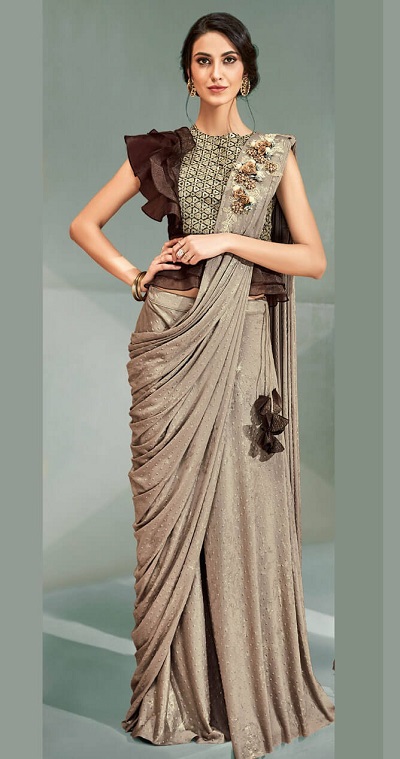 This designer dress blouse is really amazing and different from what we see on a regular basis. The blouse has ruffled sleeves on one of the sides with high round neckline. Over the waist, an embroidered detailed work belt is seen. This saree is ready made,as you just have to wear it. It is one of those designer dresses that you would like to go for the important events and parties.
21. Light Weight Lehenga Saree Pattern For Parties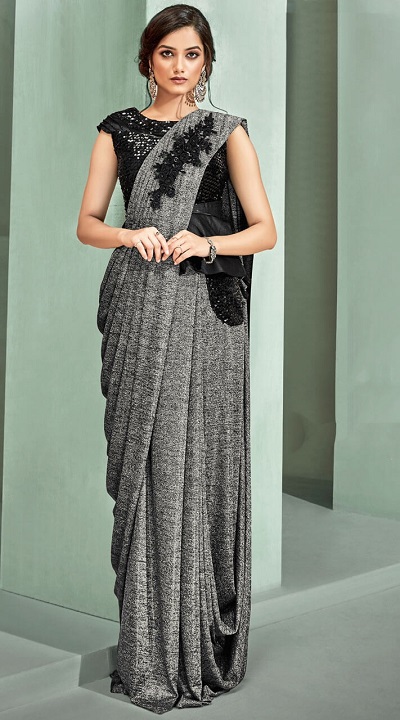 It's the perfect dress which can make you look no less than a Diva. This beautiful dress in grey and black color is outstanding. It is a blouse that has peplum and heavy sequin and stone work. Embroidery patch in sequin work on one of the shoulders is given and it's a saree that is being draped in a different way than the regular lehenga saree styles that we regularly see. 
22. Net Saree style Lehenga for Festivals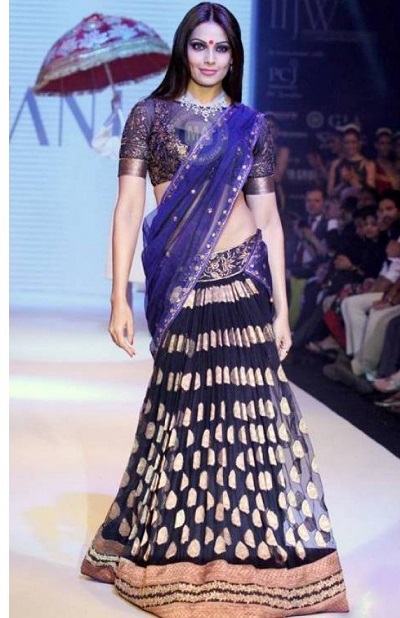 The net lehenga style saree has net fabric with lots of front pleats. The Dupatta or its pallu is already stitched on the left side and the blouse is also extremely beautiful.
23. Layered Anarkali Dress Style Lehenga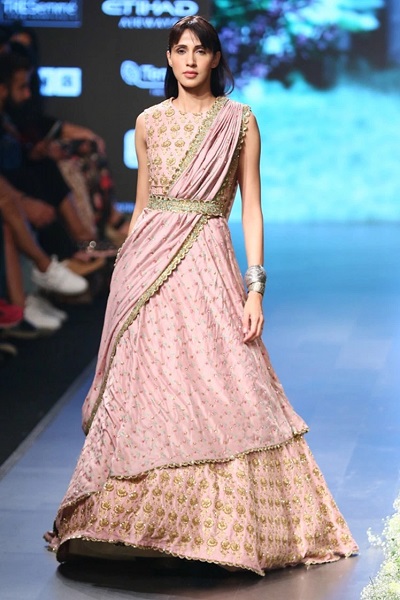 The layered Anarkali style lehenga has dupatta attached between designer waist belt. Modern looking cut and style of this lehenga saree is suitable for most of the younger girls.
24. Lacha Style Saree dress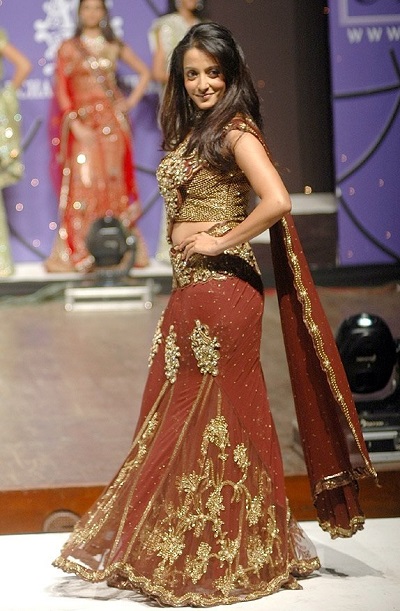 Coming to this gorgeous lehenga style saree, that is suitable for most of the women who are either married or for their upcoming bridal affairs. Appropriate for most of the bridal functions, such a dress can be incorporated even in your bridal trousseau.
25. Designer Festive Wear Saree Style Dress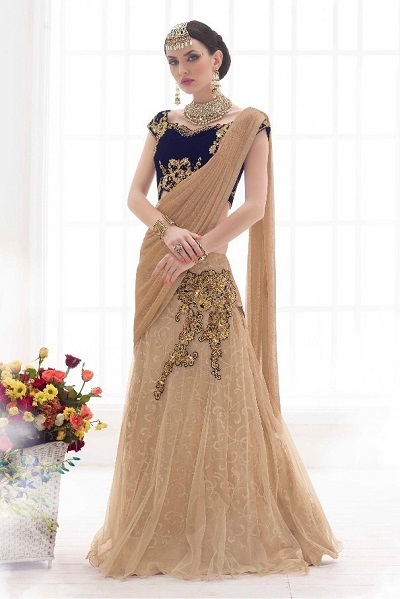 Surely, such a beautiful gorgeous dress will make you look attractive and elegant because of its cut and the elegant colors used. It is a festival ethnic wear for women suitable for all the age groups.
26. Very Light weight Style Premade Saree Lehenga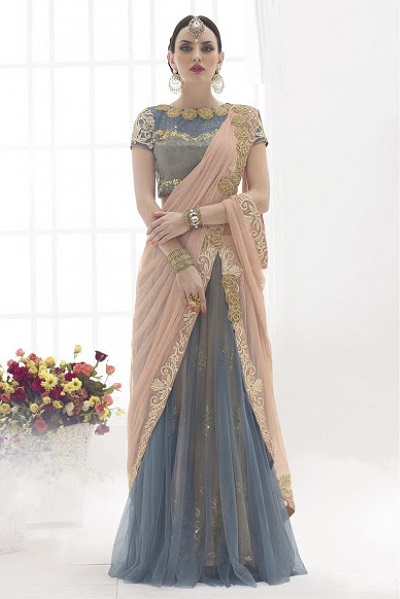 To look your best, a stylish traditional dress like this would do the job. The best part is the cut and the net fabric lehenga that makes it very easy to walk. Being lightweight with no excessive heavy work on it, it's easy to carry so that you can even attend the festivals and weddings where you have to do shake a leg even.
27. Saree in Lehenga style Dress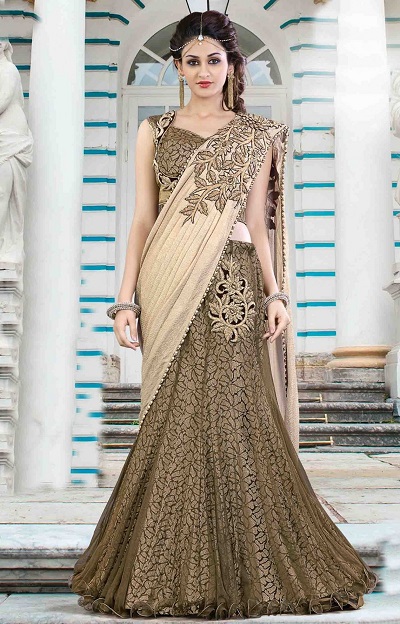 Designer and Stylish dress like this will make heads turn and undoubtedly, its one of the most beautiful dress in this catalogue.
28. Chanderi Fabric Lehenga in Saree Dress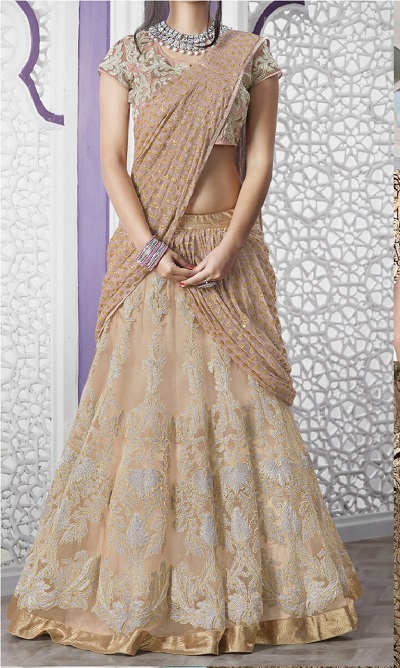 The earthy tones used in this gorgeous chiffon lehenga Chanderi fabric. This is readymade style saree with a simple work done and no doubts, it looks royal and elegant. It is lightweight and is easy to carry.
29. Peach and Pista Green Engagement Dress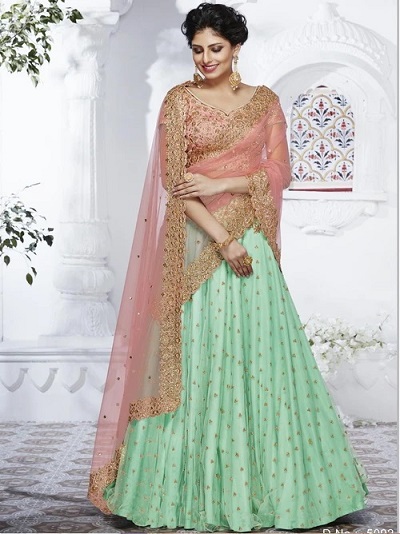 Colors like peach and mint green or pista blues are ruling the trends. Specially, for the spring and summer weddings and festivals such colors are very popular. Even if you are young or middle aged women, such colors would look elegant and charming. No matter what the skin color is, such colors can complement really well for most of the skin colors from fair to dark.
30. Embroidery Work Lehenga in Saree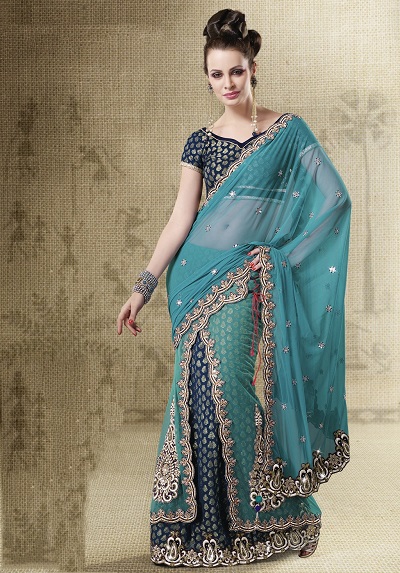 This is a different style of saree lehenga style dress with nice color and embroidery work. Perfect for most of the traditional ceremonies and events.