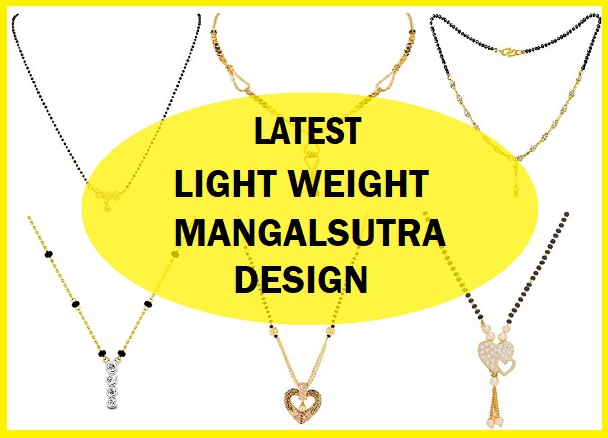 Mangalsutra is not just a jewellery that women wear every day rather it comes with certain significance that a woman cherishes. The light weight mangalsutra patterns are most looked after because of the ease of variability and to manage such patterns makes them really popular. So even though you would wear the heavy mangalsutra pattern for festivals and weddings, lightweight designs are more suitable for daily use.  Let's take a look at the latest light weight gold mangalsutra patterns.
Latest Light Weight Gold Mangalsutra Designs
1. Thin Beaded Chain Design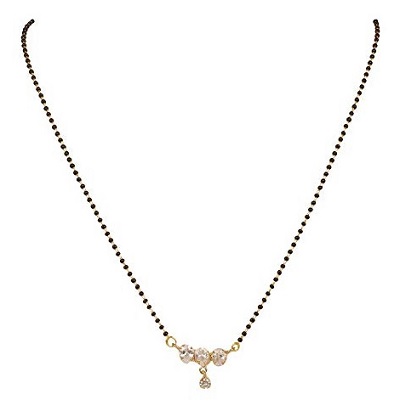 This light weight mangalsutra has a thin black beaded chain on the side  and the centre part bears beads. It's a perfect design for professionals and to wear even for office.
2. Stylish Mangalsutra pattern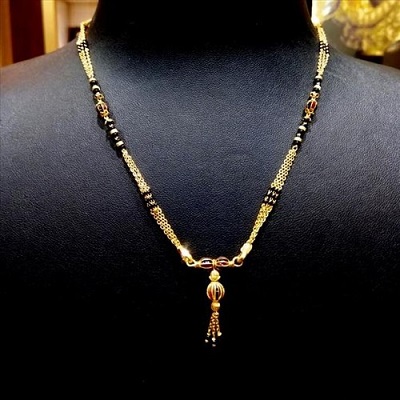 This design here is not that delicate however the short mangalsutra pattern has black beaded side chain with an elegant gold bead in the centre part.
3. Light weight Mangalsutra pattern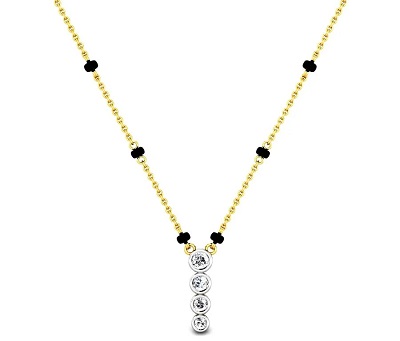 This light weight mangalsutra has less black beads on the side while the centre part has pendent with the diamonds.  This design is pretty decent and is perfect for everyday use.
4. Heart shaped Mangalsutra design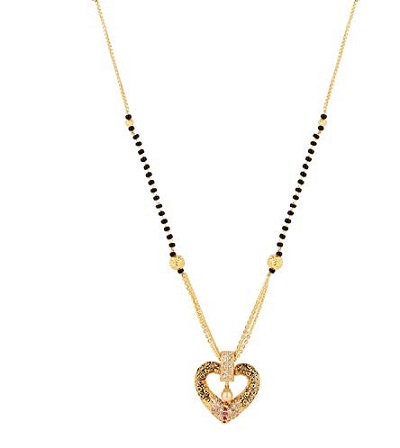 When heart pendant shape is your favourite, then go for this modern and delicate short mangalsutra pattern with heart shape pendant in the centre. The pendant has enamelling and stone work that makes it really exclusive and pretty.
5. Modern Heart Shape Pendent Style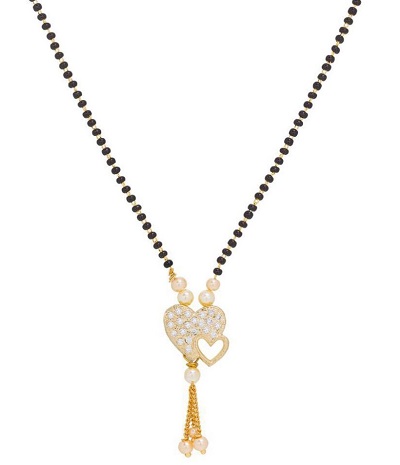 This is yet another beautiful heart shaped mangalsutra pattern that has pearls and stones. The design is very beautiful and is the best heart shaped mangalsutra pattern.
6. Elegent Mangalsutra pattern for daily use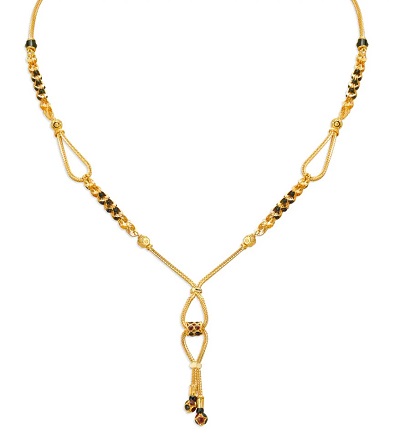 This pattern here has gorgeous design that exudes elegance. The Elegance and the simplicity of the design make it really beautiful for daily use.
7. Gold Studded Black Beaded Chain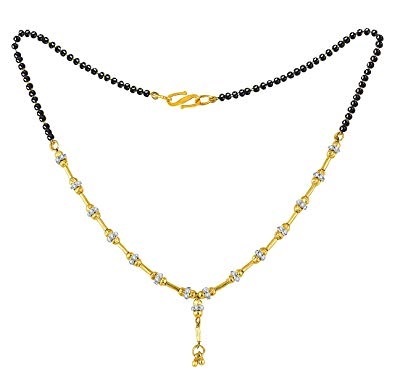 It has half black beaded chain with half gold and stone studded pattern. The pattern is really perfect for everyday use and is the best short mangalsutra design for working women.
8. Long Chain Mangalsutra With Light Weight Pattern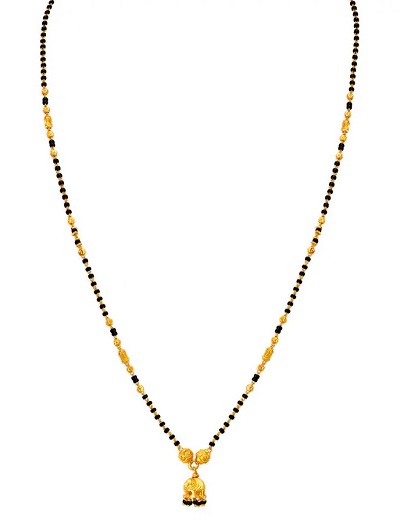 The mangalsutra pattern is a long mangalsutra design with dainty beads in the centre pendant part first also it is not have a very chunky or heavy pendant in the centre but looks really pretty.
9. Simplistic Design Of Gold Mangalsutra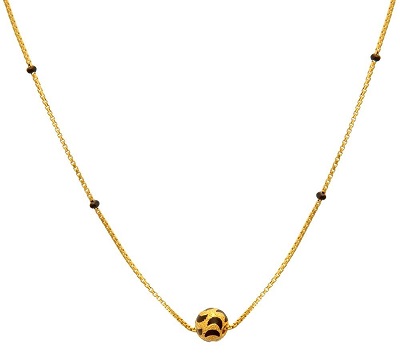 Women who like simplistic and minimalistic designs shall go for this one. This design has a single enamelled gold bead in the centre while on the sides, thin gold chain is there. The gold chain embeds two black beads on each sides.
10. Diamond And Gold Mangalsutra Design
The diamond and gold mangalsutra pattern has a Centre pendant that bears gold floral shape with Diamonds embedded. This design is beautiful and would be loved by women who like diamond and gold mangalsutra designs.
11. Delicate Bow Shaped Mangalsutra Pattern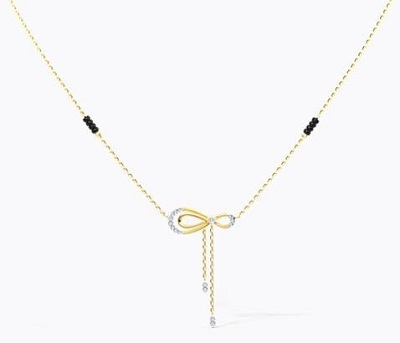 Delicate design has a bow shaped pendant and the side chains are really thin. It is perfect for new age brides who want to have mangalsutra that that looks trendy and simple.
12. Daily Use Mangalsutra Design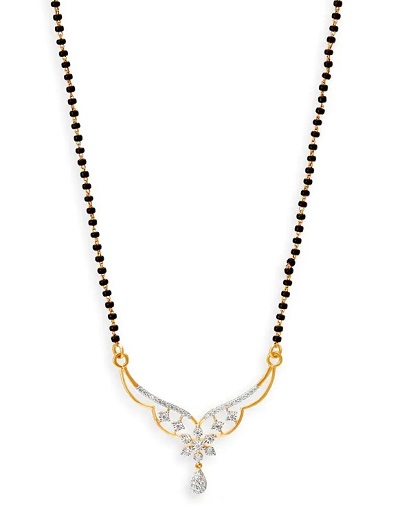 This design here looks almost like a gold chain with gold beads interwoven with the black beads. Most of the black beads are shown on the back side of this mangalsutra design.
13. Light Mangalsutra Design For Working Women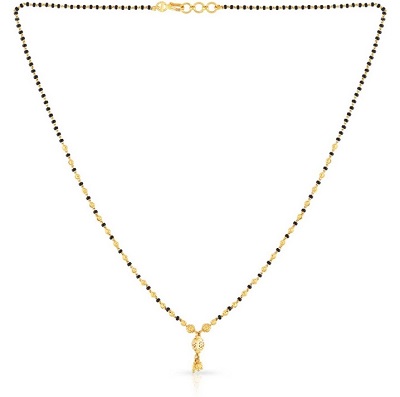 This is yet another pretty design that is simple and does not have heavy or gold pendant in the centre part.
14. Simple Black Beaded Chain Design Mangalsutra
The simple Black beaded side chain where's the centre pendant is made with gold beads. This spherical hollow round shape has carved out design stop this is a really simple pattern which can be made in 10 grams of gold.
15. Delicate Pendent Style Mangalsutra Pattern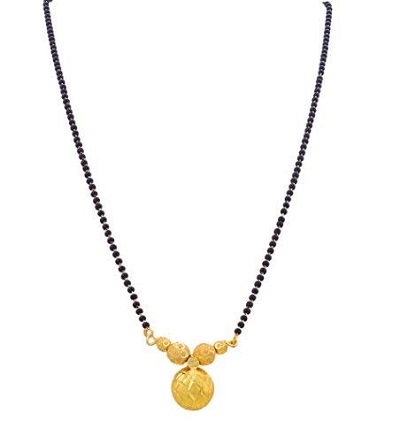 This is yet another simple design that has a Centre part with the side chains made entirely of gold and bears red and black beads here and there. The centre part is also very delicate and small so that while you are wearing, it does not give any irritation even during hot summer season.
16. Black Stone and Pearls Mangalsutra Style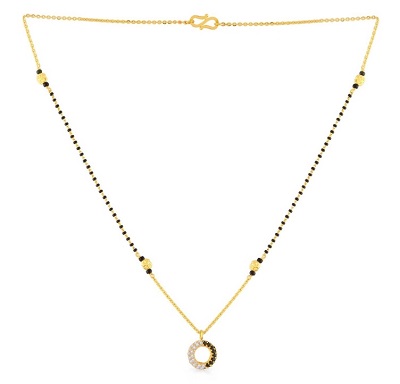 Made with stones of black and design has the beautiful and elegant centre pendant. It looks more like a gold chain then mangalsutra. The design is perfect for working women and for the brides who like simple designs.
17. Elegant Style of Stylish Mangalsutra Design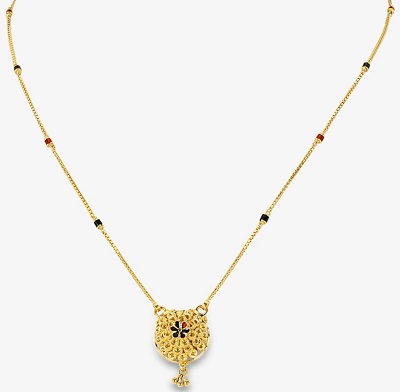 Bundled with Elegance, this mangalsutra design has black and gold beads used in a different style that makes it really pretty. This is one of the best light weight mangalsutra patterns that many women like.
18. Light Mangalsutra Pattern In 10g Of Gold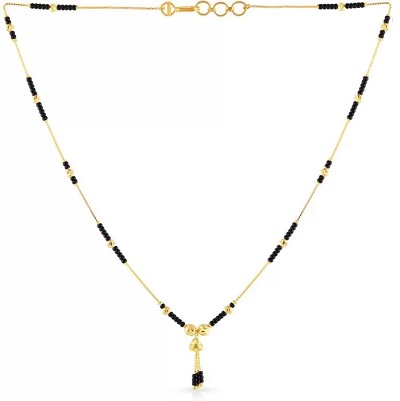 With double chain in the front part, this bears gold beads embedded with black stones. This is the best light weight Gold Mangalsutra design in just 15 grams of gold.
19. Gold Only Mangalsutra For Everyday Use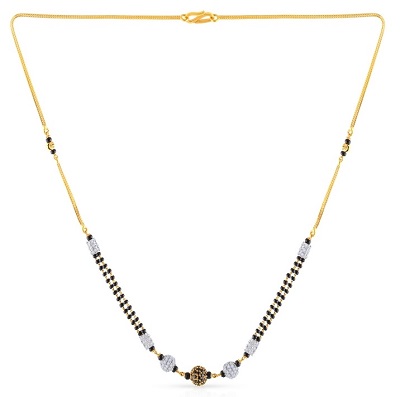 Looking for a gold only mangalsutra pattern? Then this design is one of the best. It is not only lightweight but perfect for office wear and daily use. This modern and latest design is apt for all the women.
20. Thin Gold Chain Mangalsutra Design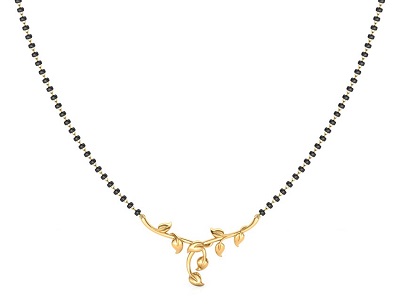 The thin gold chain has red and black beads woven in the chain itself. The centre part has small pendant. This is yet another simplistic design which is not short but kind of medium length chain.
21. Floral Style Mangalsutra Pattern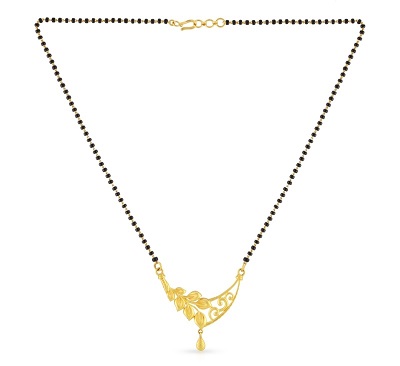 This mangalsutra pattern has floral part in between the chain.  Women who like floral gold only mangalsutra pattern, this is one of the best designs to try out. In fact, it can be 5 to 7 grams of gold. Dependent is also interchangeable.
22. White Gold Mangalsutra For Daily Wear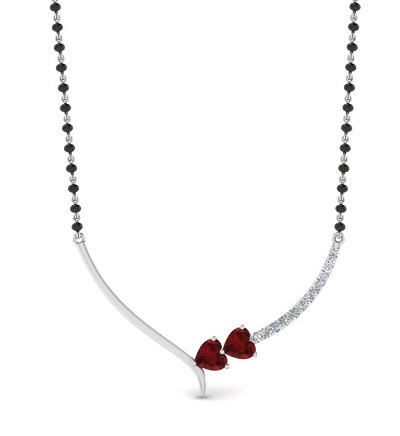 This mangalsutra pattern is made in white gold. The Ruby Red Stones in heart shapes are used along with the. This simplistic yet very elegant design is refreshingly new.
23. Tear Drop Shape Mangalsutra Style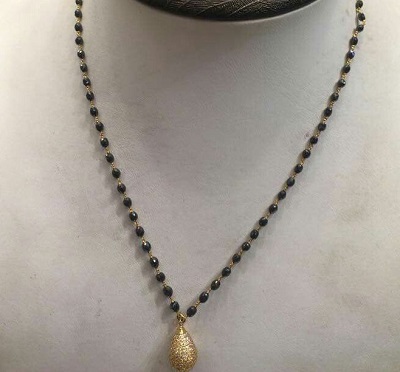 This design is perfect for daily wear and has a very different design. The tear drop shaped Centre pendant has encrusted diamonds. The black beads are elongated and bigger than the regular black beads that are used in gold mangalsutra patterns.
24. Mangalsutra With Short And Simple Design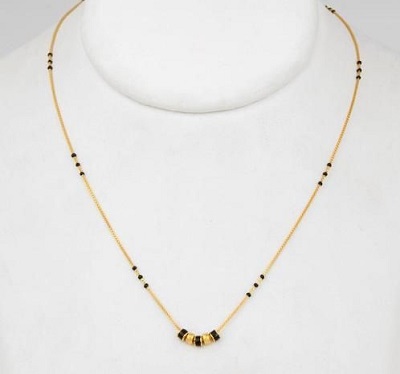 This is yet another beautiful design perfect for everyday use. The simplistic design can be made with 7-10 gram of gold. The mangalsutra pattern is lightweight and perfect for new brides for daily wear.