Blouse is an essential part of the saree, and it doesn't matter whether the saree is traditional or modern. A blouse alone can take your look to another level. The why there are different types of blouse designs that are available for women of all age groups, body type and even the fabrics are numerous to choose from. If you're someone would like to have the latest model of saree blouse designs, you have reached the right spot, because in this article, we have compiled this image list where you will see the latest designer saree blouse catalogue patterns which ladies can get easily replicated from the local boutique.
Latest Model Saree Blouse Designs for Parties and Weddings
1. Net Designer catalogue Blouse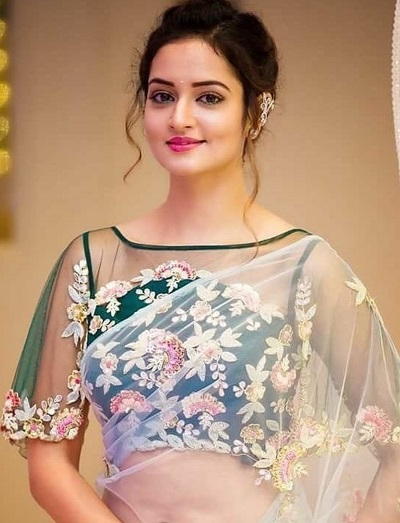 Designer blouse with a flared sleeve has embroidery and patch work. The sheer net fabric makes it modern and sophisticated. It is an elegant blouse that can be tried for net sarees or even for other chiffon georgette and tissue silk sarees. The embroidery patches and cut work is a key highlight that used it really amazing.
2. Heart Cut Back Blouse Design For Weddings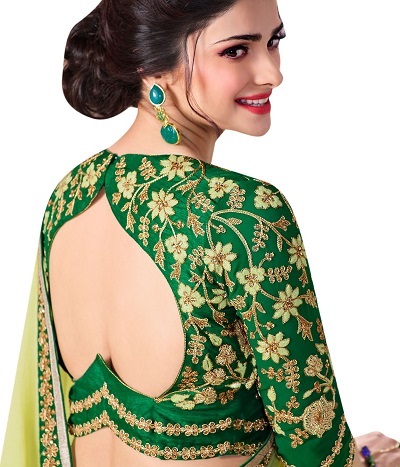 This designer saree blouse has a heart shaped cut out at the back.  The dark green silk saree blouse has full sleeves and embroidery in Golden green colour. The beauty of such blouse is that they can be paired with any type of sarees, especially the net and cut work sarees. Even the silk and tissue silk sarees can be paired with this blouse.
3. Collared Saree Blouse with Velvet fabric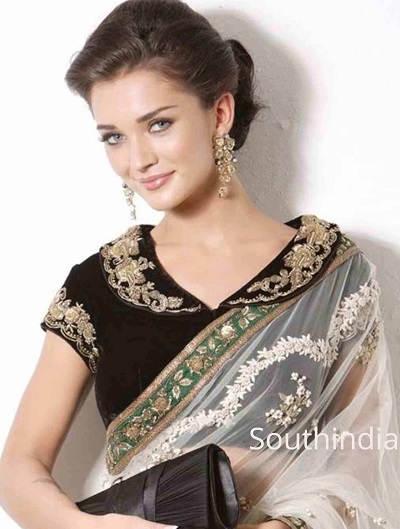 The collar blouse designs are popular and they are currently seen sported by a many celebrities. This black velvet blouse has rich embroidery. The saree blouse in velvet has been paired with a net saree in beige colour. As a border in this is a very designer looking, its suitable for majority of the man that are planning to go for cocktail party.
4. High Neck fashionable Blouse Design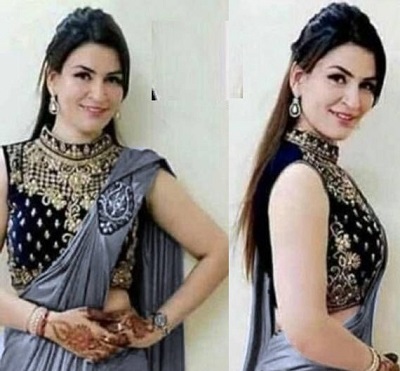 The High neck collar blouses are also equally popular. So if you have slender long neck, then why not highlights it with a high neck blouse. This blouse in the blue velvet fabric has gorgeous embroidery and sequin work on the front side. It's given sleeveless pattern.
5. Beautiful Brocade Blouse for Weddings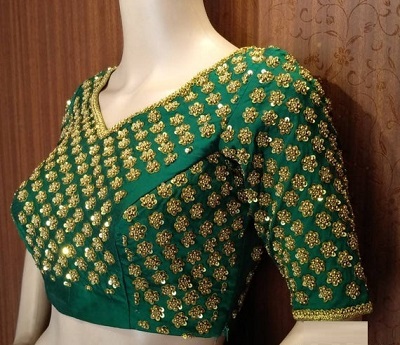 This dark green crepe blouse is beautiful because of the sequins and bead work in golden colour. It is given elbow length sleeves with princess cut pattern. The neckline has a V shaped cut and a deep back side. One can pair such beautiful saree with net fabric saree or tissue silk saree as well.
6. Trendy Latest Model Blouse Design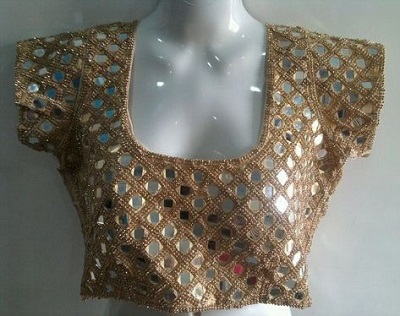 Mirror work blouses are in trend and they can be paired with most of your cocktail and designer sarees meant for the festivals and parties. This blouse has short sleeves and work in gold colour is seen extensively along with the mirror work. Such a gold saree blouse should be there in your wardrobe because they are also paired with lehengas.
7. Royal Blue Silk Saree Blouse with thread Work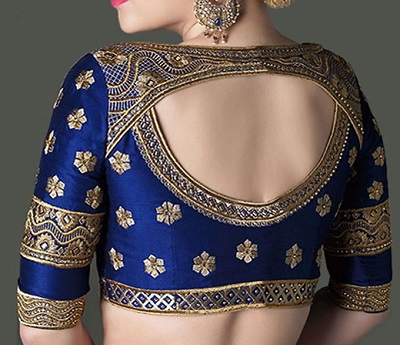 Patch work is also seen as a style statement. Here the gold patch work blouse in blue and gold colour is looking equally stunning. The saree blouse in royal blue colour is perfect with most of your net sarees for the festivals and parties.
8. Patch Work Embroidered Net Saree Blouse Design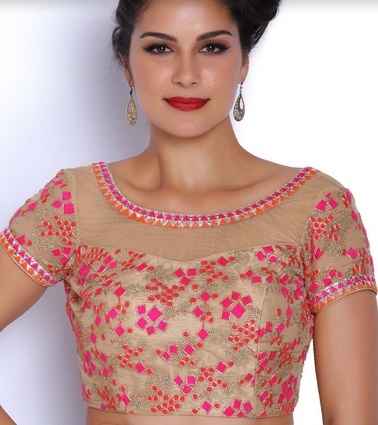 The patch work in embroidered net Fabric in beige colour is done in net fabric. This blouse is a very modern blouse which young women would you like to go for. In fact it can also be doubled up as a lehenga blouse and saree blouse for silk sarees, pattu sari, chiffon sarees and net sarees for special occasions.
9. Modern Style Blouse Pattern for Parties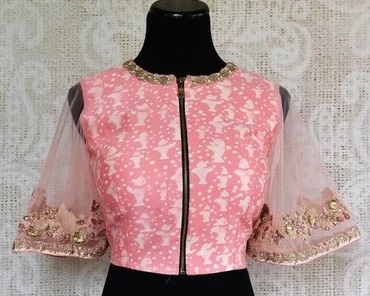 If you are someone who would like to have a modern looking stylish blouse, then this blouse can also be tried. It has a front zipper over printed fabric with embellished high round neckline. The sleeves are played up in net fabric with rich sequin embroidery work over the edges. This saree blouse is equal in modern annual the best looking thin saree blouse for women with fair to medium skin complexion.
10. Cocktail Party Pink Saree Blouse Pattern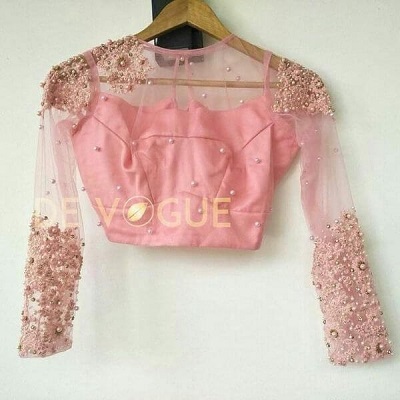 This blouse design reminds us of beautiful fairy style dresses. It is a perfect Cocktail appropriate saree blouse which can also be used as a blouse for your Maxi full skirts. Beauty of this blouse is the sheer fabric used for the blouse and for the sleeves. The thread work with pearls make it even more elegant and luxurious.
11. Partywear Flared Sleeves Blouse Design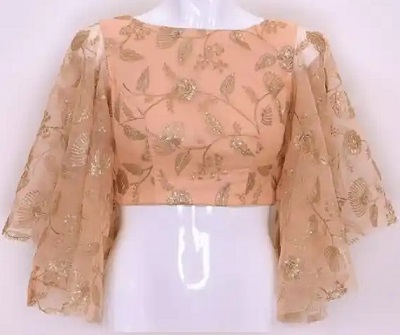 The butterfly style sleeves are given to this beautiful peach colour blouse. The same fabric is used for the front and back part with lining used. It's given boat shape neckline that is trending and fashionable. It's a very model blouse style for any saree that you wish to go for but it should be in the sheer fabric. This blouse would also work with lehenga and skirts.
12. Embroidered Traditional Saree Blouse Pattern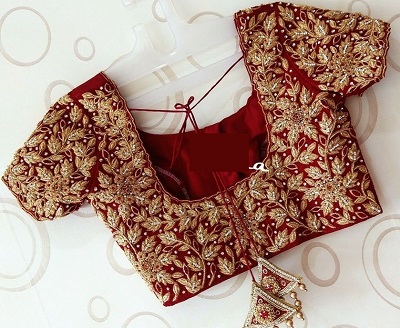 Deep red coloured blouse with beautiful and embroidery work. The beauty of this blouse is rich in heavy work with latkans. It ahs short sleeves and it's more like a bridal appropriate blouse that it can be there for wedding, and festivals like Diwali.
13. Sequin Wok Saree Blouse For Pattu sarees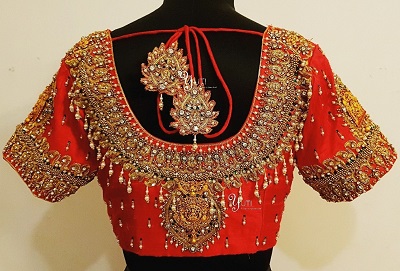 This beautiful blouse in deep orange colour has pearls, sequins embroidery and beautiful latkans that comes with embroidered cut work patches.
14. New Style wedding wear Blouse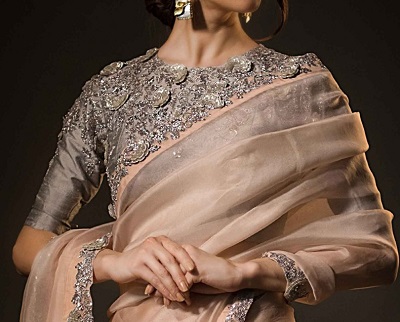 If you like the elegance in your saree blouses, then this high neck blouse works the best. All over the blouse sheer sequin work is used in the dark grey colour as well with floral motifs applied over the blouse. It is one of the most stunning cocktail wear blouse for the modern Indian women.
15. Boat Neckline Blouse For Lehenga and Sarees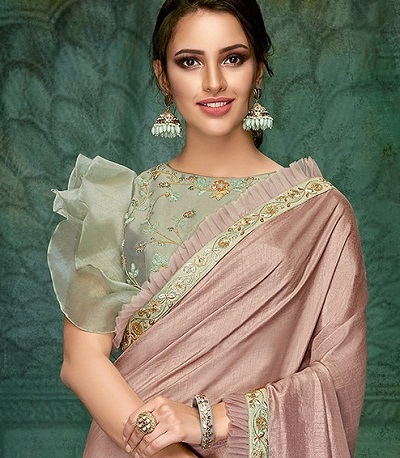 Here coming to the beautiful blouse with boat shape neck line made with embroidered Silk fabric. Here the beauty of this blouse is the ruffled sleeves. Even, if you see that the saree border also has a pleated frill like border.
16. Golden Blouse for Sarees and Lehenga Dress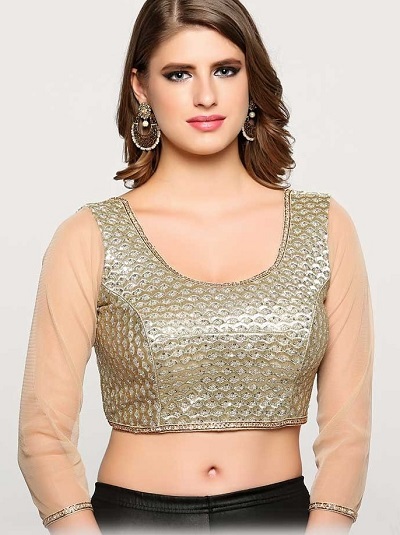 Coming to the golden blouses designs, it's a very simple styled cut. It is given princess cut pattern and with sheer net fabric and long sleeves. It's for the women who are hesitant to wear sleeveless blouses can experiment with such designs.
17. V Neckline New Model Saree Blouse Pattern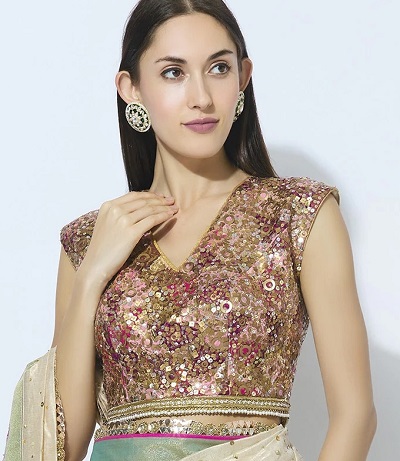 This beautiful blouse with a v shape Neck line has sleeveless pattern and the beauty lies in the amazingly rich sequins work done on a printed purple and pink fabric and sequins of different shapes and sizes are used to embellish the blouse to the richest and fullest.
18. Designer Mirror Work Blouse for Modern Women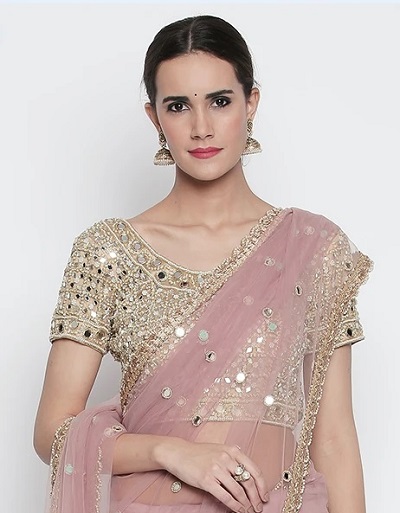 Beadwork with mirror work goes hand in hand and this beautiful blouse design for modern Indian functions is for every modern Indian women. It is paired with a gorgeous lavender pink saree in net fabric. The blouse is made in simple pattern with the round neck and short sleeves.
19. Silk and Pattu Saree Blouse Pattern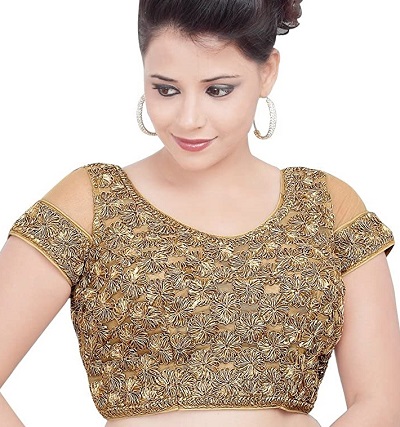 Women who like to go for cold shoulder pattern can try this design here. The latest model saree blouse pattern in gold colour is the beautiful pattern that goes with most of your net and silk sarees.
20. Designer and New Style Blouse for Weddings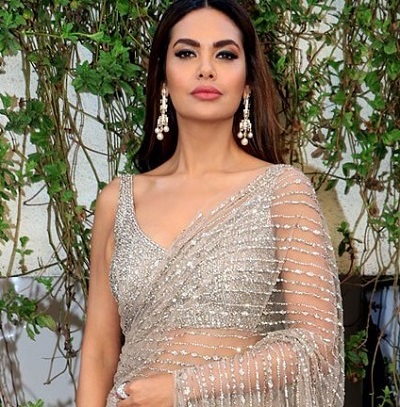 When you're not hesitant to show some skin can try this strappy blouse with plunging neckline. This blouse is embellished and embedded with stones and sequins work in silver grey colour. The net saree also has the same type of work in parallel lines going all over the saree. It is by far the most modern and latest designer blouse.
21. Light Grey Stylish Lace Blouse Design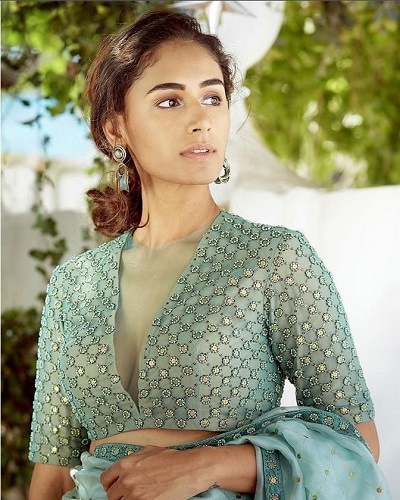 When you are not shy away from showing some skin, then this light grey blouse with beads and sequins. This has a plunging neckline but that is covered with sheer fabric. It has medium length sleeves and has a very modern cut.
22. Gota Patti Blouse with Front and Back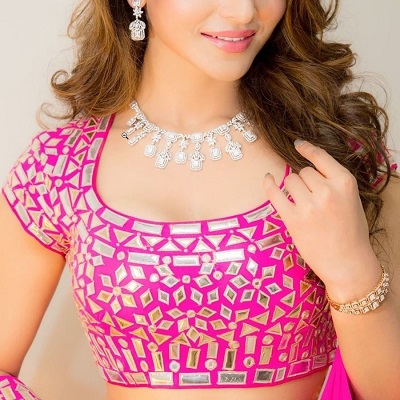 Gota Patti work is again back in fashion as shown on this hot pink blouse design. It is a designer pink blouse for festivals and parties.
23. Sleeveless Net Saree Blouse Design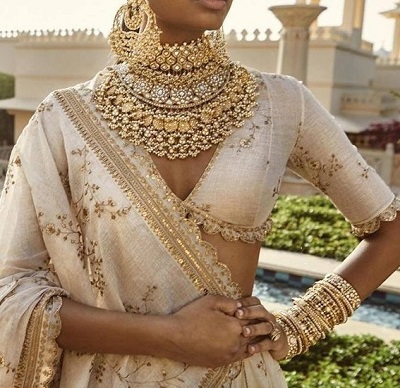 Confused, What to wear for the party? Take a look at this blouse design here with beautiful pattern. Try it for nay party or wedding in the family to look your best.
24. Pearl embellished Net Saree Blouse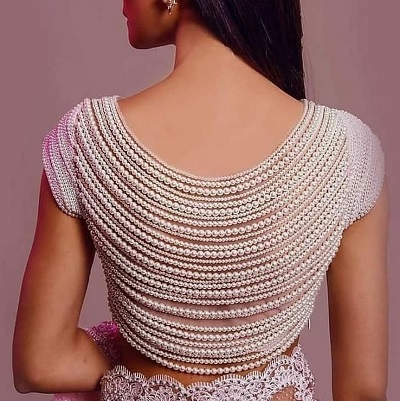 To fulfil your pearl festish, this pearl studded blouse is for you. It looks really rich, royal and luxurious. The back side has semicircular lines which are done on sheer net fabric. It is one of the beautiful Pearl embellished blouses that would go for your net sarees.
25. Simple Gold Blouse with Half Sleeves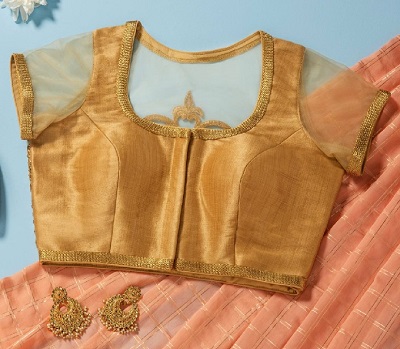 What can be better than a simple gold blouse! This blouse has high back neck line and simple front  neckline is round and simple. With net fabric and short sleeves blouse has princess cut front pattern.