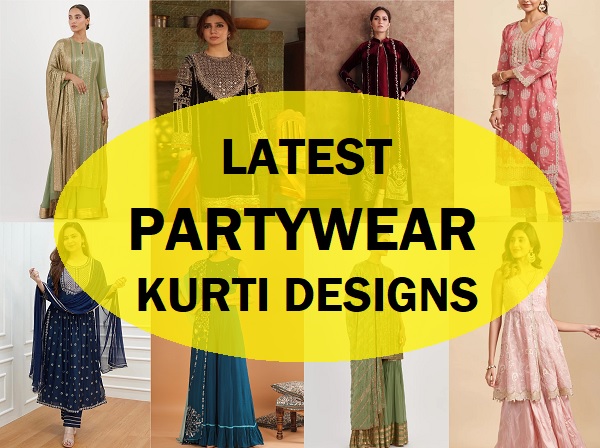 Party wear Kurtis are becoming trending because of their beautiful designs and easy to wear feature. In fact, when you are not very comfortable wearing sarees and lehenga dresses then party wear kurtis would be perfect for you. So, considering that we created this image catalogue where we've included the best embellished and party wear kurti designs for women.
Latest Partywear Kurti Designs
1. Beautiful Kurtis in Warm Colors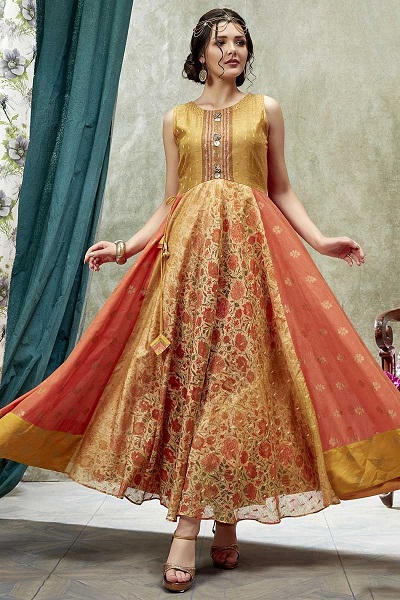 This beautiful kurti has multiple warm colours like yellow and orange and it's a nice pattern with panels front part can be seen in the organza fabric used while for the rest of the kurti has Silk fabric which is beautiful. It does not have sleeves and is a long kurti design that is perfect for any party season.
2. Purple Color Kurti with Palazzo Design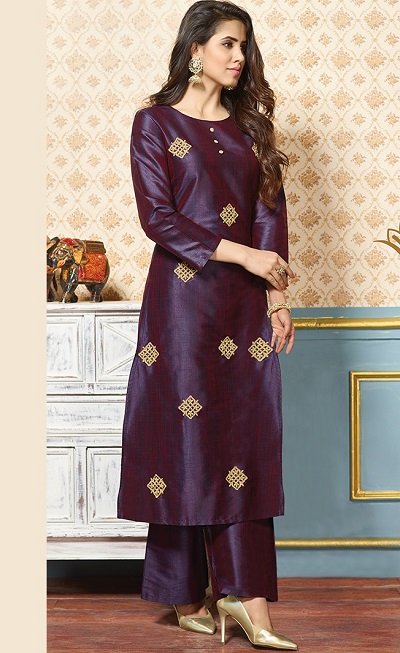 This beautiful purple violet colour art Silk kurta is an absolutely stunningly simplistic yet striking design. It has embroidery all over and is given three fourth sleeves and the same matching party wear kurta is paired with plazzo pants.
3. Asymmetrical Hemline Kurti Design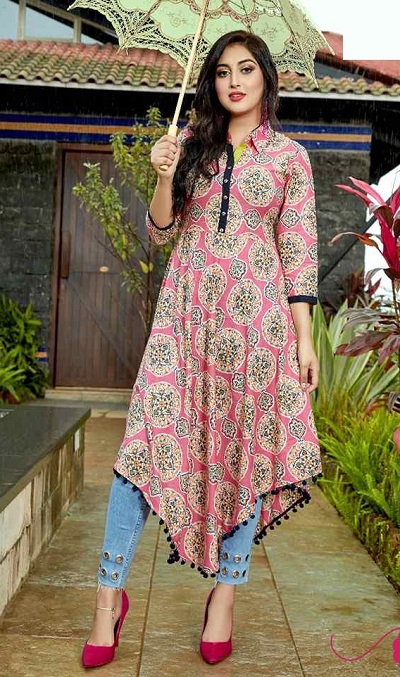 This kurta with asymmetrical hemline is great for parties and engagement ceremonies. This kurta here has a asymmetric hemline which looks really beautiful. This is usually one of the best party looking Kurta that we have seen.
4. Green party Perfect Kurti Design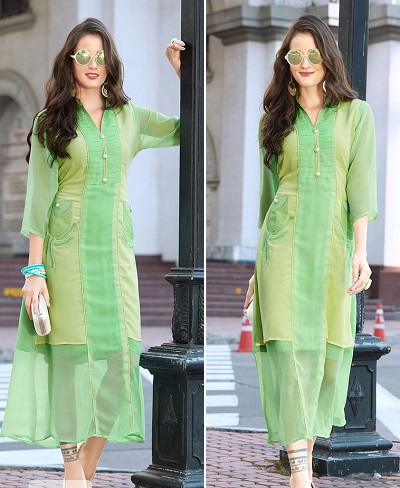 The next pretty kurta is a combination of green and lime green. The colours are from the same color family and look beautiful when blended and paired together. In fact two different types of fabrics are used and sheer Georgette fabric is there below the knees. It is a very beautiful kurta that one can prefer for the parties.
5. Jacket Style Kurti for Women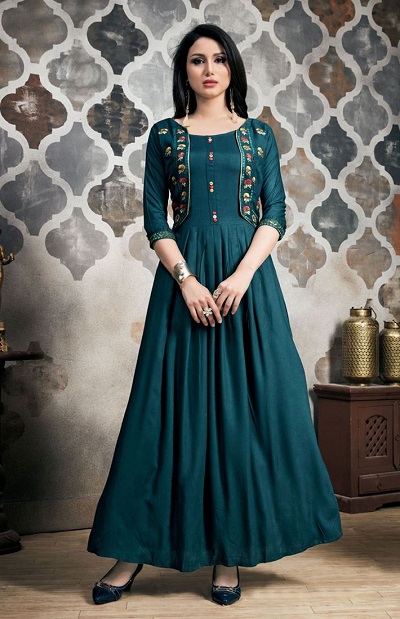 This blue kurta has a jacket style with three fourth sleeves. With embroidery on the jacket and upper part, it's an Anarkali kurta with full flair. Such beautiful designs are perfect to be paired with plazzo and Anarkali trouser pants.
6. Diagonal hemline Kurti for Parties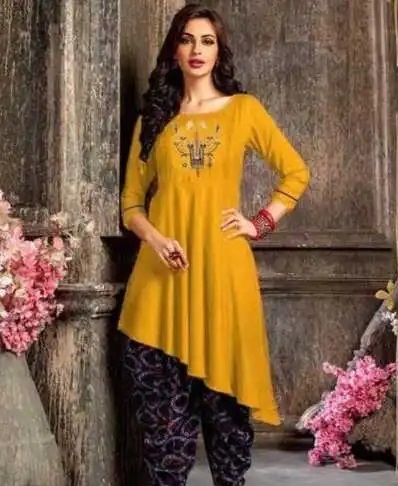 The diagonal hemline Kurta in Vibrant yellow colour is yet another beautiful kurti design that one can try with the regular salwar and trousers and even the leggings. Not just for parties, it is a colour that is suitable for the festivals as well.
7. Sleeveless Silk Kurti Design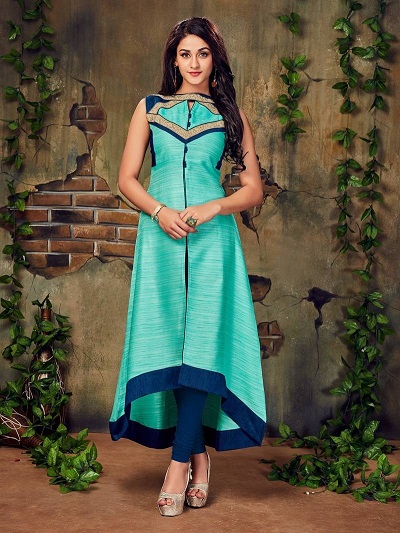 The next beautiful kurti design comes in a sleeveless pattern with art Silk Fabric in dual colour. It is a high low pattern and long kurti for parties and festivals.  Doesn't matter what skin complexion you have, the colour that it has, is extremely beautiful that would look stunning on most of the skin complexions.
8. High Low Party Wear Kurta Design
The purple beautiful kurta has the high low pattern that is paired with a golden straight fit trouser. It has button in the centre that goes till the bottom end in athlete. This kurti is otherwise a plain solid colour which is why it can be accessorised to make it look pretty.
9. Yellow party Kurti design
This yellow kurti has a side diagonal design and tassles button are used. It is a asymmetrical hemline kurti that has one of the sides longer than the other. It is made in the airline anarkali pattern with 3/4 sleeves. Hand thread embroidery is seen in the floral design.
10. Mustard color design for Kurtis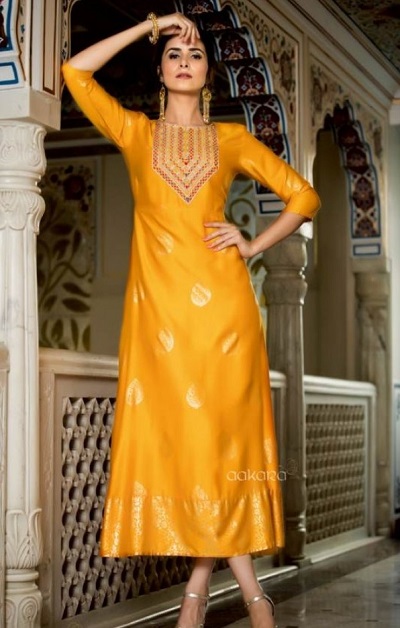 When you talk about the hot favourite colors then this kurti in mustard colour would surely come to your mind. It is such a beautiful colour for any parties and festivals. I'll make you look stand out of the crowd. It has a line pattern with gold woven work all throughout. It has a yoke design which is embellished with threads and sequins. With straight pants is looks just perfect.
11. Sheer Georgette Party Wear Kurta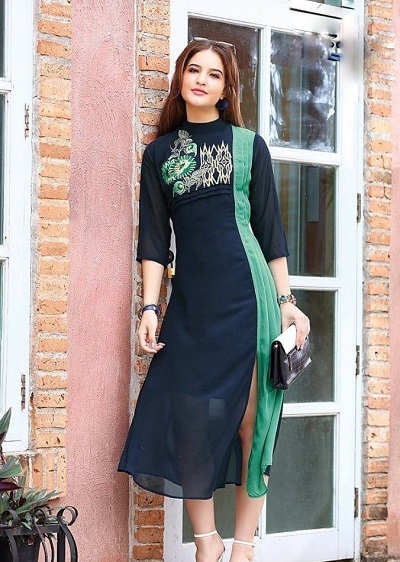 The kurti dress is made in the sheer Georgette fabric where the lining is used. It is made in a side pleated manner with three fourth sleeves. The upper part is given thread embroidery in contrasting colour and pleats are also seen. It is a high neck kurti with long length in Georgette fabric.
12. Designer Festive Kurti for Women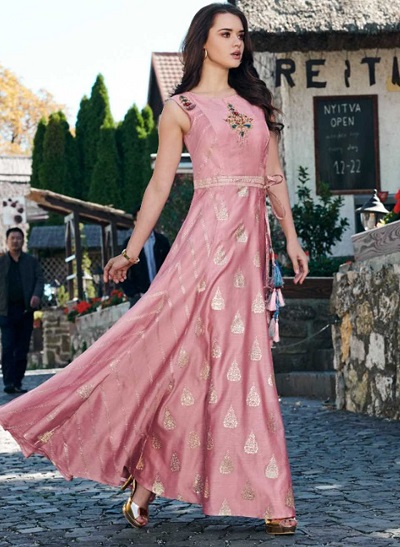 You talk about the long Kurtis for festivals, than this Silk lilac kurti looks really stunning. The Sleeveless pattern of this kurti is simple but the embroidery and the fabric used makes it very festive and elegant.
13. A Line Designer Kurti for party wear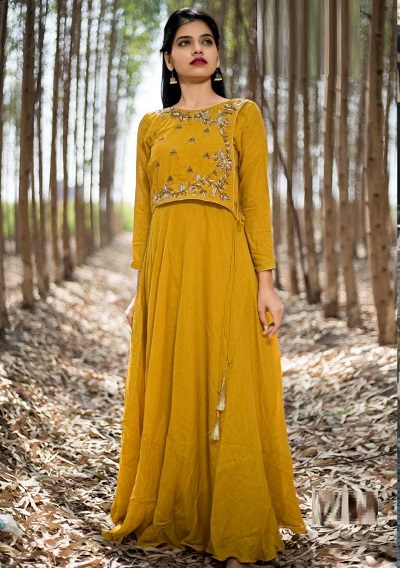 This Yellow Kurti is made in the regular A-line anarkali pattern with full sleeves. The upper angrakha pattern has strings with tassels and the upper part is also embellished with embroidery and beadwork.
14. Yoke Pattern Kurti for Festivals and Parties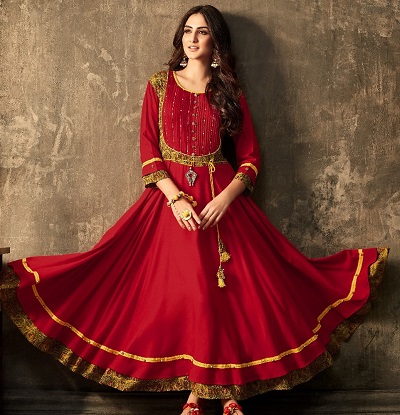 This nice yoke style kurti with sheer fabric, looks really nice. The entire kurti has printed fabric used along with the red fabric. The gold border given here and there also adds more charm to this simple design. It is one of the best looking party wear Kurtis perfect to be paired with trousers and plazzo.
15. Long Kurti with Stylish Pattern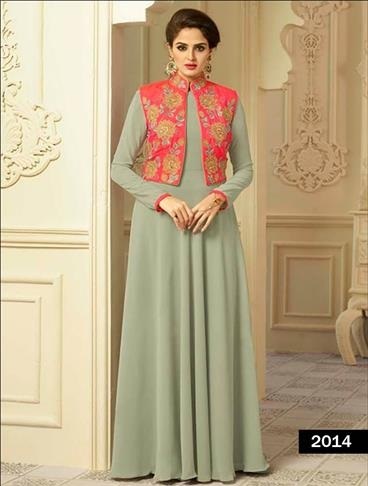 When you talk about the long kurti, then this kurti would definitely come to your mind. It is a kurti with very long gown like length so, its a floor length kurti for parties and has an upper jacket. The jacket is in contrasting color and is embellished with golden thread embroidery and beads. This would definitely make all the heads turn with simplistic yet eye catching pattern.
16. Best Party Wear Kurti Design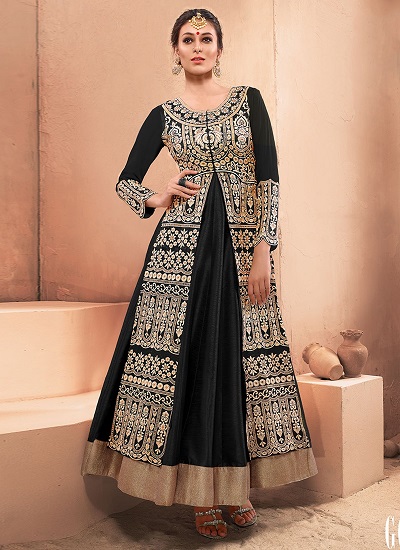 This Jacket style kurti has contrasting white coloured embroidery on a black art silk base. The kurti is yet another best party wear Kurtis that women of all age groups can try. The best part is the contrasting thread embroidery with all over the front part.
17. Golden Foil Printed Kurti Design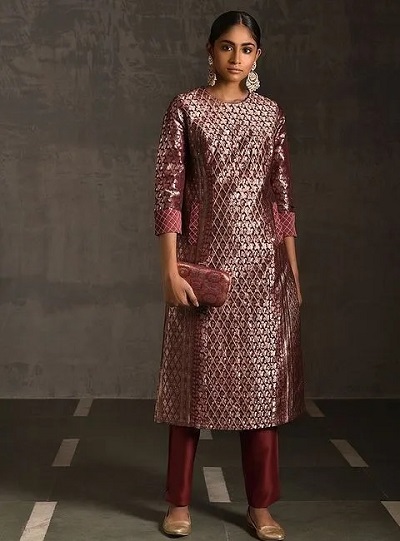 18. Black Art Silk Embellished Long Kurti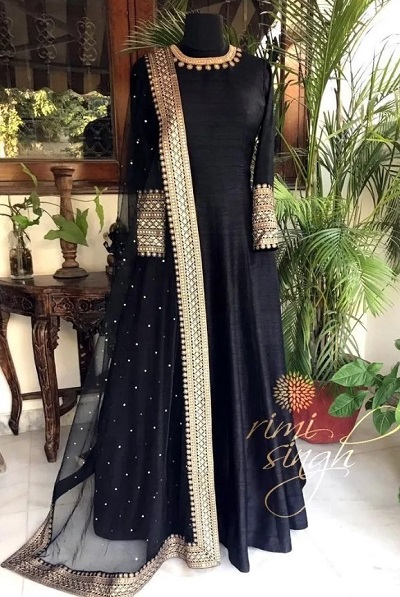 19. Net Embellished Kurti For Parties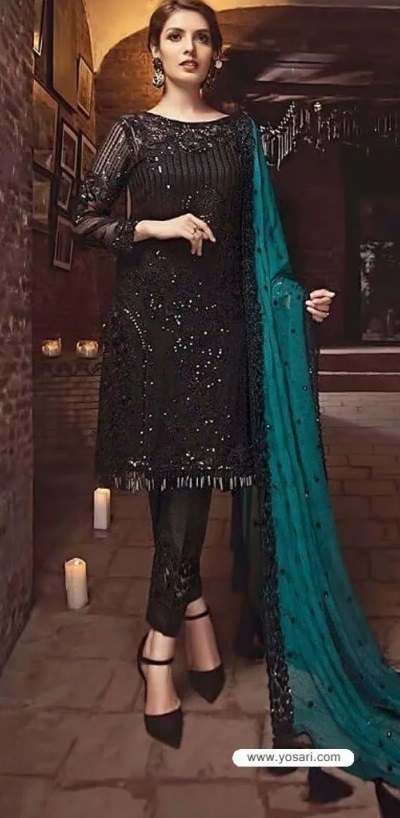 20. Long A Line Centre Slit Party Wear Kurta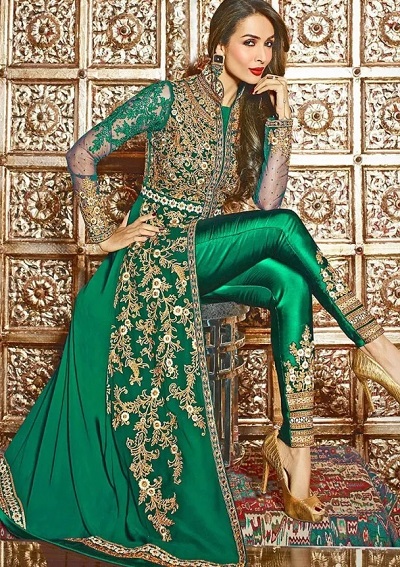 21. Stylish Layered Party Wear Kurti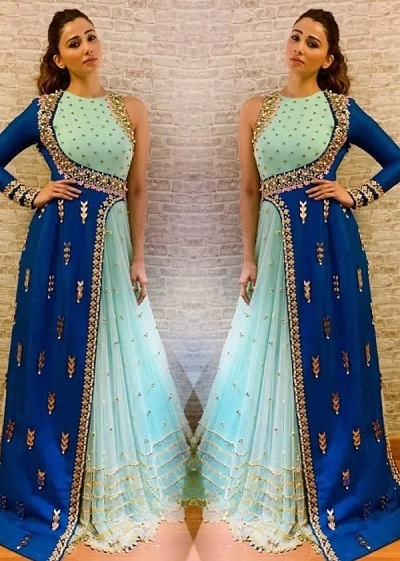 22. Partywear Net Long A Line Kurta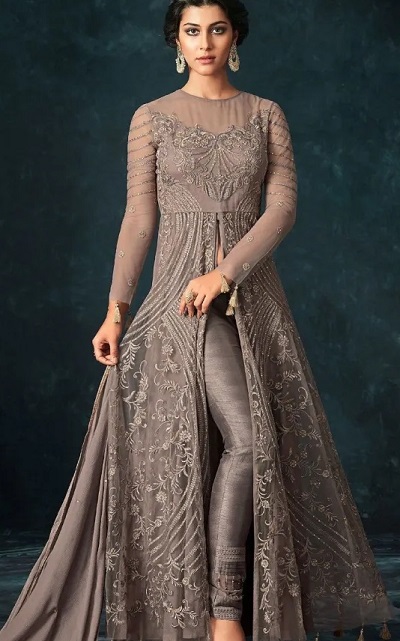 23. Party Wear Kurti With Chikankari Work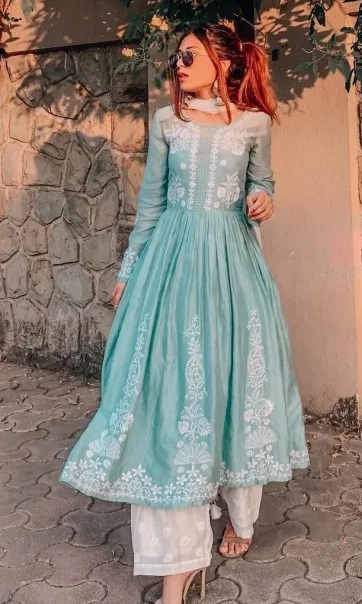 24. High Low Pattern Georgette Party Wear Kurti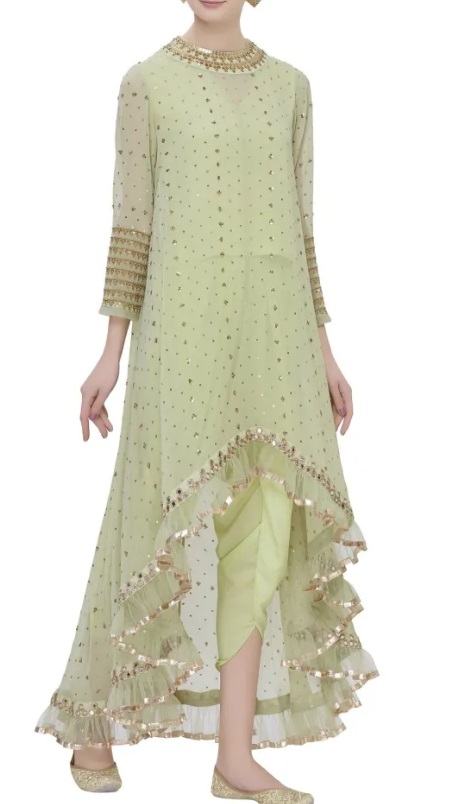 25. Simple Party Wear Silk Kurti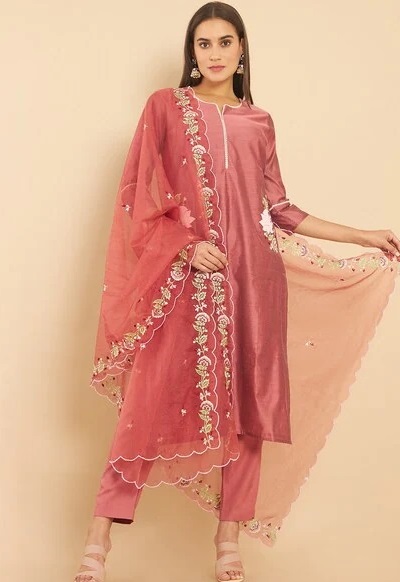 26. Gota Work A Line Kurti Design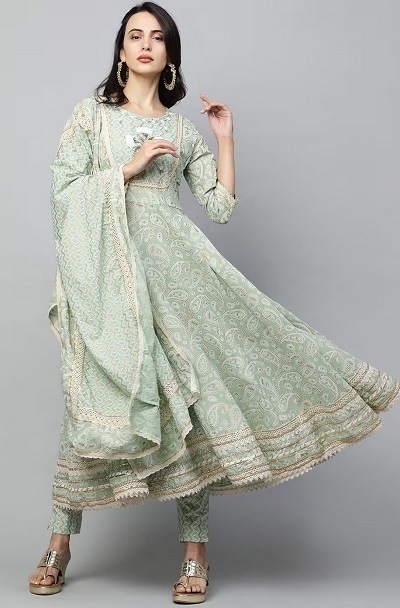 27. A Line Short Tunic Style Party Wear Kurta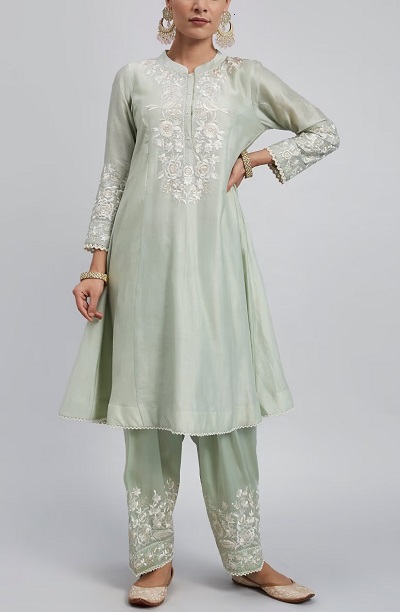 28. Net Jacket V Party Wear Kurta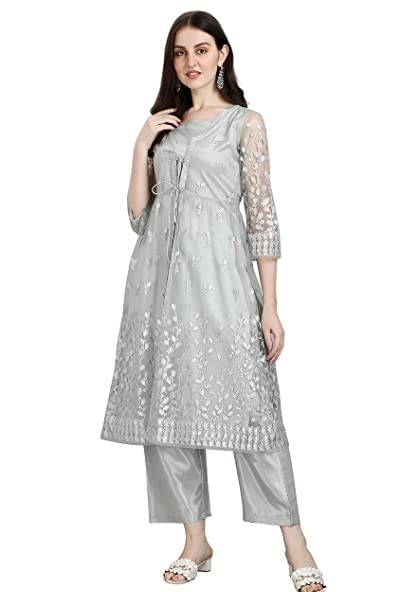 29. Embroidered Red Simple Kurta For Women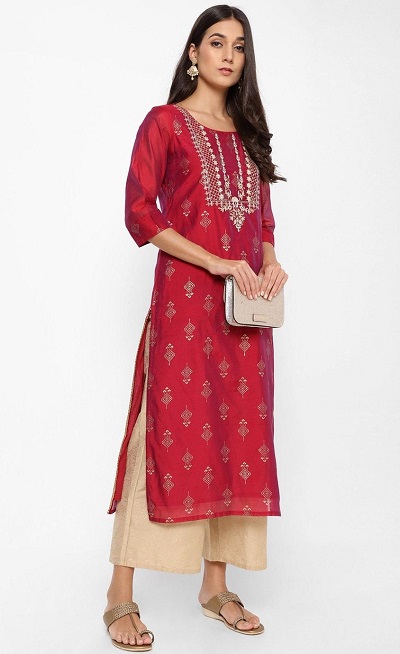 30. Georgette Sequin Work Party Kurti For Ladies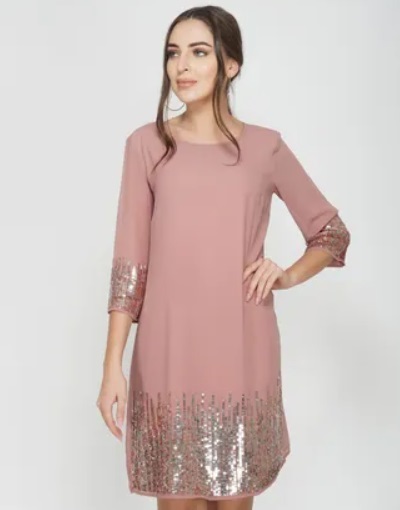 31. Side Slit Heavy Work Long Kurti Design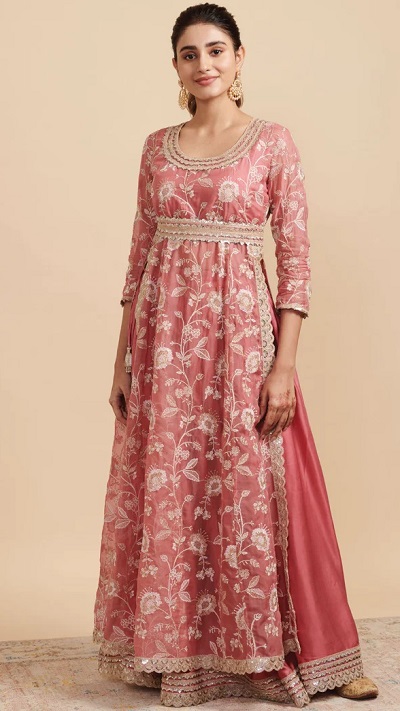 32. Sleeveless V Neck Party Wear Short Kurti Sharara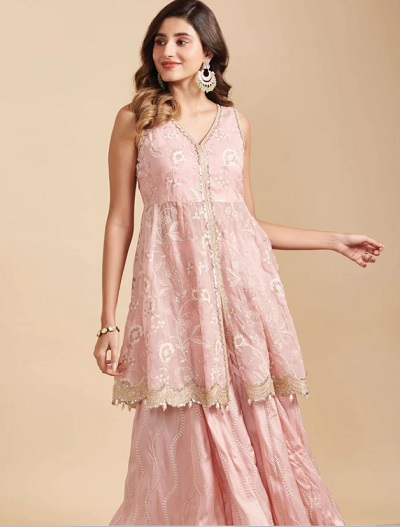 33. V Neck Peach Party Wear Kurta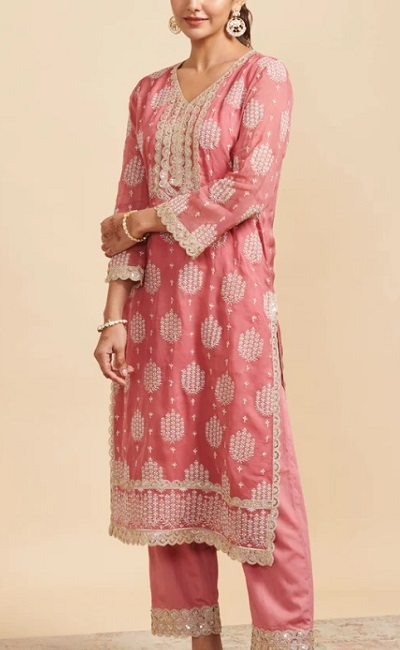 34. White Net High Low Pattern Party Perfect Kurti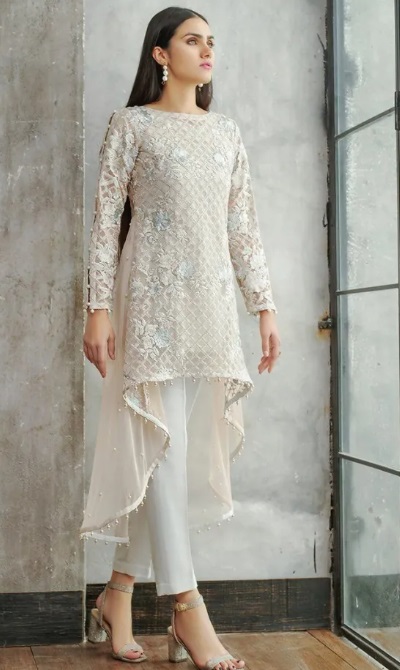 35. Modern Bollywood Style Party Wear Kurta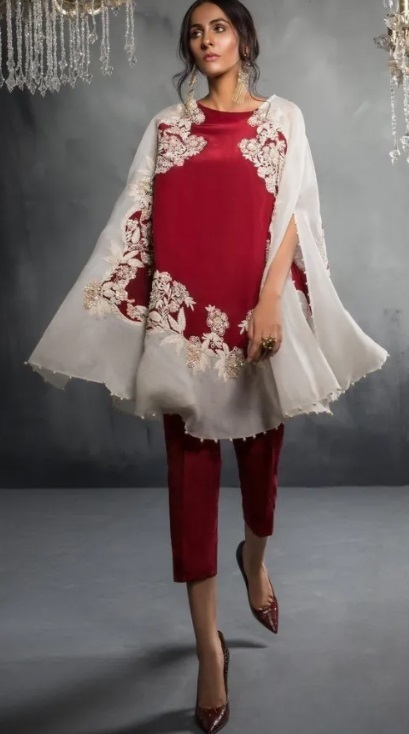 36. Sleeveless Long Satin Silk Kurti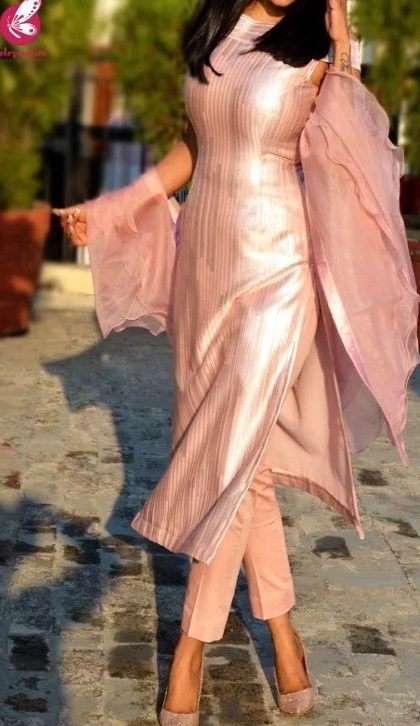 37. Silk Halter Neck Long Kurti For Parties
38. Front Button Work Silk Kurti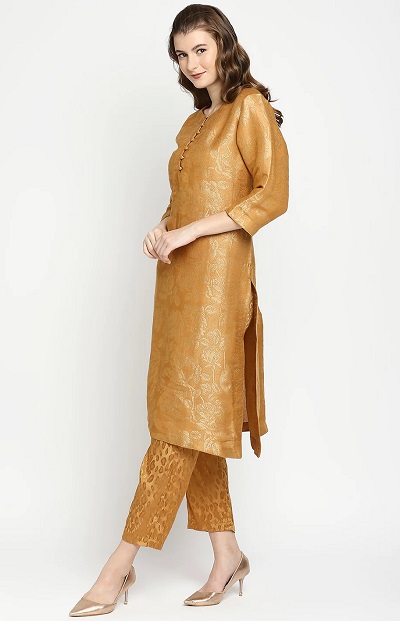 39. Layer Jacket Style Long Kurta For Parties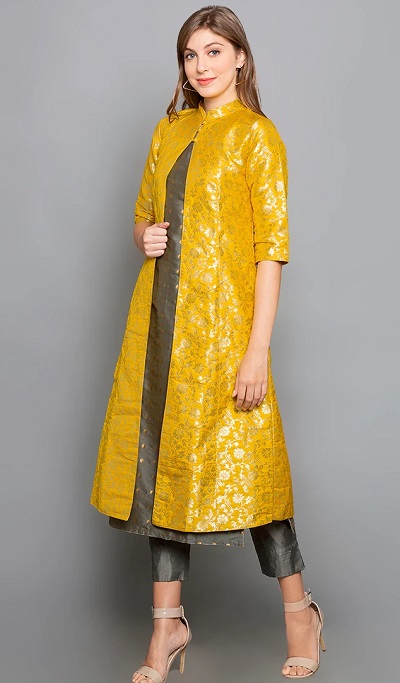 40. Simple Thread Work Long Designer Kurti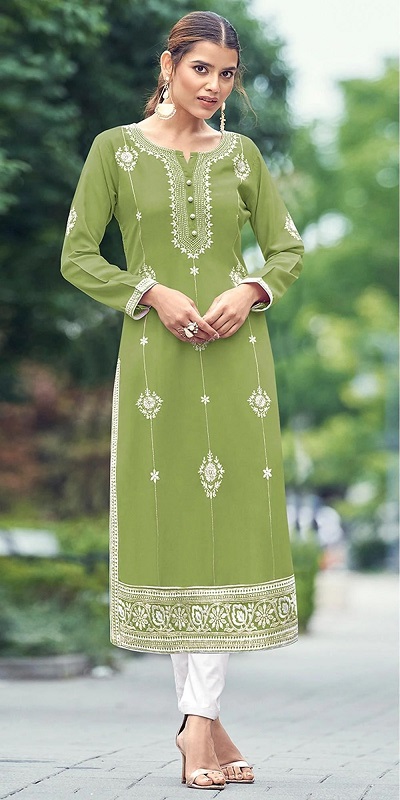 41. Long Embroidered Thread Work Kurti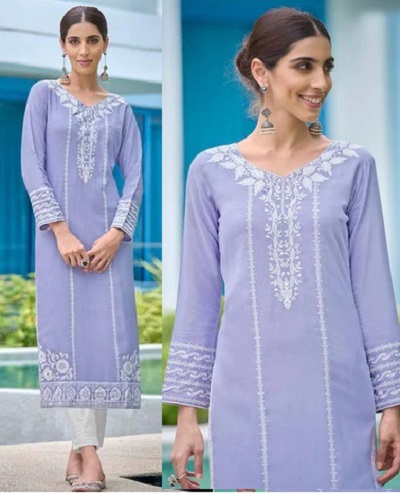 42. Delicate Sequin Work Kurti Pattern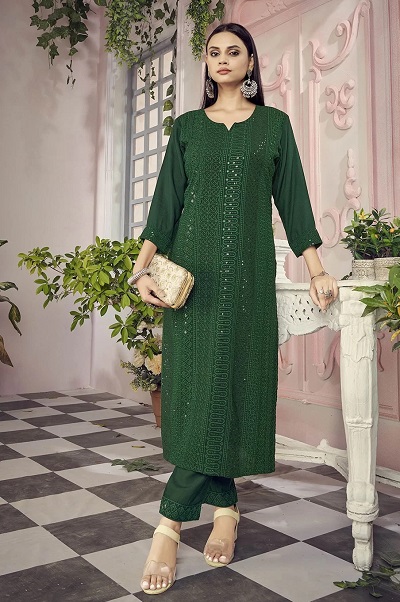 43. Long Anarkali Style Heavy Embellished Kurti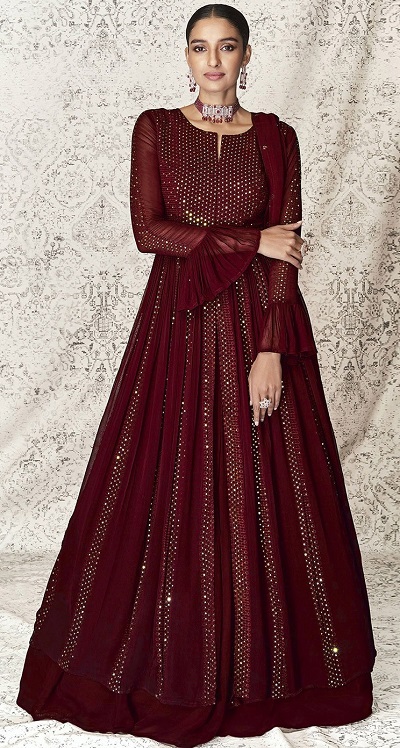 44. Short Silk Kurti For Festivals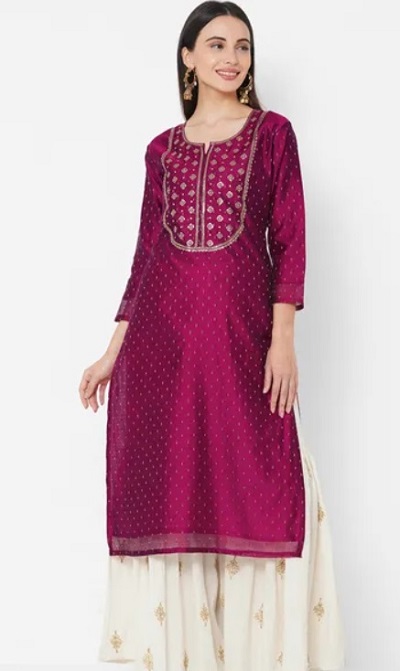 45. Full Length Front Slit Velvet Maroon Kurti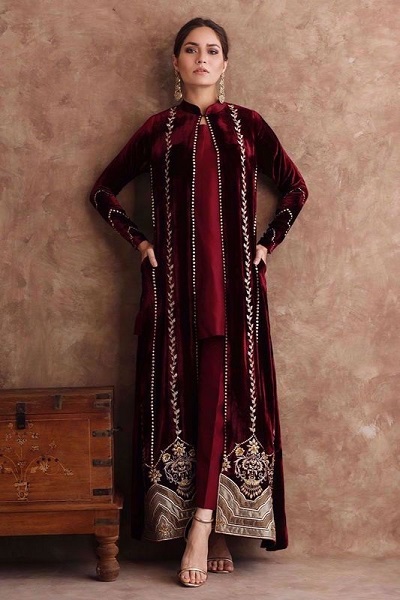 46. Black Velvet Heavily Embellished Party Wear Kurti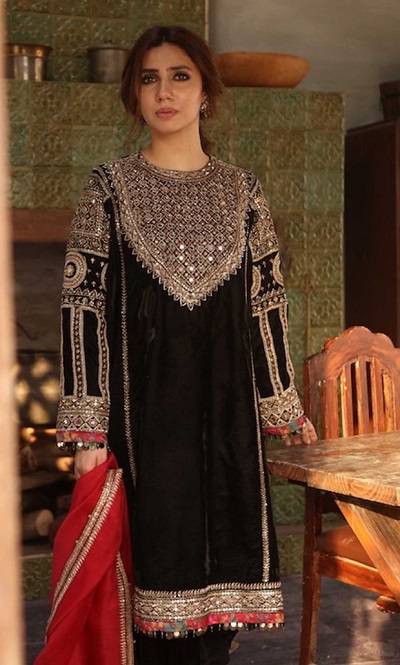 47. Velvet Designer Green Party Kurti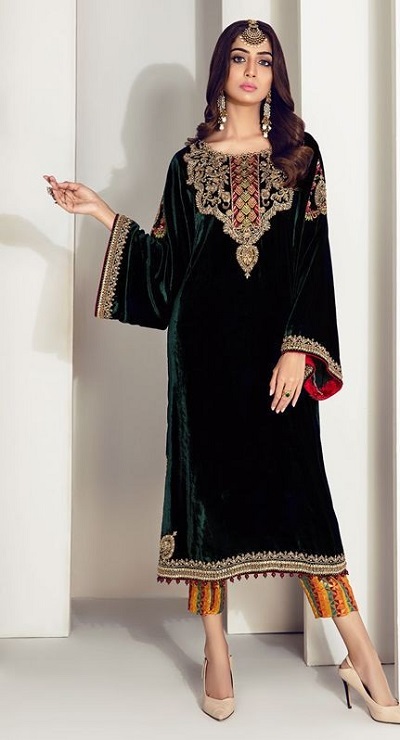 48. Green Embroidered Party Kurti Palazzo Set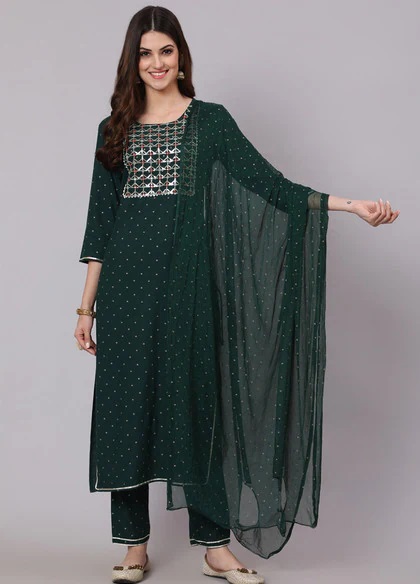 49. Front Pleat Party Wear Kurti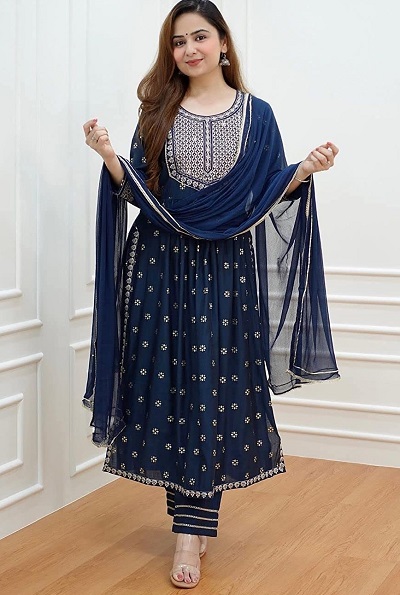 50. Long Straight Designer Kurti With Sequin