Patch work blouse designs are very attractive looking because of the work that they have. Patch work designs usually have layers of fabrics used to form different patterns and designs. And this style is going really popular in the current situation. A lot of women are considering patch work blouse designs for their Indian ethnic wear. Here are the latest patch work blouse designs for sarees and lehengas.
Latest Patch Work Blouse Designs (2023)
1. Pink and Blue Patch Work Blouse Design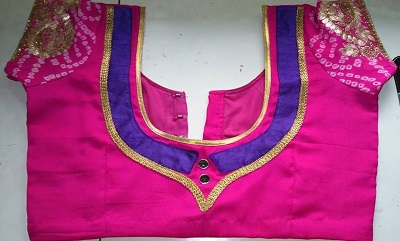 The pattern of blouse style has Gota Patti work. It has front opening and made in the regular pattern. The back is given Gota Patti and strips of contrasting colour. The sleeves are given in the bandage material with some sequin and zari work. 
2. Patch Work Blouse Designs For Pattu Sarees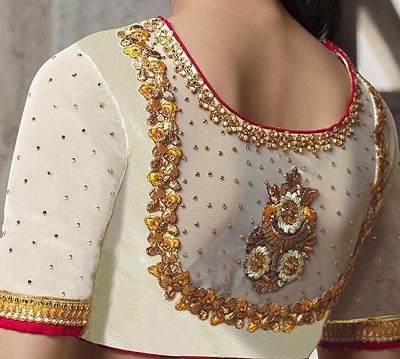 Exclusive Patchwork blouse design has the back portion and sleeves of the same fabric. The sheer chiffon fabric is used for the back part where the embroidery is done. It has a patch of embroidery at the back centre area. With small stones scattered all over, it is a designer looking blouse pattern.
3. New saree blouse patch work design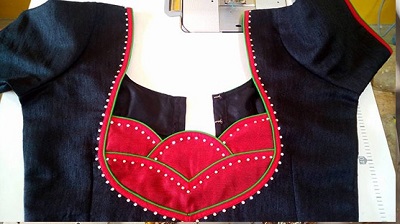 This patch work blouse design is made in navy blue art silk fabric with short sleeves. The back neck line is given a scoop pattern embellished with tiny beads and contrasting colour piping. After that the patches of semi circles are given to add beauty to this otherwise simple looking blouse design. It is suitable for small get together and family functions.
4. Latest Blouse Design With Patch Work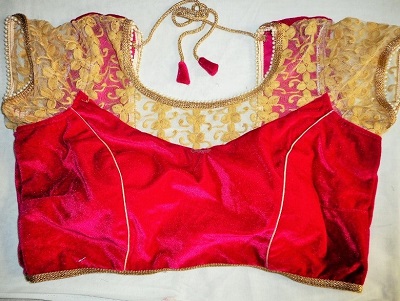 This patch blouse design is made with using two types of fabric. Golden net fabric is used with a red velvet fabric. It is made with the princess cut pattern and is perfect for the festival, wedding and party wear sarees. The best sarees that would go with this style are red or golden colour sarees.
5. Stylish blouse design with patch work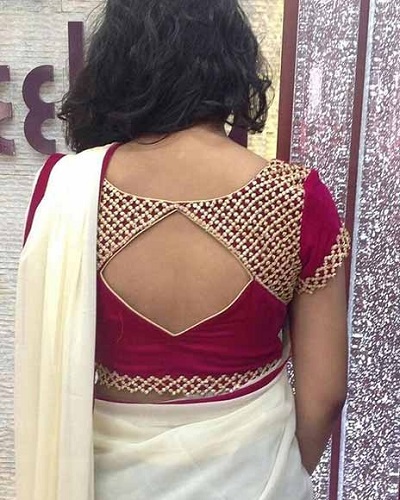 Patch blouse design has design at the back with embroidered fabric and plain fabric. The square cut at the back also looks really pretty. It is best to be used with  different types of sarees.
6. Dual Fabric Patch Work Blouse Pattern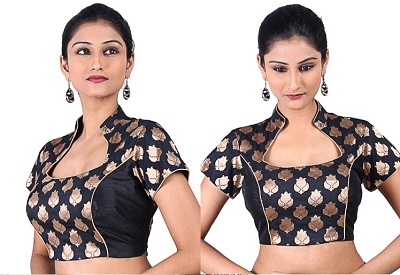 This is one of the best blouse designs that we have seen. It's made with two different fabrics, a black brocade fabric with a black art silk fabric. For the front and sleeves, part of brocade fabric with golden woven pattern is used while the plain art silk fabric is used for the rest of the area. It has half Chinese neckline that adds more sophistication to this design. It is a blouse that does not need heavy neck jewellery.
7. Silk Saree Blouse Designs Back Neck Patch Work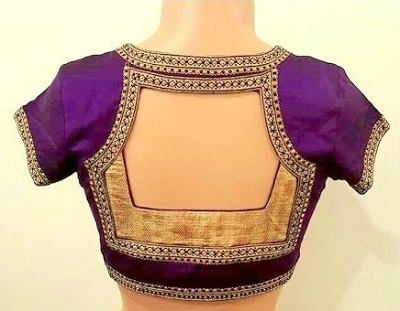 If you want to have a patch work blouse design with short sleeves and stunning back neck line work then try this one. It's beauty lies in the back neck line. The back has a geometric pattern cut made with golden fabric. This is really interesting and unique looking blouse pattern that also has embroidery on the edges. It can be paired with Pattu silk sarees for the festivals and functions.
8. Border Patch Work Blouse Design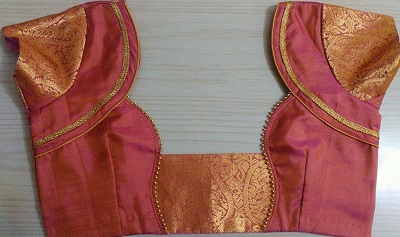 The patch work blouse design has patch of Saree border at the back. The same saree border is used to make the sleeves. It looks really nice when paired with the two or other types of silk sarees. This front neck line is round and looks really nice. The blouse is made with the normal pattern that includes the darts and hooks.
9. New Model Patch Work Blouse Design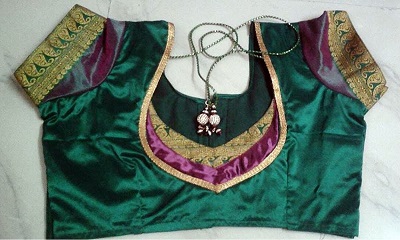 This green velvet blouse design is perfect to go Chanderi, brocade or silk sarees. The Saree border is used to create the sleeves, short in size. The back neck line is scoop cut with golden border attached. Over the back but there are strips of different fabrics. It is also given shoulder strings. This saree is best to be worn or the parties and functions.
10. Traditional patch work blouse design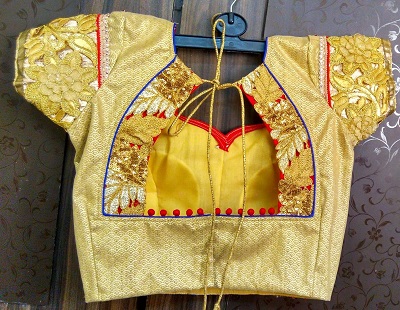 Inspired by the folk blouse style, this patchwork design is truly amazing. The bust part has heavy embroidery in the bright and contrasting colours. The same can be seen on the short sleeves. The rest of the part of the blouse is made with black velvet fabric and taping is also done in the gold. It is perfect to be worn with lehenga and net, georgette sarees.
11. Trendy Patch Work Blouse Design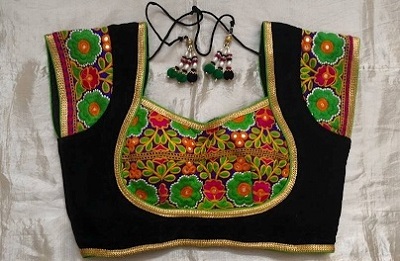 The golden saree blouse with an interesting patch work and potli buttons at the back makes it one of the most versatile blouses that you can go for. It can be paired with saree, lehengas and full long length skirts. It is a multipurpose blouse that has short sleeves with cutwork. It has back hooks to keep it in place.
12. Back neckline Patch Work Blouse Design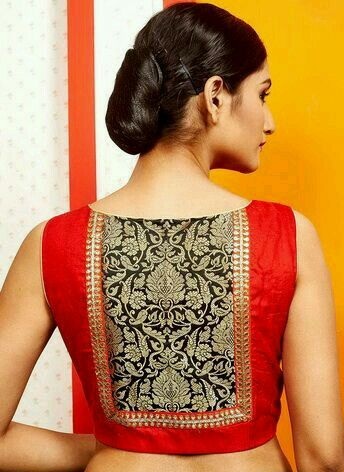 The Patchwork style blouse in red art Silk fabric is given a patch of brocade at the back. The rectangular patch looks extremely beautiful and makes it a perfect blouse with boat shaped neckline for different sarees and lehenga dresses. Try it with pattu sarees to look stunning.
13. Patch Work Blouse with Bell Sleeves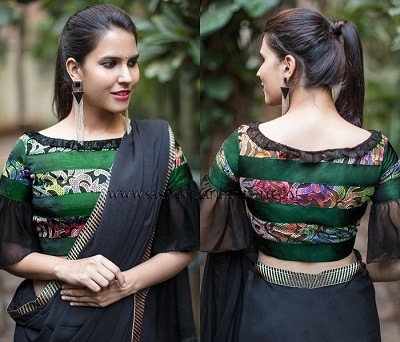 This is a very interesting patch work blouse style with different stripes. The bell sleeves are given on the sleeves with net fabric. The blouse is very unique and interesting looking that can be styled with different sarees.
14. Red Brocade Patch Work Blouse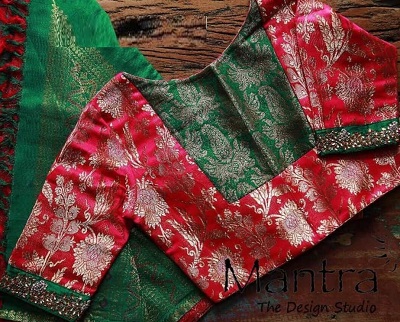 Red brocade fabric blouse has medium length sleeve. At the back of the blouse, a patch of green chanderi fabric is given. It is very stylish and traditional looking blouse that goes well with different silk sarees, heavy sarees or even the net sarees for parties, weddings and festivals.
15. Designer Patch Work Blouse style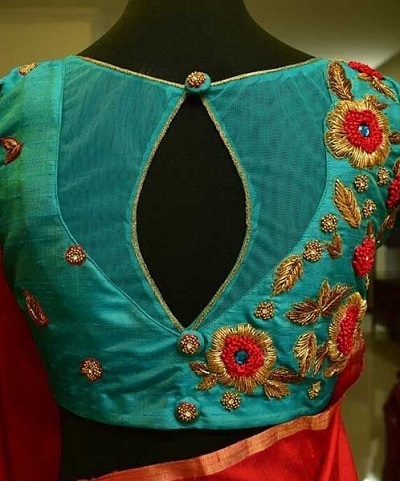 Women who like net and silk fabric would just love this design. The blouse is given short sleeves and boat shaped neckline at the back with the keyhole design. Embellished with Zari and thread embroidery makes this the best looking blouse. The net fabric is used for the back neckline that adds looks to this designer Patchwork blouse style.
16. Pattu Saree Patch Work Style Blouse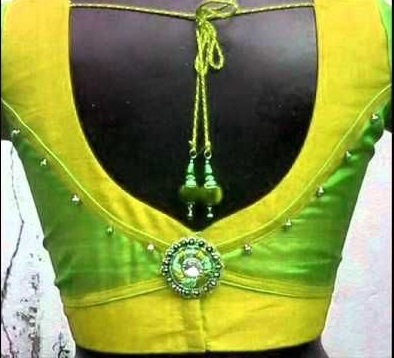 A patch of medium green colour is used over the lime green blouse back neck line. It has back hooks with doris over the shoulders. The design is very interesting yet easy to replicate. It would surely ask a lot of attention that you deserve.
17. Chanderi Style Blouse with Patch Work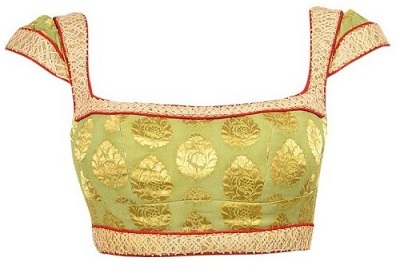 This heavy Chanderi blouse in mint green colour has golden design. The patch of different net or lace is used on the sleeves and neckline and bustline. It is a party wear Indian ethnic blouse style that can be worn by different women for different occasions.
18. Thread work Patch style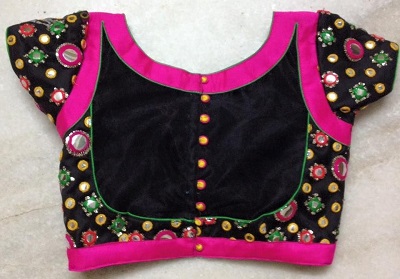 Interesting looking thread work design on the back neck line adds more beauty to this design. The pink and green combination of this blouse has tassels and dori. It has intricate thread work with small beads. The back neck line is boat shape and has green patch added.  Try this with silk please to take your look to the next level.
19. Traditional Multicolor Patch Style Blouse
The black blouse has patch work of fabric. Potli buttons are given at the back neck line. The entire blouse is started with mirror embroidery work with beads. It has a very traditional feel to it and looks really good with georgette and chiffon sarees.
20. Ethnic Patch Style Blouse
The blouse is stitched in an ethnic and traditional manner. It's a choli cut blouse with front hooks. The bust or the centre part is made with the different multi colour fabric. Otherwise, the rest of the blouse is kept in dark green velvet fabric.
21. Peacock patch blouse design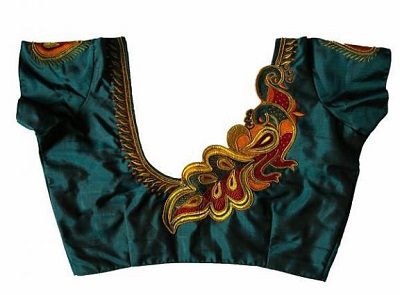 The peacock embroidered patch work blouse design has a patch of peacock in multi colour thread work. It is a regular brown blouse cut out with embroidery. It can be paired with Silk or other type of sarees.
22. Peach Curvy Patch Work Blouse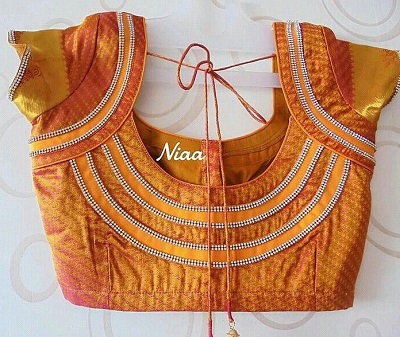 Beautiful blouse design is made with using different fabrics in circular strips. A light plain strips are used in between the base silk material. The Saree border is also used to create the sleeves. All the blouse it has lines of stones going around. It is a very designer looking blouse design that can be teamed up with various type of silk attires and not just sarees.
23. Cape Style Pattern With Patch Work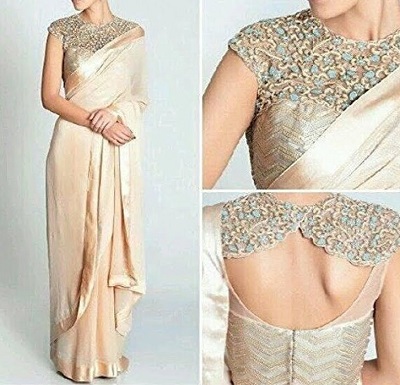 The back of blouse design has outwork and cape style top part and the bust part is given sequins work in two different styles. It has back hooks and sheer net fabric is also used. The embroidered net is used on the upper part that has round neckline and a scoop cut at the back. It is one of the most modern and stunning looking blouse designs with patch work that you can try with your modern sarees and net sarees.
24. Pleated patch blouse for sarees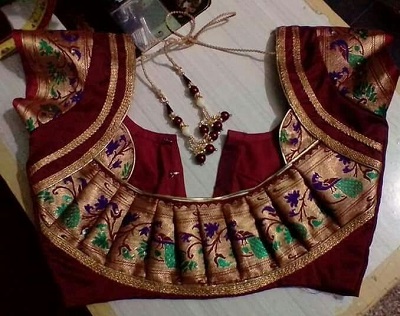 The pleated blouse pattern at the back is very stylish and modern. The Saree border is used to make the sleeves and the same border is used to create patch at the back. It is unique and stylish looking blouses and that you can try.
25. Latest Patch Work Blouse for Silk Sarees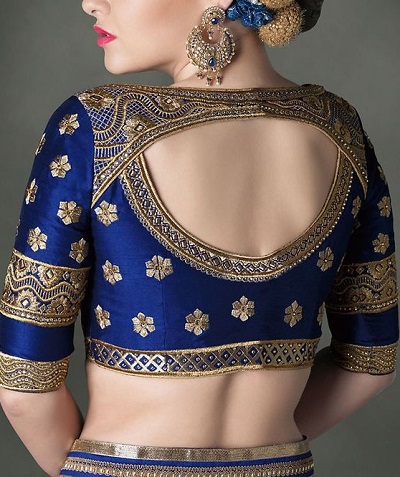 The batch of cape style is used on the back of this blouse. Such blouse designs are getting highly popular currently and the best thing is that they can be worn with different types of silk georgette, net and tissue sarees. It has heavy embroidery in silk thread work all over with sequins and stones.
26. Lotus patch style work in saree blouse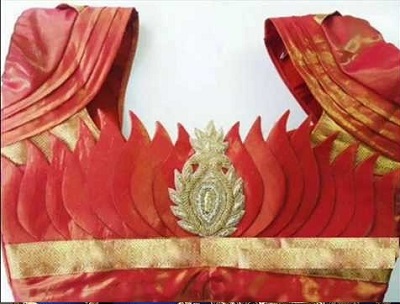 The patchwork of lotus flowers in the leaf for makes this truly grand, innovative and unique in the appearance. This blouse design is used to go well with silk sarees.
27. Grey Designer blouse pattern for sarees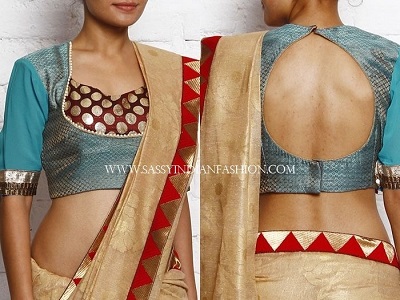 The interesting looking patchwork blouse design has a circular cut back neck line in light and dark grey fabric. The sleeves are given plain border work. The front neck line has a patch of Maroon Golden woven brocade fabric. It is very ethnic and uniquely made with beadwork. It can it can be tried with Indian traditional wear sarees and dresses stop the best best sarees that would go well with the sign or net georgette and silk sarees.
28. Golden Patch Style Blouse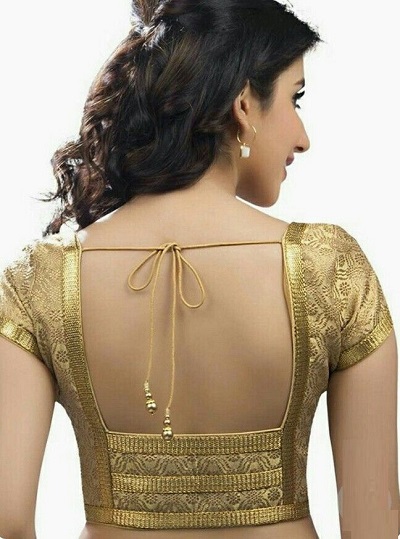 The new model golden blouse in the brocade fabric is gold on the edges. It looks very interesting and made with nice finish. The square cut back neck line is impeccably made. It can be tried with different types of sarees and that includes net, phone, heavy sarees and silk sarees.
29. Bow Design Patch On Back Saree Blouse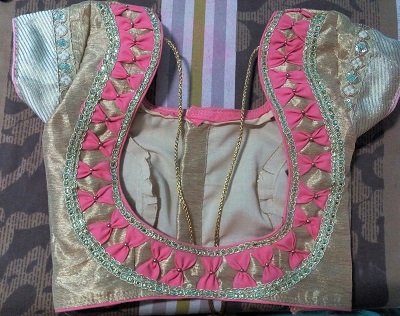 The Patchwork design at the back in a pot shape is the true beauty of this blouse design. It's given the front opening with hook and dori of the shoulders. The back neck line is the interesting and unique feature of this blouse. The small bow design at the back makes it really interesting.
30. Bridal Blouse With Heavy Maggam Patch Work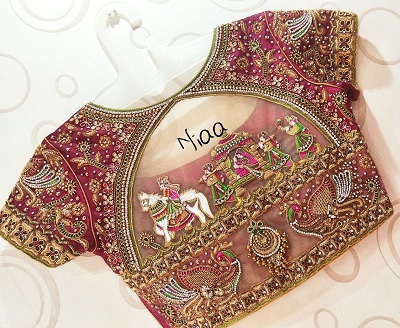 Blouse design is exclusively made for the brides. The entire story of a bride is shown me over the back neck line with peacock and jewellery motifs. It is a very heavy blouse pattern with exclusive maggam work is also seen over the sheer net fabric back neckline.
These are the blouse patch work designs that you can try. We are sure that out of these latest blouse designs with patch work, you'll be able to pick the one that suits your saree, style and preference.