Peplum blouse designs looks really amazing because of that extra layered fabric used below the waistline. Such blouses are simply beautiful because they have this modern charm to them and make sure, it looked amazing. So, if you have gotten bored with the regular blouse designs then try and go for the peplum blouse designs. In fact, the peplum blouse is can be paired up with your lehenga, sarees, dresses and even for your shararas.
Latest Peplum Style Blouse Designs (2022)
Let's take a look at the different peplum blouse designs available in the market currently.
1. Double Layer Peplum Style Blouse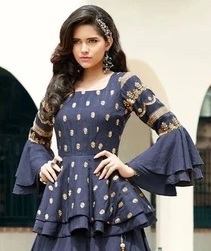 The gorgeous peplum blouse in navy blue colour has medium length sleeves with ruffles attached. This is suitable to pair with your skirts and lehenga.
2. Silk Peplum Blouse For Parties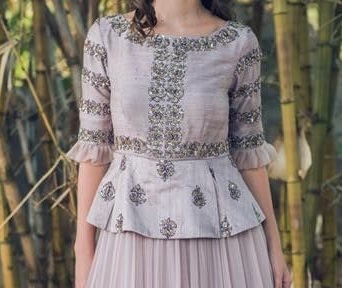 The Silk sequin and embellished peplum blouse has a simple fabric used below the waist line and not a lot of fabric is used which is why it looks really elegant and is perfect to be worn with your sarees. In fact with the full volume skirt, this would look amazing. Pleats are used for the sleeves and the embellishment is complimenting.
3. Embellished Designer Peplum Blouse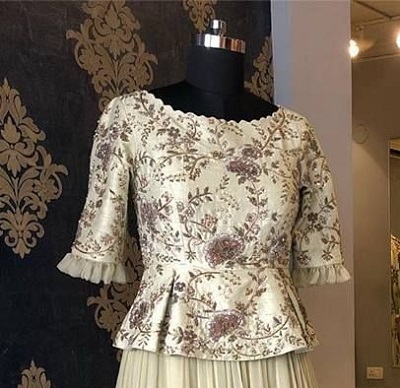 For this blouse design, box pleats are used for the centre and back part. The box pleat actually makes it look like a decent peplum and is a gorgeous design with full embroidery work going on the fabric. The boat shaped neckline is also quite designer in its look.
4. Pleated Peach Peplum Blouse Design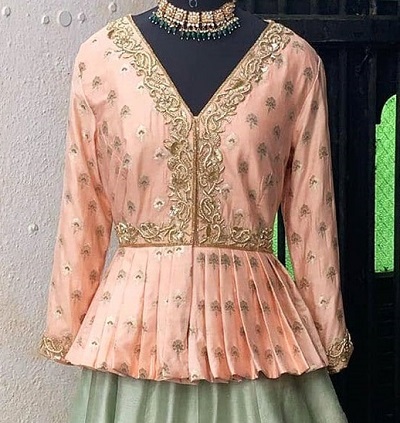 This gorgeous peplum blouse has long sleeves with embroidery work on the Chanderi fabric. V shape neckline is given to this gorgeous blouse. The peplum is created not by the box pleat style but by the pleated  pattern.
5. Designer Peplum Blouse In Gold Colour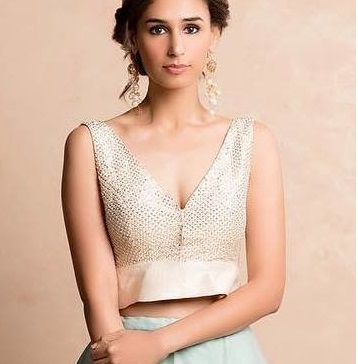 The beautiful peplum blouse has a short and simple peplum with a V shaped neckline. It's a gold blouse that can be paired with different bottom wear as well as for the variety of dresses.
6. Strappy Peplum Blouse Designs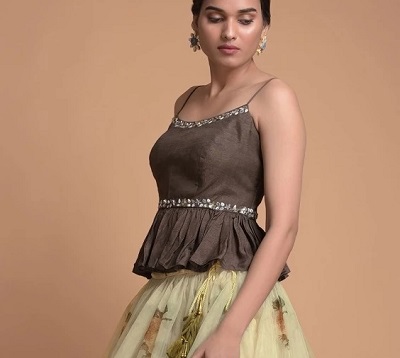 This beautiful blouse has a thin strap and Gota Patti work is going on the neckline and for the waist part.  Such designs are beautiful for the parties.
7. Peplum Blouse Design With Feather Work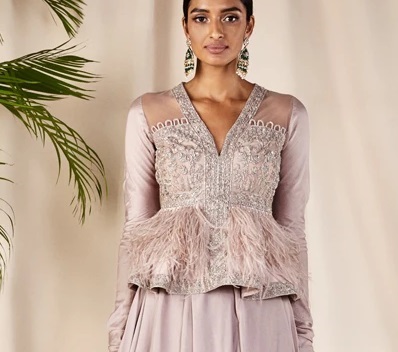 This blouse has beautiful v shape neckline and over the peplum feathers are also used the artificial feathers have increased the beauty of this gorgeous blouse. Even the colour is so elegant that it would surely make you look royal.
8. Cotton Peplum Blouse With Gold Print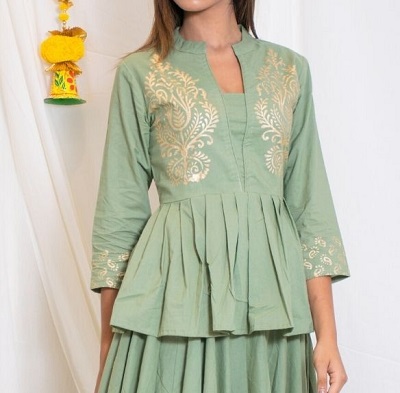 With the gorgeous gold print on the upper part this is quite a subtle design that is suitable for the Puja ceremonies and for the family functions.
9. Delicate High Low Peplum Style Blouse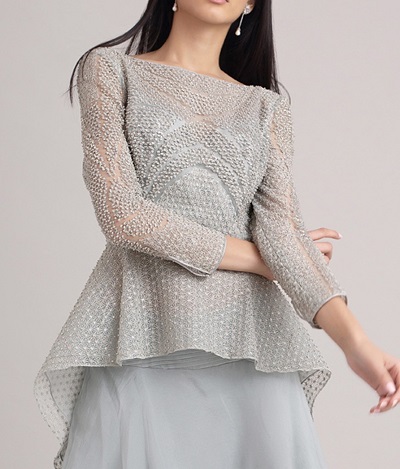 This is one of the most gorgeous blouse designs that we have seen in this catalogue. The high low peplum style is beautifully created and soft mesh like net cloth. The cloth is so beautiful and is made with blending a lining inside. It has a straight boat shape neck line and the three fourth sleeves. The gorgeous design does not have any embellishment but the thread work in itself is making it very elegant and party perfect.
10. Halter Style Silk Embroidered Peplum Blouse Design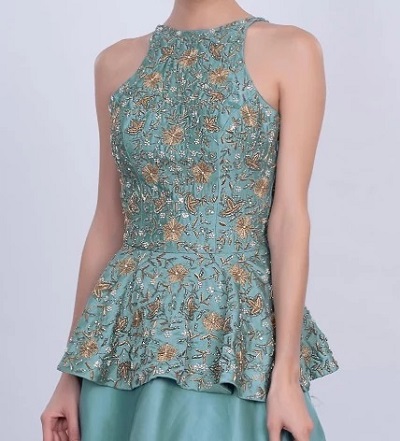 This blouse is really amazing with the circular peplum attached to the blouse waist. The Halter style is given that looks really amazing and it is best for pairing it up with a lehenga. As the blouse is very embellished with embroidery and sequins, even a plain lehenga would do with it.
11. Rounded Peplum Embroidered Blouse Design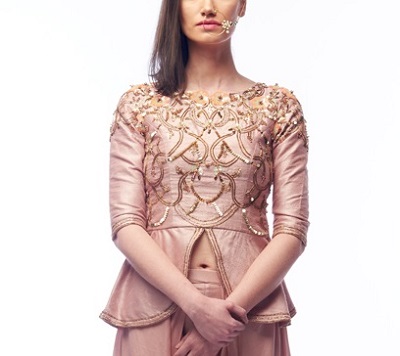 In this peplum blouse, the peplum is pleated from the centre and is given round edges. The embroidery work on the upper part has sequin work and three fourth sleeves. Such designs are beautiful for sarees because the saree pallu can be draped from the centre slit.
12. Zipper Style Peplum Blouse Design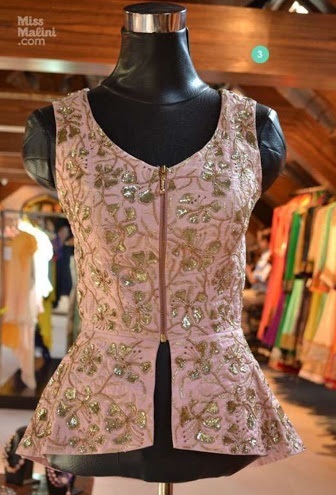 With the centre zipper, this embroidered silk blouse is gorgeous. The Silk Pink blouse with gold Zari and sequin work makes it look really luxurious and elegant at the same time, the peplum is circular with a slit at the centre.
13. Diagonal Hemline Peplum Saree Blouse Design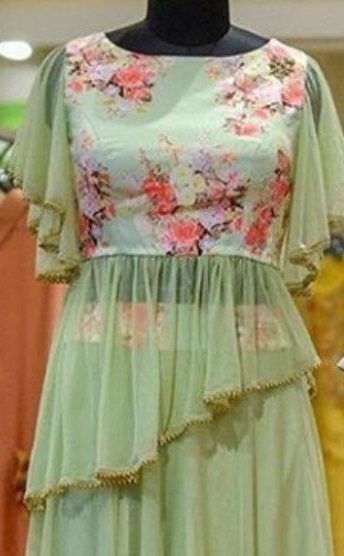 The gorgeous blouse has a diagonal hemline and the peplum with a boat shape neck line. The cascading or butterfly sleeves are given and the fabric used is georgette that drapes beautifully. For the bust part, a printed Satin fabric is used.
14. Double Layered Silk Peplum Blouse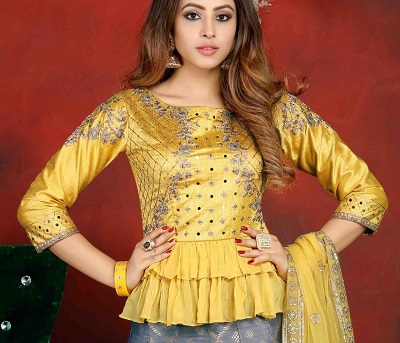 The gorgeous double layered Silk embroidered peplum blouse is looking beautiful and it is basically a lehenga peplum blouse.
15. Thread Work Peplum Blouse For Sarees And Lehenga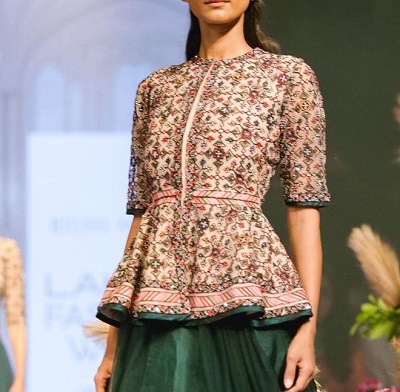 When you are thinking about a royal and elegant looking peplum saree blouse design, this design would surely get you extra points. It has a gorgeous centre slit peplum with medium length.
16. Wine Peplum Saree Blouse Design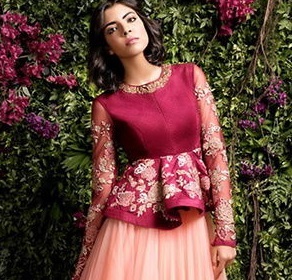 This peplum blouse in the maroon wine colour has embroidered net sleeves and the peplum is made with the same fabric with the lining attached. The gorgeous design is perfect to pair with your maxi skirt and with the flowy net skirts or lehengas.
17. Stylish Peplum Blouse Design With Bead Work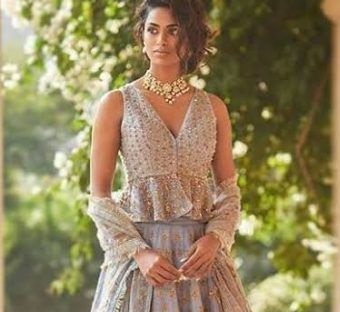 If you would like to have a super stylish peplum saree blouse design, this design would be for you. It's a very cocktail party appropriate kind of design that younger women would definitely prefer.
18. High Low Peplum Design with Ruffles Neckline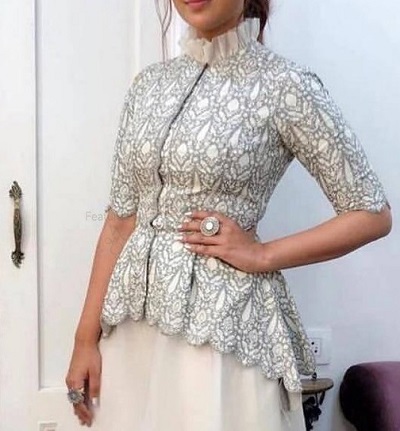 The ruffled neckline is getting popular and in fact, it looks really amazing on both younger and mature ladies. Here the design is so beautiful and perfectly made that it would accentuate your waistline a lot.
19. Short Anarkali Style Peplum Saree Blouse Design
This gorgeous Pink blouse is used exclusively with long sleeves and they are also embellished. The embroidery is so beautiful that it makes it elegant and subtle. The peplum is used in a different way by creating short panels. So it gives a short Anarkali style of top wear.
20. Cascading Ruffle Style Peplum Blouse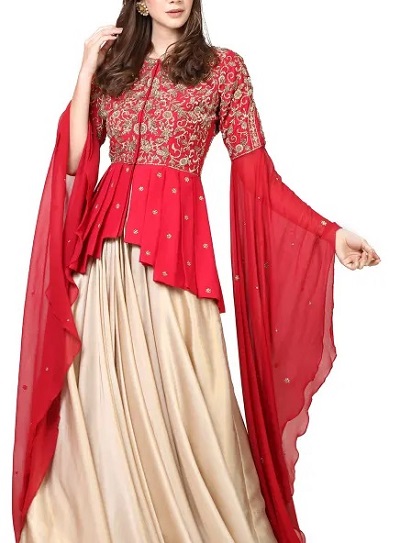 The beauty of this pattern of blouse is the cascading peplum at the waist and the sleeves. It is a very modern looking design that women who are younger would certainly prefer.
These are the latest peplum blouse designs available in the market and you can do a lot with them. You can get them straight to from your local boutique or even buy them online from the popular sites.
21. Stylish sequin studded peplum lehenga blouse design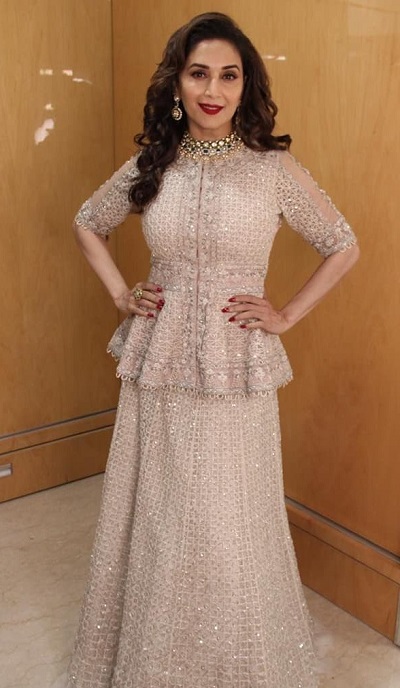 22. Green sleeveless v-neckline peplum blouse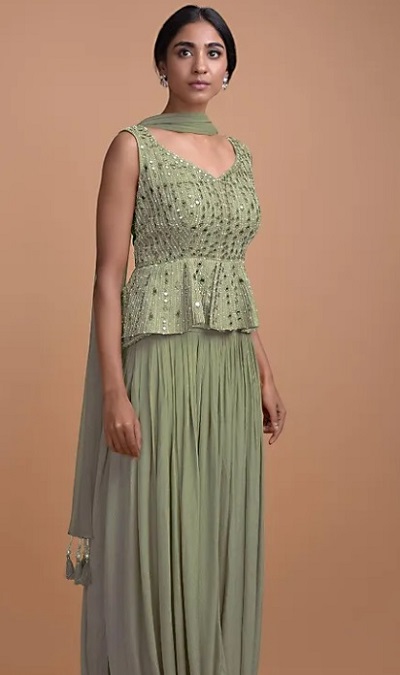 23. Silk embellished full sleeves peplum blouse for saree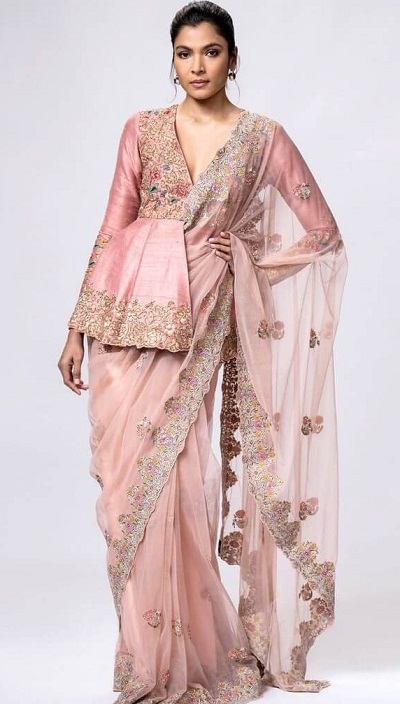 24. Peplum blouse with sleet and Gota Patti work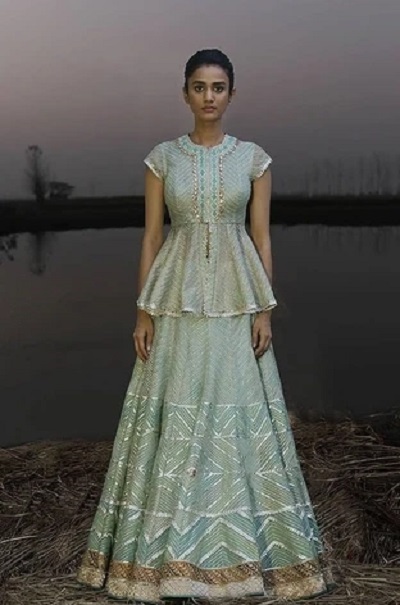 25. Golden Silk peplum blouse with pleats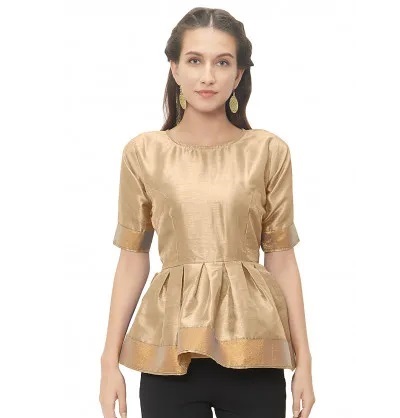 26. Orange Silk Gota Patti work peplum blouse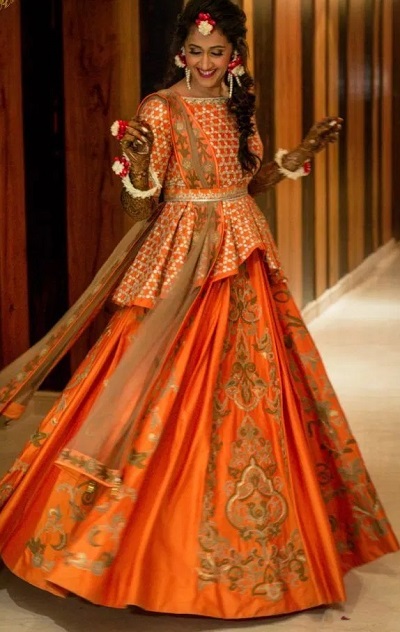 27. Net and Silk fabric peplum blouse with sequins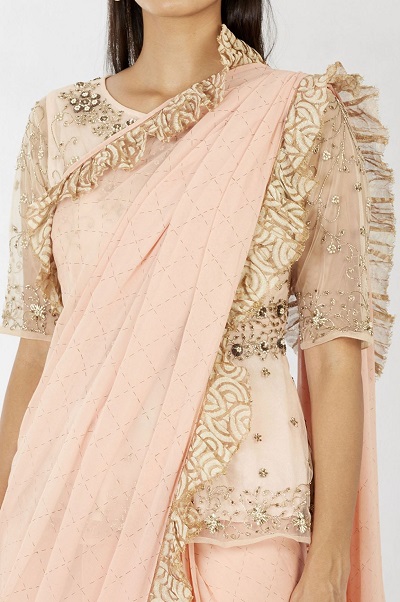 28. Stylish Ruffle sleeves peplum blouse for sarees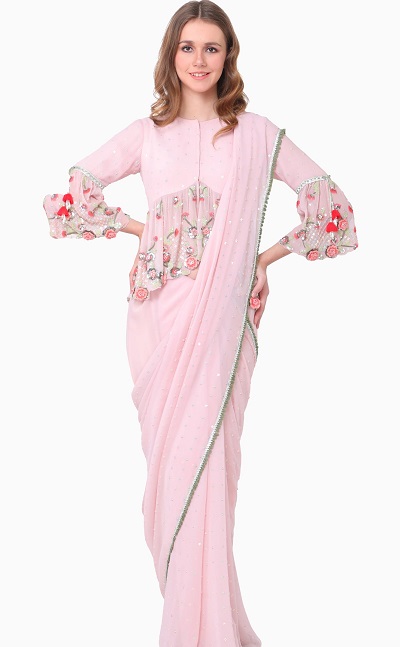 29. Foil printed full sleeves peplum blouse for skirts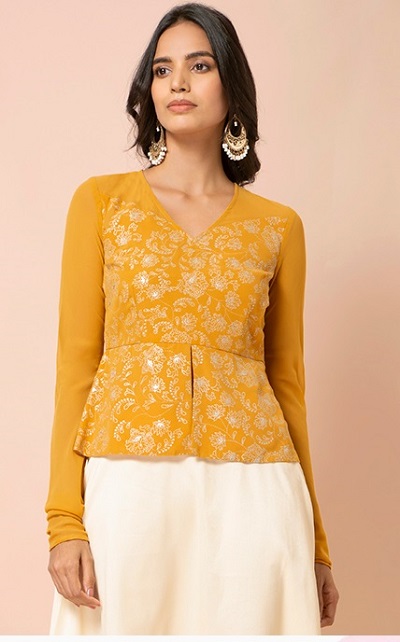 30. Double layered peplum with layered ruffled sleeves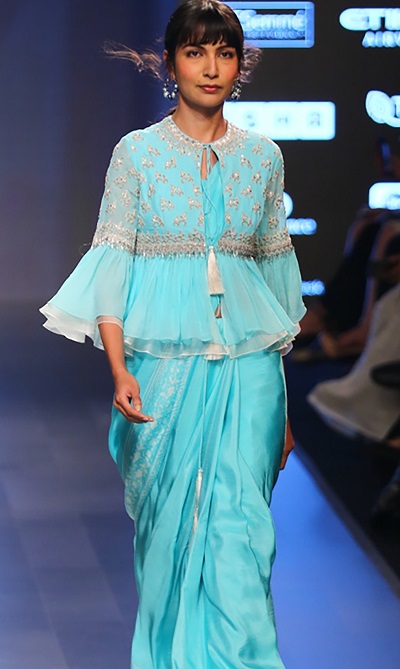 31. Stylish short peplum blouse with boat neckline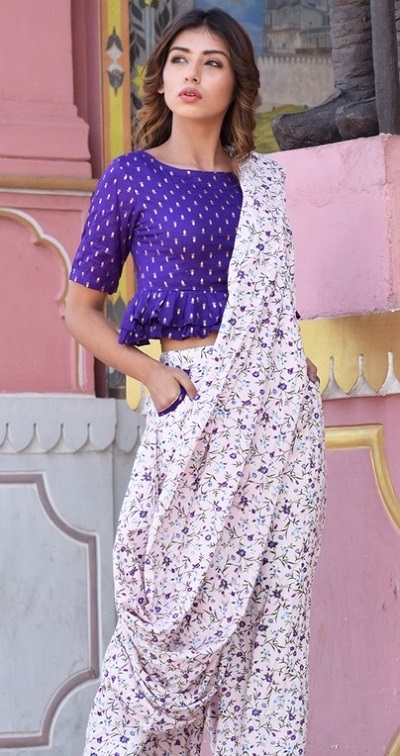 32. Halter style peplum blouse design for sarees and lehenga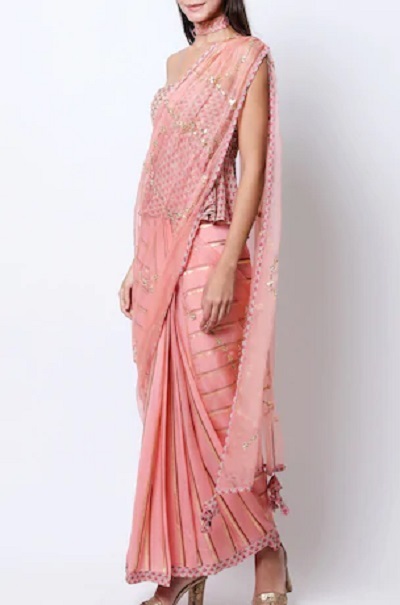 33. Short Golden brocade short sleeves peplum blouse design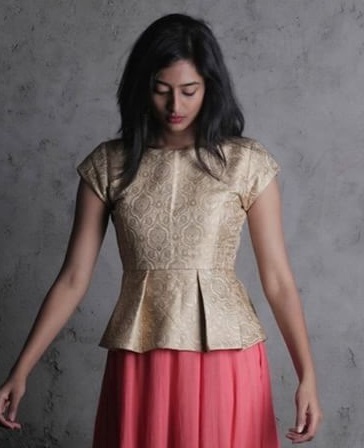 34. Silk peplum blouse with layered sleeves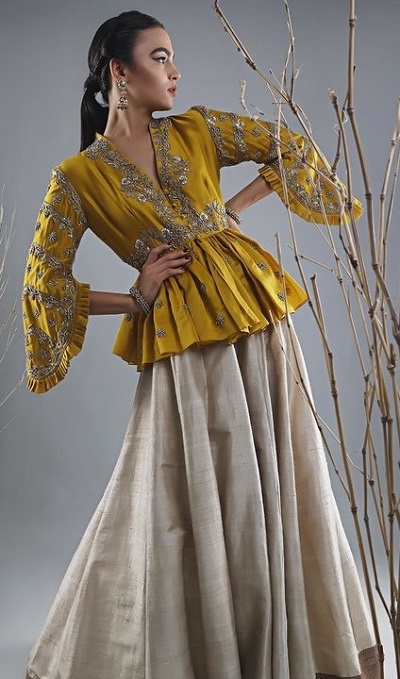 35. Stylish peplum blouse for sarees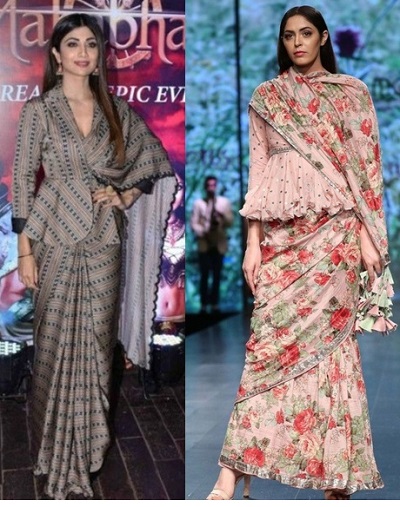 36. Front zipper peplum blouse design for sarees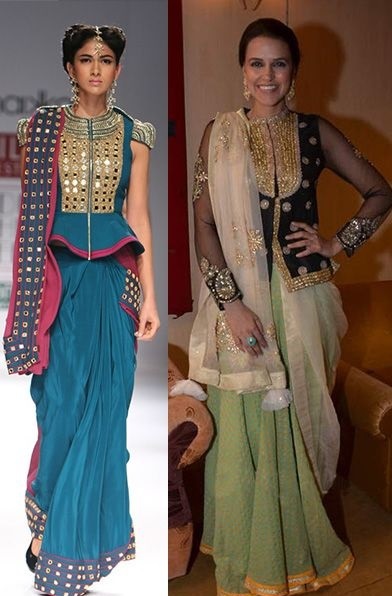 37. Long peplum blouse for lehenga style dress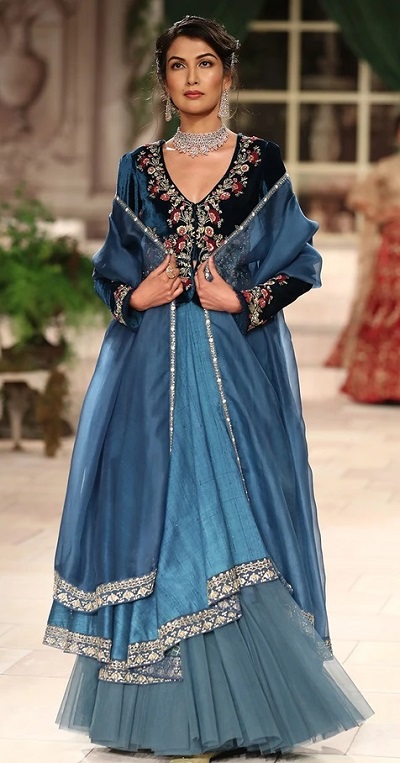 38. Short Georgette peplum blouse design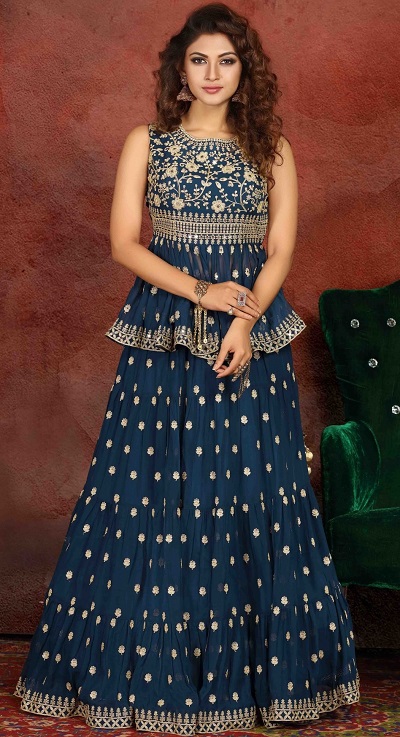 39. Full sleeves double peplum style blouse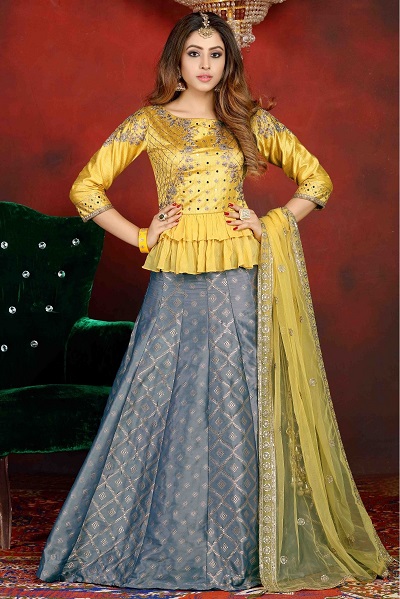 40. Peplum blouse with short sleeves in magenta colour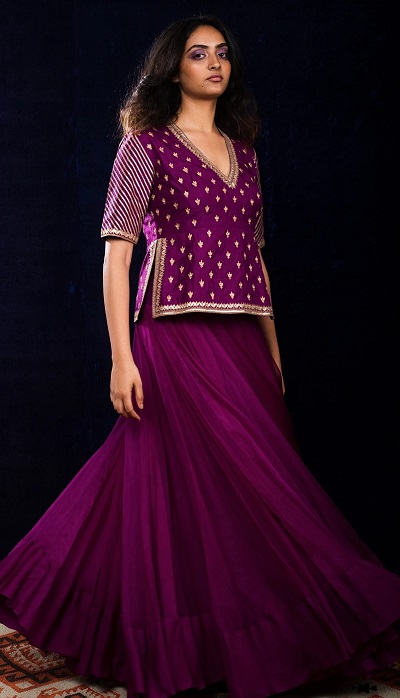 41. Stylish peplum blouse design for sarees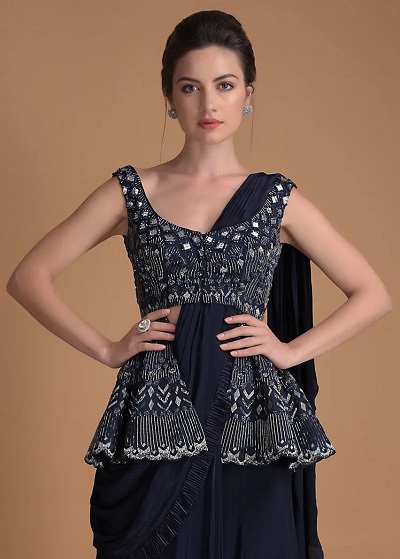 42. One off shoulder pleated peplum blouse design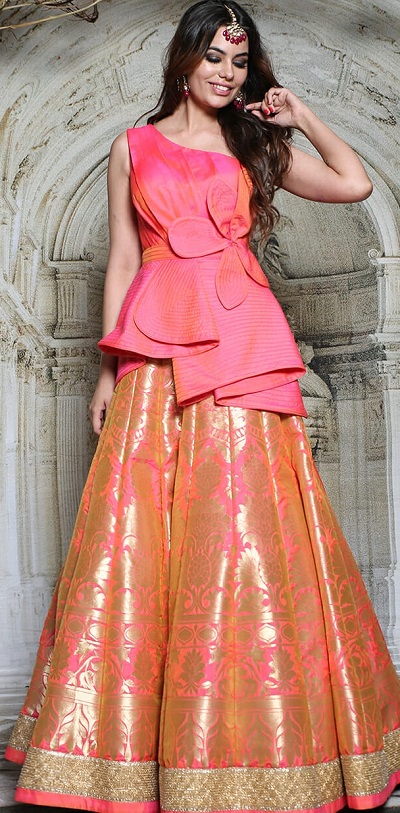 43. Mirror work peplum blouse with sleeveless pattern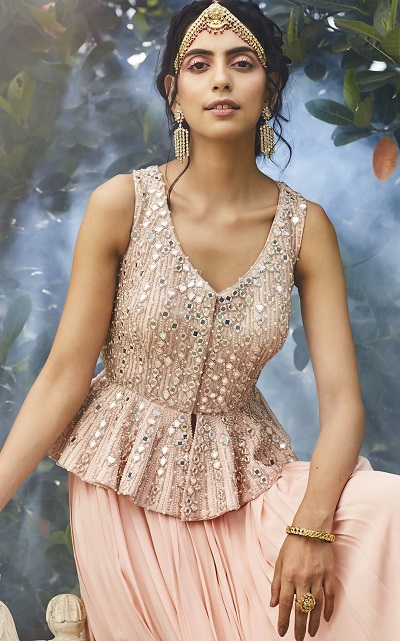 44. Full sleeves peplum blouse with heavy embroidery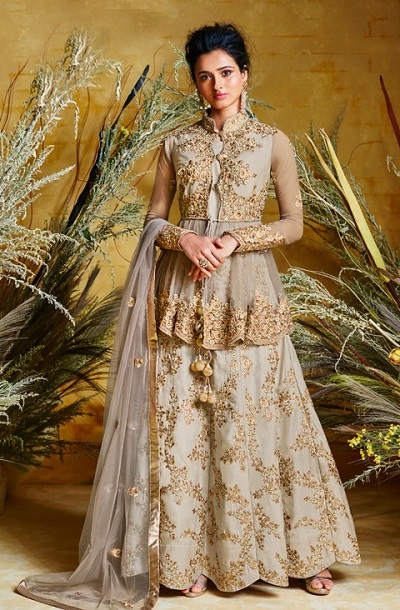 45. Party wear peplum blouse with heavy embellishment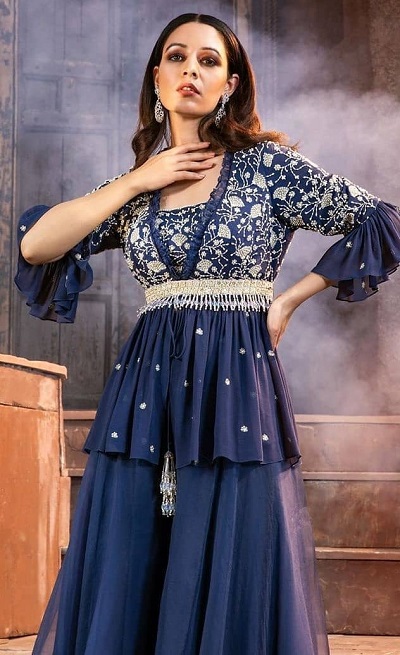 46. Simple cotton printed peplum blouse design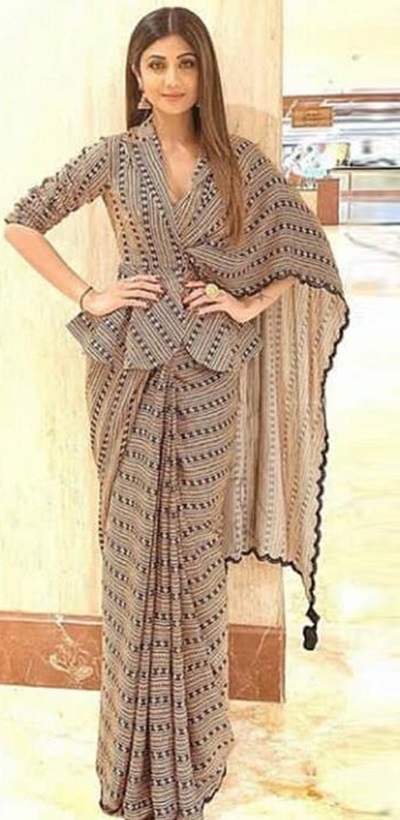 47. Georgette peplum blouse with embroidery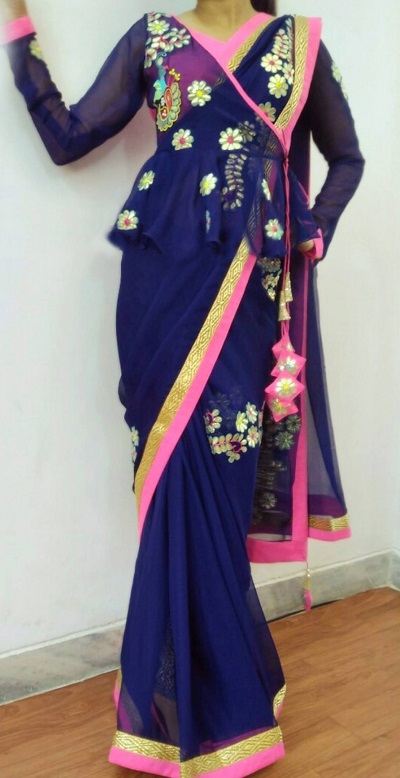 48. Silk collared full sleeves peplum blouse for sarees
49. Beige and gold peplum blouse with Centre slit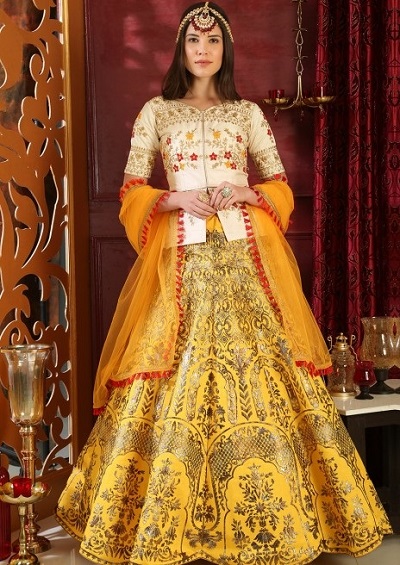 50. Stylish boat neckline sleeveless peplum blouse for lehenga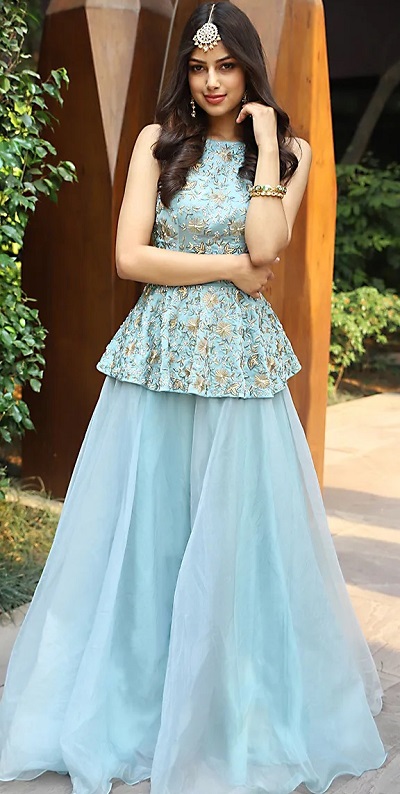 51. Plunging neckline peplum blouse with Silk material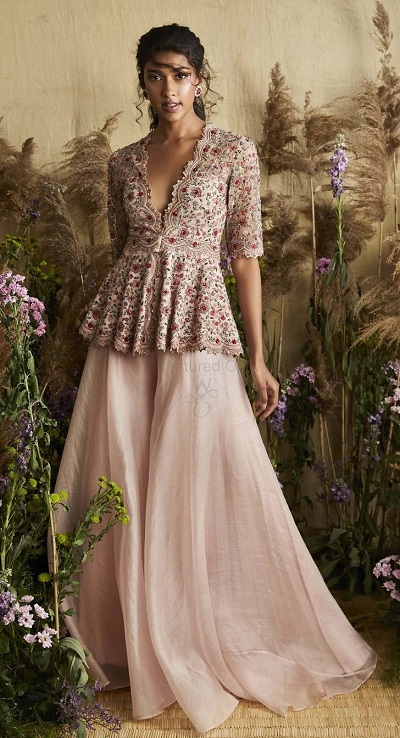 52. Heavy bridal peplum lehenga blouse design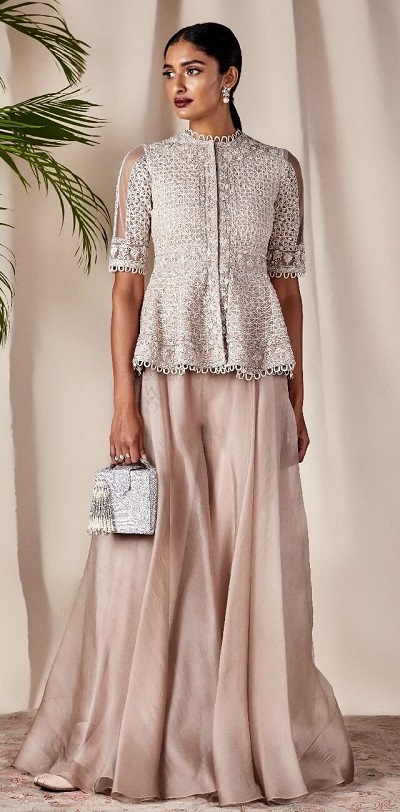 53. Net fabric peplum blouse for net lehenga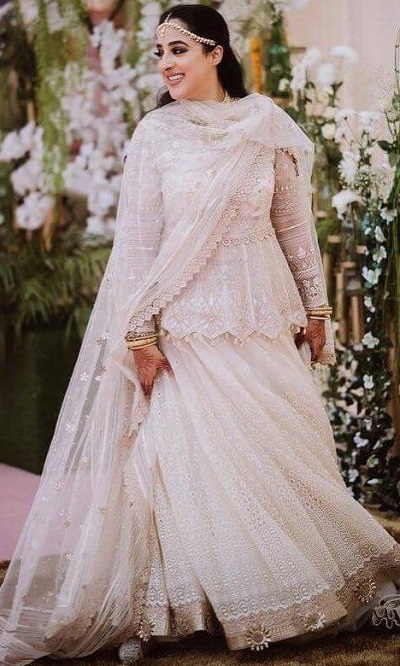 54. Short sleeve peplum blouse design in Trend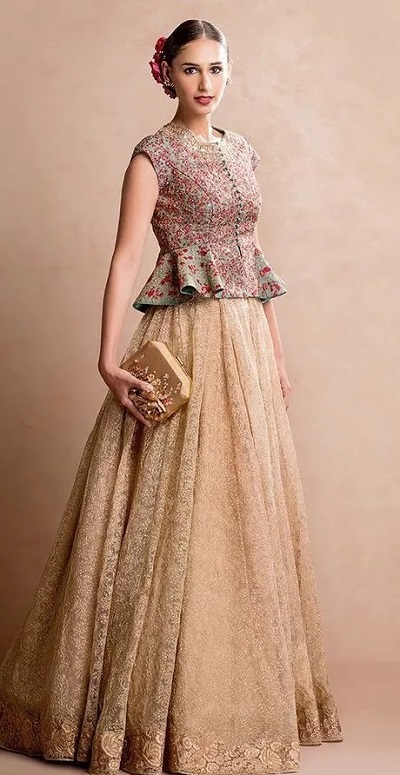 55. Halter style long peplum blouse design for sarees and lehenga