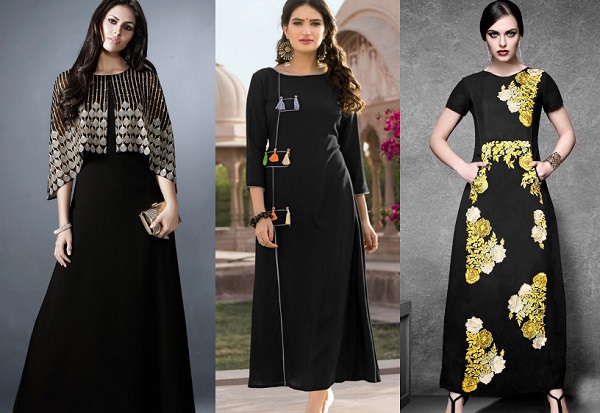 If you like simple kurta and kurtis, then you must go for basic plain black kurta. The beauty of a plain black attire cannot be described in words, as that makes you extremely serene and beautiful and also makes you look thinner. We have compiled this image post on the best basic black kurti designs for women. These are simple yet have that beauty to them that you can wear them for work, college and for shopping etc.
Images of Plain Black Kurti Designs for Women (2023)
1. Basic Plain Black Kurti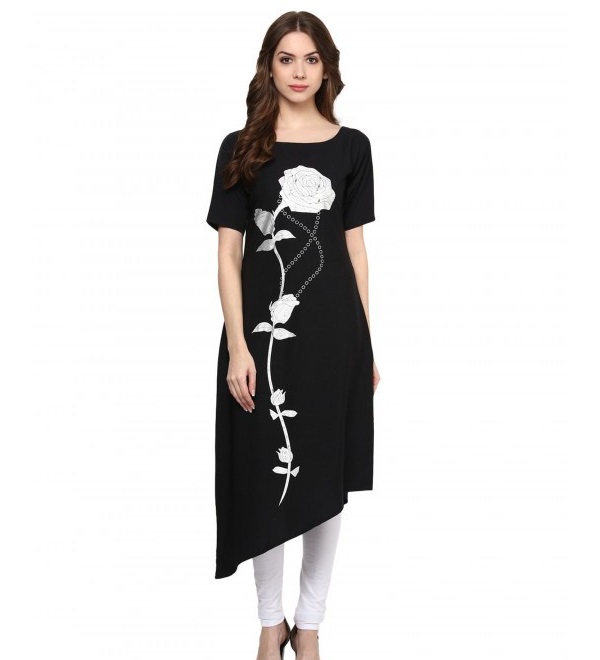 There is a big white floral print on the centre of the kurta that makes it really beautiful. Hemline is diagonal with one of the sides being shorter than the other. It can be paired with leggings and pants that would look the best with this type of kurtis. It is such a beautiful kurti in black that every women can wear this.
2. Double Slit Black Plain Kurta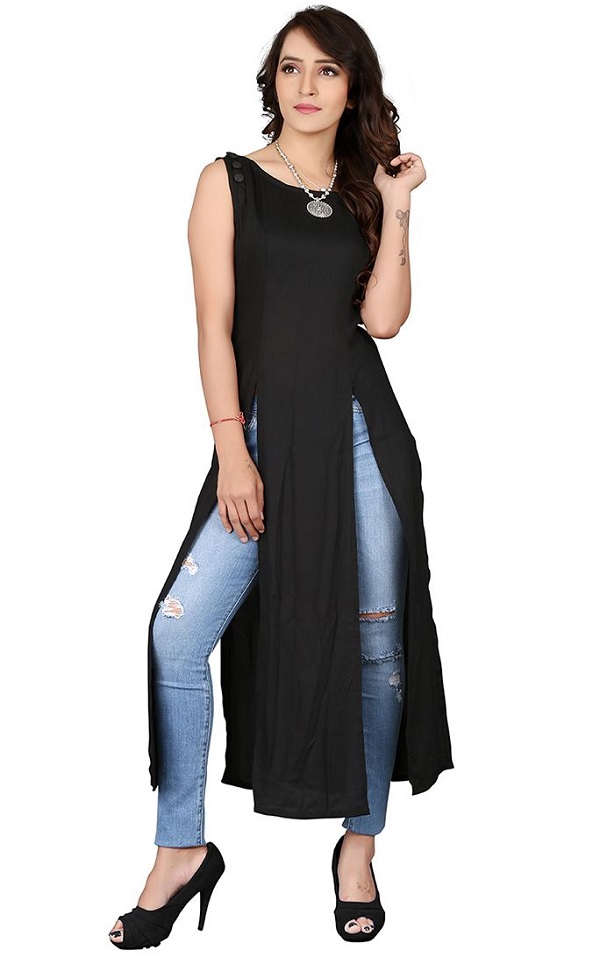 The sleeveless kurta is very important looking and is made for women who would like to go for fusion wear. Such designs can be worn with jeans and pants. The sleeveless kurta has a boat shaped neck and what makes it different is the side slits on either side. It is a long kurta but slits on the side makes it glamorous and modern looking. A lot of celebrities have also flaunted kurtis like this for their airport looks.
3. Hi-Low Black Kurti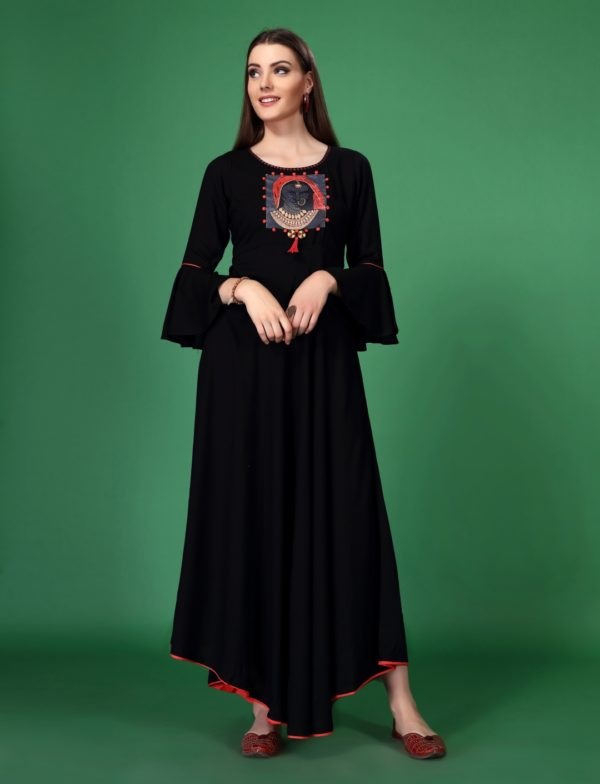 It is a very traditional design that gives you an ethnic feel. This can be worn for festivals and ceremonies. The high low hemline is perfect for women with bulky lower bodies. The sleeves are three fourth with bell shape on the end part. The print and tassels on the front below the neck also adds more beauty to this piece. These can also be worn as a dress.
4. A-Line Plain Black Kurta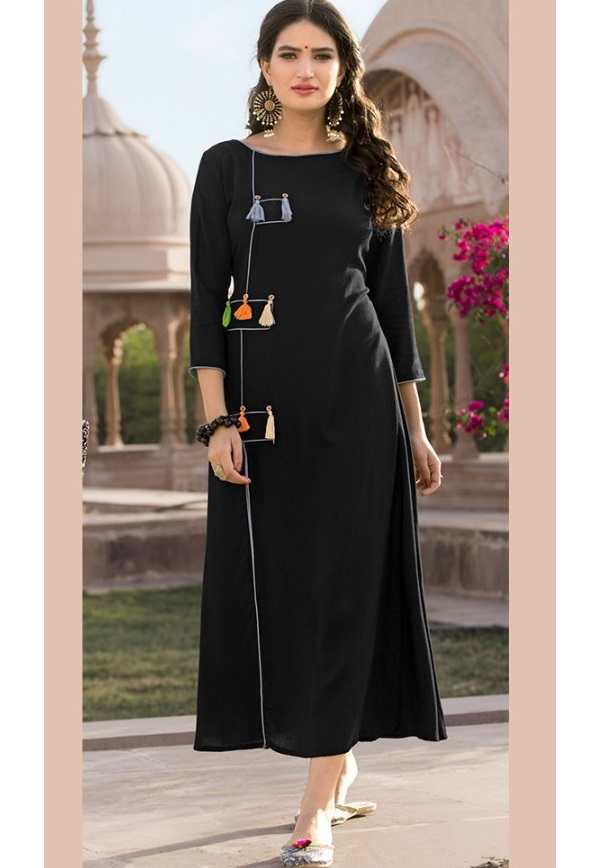 This an A-line Kurta in black is an absolute beauty. They are perfect for work as well as college. They can be worn as dress or with the bottoms. The tassels on one of the sides make it even prettier.
5. Central Slit Plain Black Kurta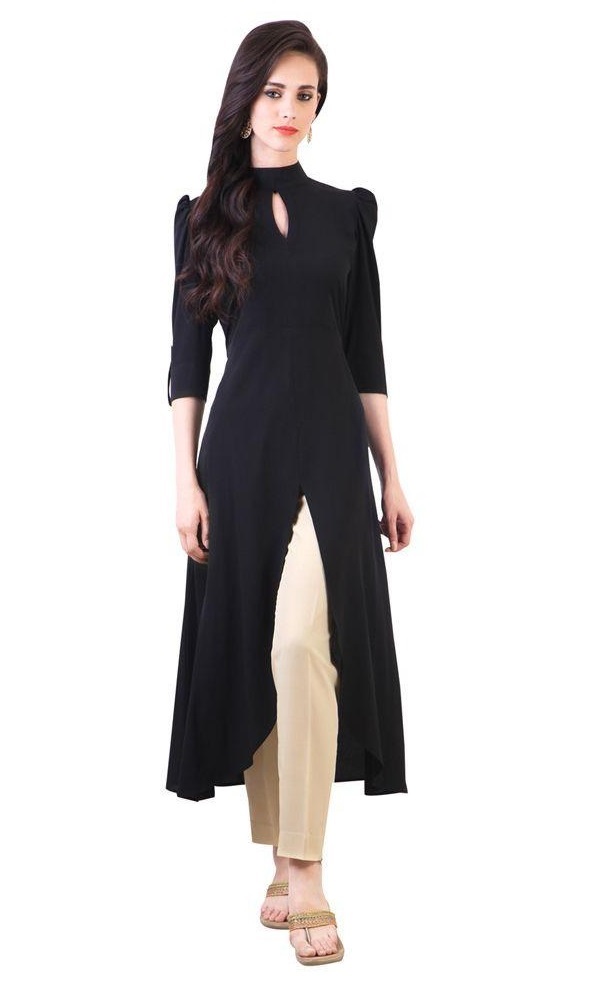 The kurta is very modern looking that has sleeves with Pubs and has a Centre slit. Such designs of kurtis are best to be paired with pants, trousers, and palazzos.
6. Simple Net Kurta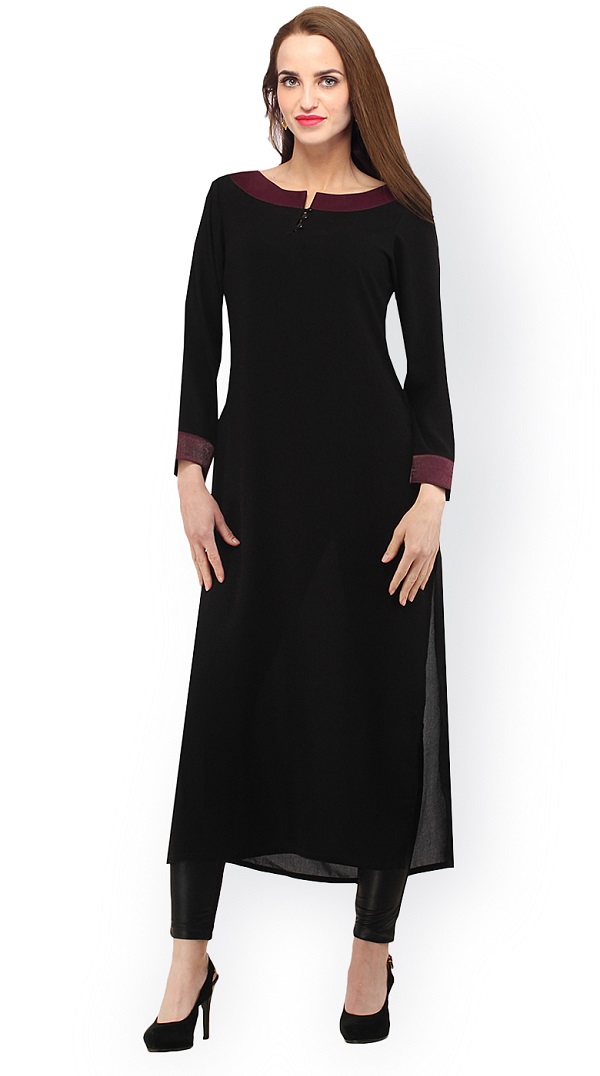 The simple net kurta in black comes with long length with side slits and full sleeves. The boat neck has a notch in the centre and a purple fabric has been used to give detailing to the neck. The kurta would look lovely when paired with pants, trousers and leggings. Even churidar would look ravishing with a kurta like this.
7. Black Kurta with Contrasting Buttons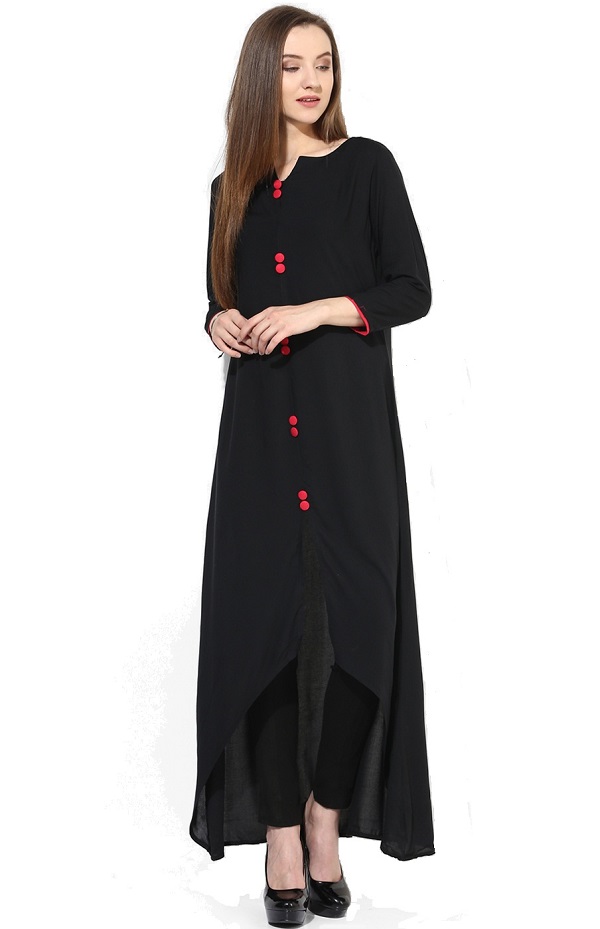 The black kurta is longer from the back side and is shorter from the front. The entire kurta has a placket in the centre that has got buttons in a set of 2. The sleeves are three fourth sleeves that look lovely. It can be paired with palazzos and leggings.
8. Share Net Long Kurta Dress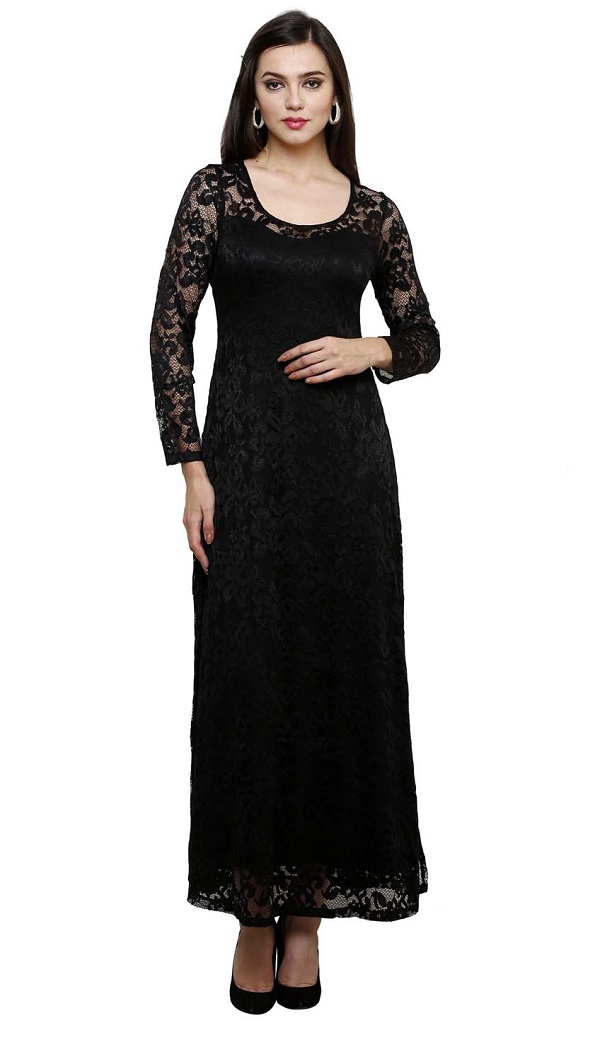 This is a multipurpose product as it can work as a dress that you can wear without the bottoms or it can also be worn as a long kurta. The net fabric has been used with a black lining. Kurta as like these are very beautiful and looks good on women of all shapes and sizes. You can pay this kurta with leggings or skirts.
9. Festive Wear Kurta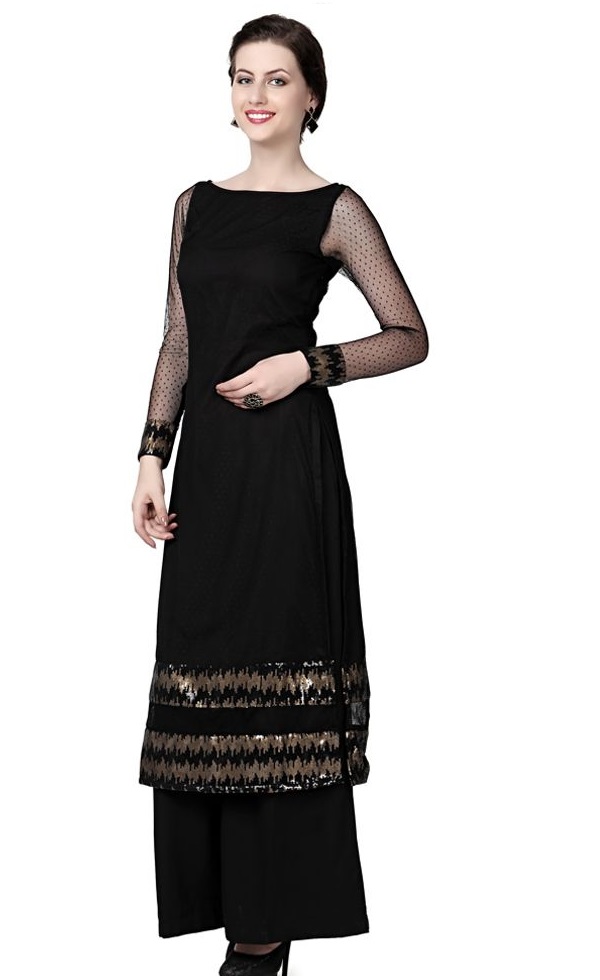 The kurta has sequined border on the bottom and on the cops. It is a beautiful kurta with sheer net fabric used on the sleeves. It has been paired with white fans and it can also be paired with palazzos and skirts.
10. Simple Plain Black Kurti Design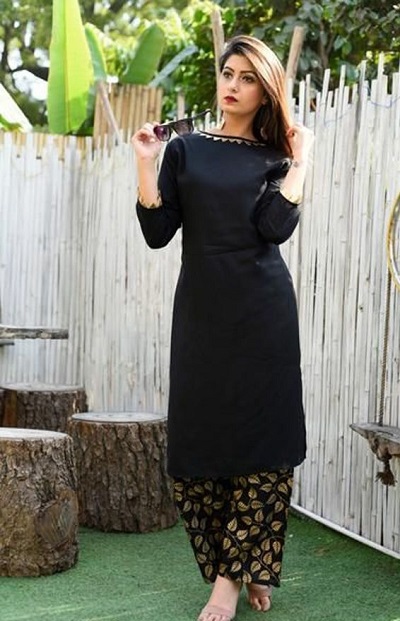 11. Paneled Black kurti for ladies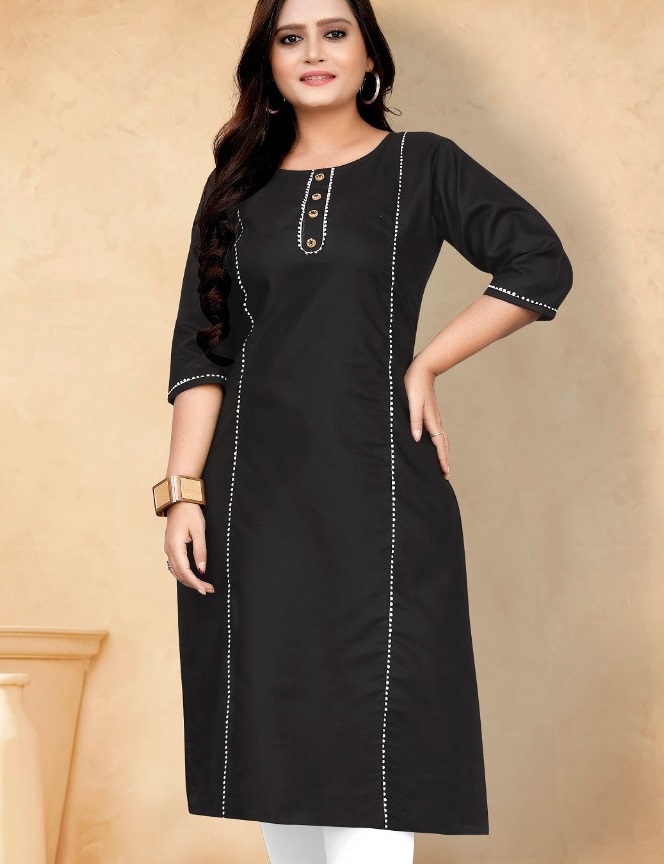 12. Mandarin Collared Black kurta Design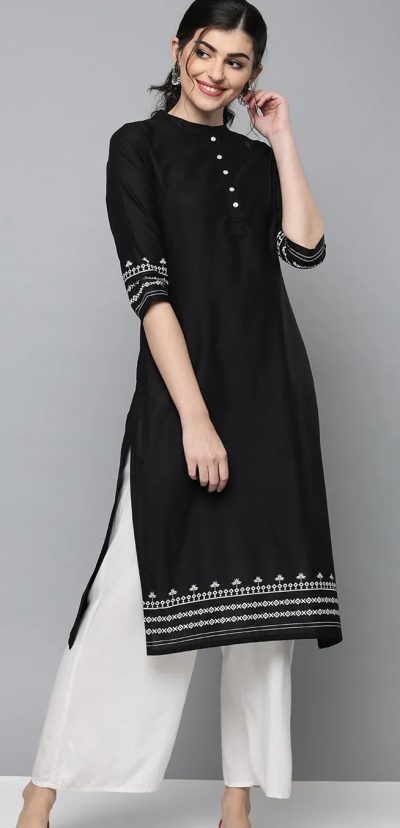 13. White Printed Black kurti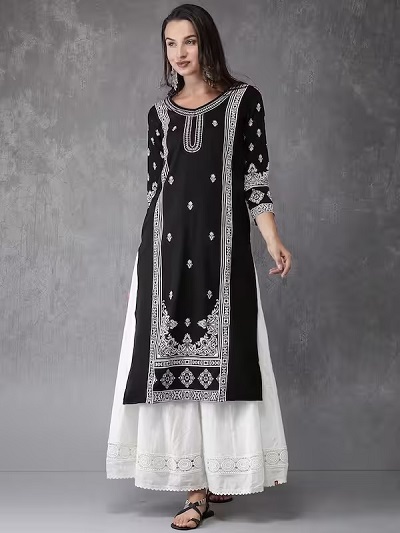 14. Front pleated black straight kurti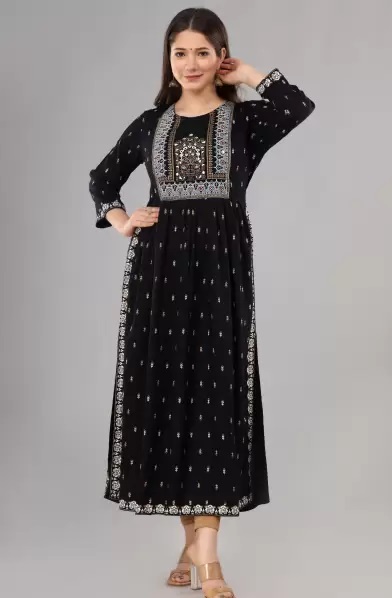 15. Short Chikankari work Georgette Black kurti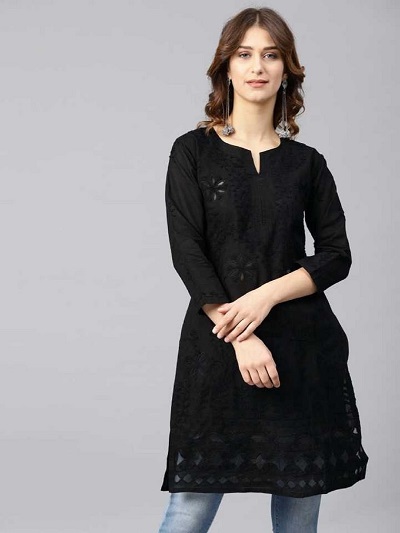 16. Printed Keyhole neck Black kurti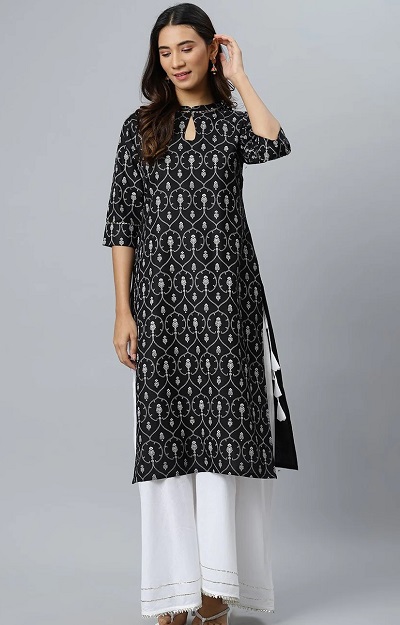 17. Front Embroidered Black kurta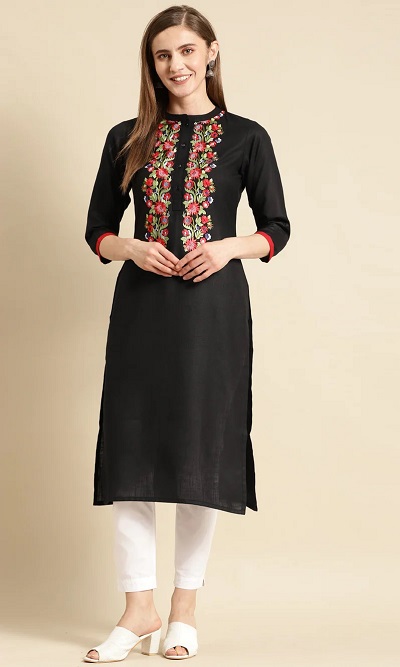 18. Embroidered Mirror Embellished Black kurta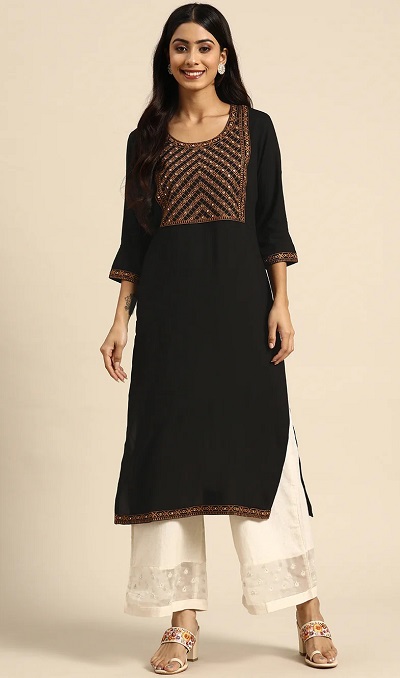 19. Art Silk Plain Black kurta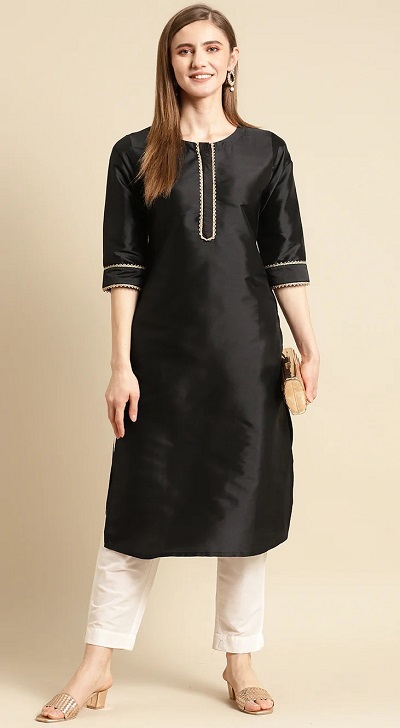 20. Gold Foil Printed Party wear Black kurti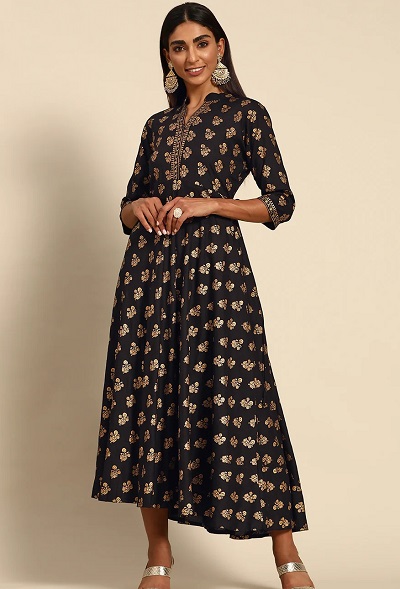 21. Thread work Black kurta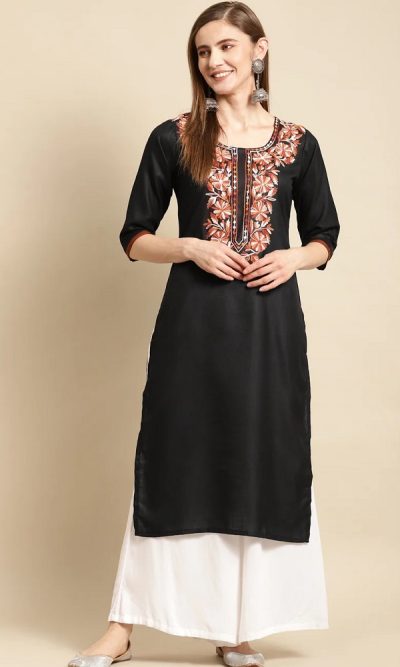 22. Plain Black kurti with embroidery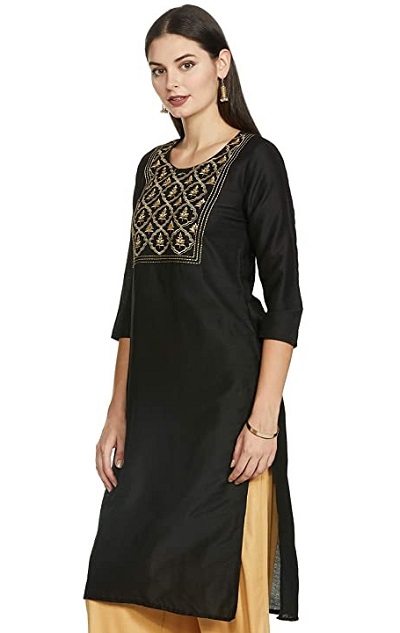 23. Front heavy printed Black kurti
24. Sleeveless solid Black kurti
25. Georgette sheer short tunic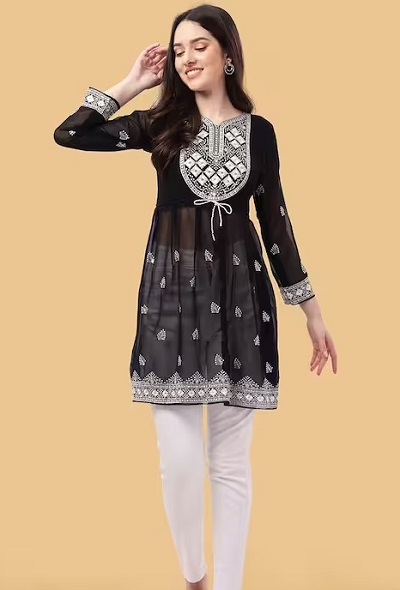 26. Anarkali style Black kurti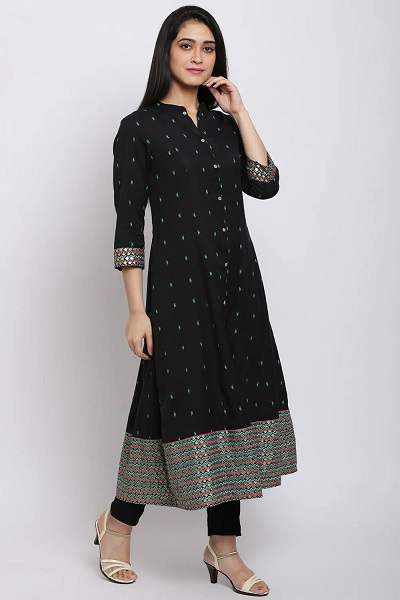 27. Cut Work Solid Black long black kurta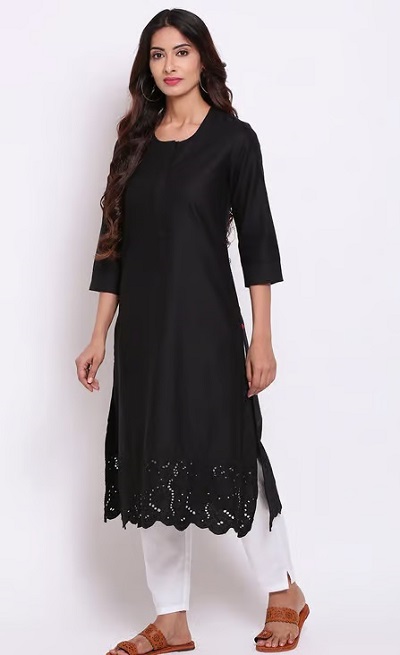 28. Straight Fit Black kurti with palazzos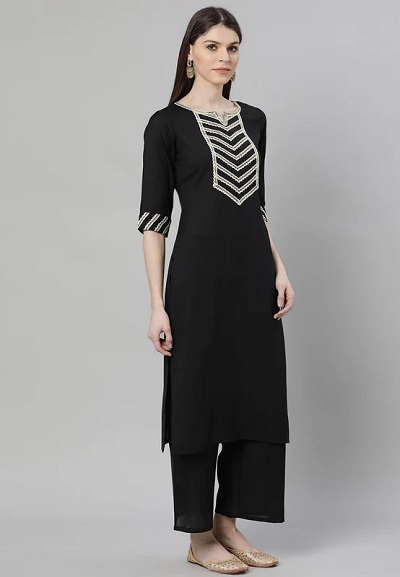 29. Cold shoulder Printed party wear Black kurti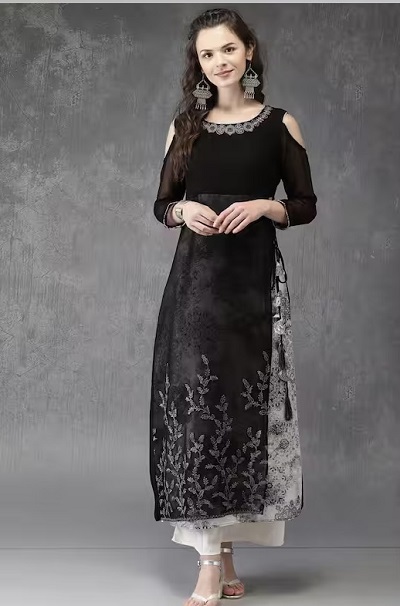 30. High Low pattern kurti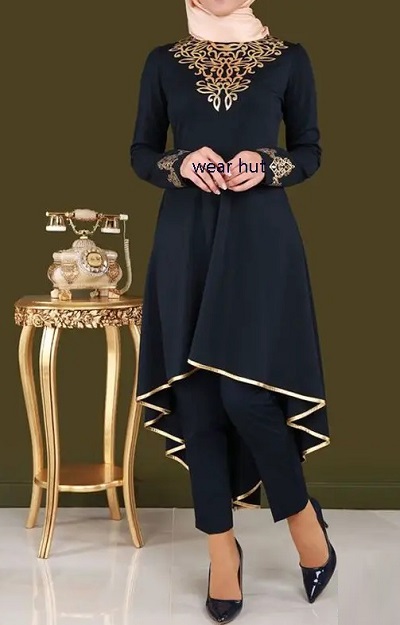 So these are the best images of the latest black kurta and kurtis that women can try.  which is the one that you like?