Punjabi suit designs looks really amazing and the way they are stitched makes you look youthful and fascinating. There are different styles of suit, kurti and salwar patterns however, when it comes to the gorgeous and latest designs of Punjabi style salwar kameez, we have compiled this image list of the best Punjabi suit designs for you. So, whether you are going for a party or for a ceremony, you would definitely loved the Punjabi suit styles. Even the designer Punjabi suits can be made from the your local boutique. The major highlight of any Punjabi style suits would be the neck design, hemline and the stylish kurti patterns and salwar.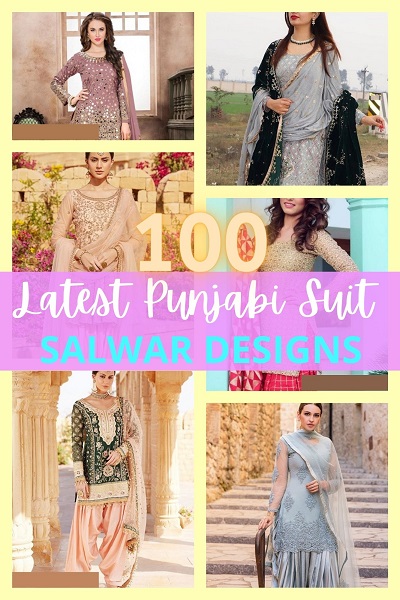 Latest Punjabi Suit Designs for 2022
1. Designer Blue Punjabi Suit Style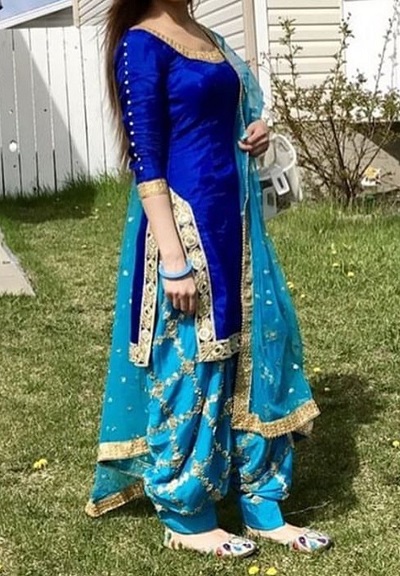 This gorgeous designer suit has three fourth sleeves with beads work. The broad lace trim is used on the kurti and for the dupatta. It is an amazing design that looks really charming and is perfect for the parties and ceremonies and even for the get togethers. The beautiful Golden thread sky blue salwar is made with full ghera and looks amazing.
2. Pink Punjabi Style Short Kurti Dress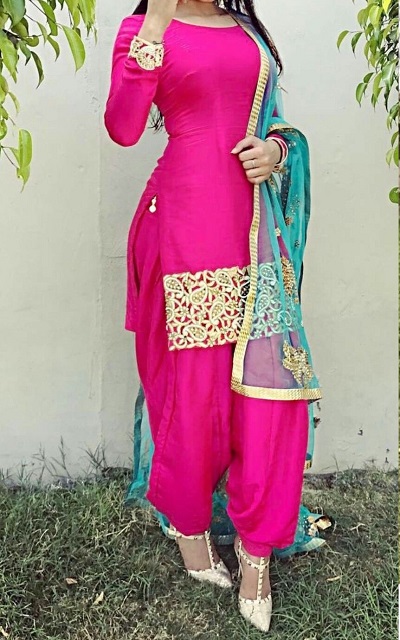 This pink Punjabi style suit has a very short kurti and full pleated salwar. It is paired with a blue colored net dupatta. Such dresses are pretty for small functions and get together. This suit here is been given full sleeves. The stylish dress looks  really good.
3. Jacket Style Punjabi Suit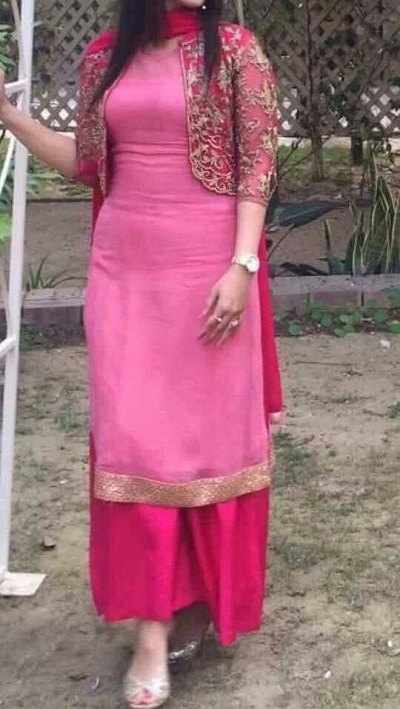 Stylish Punjabi style suit is given a plazzo and a jacket. The entire dress is made with the same color family, where in you can see a dark pink jacket and a light pink kurti that reaches till the knees. This dress is completed with a plazo style salwar. The dress looks really amazing and keeping in touch with the modern trend.
4. Punjabi Suit With Mirror Work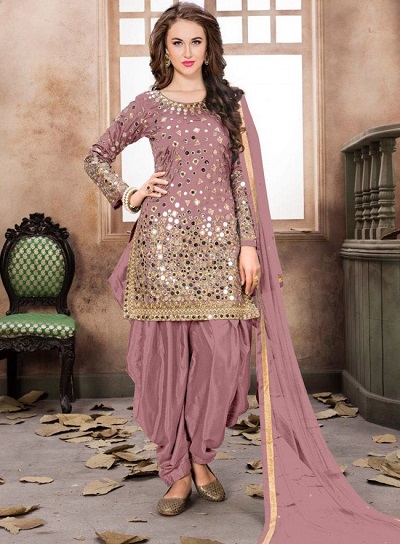 The stylish Punjabi suit in a blush pink color is amazing with the heavy mirror work. The mirror work actually makes it a very party wear kind of designer Punjabi suit. It has pleated salwar that is very value mins. It is paired up with a chiffon Dupatta. The major highlight is the kurti which is studded with different shapes and sizes of the mirrors.
5. Dhoti Pant Style Punjabi Suit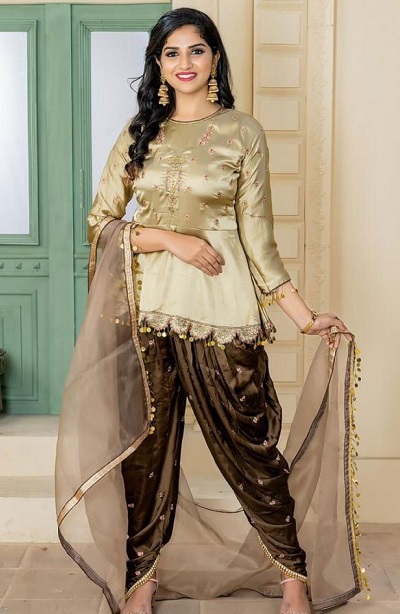 This Punjabi suit has a very short kurti in an A line pattern, which is paired with not the regular style salwar but dhoti pants. It is paired with light net dupatta. It is a very beautiful and latest fashionable styled dress. The colors are very earthly and soothing. The golden kurti is paired with a copper brown colored dhoti pant salwar. The entire dress is a very party wear specific style.
6. Net Short Punjabi Style Suit Salwar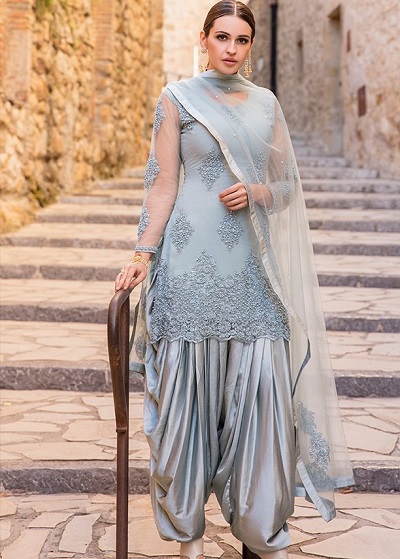 The beautiful dress is styled with Steel grey colored salwar and net kurti. The embroidered net is used for the kurti and sleeves are kept full. It is styled with a net Dupatta with the taping all over. It is a very party wear kind of dress that makes you look feminine and super stylish.
7. Light Yellow Colored Salwar Suit Pattern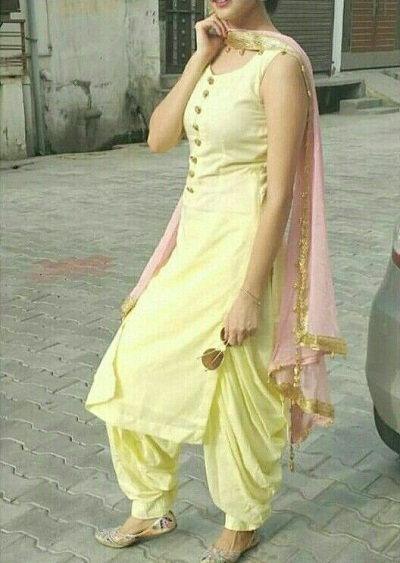 Cheerful yellow and pink colored Punjabi style salwar kameez. A pink Dupatta is given which makes it complete. It is a sleeveless style dress that has buttons in the front part. The kurti is long as compared to the regular Punjabi style suits. However the salwar is of full ghera. The gorgeous dress is looking amazing and is suitable for the parties and get together.
8. Golden boutique style Punjabi salwar suit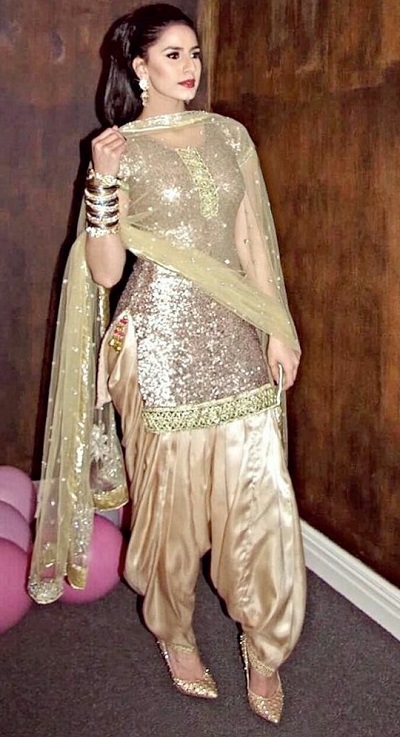 This is an amazing dress in a golden kurti paired with a golden salwar and Golden Dupatta. It is a undoubtedly party wear dress. Even new brides can have such gorgeously stylish salwar suit dress. The sequence studded kurti is made really short. Then that dress is amazing and looks really beautiful.
9. Embroidered Blue Salwar Suit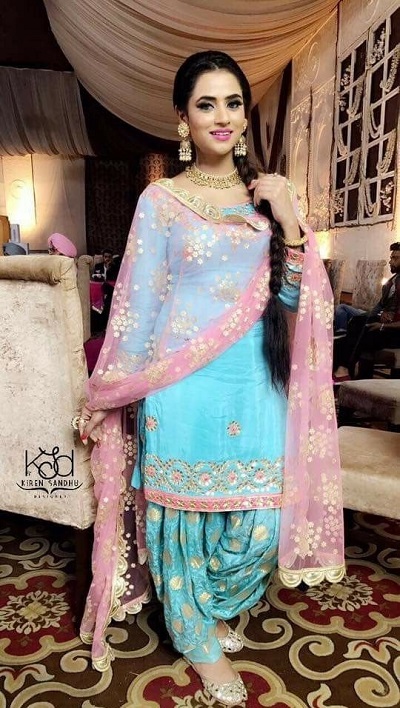 The border embroidered salwar suit has pretty net pink Dupatta. This entire dress is perfect for parties and even for the other small functions. Even for weddings one can have this because the Dupatta is also embroidered and with sequin and pearl work.
10. Black Short Punjabi Style Suit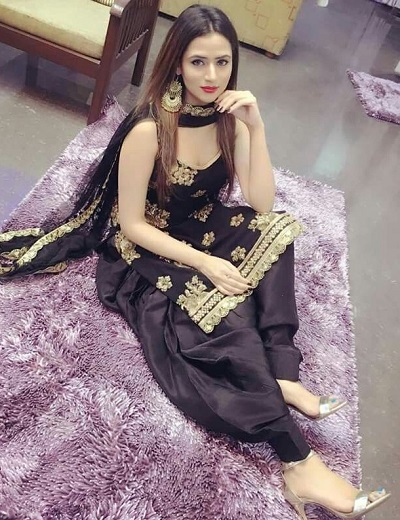 The beautiful black embroidered kurti has black plain salwar. The good day has rich gold embroidery work. It is paired with an embroidered black net Dupatta. The entire dress is so stunning and beautifully made that it would make you a head turner and stunner. Such dresses are good for parties and events. It is been given sleeveless pattern, wherein you can also have it in the regular full sleeves or short sleeve style.
11. Orange And Golden Color Punjabi Style Suit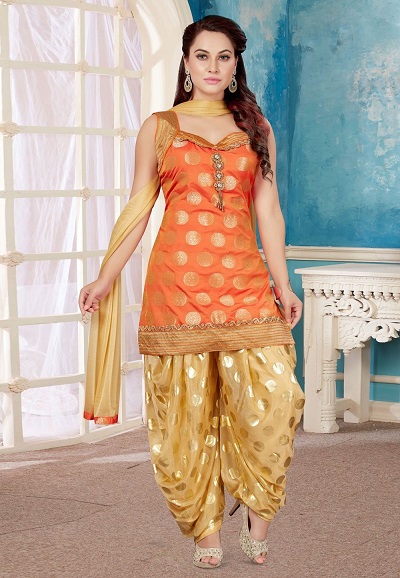 This suit is suitable for any occasion. It is made with strappy sleeveless design. The kurti is short and goes above the knees. The brocade Golden salwar is adding more charm to this gorgeous dress. And Golden Dupatta is added to make it more beautiful and pretty.
12. Steel Grey Gorgeous Punjabi Suit Pattern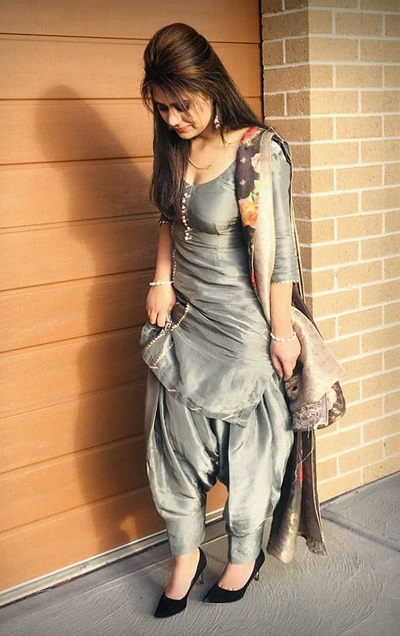 The beautiful stay Steel grey gorgeous Punjabi suit is looking great. It is paired with the printed black dupatta. The 3/4 sleeves and short kameez makes it very appealing. The neckline is also slightly deeper with front buttons. This slits are not very high but medium. Such designs are good for your outings and get together.
13. Brocade pink Salwar Kameez Pattern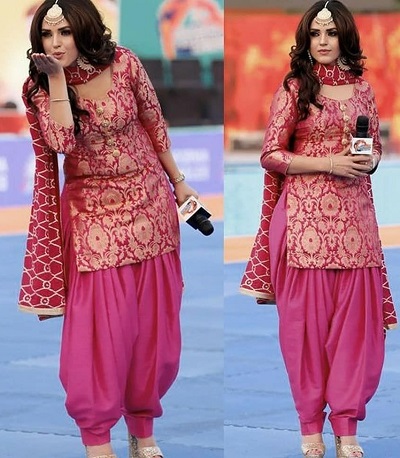 It is a very wedding appropriate dress that looks really outstanding. The brocade pink kameez has plain salwar. The Georgette Golden thread embroidered Dupatta is matching and making it very wedding appropriate designer Punjabi suit dress. With the matching jewellery and hairstyle this dress would make you look highly attractive.
14. Dark Green Punjabi Suit With Embroidery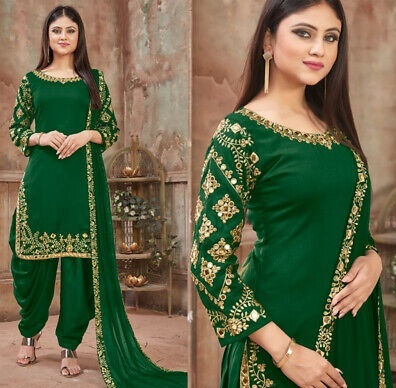 This gorgeous suit has embroidery all over the sleeves and near the sleeves. Otherwise, the plain suit has gorgeous deep dark blue green color. Such dresses are ideal for weddings and parties.
15. Double Slit Style Punjabi Suit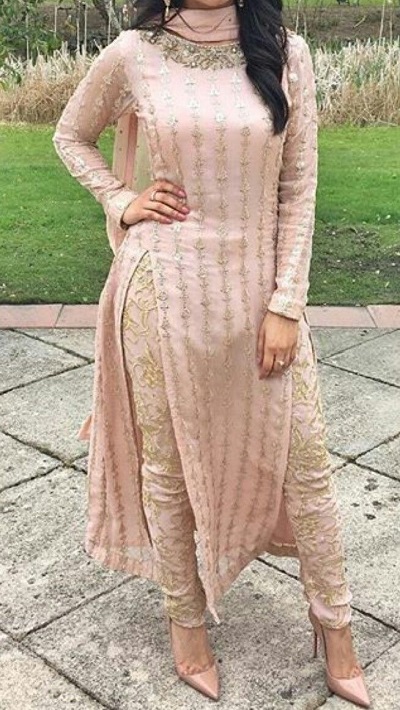 The blush pink dress has full sleeves and has the high slits not on the sides. It has chudidar pajami style salwar with embroidery. The same embroidery with golden thread is seen on the front part. It is a Boat styled Neck Kurti pattern that is suitable for any party.
So, these are the latest Punjabi suit designs available in the market and can be made from your local boutique.
16. Plain Punjabi Suit In Mint Green Color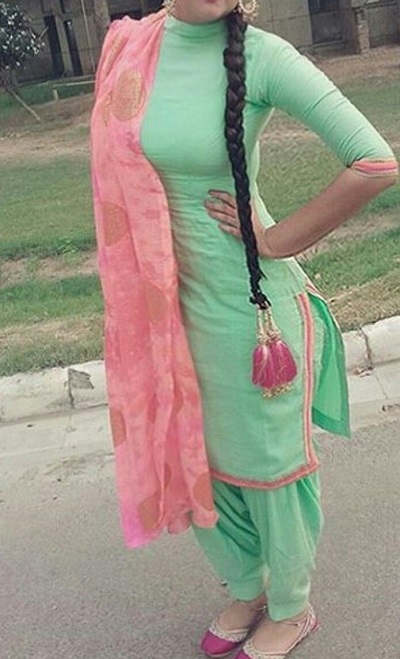 17. Orange Chanderi Punjabi Suit With Golden Salwar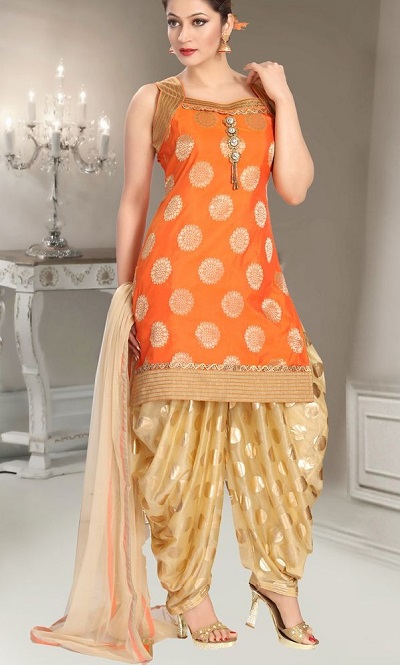 18. Long Length Punjabi Suit With Printed Silk Dupatta And Palazzo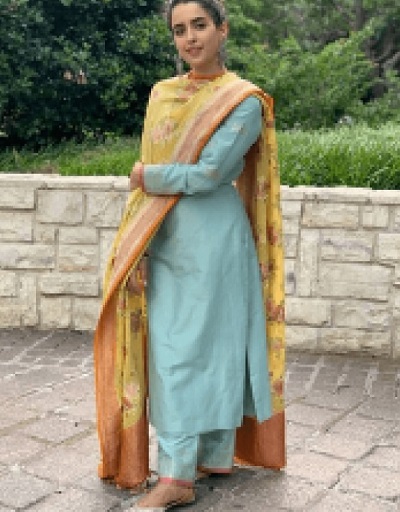 19. Side Slit Yellow Punjabi Kurta With Skirt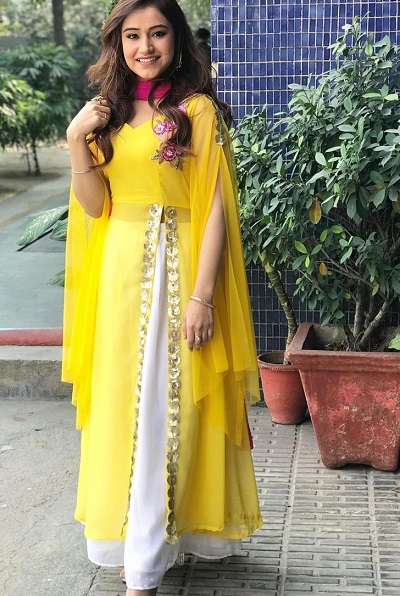 20. Simple Cotton Punjabi Suit With Blue Phulkari Dupatta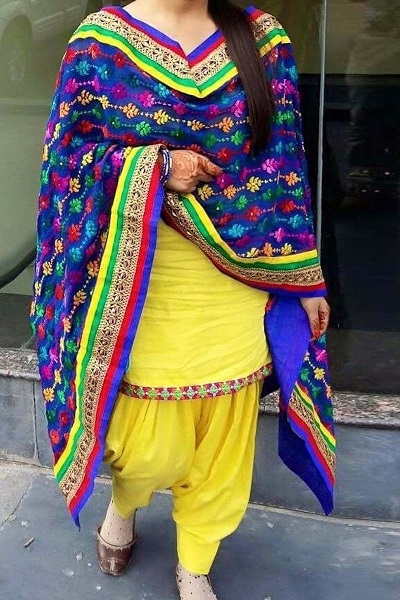 21. Silk Punjabi Suit With Patiala Salwar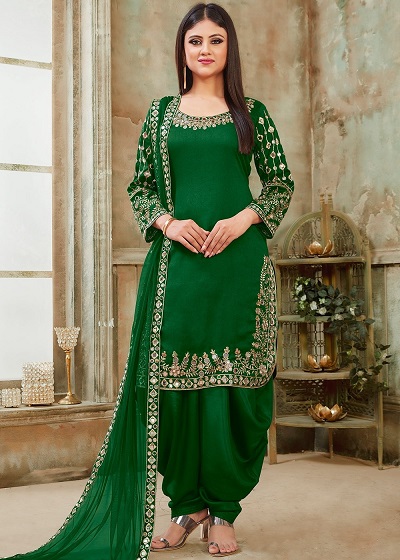 22. Orange Punjabi Suit With Border And Phulkari Dupatta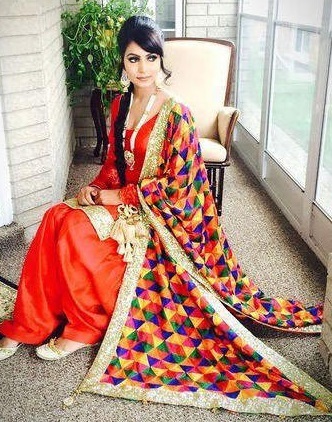 23. Plain Simple Punjabi Suit With Palazzo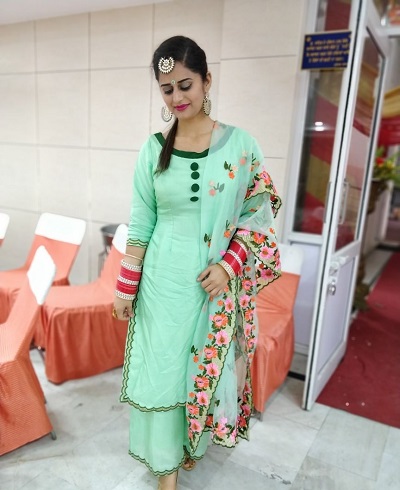 24. Chanderi Silk Punjabi Kurti With Full Flair Palazzo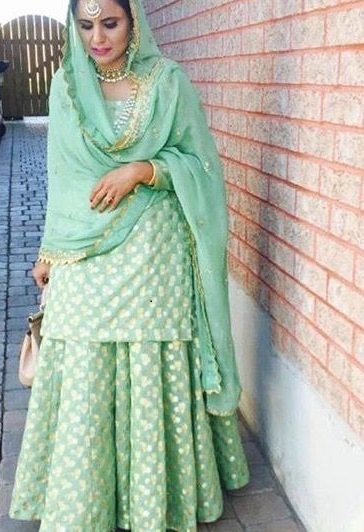 25. Printed Dupatta With Punjabi Short Suit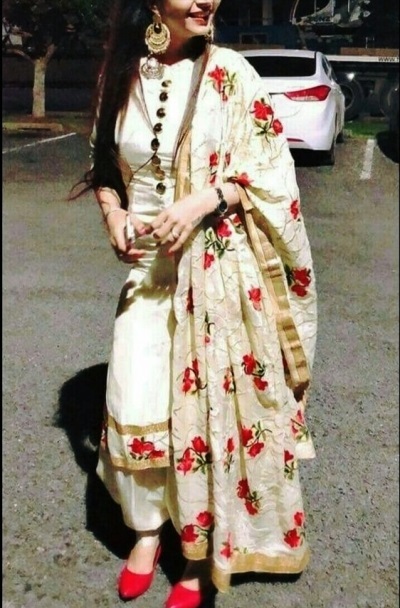 26. Grey Punjabi Embellished Suit With Dupatta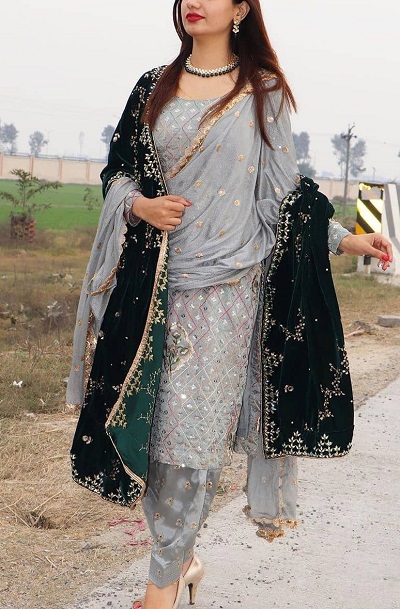 27. Punjabi Suit With Palazzo And Net Dupatta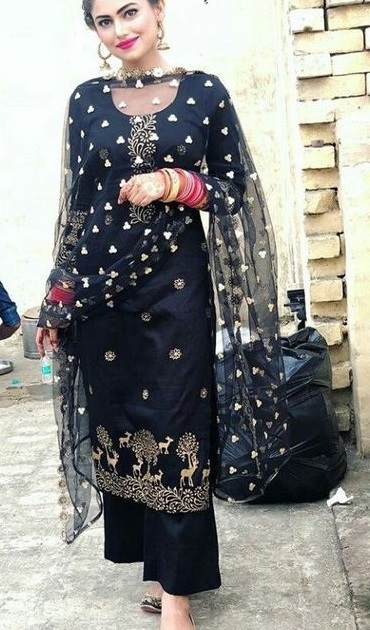 28. Simple Punjabi Suit In Chanderi Silk Fabric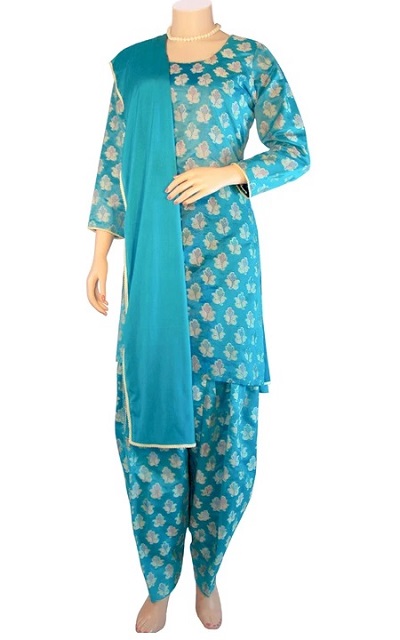 29. Golden Punjabi Kurti With Patiala Salwar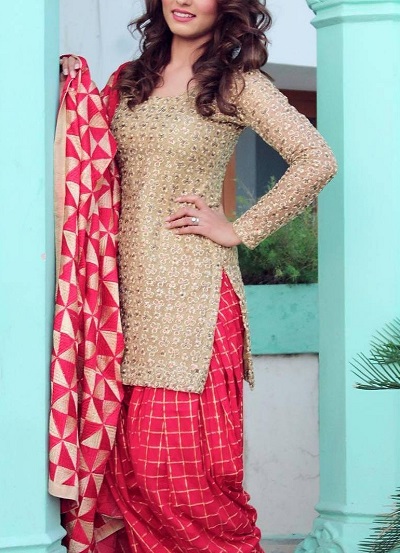 30. Simple Punjabi Kurti With High Side Slit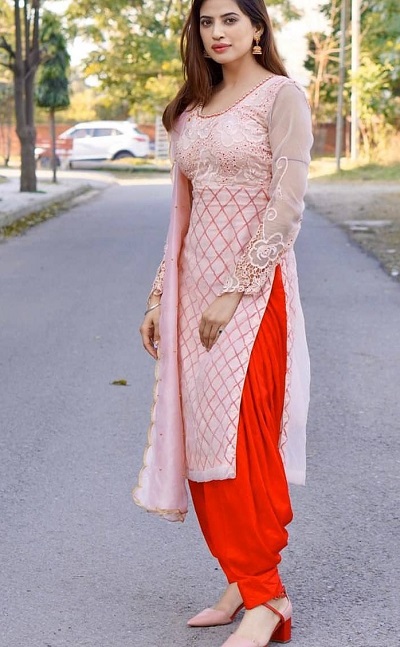 31. Velvet Punjabi Kurti With Full Patiala Salwar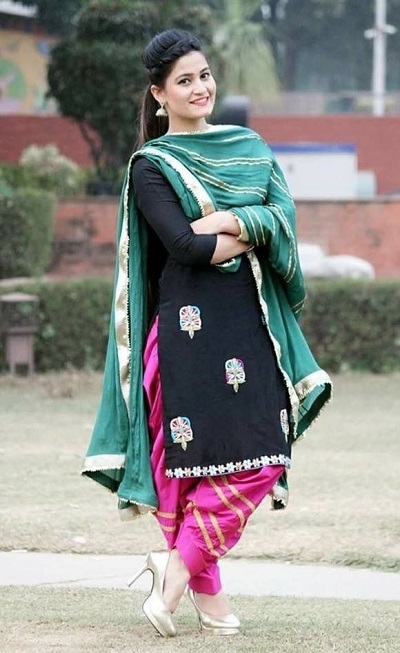 32. Thread Embroidered Punjabi Short Suit With Net Embellished Dupatta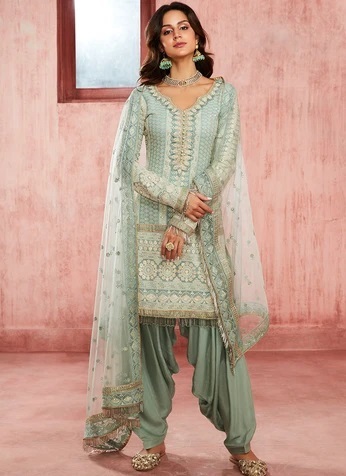 33. Very Short Punjabi Suit With Dupatta

34. Short Anarkali Suit With Patiala Salwar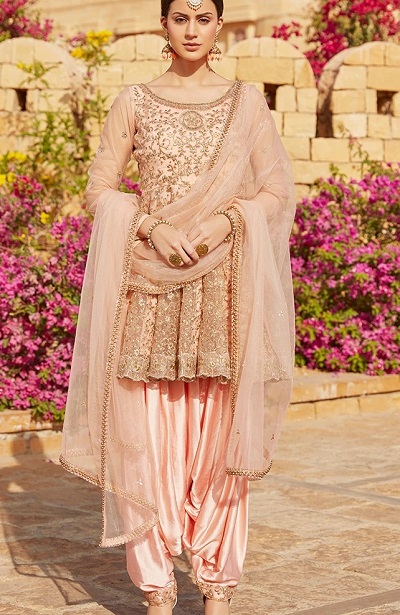 35. Green Punjabi Medium Length Suit With Net Dupatta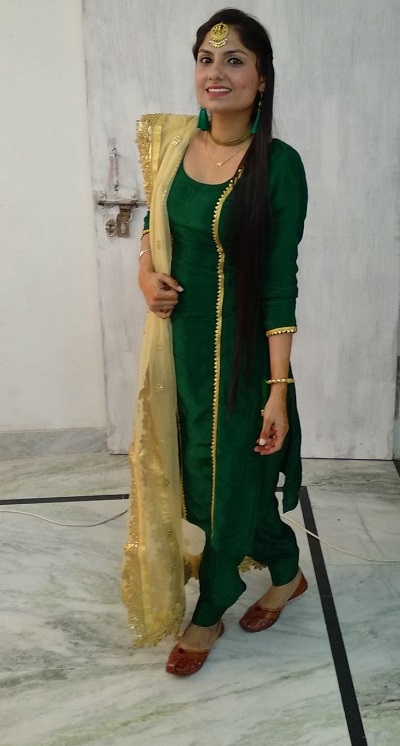 36. Green Punjabi Suit With Golden Border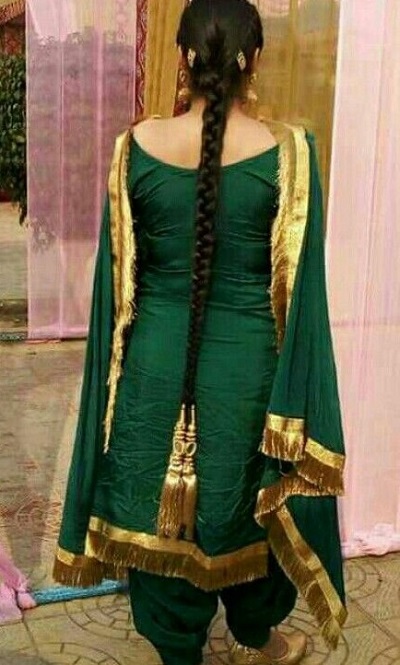 37. Simple Daily Wear Punjabi Printed Suit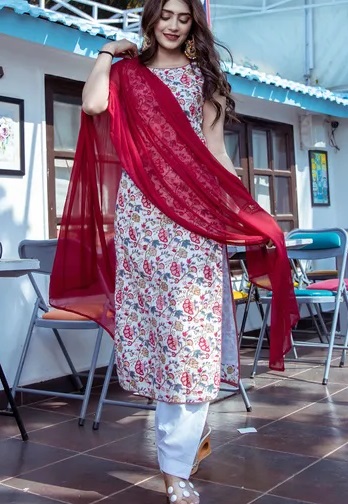 38. Festive Wear Gota Patti Punjabi Suit Style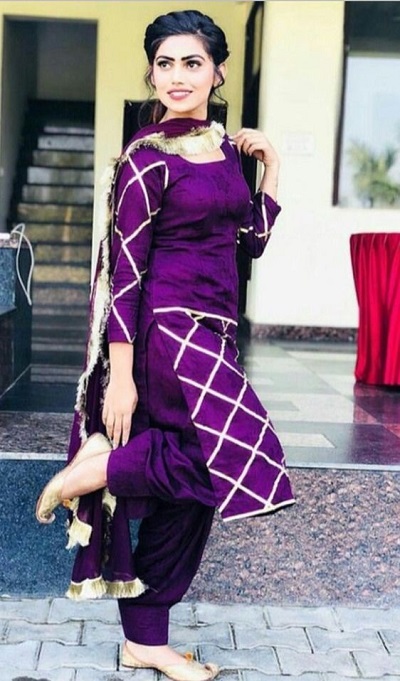 39. Simple Cotton Wine Color Punjabi Suit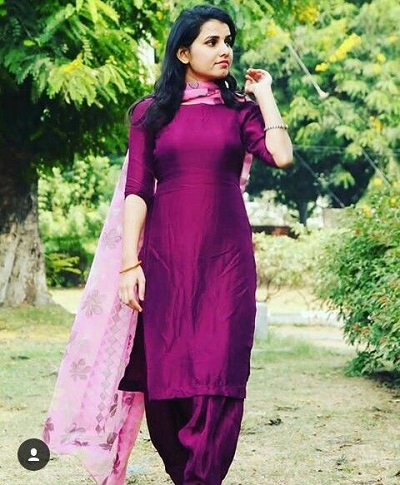 40. Plain Punjabi Suit With Heavy Dupatta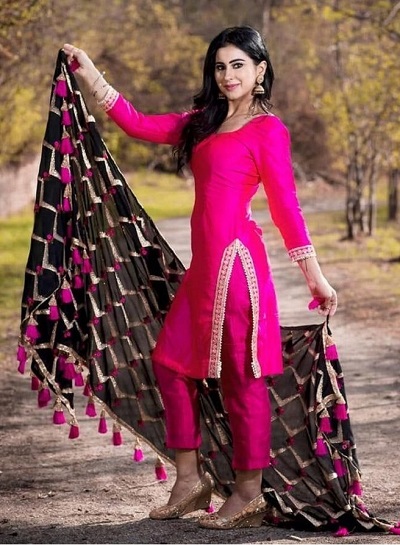 41. Punjabi Velvet Suit With Net Dupatta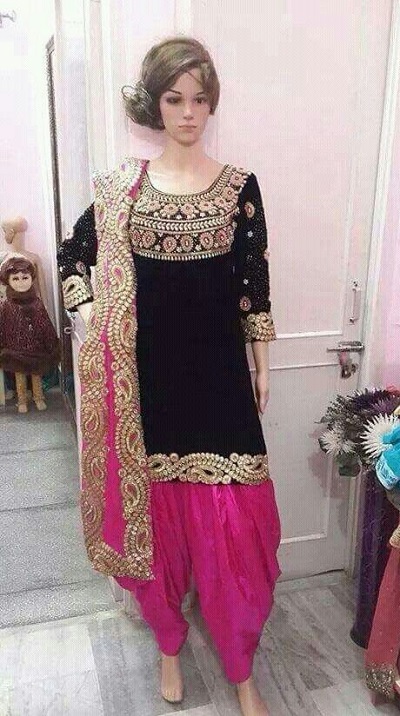 42. Short Punjabi Style Suit With Jacket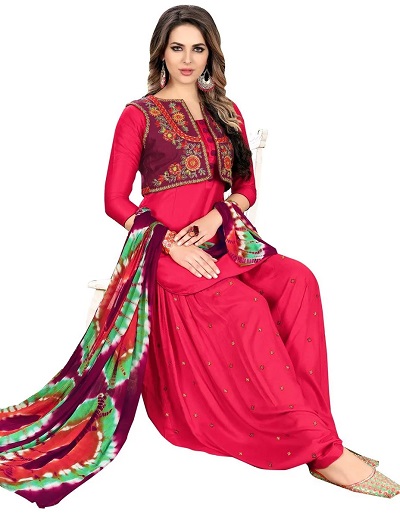 43. Red Punjabi Style Suit With Dupatta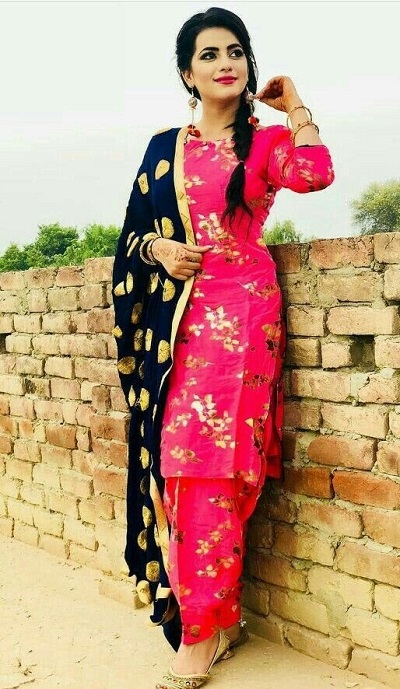 44. Chanderi Silk Punjabi Suit With Embellished Dupatta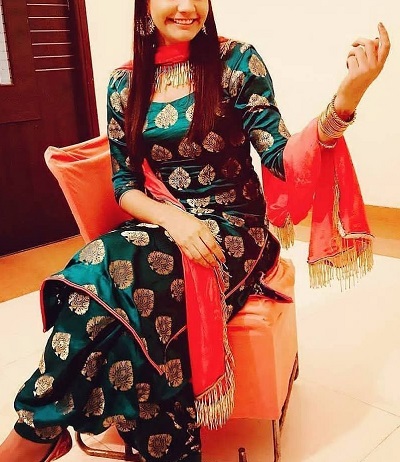 45. Basic Printed Punjabi Style Suit For Girls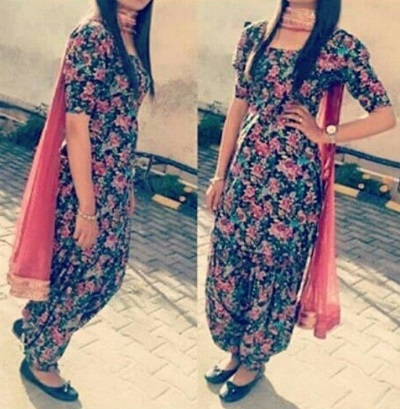 46. Printed Short Punjabi Suit In Multicolor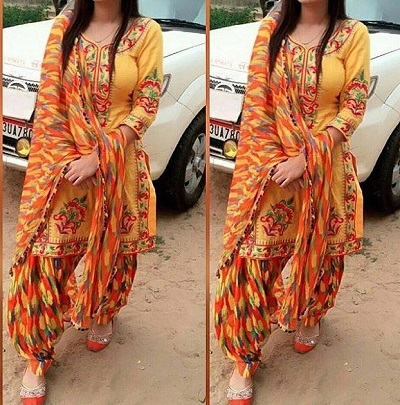 47. Golden Sequin Kurti With Phulkari Dupatta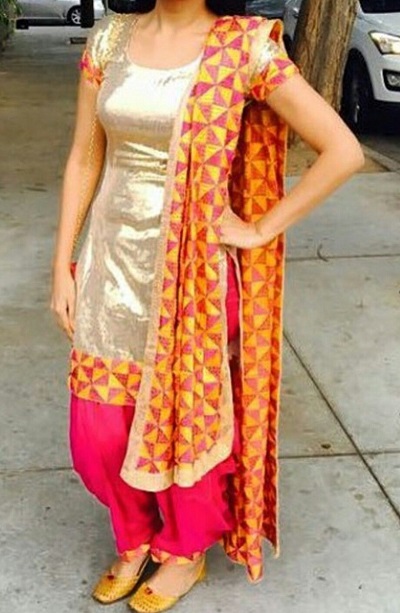 48. Blue Embroidered Punjabi Suit With Churidar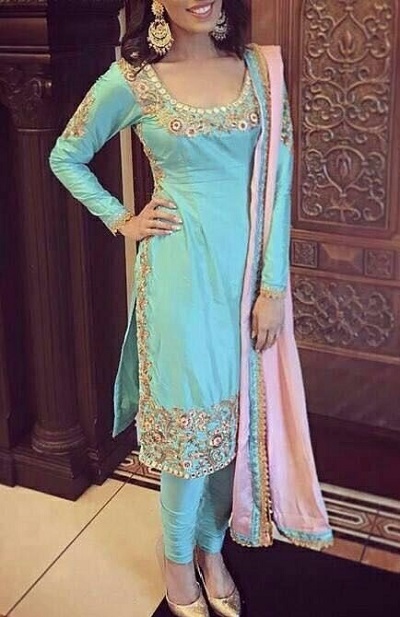 49. Green Silk Embellished Punjabi Suit Churidar And Dupatta Set

50. Blue and Gold Punjabi Style Party Wear Suit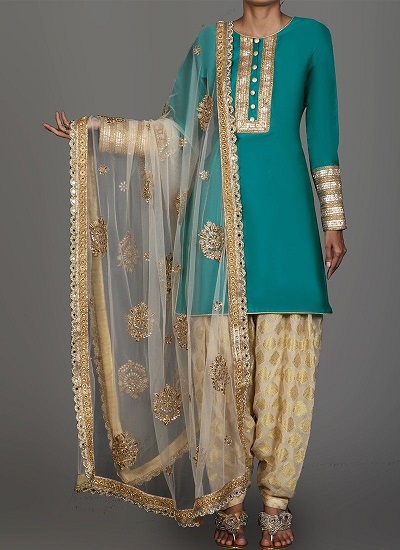 51. Simple Grey And Pink Short Punjabi Style Suit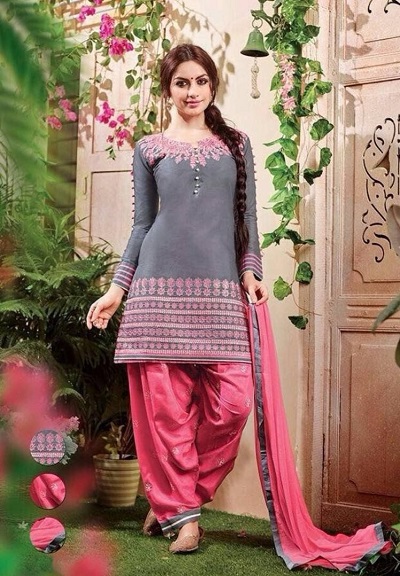 52. Golden Red Punjabi Suit For Festivals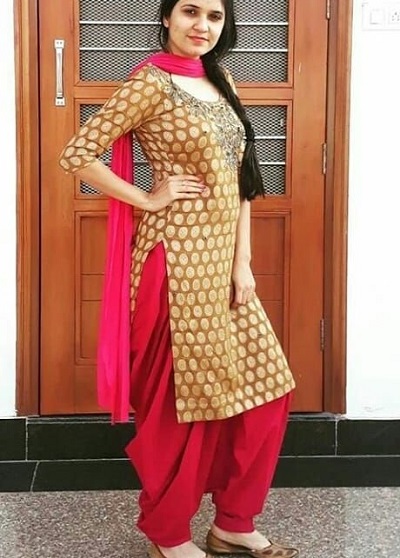 53. Green Cotton Punjabi Suit With Yellow Dupatta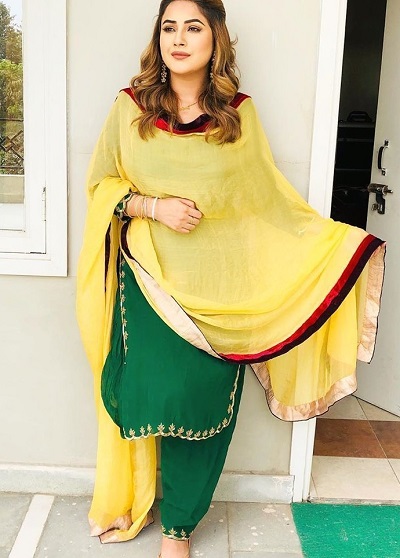 54. Short Punjabi Rounded Hemline Kurti With Full Flair Patiyala Salwar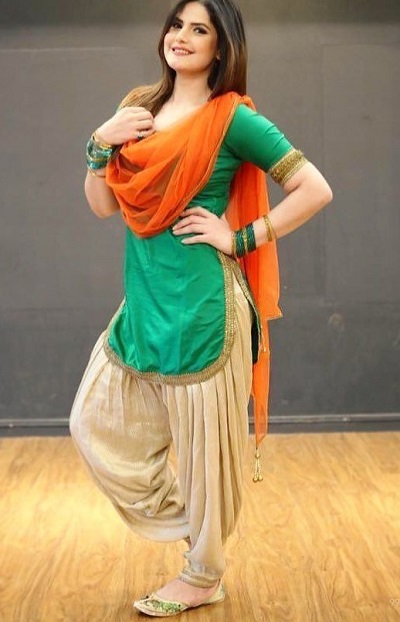 55. Dark Wine Suit With Green Dupatta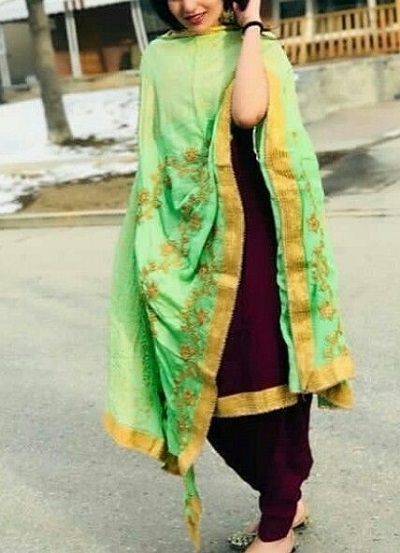 56. Navy Blue Party Wear Punjabi Style Suit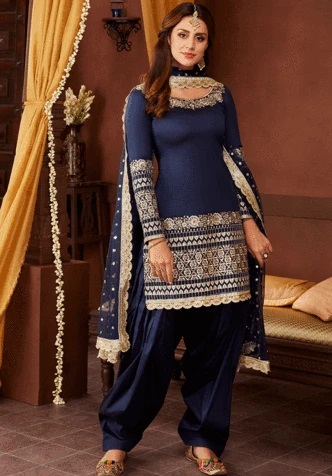 57. Shaded Punjabi Suit With Dupatta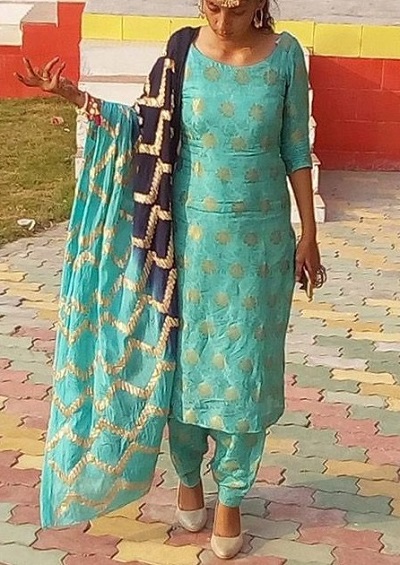 58.Double Color Punjabi Suit Style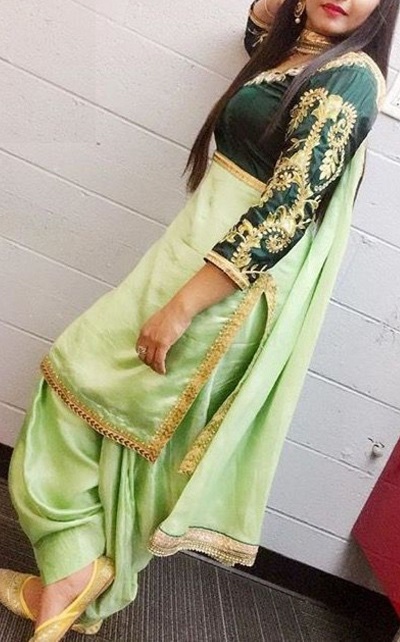 59. Yellow Suit With Multicolor Dupatta

60. Yellow And Maroon Punjabi Suit Pattern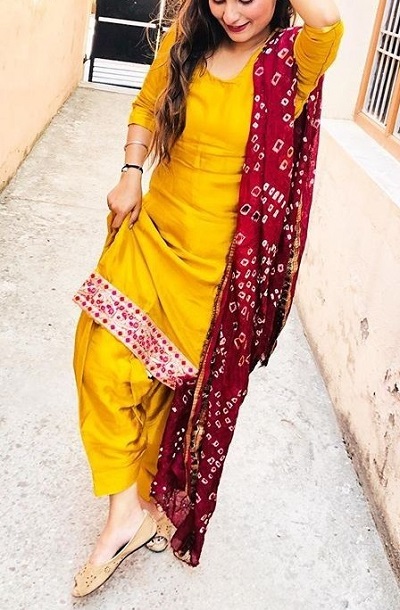 61. Stylish Festive Wear Punjabi Suit Pattern For Girls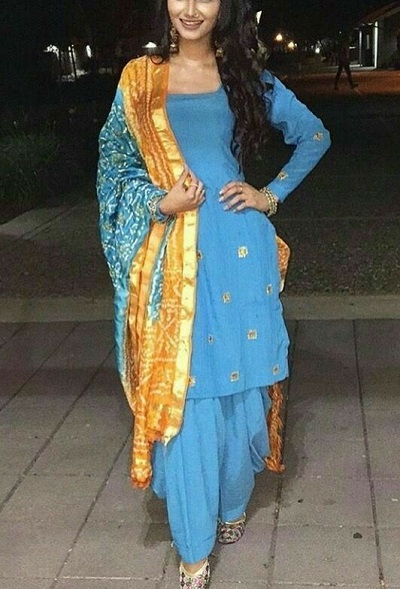 62. Simple Cotton Embellished Suit With Gota Patti Work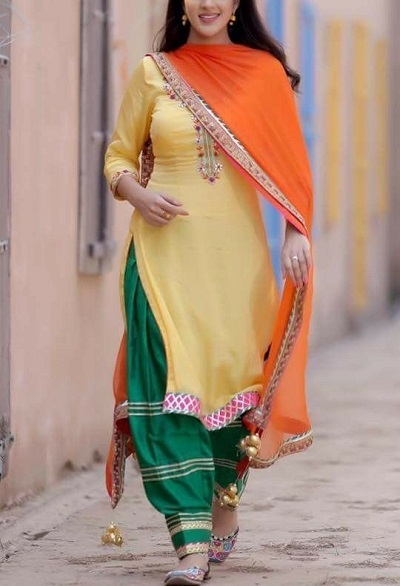 63. Yellow Short Punjabi Suit With Pink Border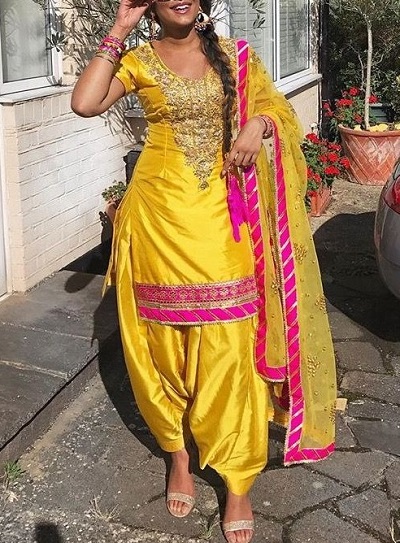 64. Short Red Punjabi Suit With Net Dupatta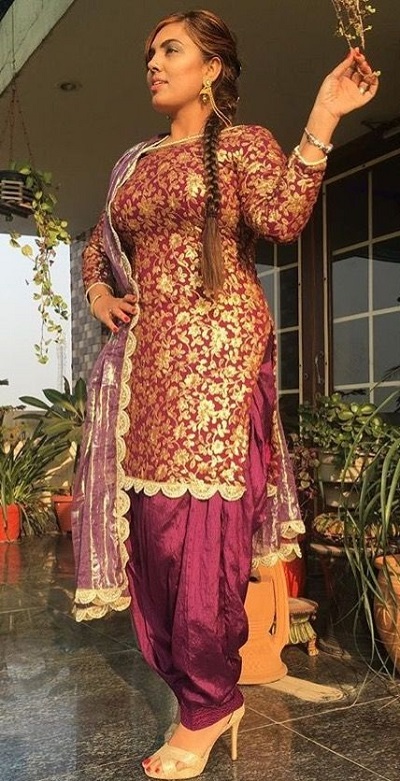 65. Deep Wine Color Punjabi Suit For Parties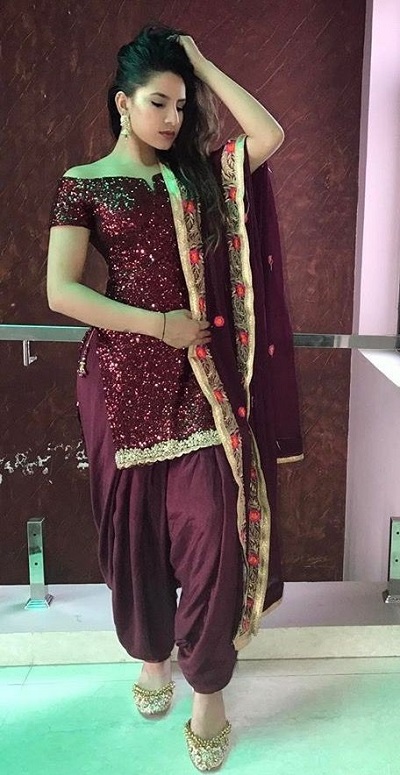 66. Halter Neck Style Punjabi Kurti Set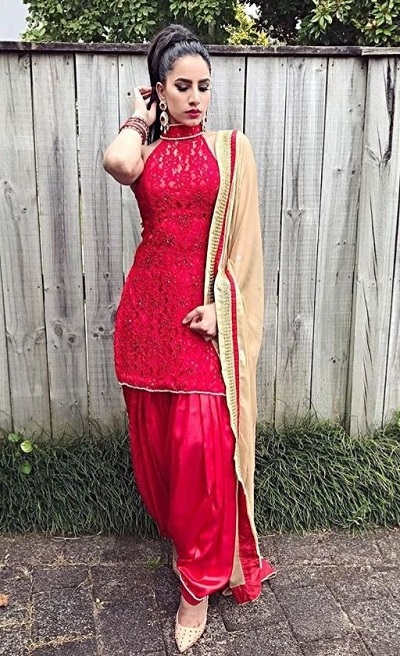 67. Simple Orange And Yellow Punjabi Suit Set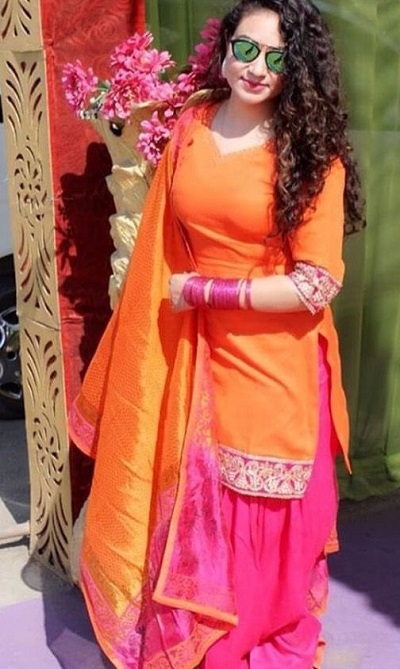 68. Festive Wear Orange And Blue Suit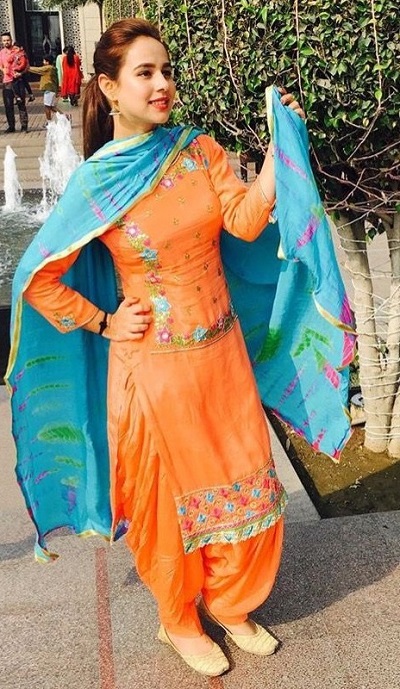 69. Carrot Pink Embellished Suit With Semi Patiala Salwar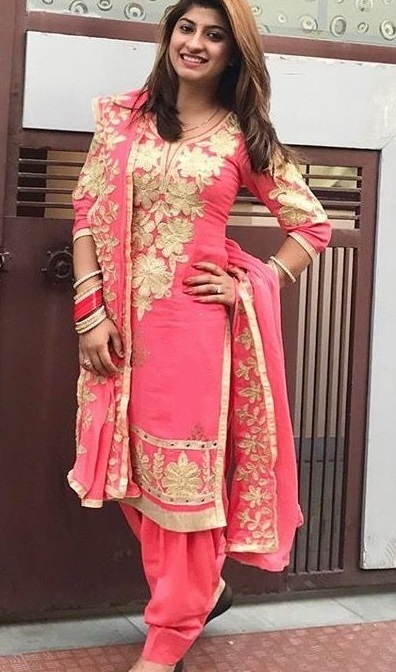 70. Punjabi Suit With Full Patiala Salwar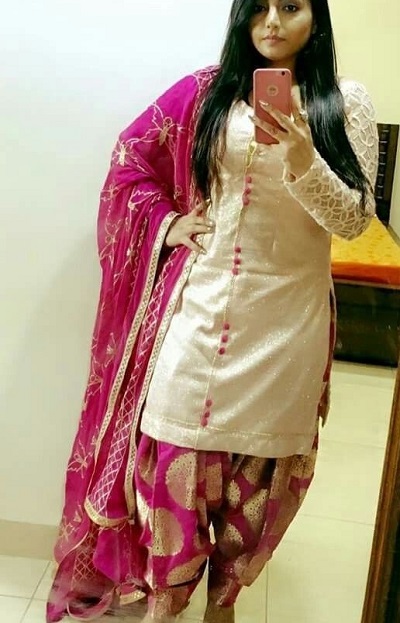 71. Blue Suit With Full Patiala Salwar Per Parties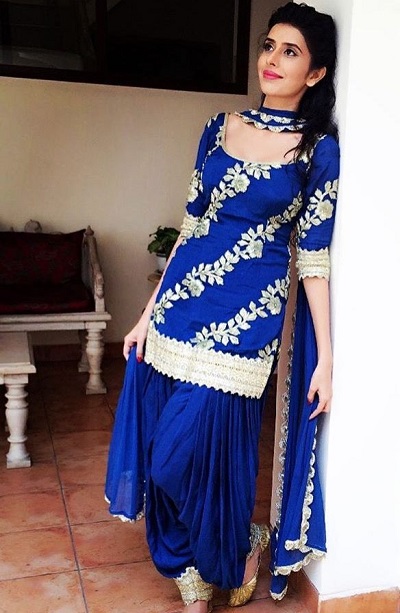 72. Velvet Short Punjabi Kurta With Net Heavy Dupatta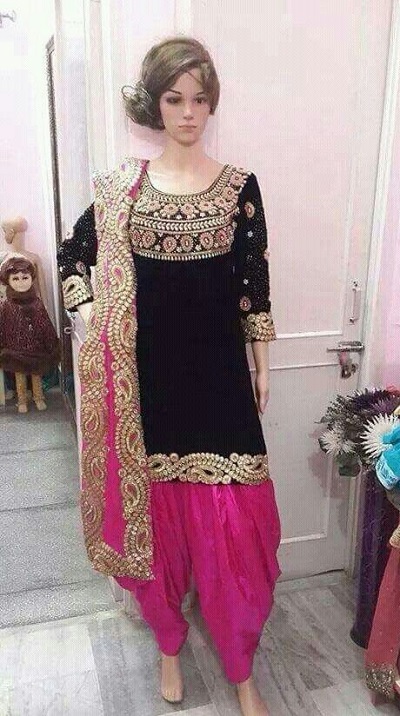 73. Party Wear Punjabi Suit And Brocade Patiala Salwar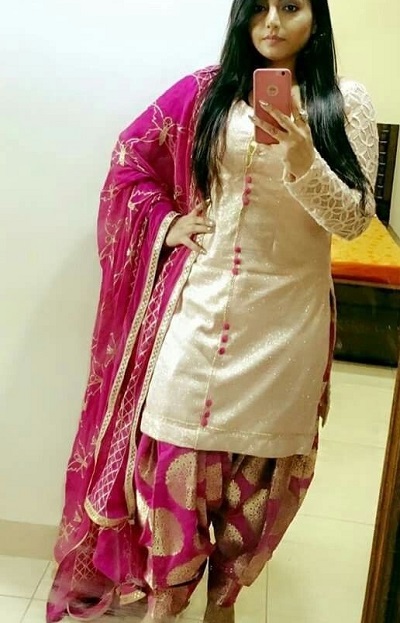 74.  Simple Cotton Suit With White Salwar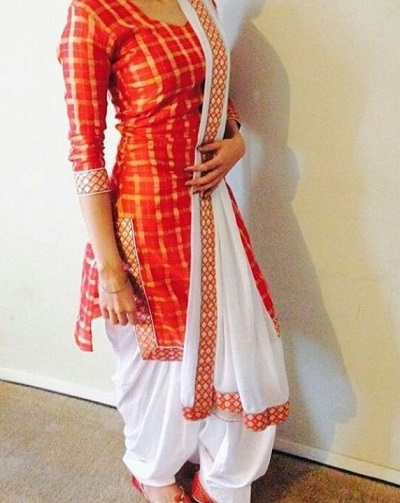 75. Yellow Suit With Straight Palazzo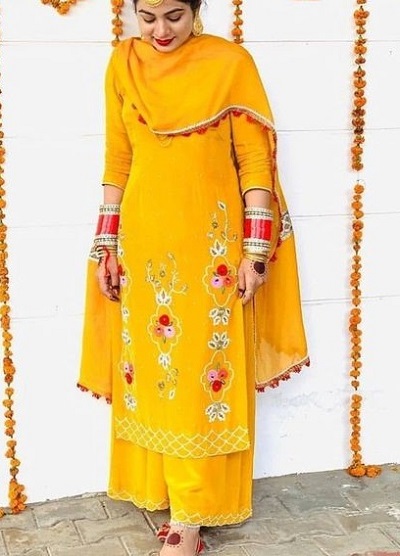 76. Simple Mirror Work Yellow Punjabi Style Salwar Suit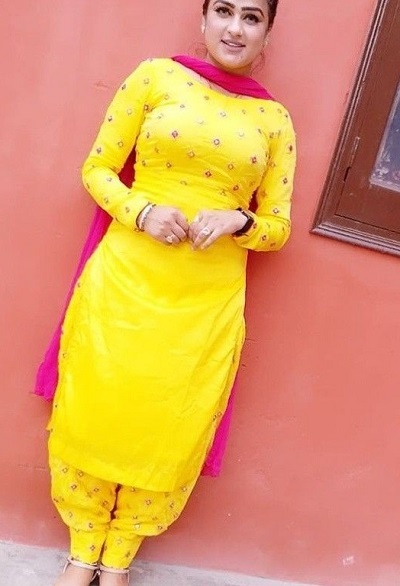 77.  Punjabi Suit With Flared Sleeves And Dhoti Pants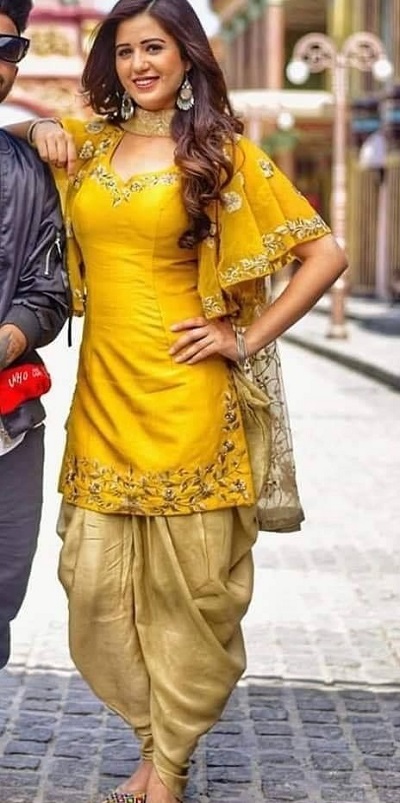 78. Velvet Blue Party Wear Short Salwar Suit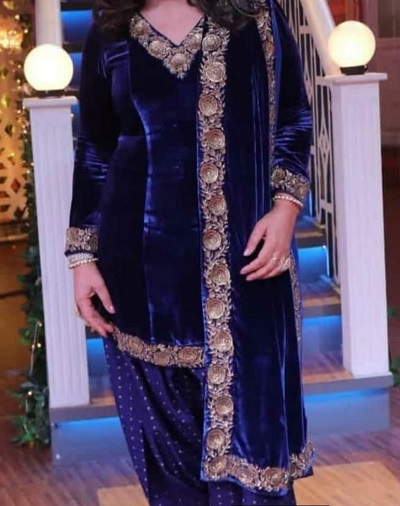 79. Black Velvet Punjabi Suit With Semi Patiala Salwar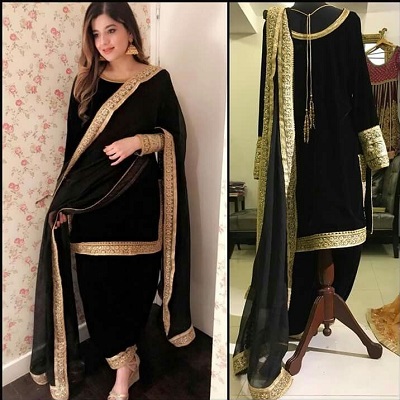 80. Velvet Long Kurti With Straight Fit Brocade Pants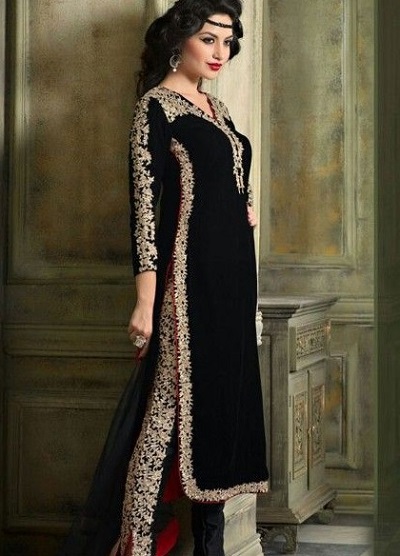 81. Simple Blue And Yellow Punjabi Salwar Suit Style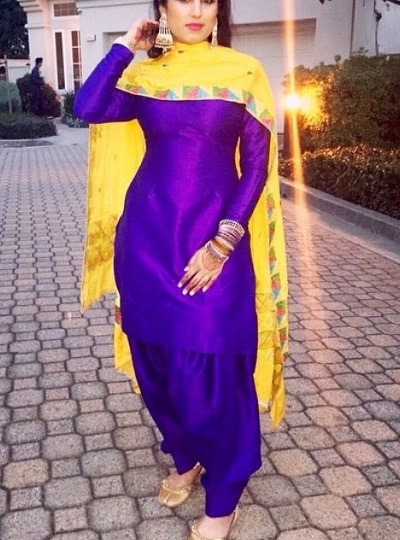 82. Simple Cotton Blush Pink Suit With Printed Dupatta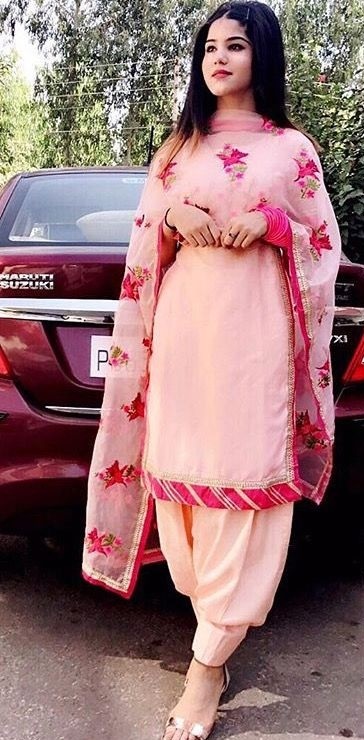 83. Simple Daily Wear Punjabi Salwar Suit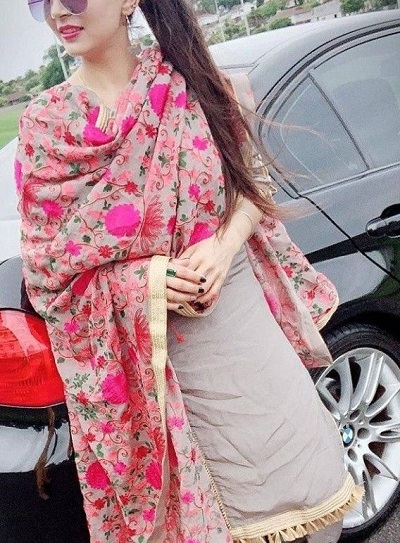 84. Gota Work Yellow And Pink Salwar Suit For Parties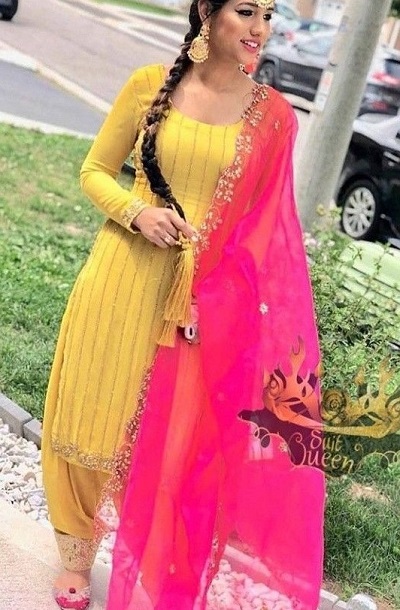 85. Party Wear Brocade Punjabi Suit With Cotton Salwar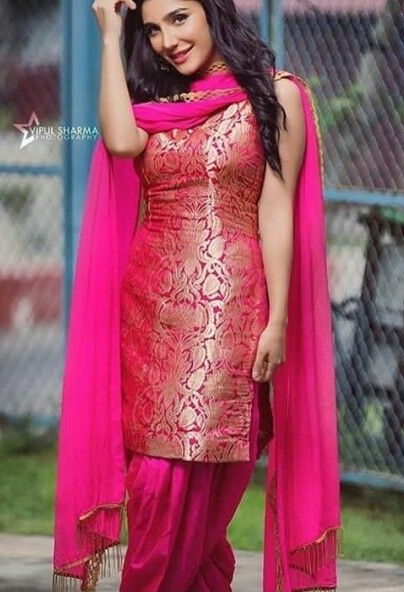 86.  Blue Silk Suit With Full Sleeves And Phulkari Dupatta
87. Beige and Blue Salwar Suit Set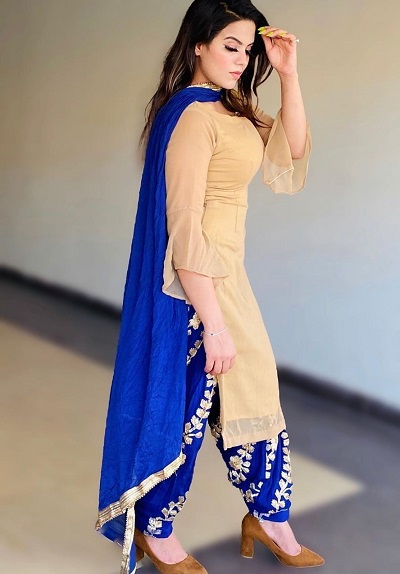 88. Simple Sleeveless Short Suit With Semi Patiala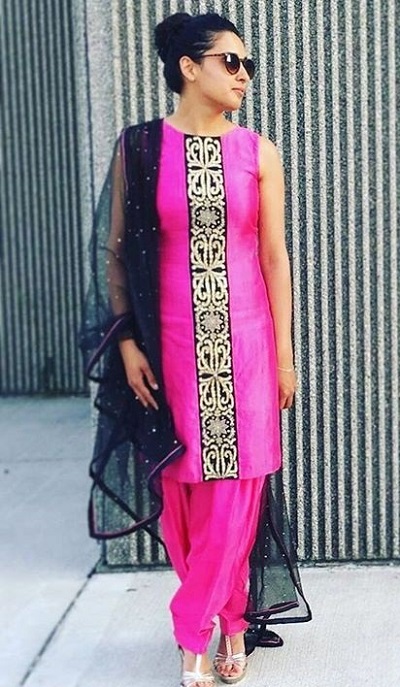 89. Red Suit With Full Flair Patiala Salwar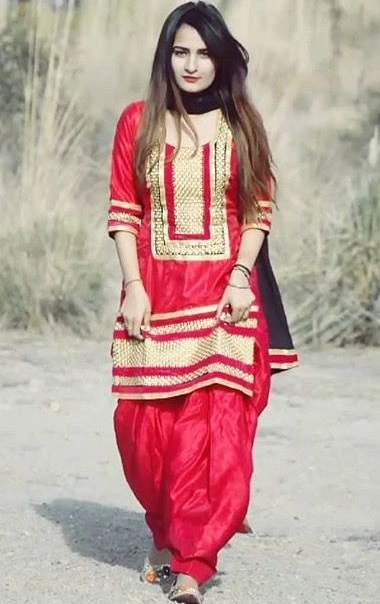 90. Velvet Green Kurti With Flared Sharara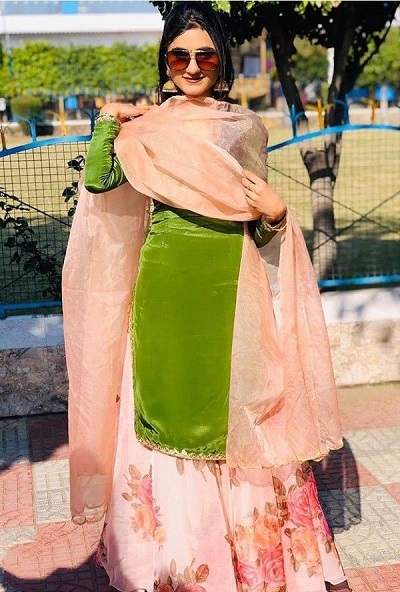 91. Parrot Green Full Patiala With Green Kurta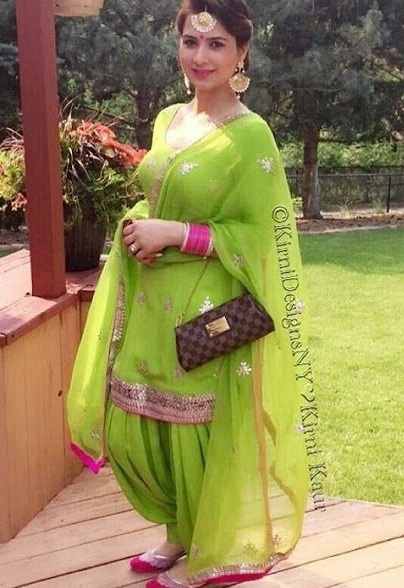 92. Everyday Wear White Printed Punjabi Suit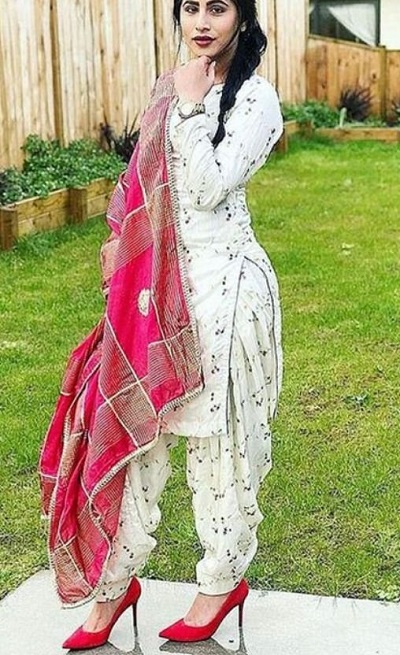 93. Designer Punjabi Suit For Parties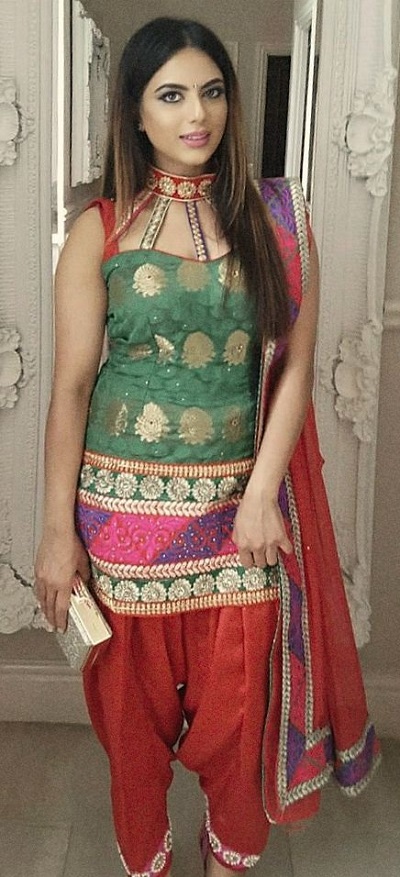 94. Party Wear Sleeveless Punjabi Simple Suit With Stylish Dupatta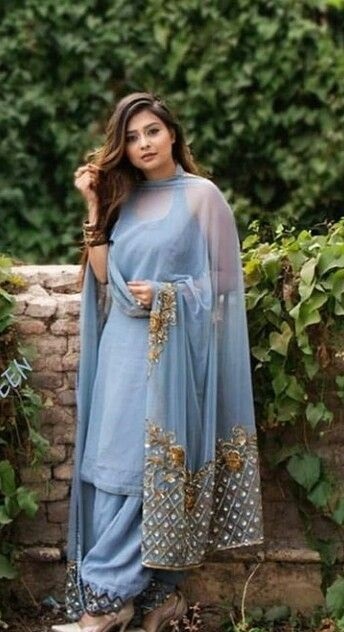 95. Maroon Suit With Embellished Salwar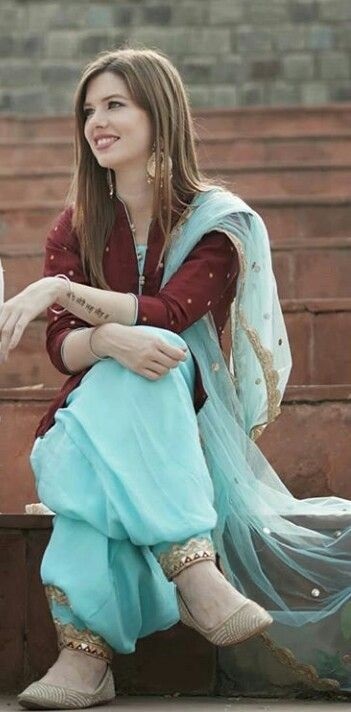 96. Lace Fabric Suit With Short Cropped Trousers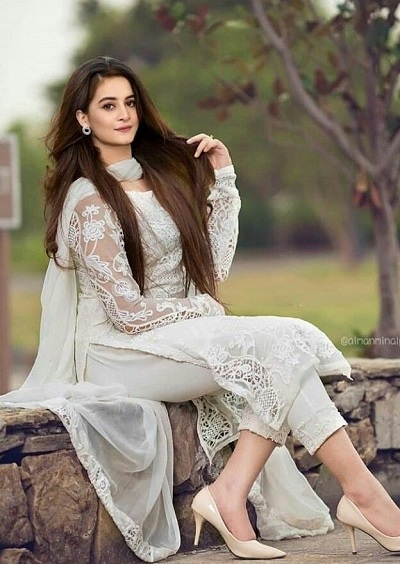 97. Orange Net Short Kurti With Golden Full Patiala Salwar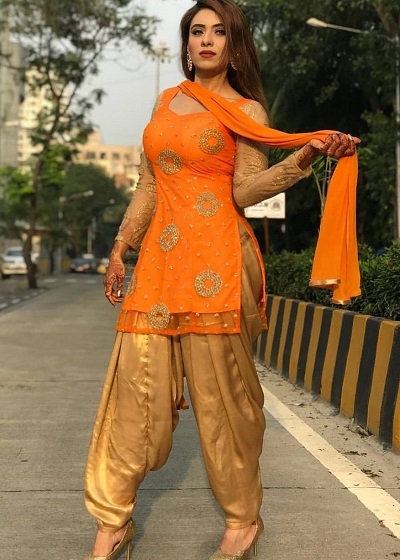 98. Simple White And Yellow Punjabi Salwar Suit Style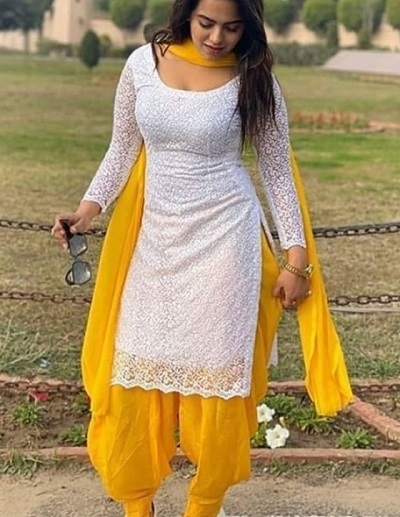 99. Maroon Punjabi Cotton Salwar Suit Pattern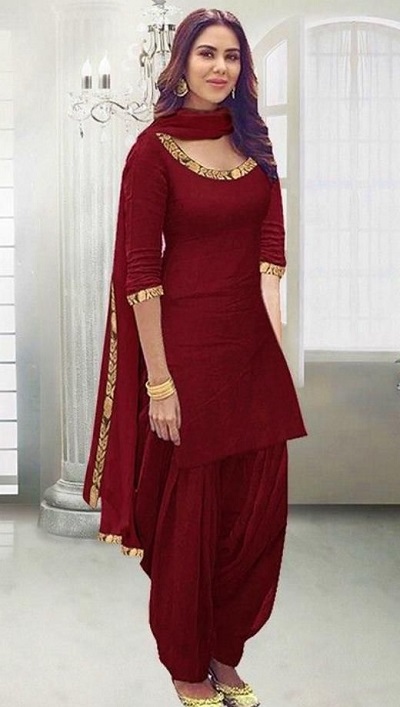 100. Short Velvet Kurti With Sharara