Saree blouse is an elegant ethnic wear for women. In a saree, blouse is the most important part because it helps in making your saree appropriate for different functions. For example, one can have a heavy saree with a plain simple blouse or it can also be worn with heavy blouse. So, the combination can take the sari to a new level which is why, we have compiles this catalogue about the latest blouse patterns for sarees currently trending in the market.
Gorgeous designer gold blouse pattern
The gorgeous blouse has a sweetheart neckline and it has a design at the waistline. It is a back hook kind of blouse design that looks really beautiful and lovely. It is ideally a party wear blouse design for women
1. Stylish black Cape net blouse design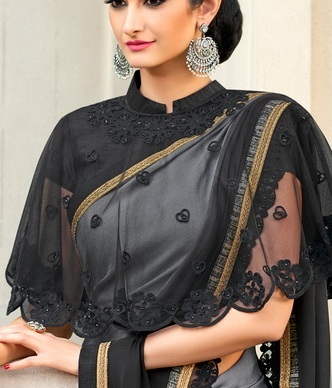 The Cape blouses are very much in fashion and trend and which is why, this net black lace blouse has high neck collar with a Cape on the outer side. The Pallu of the saree goes under the cave and it gives a really nice look. In fact, for the Cocktail event and functions, such Cape style blouse designs are very popular.
2. Designer Silk puff sleeve blouse design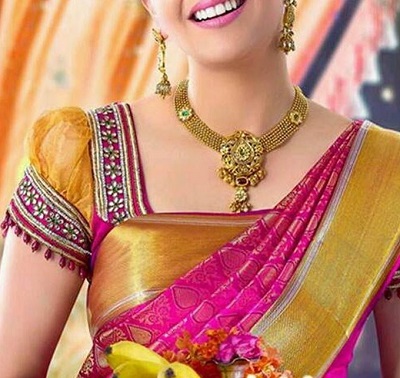 The puff sleeves blouse designs have been here since ages and when it is paired with different types of sleeves and then it looks even prettier. This blouse has puffed sleeves in the sheer net organza fabric with border bearing the stone work. It is a very designer looking blouse for silk saree and Pattu silk sarees.
3. Shoulder designer white blouse pattern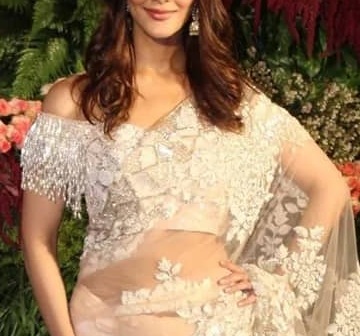 The modern looking off shoulder blouse has a sweetheart neckline and it looks really beautiful. It is for the modern women, who do not shy away from showing the skin and to stay in trend. It has beadwork and dangling beads make it a perfect cocktail party or party designer blouse. This blouse is really beautiful and it also makes the saree prettier that is being paired with his heavy blouse.
4. Off shoulder neckline blouse design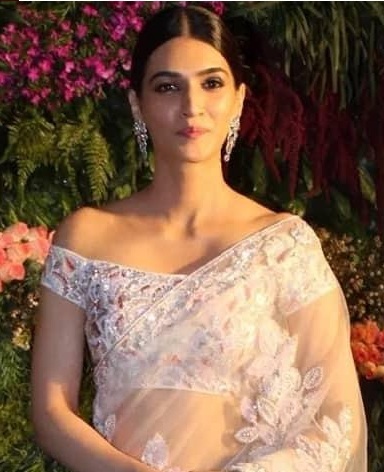 Since, the blouse is off shoulders, it is called as off shoulder blouse design, but yet it has a Boat shape Neck line. The blouse shows off the beautiful and well toned collar bone and the long neckline. The blouse has a beautiful and neatly done stone and work. This is also a party wear and Cocktail function appropriate blouse design for women.
5. Stylish high neck blouse design for women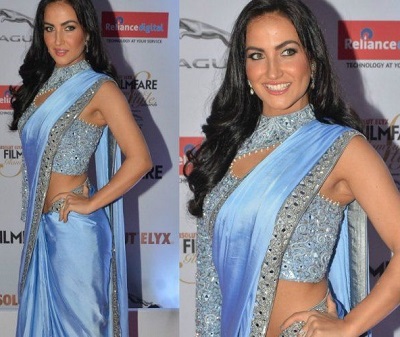 The stone embellished and fully stone studded blouse has a unique cut under the collar and it also comes with a high neck collar. The blouse is a sleeveless pattern blouse that is being paired with a nice blue satin saree. The designer blouse is for sure one of the best looking blouses currently.
6. Velvet blouse design for parties and functions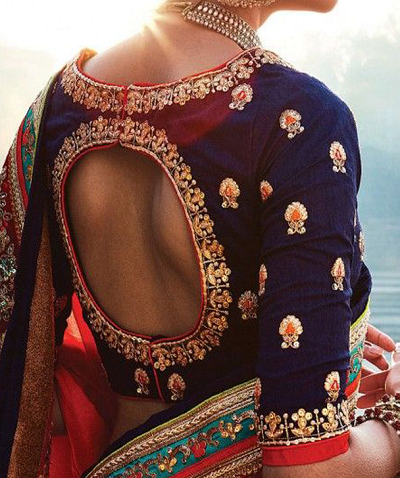 The velvet blouses were earlier in trend and they are back in trend again. Especially, common for the winter weddings and winter festivals, when the velvet blouses are very much in trend. This velvet blouse has a round neckline in the front and at the back. A round cut at the back also adds more charm to this beautiful navy blue velvet blouse. The blouse is really paired with a nice border work heavy saree.
7. Designer blouse pattern for sarees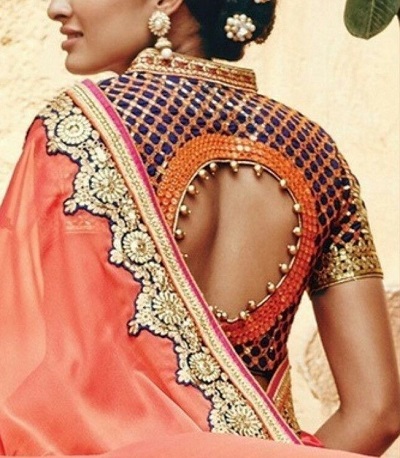 This blouse is a heavily embellished blouse that is being paired with the heavy border saree. The blouse has a round cut the back and has beads as well. This blouse has a collared neckline beauty to this blouse design.
8. Cut work party wear Golden blouse design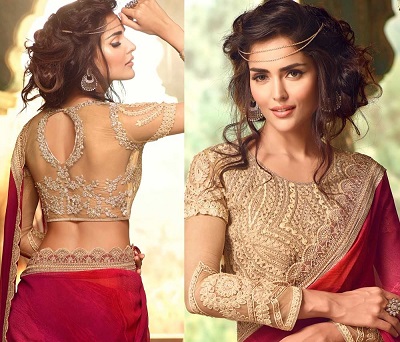 This is a cut work at the back kind of pattern which looks really beautiful. The blouse has pattern and sheer net fabric is used for the back neck line. However, you can also cover it up using the same colored lining. The blouse is a party wear blouse which looks really designer and unique.
9. Stylish ruffled sleeves silk saree blouse pattern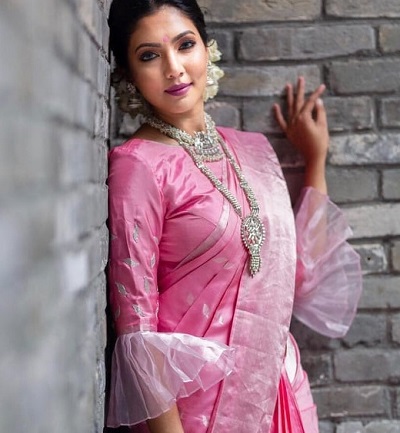 The silk sarees are really popular in the south and they are also very popular when it comes to Indian elegant ethnic wear. This blouse in silk fabric in pink colour looks stunning. It has designer sleeves and that looks really beautiful with this beautiful powder pic
11. Ruffle sleeve wine coloured designer blouse pattern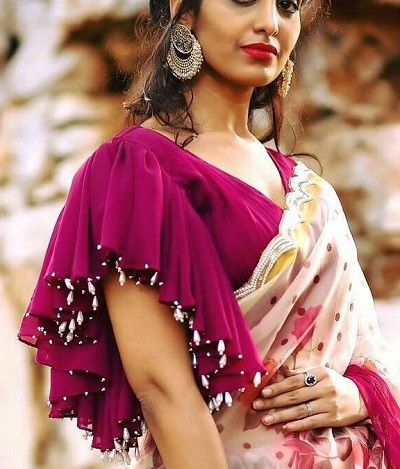 12. Heavily embroidered full sleeves green blouse pattern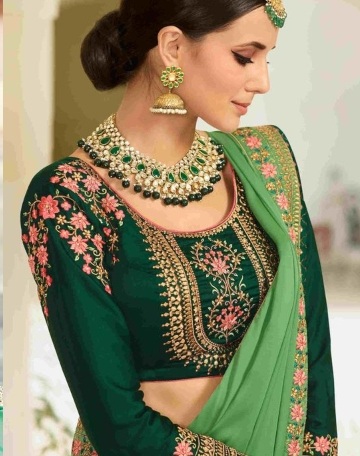 13. Choli cut pattern blouse with sequin work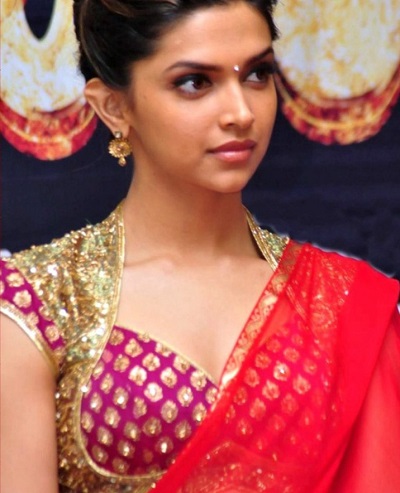 14. Puff sleeve blouse with broad border for silk sarees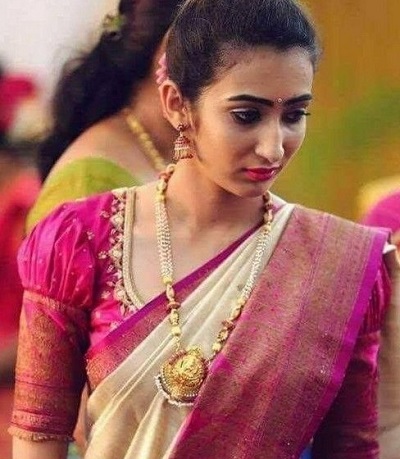 15. Stylish plunging deep V neck blouse design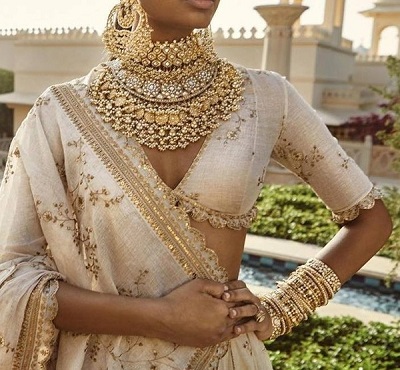 16. Sheer Georgette blouse with stone and bead work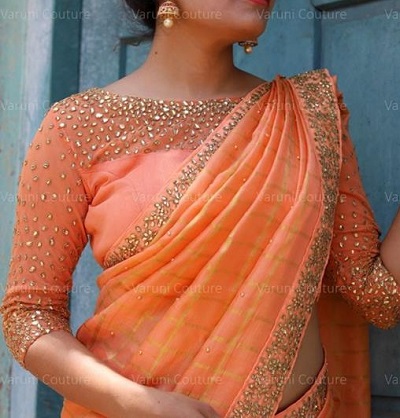 17. Party wear Pattu silk saree blouse with sleeves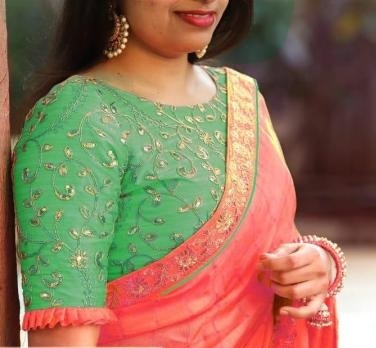 18. Stylish patch style jacket pattern blouse style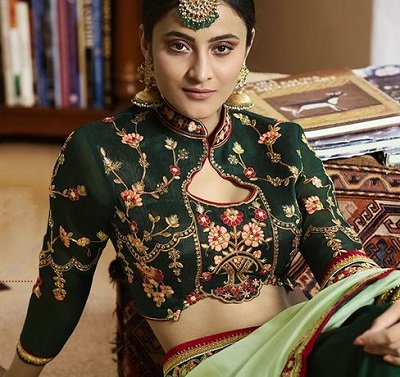 19. Backless blouse pattern with heavy stone work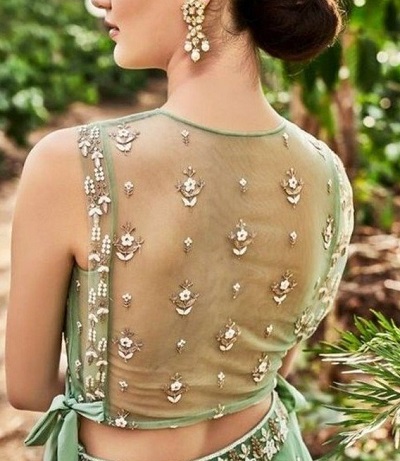 20. Designer Patchwork blouse pattern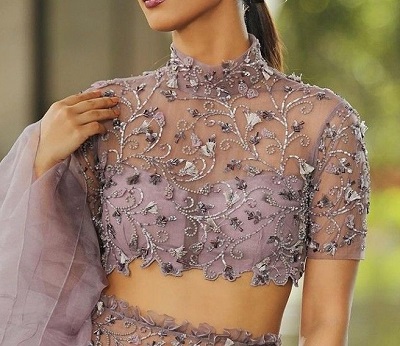 21. Elegant sleeveless Golden blouse pattern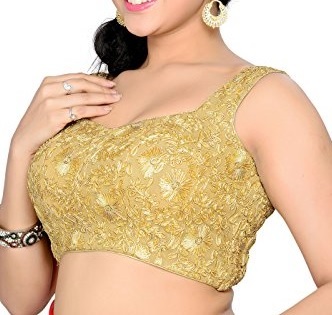 22. Golden sequin studded blouse with Collar patch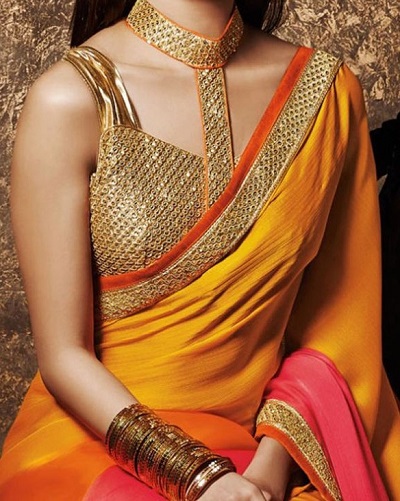 23. Ruffled neckline blouse pattern for sarees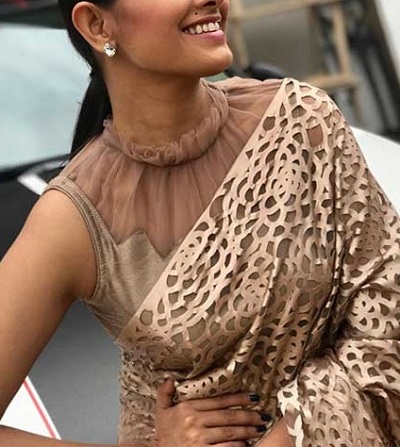 24. Stylish collar Angrakha style wrap blouse pattern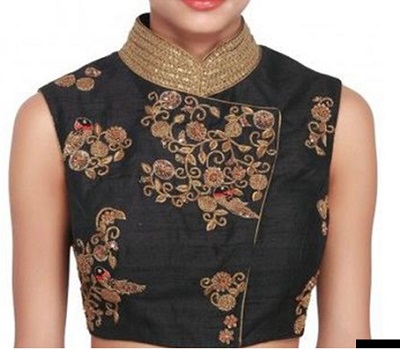 25. Simple sleeveless scoop neckline blouse pattern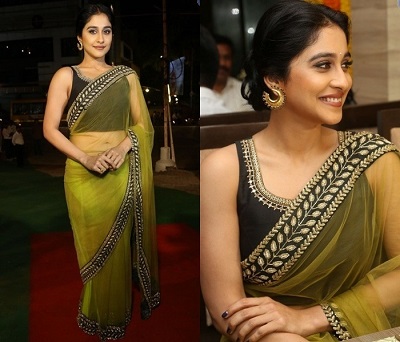 These are the latest designs of blouse patterns for the sarees. Blouse should always be comfortable to wear so that you can wear them with ease. The design of the blouse matters but the ease of wearing the blouse is at most important especially when you are leaving the house and going for a wedding or party ceremony. Which is why, always choose the blouse that suits your personality and you feel comfortable in them.