Silk fabric has that elegance and charm that make it look really good for any dress. In southern part of India, silk sarees are very popular and are worn for different festivals, functions and even for the weddings. This is the latest catalogue of the silk saree blouse back design. So, here you are going to have a look at the Silk blouse back neck line patterns and designs. A blouse is the major thing that makes your saree look really beautiful and amazing. Blouses are made in different patterns and varieties used in the different fabrics, however when it comes to Silk blouse fabric, there are different designs and patterns available that one can go for. Not just that even a Silk blouse can be paired with net saree, Georgette, chiffon and even a cotton silk saree. So let's have a look at the latest designs of silk saree back neck patterns.
Back blouse design for silk sarees are innovative and unique. Most of them are comfortable and stylish, while some of them can be really designer and very modern. You must also keep in mind your body type before going for a particular design or pattern for your back blouse design.
Latest Silk Blouse Back Neck Designs
1. Drop shape back neckline cut out for silk saree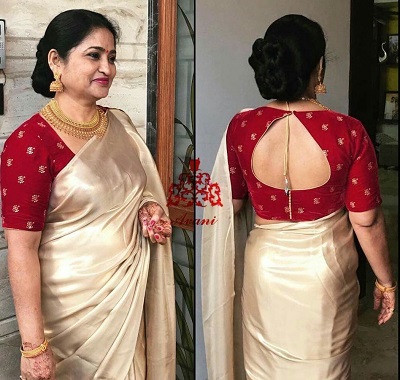 The beautiful blouse in silk fabric has woven pattern all over. The back buttons are given with potli buttons. This blouse has a teardrop shape but that makes it a semi backless kind of blouse.
2. Brocade silk backless blouse for silk saree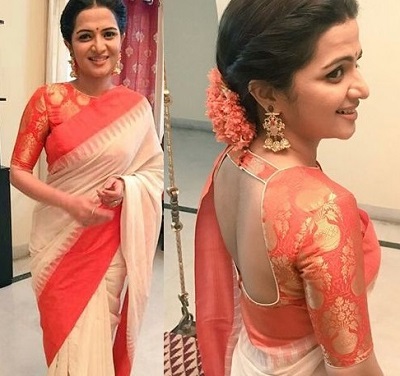 The blouse is really pretty and made with a charming peach orange colour. It has a backless pattern with back hook and the shoulder strap to keep the blouse in place, is also added. For sure, the blouse looks really amazing and a round boat shape neck line is given. It is one of the latest designs for silk saree. This boat neck blouse design for silk sarees is also very comfortable to wear. In fact, it is also a silk saree wedding blouse design.
3. Half backless silk saree design with strings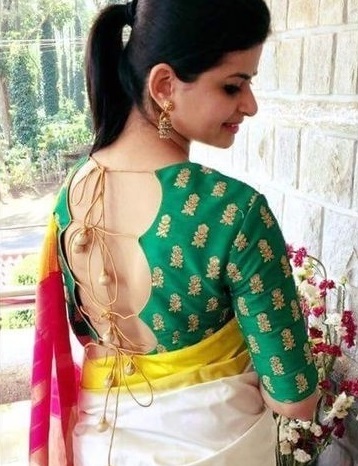 Currently strings are added to Indian ethnic wear very conveniently. The use of strings is not new and it makes the blouse or any Indian ethnic wear really beautiful. The strings are used to keep the blouse in place. For such blouse designs, one must be careful to tie the strings tightly. This blouse for silk saree is also a new pattern blouse idea. It is a perfect blouse design for your pattu sarees and other type of sarees.
4. Yellow Silk saree back blouse design with slit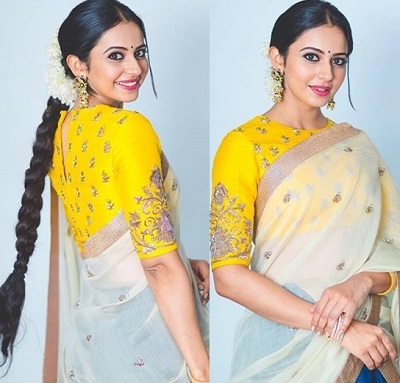 The blouse here looks really pretty and it is a fancy blouse design back side, where in slit at the back Centre is given. This looks really amazing and makes it comfortable and designer at the same time. Round neck line in the front is given to this blouse that has medium length sleeves.
5. Silk blouse with collar and round cut at the back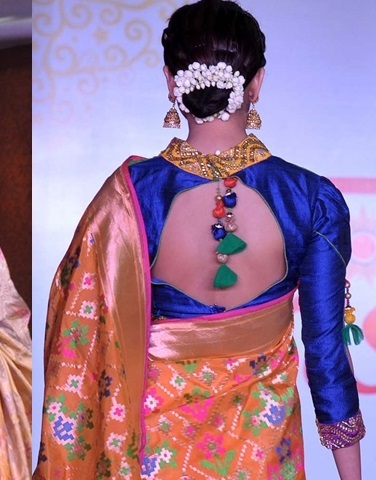 This back neckline is popular and one can see them in different types of saree blouse designs. That blouse has puff sleeves and long length sleeves. Collar in contrasting yellow Silk band is also seen at the back. It is an innovative design idea which can be replicated in different ways.
6. Backless silk saree blouse back design with borders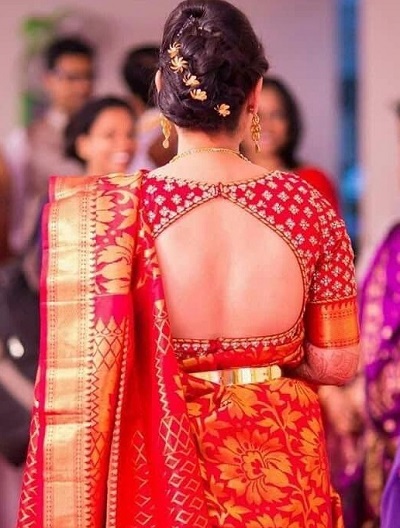 This is a beautiful Silk blouse back neck designs with borders where in beautiful aari work is also seen. Back hooks at the top and bottom are given to secure the blouse in place. The best part about this boat neck Silk blouse design is the work all over the blouse. It is among the latest catalogue of the silk saree blouse.
7. Silk blouse with latest back latkan design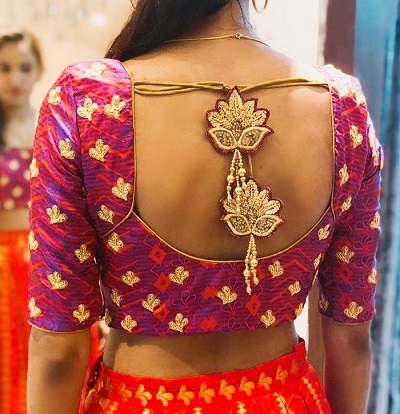 The deep back neck line of the Silk blouse has latkans in the lotus flower shape. The blouse is suitable for the festive as well as wedding wear sarees. Sequin and embroidery work is also seen. It is more like a patch work back design for the Silk blouse.
8. Heavy embellished V cut at the back silk saree blouse design
The back design for the silk saree has a V cut at the back neckline. The front neck line is given about shape, while the back also has a pair of latkans with strings. It is a heavily embroidered blouse made on a Silk fabric.
9. Bead work silk saree back neck blouse design with border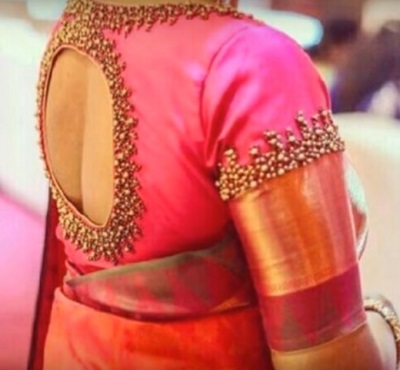 The design hair is also very innovative where the border is given to the sleeves and the golden bead work is exclusively done at the back neckline. The backside pattern of the silk saree blouse is truly amazing and makes you look really beautiful.
10. Patch work Silk blouse back side design with embroidery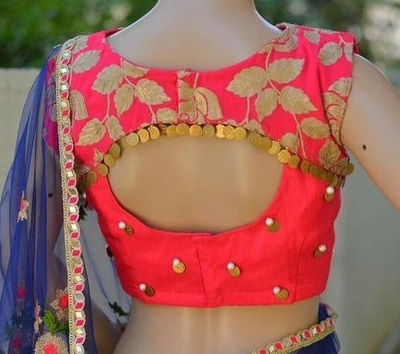 The cell fabric into different colors is used to create this patch work blouse design. The back side of the blouse is truly beautiful with a coin shaped sequin work and the fabric used. Not just for the silk sarees but it can also be used for the net, chiffon georgette and other type of sarees.
11. Heavy embroidered Silk blouse back design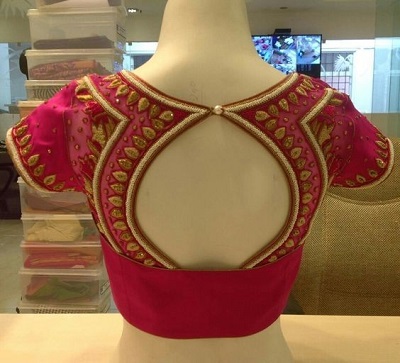 12. Stylish silk saree blouse design with patch work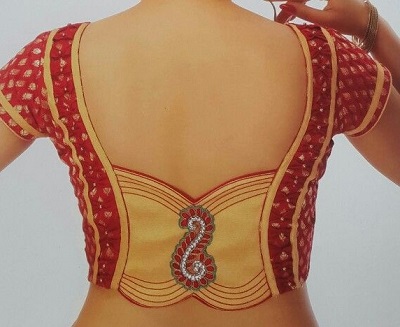 13. Simple green silk blouse design backside idea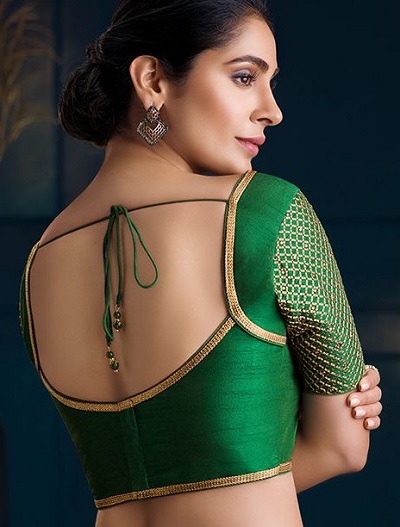 14. Fancy peach silk blouse design back side pattern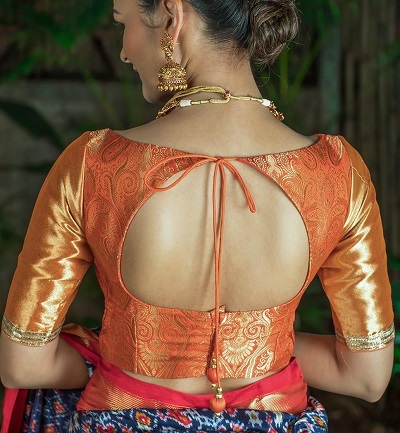 15. Green embroidered latest saree blouse pattern for back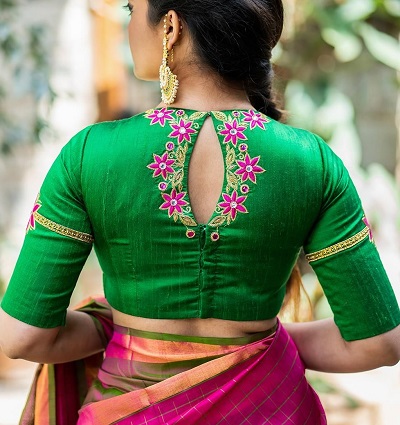 16. Steel grey silk blouse boat neck design back idea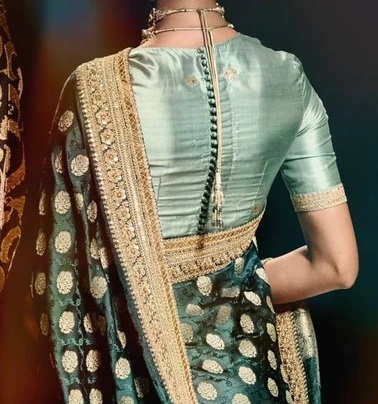 17. Embroidered silk blouse back design for silk sarees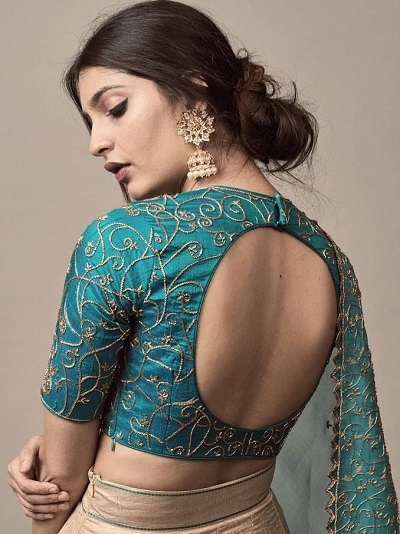 18. Short sleeves aari work blouse design for silk sarees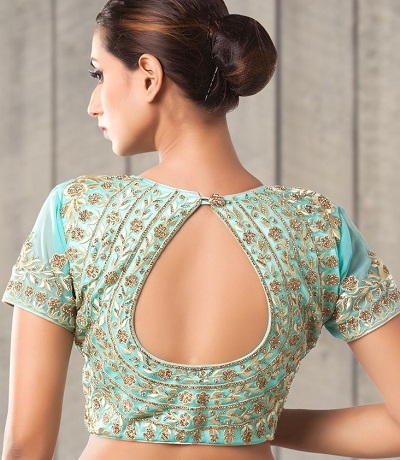 19. Latest silk saree back blouse patterns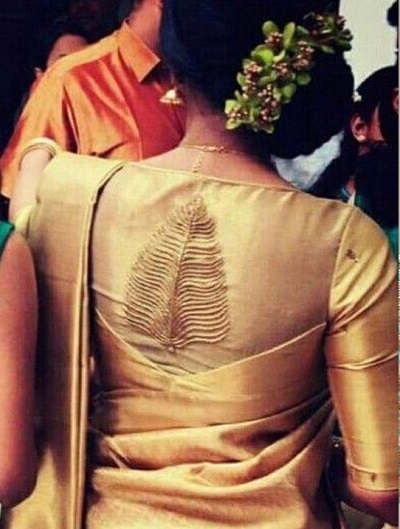 20. Back neck design with border for silk sarees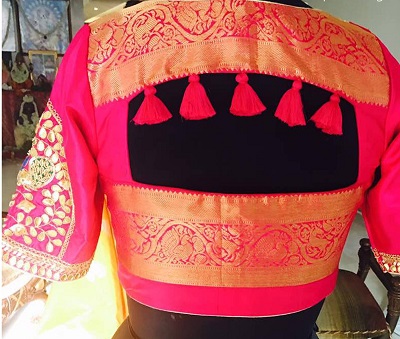 21. Stylish deep neckline blouse design with tassels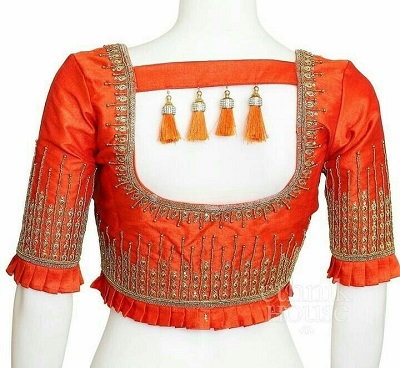 22. Short sleeves embellished fancy back side silk blouse design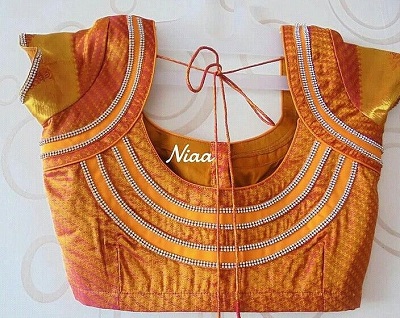 23. Stylish blouse neck design with bows for silk sarees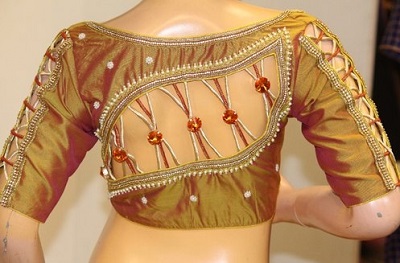 24. Golden silk blouse with heavy embellishment and stone work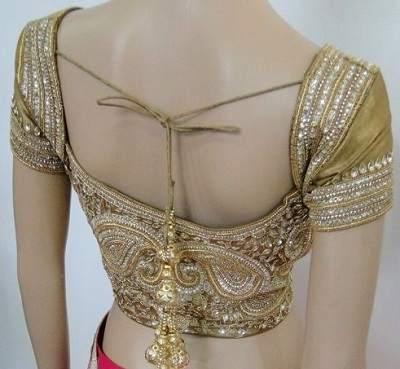 25. Back patch work bridal silk blouse design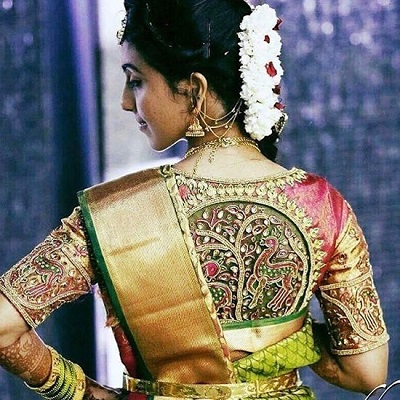 26. Stylish back pattern silk blouse design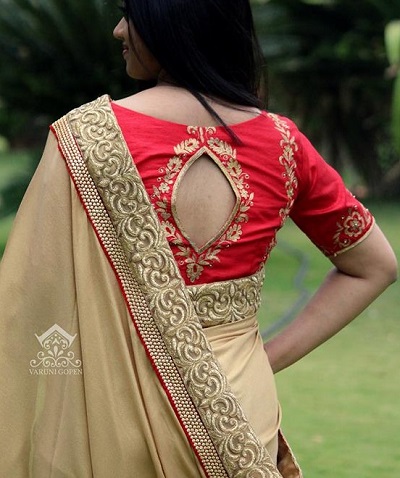 27. Full slit at the back silk blouse with border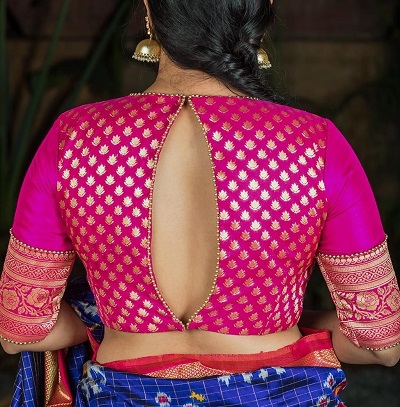 28. Back design for silk saree with tassels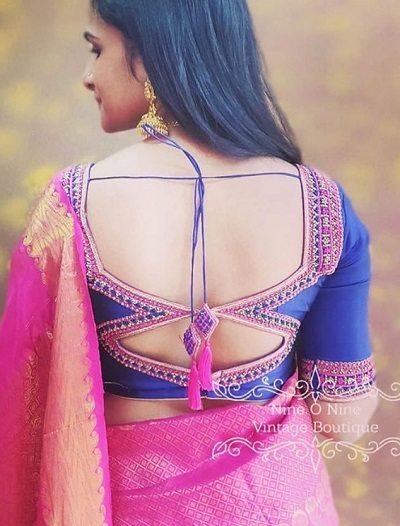 29. Designer back side silk blouse pattern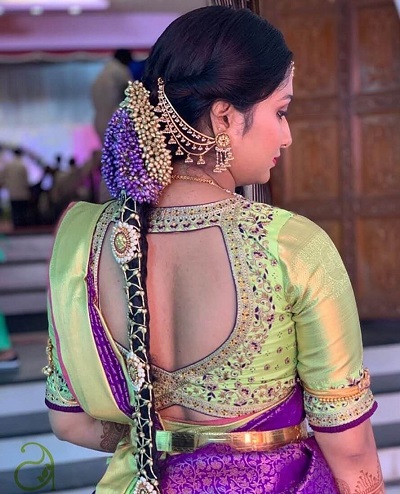 30. Deep back neckline for silk saree blouse with border
31. Latest silk blouse back neck pattern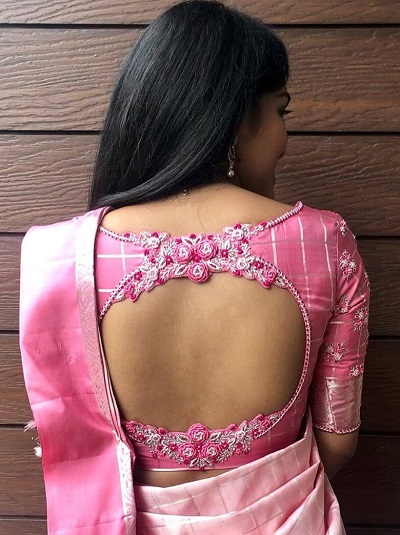 32. Latest embellished silk blouse neckline back idea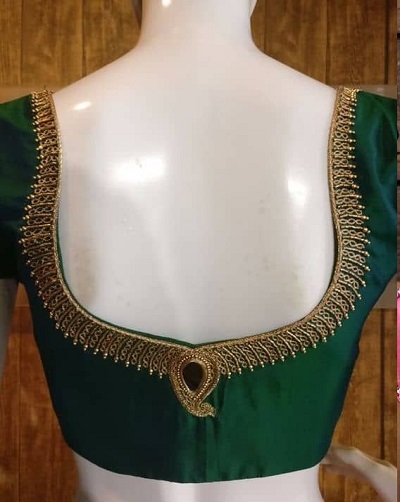 33. Back side design for embellished silk saree blouse design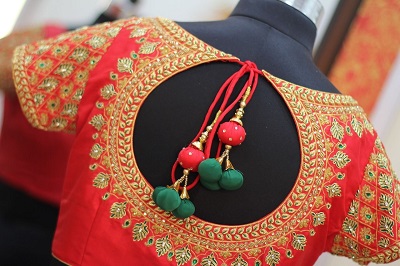 34. Bridal design for silk sarees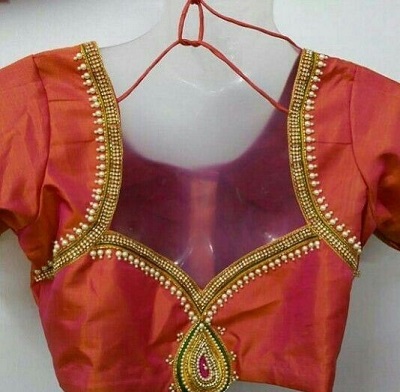 35. Sleeveless silk saree blouse design for the back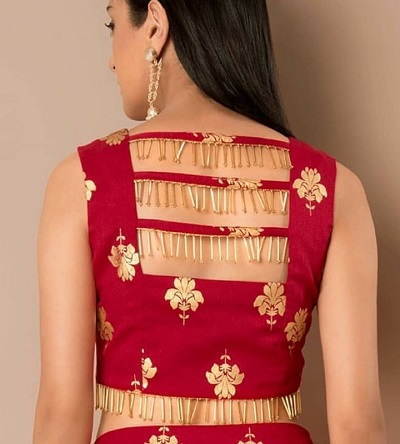 36. Patchwork back side design for silk blouse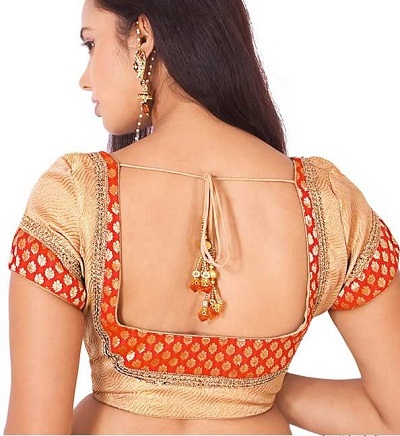 37. Silk blouse patchwork back design with tassels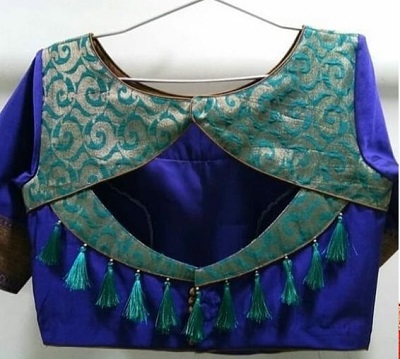 38. Designer back side design for silk sarees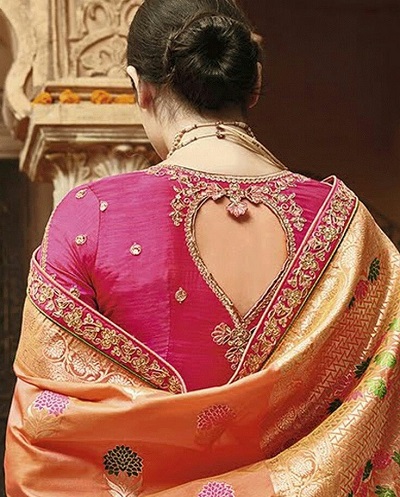 39. Stylish and unique back side pattern for silk blouse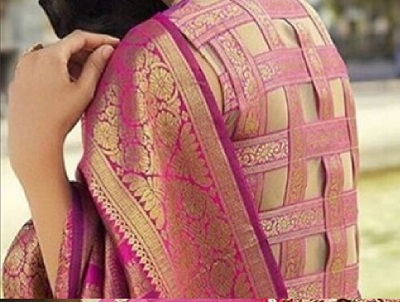 40. Stylish back design with embellishment for silk blouse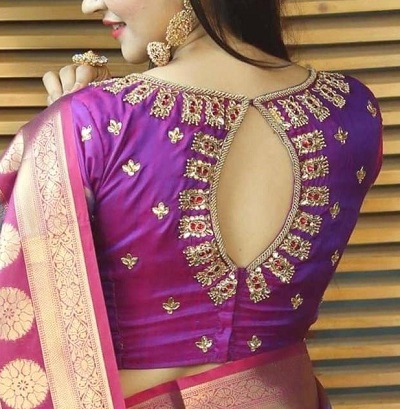 41. Silk blouse with heavy embroidery at the back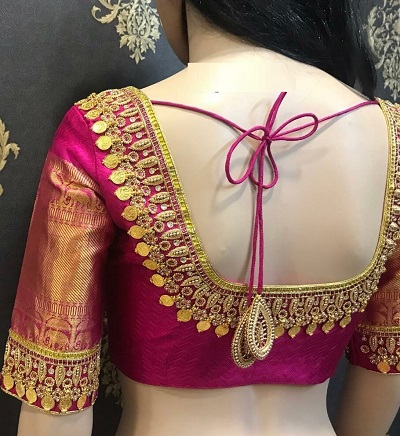 42. Bridal yellow back design idea For silk blouse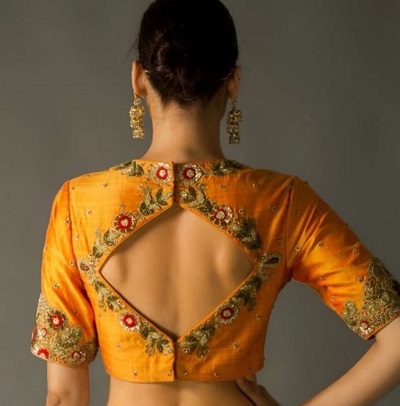 43. Horizontal strap silk blouse in yellow and orange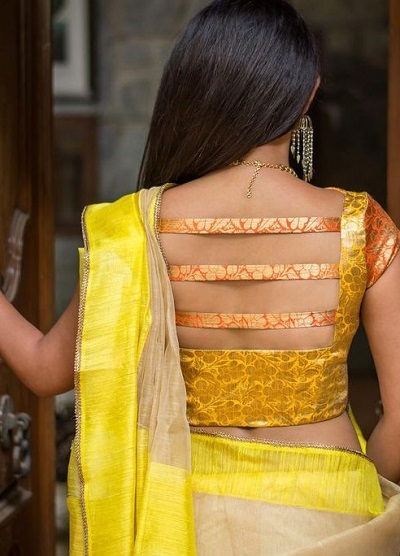 44. Ruffle sleeves silk blouse stylish back pattern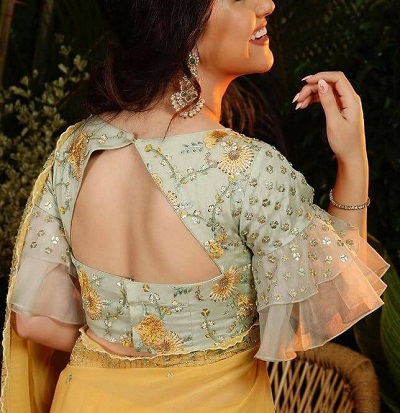 45. Net and silk back side design for silk blouse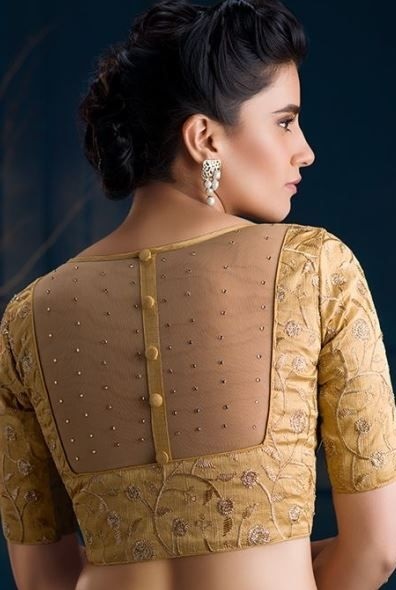 46. Stylish and simple silk blouse with back design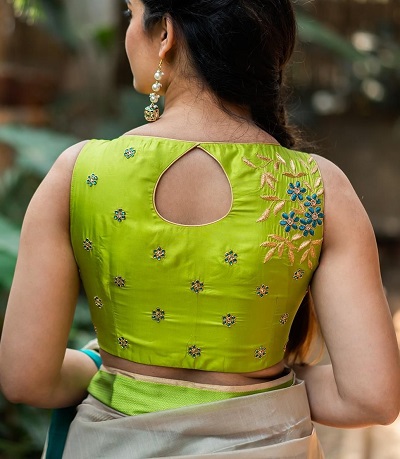 47. Cut work back design for silk blouse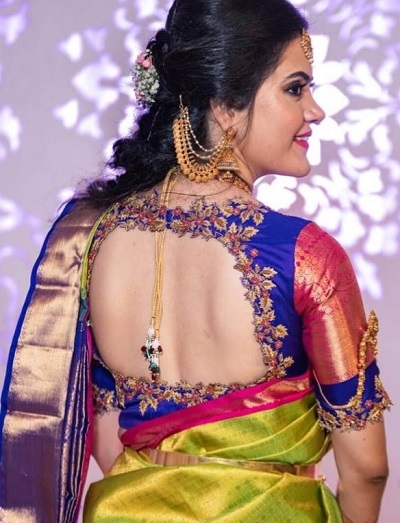 48. Lotus pattern cut at back blouse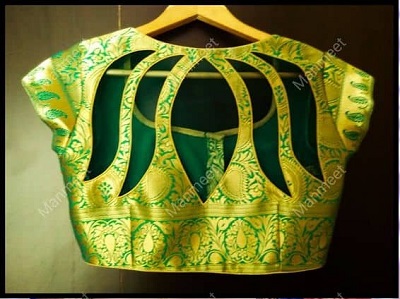 49. Silk blouse with lotus pattern cut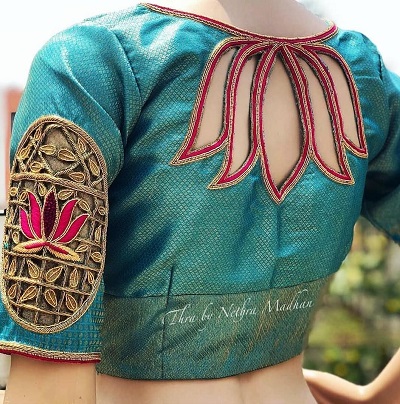 50. Designer patchwork back pattern for silk blouse