Silk is a really luxurious fabric that looks very beautiful and graceful. The beauty of silk fabric is that it is available in different forms and varieties. One can have Chanderi Silk, Banarasi silk, tissue silk, brocade silk, cotton silk and more. So while are different varieties of silk fabrics available in India, the fabric is surely enticing. When you are planning to wear a blouse with lehenga and sarees. Silk is one of the most favored fabric to go for. A blouse can also be teamed up with long Maxi full volume skirts apart from the lehengas and sarees. Let's take a look at the latest Silk blouse designs available. The Silk blouse designs are made with different embellishments while some are kept pretty simple. There is so much one can do with Silk fabric.
Latest and stylish Silk Saree Blouse Designs (2022)
Let's take a look at the latest designer Silk blouses patterns for sarees and lehengas.
1. Embellished Pink Silk Saree Blouse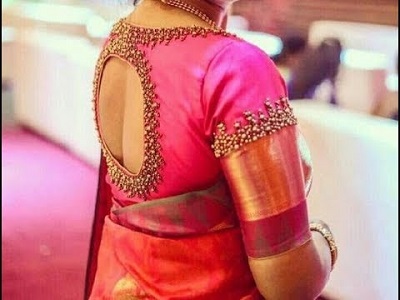 The blouse has a deep round cut at the back that makes it somewhat backless blouse pattern. This is a pure silk saree blouse which is teamed up with a beautiful silk saree. The golden beadwork makes this blouse really stunning.
2. Embroidered Silk Blouse With Puffed Sleeves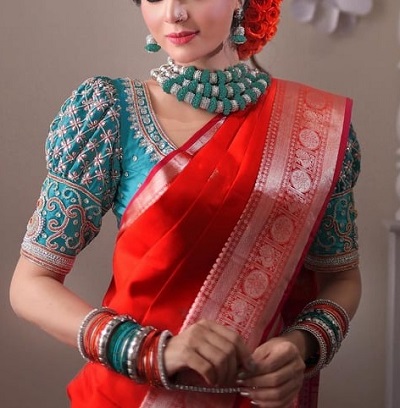 The luxurious silk blouse is heavily embroidered especially on the sleeves part. There is a band on the sleeves and cuff style has been used to create the sleeves. It is a very designer and modern looking blouse which is suitable to pair with silk as well as the net sarees. Event for the Pattu silk sarees such designer blouses are appropriate.
3. Boat Shaped Neckline Silk Blouse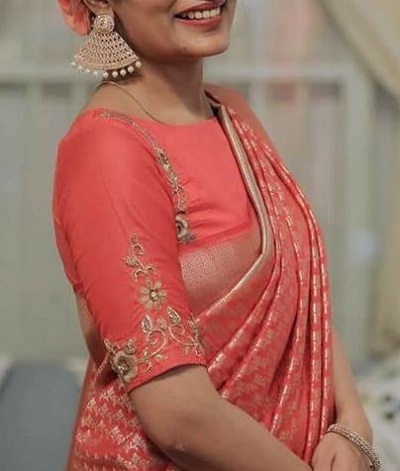 The boat neckline for the front or the back is getting really popular and is in trend. The Cotton silk saree is paired with a Silk blouse in peach Orange fabric. It has embroidery and Zari work on the sleeves and on the shoulder part.
4. Choli Cut Deep Neckline Silk Blouse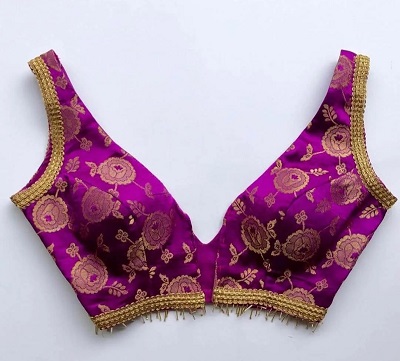 The Purple blouse in brocade Silk fabric is surely very beautiful to look at. The embellished blouse has Golden border all over and plunging neckline pattern is given to it. It has a princess cut pattern with front hooks. It is appropriate to pair with the silk sarees as well as the net and Georgette sarees. Even such blouses are appropriate to be paired with the plain sarees.
5. Designer Silk Blouse With Heavy Bead Work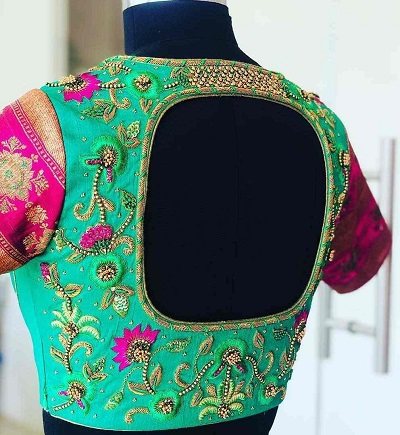 The golden bead work is done to create the different flower shapes in this design. Even the zari is also used along with golden thread embroidery. There is a square cut at the back that makes it a backless blouse pattern. It is ideal for silk sarees and Pattu silk sarees.
6. Embroidered And Cut Work Silk Blouse Design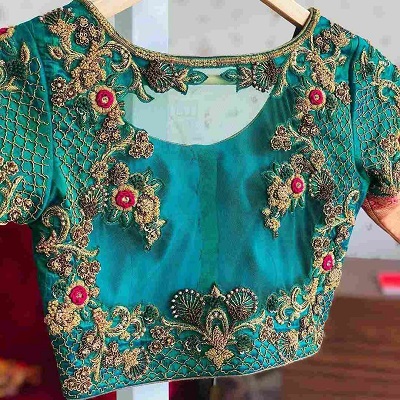 This blouse is really beautiful and the use of net fabric is also used. The back design is enticing and superbly made. On the front it has hooks to secure. The back neck line is not very deep but the back part is left there by using just the sheer fabric.
7. Red stylish embroidered Silk blouse design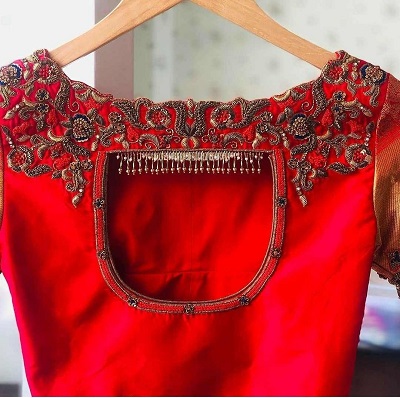 The blouse here has beautiful embroidery on the boat shaped front neckline and at the back. It is a party wear blouse which will make you look really attractive.
8. Green heavy embroidered silk blouse
This blouse here does not have very deep neckline rather it is a high neckline blouse. The sleeves are extended till the elbows and heavy floral embroidery is done on this green silk blouse. Here, it's paired with the Georgette double shaded saree, however it can also be paired with the regular Silk or net sarees.
9. Bustier style silk blouse design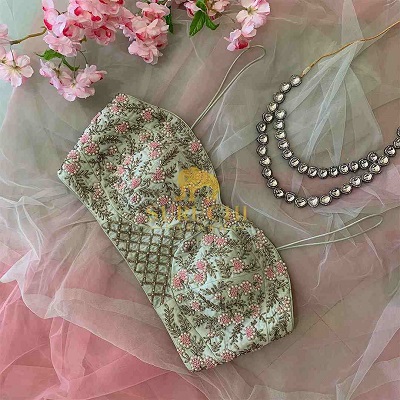 The Silk bustier style blouse is for the bold and modern women. The blouse has noodle straps to hold the blouse in place and it is a very designer blouse pattern. Sharing this with the plain or very heavy embellished sarees would make you look like a show stopper.
10. V neck Pattu silk blouse pattern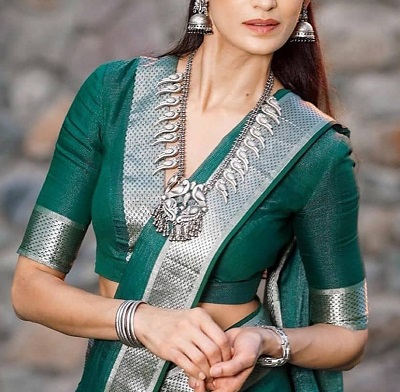 The blouse has the regular Silk border on the neckline and sleeves. It has a v shape Neck line where in the border is used to create the design. It is a simple blouse that can be used for Puja and festival ceremonies.
11. Green v shape blouse pattern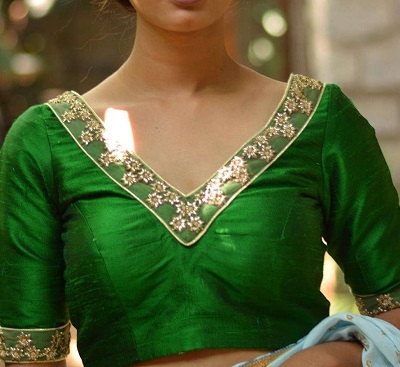 The v-shaped neckline is embellished and embroidered. This is a blouse which is made in a bright green colour. The silk saree blouse can be paired with the embellished Georgette or net sarees as well as for the Pattu silk saree. The blouse is designer and looks really pretty.
12. Coral Backless Embroidered Blouse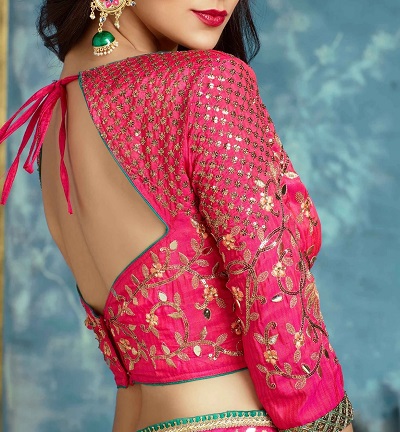 The party wear blouse has a geometric cut at the back with strings and hooks. The piping of contrasting color is used too on the neckline. The blouse is indeed beautiful with three fourth sleeves. The use of heavy embroidery and sequin work makes it a designer party wear blouse.
13. Pink designer blouse with tassels at the back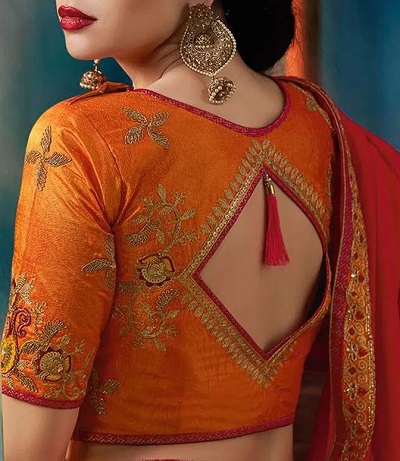 The design of blouse has a really stylish back neck line and pattern. The use of detailing at the neckline edges is also making it a designer blouse pattern. A tassle is also added that makes it really pretty. It is a saree and lehenga blouse pattern with Zari and work.
14. Mosaic printed stylish silk saree blouse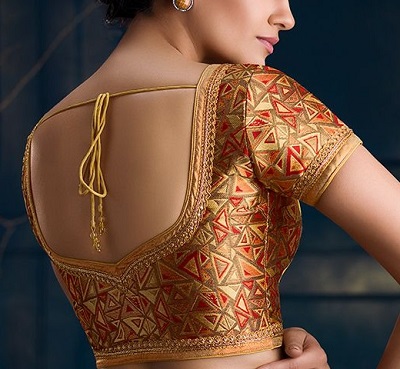 The beauty of this stylish blouse is the simplicity and the fabric used. The gorgeous fabric is printed it has no extra embellishment except for the edges and neckline. The neckline at the back is pretty deep and it is a choli cut blouse with the front hooks.
15. Golden designer back button placket blouse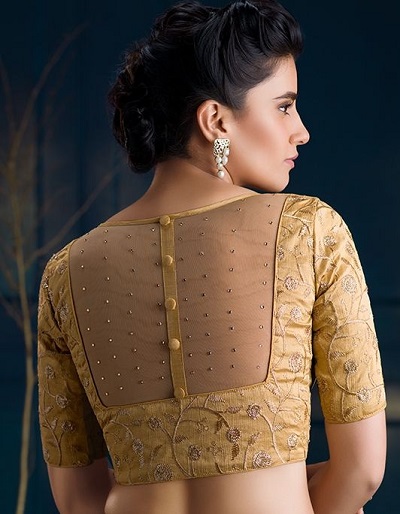 With button placket at the back over sheer fabric, this blouse is indeed stylish and designer. It will make you look like a diva and people will praise you for your choice. With the appropriate jewelery and hairstyle, this blouse is going to make you look amazing.
16. Stone studded full sleeves yellow blouse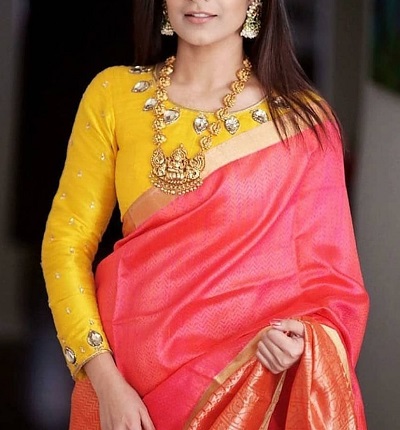 The blouse is made in a cheerful Canary yellow Silk fabric. It has very big stones studded on the round neckline and cups. The beautiful blouse is not very heavily embellished but it is decent to make you look party ready.
17. Blue Silk blouse with Net Bell sleeves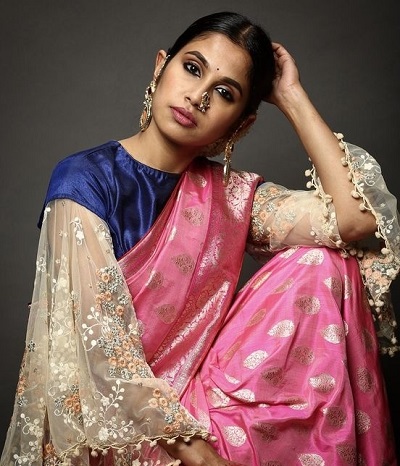 The gorgeous navy blue Silk blouse is plain with boat shape neck line. What draws attention towards this gorgeous blouse piece is the floor bell sleeves made in the embroidered net fabric. Even a pom pom lace is also attached at the bottom.
18. Pink embellished Silk blouse with flared sleeves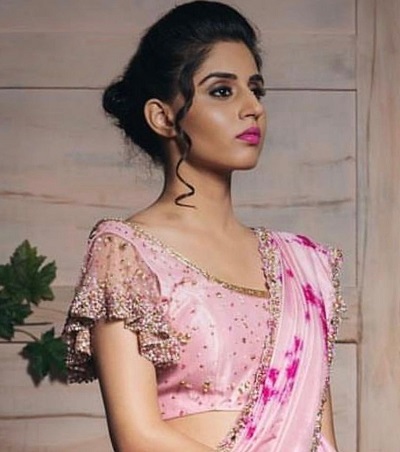 The blouse here has full flared sleeves and is beautiful. It's suitable for the parties and for your Karva Chauth.
19. Blue Embroidered Silk Blouse With Round Cut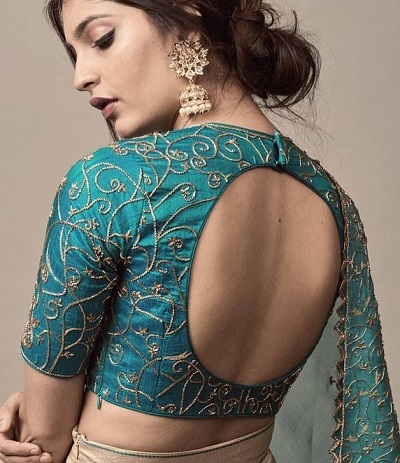 A round cut at the back neckline is popular and is in trend. A lot of designers are coming up with the same pattern. Here, the medium sleeves are given to the Silk blouse and a round cut and back hooks.
20. Jacket style Silk blouse with embroidery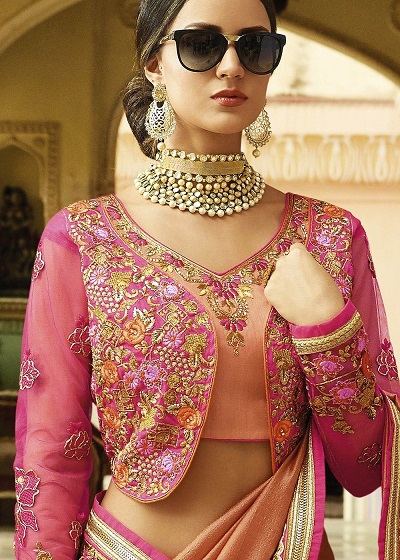 The jacket style full sleeves blouse is Innovative and looks different than rest of the blouses. It has full sleeves in the sheer fabric with embroidery patches all over. Even on the blouse, embroidery patches are there. The blouse in two different colors peach and hot pink. The colour combination is really pretty for the festivals and weddings.
21. Maroon embellished full sleeves Silk blouse
This is indeed a really beautiful blouse with designer pattern. It has Maroon fabric used with heavy embroidery on the sleeves and on the front and back part. The neckline is also pretty amazing that does not require a lot of jewelery. It can be worn with heavy silk sarees or even with the plain sarees.
22. Green Blouse with Patchwork embroidery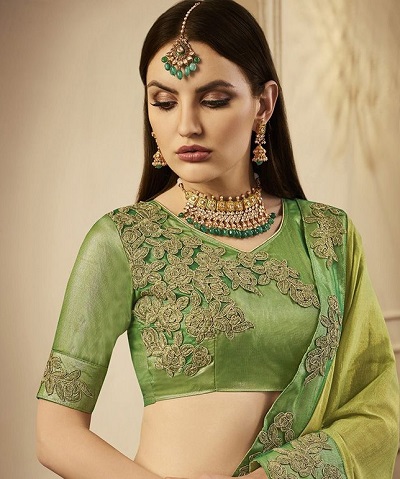 This green Silk blouse has embroidery patches stitched on the one of the shoulders and sleeves.
23. Puff sleeves Silk Magenta Blouse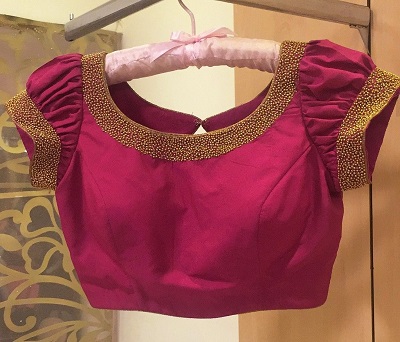 The silk magenta blouse has beautiful pattern in a princess cut. It has perfect sleeves length. The neckline and sleeves are embellished with golden beads. This is a designer blouse appropriate for your plane as well as heavy designer sarees and lehengas.
24. Maroon Silk blouse with embellished neckline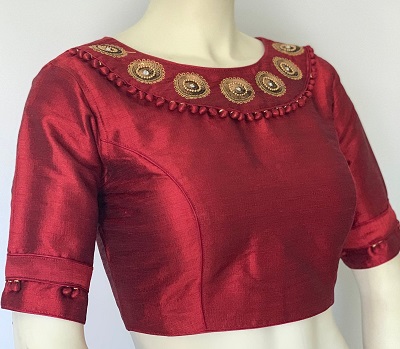 This is a Maroon blouse in silk fabric with simple design. The neckline is embellished with mirror sequins and beads work. A caller like pattern is added on the neckline with potli buttons.
25. Silk embroidered Orange blouse for parties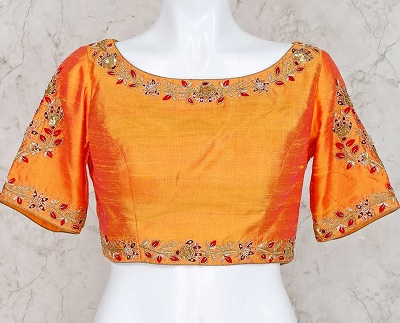 This Orange Silk blouse has princess cut pattern with boat shape Neck line. The rich embroidery has beads work. The back hooks are given for the blouse. It can be paired with suitable hairstyle and jewelery.
26. Off Shoulder Tassel Blouse Design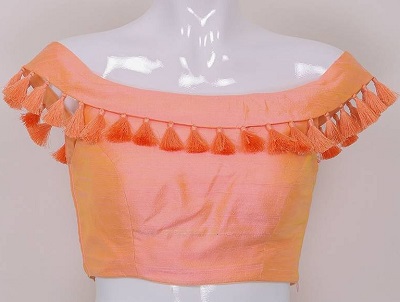 The gorgeous peach Silk color blouse has off shoulder pattern with tassels. The gorgeous blouse is amazing and is beautiful for the younger girls.
27. Peach Gota Patti Work Silk Blouse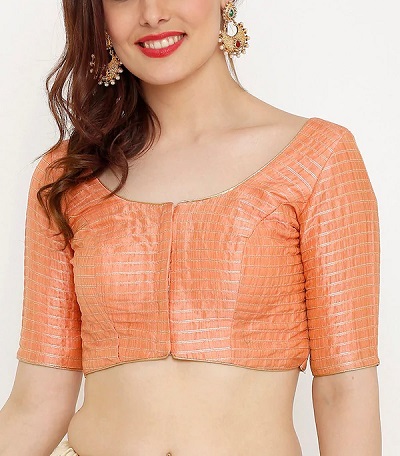 It's a Silk blouse in peach colored fabric. A round neckline with front opening hooks are given to this pattern. It has medium length sleeves with gota patti horizontal lines. The blouse is undoubtedly beautiful and the colour is very refreshing.
28. Salmon Pink Sequin Embellished Blouse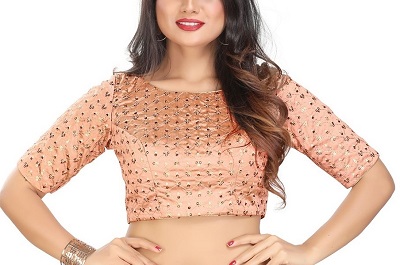 The gorgeous silk blouse has medium elbow length sleeves. The boat shape neckline is given to this blouse. All over the beautiful Silk fabric sequin and embroidery is seen. For sure, this is a gorgeous blouse piece suitable for your sarees and lehenga dresses.
29. Traditional Pleated Sleeves Silk Saree Blouse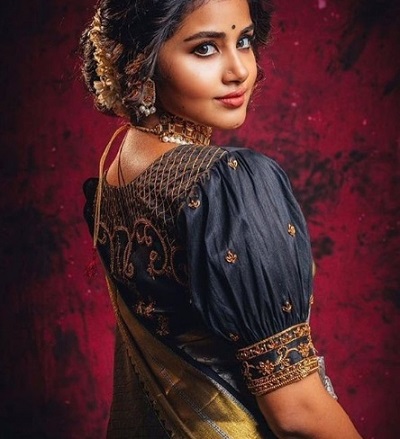 The beautiful silk saree blouse is ideal for the Pattu silk sarees. The border is there with the pleated sleeves is the highlight of this gorgeous design.
30. Sequined Silk blouse for weddings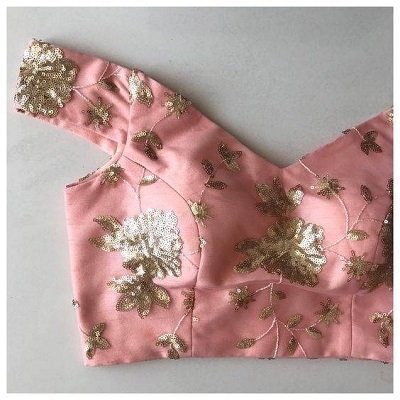 Be it a grand wedding in your family or friends, this blouse will make you stunning. The off shoulder pattern with V-shape neck line in the front and back makes this blouse royal and stunning. It has a princess cut pattern at the front and a side zipper. The sleeveless pattern and the neckline are so beautifully made that it is sure to make you look like a head turner.
31. Beautiful Back Work Silk Blouse Pattern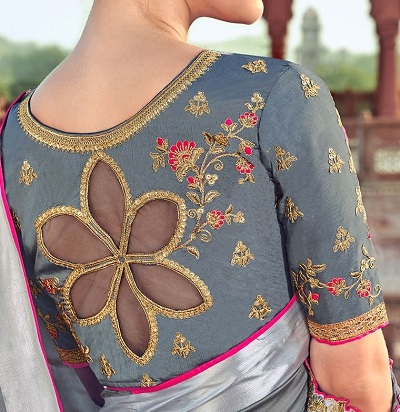 The beauty of this Silk blouse is the cutwork at the back. The cut work has been made so nicely that it looks impeccable. The Golden embroidery is done all over the blouse creates a designer look. It is ideal for all your festival wear sarees.
32. Yellow Cut shape neckline blouse with tassels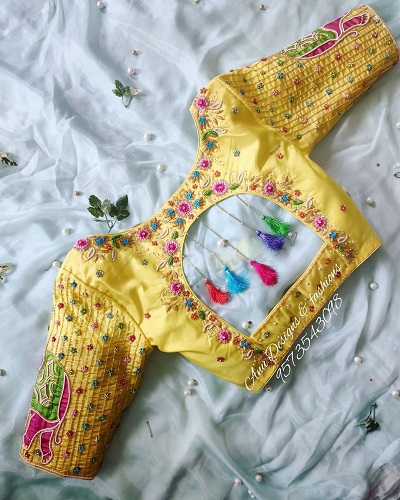 Beautiful colored thread embroidery is used to create this beautiful yellow silk blouse. And at the back, there is an bell shaped cut and multi colored glasses are used. The gorgeous blouse is appropriate for your dresses.
33. High Neck Silk peach blouse with button placket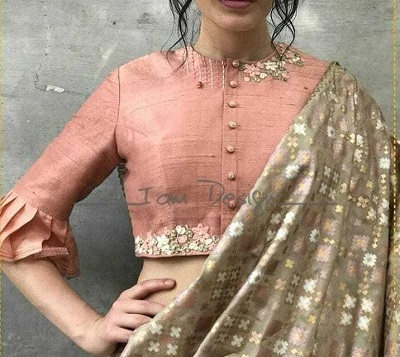 The beautiful blouse with hand embroidery looks great. It has pleated sleeves and a Centre button placket. It is made with the regular art Silk fabric. Here it is being paired with a Silk printed saree however, it can also be paired with the regular net, georgette and chiffon sarees.
34. Embellished Pink Silk blouse pattern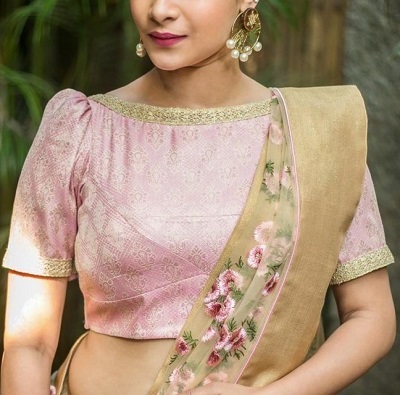 Pink blouse design has a printed fabric and embellished neckline with the lace Golden border. The blouse hand design is pretty nice yet simple.
35. Bridal Embroidered Dark Pink Silk Blouse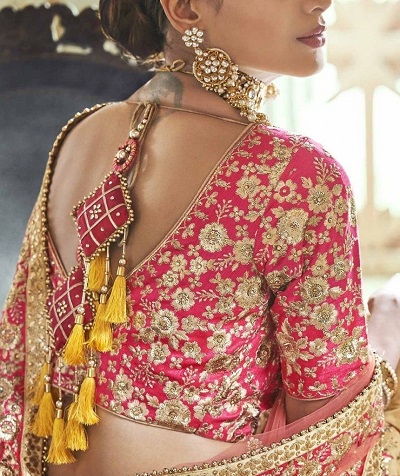 The floral embroidery is truly beautiful and the deep cut at the back is making it a designer blouse piece. What draws attention are the tassels. The designer silk blouse is sure to make you look your best. With the ideal or appropriate neck jewellery, this is going to make you look a show stopper.
36. Grey Silk Blouse With Ruffled Sleeves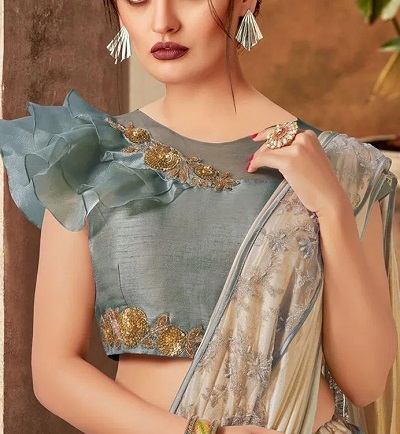 The ruffled sleeves are back in and they are so much in trend. This blouse has a boat shaped neckline with sequin work. On one of the shoulders, it has ruffled sleeves so, basically it's a sleeveless blouse pattern on one shoulder and ruffle in three layers are added to make it look modern and designer. It is suitable for lehenga and saree.
37. Fitted And Ruffle Sleeves Silk Blouse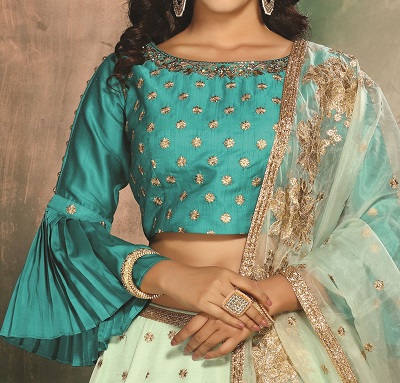 The Silk blouse in beautiful gemstone blue color that has boat shaped neckline and embroidery patches all over. What draws attention is the gorgeous pleated pattern used in a bell-shaped.
38. Purple Patchwork Modern Silk blouse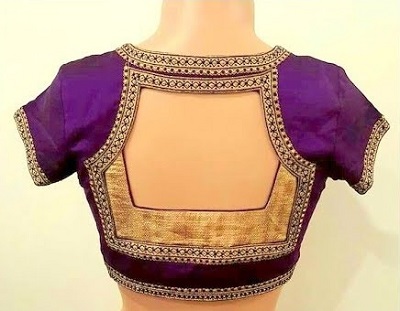 You can see a clear and neatly done geometrical design at the back neckline. The design is really beautiful and pretty. It is sure to make you look your best. High bun or a suitable hairstyle would be required to make this blouse look even pretty.
39. Pale Pink Gota Patti Blouse Design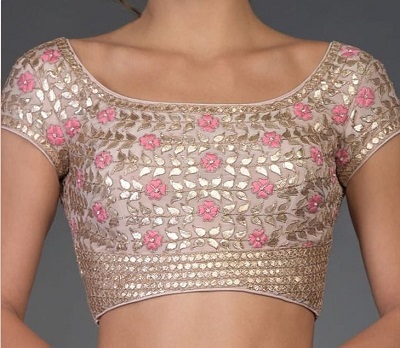 This is truly a designer blouse piece with Gota Patti and mirror work. Dark pink flowers are used all over and the Silver Gota Patti with golden thread work makes it a truly designer piece. This blouse is so beautiful that it makes you look elegant and royal.
40. White Silk Gota Patti Party Wear Blouse Design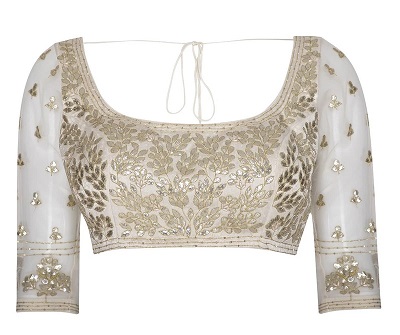 This blouse has three fourth sleeves in sheer fabric with embroidery and sequin work. The bust part is embellished with Gota Patti work in floral pattern.
41. Yellow Silk Cold Shoulder Silk Blouse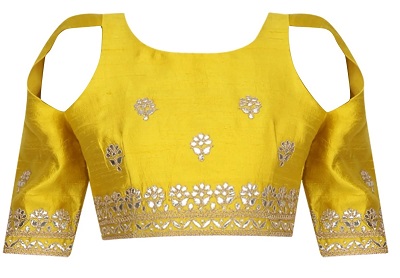 Yellow Silk blouse has cold shoulder pattern with a round neckline. What makes it really beautiful is the Gota Patti work on it. Gota Patti work really looks luxurious and makes your outfit look elegant. The designer blouse piece has cold shoulders which are also in trend. So, you can try it with your lehengas as well as with sarees in the same yellow color or contrasting colors.
42. Black Silk Blouse With Heavy Embellishment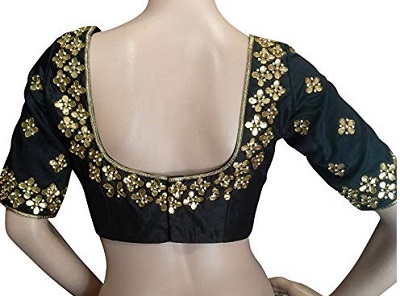 A black Silk blouse is a versatile product that can be used in a number of ways. In fact, black and Golden blouse must be there in your wardrobe. Here, the blouse is heavily embellished with the golden gota Patti and stone work.
43. Sleeveless Silk Party Wear Blouse Design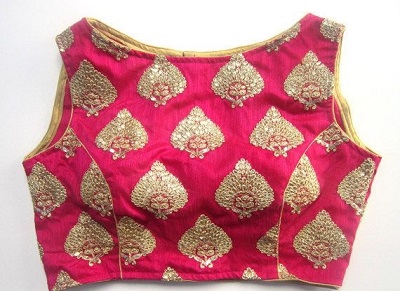 It's a gorgeous Silk party wear blouse with the Silk thread embroidery motifs. The blouse is so stunningly made that it is suitable for your sarees and lehengas. Not just with a particular sari, but the pattern of the blouse is such that it can be teamed up with your plain sarees, net sarees and even the chiffon simple sarees.
44. Black Silk Sequin Embroidered Blouse Design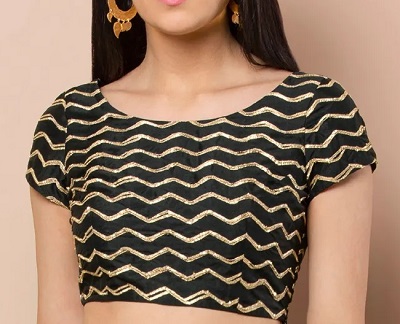 The black beauty is stunning. The beautiful blouse is simple and can be worn by women of all age groups. Try it with a Maxi skirt or ethnic style skirt.
45. Green Silk blouse with Gota Patti work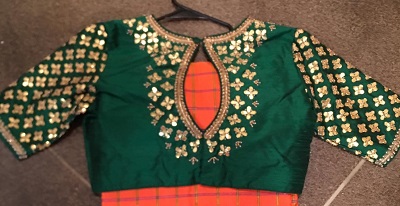 The green Silk blouse in the Gota Patti work is heavily embellished. It is ideal for every party, festivals or function you wish to attend. For woman, who like to have the lavish and neatly embellished blouse designs, this is a must have design.
46. Long Peplum Silk Blouse Design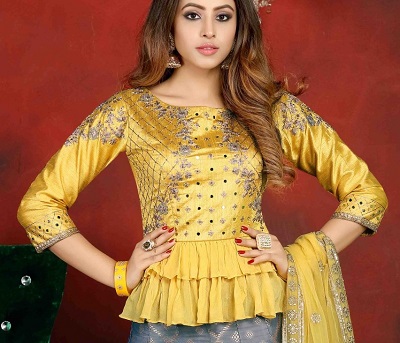 The peplum blouses are long-line blouses made like a tunic. For women or girls, who don't want to show skin in the waistline can try this design. It's an art Silk blouse with embroidery work on the sleeves and a central part. Two layers of ruffled peplum are also used.
47. Designer Elegant Silk Full Sleeves Blouse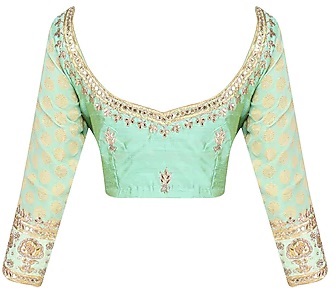 Made with an elegant pista green color, this blouse is so beautiful to look at and has a very deep back neck line. It has heavy embellishment on the neckline and sleeves. It is truly a party wear blouse and even for the bridal trousseau such blouses are appropriate.
48. Yellow Heavily Embellished Bridal Silk Blouse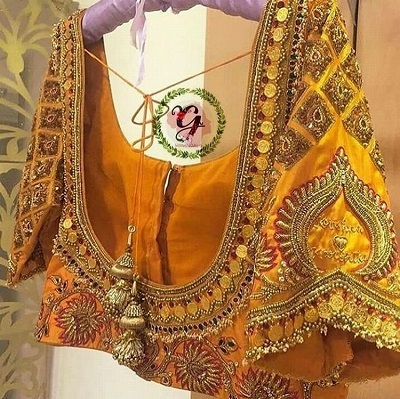 This is a bridal blouse with heavy embellishments. Even the small Golden coin work with beads can be seen. It is a stunning blouse that looks impeccable and neat. The Grand looking blouse is ideal for your bridal wear.
49. Silk Longline Blouse Design For Weddings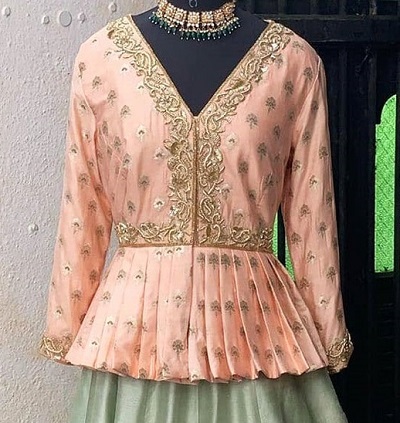 The long pleated blouse really beautiful. The blouse is ideal for the long skirts and lehengas. With long sleeves it has V shaped neckline. You can pair beautiful necklace with this blouse to make it even prettier.
50. Pattu Silk Saree Blouse Design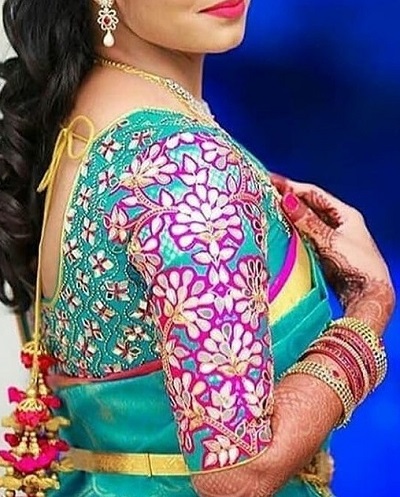 The Pattu silk saree blouse is embellished heavily. Try it with gorgeous hairstyle that can reveal the beauty of your blouse.
51. Red and Green Embellished silk saree blouse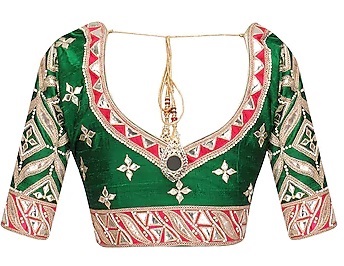 It's primarily a Gota Patti blouse with green Silk fabric used with the red border. The Gota Patti work is beautifully done to make this blouse look even prettier. It is a party wear blouse design that women can try with different hairstyles, lehengas and sarees.
52. Red Silk Blouse With Maggam Work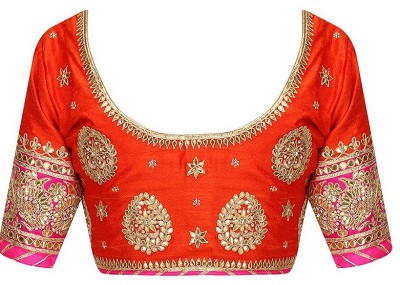 This rich maggam work is done on this beautiful Red blouse with pink gota border.  The beautiful pink border is making it more beautiful. The work of fine embroidery with maggam work makes the blouse apt for most of your Pattu silk sarees and bridal silk sarees.
53. Elegant Peach Silk Embellished Blouse Design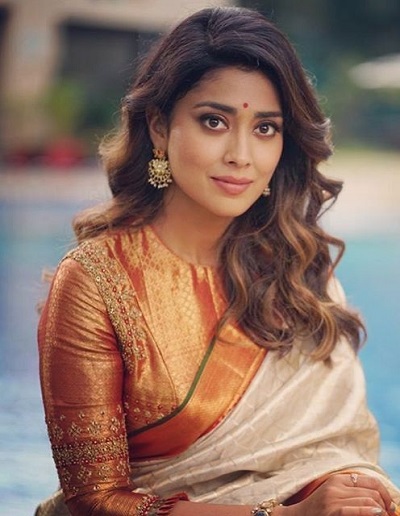 Words will fall short to describe the beauty of this simple yet stunning blouse design. It has three fourth sleeves with pleated border pattern. It has embellishment on the shoulders and is a pretty simple design that looks really elegant and royal.
54. Full Sleeves Silk Blouse With Boat Shape Neckline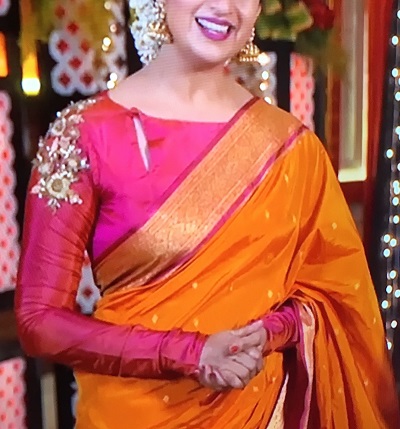 With a side slit and key hole pattern on a boat shaped neckline, this embellished blouse is inspired from the South Indian blouse designs, this blouse is ideal for the silk sarees. Even younger girls can try out with their lehengas.
55. Dark and light green silk saree blouse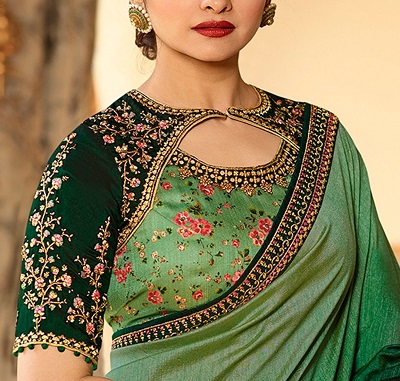 Two different shades of green is used to create this gorgeous blouse. It has potli buttons on the edging to create nice look. Fine floral embroidery is added to make it look more designer and appealing.
56. Silk blouse design with waist flap
The flap at the waist which is also embroidered makes it designer and modern. Women who like to try different styles of blouses, must try this one. Made with a floral Silk fabric, this blouse is pretty.
57. Wine Silk embroidered blouse design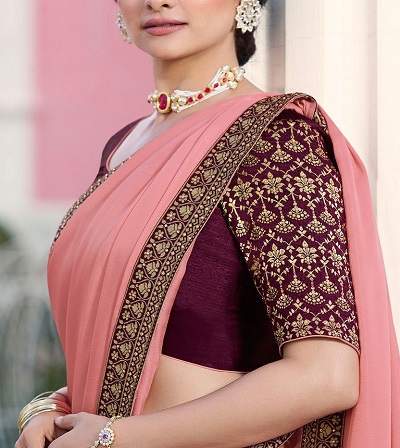 The art Silk fabric blouse design has embroidery done on the sleeves, while the rest of the blouse is a left plain and simple. The blouse is appropriate for the Karva Chauth, festivals and Pooja ceremonies.
58. Simple Brocade Silk Fabric Blouse
With the light chiffon saree with border, this simple blouse looks really amazing. Even the designers sleeves are added to make it look elegant and modern at the same time.
59. Green Embroidered Art Silk Peplum Blouse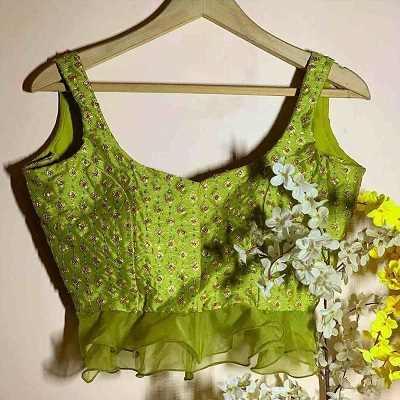 The beautiful blouse has a peplum made in a ruffle pattern with organza fabric, while for the rest of the blouse a beautiful embroidered Silk fabric is used. The designer blouse looks fairly modern and glamorous. The beauty of this blouse is the rich bright color and the pattern.
60. Jewellery embellished silk blouse design
This blouse has silk thread embroidery done in a jewelery like pattern. Ideal for most of the Grand occasions, this blouse is for the women who like everything royal and exclusive.
These are the latest silk saree blouse designs that women can try to look their best.