silver is a color that is just like gold and is a very complementing color. silver saree blouses are equally in trend as that of the gold saree blouse designs. Here, we have compiled the image compilation of the latest Silver saree blouse designs. In fact, silver looks really good when paired with different types of fabric and very stylish.
Latest silver Stylish Blouse Designs
1. Elegant silver saree blouse design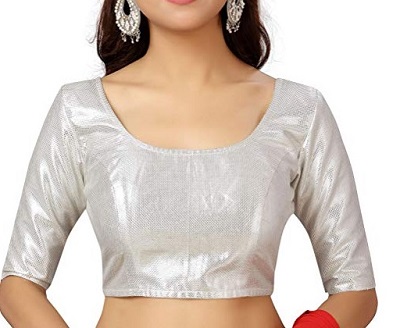 The silver saree blouse has elbow length sleeves and its given a round neckline. The blouse is very decent looking and made with a princess cut and padding pattern.
2. Glitter studded silver saree blouse designs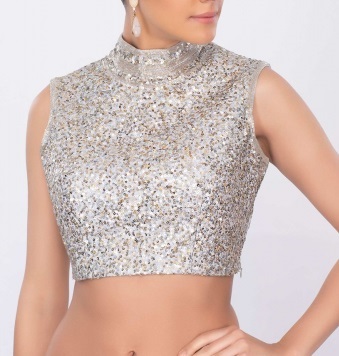 This silver glitter studded blouse has dual colour sequins used. It has a side zipper with sleeveless pattern. It's embellished and it's perfect for any festive or grand occasion appropriate dresses and sarees.
3. Keyhole neckline Silver partywear blouse design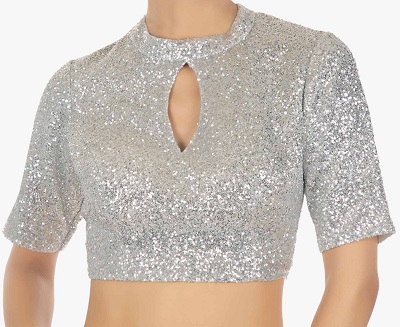 This blouse design has high neckline with the keyhole pattern. It is a medium long sleeves pattern with sequins all over. It is one of the best looking blouse designs when it comes to the pattern and styling. In fact, it can be tried with different types of net and sheer sarees. Most of the silver blouses with sequin work goes really well with net and light fabric sarees.
4. Strappy Sleeveless Blouse Design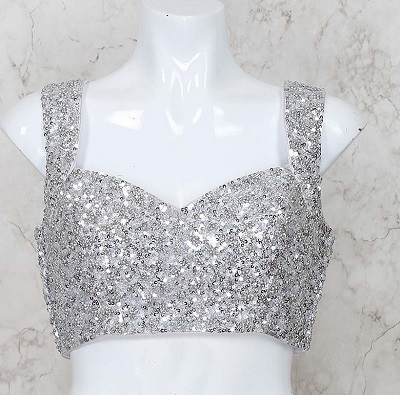 The sweetheart neckline of the saree blouse pattern really amazing. It is a bold and beautiful kind of blouse design which has silver sequins used all over the fabric. It's made with a sleeveless pattern.
5. Off White Silver Saree Blouse Design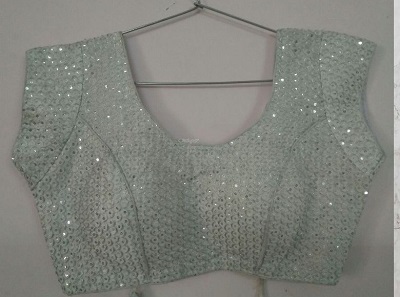 The off white silver sequin studded blouse is ready made blouse with short sleeves and round neckline. Doris are also given at the back. It is a very beautiful blouse that can even be paired with the silk sarees.
6. Patch Work saree Blouse Design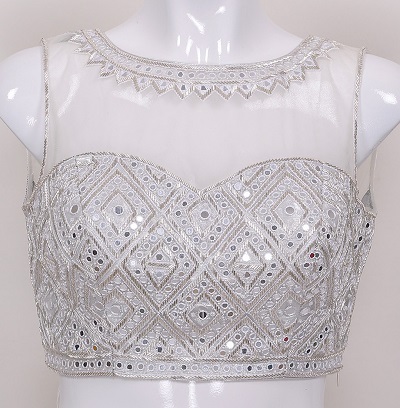 The Patchwork blouse design has mirror work and sequins. It's a super-glamourous looking blouse with a princess cut and neck. The neckline is also embellished and it can be paired with your expensive net or chiffon sarees.
7. Thread work silver blouse for sarees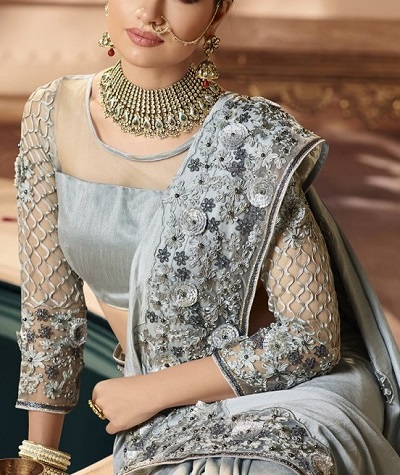 This dark silver grey blouse has sleeves with embroidery and thread work. Thread work and sequins work is exclusive in the saree and blouse. The best part is the sheer fabric for the neckline.
8. Embroidered blouse design for sarees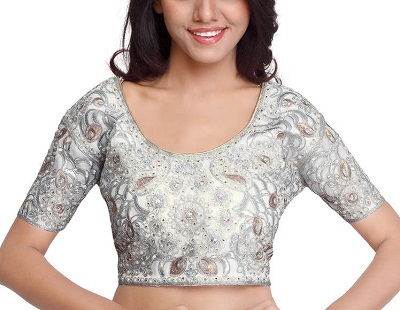 This gorgeous embroidery blouse also has sequins work. It's given round neckline with piping work. It's not a short blouse but it's a decent length blouse with elbow length sleeves. Even for Pattu silk sarees, this would look really amazing.
9. Crochet fabric silver saree blouse design
The crochet fabric silver silk saree blouse has a round neckline and short sleeves. The button and the design make, it a glamorous and party perfect stylish blouse.
10. Halter style saree blouse with silver shade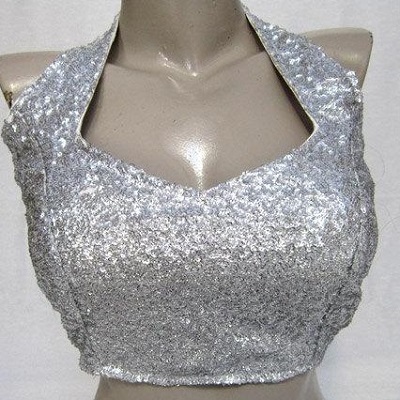 The halter neck blouse has a square neckline with style. It is one of the best looking blouse designs that you would like to team up with your stylish expensive sarees.
11. Designer sequin filled saree blouse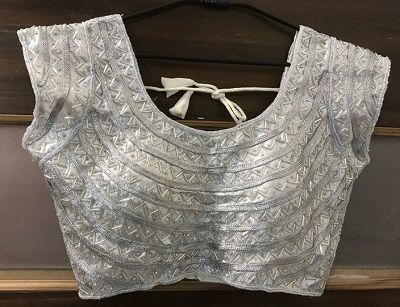 If you want heavy designer sequin studded blouses, then the short sleeve round neckline blouse is a must try. This is one of the best looking blouse designs for different types of dresses, sarees and fabrics.
12. Short sleeved blouse in silver white color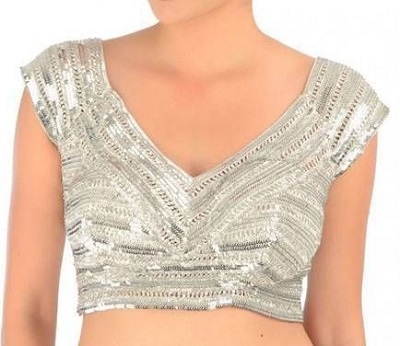 This silver sequin work blouse has short sleeves. The beauty of the blouse is the exclusive and heavy sequins work. It has a deep backless pattern and is perfect footwear with your lehenga dresses.
13. Pearl work blouse for chiffon sarees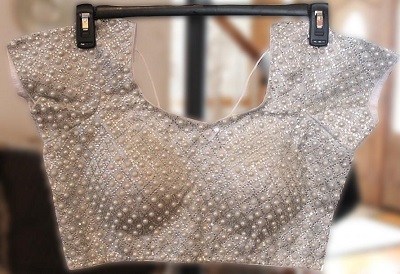 Pearls on this warm silver colour blouse makesit really beautiful. In fact, with padding in the front this blouse is perfect for women of all complexions.
14. Lehenga saree blouse in silver color
It's a fantastic blouse that is amazing for the lehenga or sarees. Cut work is given on the short sleeves.
15. Gota Patti Work saree blouse design
The beautiful blouse has gota patti work done exclusively and a neat manner that it makes it one of the best royal and elegant looking blouse designs. It has medium length sleeves with backless design.