As the wedding season is around the corner, new brides have already started searching for the best collection for their wedding accessories. And wedding bangles are one such accessory that makes a bride stunning and is definitely an important bridal accessories. The wedding bangles or wedding Chura as we also call it, is available in different designs and varieties. You can have a plain simple acrylic wedding Chura which can be in single colour can be multi coloured like green, red, yellow, orange and pink. When it comes to work on the bangles, there can be gold, zari, rhinestones, zircon, stone work and glitter work. The possibilities are endless and that really makes a bride look stunning and beautiful.
Latest Wedding Bangle Designs For New Brides
Let's take a look at the best wedding bangles for brides and newly wed brides in India.
1. Beautiful Maroon and Green Wedding Bangles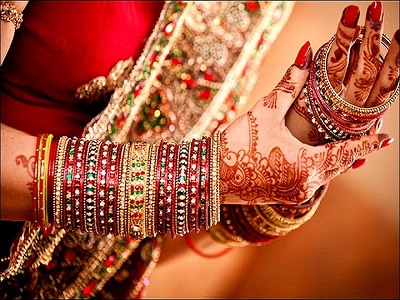 The gorgeous Maroon bangles are blended with golden colour and thicker bangles and stones of green and red colours with gold are used. They are surely stunning and will make you appear beautiful.
2. Kundan Wedding Bangles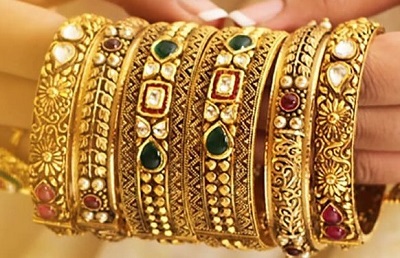 The use of Kundan stones on the golden bangle base is so beautiful that these broad kada like bangles will make the bride appear stunning and royal. The design of these bangles is very intricate, luxurious and breath-taking. For the modern brides, who would like to feel like a royal such designs are appropriate.
3. Multi Colour Wedding Bangles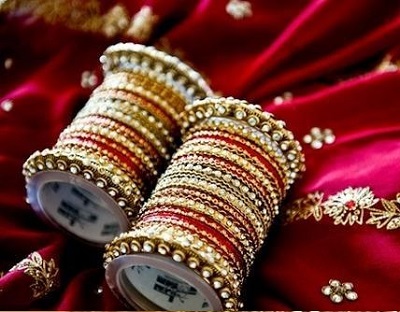 The thin multi-colour wedding bangles are in different warm colours. The side kada or thicker bangles are also given that are studded with rhinestones that makes the beautiful bangles appropriate for the bridal affairs. The bangles are quite beautiful and not very heavy or chunky. The stone work and the thread work makes them really alluring and charming.
4. Traditional Bridal Chura in Maroon and White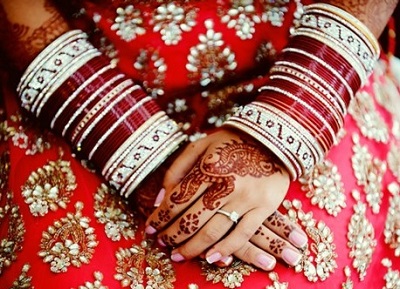 If you will look here the traditional bridal Chura which has Maroon and white colour. The bridal Chura has White stone studded white kara and the designs are really simple yet attractive.
5. Heavy Bridal Bangle Set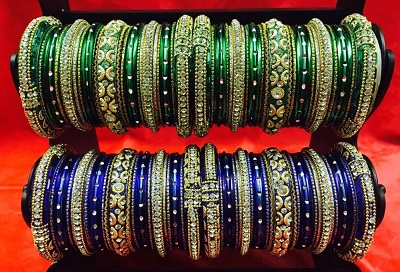 These bangle sets are really heavy and are suitable for the post as well as Pre wedding functions. Like the one in green can be used for the mehendi ceremony and it can also be paired up for your after wedding functions. The work of stone and ball chain is quite evident and the bangles are in metal so that they don't break or get damaged.
6. Heavy Kundan And Stone Studded Kada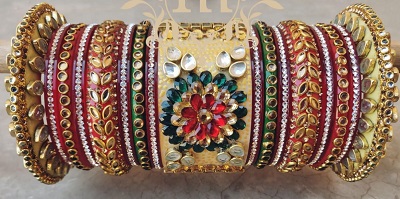 For the brides, who want everything grand and luxurious, the design would surely entice them. The bangles and churis are studded with Kundan and rhinestones, which make it very royal and expensive. These designer bangles are appropriate for the brides and the heavy Kundan work makes them look quiet eye catching.
7. Multi Colour Kundan Bridal Set
The gorgeous design has Kundan stones of different shapes used in them. Stones and zircon is also seen. In fact, two broad kara are also entirely studded with the second rhinestones. The beautiful and extremely nice enameling peacock painting in the centre kara also gives it a great look.
8. Red and Gold Classy Wedding Chura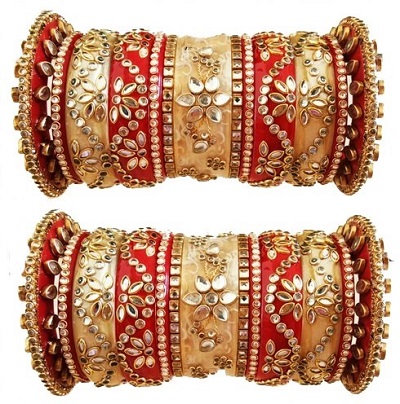 If you like the combination of red and gold with Kundan, then definitely this is for you. The beautiful Kundan work on the red and gold acrylic broad bangles make it eye-catching striking and very royal and expensive. If you would like to look really best and classy, than this neatly done wedding bangles would do a lot for you.
9. Stylish Rajasthani Multi Colour Wedding Bangles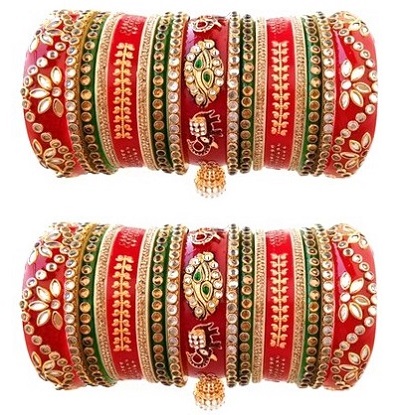 How pretty days wedding bangles are? Yes, the colours like pink, green, yellow and red are used for these gorgeous bangles. These are acrylic bangles where in the Kundan stones are pasted. It also has little Jhumki that gives it glamorous look.
10. Classy Red Wedding Bangle
Such gorgeous red bangles are for every bride who would like simple things. The stone and kundan studded bridal bangles are indeed very pretty and also gives a very classy look.
11. Attractive Bridal Red Wedding Bangle Set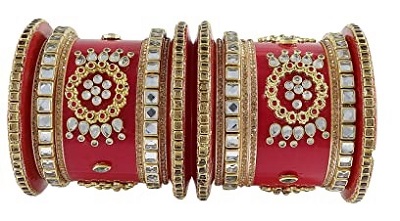 If you would like to wear something for your post wedding outfits then these simplistic classy bangles can be worn.
12. Royal Multi Colour Wedding Bangles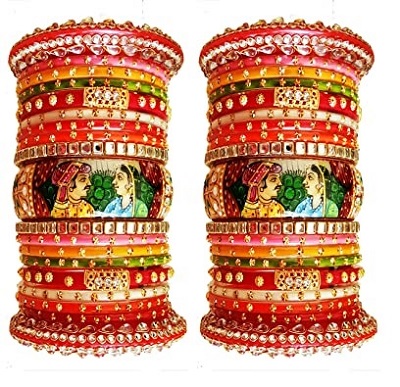 The pictures of bride and groom is in the centre broad kada. These are multi coloured bangles with Kundan stone, thread work and what not. These are extremely beautiful and even lac work is also seen on some of the bangles. You would surely love this design and for your post wedding functions like your first Karwa Chauth of Diwali you can use such designs.
13. Silk Thread Wedding Bangles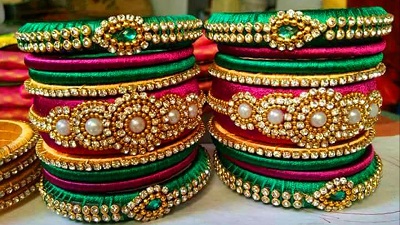 Silk thread wedding bangles have a rhinestone come a ball Chain and kundan work. Even pearls are also been added to these gorgeous bridal jewelery hair. Colors like Maroon, green yellow are exclusively used to make it very Indian bridal kind.
14. Heavy Silk Thread Bridal Wedding Set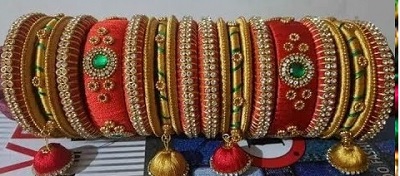 The gorgeous bangles are made with Silk thread and have Silk thread in double and single colours used. These also have Jhumki attached to the kara that give them really pretty look. These bangles are appropriate for your bridal functions as well as even for the after wedding bridal functions like your first festival or even for the Karva Chauth.
15. Heavy Purple And Gold Bridal Bangle Set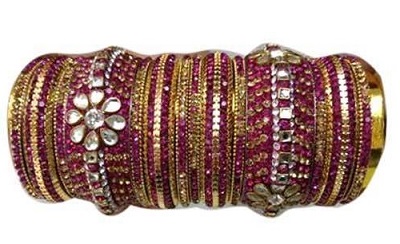 The gorgeous bangle set is in gold and purple colour. The gorgeous bangle set looks really stunning and pretty. If you would like to have such colour then to go for that.
16. Gorgeous Dark Peach Bangle Set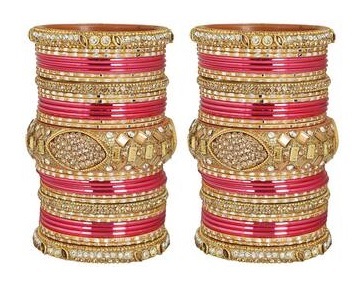 With pearl, rhinestones, Kundan and gold shimmer work these bangles are for every bridal festival for the new bride.
17. Classy Gold And Red Bridal Chura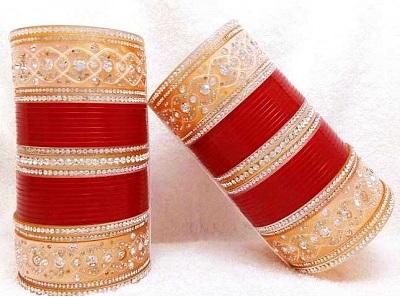 A lot of bride would like to have the classy chura for the wedding. The gold and red combination is not only classy but the exclusive work of rhinestones and shimmer makes these really attractive and beautiful.
18. Maroon And Gold Wedding Bangle For Brides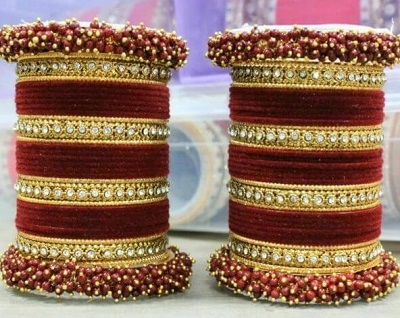 The bangle would go with your wedding outfit and the Classic combination of these wedding Chura would definitely get you all the attention towards your hands. The beautiful Loreal studded side karas are adding more depth and dimension to the inner plain bangles.
19. Pearl And Rhinestone Bridal Bangles
If you like purple work and multi colours then this is the design for you. It can be worn for different festivals and functions and it will surely make you look pretty and outstanding.
20. Gorgeous Red And Gold Chura Set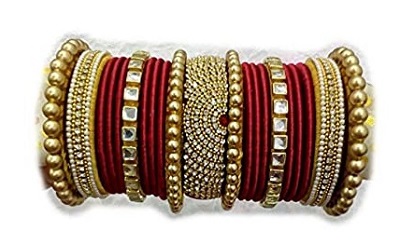 The beautiful designs have Kundan work and Stone Work. The centre kada is really pretty and can also be worn as a standalone thing. The side kara as well as the inner thread work Silk thread bangles are really pretty.
These are the best bridal wedding bangles sets available in the market. Such designs are also there, you can pick the one that you like and that matches with your bridal dress. Even for the ceremonies, festivals and occasions after your wedding when you would like to get all decked up in the Indian traditional wear, you can try these wedding bangles sets.