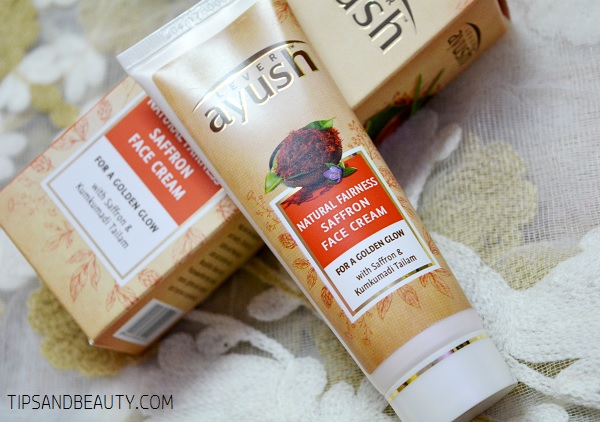 Lever Ayush Natural Fairness Saffron Face Cream Review, Price, How to Use and Results
Hi everyone!! How are you all doing. Today, I have written this review of Lever Ayush Natural Fairness Saffron Face Cream. This saffron cream is a fairness cream which is enriched with saffron means Kesar and claims to give you skin whitening. The product is from Lever Ayush and it is named as Ayush Natural Fairness Saffron Face Cream. I got this around 2 months ago and along with that anti marks cream, I have also used this Ayush Fairness Cream. So, friends, is this cream really worth trying? Let's check out its review, price, how to use and other details but before that let me ask you do you really believe in fairness creams. Honestly dearies, I feel that they can improvise your skin complexion by a couple of shades but the way they show in the advertisements is total false and you should not get into it. Home remedies and treatments are still the best when it comes to skin lightening or whitening. Okay, too much of this stuff, going straight to the review.
Price of Ayush Natural Fairness Saffron Face Cream:
The cream is priced at 120 Rupees for 50g. I have not seen a small pack of this cream like the anti marks turmeric cream which was available in a pack of 20g also.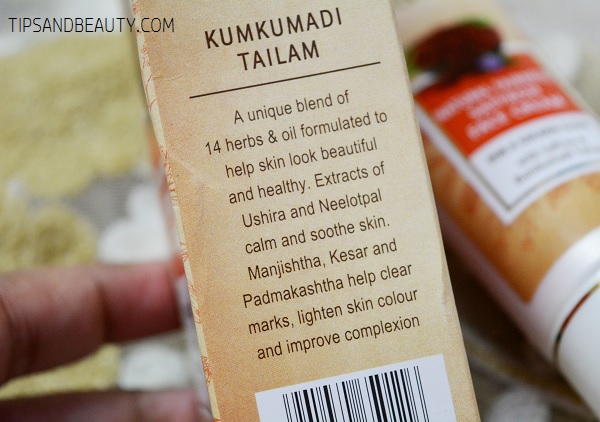 Claims of Ayush Natural Fairness Saffron Face Cream
Ayush Natural Fairness Face Cream is made with the 5000 years of Ayurvedic wisdom to give you a golden glow. This fairness cream has the benefits of Saffron (Kesar) & Kumkumadi Tailam. Saffron (Kesar) is an Ayurvedic herb which heals, brightens and whitens the skin color.
Kumkumadi Tailam is a unique blend of 16 herbs and oil which is made to cure marks, lighten skin colour and improve skin's quality and tone. This also has the extracts of Lodhra, Ushira and Neeloptal calm and soothe skin. It also contains natural botanicals like the manjishtha, and Padmakashtha help clear marks, lighten skin color and improve complexion.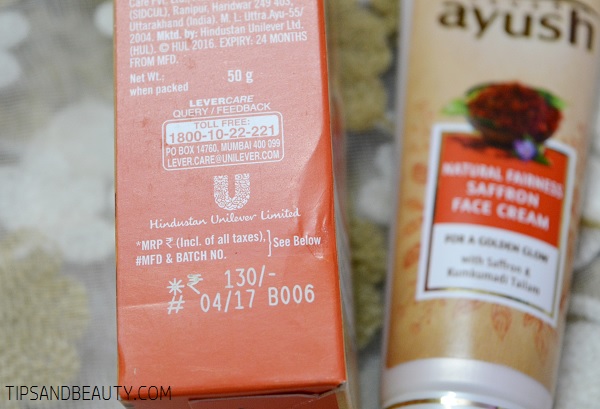 Experience with Ayush Natural Fairness Saffron Face Cream
The Cream is packaged in a tube pack and comes in an outer carton. The tube is a pale skin colored design and the cream tube is also of that color. The cream is a peachy pink colored cream which looks like he light saffron colored concoction. The texture of this cream is still smooth as compared with that bad looking turmeric cream. It is light and when blended on the skin, I feel that it gets blended easily but still, it gives a little heavy feeling on my face. I do not feel that the cream is whitish or ashy as my skin color is already on the fair side but, I think those of you with a little deeper skin color this will look a little ashy.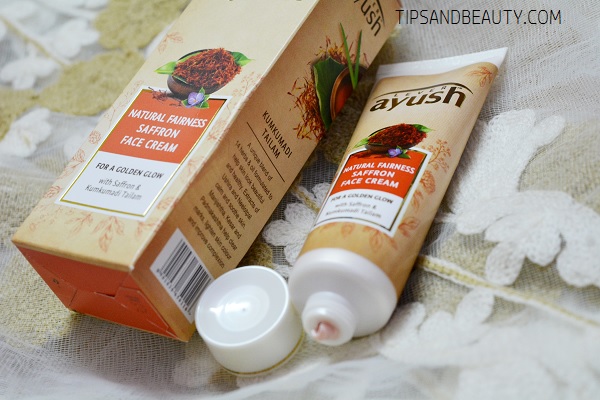 Best Fairness creams for men in India
How to Use it:
The cream has a nice smell but honestly, the smell is exactly like that of the LUX soap. No seriously, when I first smelled it reminded me of the lux soap, the pink one. It gets matte within few minutes and I am left wondering whether this actually gets inside the skin or not. I think it layer on the upper skin surface and does not get inside as much. When I took the cream on my palms and rubbed, it got dried or vanished within minutes.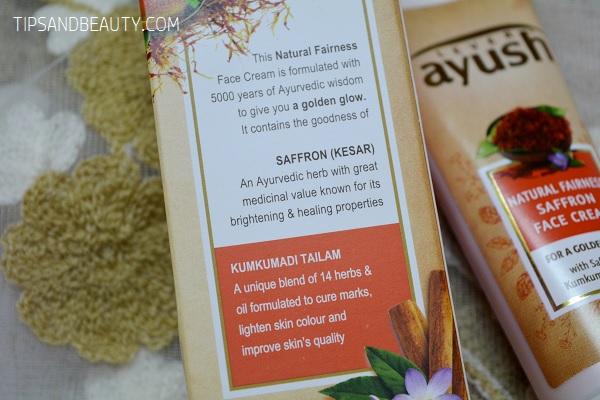 Results:
Right after the application, the skin looks matte and my skin is oily so, I liked that finish but wait friends, within 2-3 hours my nose and T-Zone got oilier again and it made my skin secret more oils. So, in short, I this is good for oily skin at first but makes it oilier after couple of hours. Now coming to people with normal to dry skin, as I mentioned, it gets vanished or dry as soon as you rub your palms, so it is not at all moisturizing. Even you try the dot on your face method of cream application, and then too this will not do much for the dry face as people with dry skin would need fairness cream that can brighten the skin complexion but at least give some moisturization. So, if you have dry and wants a good fairness skin cream then skip it. It is not for you.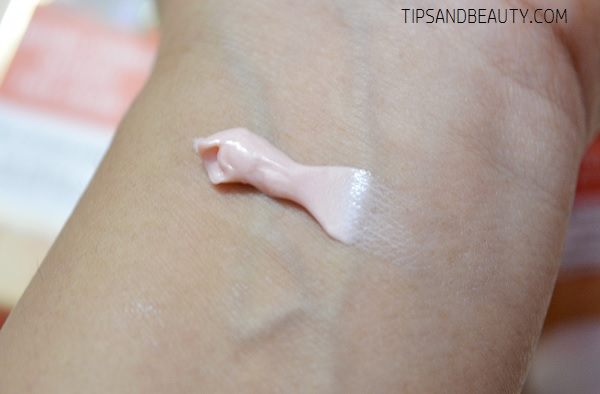 I used this for around 10-12 days at the most and felt that this was not a cream that I would like to use daily or would recommend as who wants a cream that makes your skin artificially fair for few hours but then makes the skin oily and dull looking after few hours. I would rather use a BB cream from a good brand that makes the skin whiter by a few shades and also not give a bad oily face afterwards.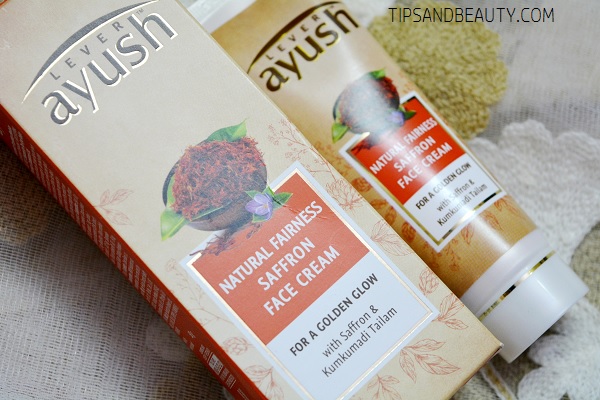 One point is left? If this Ayush Natural Fairness Saffron Face Cream really makes the skin fair? My answer is not as much!! Since they have made it more of a cream that can give you visible fairness and not the deep skin layer kind of skin whitehing. After using for 10-12 days, it has not given me break outs but yes, there were few tiny zits on my chin, which I feel were because of this Ayush Saffron Face Cream.
Okay, friends so moving on to the pros and cons of this Ayush Natural Fairness Saffron Face Cream.
Ayush Anti Marks Turmeric Face Cream Review
Pros of Ayush Natural Fairness Saffron Face Cream
Price is very affordable and it is available in shops and online

The packaging is good and hygienic to use

It is also very travel friendly tube

The smell is decent and not unlike those strong smelling creams

The color and consistency is nice

Blends okay-ish but takes a bit of time
Cons of Ayush Natural Fairness Saffron Face Cream
Not for dry skin as the texture is not hydrating or moisturizing

Gives oiliness and some hours

Not many changes are seen in the skin color or complexion

It has got the similar ingredients that we have seen in the anti-marks turmeric skin cream, so what is different in this apart from the kesar and turmeric as the highlight ingredients of each
Rating: 3 out of 5
Ayush Natural Fairness Saffron Face Cream is an average fairness scream which is not at all for those of you with dry face. For oily to combination skin, try it and it makes the skin look brighter and few shades lighter with matte finish. As if there is no trace of oil. But wait for few hours or so and it makes the skin oilier. So, I am still wondering for who this cream would be suitable may be only for normal skinned ones. Apart from that it is good in making the skin tone fairer. It has given slight changes in skin tone and that is it.  There can be zits and breakouts if your skin is too oily.
So, girls, this was the Ayush natural fairness saffron face cream review. Hope you liked it.
Best Kojic Acid Skin creams in India
Best Anti Pigmentation in India
Best Bleaching Creams for Oily Skin
Best Anti Pimple cream and Acne products in India
Himalaya Clear Complexion Whitening day Cream