Long Frocks for Women
Long frock design is also popular amongst Indian women. Full length or long frocks are generally like the long maxi dresses that are very comfortable to wear and women also wear such long frocks with ease and comfort. There are so many different designs of long frocks for women that we have compiled in this article here.
1. Silk long brocade frock design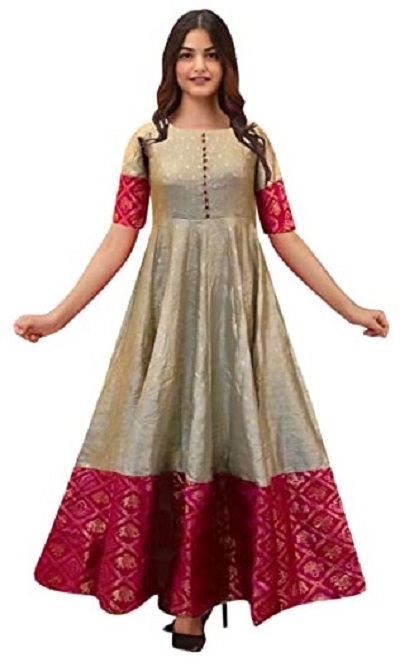 This long frock is more like an umbrella kurti that looks really beautiful. It is a Silk kurti with a Silk Banarasi border at the hemline. The same design as seen on the sleeves and it looks really beautiful and pretty.
2. Silk Cotton Long Frock With Border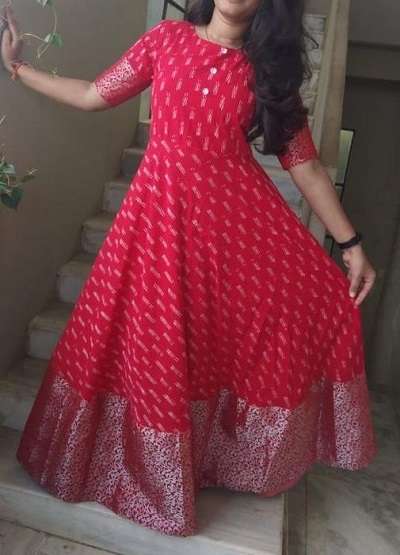 The ethnic looking long frock for women is certainly beautiful with elbow length sleeves and round neckline. Buttons are also given on the top.
3. Beautiful sequin studded embroidered long frock gown for women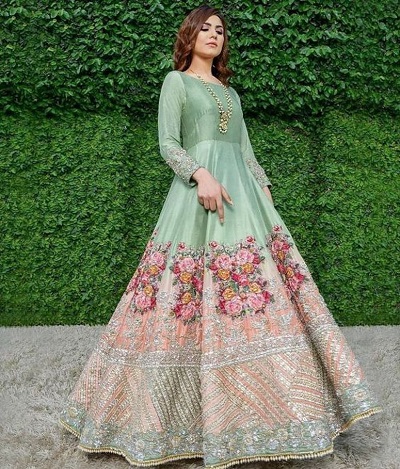 This long frock for women is absolutely stunning. It is basically a wedding wear and party wear dress where, there is green color on the top and the Pastel pink color at the bottom actually makes it look beautiful and attractive. A lot of beads and stone work is give on bottom with embroidery flower patches in the middle portion.
4. Blue mirror work long frock with embroidery work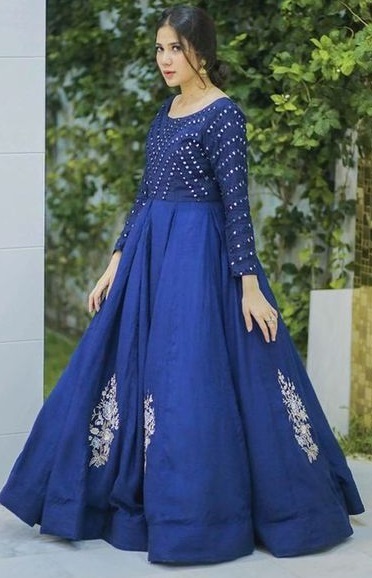 This long frock with embroidery work looks stunning and it is a full flared gown looking frock.
5. Full Flair pleated long frock for women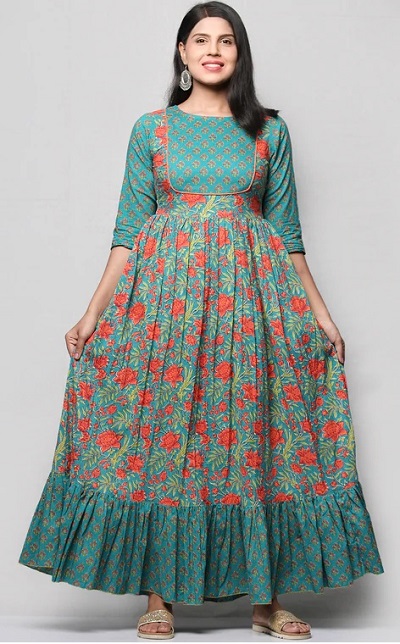 The pleated design of this long frock for ladies is absolutely stunning. It is a printed fabric with gold really well during the hot summer season. The colors are soothing and it is ideal for college and casual events
6. Embellished long Georgette frock for girls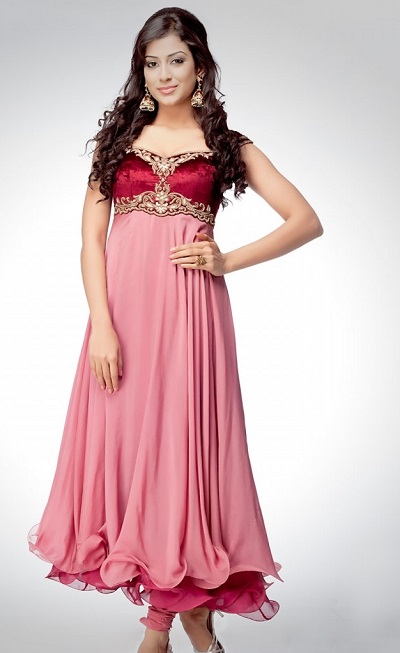 This dress looks really beautiful with a velvet designer bust potion used with Georgette fabric below that.
7. Chanderi Silk sleeveless long frock for women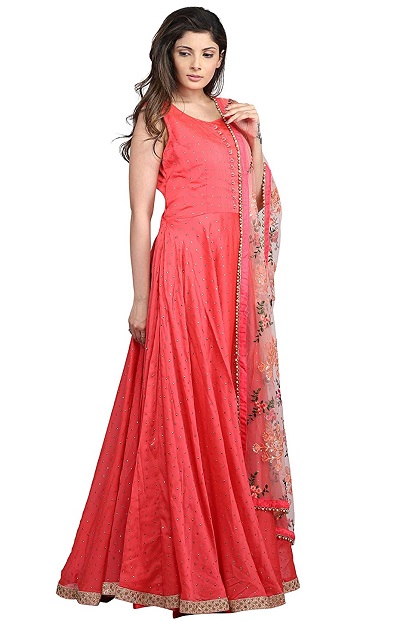 The stresses is equally amazing with the beautiful carrot pink colored Silk fabric. It is ideal for festivals and functions.
8. Yoke pattern pleated long frock cotton Silk fabric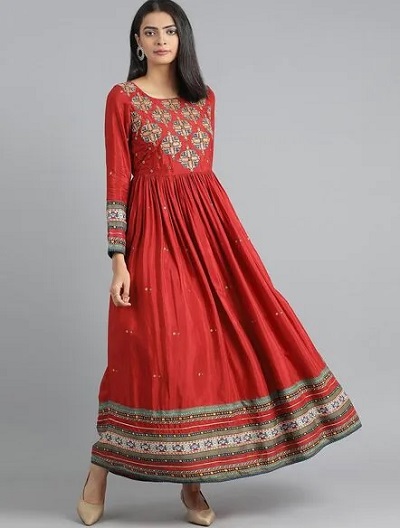 This frock in the Cotton Silk fabric has embroidery on the upper portion and looks really nice and comfortable to wear even during the summer season.
9. Angrakha pattern long frock for women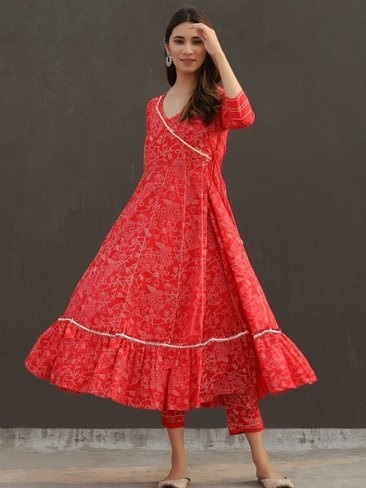 This printed long frock is not as long as it seems but it's more like a long frock. It has three fourth sleeves and an angrakha pattern.
10. Pink Georgette embroidered long frock for parties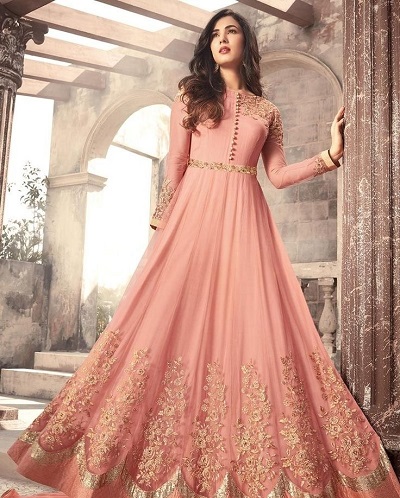 This long frock looks really amazing because of the beautiful embroidery work done on the Georgette fabric.
11. Blue Printed Tiered Long Frock For Women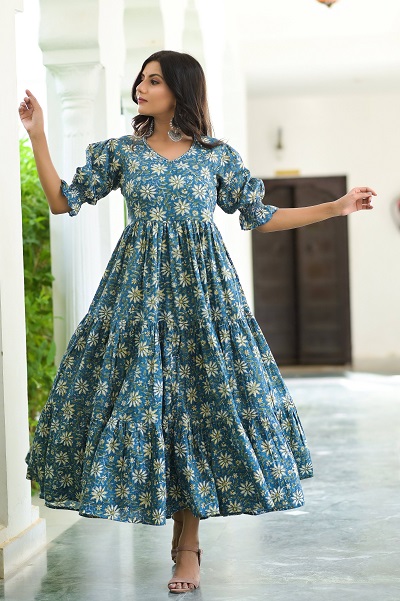 12. Stylish Centre Slit Long Frock For Women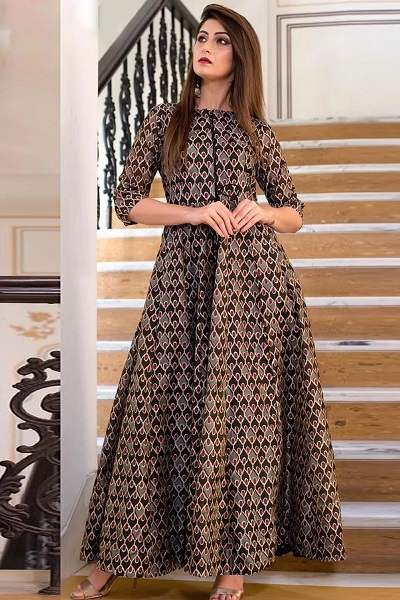 13. Ankle Touching Long Pleated Frock With Floral Print
14. Pink Multi Layered V Neck Line Long Frock For Summers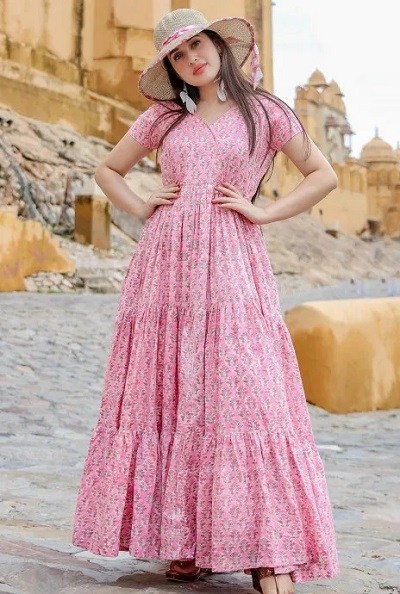 15. Pink Satin Long Frock Gown For Women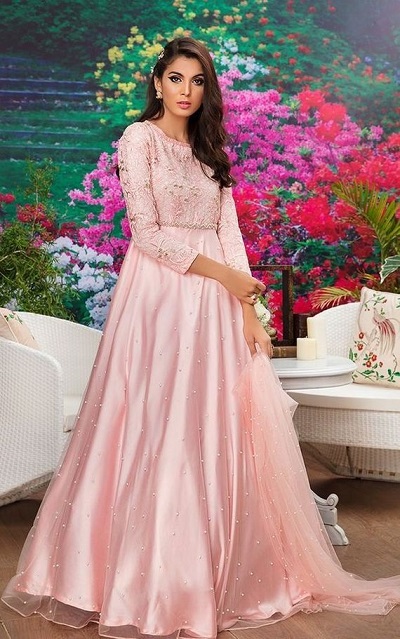 16. Floral Printed Chiffon Collared Long Frock Design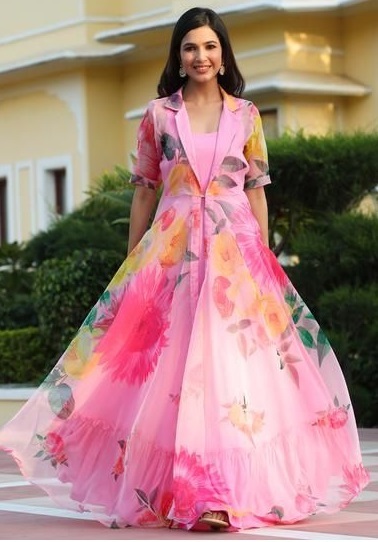 17. Georgette Floral Printed Full Sleeves Long Frock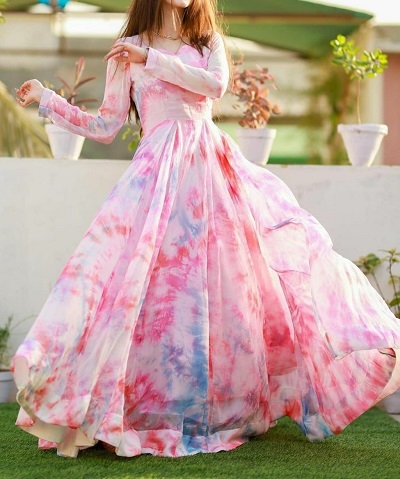 18. Stylish Embroidered Net And Satin Fabric Long Frock Gown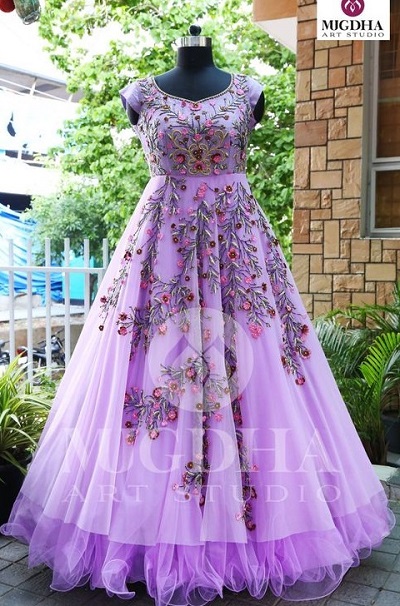 19. Green Beautiful Net And Silk Fabric Long Frock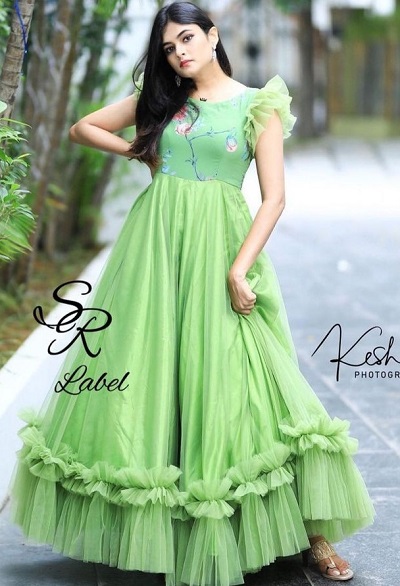 20. Refreshing Green Georgette Long Frock With Embroidery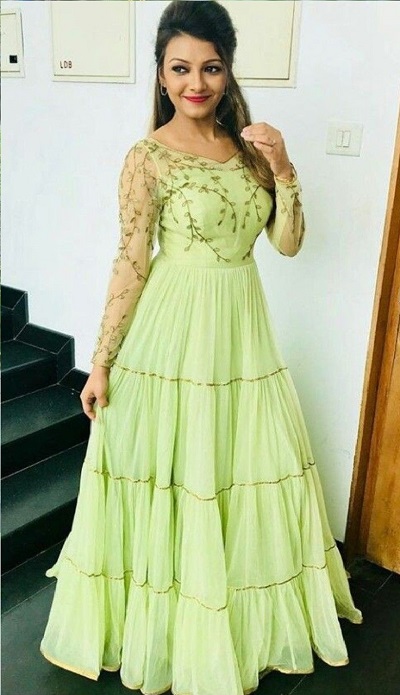 21. Stylish Cotton Silk Long Frock With Border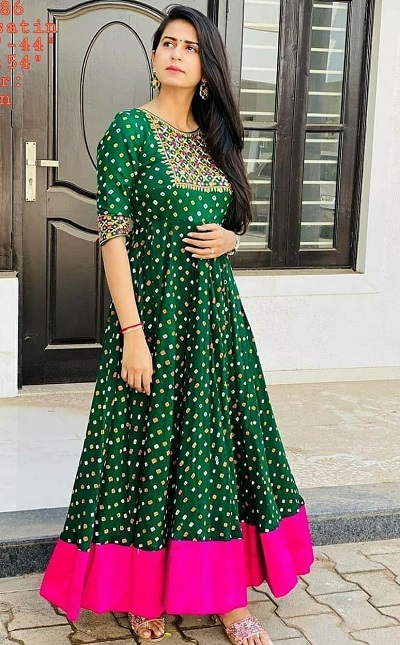 22. Long Frock Kurta Gown Embroidery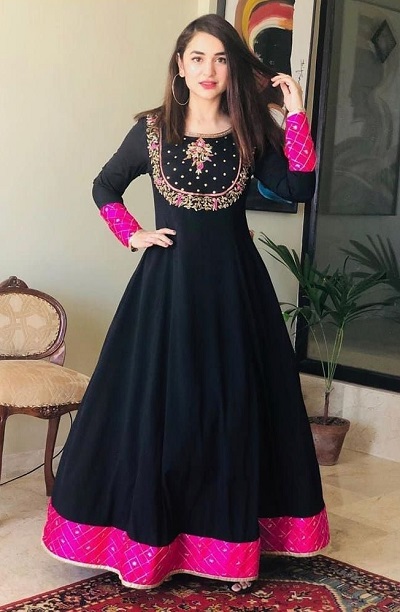 23. Georgette Half Sleeves Full Flair Long Frock For Women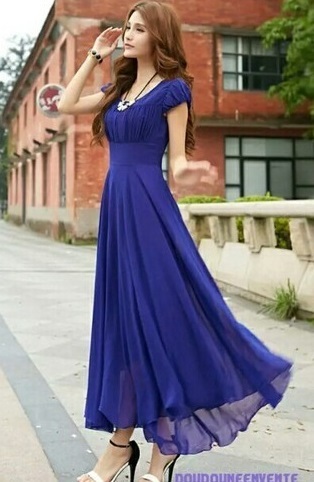 24. Sleeveless Silk Long Frock Gown With Pocket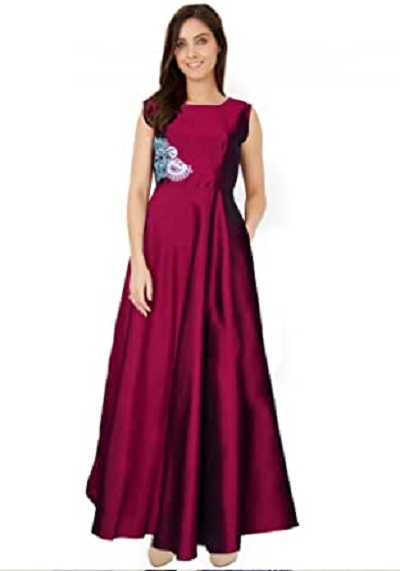 25. Wine Sleeveless Long Frock Gown For Ladies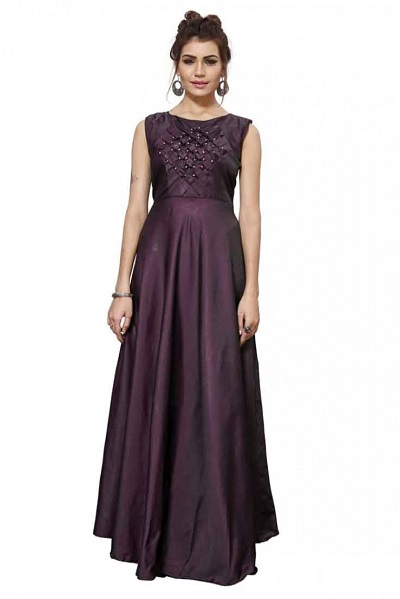 26. Pastel Pink Net And Satin Long Frock Gown For Parties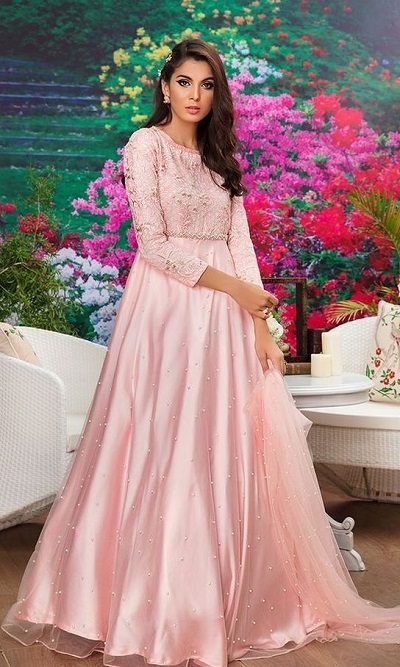 27. Chiffon Long Frock Dress Design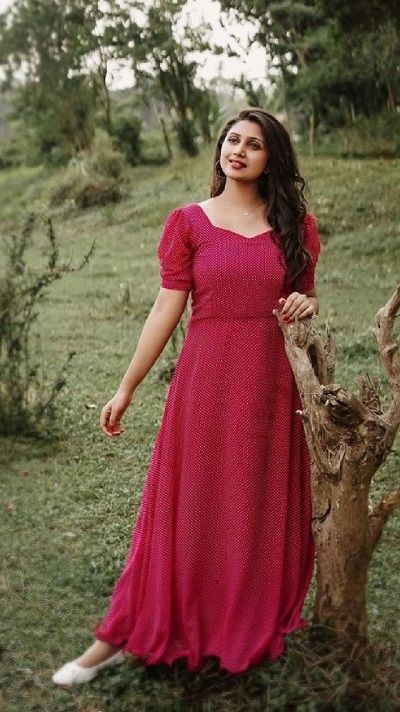 28. Banarasi Silk Long Frock Style Gown For Ladies
29. Traditional Long Frock Design With Silk Fabric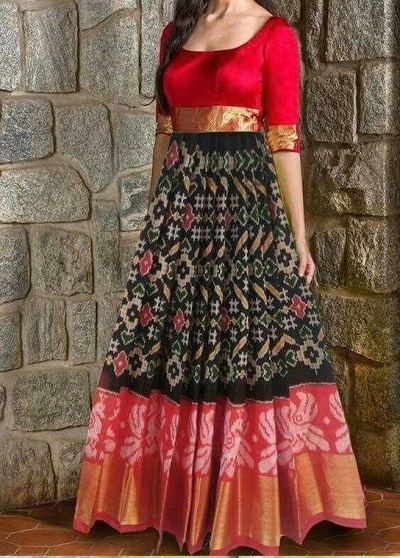 30. Mirror And Gota Patti Work Mustard Yellow Long Frock Gown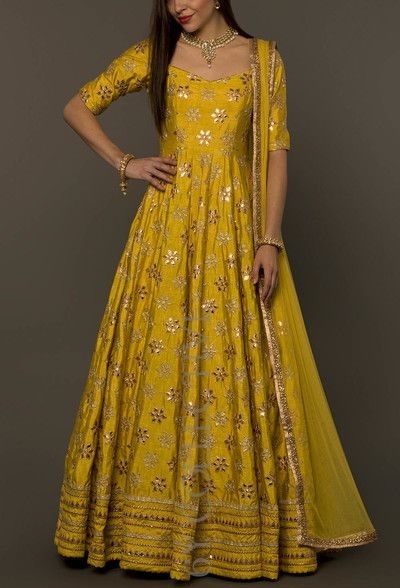 31. Yellow Embroidered Long Frock Pleated Gown Design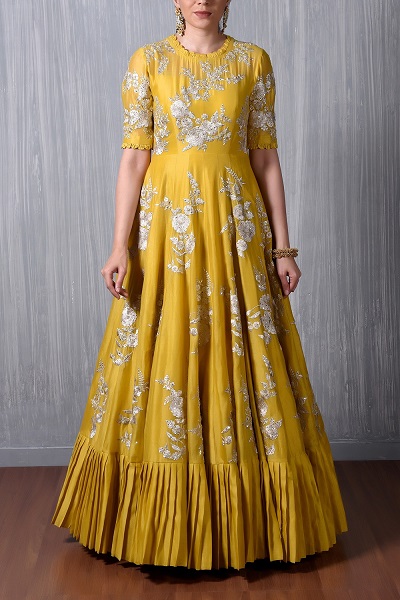 32. Silk Mustard Yellow Long Frock Gown For Parties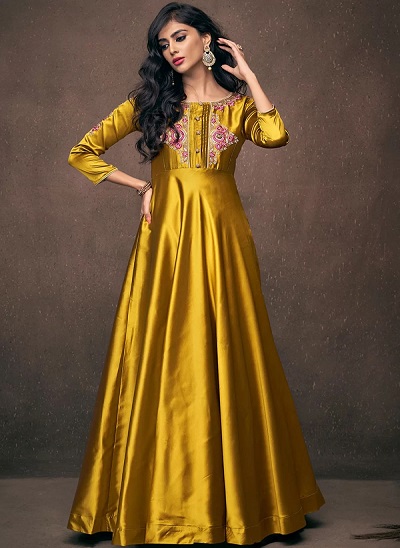 33. Peach Pink Satin Embroidered Long Frock Gown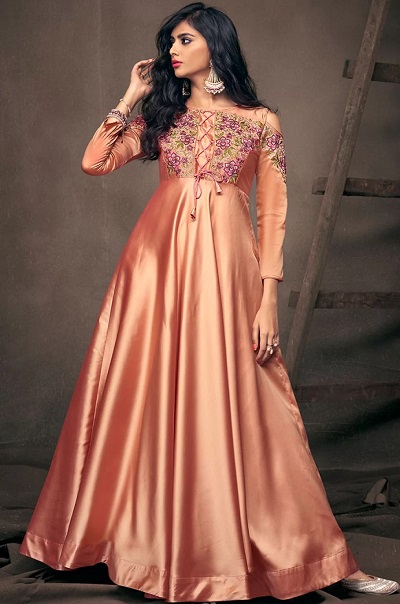 34. Cotton Silk With Embroidery Long Frock Dress Design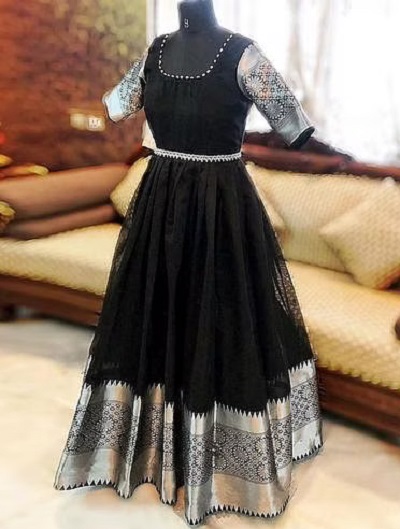 35. Printed Summer Long Frock Dress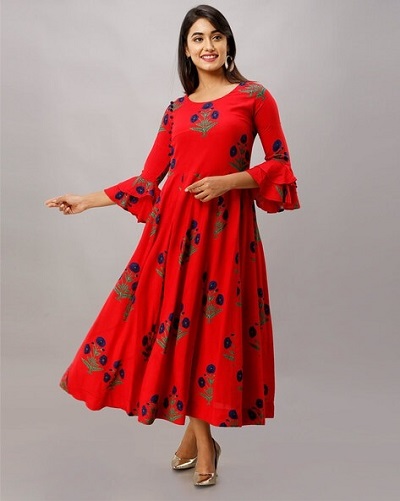 36. Stylish Green Long Frock Dress Design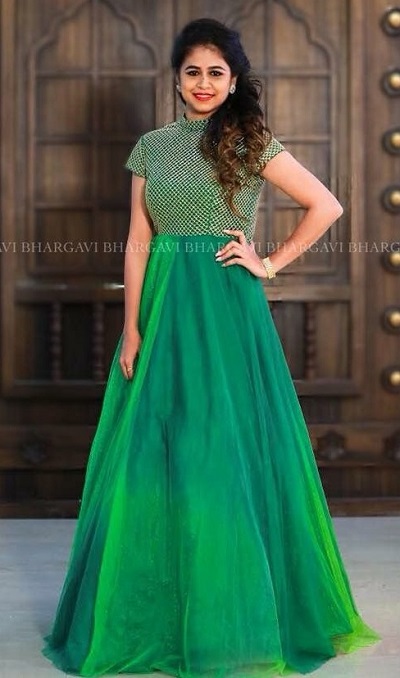 37. A-Line Ankle Touching Frock Design For Women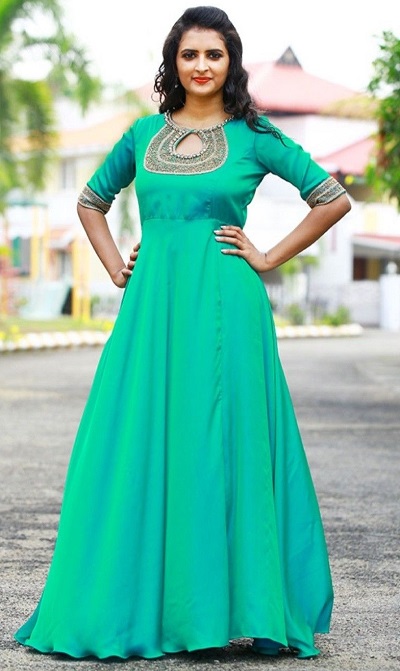 38. Embroidered Multi-Tiered Long Frock Design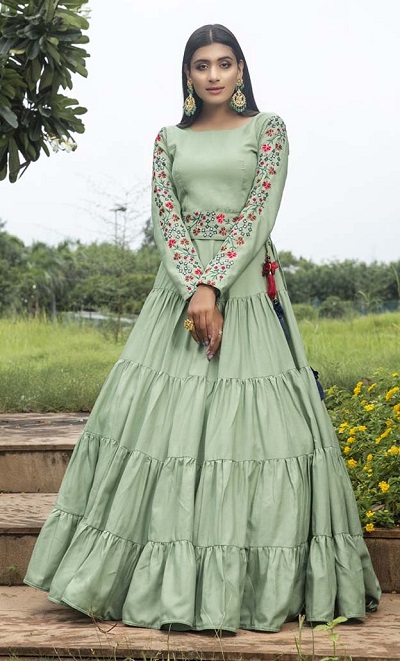 39. Shoulder Strap Floral Printed Summer Dress Design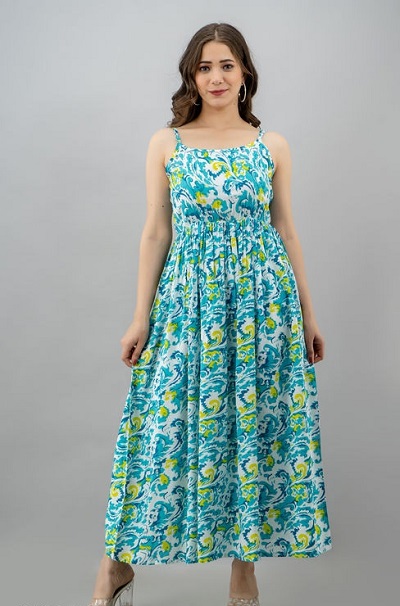 40. Blue And White Printed Long Frock Dress Design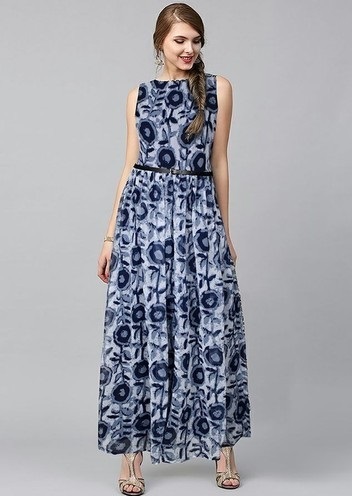 41. Stylish Cotton Blue Full Sleeves Long Frock Kurta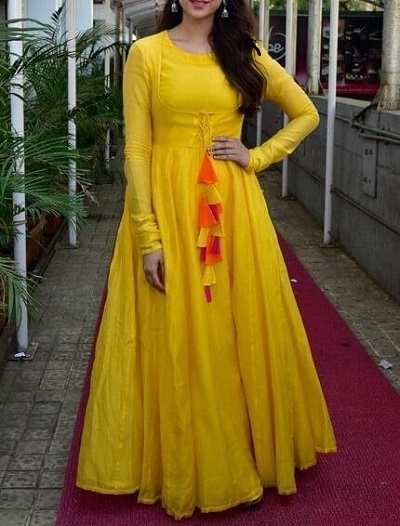 42. Round Neckline Embellished A Line Long Frock Design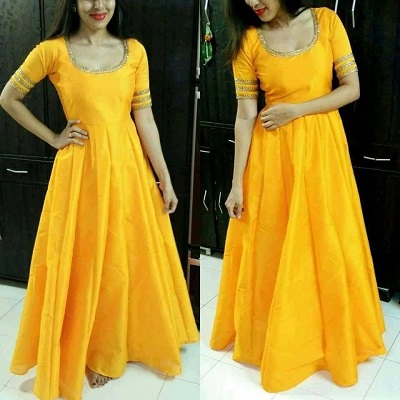 43. Printed Long Frock Dress Design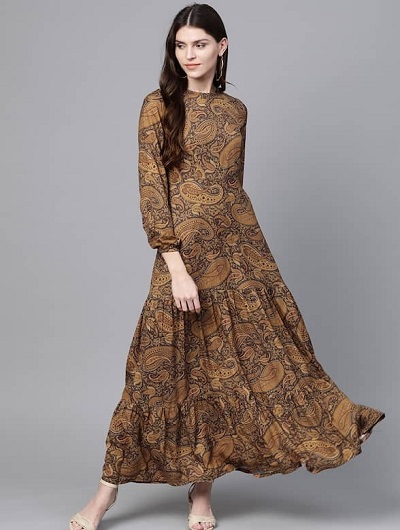 44. Long Frock For Women With Printed Design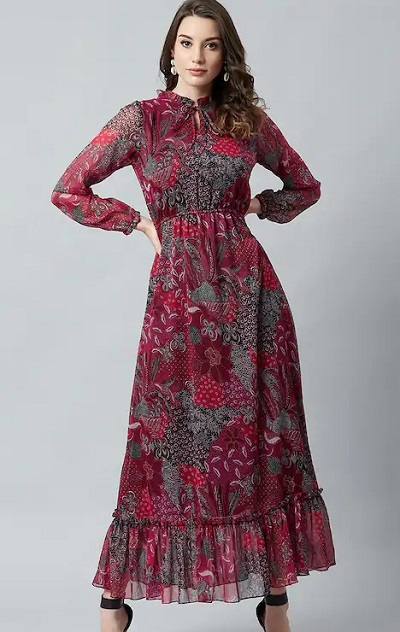 45. Traditional Printed Long Frock With Shoulder Strap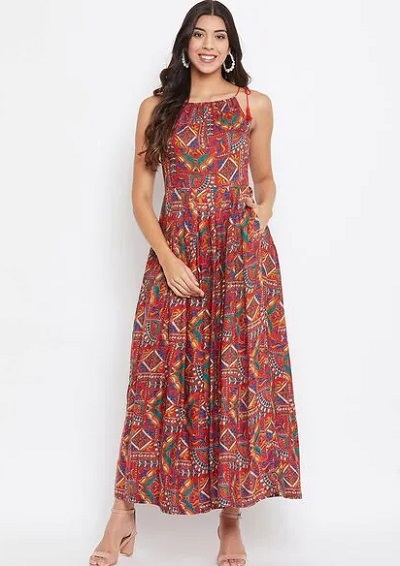 46. A Line Sleeveless Long Frock Dress Design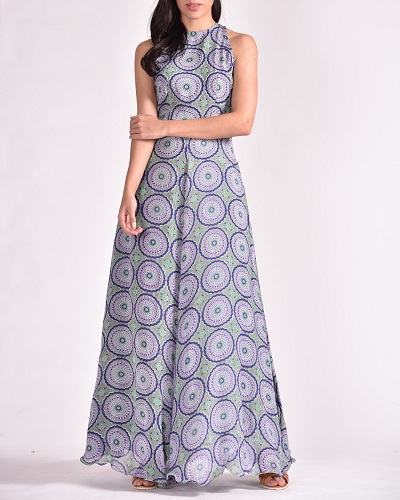 47. Ruffled Sleeves Printed A-Line Midi Frock Design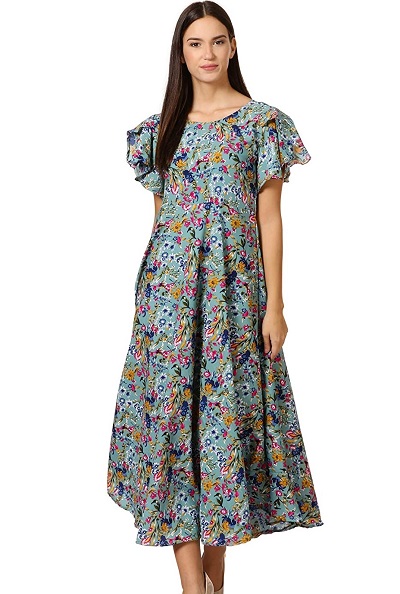 48. Maroon Ruffled Sleeves A Line Long Frock Dress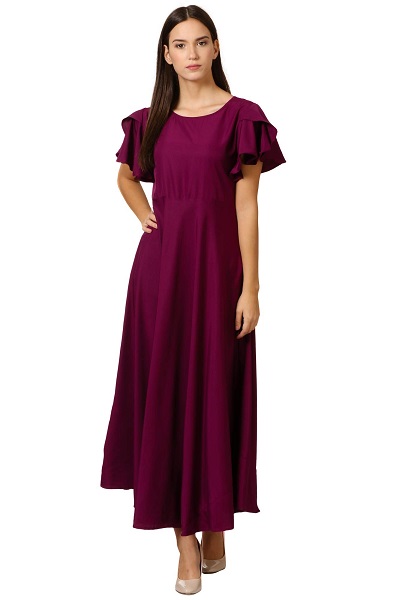 49. V Neckline Georgette Printed Long Frock Dress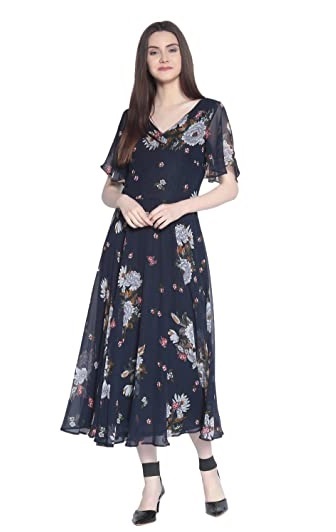 50. Mint Green Summer Floral Printed Dress Design