Long kurti with skirt is a really gorgeous combination. In fact, it is also suitable for casual wear as well as for the parties and weddings. This is why, the combination has gained quite a lot of popularity in the recent times. Long kurtis in A-line pattern or straight cut can be easily paired up with the full flared Maxi skirts. They can be made from the printed cotton fabrics, solid rayon fabric, cotton or even more expensive and attractive fabrics like silk, net with heavy embroidery and even velvet. So, here we have created this latest catalogue of the long kurti with skirt designs.
Long Kurta With Skirt Designs and Patterns
1. Gold long kurti with black netted skirt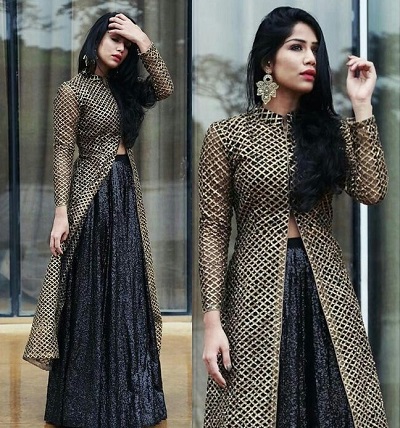 This combination is so beautiful to look at that it is surely a head turner. There is a long net black and gold colored solid kurta with the centre slit that goes all the way till the waist. And this nicely made a line with a full flared maxi skirt. This is a party wear and Cocktail wear a kind of dress for women.
2. Brocade double slit A line kurta with Silk skirt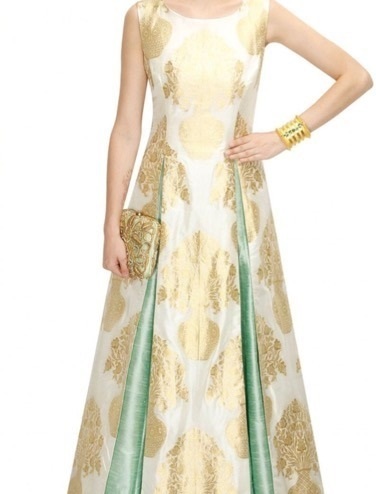 The brocade kurta with golden woven design has double slit. There is a mint fresh colored skirt underneath this creates a beautiful look. The dress is entirely party wear and festival wear dress for women.
3. Straight kurta with A line skirt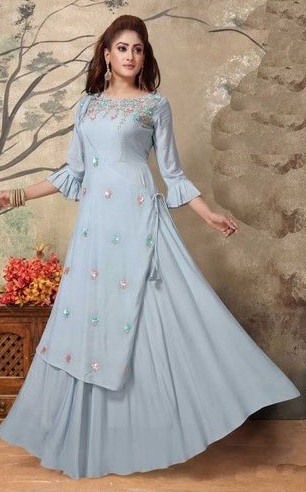 The straight kurta is paired with an A-line skirt with drawstrings at waist. It has ruffled sleeves and looks really beautiful. The skirt is made in the nice crepe fabric. The kurta has embellishments and nice colorful.
4. Stylish long kurta with printed long skirt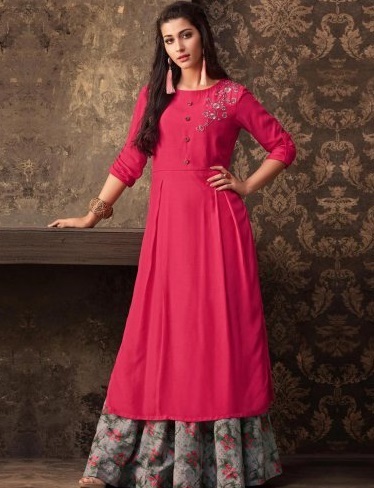 It is a long solid red colored Georgette kurta with mild embellishment on the shoulder and buttons. This kurta has long printed casual skirt. Over all, this entire dress can easily taken as a festive wear attire or a dress that can be worn for small get together and functions at home.
5. Yellow Designer Party wear kurti with brocade A line skirt
This is such a gorgeous combination in yellow color that it will steal your heart. It is a nice off shoulder pattern and embellished short kurti with the straight cut. The kurti is paired with a long skirt with an A-line pattern. The material used for both kurti and skirt makes it a party and wedding wear attire.
6. Long straight brocade kurti with Silk Magenta skirt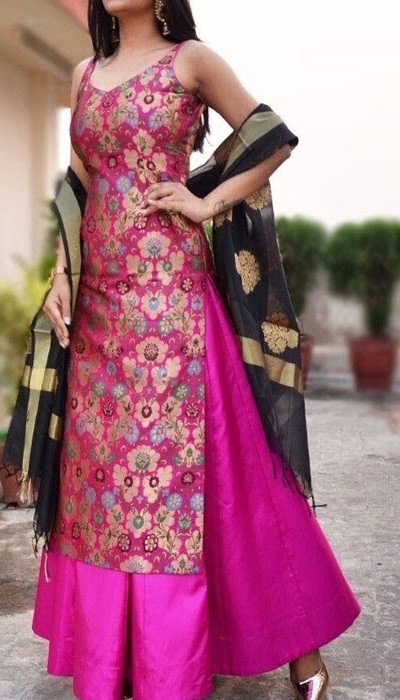 This long kurti in the brocade fabric comes with a solid A-line Silk skirt in magenta color. The dress is so gorgeous and also comes with Banarasi black gold woven Dupatta.
7. Beige long Golden kurta with skirt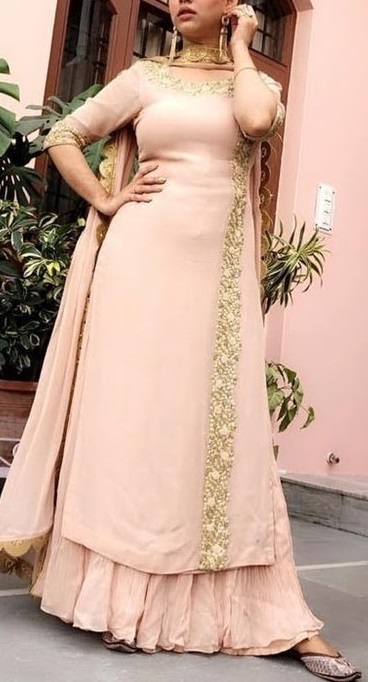 The super stylish set has mild embellishments and is a long straight cut kurta. It is full flared crinkled skirt. The gorgeous dresses a party wear and festive wear dress for girls.
8. White Long Work Kurta With Banarasi Skirt
This is such a refreshing and new combination that you will simply love it. The white chikankari work kurta with collar and buttons look so beautiful. And here it is being paired with a bandhej printed skirt that makes it so refreshing and lively.
9. Georgette straight cut kurta with skirt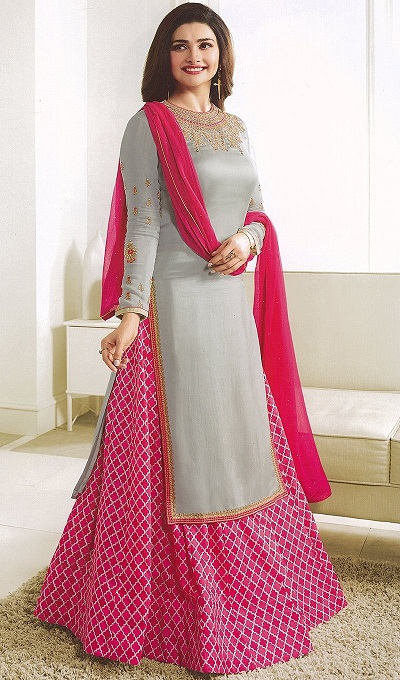 This is a classic combination of a straight cut long kurta with skirt pattern. It is also given along with this dress. So all in all the dress contains Shades of Grey and red gold detailing.
10. Black long straight cut kurta with golden skirt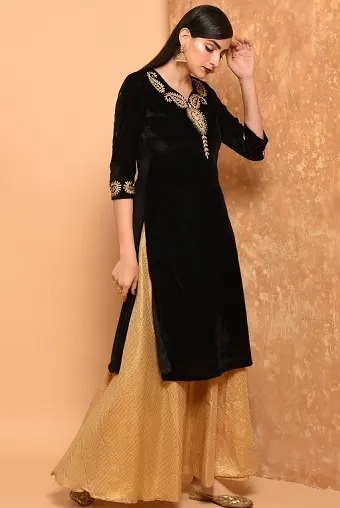 The black and gold is a classic combination and one can never deny the fact that how beautiful it looks. This black kurta with mild embellishment and embroidery around the neckline is looking so perfect to go with this solid gold and textured skirt.
11. Stylish pink Kurta with Maroon skirt and dupatta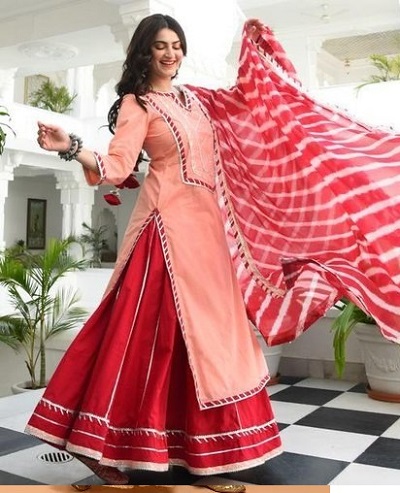 12. Cotton long skirt with printed long kurta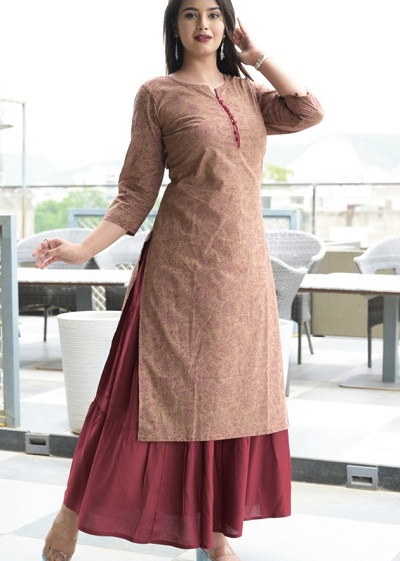 13. Rayon straight cut kurta with gold foil printed skirt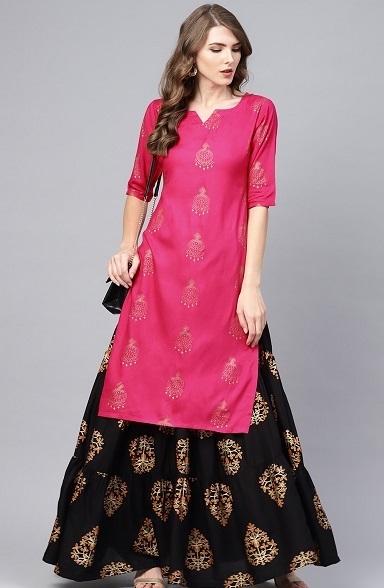 14. Stylish blue kurta with Maroon skirt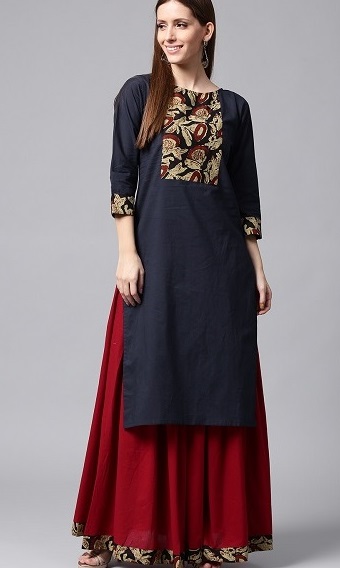 15. Orange embellished long kurta with gold panelled skirt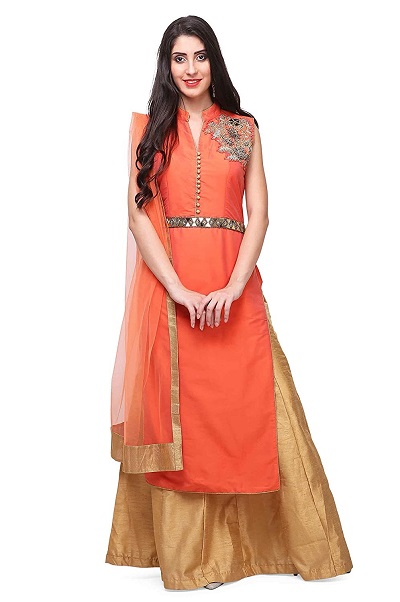 16. Yellow rayon 3/4 sleeves kurta with white full flared skirt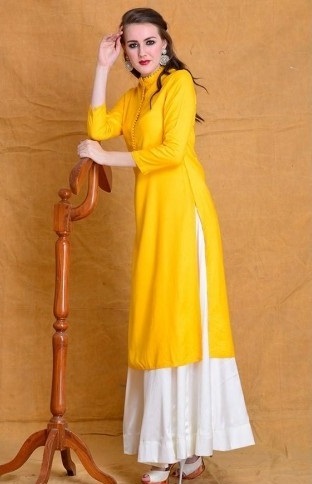 17. Yellow printed Anarkali kurta with A line red skirt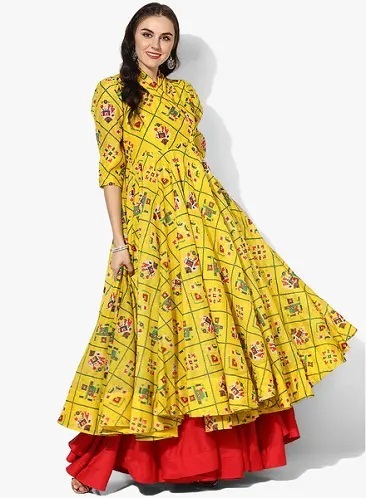 18. Stylish black kurta with pink skirt set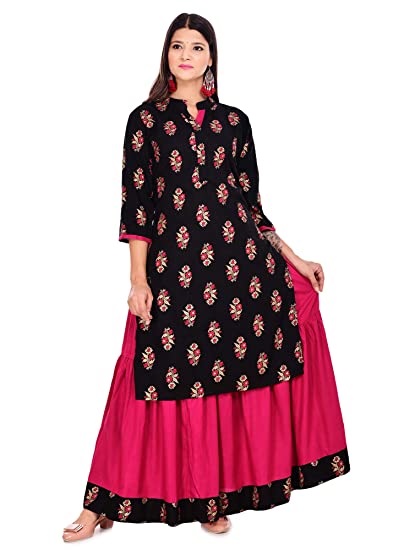 19. Green cotton kurta with black A line skirt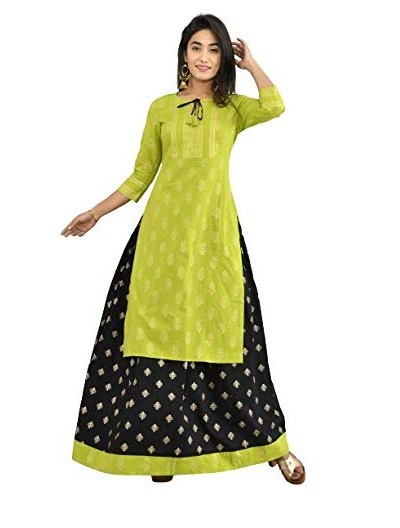 20. Party wear mint green long kurta with A line skirt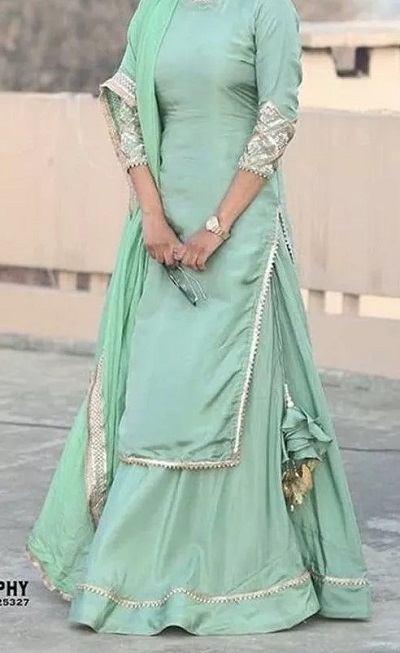 21. Stylish yellow long kurta with white lehenga skirt and dupatta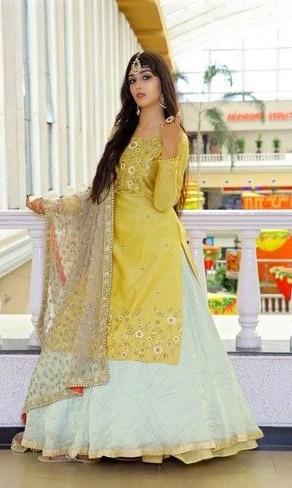 22. Yellow mirror embellished kurta with white skirt set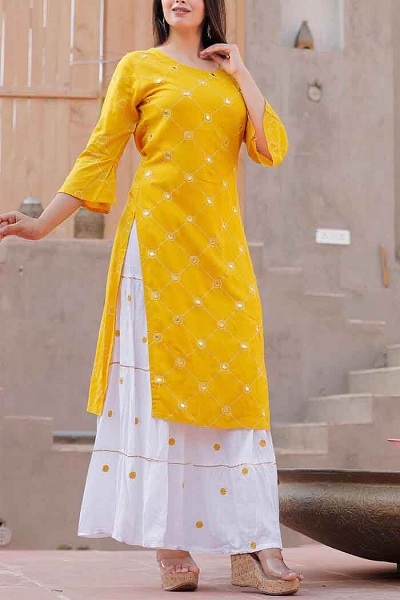 23. Long yellow mirror work straight cut kurta with lehenga and dupatta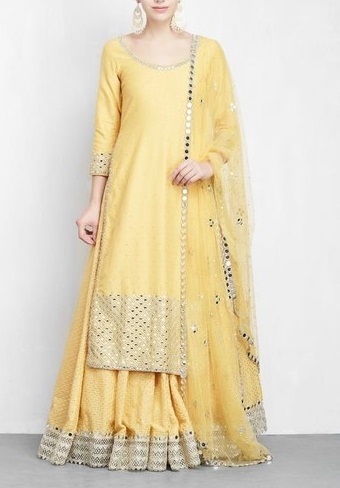 24. Casual wear printed yellow kurta skirt and Dupatta set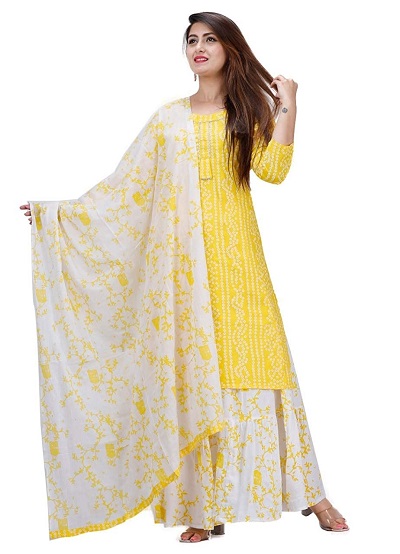 25. Yellow Georgette kurta with white Georgette printed skirt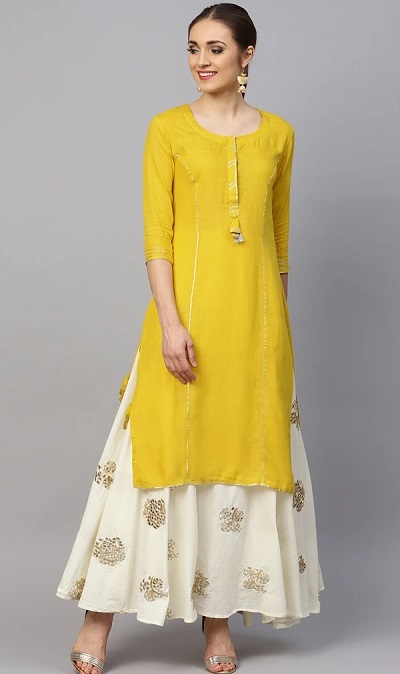 26. Party wear long floor length kurta with Centre slit and blue skirt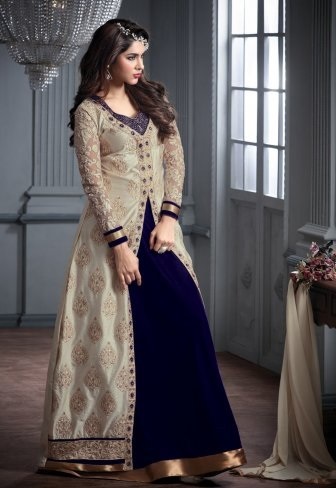 27. Thread work white kurta with long A line skirt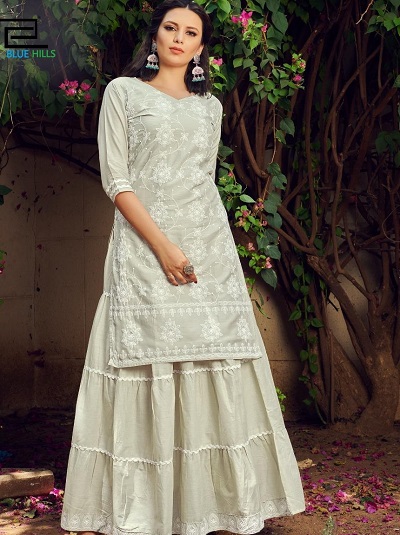 28. Black brocade long kurta with black solid skirt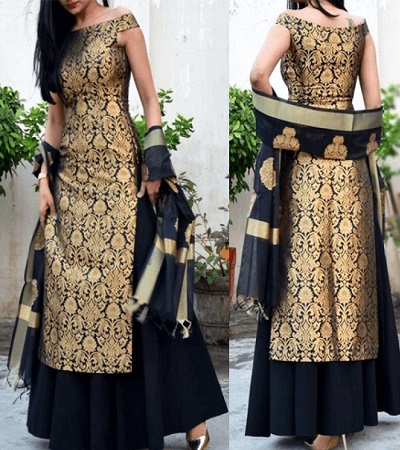 29. Black Jacquard A-line kurta with black Silk skirt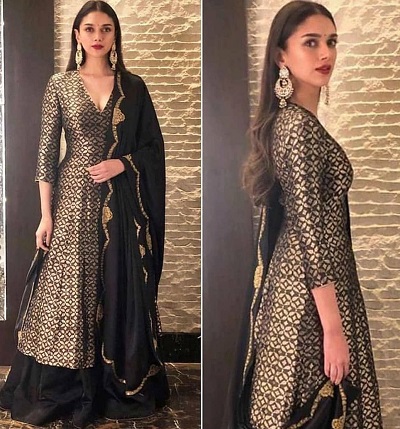 30. Navy blue woven kurta with Copper Gold skirt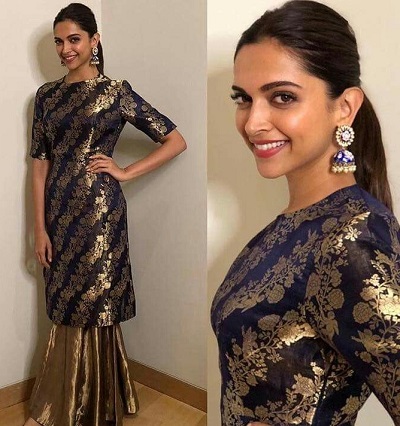 31. Long collared Centre slit kurta with skirt
32. Stylish long kurta with printed casual wear skirt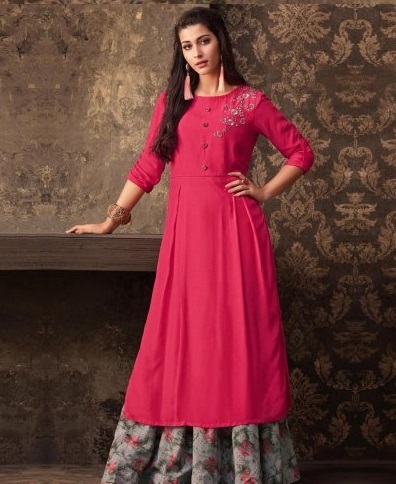 33. Printed Rajasthani style kurti and skirt set
34. Stylish rayon Grey printed grey kurta with red skirt
35. Maroon long kurta with black rayon skirt
36. Long watermelon pink Kurta skirt and Gota Patti detailing
37. Stylish peach long kurti with red skirt
38. Half sleeve printed casual long kurta skirt set for everyday wear
39. Printed long kurta with layered skirt Set
40. Stylish long black kurta with cotton printed skirt
41. Shirt like long kurta and skirt set
42. Festive wear gold foil printed long kurta with Maroon skirt
43. Mint green party wear long gold women kurta and full flared skirt
44. Stylish peach long kurta with gold printed skirt
45. Green Jacquard kurta with Magenta skirt
46. Stylish gold long kurta with peach embroidered skirt
47. Grey gold foil printed kurta skirt set for parties
48. Long A line grey kurta with golden skirt
49. Sleeveless black long kurta with black skirt set
50. Black kurta with golden skirt for festivals
51. Long cotton casual kurta with white skirt
52. Beautiful even hemline red kurta and gold skirt set
These are the beautiful designs of kurta with skirt. One can wear the lehenga skirt or the kurta skirt set during the festivals, parties and for small to big functions at home. However, when these sets are made in cotton printed breathable cotton fabrics then they can also be suitable for casual wear and also for everyday wear.