Long skirt is an effortless clothing style for women that brings out the feminine charm and can be versatile in styling.  Long skirts are available in different fabrics, prints and patterns. Even styling a long skirt is not that difficult because there is so much that one can do with them. So the long skirt can be paired with a tank top or even with a tunic. Many women would like to pair long skirts with frilly blouses, crop tops and tunics. Even the asymmetrical long skirts are getting really popular. So whatever is the pattern of a long skirt is you'll still look amazing and comfortable. Here, we have compiled this list of the catalogues of different styles of long skirt designs available in the market.
Latest Long Skirts for Women Designs (2022)
1. Cotton Long Skirt Design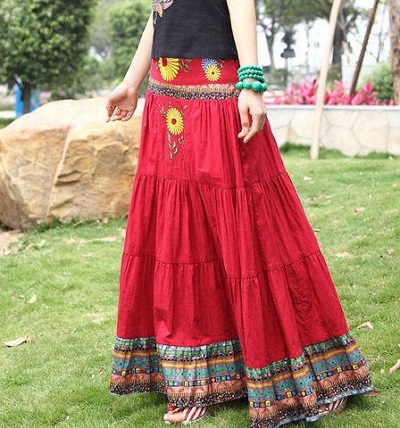 The cotton long skirt in red colour is appropriate for creating the Indo Western fusion look. It's the best skirt to go with the tunic style tops for the Indian look.
2. Stylish Layered Style Skirt Design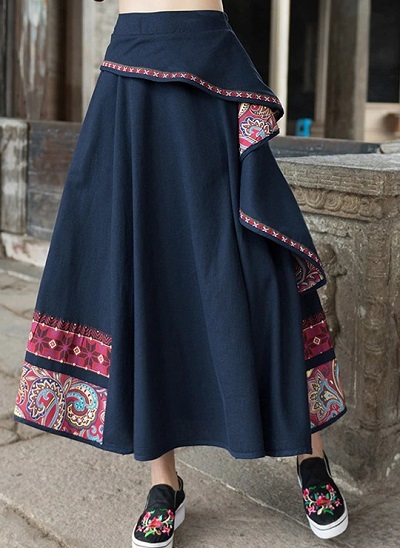 This cotton dress has the layered pattern. With a thick waist belt, this has print that inspired from the folk art. It can be paired with a crop top and it would look really amazing.
3. Full Flared Skirts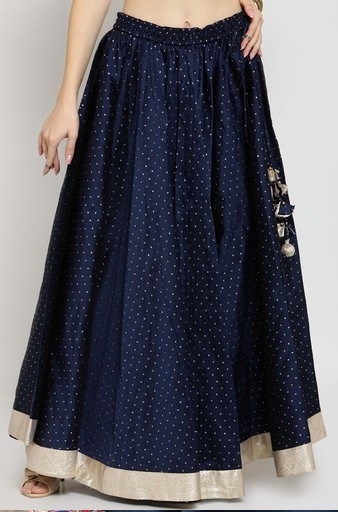 The full flared skirt has an elastic headband with strings on one of the sides to tighten the waist. It is a dotted fabric skirt with has the full flare. It is very Indian looking dress that is perfectly paired with tunics short kurta, tops and even blouses.
4. Skirt with a waist band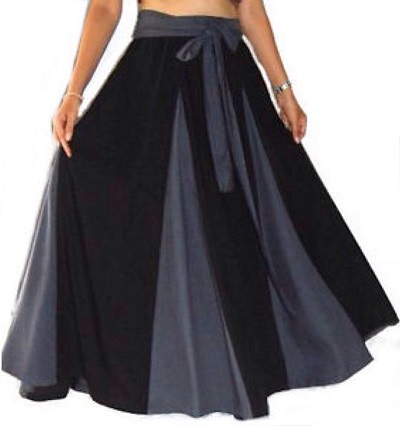 Stylish long skirt for women has a waist belt, that can be tied and it is made into comfortable fabric. Black and grey colour fabrics are used to create the pattern and volume.
5. Long Skirt Design with crop top
It's a long skirt with a waist belt and it is made in a dark grey Satin fabric. It's really perfect to be paired with white shirt or even crop top for girls.
6. Broad Waist Belt Design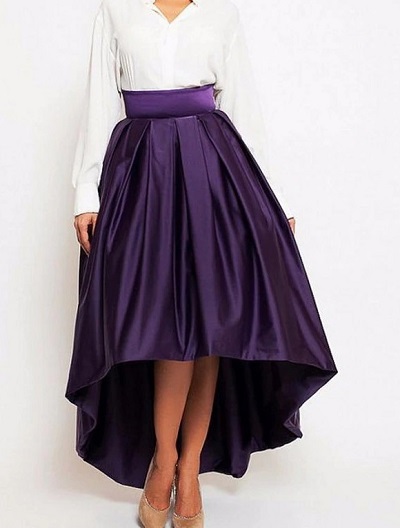 Women who would like to have long length long skirt patterns. It has a broad waist belt and box pleated style.
7. Flowy Net fabric Skirt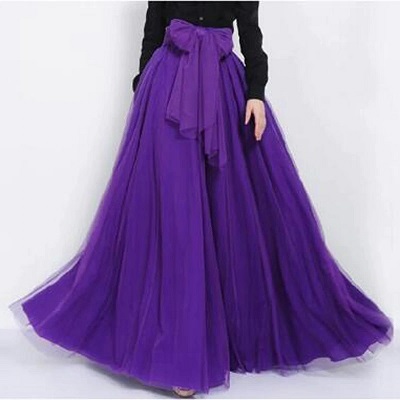 This dress is made in flowy net fabric with a cotton fabric used as a linen. It has a big broad belt that makes up in a bow style. Here, it is paired with full sleeves black blouse and it can also be paired with crop top, short breezy blouses and white shirt.
8. Purple skirt Pattern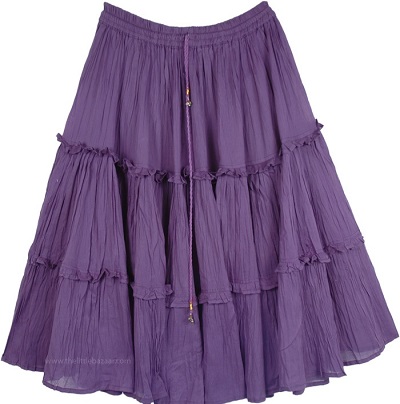 The pretty purple skirt is made in a layered pattern with a cream coloured fabric. This cotton long skirt in purple colour is beautiful and suitable for casual affair and easy hangouts.
9. Long Design skirt pattern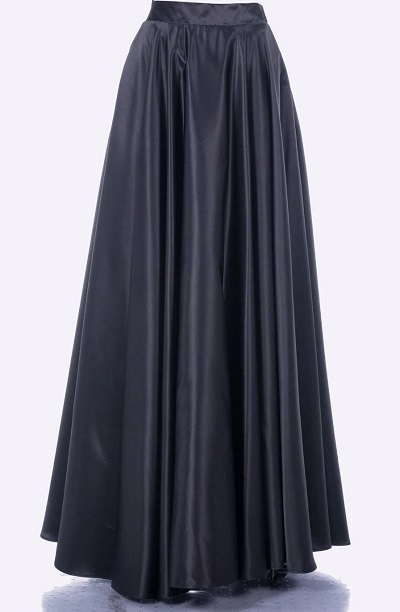 This beautifully made floor touching length long skirt has the design of double pattern. This makes it really nice and very casual in finish.
10. Brocade skirt pattern for Parties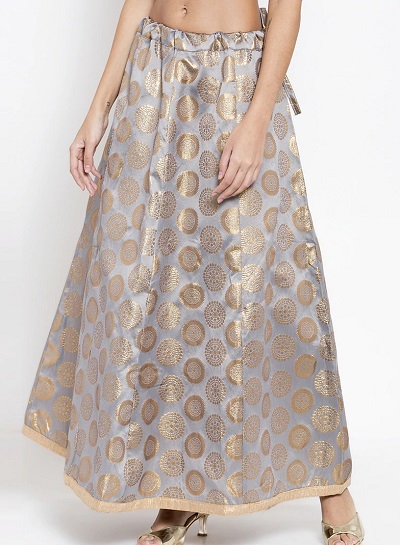 The brocade skirt is more like a petticoat design pattern with gold woven design. It has a panel design and it's an A line skirt. It is best to be paired with short tops or even the skirt and top style. It is an Indian long skirt.
11. Chiffon Skirt pattern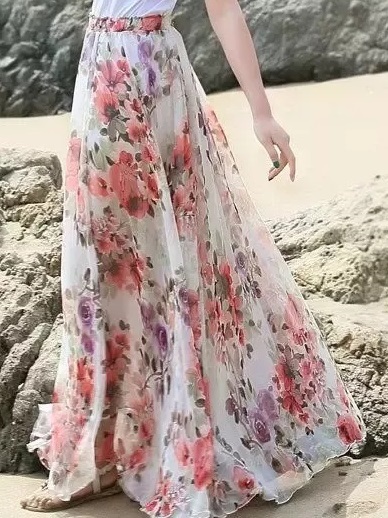 Made with the printed chiffon fabric this floor length long skirt design is best to be paired with strappy sandals and white top. It gives a Bohemian Vibe and summery feel for the holidays.
12. Georgette Fabric Skirt
Printed skirt in chiffon georgette fabric, yet another beautiful thing, that can be best to be worn for spring summer season. It is a perfect holiday appropriate garment for women that are cool and comfortable.
13. Pencil Long Skirt pattern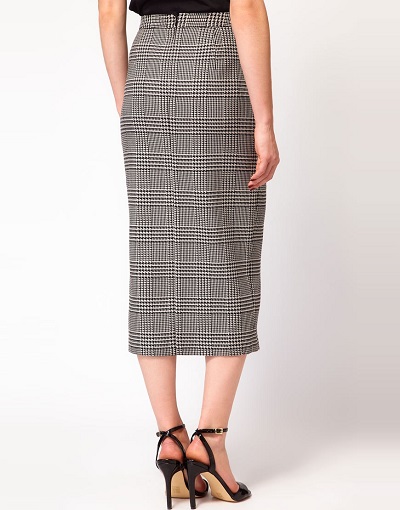 This long skirt here has a middle length with pencil pattern. The skirt has checkered pattern fabric and is best for Corporate Affairs and formal events.
14. Casual Wear Skirt Design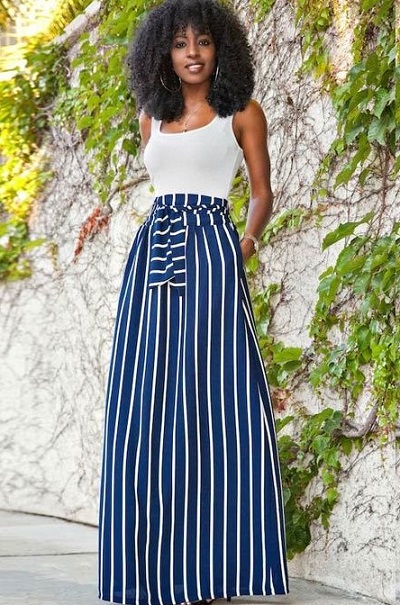 This long skirt with just the right amount of flare is good for casual wear. It is best to be paired with the tank top as shown like here. It is both a casual and formal dress that can be styled, according to the event.
15. Layered Skirt in Long length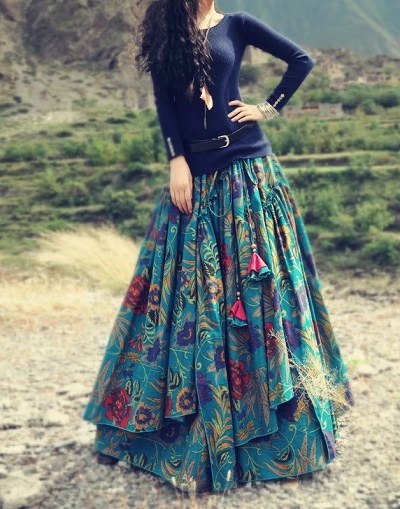 This layered dress in blue is extremely beautiful and for the holidays, such skirts are best. Even for going to a party, one can wear these.
16. Full Flared Skirt With Long length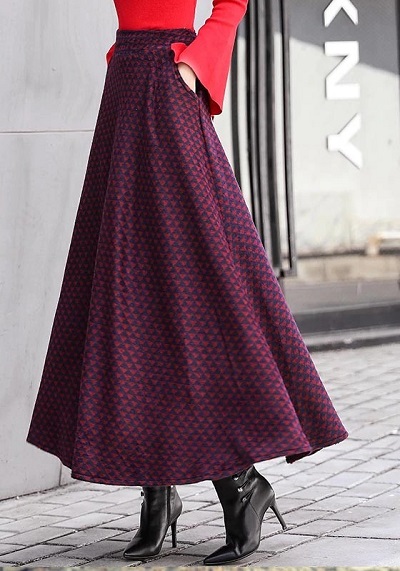 The long skirt has full flare and side pockets. Here, it is paired with long boots with heels and a bell sleeve Red blouse.
17. Long Tulip Style Skirt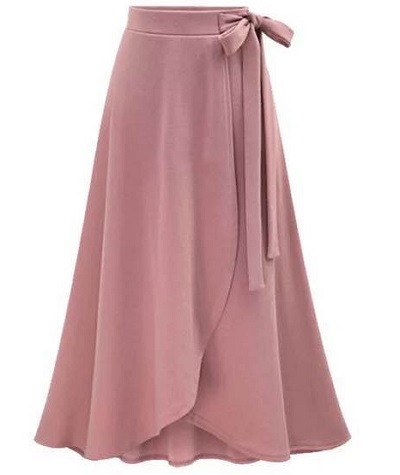 The Tulip pattern skirts are really in and this layered Tulip pattern skirt is in a long pattern and a bow like belt at the waist.
18. Partywear Skirt for women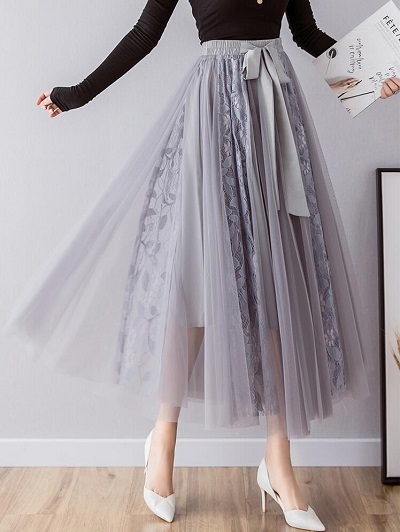 It's not just for formal occasions, but it's also suitable for any occasion of parties. It is a very beautiful attire that has belt at the waist. The waist is elasticated, therefore, you can tuck the top in or take them out.
19. Polka Dotted skirt Style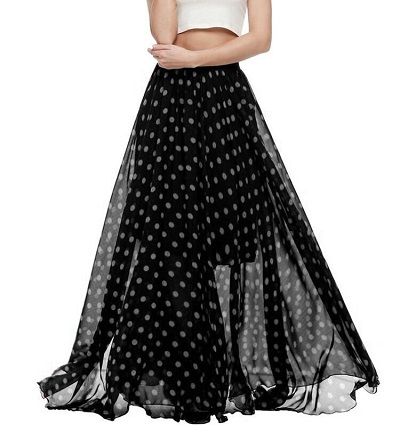 The Polka dotted skirt has a short lining inside and that makes it stylish and alluring. The lining used is in the same colour however the lining is only till the knees. It's made in a chiffon georgette fabric.
20. Black and White Dress for Women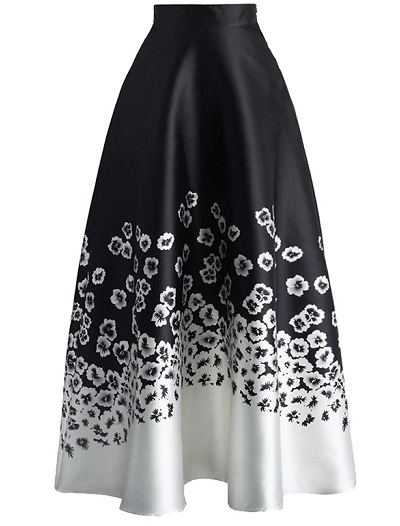 Black and white is a classic combination and this floral printed Satin Silk skirt in A-line pattern is beautiful. It is a formal and casual appropriate dress with the floral pattern is seen all over.
21. Shorts style Skirt for Women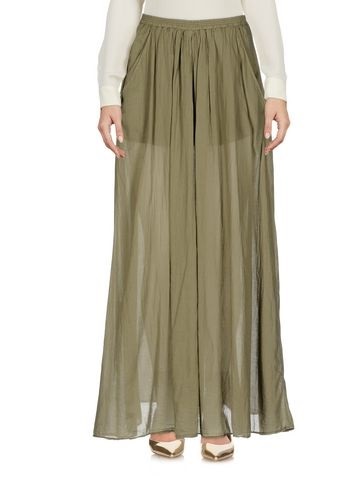 This dress here nice fawn colour and is paired with the long full sleeves blouse. In here as well the lining is given only the thighs. It more like a short and skirt combination.
22. Long Denim Skirt pattern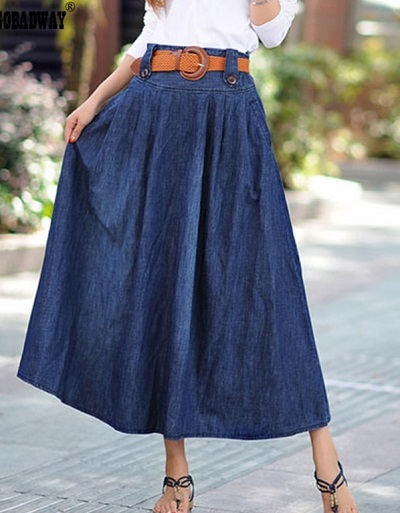 The long denim skirts are also entrance. It comes with loops at the waist and a broad waist belt. This can be paired with white top. Denim and white is a classic combination.
23. Denim Long Flared Skirt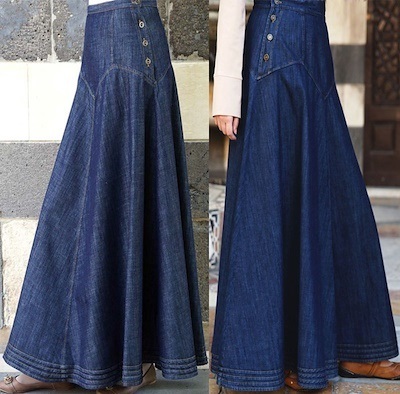 It's really a popular style amongst women of all age groups. This skirt dress has a button on one of the sides and beautiful pattern. The Yolk pattern makes it really nice looking and modern.
24. Summer Special Dress Skirt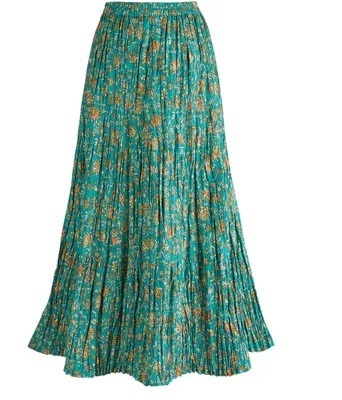 The green crinkled skirt has elasticated band and it's more like a fish shape pattern. The gorgeous dress is looking awesome and the best thing about this is that it has that summary vibes do it. Because, the material is soothing for the spring summer and is also able to cook keep you cool.
25. Gold Pleated Partwear Skirt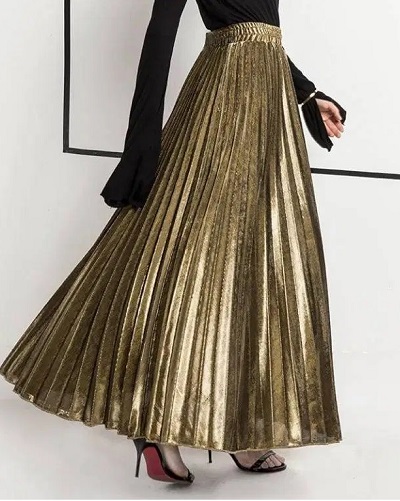 One can never deny the power of a gold colour. This gold pleated skirt here is beautifully made and has an elasticated band for the comfort of wearing it. It's a floor length skirt that can be worn with strappy sandals or even high heel stilettos. Here, it's paired with long length blouse with full sleeves, however, it can be paired with the crop top. It would definitely make you look like a stunner at a party.
26. Wrap Around Skirt Pattern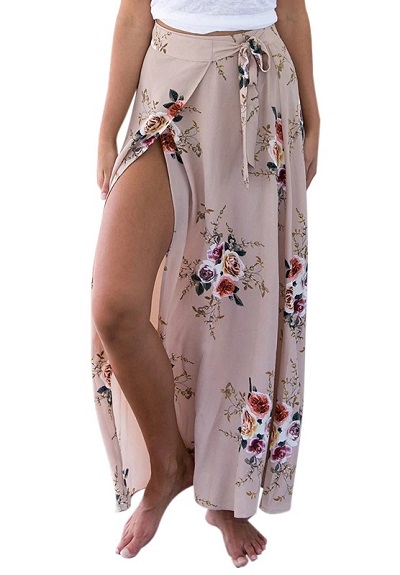 This long skirt has a wrap around pattern, where in the waist belt is there. The style is really great and has a wonderful pattern.
27. Floral Printed Skirt Style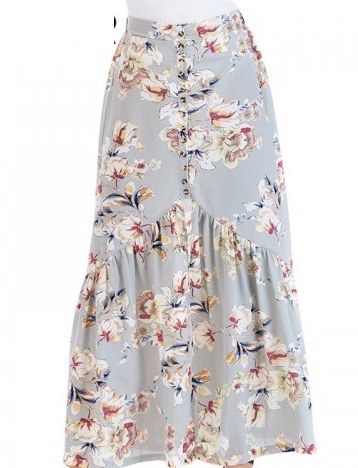 The gorgeous skirt in a floral print is a must have in your spring-summer wardrobe. Pair it with white casual top and you can look no less than a bohemian chic. The gorgeous skirt in a floral print is a must have in your wardrobe.
28. Animal Print Skirt for Girls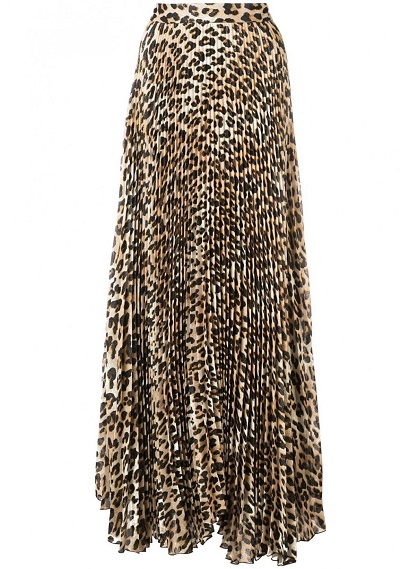 Animal print has been here since long, this Cheetah printed skirt has pleated pattern fabric with a nice long length. The floor touching length makes it a nice style that you can there be different types of accessories and top wear. The best thing is that it can be easily made into a formal dress for school and casual dress, at the same time it's just the way you can accessorise it.
29. Wine Velvet Side slit skirt for women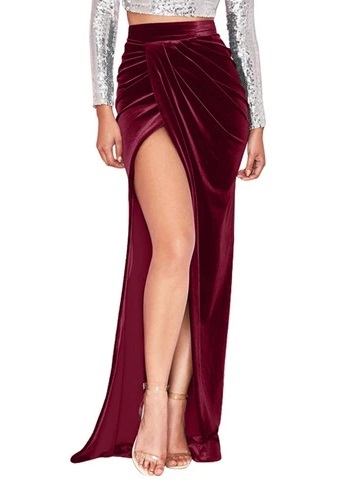 The gorgeous velvet skirt in wine colour is a beautiful thing, that can make you no less than a diva. It is paired with the crop top with silver work fabric.
30. Brown velvet skirt style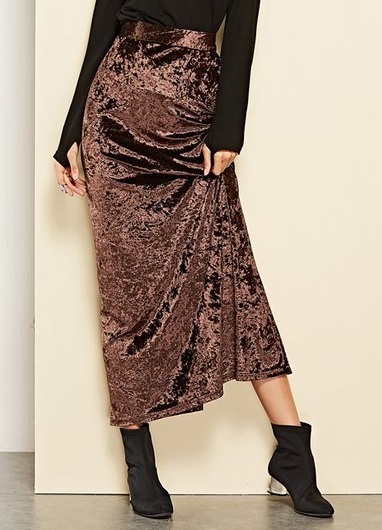 Again the velvet skirt in brown fabric is gorgeous and it's a nice skirt with not a lot of volume and flare but yet, it manages to make you look pretty amazing.