Maggam work blouses designs are loved by women all over. The major highlight of the maggam blouse is the detailed and neatly done intricate work with different materials. For weddings and other grand occasions, maggam bridal blouses are popular. There are so many different designs of maggam blouses available out of which it gets really difficult to choose one. And there goes credit to the beautifully artistic patterns made out of these design. This blouses fabric work is done on a maggam, which is used to stretch the fabric. The Karigars and artisans with their neat work makes beautiful designs and patterns with their hands.
Right from the bride to someone close to your family would love to have maggam work blouse pattern for a gorgeous look. Maggam work designs on pattu blouses are one of the best things to make your look traditional and opulent. The luxurious silk fabric and velvet is perfect to go for the fancy maggam work on it. Basically, the new maggam work blouse designs have different varieties out of which zardosi work, thread work, aari work, mirror work are most popular. Even the kalamkari maggam work blouses are popular for the new age young women who love prints. Here are the selective models of the latest maggam work blouse designs catalogue available for Indian women.
Latest Maggam Work Blouse Designs with images and 

Catalogue (2023)
Let's check these new maggam work blouse designs which have different types of designs and styling.
1. Kundan Maggam Work Blouse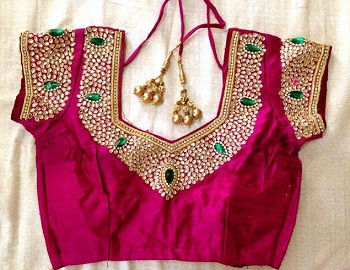 Kundan work on this red Silk maggam blouse, is quite striking and gives that luxurious feel. The sleeves are adorned with the same type of design. It's very jewellery look like design which is currently in trend. It has a back beep U cut neckline. The maggam designer blouse can be worn along with a beautiful chiffon light saree or even heavy sarees. Maggam style blouses are suitable for women of all age groups. In fact, if you are slim then such blouses are suitable for you.
2. Maggam Aari Work Mango Design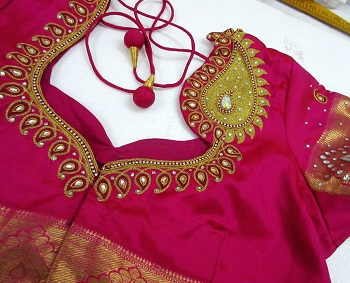 This mango design with hand work blouse has paisleys on the asymmetric back neckline. It's adorned with sequins, small ball chains and embroidery with thread. The blouse is made on a silk saree with border. Such blouses are very popular in South India.
3. Hand Work Maggam Blouse Design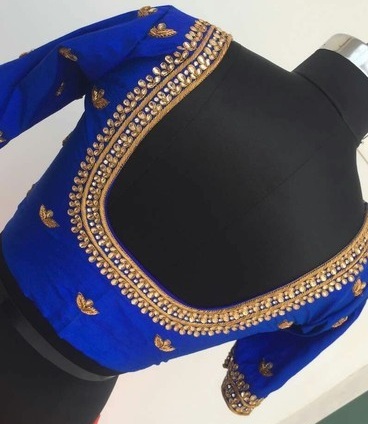 Apart from the regular Silk, maggam work also appears luxurious on velvet and chanderi fabric. This latest maggam work blouse design has intricate stone and zari filled pattern and cust. The leaf like motis are spread on the entire blouse. It is a lively pattern with golden thread work. With three fourth sleeves it would work on most of your sarees.
4. Peacock Maggam Work Design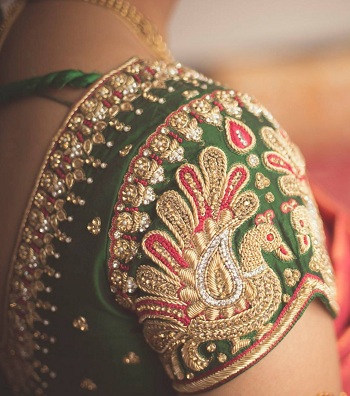 Peacock designs in thread and stone work is exclusively used in this peacock model maggam work pattern. This design has short trendy sleeves that involve work like red and even the stone work. It is very royal and bridal looking blouse. The maggam work neck design is studded with stones and Zari work that gives it luxurious look. For bridal look this blouse is apt.
5. Maggam Aari Work Blouse Design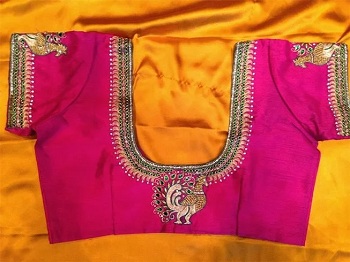 With Peacock design at the back and on the sleeves, this design is sure to make you look attractive. It has Zari work on the neckline and on the sleeves. Such blouses are paired with regular silk sarees and even the maggam work on net blouses is very exclusive which can be done.
6. Zardosi Maggam Blouse Design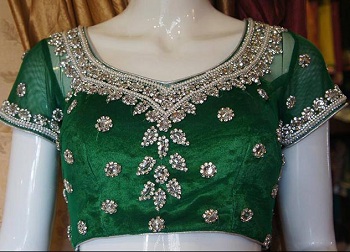 It's a designer blouse with maggam stone work. The work is exclusive and makes this design opulent. Fancy maggam work neck design is done on velvet blouse. Its jewel neckline is suitable to be prepped for your lehenga and saree dresses. The blouse is a party wear blouse that is suitable for other dresses.
7. Mirror and Maggam Work Blouse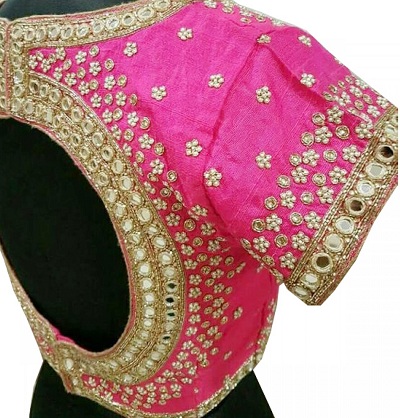 The trendy maggam mirror work blouse pattern is best design looking with pearls and stones. Golden thread is used to make the shapes that are embedded with mirrors and stones. The blouse is given a boat neckline from the front and the round neckline at the back. Sequins are spread out on the entire blouse in shape of flowers that add more beauty to this art silk blouse, however, the same mirror maggam work design can be replicated on a velvet blouse as well.
8. Jhumka Maggam Work Pattern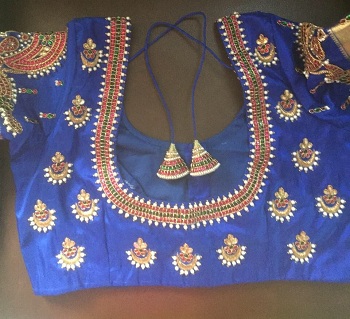 This blouse has an adorable elegance and luxurious design. It comes with two Jhumka style latkans and the entire blouse has the same type of motifs. This maggam work designs for bride is quite in trend currently and offers beautiful pattern. The contrasting coloured embroidery and work in red and gold colour over a blue blouse is outstanding. The regular round front neck design comes with Deep U cut at the back neck. A similar jhumka maggam work design would look good on brocade material as well.
9. Elephant Maggam Blouse Design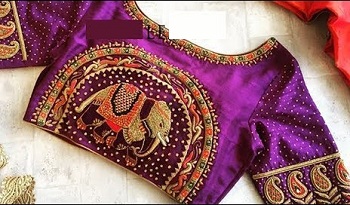 This exclusive looking elephant designed blouse pattern is eye catching and striking. There is a boat shaped neckline. In fact, it has very bridal appeal to it. With 3/4th medium sleeves, it comes with embroidery design at the back neck. Outfits like these are suitable for bridal wear and parties.
10. Maggam Embroidery Blouse Design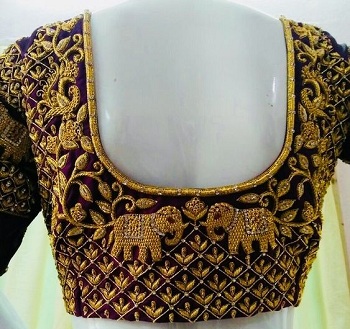 The exclusive zardozi embroidery work is given to this blouse. With maggam work embroidery design, it has elephant and floral work done. It's appropriate for weddings and parties. The dark purple blouse comes in a velvet fabric. The parallel lines and the design add more beauty to this piece. Such blouses are best to be carried with lehenga or sarees. The entire work seems to be exclusive mehndi design and pattern lookalike.
11. Maggam Work Design On Pattu Blouses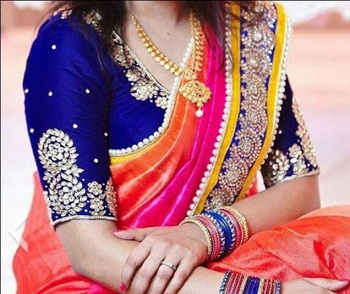 Stones on a Silk blouse look royal and opulent. This is why, the blouse has intricate stone work with studded neckline. Sleeves are kept till the elbows and the work can be seen on the sleeves and neckline. Such blouses are best to be paired with sarees, voluminous types of skirts as crop top style. Zari and stone work together adds more beauty to this maggam blouse.
12. Bridal Maggam Blouse Design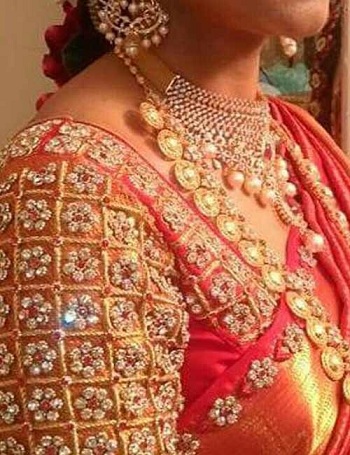 If you are looking for a bridal wear blouse and this design would surely be liked. It has a heavy stone work on a chequered base pattern. It has been given this exclusive design with simple round neckline. The elbow sleeves design and in fact, the entire blouse has been made with hand work using stones.
13. Maggam Stone Work Blouse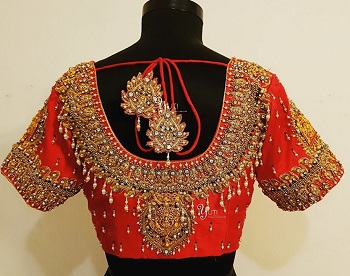 For women loving stone and pearl work on the blouse designs, it's perfect. It has beautiful latkans at the shoulders with Deep U cut neckline. The latkans are also embroidered and heavily stone studded. The entire back neckline is adorned with stones and pearls. Made on a red Silk fabric, the overall design imparts a very rich and royal look. With golden maggam jewellery design, it's bound to make you look attractive. Such heavy bridal maggam work blouses are apt for new brides and many women love it for their marriages and reception functions.
14. Aari Cut Work Blouse Design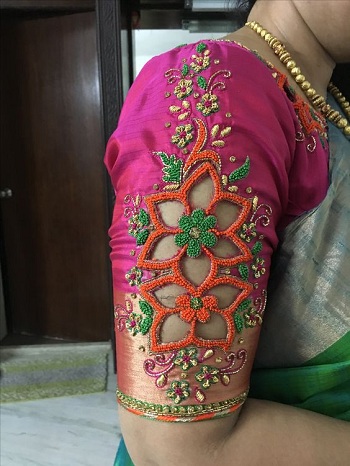 Aari cut work blouse designs are currently in trend, which is why women are opting for it. On the sleeves, there is floral pattern with cut out design. The bottom is adorned with orange coloured small beads and stones. Such designs are best to be teamed up with silk sarees. The small floral design makes it more attractive and luxurious.
15. Simple Maggam Thread Blouse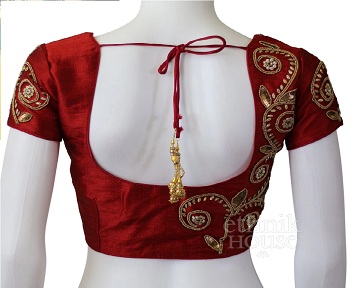 Ethnic floral design is made with a simple thread maggam work. The floral design has intricate thread work with detailing of sequins. Such blouses good look good on all skin types and women of all age groups. The ethnic blouse is perfect to pair with your sarees and for reception dress. Try replicating this in a cold shoulder maggam work blouse for dresses.
16. Khatli Work Blouse Design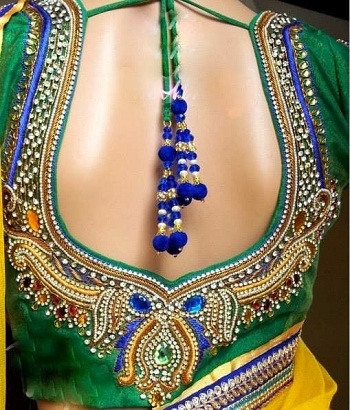 With heart shaped back neckline, this blouse is studded with American diamond chain. In fact the entire blouse has exclusive work that involves American diamond. Along with stones and zari, it looks quite outstanding and eye catching. This design is perfect to wear lehenga and lehenga style sarees. Interestingly, the design has blue and green as a primary colour with gold.
17. Simple Maggam Blouse Design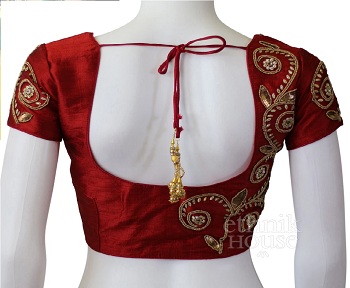 A lot of women would prefer a simple maggam work blouse patterns with simple hand embroidery and zari. The blouse is given deep back neck line with latkans and strings. The front neck line is simple and is made with a deep red art silk fabric. 
18. Simple Kasula Work Blouse Design
Large keyhole style neckline with strings, this blouse has been given the jewellery pattern and exclusive stone work. The semicircular designs on the sleeves makes it even beautiful. The short sleeves of this maggam work designer blouse are suitable with your sarees and lehenga dresses. The back neck line is decked up with Zari and stone work. You can get this made in a peplum style as well by adding a piece of circular panel at the waist part.
19. Jewellery Style Maggam Blouse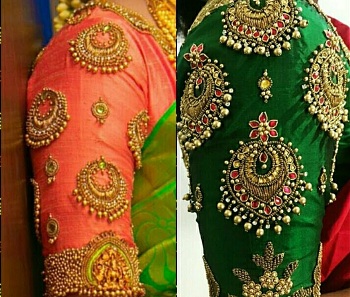 Here one can see the pretty Chand Bali and jewellery styled design all over the sleeves. The design is quite popular in Southern India and other parts of India because of its richness and pattern. It surely looks highly attractive and is Bahubali inspired maggam work bridal blouse. The work is done neatly by hands using pearls, stone chain, American diamond, zari, and Golden Silk thread.  It's a perfect bridal maggam blouse, if you have to take your look to a lavish level, do it with this maggam kundan work.
20. Heavy Maggam Work Blouse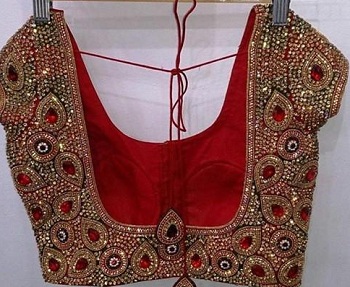 Bridal wear is all about the lavish, luxurious and stylish patterns of clothes and this is true for this heavy maggam work blouse designs. The design is stone studded that the fabric is rarely seen. This is the beauty of this maggam work with stones, that it's been given an exclusive and intricate design of feel. With stones and gemstones all over, it adds luxurious and expensive classy look to this design.
21. Maggam Thread Work Blouse Design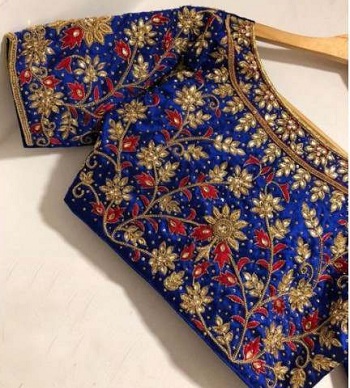 Thread embroidery in this maggam work blouse has stones and comes with boat neckline. It has elbow sleeves which bear the same work as the rest of the blouse. The blouse is given embroidery in contrasting colour like red that goes well with blue. Stones, pearls and beads are scattered all over the blouse to give it a rich look. Additionally, the floral design looks more beautiful and attractive. Such beautiful blouse patterns can be worn by women who like boat shoulder designs for their lehenga or even with heavy skirts. Such blouse patterns are best paired with Kanjivaram silk sarees or pattu sarees. In fact, a lot of celebrities have styled a similar looking pattern with their simple chiffon sarees as well.
22. Latest Silver Maggam Blouse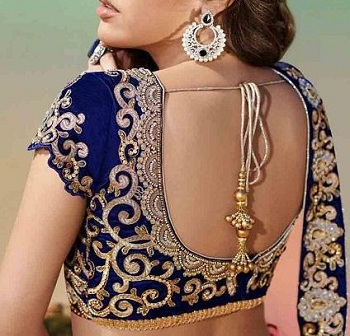 The Toran style maggam work blouse design on the neckline makes this attractive. The curvy bail design is scattered on the blouse that bears a deep round neckline with buttons at the back. It has trinkets in gold beads. The sleeves are with cut work. The blouse is silk fabric has classy and sophisticated look for any light or heavy saree for stop it is also one of the best looking maggam pattu saree blouse design style floral work. The pearls and chain stone work blouse gives an ethnic style to this beautiful blouse outfit for women. In fact it is one of the best maggam work blouses for weddings.
23. Maggam Mango Design Blouse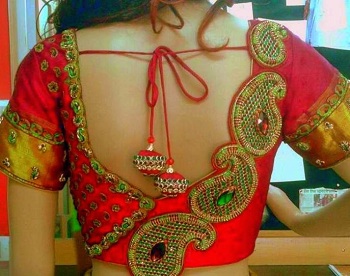 The Paisley design at the back of the blouse makes it trendy. The blouse is a silk blouse with border that has stones in ball like shapes that has been attached to the shoulder strings as latkans. It is adorned with using exclusive work like stone, embroidery and the use of zari. The blouse design is suitable for small parties and distant relatives wedding.
24. Aari Work In Pattu Pavadai
The pattu pavadai maggam work has jewellery like feel which makes it royal. Even in movies, such  designs are seen. It is longer than the regular blouse and is perfect to pair with your lehengas.
25. Maggam Boat Neck Blouse Pattern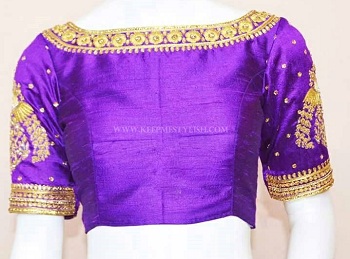 The royal blue blouse is given boat neckline. There the work of gold bead is done with some Zari work. Its sleeves has heavy embroidery. This elaborate maggam work blouse's sleeves are adorned with small sequins and beads. The use of zari work on sleeves makes it attractive and is suitable for sarees, where the chest area would be covered and your sleeves would be visible.
26. Full Sleeves Maggam Blouse Design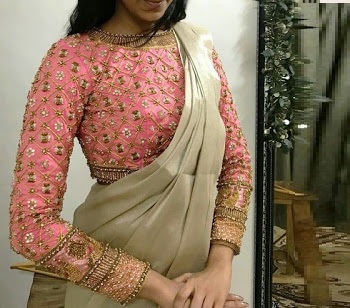 Maggam work with very beautiful and full long sleeves blouse design is gorgeous. The blouse in pink colour looks highly royal with boat neckline and sequin and stone work on the sleeves makes it appropriate for weddings and even for new brides. The colour is modern and something which is liked by the new age women a lot. Such blouse maggam work full hands are also suitable to be paired with your heavy skirts and crop top style of dressing. It appears as a perfect piece to go with your contrasting colour sarees as well. In fact a Red or cream saree in chiffon would work the best with such a heavily made maggam work blouse design.
27. Maggam Jhumka Design Blouse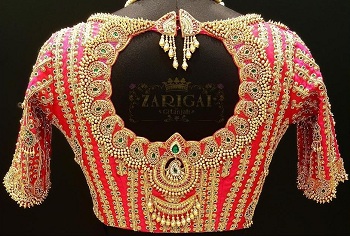 Looking for a modern maggam bridal jewelery style blouse? This has everything that a bride would need. With zari and Jhumka chandbali style pattern, it appears very luxe and expensive. It has the parallel floral bail style structure all over the blouse. The maggam work blouses with pearls has deep round cut at the back and has latkan for jingling effect. It has hooks at the back even of it being heavily studded with stones, sequins and pearls. It's amongst the latest bridal maggam work blouses which has this charming look.
28. New Lotus Maggam Blouse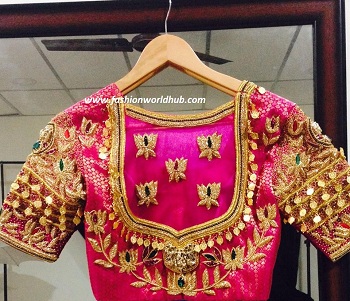 Lotus pattern is seen in this traditional maggam work blouse design with intricate styling. The sheer fabric used at the back neck line is adorned with Lotus flowers. The floral design on the sleeves is at the back and front of the blouse. Such grand maggam work blouses are loved by brides to style with their reception and other bridal functions appropriate attires.
29. Latest Golden Maggam Blouse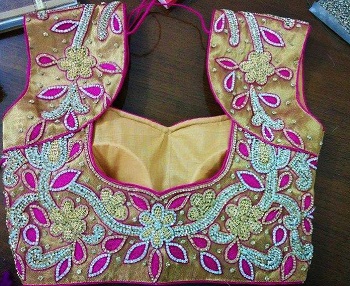 The combination of pink and gold can take any Indian wear to another level. The gold silk fabric has been chosen for this elaborate stone work design. It has pink thread embroidery over which the stones are seamlessly placed. Using the rich hand work design, it has been made. Such maggam work on gold blouse designs are exclusive and are best to go with lehenga and simple sarees.
30. Short Sleeves Maggam Blouse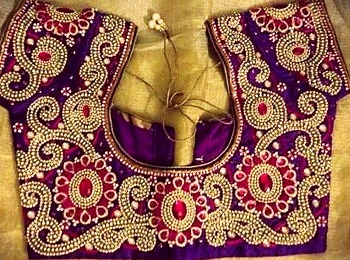 This design is made on a purple velvet fabric with short sleeves and elaborate kasula maggam work. Closely twisted and handmade stone design makes this apt for your expensive sarees. It comes across as a very interesting and intricate design that most of the youngsters liking heavy blouses would like. Floral pattern of this design is refreshing, in fact, this maggam stone styled blouse piece is ideal for occasions like weddings parties.
31. Chandbali Maggam Work Design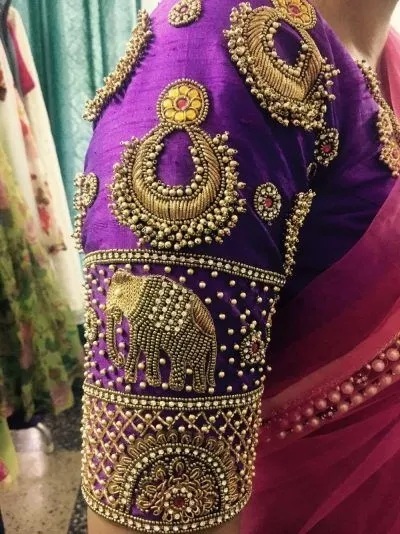 Women loving chandbali designs on the sleeves of their heavy blouses, can take a cue from this design. It has floral pattern, elephants, chandbali or jewellery design and whatnot. And all these is done on art Silk fabric. Small pearls and stones interestingly make it expensive and costly that you would surely like to pair with your expensive silk pattu sarees or other type of heavy sarees for weddings and party events. The beauty of this latest maggam design is the impeccably and neatly done embroidery and handwork. Pairing it with pattu saree would definitely revamp your overall look.
32. Pink Maggam Style Blouse Pattern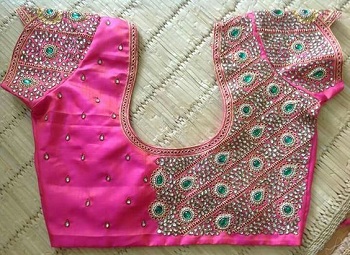 The half work blouse has maggam work with stones seen on half side of the blouse, while the sleeves are with complex work. Use of stones and pearls, it's quite attractive with a pot shaped neckline. The embroidery is seen on the neckline which adds more attractiveness to this design. One can revamp this look by putting twinkling pearls on the neckline. Such designs are best to pair with your simple sarees o lehengas. You can replicate this design from any boutique that does Maggam style work.
33. Butterfly Maggam Blouse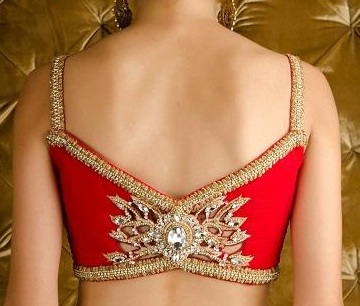 A butterfly necklace with straps and exclusive intricate maggam work is seen in this design. This latest blouse is extremely sexy and glamorous looking. The cut work at the centre back area is evident with big stone at the back. The entire edges of this blouse are adorned with sequin work. Blouse like this are perfect for modern Indian women, who can be pair it with simple or heavy sarees considering the event. Best thing is that, even if you are wearing heavy sarees you will not feel hot or uncomfortable.
34. Temple Work Blouse Design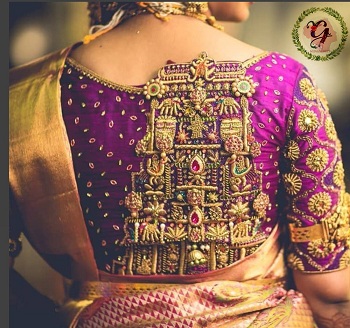 When it comes to South Indian style of blouses, Temple work is exclusively seen. The blouse has Temple work seen at the back with elaborate design that shows the entire Temple with God and Goddesses images. The actual metal jhumkas has been added to this design. It comes with a boat back neck line and round front neck line with elbow length sleeves. The sleeves also bear images of and Goddesses.
35. Full Stone Maggam Blouse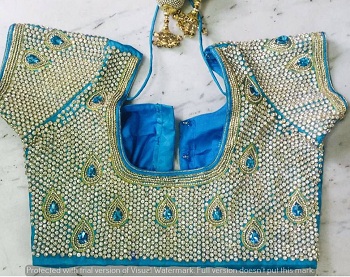 It's evident that new age women love full stone design on the blouse. The stone work maggam blouse is apt for your heavy sarees. You can surely refresh and revamp your look to add freshness. For younger women, the design is suitable. Cut work at the back gives an interesting element to this design. You can team up this blouse for special days like engagement or anniversaries. It has a stunning design with stone work, perfect for wedding that you would be attending.
36. Yellow Blouse Maggam Work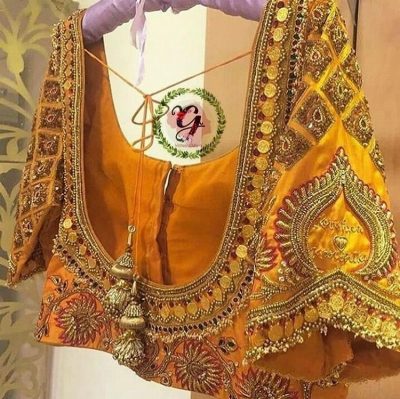 With coins, pearls, beads, this design is a sheer beauty to look at. The simple round cut at the front neck line is given a deep U cut back neck. It has sleeves that bear freestyle embroidery done with hands. The maggam stone and coin work is exclusive on the edges and border of the neckline. Lotus motifs are seen at the part of the blouse. It is sure to make you attractive and very luxurious. It is perfect flower design maggam work for a lavish party. You can pair this maggam work blouse with a beautiful Silk or Georgette saree for your roka, engagement or even for reception look.
37. Pearl Maggam Work Design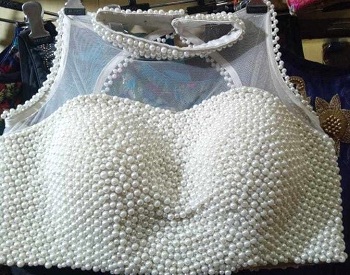 Blouse design in pearls has fresh feel and modern appeal. Requiring no heavy accessories, these designs are sure to add touch of glamour to your attire. It has very Western feel to it therefore, it is suitable for western styled sarees. The sleeveless blouse has collared neckline with a round cut at the back.
38. Red Colour Maggam Work Blouse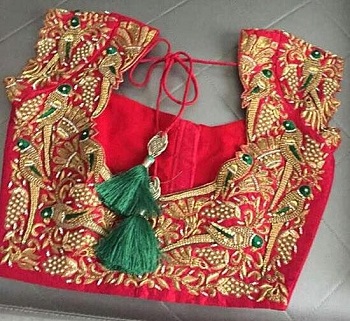 The heavy aari work styled red blouse has green and gold embroidery with green tassels at the string. It is best to be pair with your lehenga simple sarees. Such blouses are best for young women who've started to wear sarees. The beauty of this design is the cut work at the sleeves and the modern yet ethnic embroidery on the blouse. You can match which you can pair with bordered plain sarees. 
39. Green Maggam Work Blouse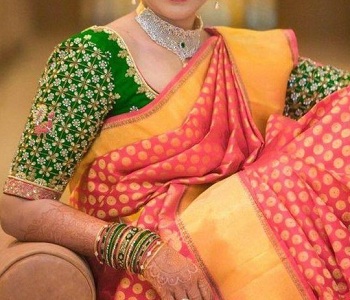 The green blouse with exclusive maggam work design has elbow length sleeves with chequered beaded pattern. With silver zardosi work has coloured border sleeves edge. It's made in the regular maggam  work which also gives a charm to this ethnic blouse. It is best to be paired with contrasting colour silk sarees.
40. High Neck Maggam Work Design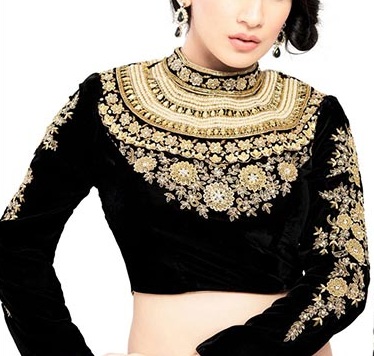 The high neck aari work blouse pattern has ethnic touch to it. Such maggam work on black blouse are perfect for plain border sarees and lehenga. For young girls design like these are in trend currently and are also seen on Bollywood celebrities. It's a velvet black blouse with golden silver embroidery and Zari work. The full sleeves make it stylish and suitable for winter season as well.
Maggam work is expensive and exclusively looking handwork. Therefore, it's important that you choose the design carefully as it can cost you a lot. As the design is handmade it involves the fabrics like Silk, velvet and art silk. The work is best done on silk and velvet however you can also choose brocade as a fabric for your maggam Work model blouses. For simple maggam style work you can choose the satin or Silk blouses. 
Most of these blouses are heavy, therefore are suitable for exclusive events like weddings, parties and ceremonies where you have to dress up lavishly. In fact, you can consider such a blouse for your bridal attire. You would see that a lot of women would go for full maggam work blouse designs for their bridal look.
41. Peach heavy maggam work bridal blouse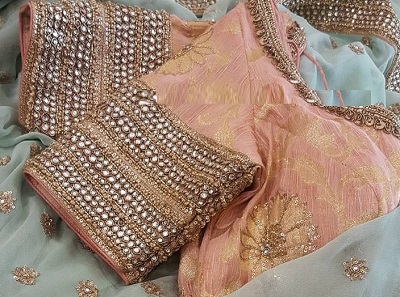 42. Full sleeves bridal pink maggam blouse design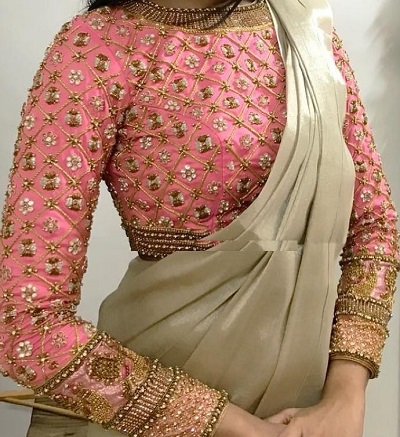 43. Stylish silk red nlouse with temple maggam work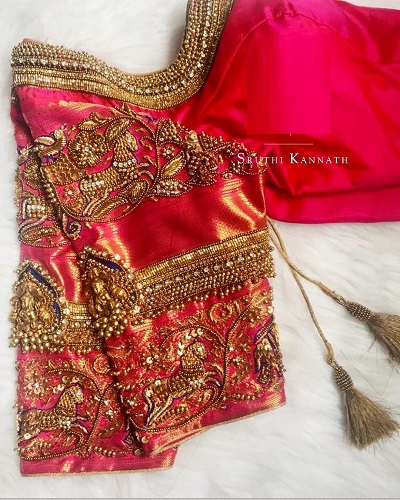 44. Zari and maggam blouse for silk sarees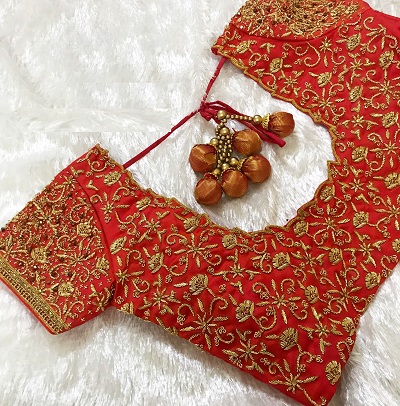 45. Designer blouse with maggam style embroidery
46. Delicate maggam embroidery and stone work blouse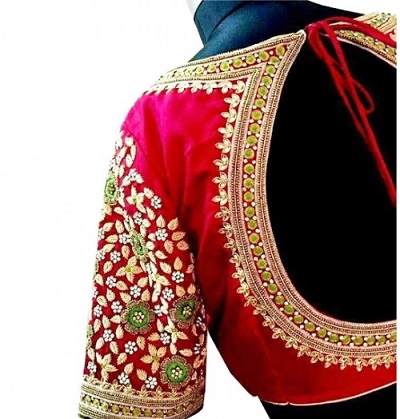 47. Stylish patch work blouse with stone and bead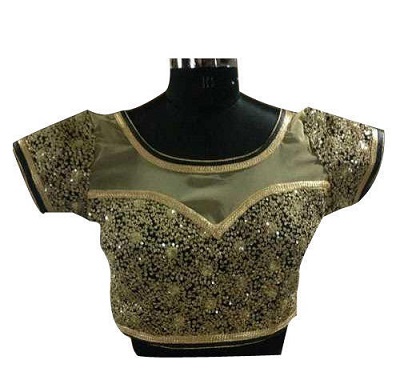 48. Bridal peach pink heavy maggam blouse design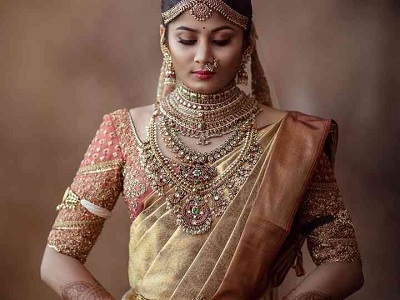 49. Stylish wine maggam blouse pattern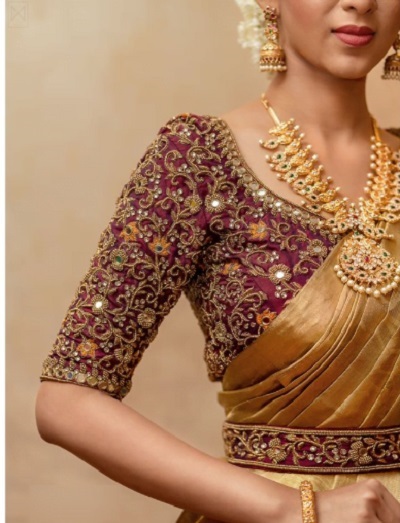 50. Golden bead maggam style blouse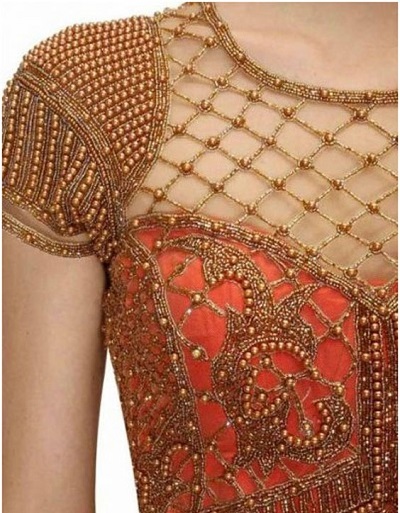 51. Stylish cocktail function maggam design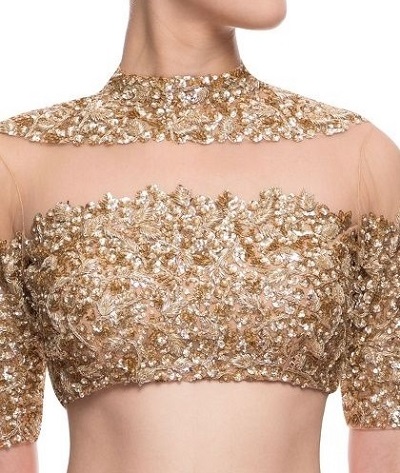 52. Beads and rhinestone work maggam blouse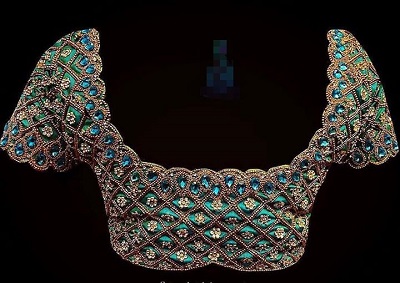 53. Stylish Pearl and gold bead designer blouse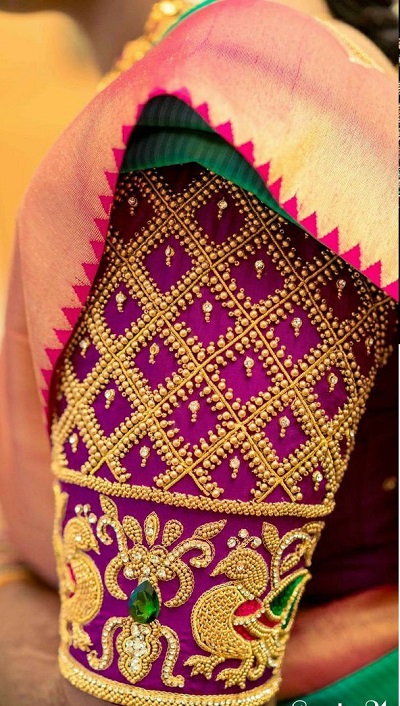 54. Embroidery and bead work bridal blouse design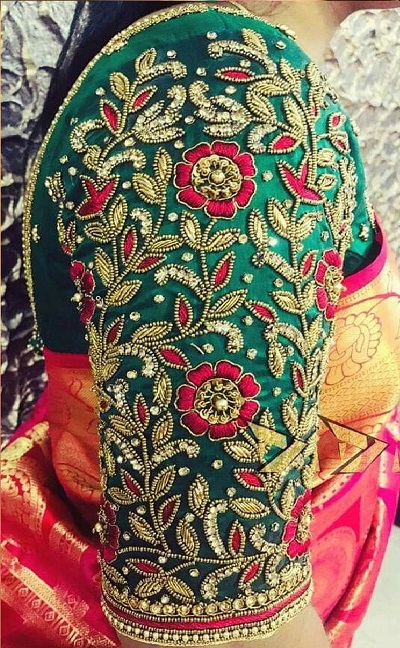 55. Jewellery embroidery maggam Silk saree blouse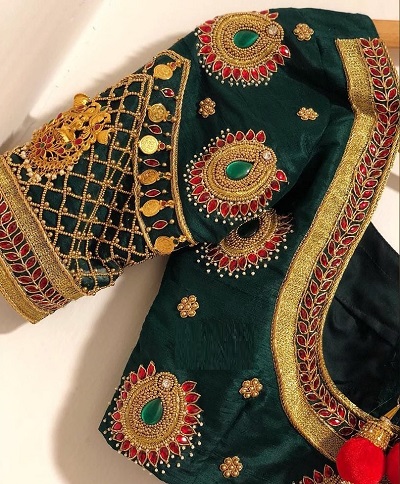 56. Heavy velvet maggam temple style work blouse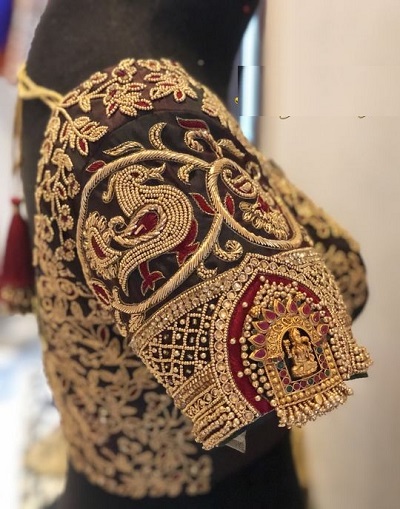 57. Kundan and bead maggam style silk saree blouse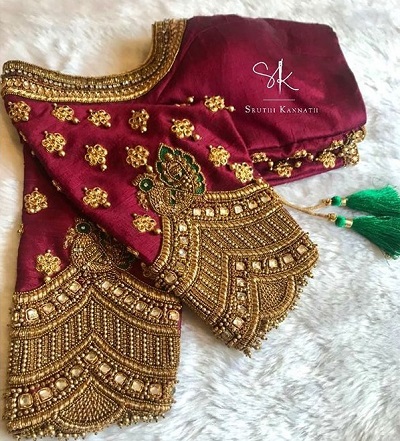 58. Carrot pink bridal blouse with sequin and embroidery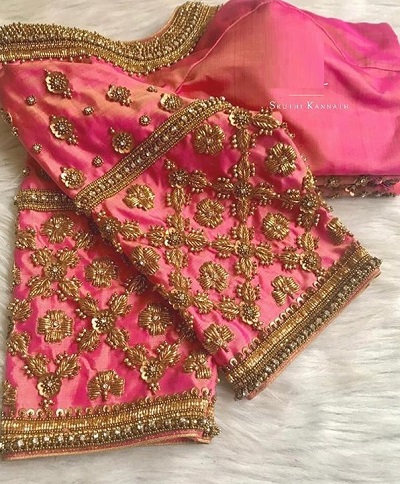 59. Delicate maggam work partywear blouse design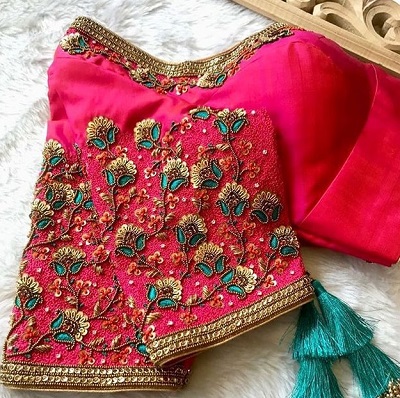 60. Chandbali style maggam work blouse
61. Heavy yellow designer blouse for silk saree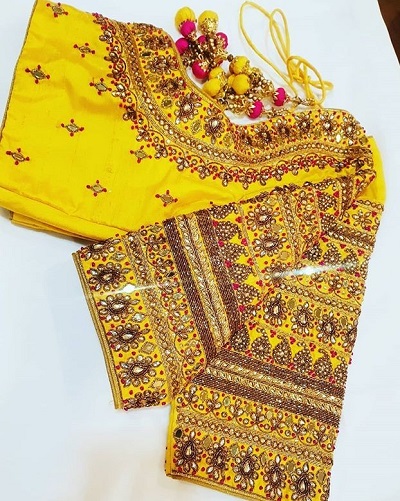 62. Stylish Aari maggam blouse with stone and zari work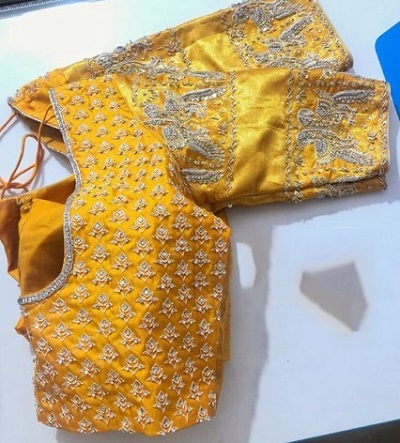 63. Heavy stone work partywear saree blouse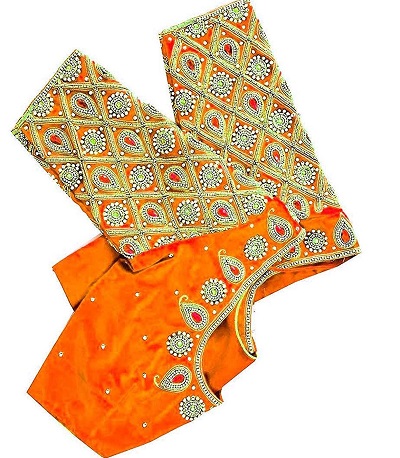 64. Silk saree with border maggam style blouse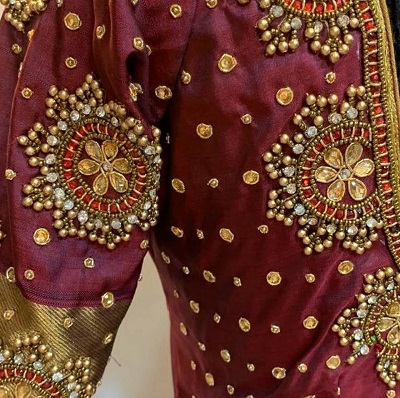 65. Maggam work designer silk saree blouse pattern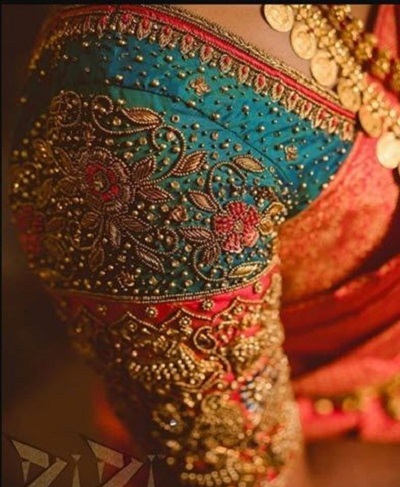 66. Jhumka embroidery work saree blouse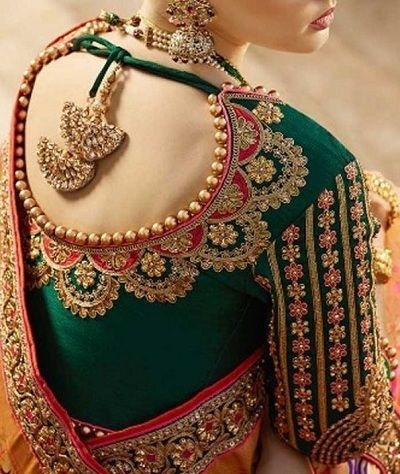 67. Embroidery and cluster bead work stylish blouse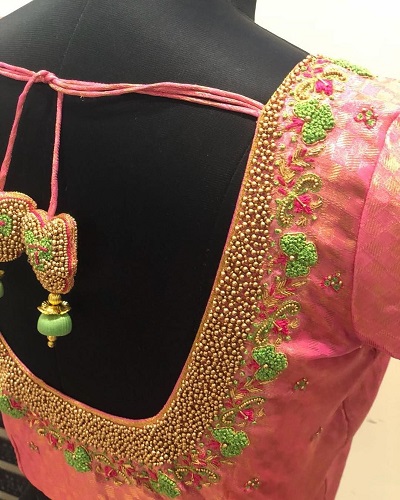 68. Stylish designer blouse with multi color stone work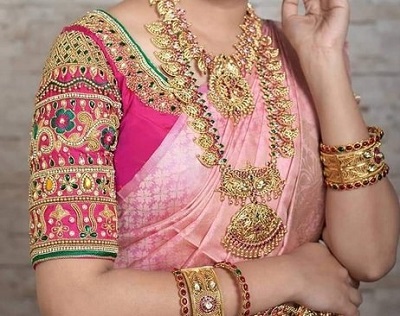 69. Festival saree blouse design with zari maggam work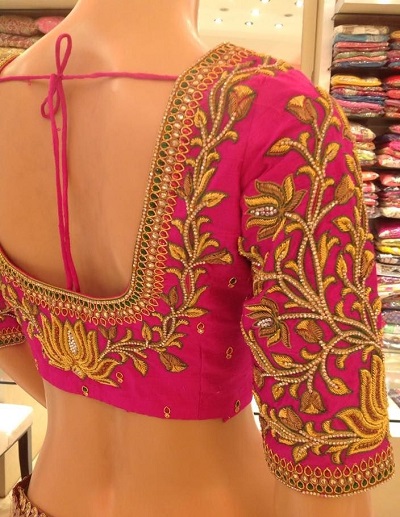 70. Simple and neat maggam blouse pattern
71. Thread and sequin wok blouse design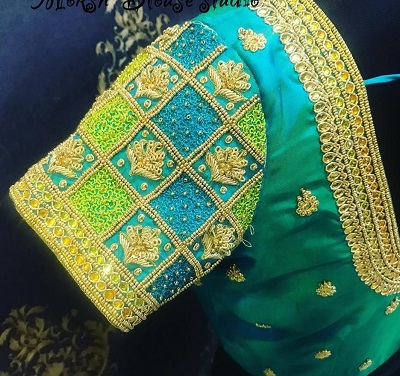 72. Paithani saree blouse with maggam work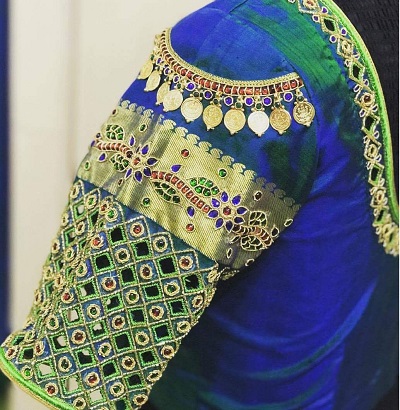 73. Royal blue maggam blouse with coin work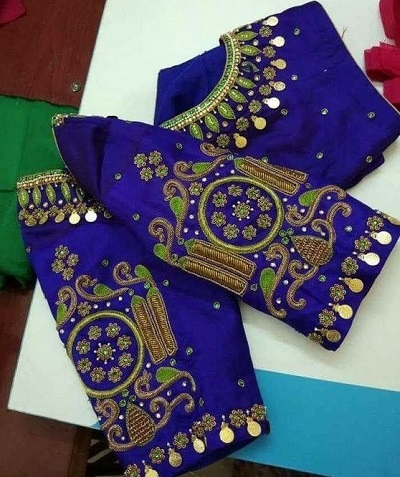 74. Bead work and zari blouse for parties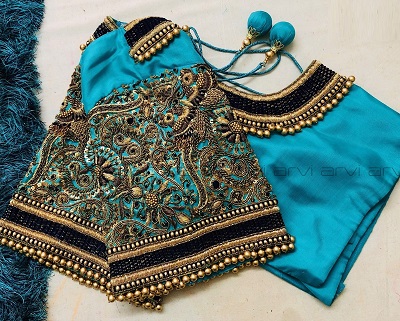 75.  Stylish pattern work saree blouse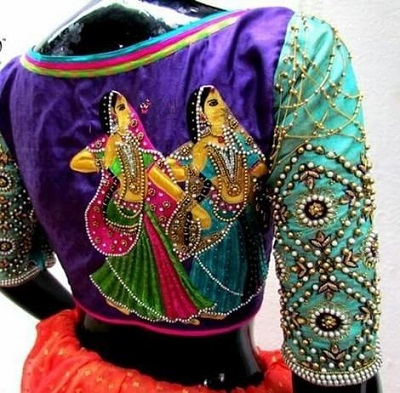 76. Bridal red simple work blouse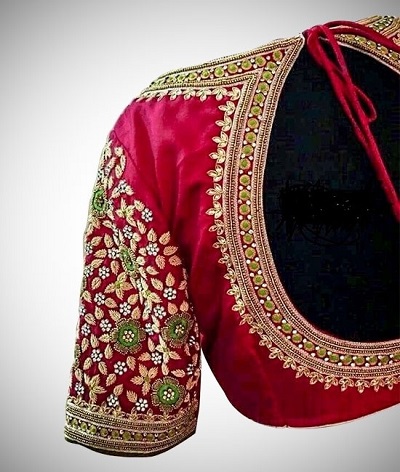 77. Backless maggam blouse with jewellery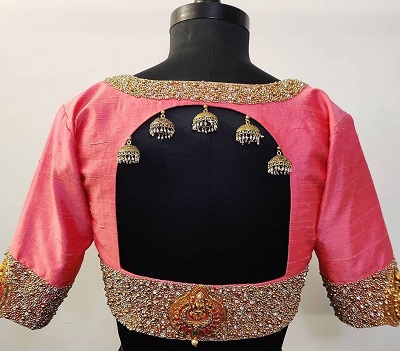 78. Stylish kundan embroidery maggam blouse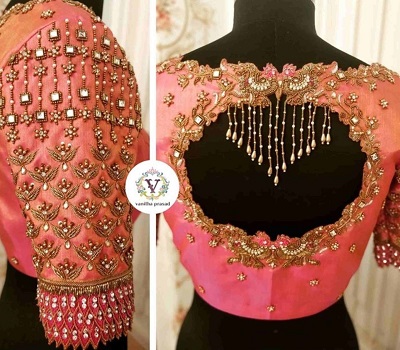 79. Jewellery work maggam style silk blouse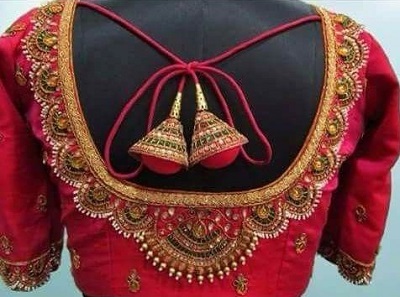 80. Puff sleeves with heavy maggam pattern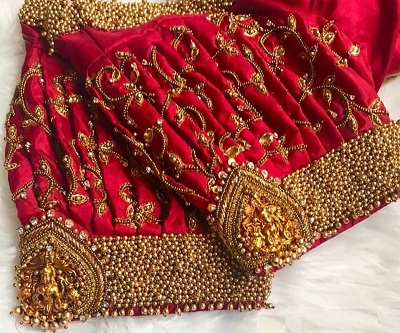 81. Mirror and maggam silk saree blouse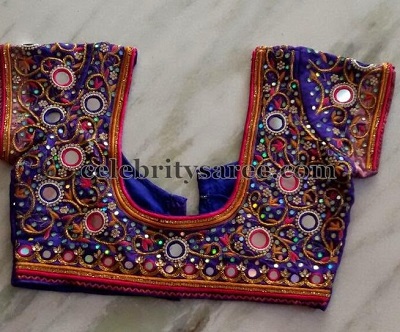 82. Simple small bead work silk saree blouse with border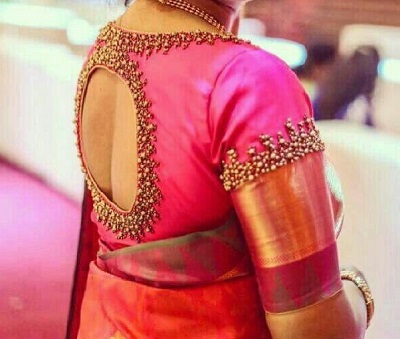 83. Grass green designer silk blouse pattern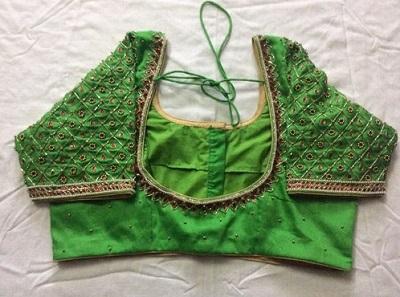 84. Mirror style blouse for festivals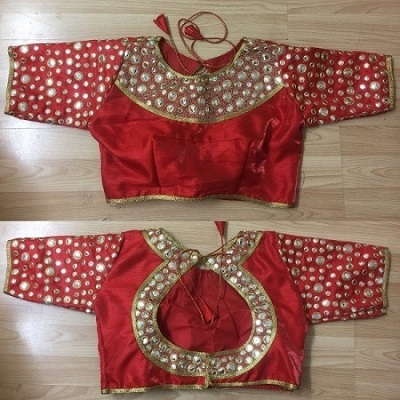 85. Sleeveless party wear lehenga blouse design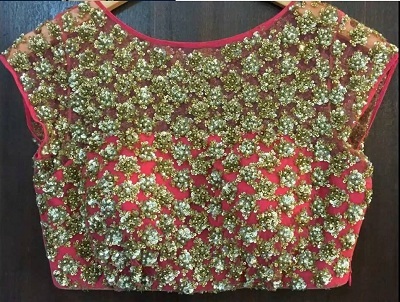 86. Lotus style maggam work blouse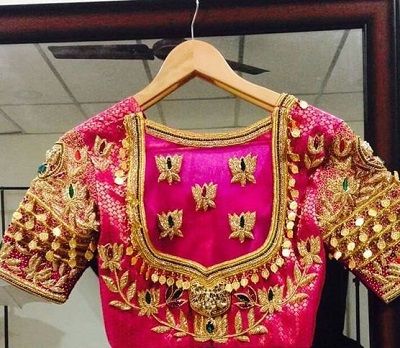 87. Pleated sleeves stylish with temple motif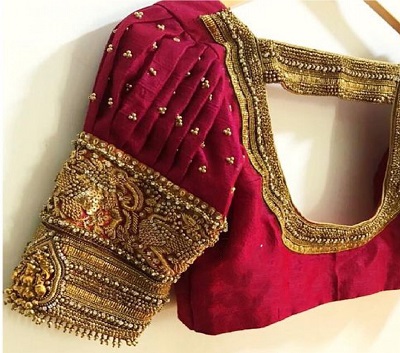 89. Simple yellow patch work designer blouse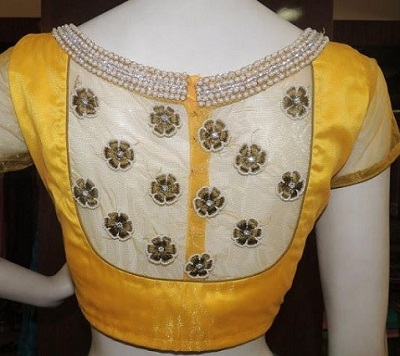 90. Bead work green blouse style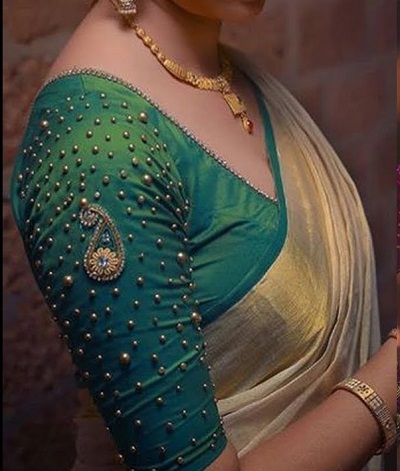 91. Maggam work Stylish wine silk blouse with heavy sleeve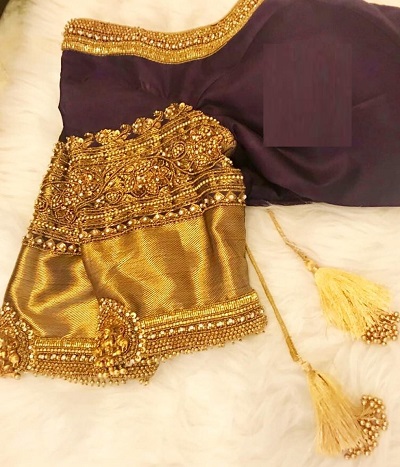 92. Bridal gota patti maggam blouse style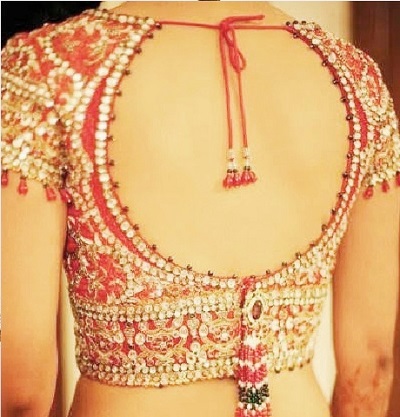 93. Simple golden blouse pattern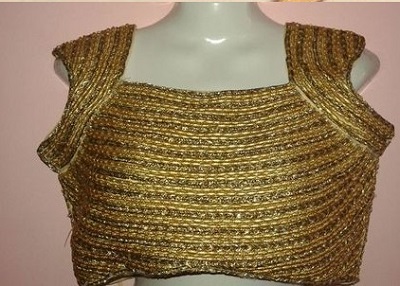 94. Golden ribbon work blouse design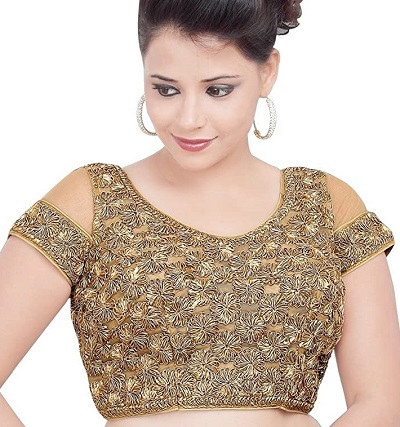 95. Elephant motif maggam red bridal blouse style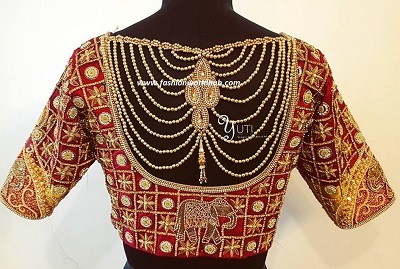 96. Red party wear lehenga and saree blouse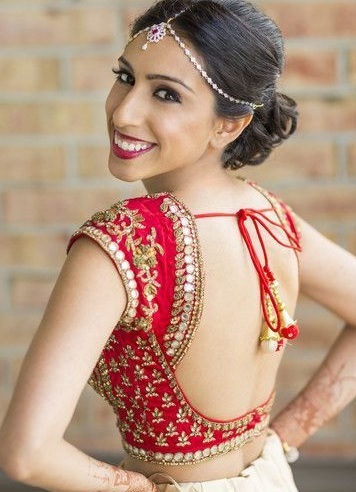 97. Delicate heart shape back neckline blouse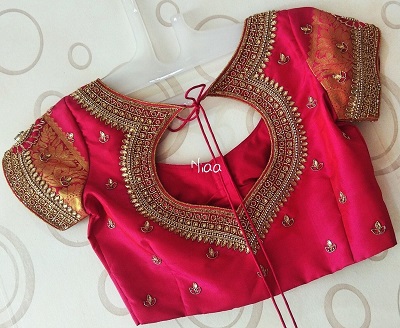 98. Silk blouse with golden embroidery work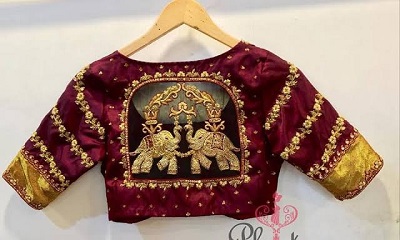 99. Designer new modal peach beaded blouse work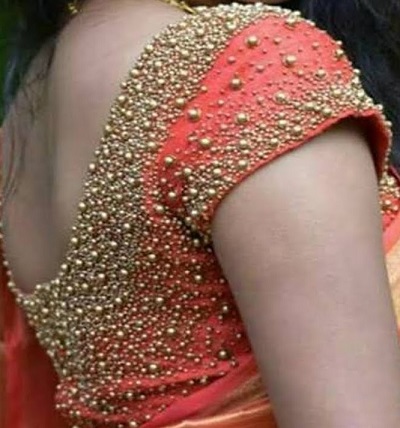 100. Silk white golden bead work blouse
101. Cut work neckline maggam blouse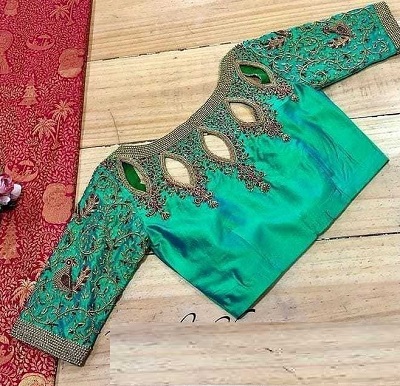 102. Stylish cut work at the back blouse design
103. Heavy stone work partywear blouse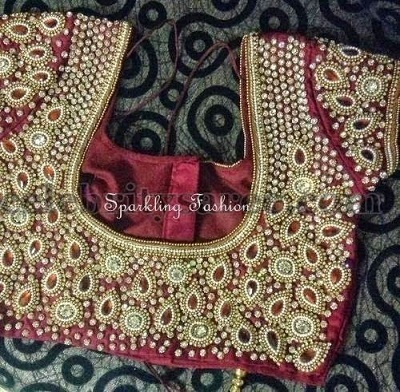 104. Green stone and embroidery work wedding wear blouse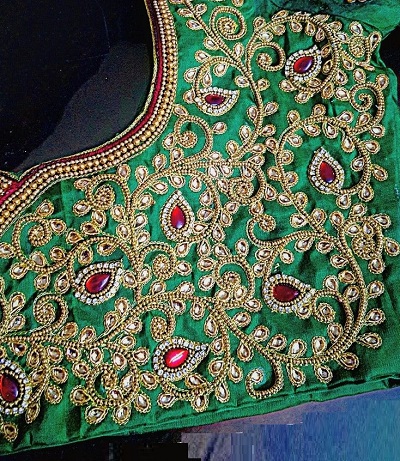 105. Green silk Cold shoulder maggam blouse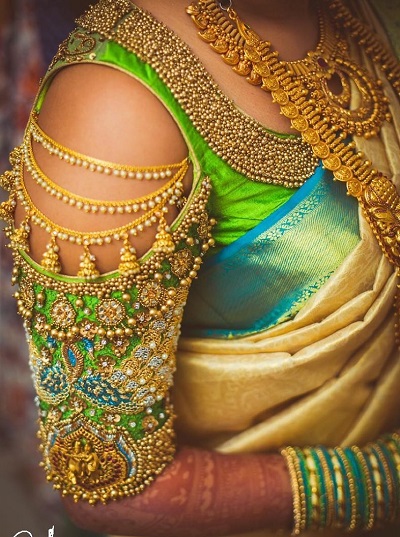 106. Silk blue heavy work blouse design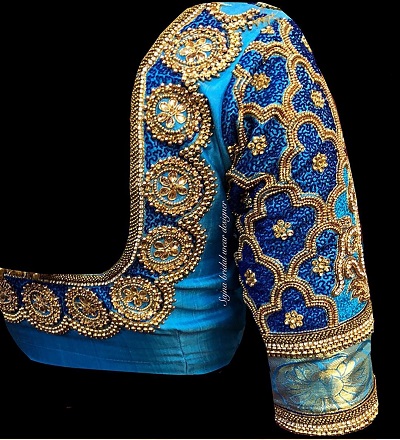 107. Boat shape neckline designer blouse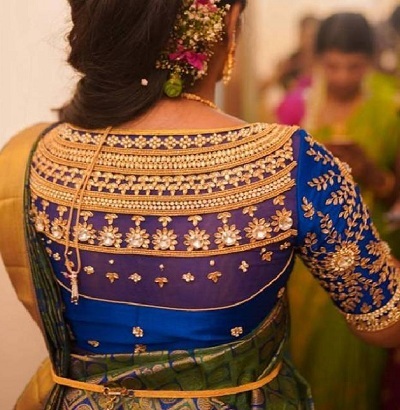 108. Parrot green silk stylish sleeves blouse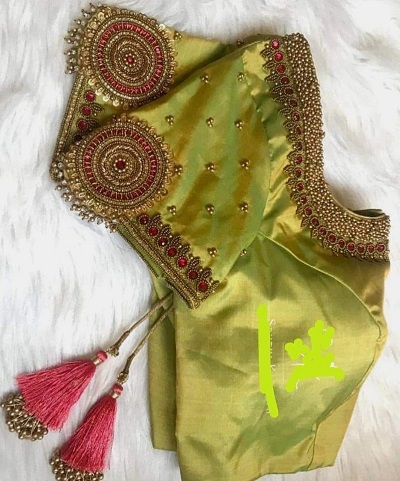 109. Designer blouse sleeves with boat neck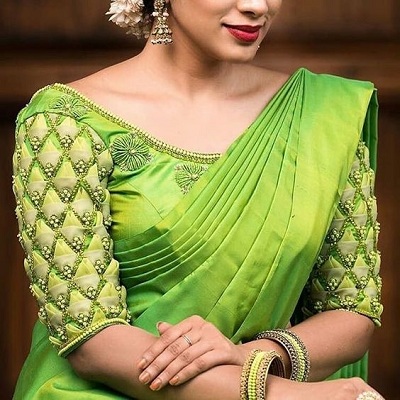 110. Festive wear green silk blouse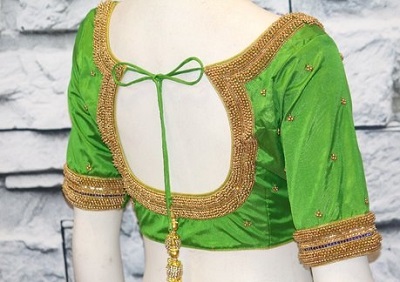 111. Heavy studded maggam sleeve design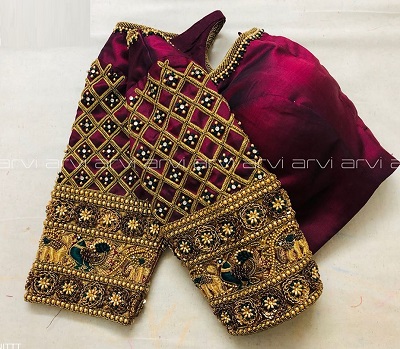 112. Stylish cut pattern neckline silk blouse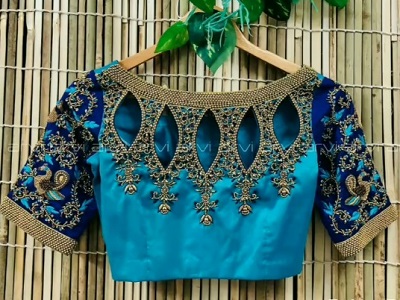 113. Bead work blouse with medium sleeves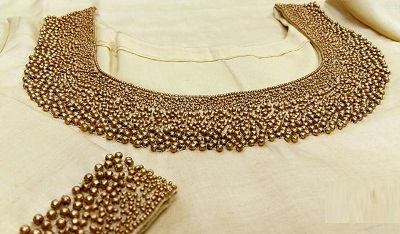 114. New style red wedding wear blouse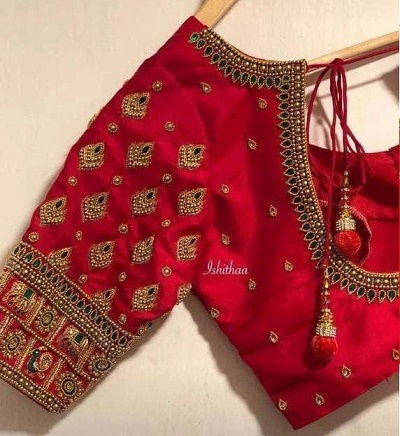 115. Embroidered pink blouse for parties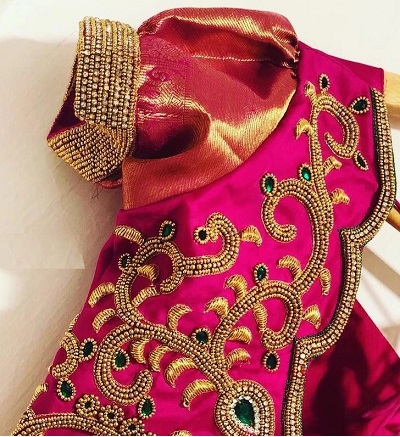 116. Stylish silk pink party wear blouse