Make up Tips to make Eyes Look bigger



Bigger eyes make you look attractive as eyes are the most important feature in one's face. Bigger looking eyes are every girl's desire and there are so many makeup tips that can help to make the eyes look a bit bigger. Proper eye makeup application will  help you to make eyes appear wider and large. Here's at Tips and Beauty today, we will share easy eye makeup tips to help get bigger eyes.
1. White Kohl to make eyes look bigger
A kohl in white color is an easy and excellent way to make the eye pop and help look them bigger. It makes the eye look wider and more awake. If your complexion is medium to dark them using a nud*e eye pencil will work the best. Have a look at the image below.


Image courtesy: Pinterest
2. Eyeshadow
Apply a light wash of shimmery light eye shadow like pale gold, light pink etc can give an illusion of bigger eyes. This attracts the lights due to which eye looks bigger.
3. Black Eyeshadow and Eyeliner

Apply some black powder eye shadow on the roots of the eye lashes and then apply the liner. Eyeliner drawn out in a slight wing make the eyes look bigger and beautiful.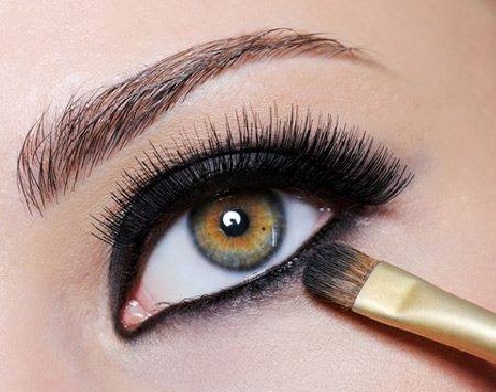 Applying a darker shadow on the outer V of the eyes create an effect of bigger and deeper socket which also make eyes to look wider and bigger. This is one of the good tricks for those who have less lid space to get bigger looking eyes.

4. Smudging Trick to make eyes look bigger

Smudge the kohl on the waterline since applying the kohl on the waterline makes the eyes look smaller whereas smudging the kohl with a small angled brush just below the waterline. This is a good technique that can be tried almost every day with a dark matte brown eye shadow to make them eye wider.
5. Eye lash curlers



When the eyelashes are curled they open up the eyes and this makes the eyes look bigger, wider and open. Use eye lash curlers to achieve that easily.
6. Mascara
After using the eyelash curler to curl the eyelashes, mascara should be the next step. Mascara makes the eyelashes bigger and thicker which makes the eyes look bigger.
7. Under eye area



Dark circles can also make the eyes look sunken and dull hence apply a concealer and set with a powder to create the bright under eye area. This makeup trick will compliment the eye makeup in a way that the brightness of the under eye area will make the eyes look bigger.