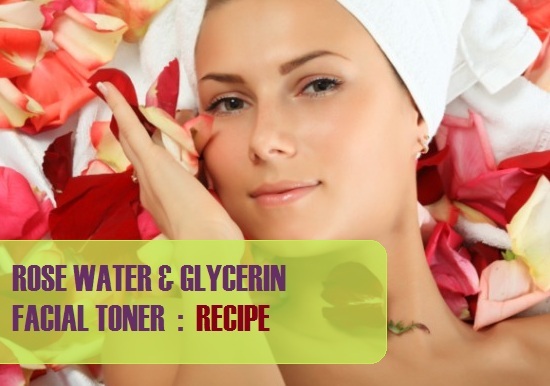 Rose Water and Glycerin Toner
Face toner are important to maintain the ideal pH balance of the skin and to keep it soft and dewy. Skin toners are essential for both oily and dry skin. Sensitive skin gets the soothing when the skin toners are used. Earlier at Tips and Beauty, we had shared the Skin toners available in India and in this post we will share how to prepare the rosewater and glycerin toner. Rose water has skin soothing and healing properties while glycerin has the rich moisturization which keeps the skin nourished. This natural toner is suitable for oil skin, dry, normal and combination skin.
How to prepare Rose water and Glycerin toner
Take rose water, around half a cup in a spray bottle and add 2 teaspoonful of vegetable glycerin. Mix them well and use whenever you feel like or need like when the face feels dry or feel oily. In this DIY face toner using the natural homemade rose water is advised so, if you want you can make the rose water yourself a home:
Also See: Beauty uses of Rose water
Here are is recipe on how to prepare it.
Rose water Preparation Recipe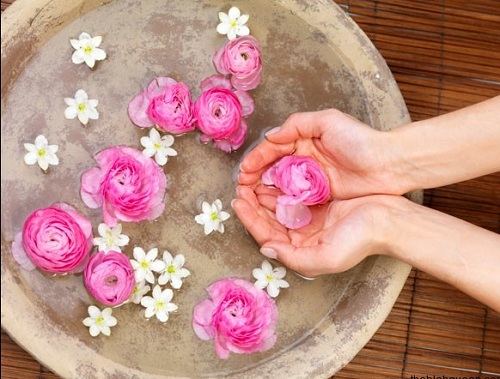 Image Credit: Theblahqueen.com
Take 2 cups of distilled water and add handful of rose petals or petals of one medium sized rose. Let the water boil and when the water reaches around half a cup. Stop boiling the water and leave it to cool down. Strain the water and throw the petals. This is your homemade fresh rose water, now, you can use this along with the glycerin to prepare rose water and glycerin toner.
Benefits of homemade Rose water and glycerin toner
Benefits of Rose water: Rosewater is a natural skin smoothening agent which has soothing sensation on the face. It helps to sooth the rashes skin, irritated skin and to combat the skin dryness. Rosewater also make the skin complexion lighter and glowing. Rosewater also maintains the pH of your skin. When rosewater is regular used in the skin care regimen that you will see the benefits as improved skin texture, tone and the appearance. Rosewater also minimizes the dark spots and some scars on the face. Rose water very well hydrates the tired face and rejuvenates the dull skin.
Benefits of Vegetable: Glycerin is a natural humectant which attracts the moisture hence the skin looks supple and feels softer. Glycerin based products are very good for the dry skin as the glycerin's moisturizing properties will help the dryness and flakiness seen on the dry skin. Glycerin is so gentle that it is highly suitable for sensitive skin as well. When it comes to provide light moisturization then too glycerin mix with rose water is one of the best combinations. As glycerin can be too much moisturizing for oily combination skin hence when we mix it with rose water it makes the perfect light face moisturiser for oily face. Also See: Beauty Benefits of Glycerin

This homemade toner with the goodness of glycerin and rosewater is ideal to rejuvenate the tired face and to clean the oily face throughout the day. It will give gentle moisturization to the face without over drying it. This facial toner will also keep the skin's dewiness intact.
You may have seen facial toner contain natural ingredients like rosewater, glycerin cucumber juice etc but those can have artificial preservatives but this homemade facial toner is all natural and best for all skin types. You will just have to try tis facial spray toner on the face and then gently wipe off with a cloth of cotton pad. That's it. You will feel that the skin feels refreshed, clean and yet moisturized. The moisturizing properties of both the products used are ideal for prevention of fine lines as well.