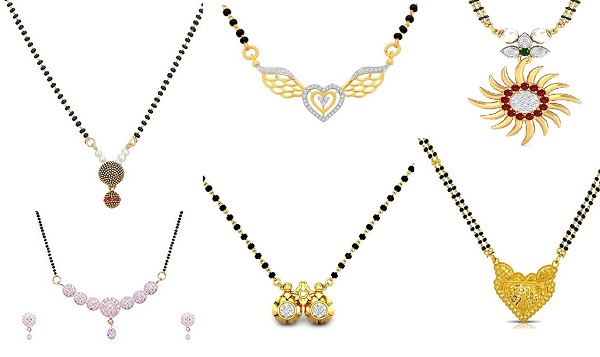 Latest Mangalsutra Locket Designs
Given that mangalsutra pendant designs are so much to count in the entire design that you have to see the most beautiful and trendiest design. Here, we've compared this photo gallery and catalogue of the latest mangalsutra locket patterns and designs. Most importantly, a pendent or the centre locket is the place where people notice it first.
Chain has its own importance however pendant or locket is a Centre part which has to be trendy and the most important part of any mangalsutra design.
Latest Mangalsutra Locket Designs
1. Red Stone Mangalsutra Design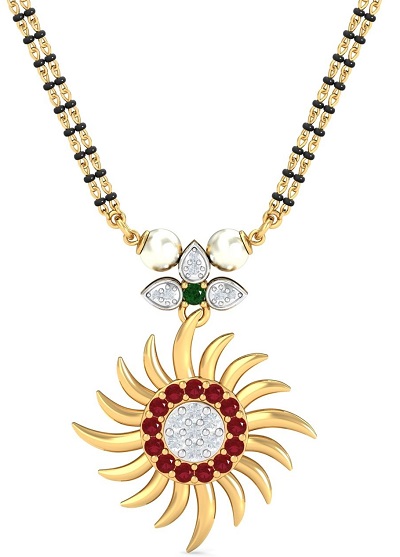 The design here has red stones where the design is made with gold as a base. This locket looks more like a sun that is shining bright. In fact, that side black beaded chain is also beautiful.
2. Gold Pendant Mangalsutra pattern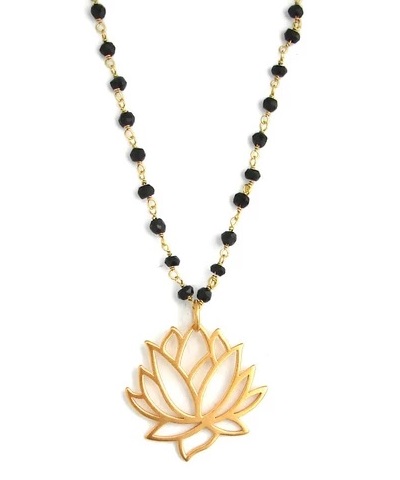 This nice shaped gold only pendant is very interesting. Within black beaded chain is a perfect chain and pendant style that is suitable for younger brides. It is a very interesting looking combination.
3. Stylish locket design of Mangalsutra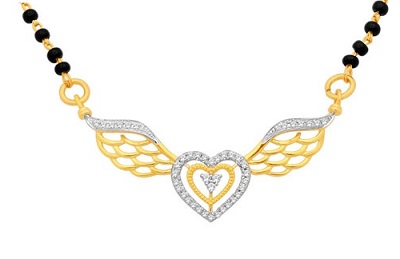 Pendant has this Angel wing kind of feel to it with the centre heart shaped part. The pendant or locket is very stunningly beautiful, that is made with gold and stones blended together to form this beautiful pattern of mangalsutra locket design.
4. Everyday wear diamond Mangalsutra pattern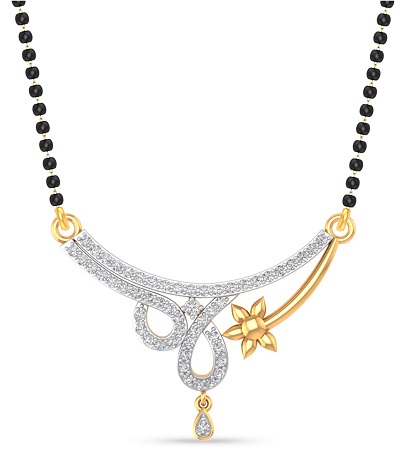 The design here has the curvy locket and floral shapes are also used. In fact this pattern is very beautiful considering that it has a blend of stones and gold.
5. Earring set with Mangalsutra design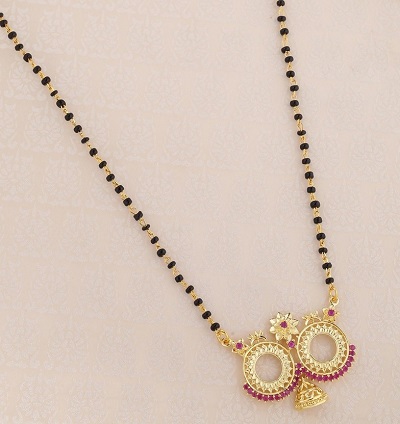 Latest design of mangalsutra locket reminds you of beautiful necklace earrings. It reminds the chandbali shape of earrings and two circular shapes have joined together that has a little Jhumki like shape in between the two. This is yet another pattern that young women would certainly love.
6. Only Gold 10 grams Mangalsutra design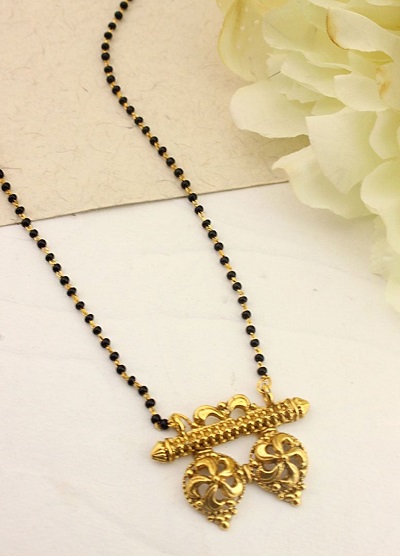 The gold only mangalsutra locket part is perfect for any women, who like only gold mangalsutra designs and not any stone studded locket shapes.
7. Elegant design of everyday wear Mangalsutra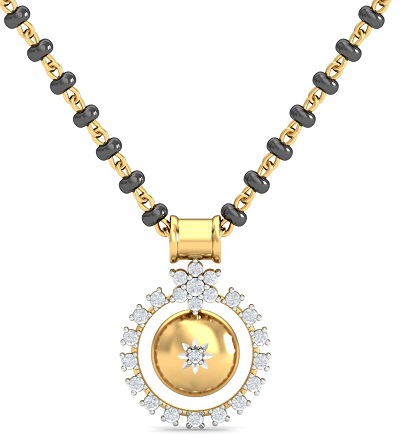 Bundled with their elegance, this design has a green black beaded chain with round centre locket. For women, who like minimalistic and simplest designs shall try this one. It is made with gold and stones, where in the gold base that has the stone studded circular round shape.
8. Cute Mangalsutra Locket pattern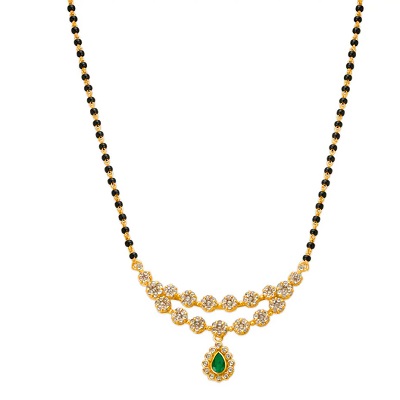 This is one of the cutest mangalsutra locket. With dainty small circular stone studded solid gold part it is like an Arc that has a teardrop shape at the end.
9. Simple and stylish mangalsutra design
It's a cute mangalsutra locket design and this design would surely be on your mind. It is a very sweet and short pendent mangalsutra which women who like simple and short chain mangalsutra designs can try.
10. Only 10 Gram Gold Mangalsutra design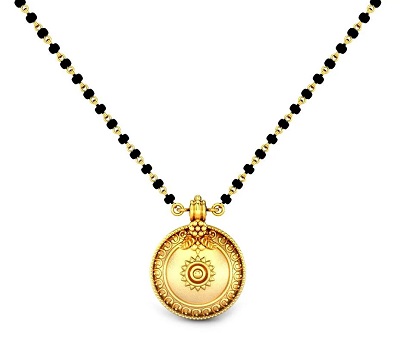 It's a 10 gram mangalsutra pattern, where in a circular carved out locket is used in the centre with a single black beaded chain.
11. Coin design mangalsutra with temple design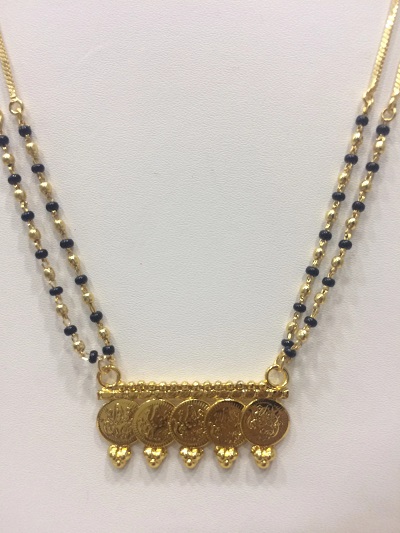 If you like coin design, then this design is for you. The coin shapes are overlapping and is a perfect Temple jewellery pendant or locket design for your mangalsutra in double black and gold beaded chains holds the locket in place.
12. Solid gold only traditional mangalsutra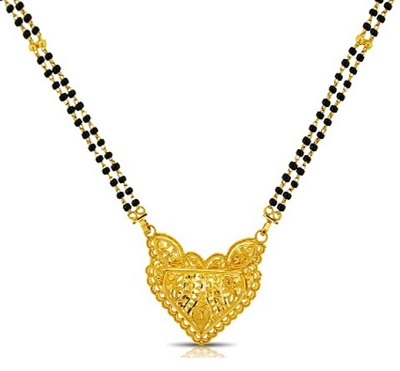 The solid gold traditional looking mangalsutra locket is suitable for middle aged women.  The interesting and stylish design comes with double side chain locket.
13. Stone Studded Mangalsutra Design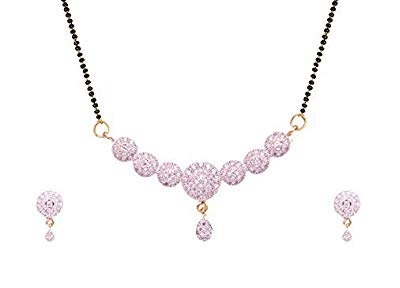 When you like stone studded diamond locket design for the mangalsutra, this design is appropriate. The thin and short chain mangalsutra pattern is appropriate when you like diamonds or stone studded designs.
14. Mangalsutra and Earring set design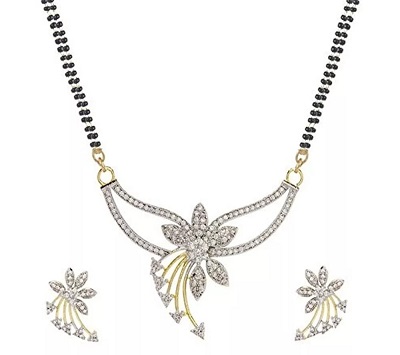 The diamond mangalsutra pattern has a beautiful floral pendant with matching earrings. To change are given on the sides to make it more study.
15. Double Chain Style mangalsutra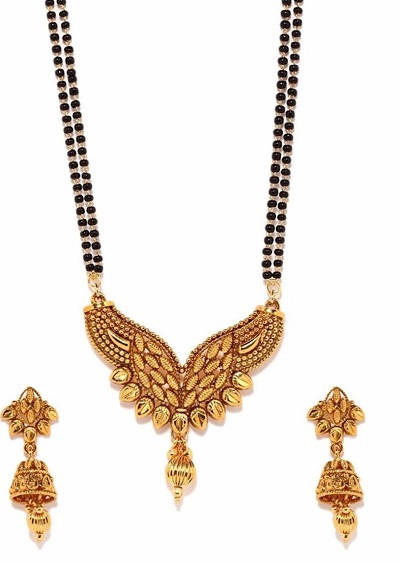 Design here is more like a traditional pattern of the locket with matching earrings. In double chain style, it's very traditional and is made to keep the pendant is in place and the mangalsutra secure.
16. Peacock style mangalsutra pattern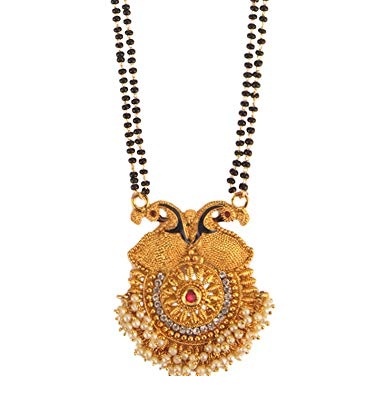 Peacock and the traditional necklace resembling locket is the highlight of this design here. The mangalsutra is made with 20 grams of gold and has very thin black beaded chain that may break that's why if you thinking of getting such design than always make sure that the side chain is quite sturdy.
17. Emerald Stone style mangalsutra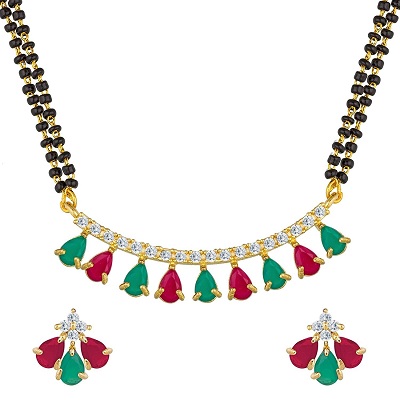 Emerald stones placed in an Arc underneath on Gold base, it is a design to look for. The matching earrings also add more charm to this entire pendant style locket.
18. Latest Diamond mangalsutra pattern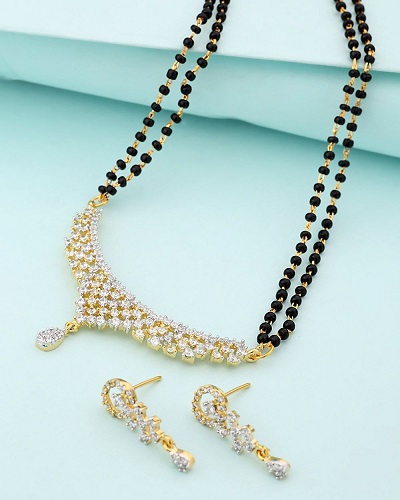 With diamond chequered pattern, this arc shape has a drop shape in the end. It also comes with the matching earrings and it is perfect for the festival season.
19. Antique style mangalsutra pattern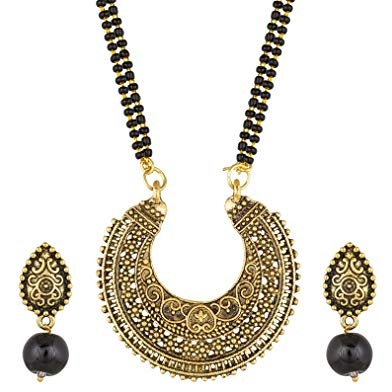 A lot of women would need the antique finish design. This mangalsutra pattern has a chandbali shaped pendant the matching earrings are also given. The earrings has black bead that the angles in the end. This design here is more like in antique gold pattern.
20. Traditional Mangalsutra With Antique Finish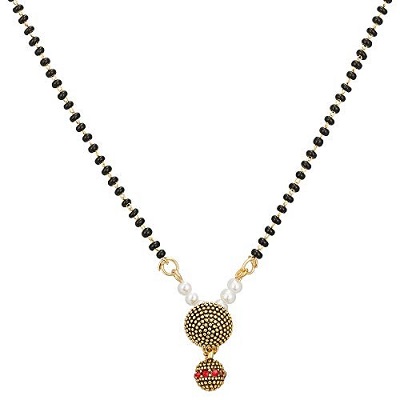 The same antique design with pearls is seen in this mangalsutra locket. The round balls enamelled with black colour is seen in this design.