Maroon is a very auspicious colour and this is why the colour is popular in Indian ethnic wear. We've compiled the list of the latest maroon blouse designs for sarees and lehengas. Maroon blouse can be stitched in multiple ways like a backless style, in velvet fabric with maggam work or even with silk fabric. So let's check these latest deep red or maroon blouse patterns and images.
Latest Maroon Saree Blouse Designs
1. Silk Maroon Blouse Design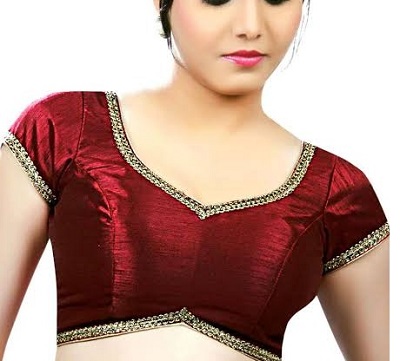 The raw silk maroon blouse is stitched in a perfect manner with princess cut. This blouse is best to be paired with chiffon, Georgette and silk sarees. Even it can also become a blouse pattern for lehengas and lehenga saree dresses.
2. Back Cut Pattern Maroon Blouse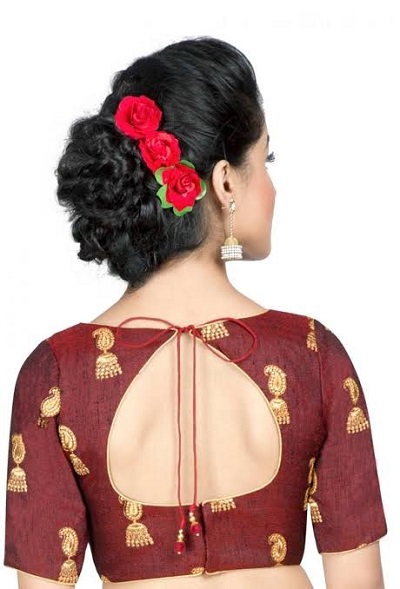 A printed maroon blouse has a scoop back neckline with Dori attached. It has elbow length sleeves with Jhumka pattern embroidery all over. The nicely made blouse is suitable to go with the printed and cotton sarees.
3. Velvet Bridal Maroon Party Wear Blouse Design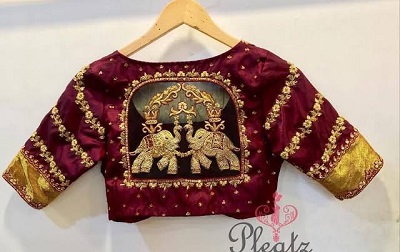 The heavy velvet maroon blouse has rich embroidery work with some sequins and stones. The back neckline has a deep U cut with sheer fabric. The elephant embroidery on the back adds more luxury and opulence to this design. It's given elbow length sleeves with border. It would work best with lehengas, pattu sarees and even the net sarees.
4. Brocade Maroon Blouse For Saree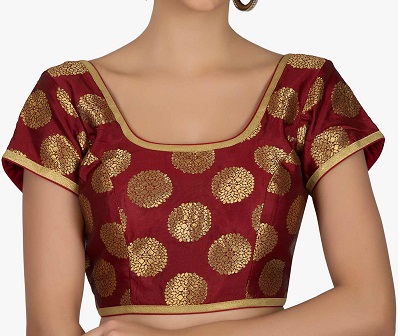 A lot of women like simple blouse designs, this maroon brocade blouse is stitched in a simple pattern. It has princess cut pattern back hooks. The neckline is not too deep but just the regular medium depth neckline and sleeves. Ideal for women with all the body types, its perfect.
5. Keyhole Neckline Maroon Blouse Pattern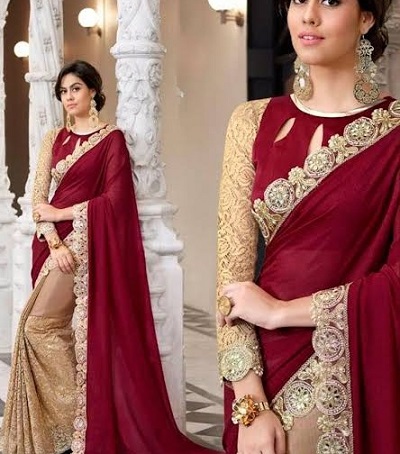 This extremely beautiful blouse has got three keyholes under the boat shaped neckline. The embroidery is given on the sleeves. The blouse is very royal and modern looking. It can be paired with other types of sarees as well.
6. Patch Pattern Maroon Saree Blouse Design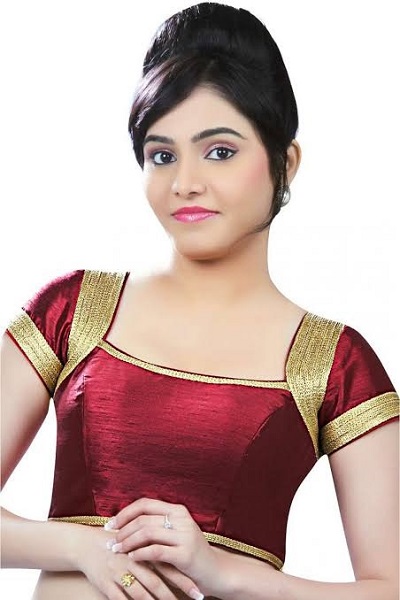 The blouse design here has a maroon shape. The jacket like shape has bold gold border work. The otherwise simple blouse is made for party wear with the use of borders and work.
7. Rich Stone Work Maroon Blouse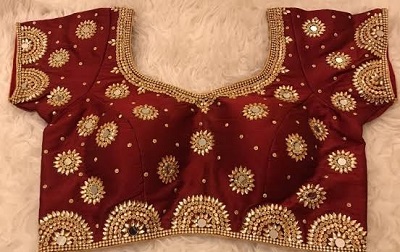 The rich maroon blouse has stone work that makes it luxurious. The blouse has pads in the front part and hooks at the back. It's given short sleeves and has a medium neckline. The beautiful blouse design is perfect for brides and post bridal ceremonies. It's a party wear blouse design that can be made with lehenga and sarees.
8. Short Sleeve Maroon Blouse For Saree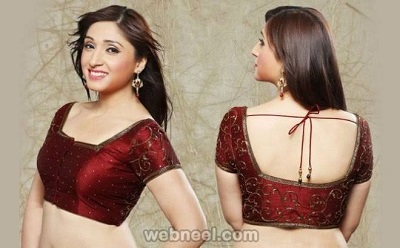 The blouse here has regular front open hooks. With short sleeves, it has a deep back neckline which is secured further by the use of doris. The beautiful blouse is perfect for parties, festivals and ceremonies. For Karva Chauth, you can wear a blouse like this.
9. Velvet Elbow Sleeves Blouse In Maroon Color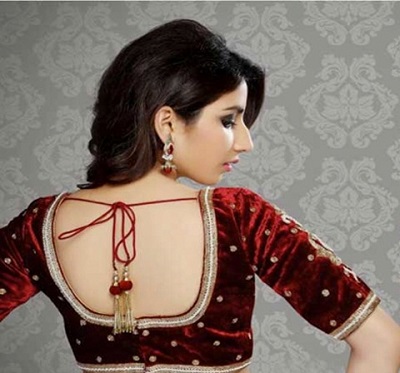 This velvet medium length maroon blouse is suitable for brides and for other wedding parties. It has sequins, beads and embroidery work. With that it contains dori at the back. The beautiful blouse design is perfect for women of all body shapes and types. It has back open pattern with thick embroidery and sequin work on the edges and neckline.
10. Maroon Embroidered Blouse Design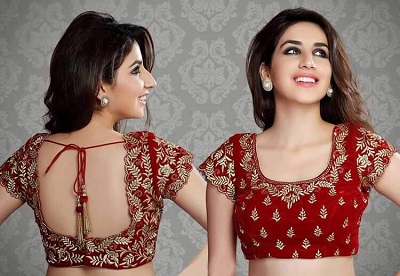 The cut work pattern blouse is made from velvet fabric that bears the heavy embroidery work on the sleeves and on the back. It has a backless and deep U pattern at the back and neckline in the front. It's given back hook opening.
11. Maroon Silk Blouse For Pattu Sarees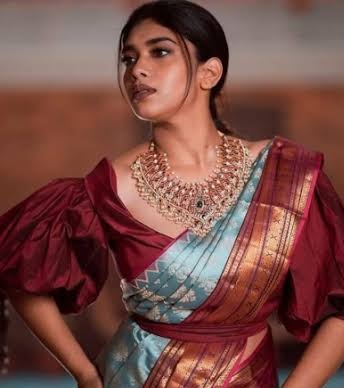 The maroon silk blouse for pattu sarees has very neckline with sleeves. This is one of the best modern looking blouses that you can have for your pattu sarees.
12. Lehenga Blouse Design In Maroon Color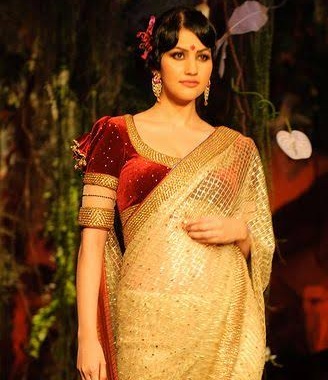 The velvet blouse is interesting in its cut and shape. It is the best looking blouse that will go with your lehengas and even the net sarees. The beauty of the blouse is the interestingly made sleeves.
13. Full Sleeves Maroon Blouse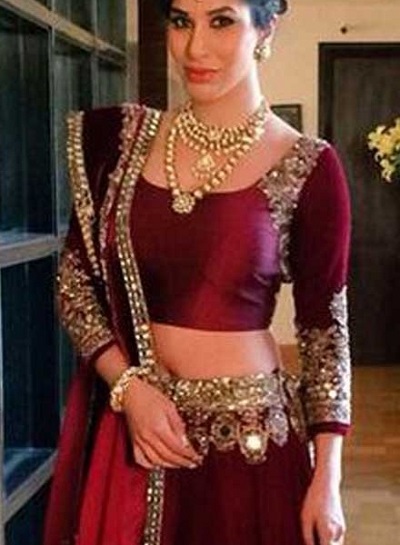 The blouse is perfect for lehenga. With full sleeves and heavy embroidery work on the sleeves and Shoulder top, it is one of the best looking blouse designs for sarees.
14. Maroon Blouse with Border Design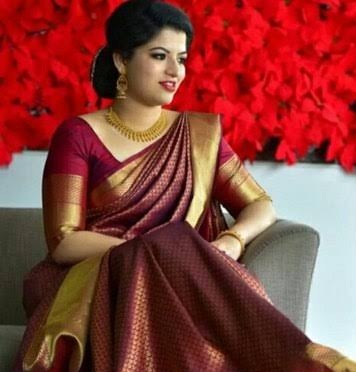 Saree blouse design with border on the sleeves is perfect to be paired with silk, kanjeevaram, Kerala silk and even the cotton silk sarees.
15. Backless Maroon Blouse Style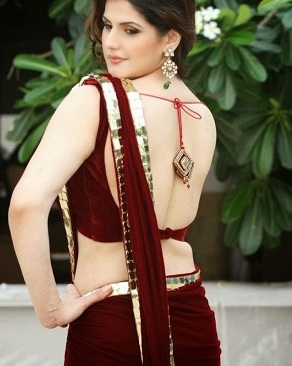 Maroon saree blouse sleeveless pattern with backless design. There is a hook at the back and doris for securing the blouse. It is best to be worn with printed, netted, Georgette and silk sarees.
Hope these maroon saree blouse designs helped you in picking up the best design for yourself. Before getting the blouses stitched, you must always keep in mind the fabric and the design that you would like to have. There are fabrics that need some special kind of design. Like, for example velvet is a fabric that goes on almost every type of saree like net sarees, chiffon, tissue and Georgette sarees.
16. Embroidered Saree blouse in Maroon Color
17. High neck princess cut maroon blouse pattern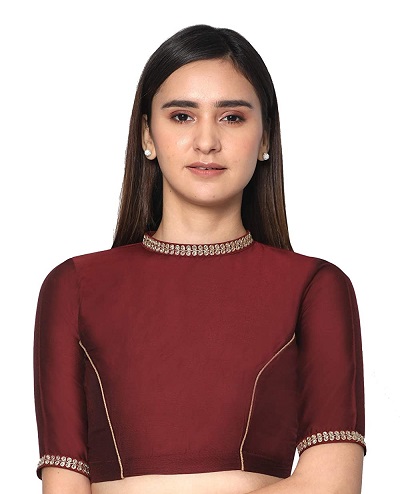 18. Stylish V neck embroidered saree blouse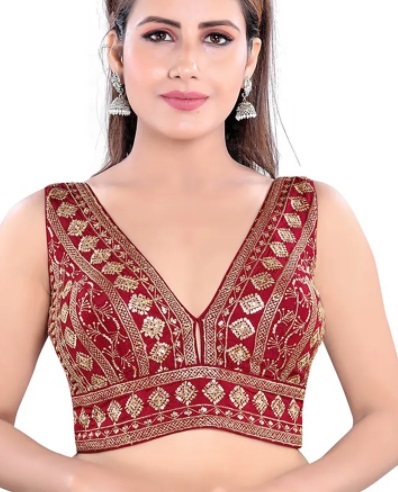 19. Simple Velvet Scoop neck maroon saree blouse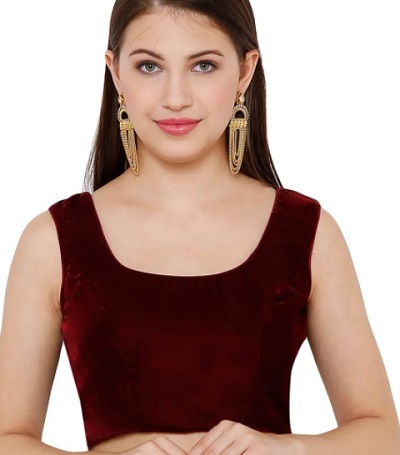 20. Sequined sleeveless V neck maroon blouse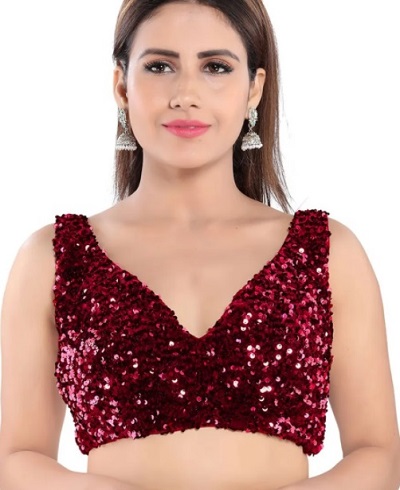 21. Sequined fabric stylish party wear maroon blouse
22. Mirror work sleeveless party wear maroon blouse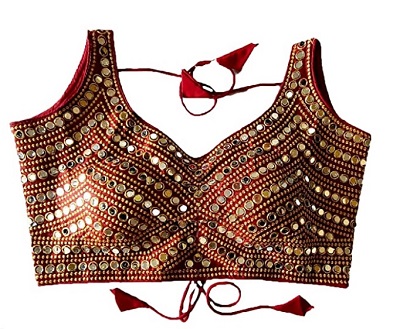 23. Brocade fabric Maroon and Gold Blouse Design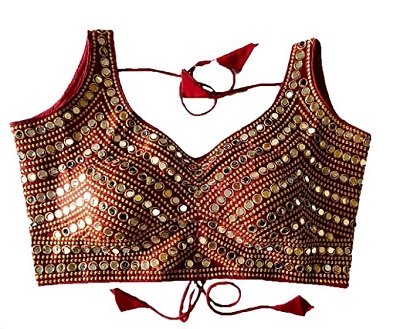 24. Velvet half Sleeves maroon blouse design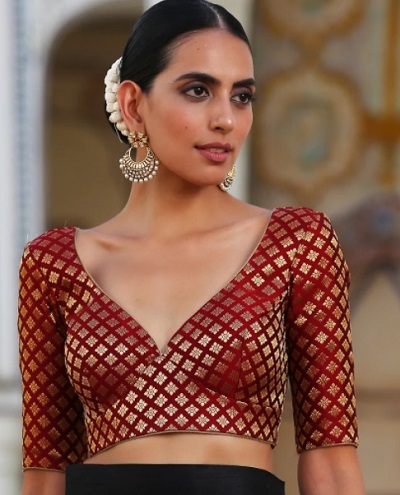 25. Silk Embroidered maroon saree blouse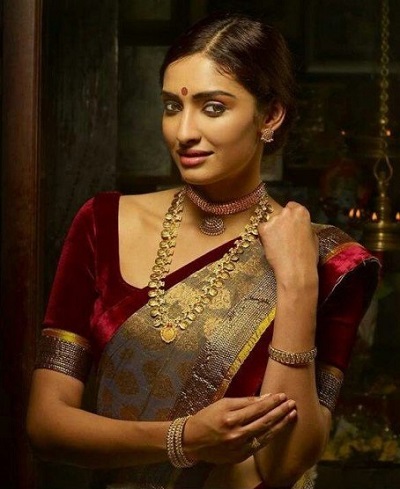 26. Jacquard maroon saree blouse design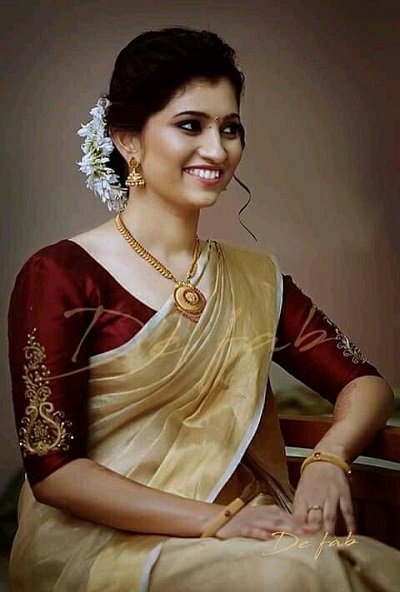 27. Embroidered maroon blouse for silk saree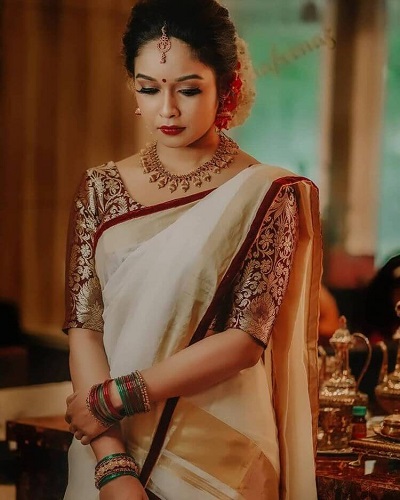 28. Collar pattern maroon saree blouse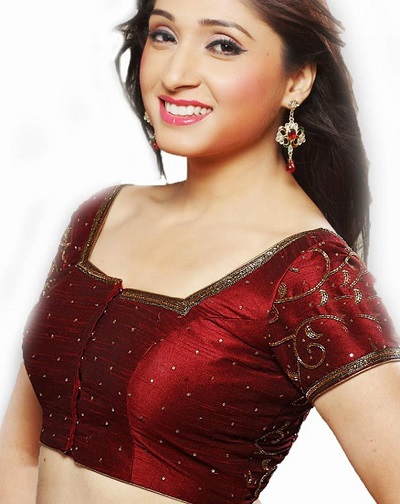 29. Embroidered stylish party wear maroon blouse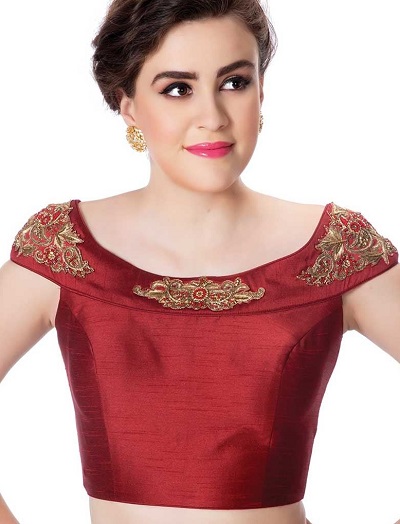 30. Sequined velvet maroon blouse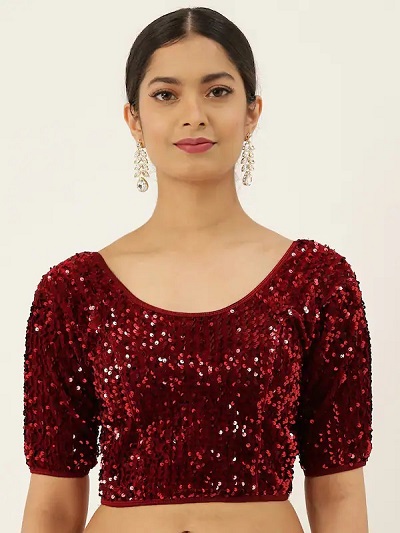 31. High round neck Embroidered silk blouse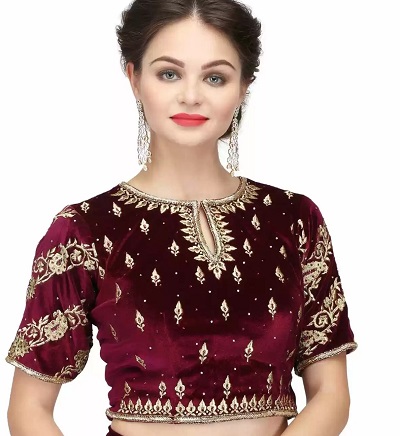 32. Full sleeves Embroidered maroon blouse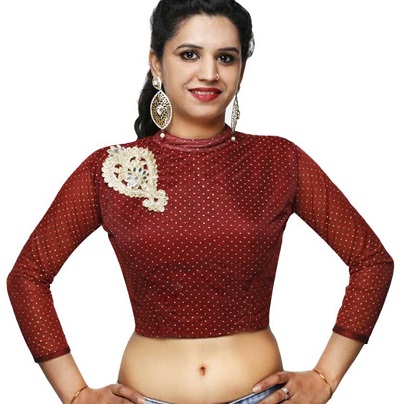 33. Sleeveless party wear maroon blouse with cups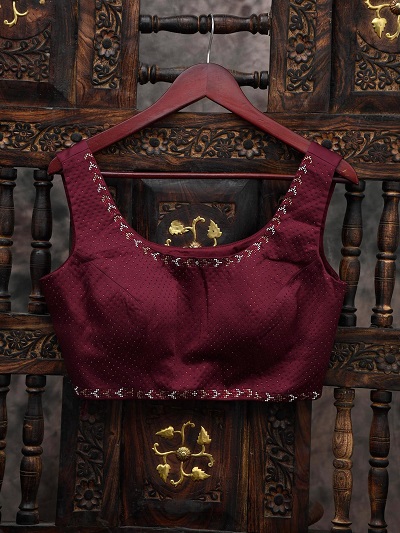 34. Designer back less cross strap maroon blouse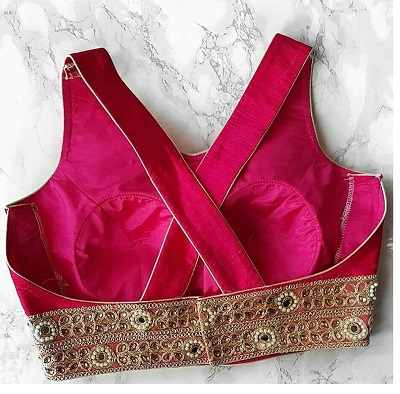 35. Scoop back neck maroon bridal blouse design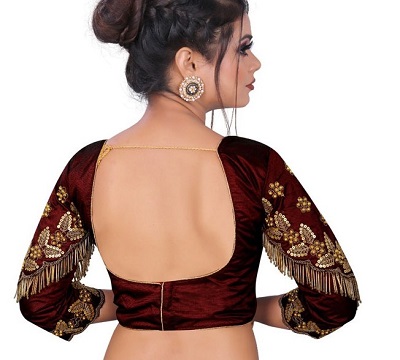 36. Simple maroon cotton silk blouse design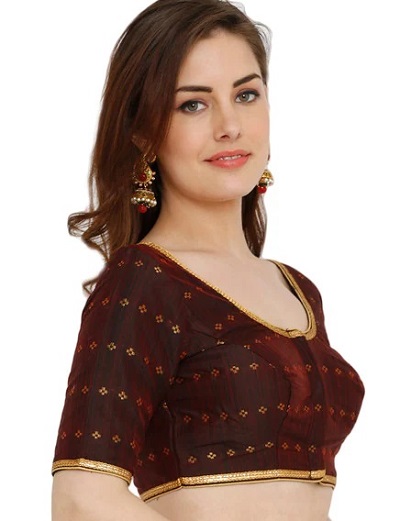 37. Maroon and Gold silk blouse
38.Collared short sleeve gold blouse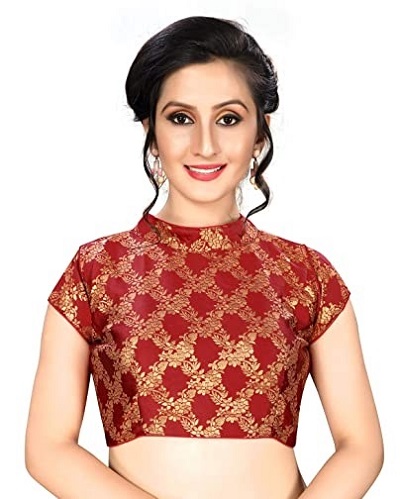 39. Patch work silk maroon blouse design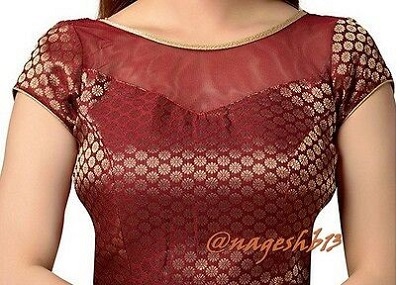 40. Designer patch collar work blouse design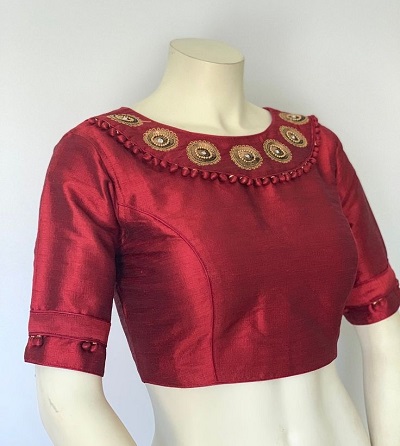 41. Puff sleeves embroidered satin blouse design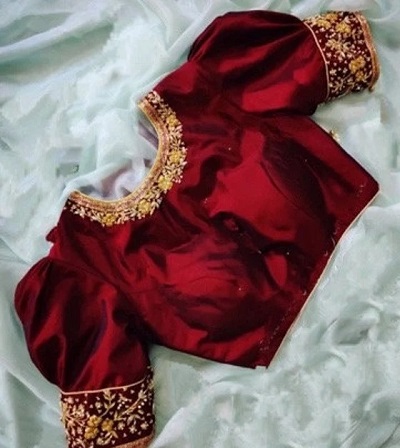 42. Heavy Embroidery work maroon blouse for silk sarees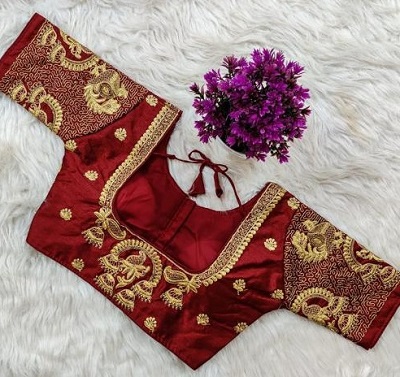 43. Mirror and sequin work maroon blouse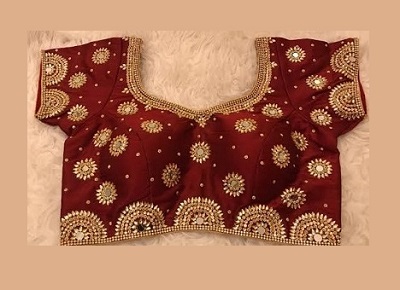 44. Heavy maggam work velvet maroon blouse design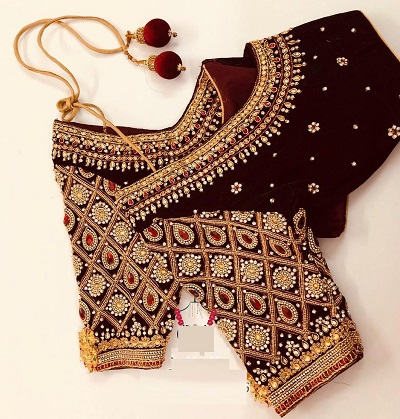 45. Ari and maggam work with kundan stones blouse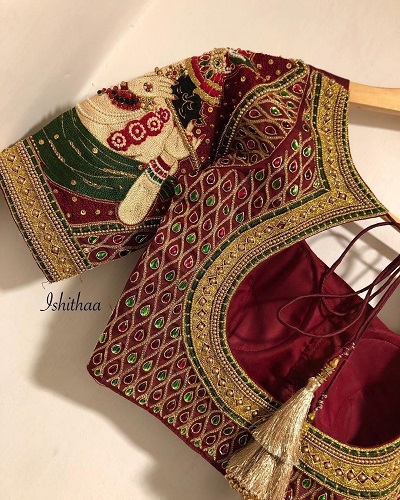 46. Silk maroon blouse for silk sarees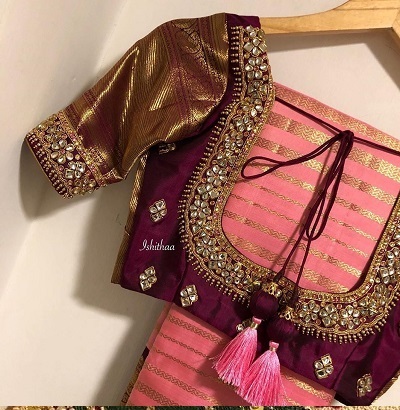 47. Bridal silk maroon blouse with stone and sequin work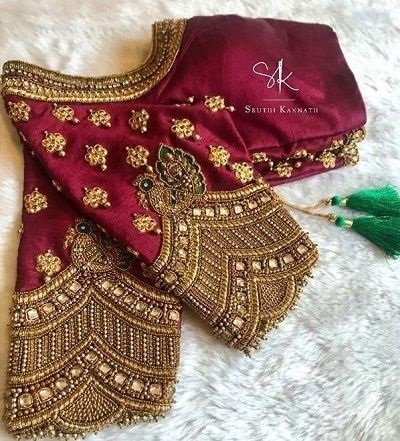 48. Silk Embroidered work blouse pattern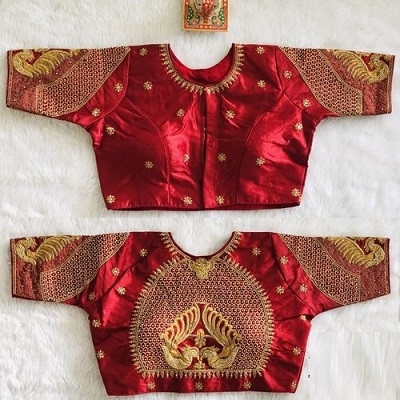 49. Golden thread work silk blouse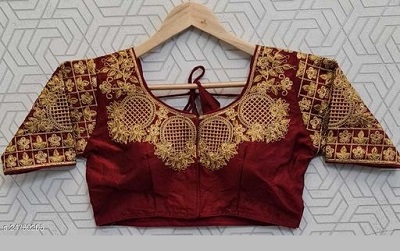 50. Simple silk maroon blouse design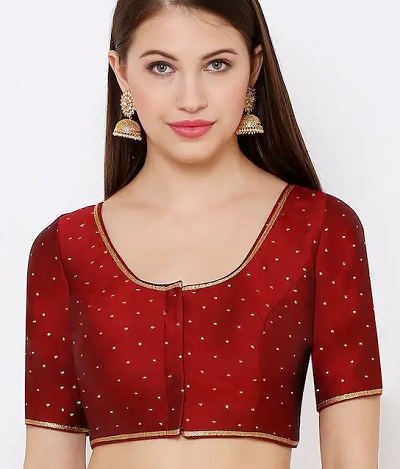 51. Stylish pleated design maroon blouse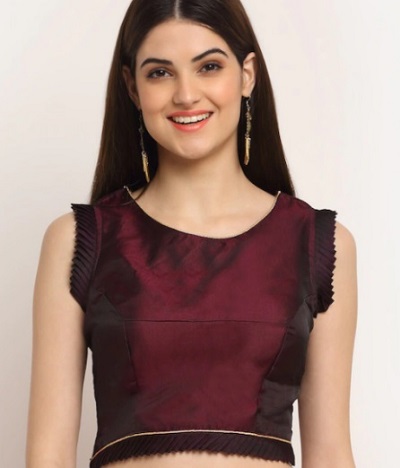 52. Sequin work party wear maroon blouse design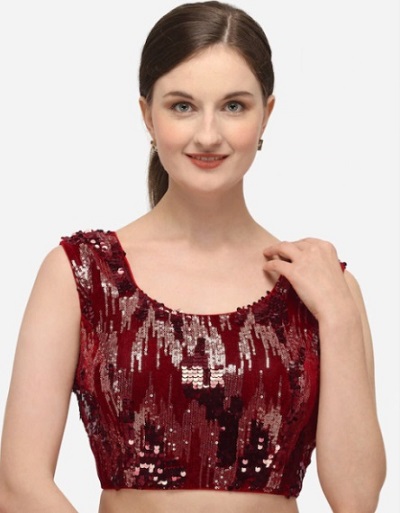 53. Frilled V neck blouse design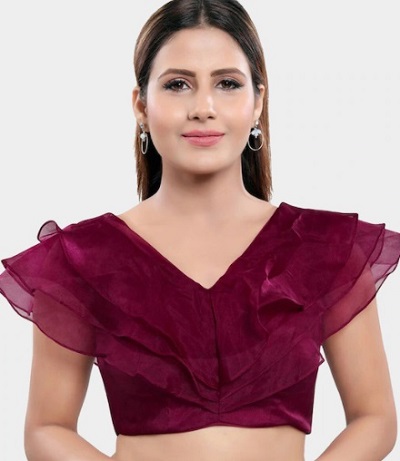 54. Maroon bridal heavy embroidered blouse