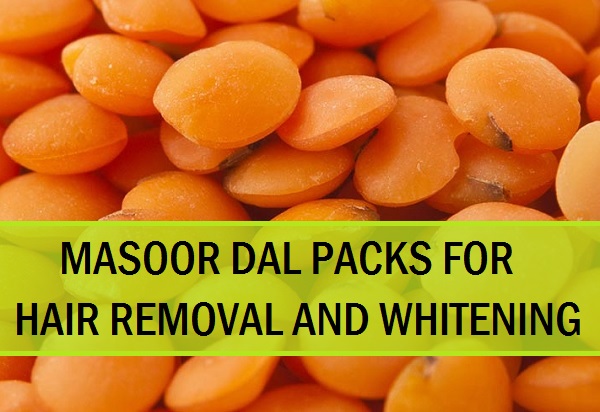 How to Use Masoor dal for Unwanted Hair Removal, Skin Whitening
Skin needs regular care to stay healthy and lively. We all in our lives someday face skin troubles. One of them is unwanted facial hair that embarrasses us often at parties and meeting where each and every little thing is being noticed by the friends. Masoor dal is a natural way to remove unwanted dark hairs, that can be concerning when you wish to keep glowing and even toned skin. Masoor dal which is also known as the red lentil is a beneficial home found kitchen product that can definitely do wonders for your skin. But how? Masoor dal can give you skin lightening and also aids in the permanent removal of unwanted hair from body and face. Although it needs some time. You see at once or immediate changes cannot come as it takes time to get rid of the facial and body hair. Actually the treatment with dal firstly thin out the hair and then it removes them for once and for all. Another way for these hair is the use of bleach creams that hides the hair but even still the hair can be visible.
Remedies with Masoor Dal for Removing Hair on Face and Body
Here we have listed the various uses of masoor dal to brighten the skin in terms of skin whitening and to remove those unwanted dark hair. You know dal packs are rich in proteins which is why they have been used highly even by the dermatologists and the salon people.
1. Masoor dal  and olive oil
Masoor dal is a good source of proteins and essential vitamins that make your skin soft and glowing  throughout  the day. It also improves the skin complexion and rejuvenates the face. Olive oil on the other hand, is a great essential oil for the skin and hair. It is used by many brands in their beauty products. It smoothes out the skin and develops skin elasticity. Olive oil naturally even out the skin tone and gives supple and silky face. It is very light in texture hence, doesn't cause acne or pimples. It also reduces zits and wrinkles from the skin.
How to prepare it?
Take 5 spoons of masoor dal and soak it in the water for minimum 2-4 hours

Now grind it in a grinder by adding little water in it

Take out the masoor dal paste in a bowl

Add 2 spoons of olive oil in the bowl

Mix them properly 
Application:
Now clean your face with water or mild face wash

Pat it  dry the face and apply a light non greasy mosituriser

Take a small amount of this pack and apply on your facial skin where are dark and small hairs

Let it dry for 5 minutes and then start removing it

By using some oil like coconut oil in the hand

Remove it by massaging in a circular motion
How often to try it
Do it twice a week to get desirable results
2. Masoor dal and Gram flour
In ancient times, gram flour was used use to remove babies hair. It is very effective in reducing unwanted hair growth and hair removal. It cleanses the skin cells and keeps excessive oils and sebum away. It also helps in removing those occasional zits and blemishes from the face and body. Gram flour is also used for getting instant fairness and glow. Orange on the other hand, is rich in vitamin C that reduces discoloration of the skin and enhance its beauty. Oranges also work as a natural bleach for the face as it decreases the black color of facial or unwanted hair. This remedy is effective if followed regularly for a month.
How to Prepare it?
take some masoor dal paste in a bowl

Add 2 full spoons of gram flour in it

Mix 4 spoons of orange peel powder in it

Add little water to maintain the thick consistency of the skin pack
Application
Now wash your face and apply this mask onto the affected skin area

Remove it after 10 minutes by slowly massaging it in an upward direction.
3. Rice flour and Honey
Rice flour is a great skin whitener and Exfoliator. It unclogs the pores and deeply clean them so that all the dirt and dust particles are away. Rice powder along with dal can be used to remove unwanted hair on the face. Honey is a natural bleach used in many beauty and facial kits. It increases the effect of bleach and induce skin glow. 
Preparation and application
Take 3 spoons of rice flour in a bowl

Add 1 spoon of honey, 1 teaspoon of masoor dal in it

Also mix 2 spoons of rose water

Apply this mask on the facial skin

Remove it by massaging it with water.  
5. Facial Hair Removal Pack
This is a hair removal pack for not just the hair removal itself but also to brighten the skin by eliminating those dark spots and acne scars. Acne scars can be problematic as they make the skin uneven and dark looking. You can also apply this on the dark knees and thigh area.
Method:
Soak ¼ cup of masoor dal and make paste using water the next day.

In that add 1 teaspoonful of orange peel powder and 1 teaspoonful of sandalwood powder.

Now mix everything and add some milk.

You should get a paste which will not be smooth buy grainy in texture.
Application
Apply a layer of this granular paste on the face.

Keep this on the face for 30 minutes and let it dry.

Once, it gets dried, wet the hands and scrub off the dried layer gently in circular motions

Wash off with cold water.
This masoor dal pack stimulates the blood circulation which in turn makes the skin glow. It also removes the deep seated whiteheads, blackheads and also the dead skin over the skin. This will eventually brighten the skin and also helps to lighten your skin. Regular usage makes the unwanted hair to get thin out and lastly vanish from the skin.
Masoor Dal for skin whitening
Here comes, some more remedies and treatments using this excellent dal to whiten the skin. The question is that how this dal can actually whiten the skin. The reason is that, it improves blood circulation, eliminates the dead skin and makes skin glowing. The protein in this lentil also cures the skin darkening.
Masoor Dal and Oatmeal Pack:
To prepare this hydrating yet effective in skin whitening pack, you need 3 things. i.e.
Milk

Oatmeal

Masoor dal powder
Procedure:
Take 2-3 teaspoonful of masoor dal powder

Put 1 teaspoonful of oatmeal

Add some milk in it and make some paste.

Mix and make paste then apply on the face.

Let it get dry on the face for 20 minutes then use cold water to get rid of the face pack of the skin.
Remedies with Masoor dal for skin pigmentation
This dal can also be used to lighten the pigmentation. Hyper-pigmentation as we call it can be due to sun burns and excessive UV damage. This can also be because of certain chemicals in the products. Whatever gives you that darkening if skin known as hyper-pigmentation. What is the way you can get rid of it? Yes, masoor dal can come to your rescue.
How to prepare?
Take 3 teaspoonful of masoor dal and put that in one cup of water.

Soak it for overnight. Next day, you need to grind it.

The paste that you get is the one that we need for our remedy.

Put 1 teaspoonful of fresh lemon juice in this dal paste.

Apply evenly on the face and keep for 20 minutes.

Scrub off and rinse with normal water.

Do this every other day for fast results in minimizing the pigmentation and uneven skin tone.
Masoor Face Pack for Dry skin
This masoor dal face pack is best suitable for the men and women with dry skin. This can be done once in a week.
Method of preparation
Take 2 teaspoonful of masoor dal and mix that with 1/4 cup of milk

Keep this for overnight.

Grind this into a coarse paste in the morning in the grinder

Put 1 teaspoonful of honey in it and apply all over the facial skin and neck as well.

Apply evenly all over the face and neck

Keep it for 20 minutes evevnly

Wash off and pat dry using a towel.
These were the Masoor dal packs that can serve for hair removal and getting fairness of the skin.
Recommended Articles:
Natural Remedies to Remove Unwanted Hair
Best Remedies for Upper Lip hair Removal