Maybelline Lip Polish Glam 3 Review
Hi girls! I will do a lip product review today in this post and that is from my favorite makeup brand in India. Which is Maybelline because Maybelline makes so affordable makeup products that too of good quality. So, this post is regarding Maybelline Lip Polish in the shade Glam 3 Review. Lip polish is actually a lip gloss only with something more than a lip gloss. This has the lip balm like moisturization, lipstick like color and lips gloss like glossiness and shine. Quite a cool concept it is. Isn't it? I just love the packaging of this Maybelline Lip Polish. I will tell you more about this in my Maybelline Lip Polish review. So, let's scan and start.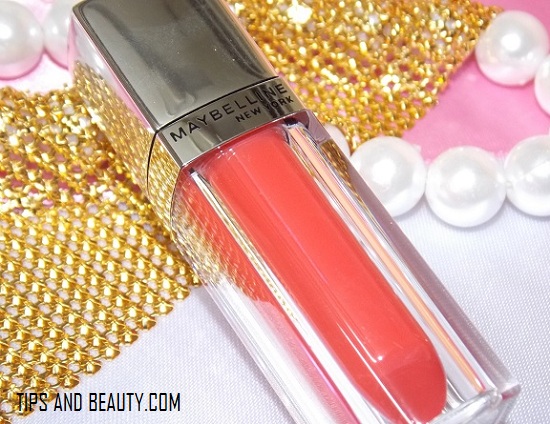 Price of Maybelline Lip polish
These are priced at 450 rupees 450 for 5ml tube. These lip polishes are launched in 16 shades which is just amazing s they have reds, purple, orange which means color for every girl's liking.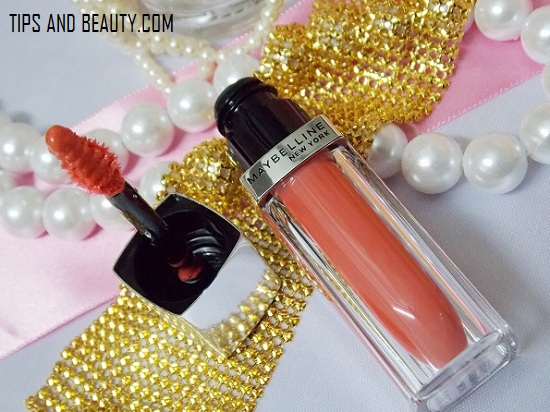 Brand Claims about Maybelline Lip Polish: This is a 3 in one product which cares like a lip balm, gives shine like a lip gloss and intense color like a lipstick. This lip polish has honey nector which keep the lip soft and honey essence oil which gives the polished shine on the lips. This also contains ultra concentrated pigmented which gives good color pay off.Read: 5 shades of Maybelline color show lipsticks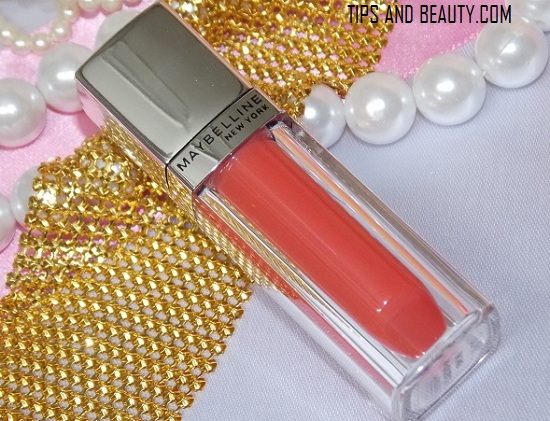 Experience with Maybelline Lip Polish in Glam 3
First of all I want to tell you that I just loved its packaging which is so beautiful. A rectangular bottle with a mirror finished cap with a brush. So classy and cute looking it is!!.. The names of the shades are mentioned at the bottom of the tube. As the tube is transparent, the color can be seen through it as well. I have 2 of these Maybelline Lip polish in Glam 1 and 3.The shade name of these polishes are given at the bottom of the tube. Mine says Glam 3.
Color Description: Maybelline Lip Polish in Glam 3 is peachy color which looks corally in the tube but this is peachy when applied on the lips. The color is given more dimension and glossiness by adding very fine gold shimmer particles which reflects the light beautifully. Glam 3 is a pale peach color as I said so, this color will look slightly lighter on darker skin complexions. Therefore it may wash the dusky complexion.Maybelline Lip polish glam 3 is more of a lip color for the fair skin to wheatish skin complexions.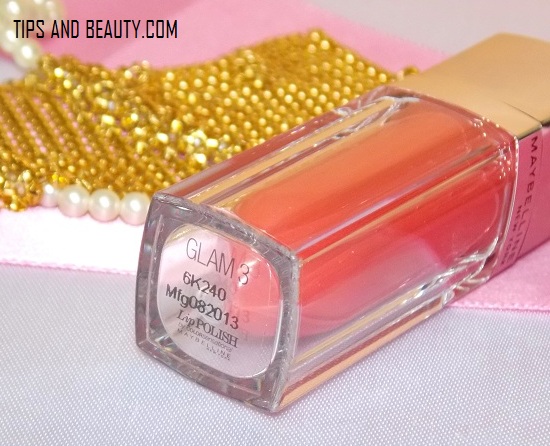 Features: The Maybelline lip polish has a very nice brush which allows an even application, I love that the brush has tiny fibers sticking out due to which a smoother application is there. The texture of this lip polish is beautiful and satiny. It glides on my lips very smoothly and flawlessly. It applies the color evenly on the lips but it's just that when I talk, the color gets patchy this is a problem with most of the lip glosses that we girls face. This is why I am more of a lipstick lover than a lip gloss lover. This has a very moisturizing and hydrating texture so, this will make the lips very soft till the this Maybelline lip polish is there on my lips. Even if you have dry lips and you apply this, this will heal the lips with its lip balm like formula.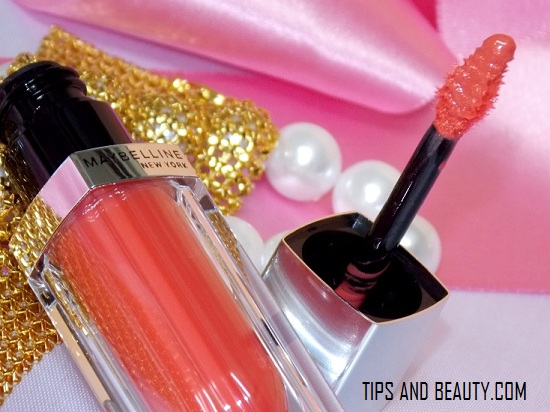 The golden micro shimmer particles in Maybelline Lip polish will give a lovely fuller lips effect which I love. If you wish to know how to make lips look fuller with makeup. Read here.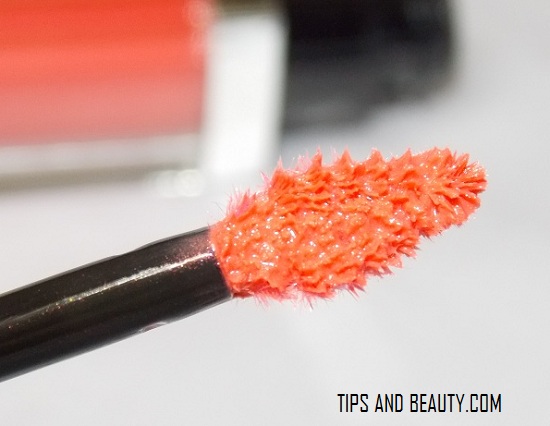 It stays on my lips for 2-3 hours then it gets wiped off. It doesn't leave stain or something but softer lips are guaranteed. For me this color is too light, I mean I like bold orange, pink and reds so, I will just sue a bold lipsticks first then use this Maybelline lip polish over that. This creates a nice color and makes my lips look fuller.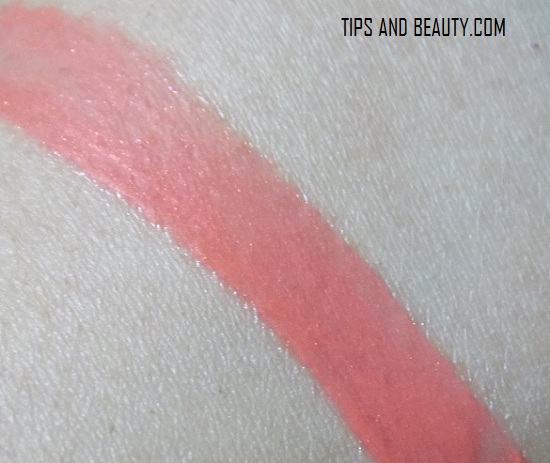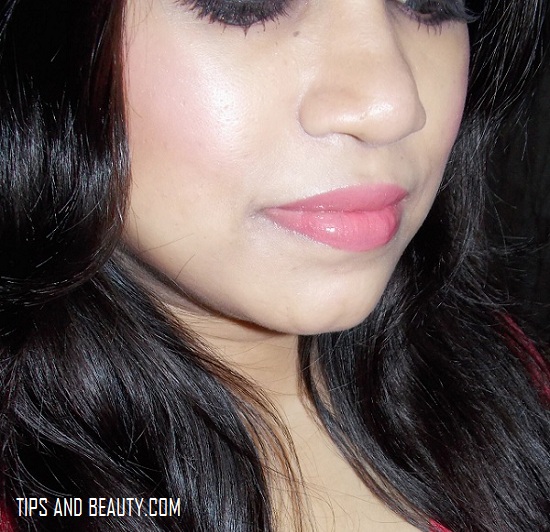 Good About Maybelline Lip Polish Glam 3
Beautiful packaging which looks classy and attractive
Pigmentation is okay for a lip gloss
Availability is easy
Applicator brush is very nice and picks up the color well
The gold reflective particles makes the lips appear fuller and plump
It keeps the lips softer and smoother
Decent packaging
Not So Good About Maybelline Lip Polish Glam 3
The lip color gets patchy when we talk
Staying power is just for 2-3 hours due to its too buttery texture
Price could have been little lesser
Rating: 3.5 out of 5
Take: Maybelline lip Polish glam 3 is a lovely peachy color that can be worn for office, college and day time. This color is more for fair to wheatish skin that the duskier skin complexions as it can wash then out slightly. Packaging is extremely beautiful and the brush is nice and gives even application. It's just that the formula is so buttery that it gets patchy soon. Staying span is decent for a gloss. If you like lip glosses then this can be tried as these Maybelline lip polishes are available in 15 plus beautiful shades. You can read about the Maybelline Rebel Bouquet Collection Lipstick Swatches here.