Maybelline The Colossal Eye Liner Liquid Black Pen Review and Swatches
Hi Girls!!! Do you like using pen eyeliners? I love to use pen eyeliners. It is because they are easy to use out of all teh different types of eyeliners. They also give good precise smooth lines. When I am trying the winged eyeliner, this makes them so easy. So, I will review this Maybelline the colossal eye liner in black. You know beauties, these days, there is a trend of flaunting graphic eyeliner styles. I love to draw winged eyeliner which is why I think pen eyeliners can be extremely helpful. I still like my L'Oreal Paris gel eyeliners. 🙂  Okay so now, enough of the pen liner gyaan. Let's move on to check out this Maybelline the colossal eye liner review.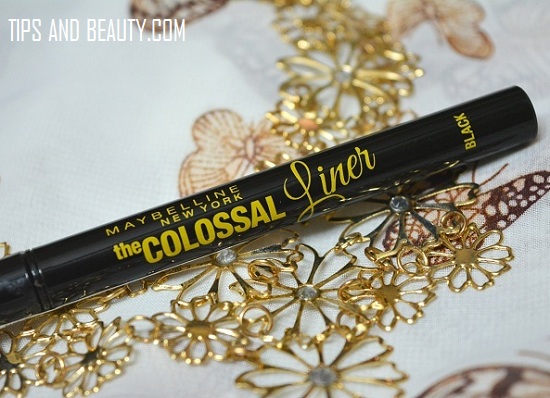 Price of Maybelline The Colossal Eye Liner Black: This pen style Maybelline eyeliner is for 425 Rupees. If you will check online most probably you will get this for cheap. By the way you can also see the best liquid eyeliners in India.
Experience with Maybelline The Colossal Eye Liner Black pen
As this is a pen eyeliner friends, this looks like a felt tip pen. I like pen eyeliner as they are so sleek and easy to carry in the clutch bag. Or even I am carrying tiny purse. The tip of this eyeliner is really long which is good as this can help in smooth and easy application. I like the yellow lettering on this pen liner. This looks really attractive. 🙂 The cap of this Maybelline the colossal eye liner closes tightly which is extremely good. once, I had an eyeliner and its lid was so loose that it came off while that was in my bag. Eww. Too bad!! My bag ruined and the liner was damaged too. :/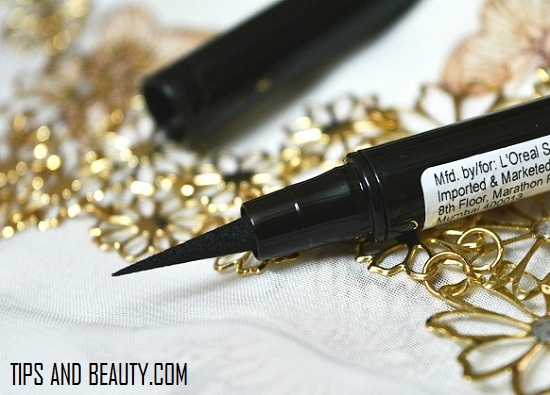 Shade and Pigmentation: This eyeliner is very jet black looking. I love jet black eyeliners as they are rich and intense  You know I have seen there are some eyeliners that will get slightly grey once they get dried. But this has a black color only even when it dries. This looks very similar to that of the Maybelline Hyper glossy liquid eyeliner.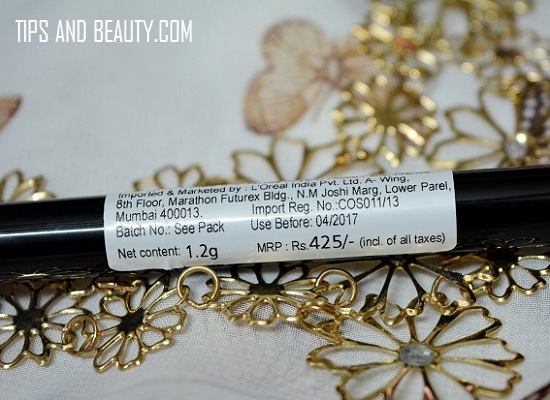 Other features: I love that the tip of this pen liner is very flexible kind, not the entire tip just the edges, so, when I am using this, It applies so well that I can easily apply winged shaped eyeliners. These days the square tip eyeliner is very much in trend and the cat style eyeliner as well. So, with this Maybelline the colossal eye liner I can now make them easily. This glides smoothly and gives intense pigmentation.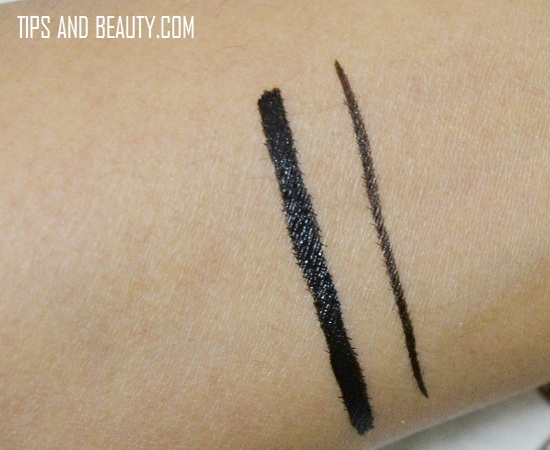 This is a liquid eyeliner so this will take 10-20 seconds to get dry quickly. Once it dries it gets rub proof. Even when I touch this or rub this will not come off. But this is not a waterproof eyeliner. This is obvious friends, as this is liquid so this can't be waterproof. I have used these lots of times now and every time I wear this, it will last long. This Maybelline the colossal eye liner will stay on my eyes for good 8-9 hours which is like the whole day.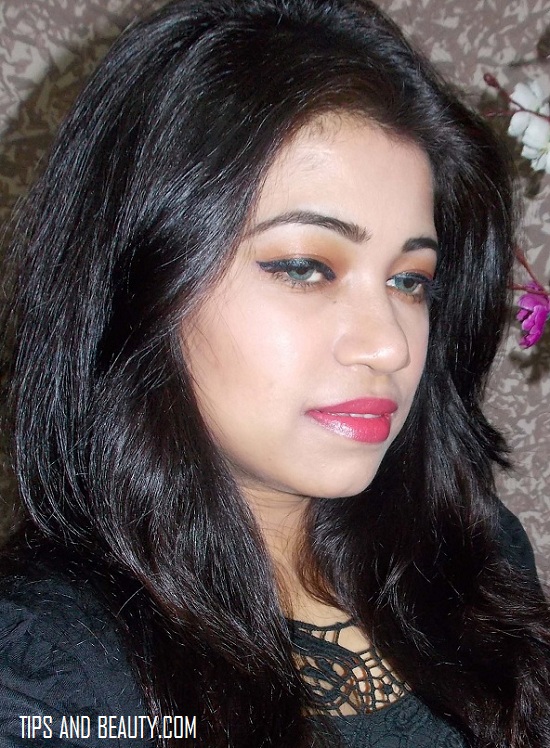 This is a great product for people who find applying liquid eyeliners with fine brush difficult. This is really good. You know I can even use this to fill the eyebrow like some gaps. This is so fine that even if I draw a stoke or two, so that this will give original looking thick brows. But my brows are thick only. 🙂

Good about Maybelline the colossal eye liner
Packaging is really nice. I loved the yellow and black colored pen

This has very pointed tip which can give very fine lines

Price is okay as this will last long


This is jet black and is intense in color

It takes 20 seconds on an average and gives a little shiny jet black finish

I like the way it applies on the eyes

This is rub proof and stay 8-9 hours on my eyes

We can easily draw thick and thin lines on the eyes
Not so good about Maybelline the colossal eye liner
Rating for Maybelline the colossal eye liner: 4 out of 5
Take for Maybelline the colossal eye liner Black
This Maybelline pen eyeliner is an extremely jet black eyeliner which is very easy to apply due to its pointed and flexible tip. This glides smoothly and gives rich intense looking jet black color. This stays entire day on the eyes thus I will recommend this pen liner to all of you, who find using liquid eyeliner difficult.
You can also Check out My soft brown eye makeup with pink lips girlies 🙂