Meglow Fairness Cream for Men Review, Price and How to use
Some weeks ago, my brother saw this Meglow fairness cream for men and he said, he wants to try it. I said he should get it and use it so that I would also do a review which I hope people will find useful. Therefore, he bought this Meglow fairness cream for men around 3 weeks ago and I have used the Meglow fairness cream for women already, I thought it would be better to judge whether the company sells the same product with different packaging or if the men's version of this Meglow fairness cream has difference. Read on to know more about this meglow cream or if it has some side effects.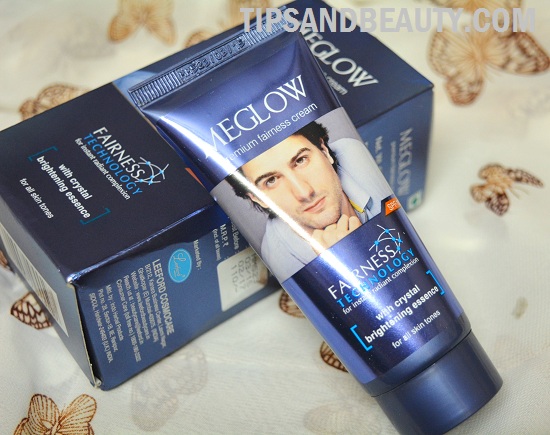 Price:
Meglow fairness cream for men is priced at 110 rupees for 50 g. A smaller tube is also available which is cheaper. You can try that if you don't want to spend that much for the trial purpose.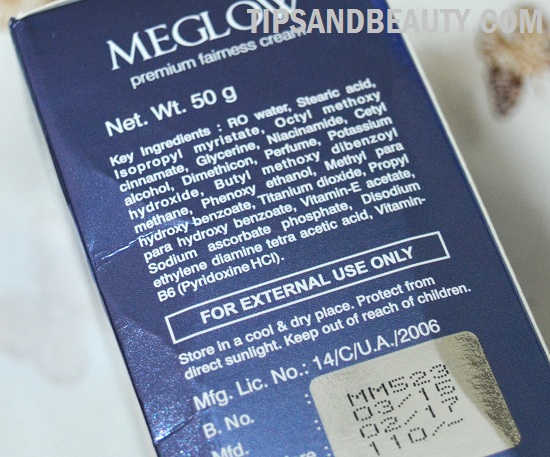 Claims :
Meglow fairness cream for men features the latest technology of skin brightening which is designed to target the skin darkening. This cream is super powered with the active botanicals and loaded with some skin beneficial vitamins like Vitamin A and Vitamin E. Meglow brighten sand freshens the dull complexion and comes with SPF 15 for sun protection. It also has brightening essence. Boys, if you have oily skin and you wish to have fairness then read our post on fairness tips for oily skin men. That is a new site launched by us called MensBeautyHealth dedicated for men only. :)

Experience with Meglow Fairness Cream for Men
This cream comes in a blue carton with a blue shining tube that looks attractive and good. It is a cream in colored skin fairness creams designed for men in India. It also has a good mild fragrance but very different to that if the women's meglow cream. It smells similar like the Boroplus cream.
The formula is a bit more moisturizing than the women's cream. I tried to massage this on my arm and realize that it is hard to get absorbed or blend in. The cream was sticking to the skin and was not easy to work with. It doesn't give a white cast but some white patches as the cream was still not blended well. So, if you have got this Meglow fairness cream for men or are thinking of trying it then you should be aware that it will take time to blend. This was what I felt about this fairness cream now; I will share what my brother says about this Meglow fairness cream as he was the one who used this cream.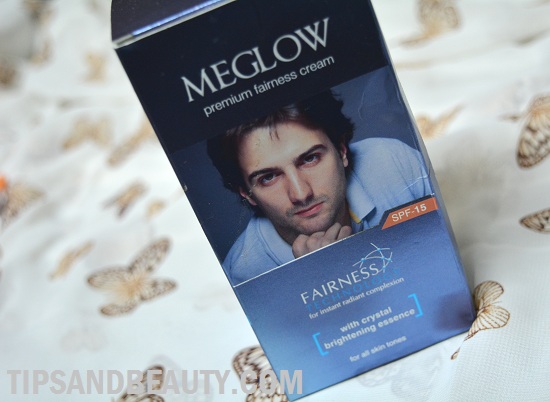 Fair and Lovely max fairness cream for men
He said that as this cream can leaves patches and needs more blending especially for men as the moustache or beard hair can make blending and massaging the cream harder, So he used to put tiny dots and then blended it. He says that this Meglow fairness cream makes the skin look slightly better and not oily but after few hours the oils starts to come. Which I think is normal as creams can hardly control the skin oils.
He has oily skin by the way. He has used this for 2 weeks and has not faced not skin allergies or breakout but he has also not seen any skin whitening. In other words, this cream is just a decent day time cream for the men. It makes the facial skin a little better. But nothing like skin whitening.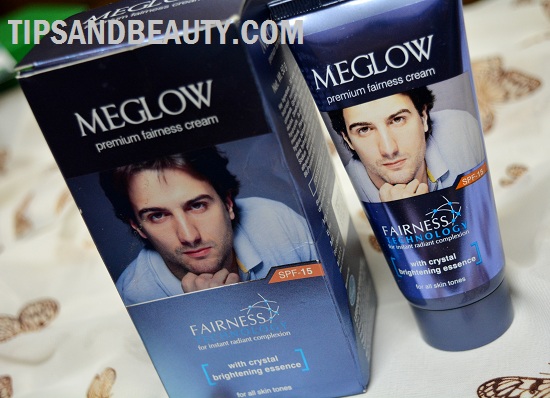 Meglow cream has SPF 15 so, it protects the skin against the harmful rays of sun. He liked the cream but this is nothing that he would like to repurchase it as blending part is tricky and when he is in hurry, you can guess how difficult it would be to blend. And no one would like to go out cream patches sticking on the face.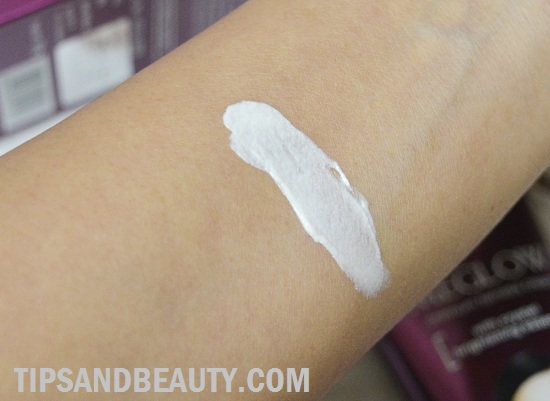 Pros of Meglow fairness cream for men
Price is okay for this cream

Packaging is good and very user friendly and travel friendly

The cream has SPF 15

It has vitamins

It does not make the skin oily

Skin looks lightly better than it was.

It has not break him out

Do not have any side effects
Cons of Meglow fairness cream for men

Not very helpful for the very dry skinned men

It is very tricky to blend and massage into the skin

No fairness or skin whitening was seen
Rating: 2.75 out of 5
Take: Meglow fairness cream for men is an average cream as it doesn't do skin whitening or give fairness and very difficult to blend. So, you will have to give it time to let it massaged well on the skin. It has SPF 15 and skin brightening (slightly), which is good but on the actual important features this Meglow fairness cream fails to perform well. I think men can try Nivea moisturizers or Garnier men fairness moisturiser than this.