MeGlow Fairness Cream Review and details
I will review another fairness cream which is Meglow fairness cream. I saw this cream in a TV ad and decided to get it for myself as if this cream suits me, it can be my everyday use cream. This Meglow fairness cream is for women or girls and has the 5 in 1 intense action technology. Hence, it treats the 5 common skin concerns. So, Is it a good product or just another fairness product? Read on this Meglow Fairness Cream for Women review to know more about this product. Find out if this is a good fairness cream for dark skin as well. The ingredients are not as Ayurvedic but this claims to be a suitable cream that girls can try to enhance the complexion.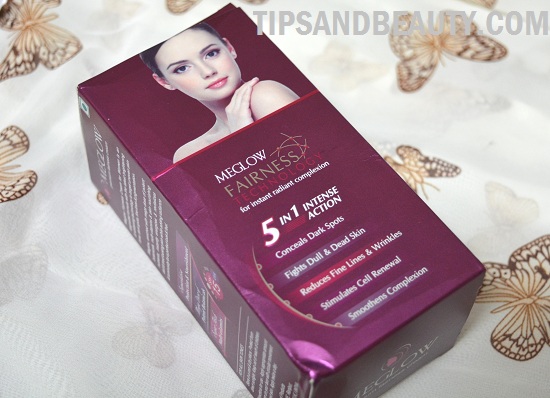 Price:
Meglow Fairness Cream for Women is for 110 rupees for a tube of 50 g.
Claims: Meglow Fairness Cream for Women is an upgraded product formula with the new brightening and whitening technology to target the uneven skin tone, black spots, dark spots on skin and fine line, wrinkles and skin pigmentation.
Ingredients of Meglow Fairness Cream for Women:
They are mentioned on the pack itself.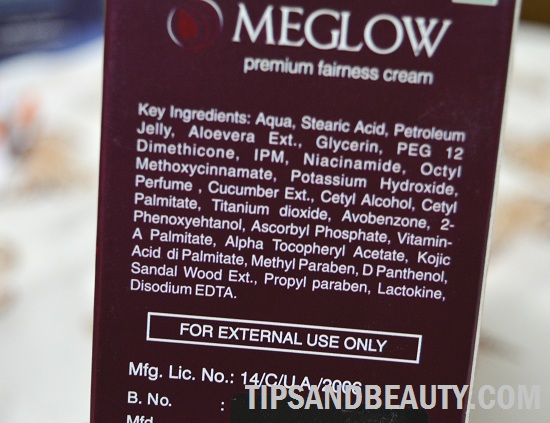 Experience with Meglow Fairness Cream for Women
This Meglow cream comes in a magenta carton and a magnet tube which is very shining and pretty to look at. I liked this packaging. It is decent and user friendly as I can easily carry it in my bag. The product details and ingredients, etc are mentioned on the pack and tube itself. I like that the finish of the tube is great as at times I see that the product packaging will not be good which leaves a bad impression, but with this Meglow fairness cream, packaging is polished and greatly finished. By the way, I bought this Meglow cream through online though it is easily available in the stores as well. I saw that it has Kojic acid too. Kojic acid skin creams are considered effective since it lightens the complexion by lowering the melanin content of the skin.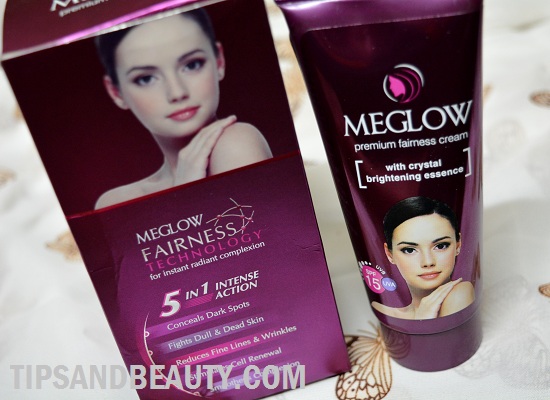 This meglow cream is a cream colored fairness cream with a very good smell. I have used some skin care products and fairness creams which were very strong smelling but this Meglow fairness cream has a very subtle and nice smell. It also comes with a smoother texture thus, I find this cream gets absorbed very easily. When I apply this within few minutes, this will get absorbed in the skin. Blending and massaging this cream is not difficult as it will get inside quickly and it is not too thick to get stick on the certain places of the skin.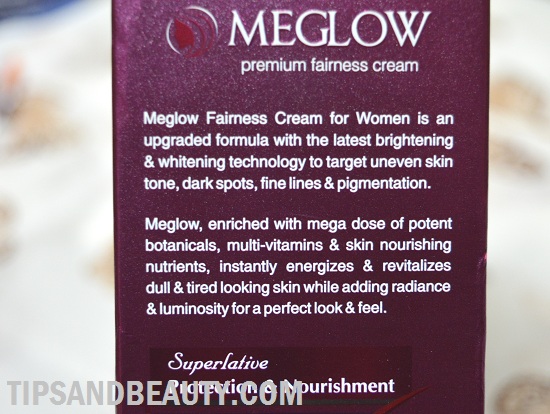 Once I am massaging this Meglow fairness cream on my face, I can feel that it gives slightly cooling sensation on my skin, the coolness lasts for few minutes and vanishes but that was a good thing. I have oily combination skin and it doesn't make it anymore oily. This meglow cream will not leave horrible looking white cast or ashyness on the face. This feature is important as we all have used one such cream which would leave a white cast on the face like we have used some type of powder on the face. This also remind of the White tone face powder, which was bad as it gives whitish look on the face. By the way, after using this cream face stays oil free for 3 hours for me that may increase or decrease as per your skin type. Please note that you have to take only a pea sized amount of this cream else white cast would be there as you have taken the product in excess. Then, you have to blend it nicely. It is unlike the Meglow fairness cream for men.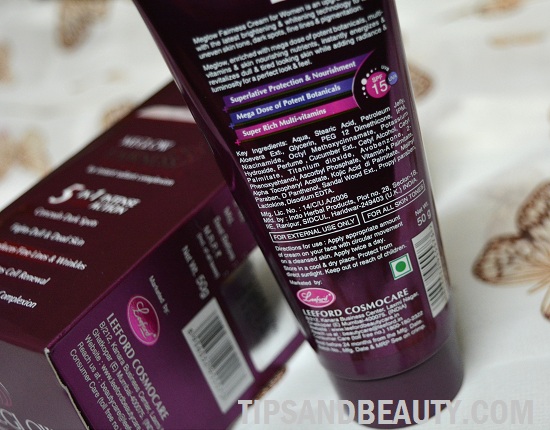 Meglow fairness cream will make the face velvety by that I mean that it will not give the glow or oiliness but skin looks matte and not dry at all. So, this feature again is good for the oily combination skinned people like college girls, working women etc who would like to use a good day time cream for brightening/ fairness purpose. It also claims to lighten the hyper-pigmentation hence, this can be a good skin cream for pigmentation.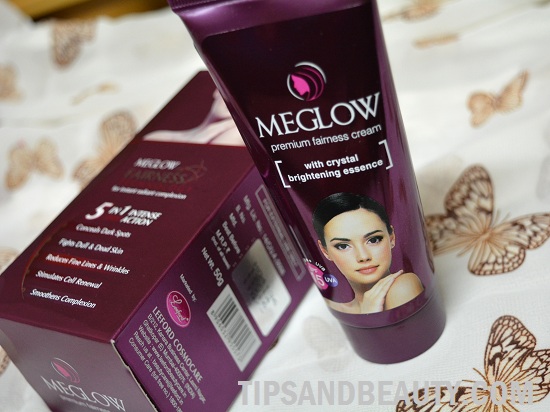 Now, comes the important question Is this Meglow fairness cream brings fairness and whitening of the skin? I would say, it does to some extent as ever since I am using this, my skin look brighter and better than before so, I will say at this price of 110 rupees it is a decent day cream which also gave SPF 15, the sunscreen that will prevent the skin from UVA/UVB rays.
Does this Meglow fairness cream has any side effects? Well, Not yet. I have used this for so many days and till now there have not been side effects of this cream like rashes, itching, tiny bumps etc.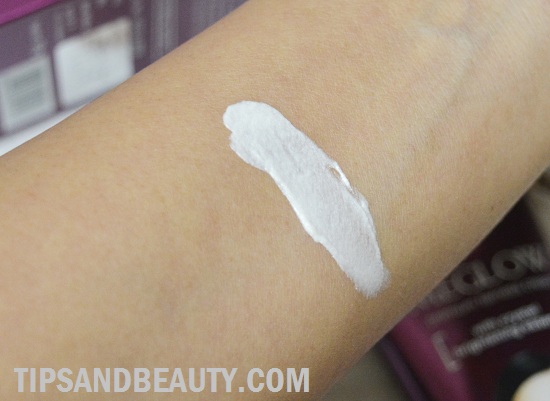 Pros of Meglow fairness cream for women
Price
Packaging is good
Availability
Easily massaged in the skin
Gives light cooling at the beginning
Makes skin look better than before subtly
Doesn't give whitening but gives some brightening
Cucumber extracts and sandalwood extracts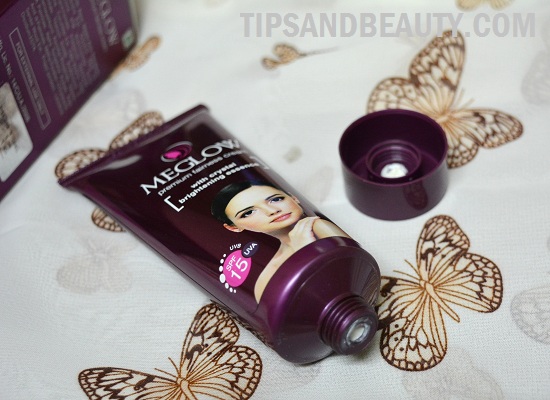 Cons of Meglow fairness cream for women
Not for the dry skin types
Has parabens which were used as preservatives
Whitening or skin lightening was not there practically but yes, it did the brightening like skin looks better.
Rating: 3.5 out of 5
Take: Meglow fairness cream is a good everyday cream for the oily to normal skinned girls but for extra dry skin this cream is nit that useful. You have to take the cream in only a pea sized amount else it may give white cast on the skin. It has SPF 15 and doesn't make the skin sticky or oily.
Recommended Articles:
Roop Mantra Ayurvedic skin Cream Review
Best Ayurvedic Fairness Creams in India
Herbal Creams for Oily Skin in India
Best Summers Creams and Moisturisers for Oily Acne Prone skin in India