Mens kurta pajama for wedding is something that you cannot do without on any traditional occasion. Even if you are a modern man yet for the ethnic functions, you are bound to wear the ethnic traditional wear. We have compiled the collection of the images of latest wedding kurtas for men to get enough of the inspiration. It doesn't matter, if you are the groom or someone who is close to the soon-to-be groom or are going for a friend's wedding. For bridegroom's kurta there are regular colors like Red, Beige, Golden and Maroon, however, these days designers are coming up with new patterns, designs, cuts and detailing. Therefore, even if you wish to go for a blue kurta for your wedding, you can go for it.
Such exclusive wedding kurta patterns are also available online on multiple shopping sites. And it depends on the type of pattern that you would like to wear. Sleeves, collars and hemlines are also getting stylish touch to make the attire more modern and striking with the latest designs. So, if you are the groom when the sherwani type of kurtas in silk would be the best.
Designer Kurta Pajamas For Wedding For Men
Let's check the latest collection of stylish kurta pajama for wedding available online and in shops near you.
1. Kurta Pajama with Jacket for Wedding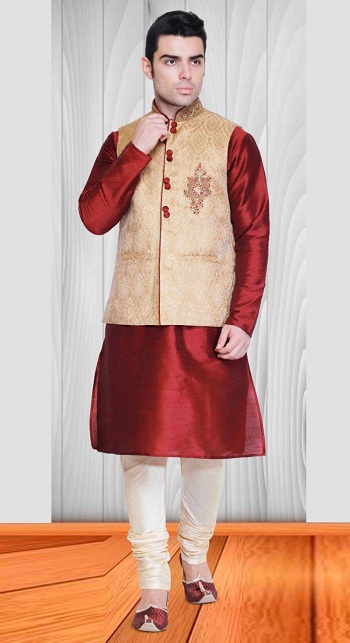 It's a really beautiful full sleeves Maroon red Silk kurta in medium length. Paired with a nice Golden beige jacket, it looks really smart and outstanding. The jacket buttons in maroon color which complements the styling. The embroidery patch on one of the sides on the chest gives luxurious look. This entire dress is paired with beige churidar. For men who are medium to fair skin, maroon churidar or dhoti pants will also work.
2. Men's Black Pathani Suit for Wedding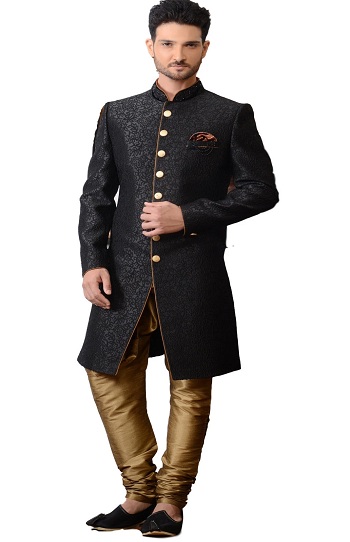 One can never go wrong in a Pathani suit for their wedding. Even if you are the groom or grooms friend or a close family member, this style of clothing will work in your favour. It makes you look smart and dashing.
3. Stylish Wedding Kurta for Groom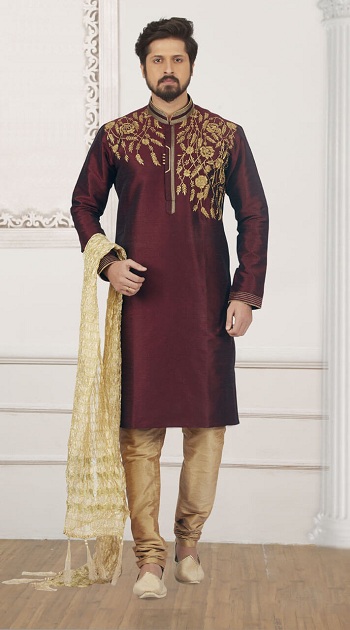 This has gold buttons with a curved centre placket. The brocade fabric of this garment makes it rich and luxurious. One can pair such style of kurta with churidar or dhoti pants. Men who are tall can go for dhoti pants however, men with short height can go for churidar or pants.
4. Traditional Bengali Dhoti Kurta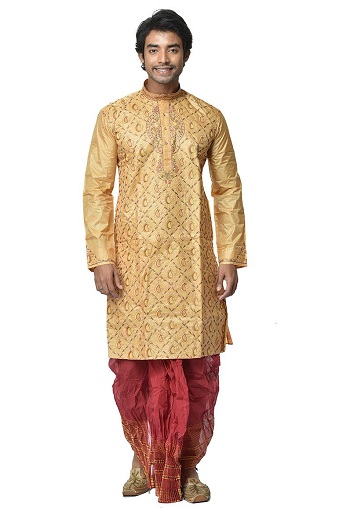 If you would like to match up with your bride's attire, a deep Wine Maroon colored kurta will work the best. It has heavy and detailed embroidery over the shoulder. The Chinese neckline gives it a princely look. Such Sherwani can be paired with dhoti. Bengali dhoti kurta for weddings is on another level. The base gold Silk kurta with cotton silk dhoti is very fashionable and classic looking.
5. Kurta Pajama With Nehru Jacket For Wedding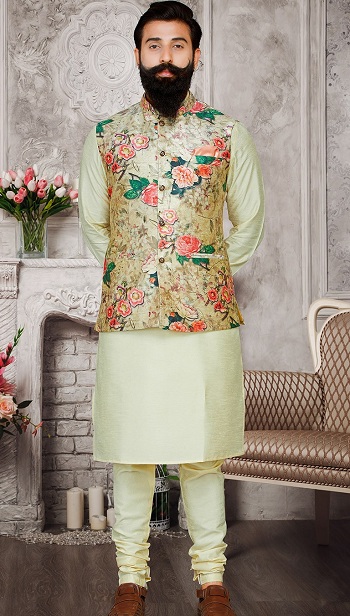 When you are groom's close friend then going for a kurta style that makes you stand out from the crowd is a good option. For that you can pair a plain kurta pajama with nicely stitched printed jacket or waistcoat. The beauty of this entire attire lies in the printed waistcoat. It is very floral summary yet gives you that vintage Indian look.
6. Modern Wedding Kurta Pajama For Mens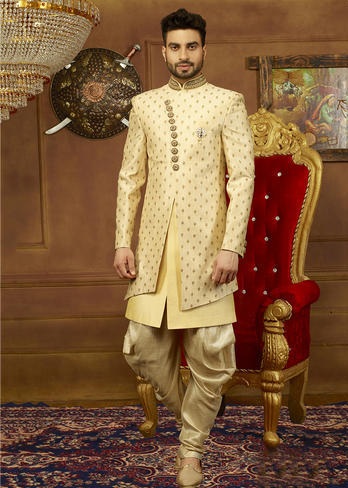 For men who would like to have modern touch to their otherwise basic sherwani can try a design like this. The buttons are not in straight line but in a curve, the best gold color with the golden Silk dhotis makes this piece of Mens wedding wear even attractive.
7. Latest Kurta Pajama For Ring Ceremony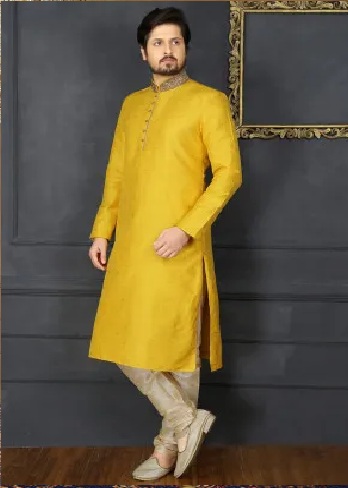 Many men get confused about what they should wear for the ring ceremony. For roka or engagement occasions, the groom-to-be can wear something simple yet impressive. This Chinese style Kurta in yellow makes you look attractive. You would come across as a good looking and fashionable person which even the bride would appreciate.
8. Silk Kurta Pajama For Wedding Party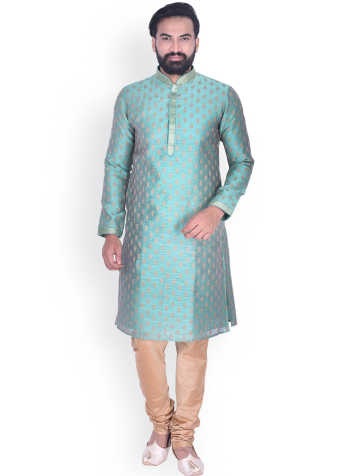 This silk blue kurta with gold and silver detailing is something that one cannot miss. It's been paired with nicely fitted Golden churidar and dhotis. It is a very attractive and will highlight your personality and charm. You would look stunning as the groom. It is not as rich and luxurious for your wedding, however for other functions, it is must try kind of attire.
9. New Manyavar Kurta For Wedding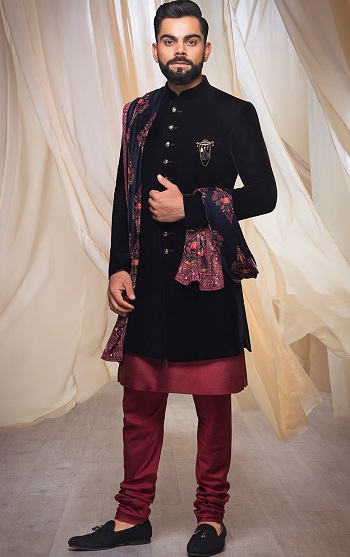 The royal looking Manyavar kurta style for Indian weddings is made keeping in mind the royals clothing. The velvet Pathani suit jacket on the top of a medium length Maroon kurta is the main highlight. It's paired with a nicely printed kurta and churidar. It has Indo Western kind of look that modern man would love to spot.
10. White Kurta Pajama with Jacket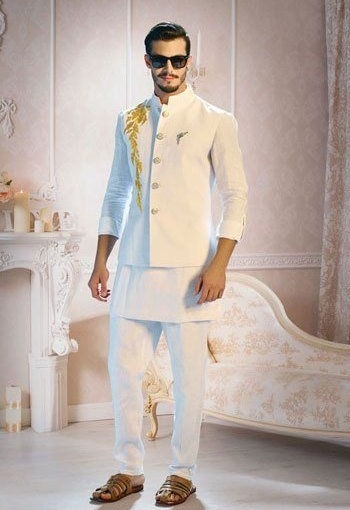 We are seeing that a lot of a man would like to have white in their wardrobe. This white colored kurta pajama with jacket attire is suitable for family wedding or other similar occasions. The golden embroidery on the shoulder is key highlight of this dress. Men who are tall would carry such garment nicely.
11. Blue Kurta Pajama For Marriage Function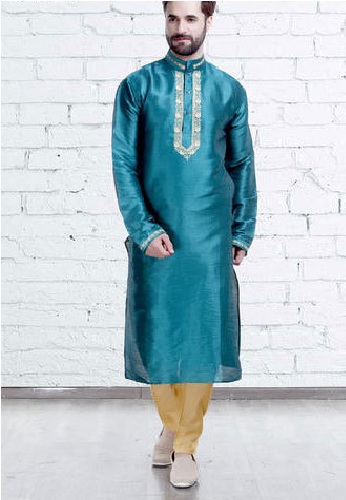 Now, that we have given you enough of the options for what wear for wedding, next are the kurta pajama styles for other marriage functions like ring ceremony, roka, mehndi and other rituals. The blue colored Silk kurta has simple embroidery on the neckline and sleeves. It is a long kurta which you can also pair with a regular trouser or dhoti pants.
12. Jodhpuri Kurta Set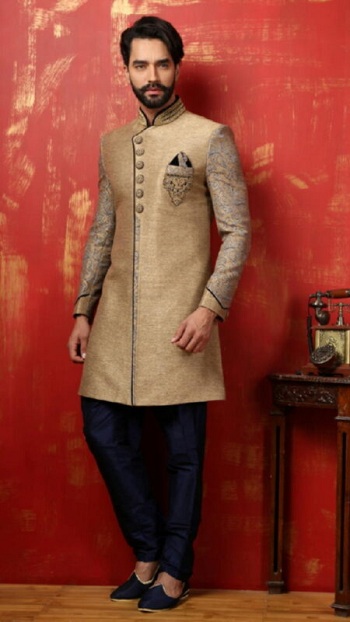 We totally agree that nothing can beat the beauty of a well stitched and crafted Jodhpuri. Coming from the Royals of the Rajasthan, the Jodhpuri dress is very popular all over the world. The Jodhpuri kurta as well crafted that makes them stand apart exuding the charming and charismatic personality to whosoever wears them. This style of attire is suitable for groom for their weddings as well.
13. Embroidered Kurta Pajama Design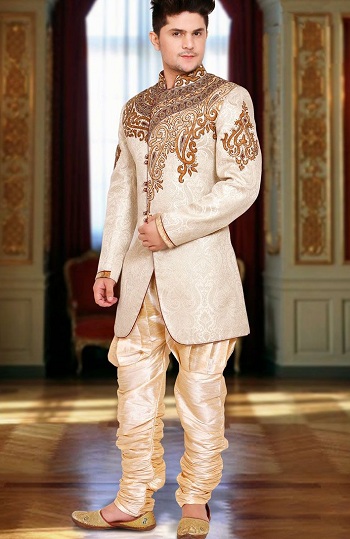 When you are the groom, seeking something simple, this is for you. The exquisite and detailed embroidery on the shoulders and arms is more engaging and appealing. You would surely look irresistible wearing it.
14. Ethnic Dhoti Kurta Dress For Groom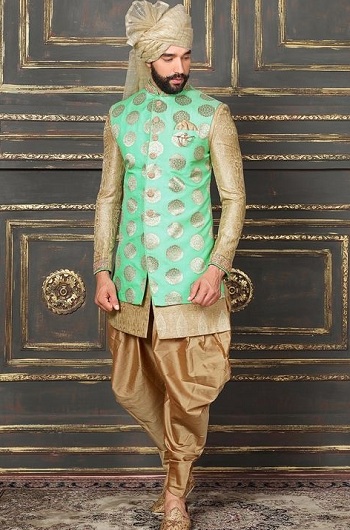 When we say dhoti kurta, it reminds us of the old white or dull colored cotton dhoti kurta. However wedding dhoti kurta dresses have been reinvented and styled for the modern man. Just take a look at this breathtaking picture and you would surely want to wear a similar ensemble for your wedding. The short brocade Golden kurta has a light sea green brocade jacket with golden dhoti pants. How amazing is that! It'll make you look captivating and stunning when you wear such a royal and classic attire.
15. Men's Black Sherwani Kurta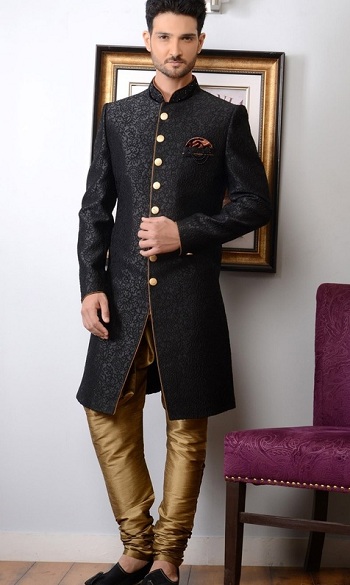 The black sherwani style kurta can make anyone look dashing. Most of the Indian body types and skin colors can carry a black attire really well. This is the beauty of a nice crafted black sherwani.
16. Designer Kurta Style for Wedding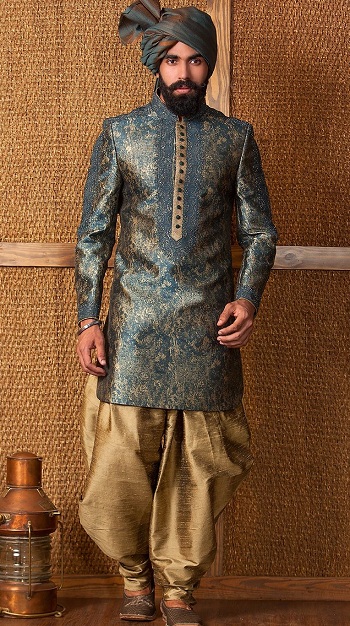 This designer piece of clothing with Silk gold dhotis and a grey gold kurta is alluring. It is a very striking kind of combination and style that one can go for.
17. Kurta Jacket Dress For Men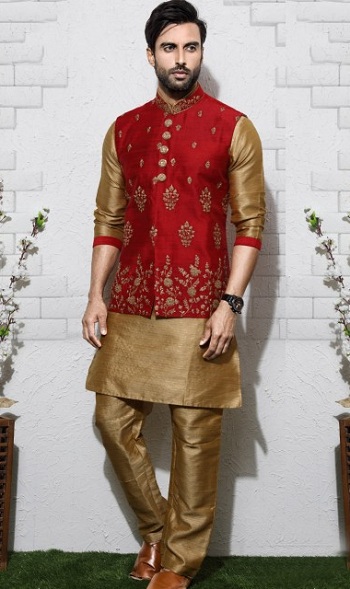 Many men would love to have a Jacket Kurta dress for their wedding; this is something that they can go for. It has a nice embroidered silk jacket which makes it more eye catching. The plain dark gold Silk kurta and pyjama compliments beautifully with the red colored beautiful jacket. It is one of the best looking wedding attires that we have seen.
18. Indo Western Pathani Kurta Pajama For Groom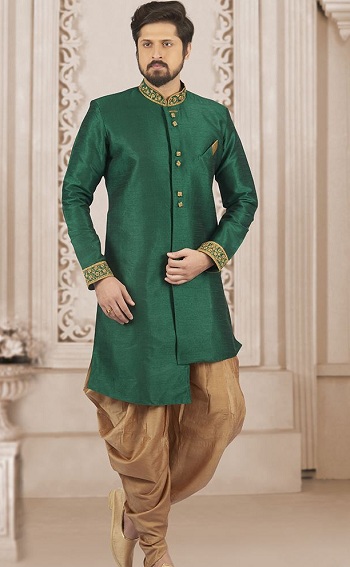 Indo Western clothing is in currently and it would stay as modern man will not settle for anything that doesn't have a modern touch to it. This is so right and thinking that the Sherwani is designed.
19. Designer Kurta Pajama For Men's Wedding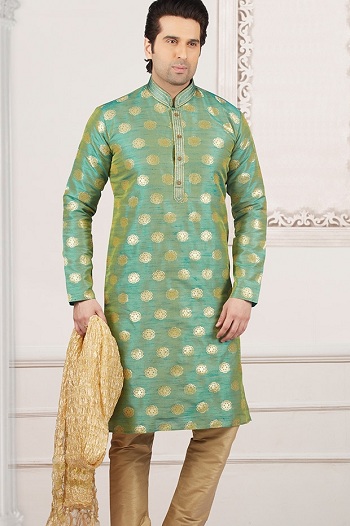 Elite sea green kurta with gold motifs and detailing makes this piece stunning attire for your wedding. It simply looks elegant and classy on another level. In fact, men who like to keep things simple shall go for such patterns and designs and it will not make you regret it. Even golden would also work well with such a simplistic designs of Men's kurta.
20. Wedding Dhoti Kurta For Groom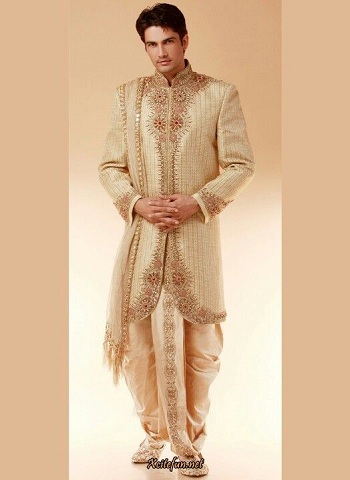 How about a beige and Golden combination? The exclusively embroidered Sherwani is very traditional and well made. If you are someone who would like to keep your marriage dress luxurious yet subtle, when it comes to the colors can go for such designs. The beauty of this design is that even though the sherwani kurta has heavy embroidery the color makes it tone down a bit. The traditional style of dhotis also give it an old world kind of charm.
21. Mens Kurta Pajama Design in Green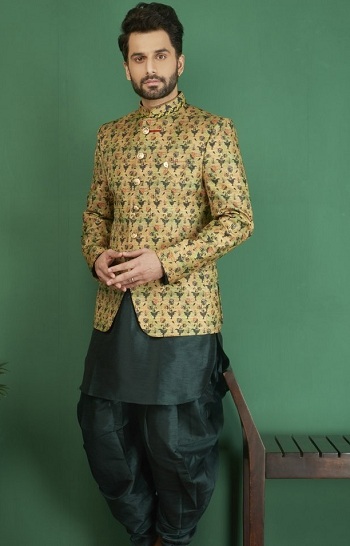 Dark green is a color which looks good on Indian complexions for sure. This tissue silk dark green kurta pajama is otherwise plain, but this is the printed jacket coat made it a attire attractive looking. The nicely crafted kurta looks quite royal and elegant. It is a perfect for grooms near and dear male friends and members.
22. Red Designer Dhoti Kurta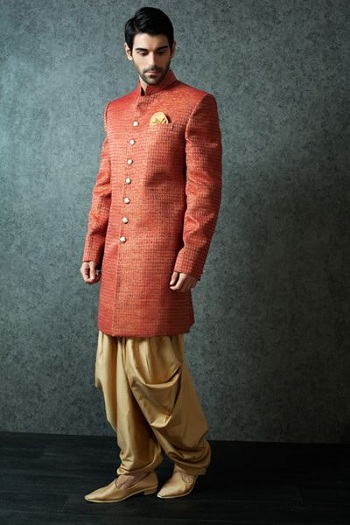 Red kurta can never go out of style. The chequered red and golden sherwani style kurta is paired with silk dhotis. It is a very regular and ethnic wear that most men would wear. It doesn't have a very modern touch to it but for grooms.
23. Black Kurta for Men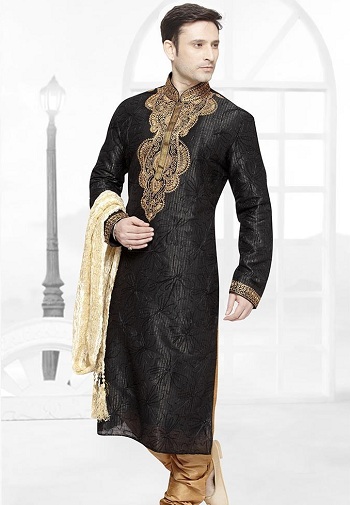 We've seen that a lot of men would like to wear black and gold combination for their wedding. The extremely popular gold and black combination is where in this style. Heavy embroidery on the neckline and collar gives it elegant look when you wear it. Make sure that you wear dhotis along with this kurta.
24. Manyavar Kurta Pajama For Wedding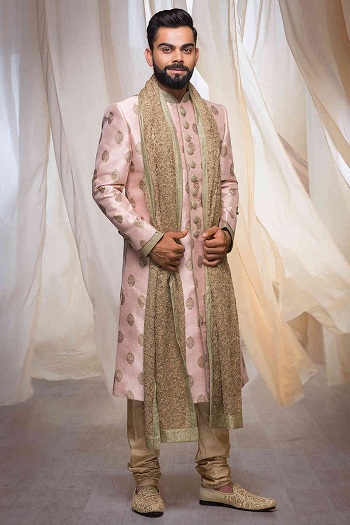 We simply love this wedding wear from Manyavar. In fact, Virat Kohli is looking dashing in this attire. It is so stunning that people can skip a beat. The light pink Pathani aur Jodhpuri style of kurta is paired with Golden churidar and a golden textured Dupatta. The color and the shades are such that it would never look bad on any complexion. In fact, the hues of such pastel colors of this kurta make it extremely luxurious, royal and sophisticated at the same time.
25. Golden Dhoti And Kurta For Wedding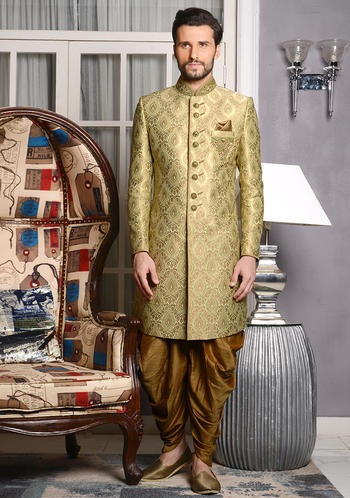 One can never go wrong with golden dhoti and kurta. The reason is gold is a color that blends and goes well with Indian complexions. Even, if you have dark or very fair skin would be able to carry a golden attire.
26. Green Pathani Kurta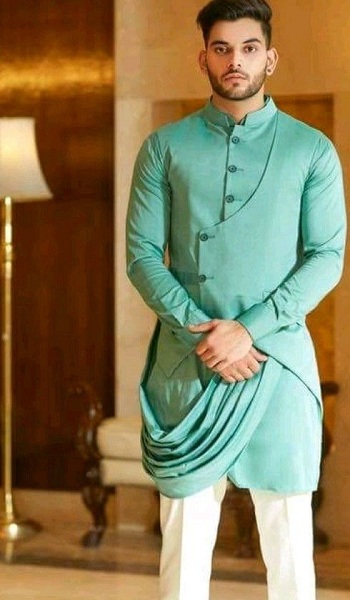 Pathani kurta is very modern and Indo-Western looking, however it is not for the wedding as the fabric used is very simple. But it is appropriate for other wedding functions. The double jacket style pattern with cowls and pleats makes it Western looking. It is appropriate for men who like things with some twist and modernity.
27. Punjabi Kurta Pajama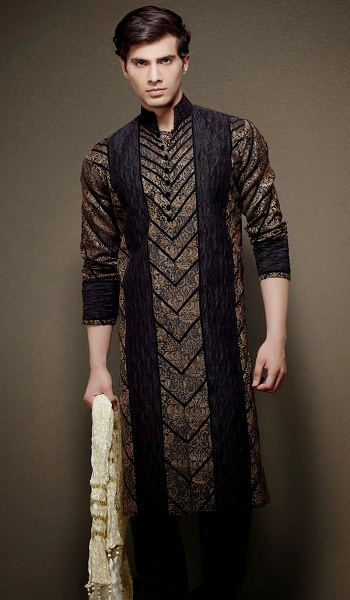 You can wear a brocade velvet black pathani style Punjabi kurta for the marriage functions. It's been paired with the regular dhotis in gold color.
28. White Kurta Pajama for Functions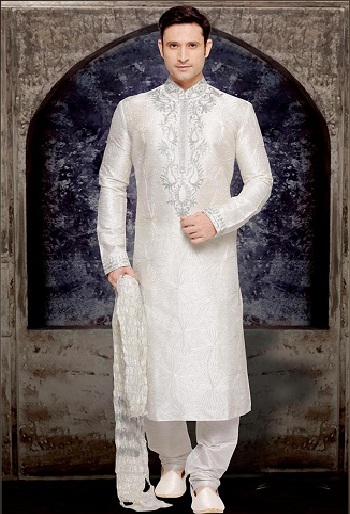 The Ivory white silk kurta pajama would do justice, if you like white. The silk kurta with thread work have embroidery in light grey color. You can wear it for the wedding at a family or your close friend's ceremony. When you are wearing white kurta pajama, make sure that the dhotis are also white or at least golden color.
29. Men's Kurta for Reception
If you are thinking what you should have for your reception without being over the top, then try a style like this.
30. Wedding Kurta Pyjamas for Gents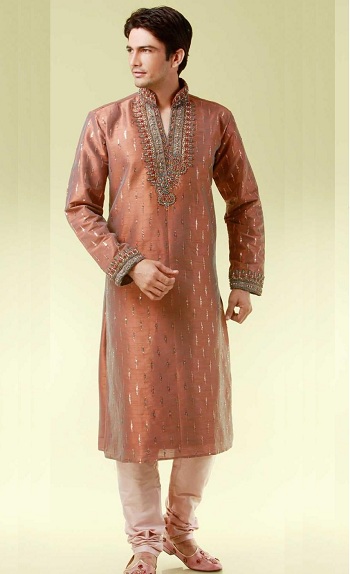 The salwar in silk fabric short sherwani style kurta makes this attire something that will make you highly attractive. Heavy embroidered with stones and thread work is appealing. And the color is very Indian wedding appropriate. You can wear it with red or gold dhotis. When you wear something like this you are bound to look best. In fact, your bride would also like this color on you. The beautifully designed and crafted kurta has attractive color with gold touch. This is appropriate for ring ceremony and other important marriage ceremonies.
31. Kurta Pajama Punjabi Style for Marriage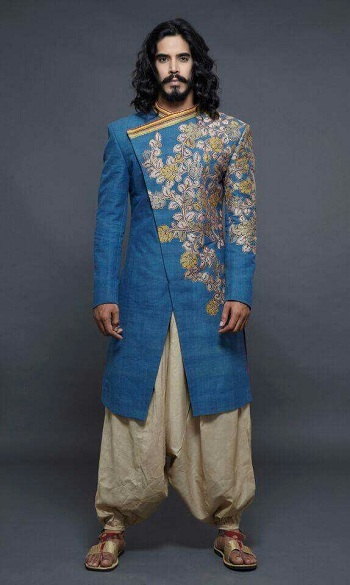 This is a regular Punjabi Kurta in angrakha style with the modern twist. You would just admire the beauty of this piece. The white and yellow embroidery on the side and sleeves gives it a very striking and tasteful look. Such design can be worn for your wedding or your friend's wedding and you would surely get lots of compliments.
32. Kurta Pajama For Haldi Function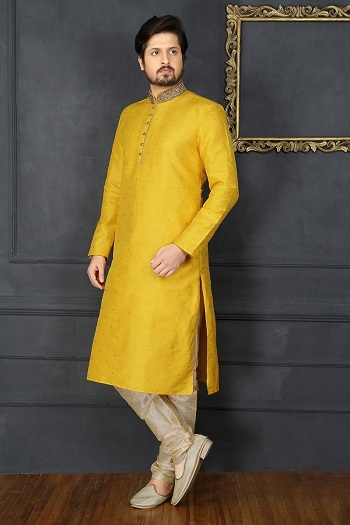 For your haldi function you would like to look your best yet not over the top. This is why nicely made kurta in a complementing color and design is appropriate.
33. Mehndi Kurta For Groom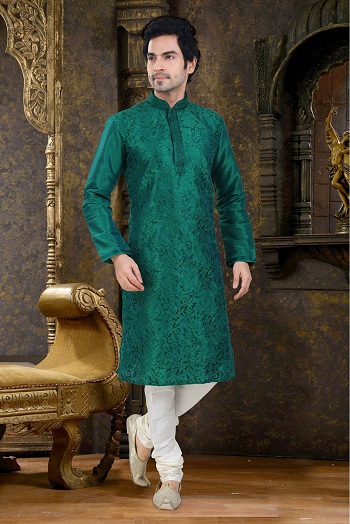 For your Mehndi function you can try a simple yet fashionable Kurta in green colors. This dark green kurta with some black women texture is appropriate for such important but not as grand as your wedding day. This is paired with churidar however, black dhoti or black Pajama or churidar would work better with such colors.
34. Short Kurta For Mens Wedding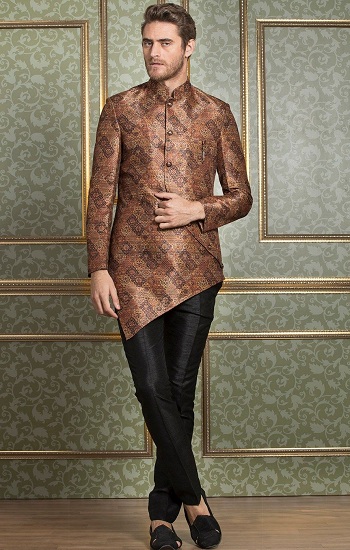 Many men would opt for shorter kurtas like this. It is not a regular short style kurta but has a very modern and Stylish touch to it. The pattern is eye-catching with the diagonal hemline and centre button placket. Silk brocade kind of fabric used also compliments the black bottom wear. This is a sure shot piece of clothing that would be admired by a lot of men who like modern clothing even for the Indian ethnic wear.
35. Indo Western Sherwani Kurta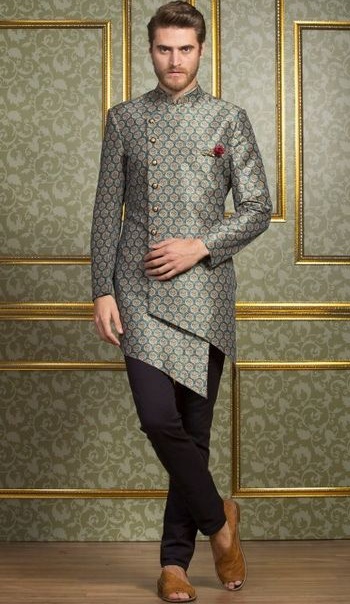 On the same lines, this modern Indo Western sherwani style kurta has button placket with the very interesting pattern.  Side open button placket made with a gorgeous grey colored brocade fabric. The sherwani style kurta is for Indian men who like things lavish. We feel that with dhotis would look much better. And when you wear such a design and pattern you can take your look to another level.
These are the Wedding kurta pyjamas for grooms and other members in the family.  Hope you have got enough of the inspiration for your wedding kurta designs. Hopefully, finding the best kurta will not be difficult. The stylish attires will make you well dressed and elegant at the same time. It'll not be difficult when you have these images. You can surely replicate any of the styles according to your wish and can show the picture to the designer and choose the fabric and they would be able to replicate it.