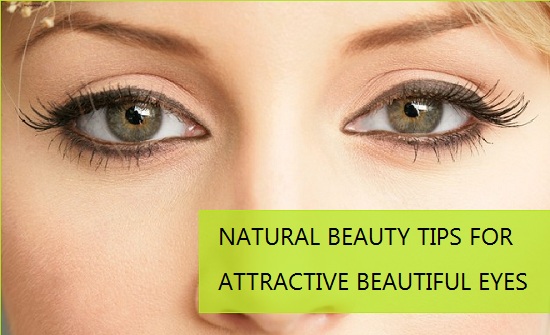 Attractive beautiful eyes that shine and look radiant make you even more pretty. It is said that the eyes are the window to the soul and if that is true, one must look after their eyes. When we meet anyone, their eyes are what we look at and notice. Due to stress dark circles can come and the eye can look less attractive so, if you want to make your eyes sparkling and beautiful then these home remedies and beauty tips will surely help you.
Natural Beauty Tips for Attractive Beautiful Eyes
These home remedies will make sure that the dark circles under the eyes are minimized and the wrinkles lines under the eyes are also effectively reduced as these two make the eye look less attractive and smaller. For beautiful glowing eyes, one should also combat the puffiness and the eyelashes should be thicker so in these remedies we will share tips on every eye related beauty problem.
Under Eye Dark Circle Removal For attractive beautiful eyes
Apply cucumber juice every night before going to bed under the eyes. Cucumber juice will cure the under eye dark circles to make the eye look glowing and beautiful.
Rub potato slices under the eyes so that the darkness under the eyes reduces. Darkness under the eyes causes the eyes to look smaller and gloomy.
Apply pure almond oil daily to brighten the under eye area and to get the cheerful attractive beautiful eyes.
Puffiness Removal tips for bright attractive beautiful eyes
Puffiness also makes eye to look swollen and unattractive these tips will reduce the puffiness and eyes to look brighter.
Take chilled water and dip cotton ball into that. Place those cotton balls over the eyes and relax for 20 minutes. This will brighten the eyes and take off the puffiness.
Take 2 spoons and put them in the freezer for 20 minutes then use that spoon on the eyes and rest for 20 minutes. This is one of the easiest beauty tips for puffiness of eyes removal.
Thicker eyelashes beauty tips for attractive beautiful eyes
Apply castor oil on the eyelashes eye night before sleeping. This will thicken the eyelashes
Use Vaseline on the eyelashes and eyebrows to thicken and lengthen them. I have used this and it work though still a mystery how it works.
Other than these tips you should also drink lots of water and fruit juices. Drink papaya juice, carrot juice and grapes juice to get brighter looking eyes.
So, follow these tips to make your eyes glowing sparkling and attractive.