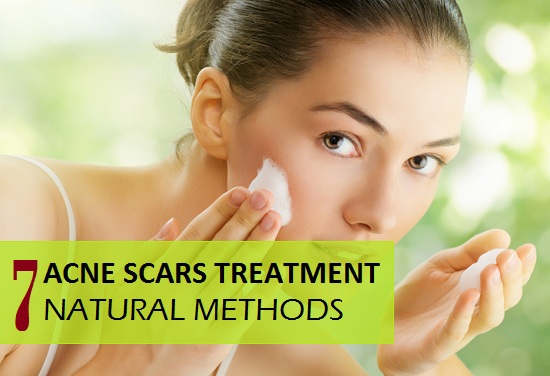 Natural Acne/Pimple scar treatment
Acne scars are very common beauty concern, yet not so easy to deal. Teenagers mostly suffer from acne and pimples. When they leave scarring on face, it can be quite disturbing. It is also related with low self confidence as scarred face with scars, marks and acne looks unattractive. There are clinical treatments for acne scars like the laser acne scar treatment but those can be quite expensive though one can remove or lighten the acne scars with the help of natural treatments at home. These home treatments include kitchen products which make the acne scars go away soon when these remedies are tried regularly. So, today at Tips and Beauty We will share at home treatments for acne scars which are not inexpensive.
Simple Methods for Acne Scar Treatment
1. Turmeric powder
Turmeric is a natural antibiotic which is found in the kitchen and is used extensively in Indian Cuisines. This spice has the properties to minimize the acne scars, lighten the face complexion and so many other things related to beauty. Make a paste of turmeric powder with lemon juice and apply that over the red brown spots and acne scars. This natural acne scars treatment will remove the scars soon. Keeping this overnight is also good.
Also Read: Turmeric uses and benefits in skin care
2. Lemon juice
Lemon juice is one of the most effective treatments to remove the acne scars from the face efficiently. Lemon juice's ability to decrease the intensity of the dark spots, brown spots and acne scars is amazing. Apply lemon juice very night before going to bed. Wash the face next morning. Lemon juice's bleaching effect will soon remove the acne scarring.
3. Honey
Honey is a natural moisturiser which when mixed with some lemon juice help to fade out the acne scars. Mix honey and lemon juice in 1:1 ratio and apply over the scars of pimples and cane on the face. Leave this for20 minutes then rinse the face.
Also Read: Natural face Cleansers
4. Apple cider vinegar

Apple Cider Vinegar is very good for skin and hair and has so many of the beauty uses. It kills the acne causing bacteria and helps to lighten the scars on the face. Every night apply ACV on the scarred skin and wash in the morning for best results.
Also Read: Beauty Uses of Glycerin and its benefits
5. Egg white
Egg white is yet another way to remove the scars of acne and pimples. Apply egg white on the scars and leave for 20 minutes so that it gets completely dry. Try this natural acne scars treatment 2 times in a week for good result.
6. Tea tree oil
Tea tree oil is anti bacterial and anti fungal in nature hence this oil is very effective in clearing the acne causing microbes and also the scars left behind by the acne. Regular sue of tea tree oil will help to prevent the cane and pimples and lighten the scars. Take half teaspoonful of drops of tea tree oil and dilute with 2 teaspoonful of water. Apply that with a cotton pad over the acne scars and leave for overnight. It also minimizes any redness and inflammation.
Also Read: Egg white face packs
7. Sandalwood
Sandalwood is known for its soothing, healing nature. Sandalwood also lowers the inflammation of the skin and pimples. Apply a paste of sandalwood and rose water on the acne scars and leaves it to get dry completely. Wash with cold water. Try this natural acne scars treatment for acne scars removal 3 times in a week for scars and glowing skin.
So, if you too have acne scars on the face which bothers you then try these natural treatments for removing acne scars which will definitely show good results.