Natural Shampoo for Dandruff with Aloe vera and Reetha
Dandruff can be embarrassing as this will produce those bad looking flakes which keeps on floating in the hair, moreover dandruff is itchy thus you have to be careful when you scratch the scalp in public. There are various remedies that we have earlier shared on our blog which treats the dandruff naturally like the home remedies for dandruff and itchy scalp that we posted earlier. In this post we will share a quick shampoo recipe to get rid of the dandruff very naturally without applying the chemicals on the scalp and hair.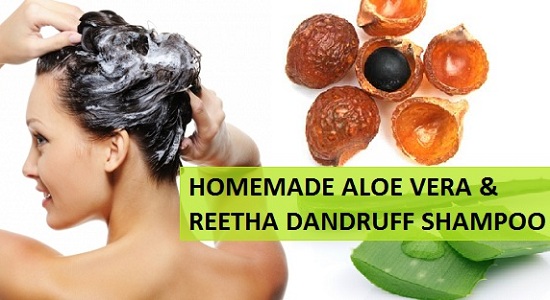 Homemade Natural Shampoo for Dandruff with Aloe vera and Reetha
For this remedy you will need a couple of ingredients which are mentioned below:
Aloe vera gel

Tea tree oil

Reetha or Soapnut

Vitamin E oil or capsule
Procedure to prepare this shampoo:
In a cup of water soak 2-3 reetha at night. The next day boil those reetha pieces in 2 cups of water when the water reaches just a cup only then stop boiling it and aloe it to get cool down. You can also put 3-4 cups of water and store that in a bottle in the refrigerator so that whenever you have to make this shampoo you will not have to boil the reetha in water every time. See: Best Aloe vera shampoos in India

So, in that one cup of water add 2 teaspoonful of aloe vera gel. Pierce 2 capsules of vitamin E oil and mix in that. Add 10-12 drops of tea tree oil and mix all of them.

How to use the shampoo: You can take that shampoo in the shower with you and wet the hair first then take some of this homemade shampoo for dandruff in your palm and apply on the scalp. Take some more and apply some on the other areas o the scalp. Once you have applied the shampoo on the entire scalp then gently rub this.
Reetha or soap nut produces mild lather so, there will be mild lathers when you will be rubbing this shampoo. Apply some on the hair and complete the hair wash. You can try this 2-3 times in a week to wash the hair.
Now let's see what are the benefits of this homemade aloe vera gel and reetha shampoo for dandruff
Benefits of Homemade Reetha & Aloe vera Dandruff Shampoo
This will help curb the dandruff since this has tea tree oil which is anti fungal and dandruff is also a fungal scalp infection.

This has aloe vera gel which will give relief in the dry itchy scalp.

The vitamin E oil will give moisture to the scalp..

Reetha will act as a gentle hair cleanser and gives shinier and lustrous hair.
You can also read about the hair oils for dandruff in India also read 4 natural oils to deal with the hair problem.