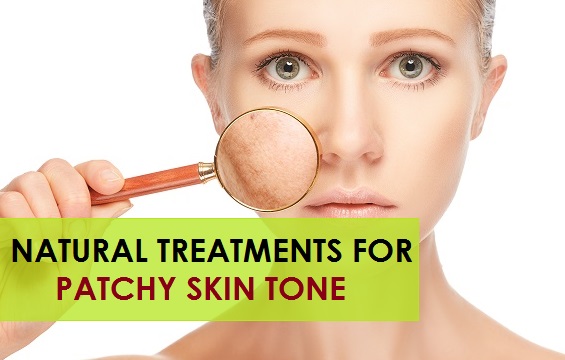 Natural treatments for patchy skin tone on face and how to treat the patchy skin around face, lips and mouth quickly

Everyone wants a healthy and glowing skin that helps us to look beautiful and attractive. We wonder how sizzling we can appear with an even and soft supple skin. Simply it needs tons of efforts to achieve the same. Dry and Patchy skin is the most common issue seen in dry skin beauties. Even for oily skin the patches will be evident as they can be as a result of the extreme sun exposure on the skin or due to hormonal imbalance. Blotchy skin and irregular complexion is also seen because of the dark spots.
In pregnancy as well, the butterfly mask that many women get on their cheeks can make the skin look inconsistent and uneven. At times, the darkening is not just seen but the patches can be white in color as well. This can be due to vitamin deficiency. But now, you can easily attain super silky face at home by following the home remedies. Natural treatment will take an upper hand since they are good and safe to be used. So, friends see what you can do to get rid of the patchiness and uneven skin texture.

How to get rid of Patchy Skin Tone and Unevenness
Here are the best home remedies to cute the patchy skin. You can try these to get the benefits and make sure you do these regularly.
1. Aloe vera gel and lavender oil for patchy skin
Aloe Vera gel is a good source of skin healing fatty acids and anti-oxidants that improve the natural skin complexion and induce blood circulation in the skin. It makes the skin smooth, soft and naturally glowing. Moreover, it prevents wrinkles and removes fine lines. Lavender oil at the same time, is a great skin healer and removes the skin patches and unevenness. It is very beneficial to dry skin type people. As it protects your skin from patches and restores moisture in it.
How to apply it?
Take one aloe vera gel leaf, now cut it from both the sides to remove thorns.

Now cut the leaf into small pieces and use a blender to blend its gel

Now take that aloe vera gel in a small bowl.

Add 2 full spoons of lavender oil in it

Finally mix both the ingredients well and apply it onto your face and skin

Wash it thoroughly with warm water after 30 minutes. This is an effective face pack for patchy skin tone

2. Curd and Honey for patchy skin complexion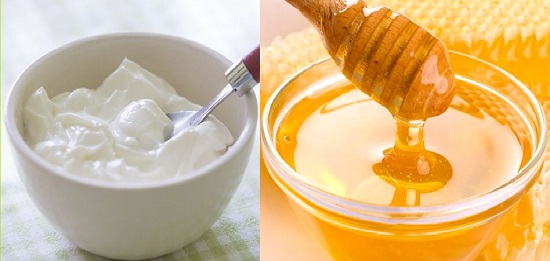 Patches are the major cause of uneven skin tone. To make the skin baby soft, curd can be used in numerous way. It contains natural fats and vitamins that inject life into your skin and keeps it healthy and glowing. It will help you get rid of the patchy skin tone. Honey cures dry skin excellently. It adds glow and smoothness to your face. Moreover, it also consists of amino acids and anti-bacterial properties that protect your face against acne and blemishes. You can try this recipe once or twice in a week to fade the patchy skin tone.

How to apply it?
Take 4 full spoons of yoghurt in a small bowl

Add 1 ½  full spoons of honey and mix both the ingredients well using a spoon or whisker

Now apply this mask onto your clean face and other skin areas gently

Massage it for a few minutes and rinse off with normal water.
3. Shea butter and milk remedy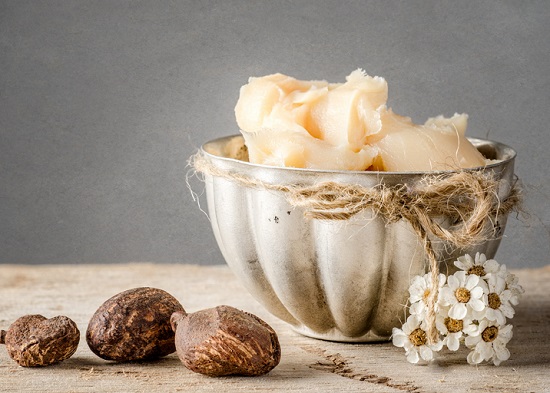 Shea butter is a natural skin conditioner which heals the dryness of the skin. Moreover, this will also smooth out the skin and removes dryness instantly. This remedy will retain and restore the lost moisture level in your face and gives a tint of glow. It is rich in vitamin-E and vitamin-A that are very good for the skin health. Milk is a good source of fats and anti-bacterial properties that whitens your skin naturally. You you do not have shea butter then do try milk cream and rose water to get rid of patchy skin.

How to apply it?
Take 5 spoons of raw milk in a small bowl

Add 2 spoons of shea butter in it

Now mix both the things really well using a whisker

Let it sit for 20 minutes

Now apply it onto your face and skin and massage slowly.

Be gentle and massage in circular motion

Rinse it off by using a cotton bowl or napkin after 25 minutes of application.
4. Papaya and Glycerin for dark patches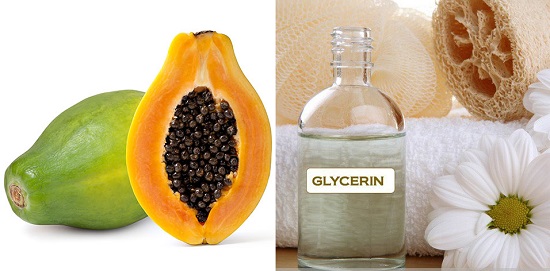 Papaya is a super fruit to repair uneven skin tone and give moisture to your skin. It instantly glows up your face and body after a single use This is why we use papaya for glowing skin. Moreover, this contains high amount of fiber and enzymes that maintains skin elasticity. Glycerin at the same time, works on removing patches and dry flakes from the skin. You can treat uneven skin tone and cure dark patchy skin with this remedy faster. But you have to make sure this herbal method is used 3 times in a week. It will also moisturize the dry skin.

How to apply it?
Take some papaya slices and mash them properly.

Add 2 full spoons of glycerin in it and mix evenly.

Now apply it onto your clean face and skin and leave it for 20 minutes.

Thereafter, you can rinse this pack off with normal water.

Potato for Patchy Skin
You can also try potato for patchy skin and skin that is uneven. Applying the potato juice over the patchy skin will cure that. Potato juice is known to lighten the sun darkening, spots and anything that will give the skin darker tone.
Cut the potato in thin slices and then apply the slices on the face.

It will give the juice flow on the skin.

Now, you can keep this for 30 minutes or even overnight then wash the face.
Castor Oil for Patches
If your main problem of skin patches is on the body then doing these remedies will help. A lot of time college students who go in extreme sun may experience the patchiness on their body parts like legs, hands arms etc. This remedy can help cure that.
Take few drops of castor oil and mix with few drops of lemon juice.

Mix this concoction and rub over the parts where the patchiness is seen or is visible.
Rubbing this will also boost the micro-circulation of the blood hence the skin regeneration rate also increases.
This should be done every night before going to sleep and to get great benefits in the white patches also.
Baking Soda to lighten patches
Baking soda is used in the kitchen to bake but you can gain good outcome from baking soda in skin problems as well. This product is considered as an ideal home remedy for patchy and blotchy skin.
Moreover, it will gently exfoliate the skin so that the face looks brighter.

We will need few leaves of fresh mint.

Then, you will need to crush or grind those mint leaves and after that put these in a bowl.

Basically, the paste of mint leaves should be 1 teaspoonful.

In that you will mix ½ teaspoonful of baking soda and then apply this mixture on the patches and blotches on the face.

Wash after 15 minutes with gentle scrubbing in circular motions.
Coconut Oil for Blotchy skin
At times, the body part gets blotchy due to certain medicines, hormones, pregnancy etc, hence if your skin is dry then do try this quick natural recipe for patchy skin on the face and body both. But for oily skin skip the face and use only on the body. Now if you are wondering how to utilize coconut oil for patchy skin tone? Then this is really simple. Take some coconut oil and mix few drops of either emu oil or vitamin E oil. Apply this oil on the skin and massage. Do this every night. This will be fantastic in curing the irregular skin tone and dry skin.
So, friends, these were the herbal remedies that you can do at home. These will help you get rid of the patchy skin complexion faster and without spending much on the treatments. I will also advise you to try these remedies continuously and regularly so that the skin gets healed quickly. As when you are not regular with the remedies then there can be not so fast results. Also check the below posts:
How to get rid of Dry skin On Face and Body